The retro-style Bell Bullitt helmet has passed Australian certification (AS/NZS1698) and is on order to arrive in June.
Bernie Nolan of Monza Imports says that "at this stage" the recommended retail price will be $459.95 which is less than if you ordered one over the internet … and it wouldn't be approved for riding on Australian roads, anyway!  Bernie says that so far they have ordered three colours – gloss black, matt black and white – but not the sky blue.  "They're about as retro looking as you can get, especially if you put a bubble visor on them," says Bernie.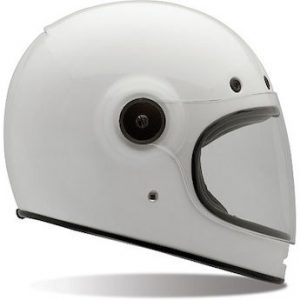 Yes, indeed, the bubble visor is a strange beast. It somehow looks retro but also ultra modern, like something Daft Punk would wear. The matt black and white come with black edging, while the gloss black comes with a tasty chrome edge and they all feature stainless steel double-D clasps with a leather pull tab.
Inside is a perforated micro-suede liner to wick away the sweat and all the pieces are removable for washing. It should also be comfortable with a padded chin strap and 3D cut-out cheek pads with speaker pockets for Bluetooth units.
Unlike the original 1970s Bell Star helmet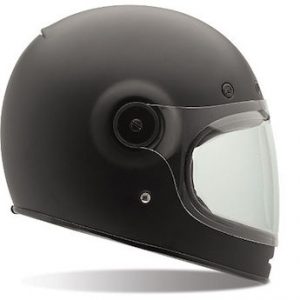 which had a narrow "letterbox" opening, this helmet has a very wide and deep aperture for maximum view. The chin bar section is one of the narrowest in a full-face helmet, so you should get great views of the road unravelling ahead of you.
The lightweight 1.4kg helmet features an ultra-low fibre composite shell profile so it doesn't look like a massive space helmet on your head. There are five metal mesh intake vents on the front and one rear exhaust vent for maximum airflow and to retain that retro look. All Bell helmets come with a five-year warranty.
The American company started by manufacturing helmets for car racing in 1954 and was the first to introduce a liner in 1957. In 1968, Bell was the first to make a full-face helmet and, in 1971, they moved into motorcycle helmets, producing the first full-face bike helmet, the Star.