Arnie's Fat Boy has sold at auction for more than half a million dollars, far exceeding the expectations of auction house Profiles in History which estimated it would fetch up to $US300,000 (about $A400,000).
The bike is believed to be one of several used in the 1991.
That still didn't stop an unknown bidder from paying more than $US480,000 (about $A631,500) in the online movie memorabilia auction.
Another of the 1991 Harley-Davidson Fat Boys ridden by Arnold Schwarzenegger in Terminator 2: Judgement Day was restored in 2014 and has been at the Harley-Davidson Museum in Milwaukee ever since.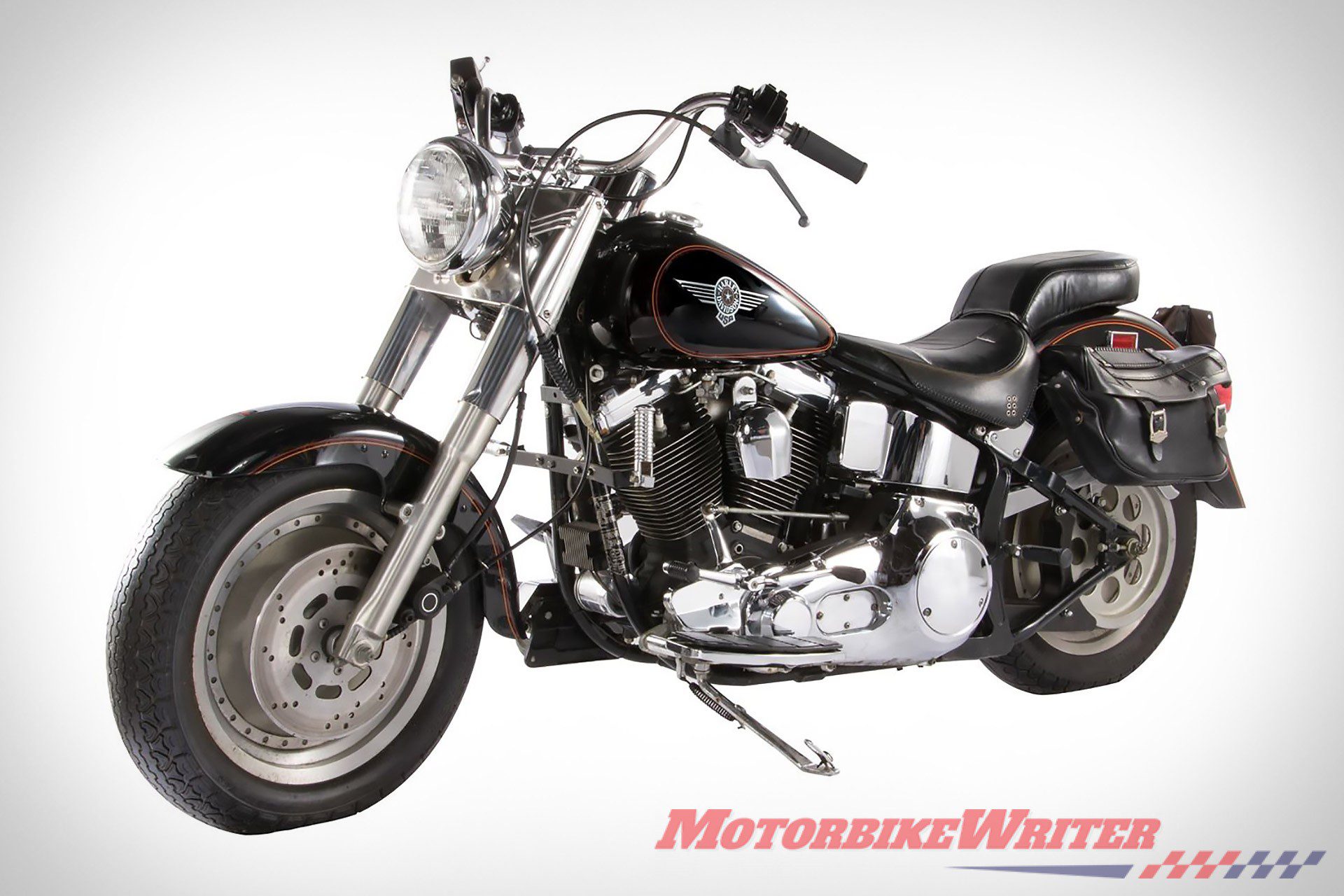 The bike that was sold in the "Icons Legends of Hollywood Auction" was sourced directly from the film production company, Carolco. It has a few scrapes and dings, but only 630km (392) miles on the odometer.
Terminator 2 Fat Boys can jump
In the film, a Fat Boy is jumped into an LA sewer. Next to The Great Escape jump, it's probably the most famous in cinema history.
The bike's 3m jump looks impressive as stunt double Peter Kent is riding a 300+kg Fat Boy beast, not a relatively nimble little Triumph dirt bike like in The Great Escape.
However, Hollywood trickery did assist as the Fat Boy was supported by 3cm cables, so that when they hit the ground, the bike and rider only weighed about 80kg. The cables were later digitally erased.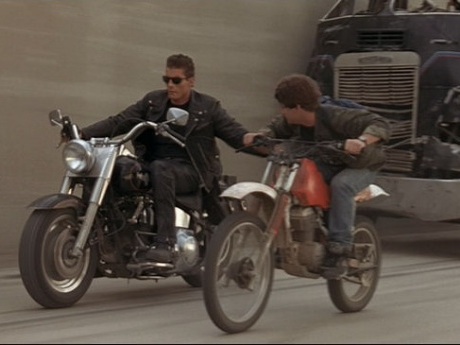 In addition to the on-screen presence, the motorcycle played an integral role in the marketing of the film.
It was featured on the film poster and countless other promotional artwork depicting Arnold wearing his leather jacket and pants while straddling the motorcycle and carrying his lever-action Winchester shotgun in his right hand.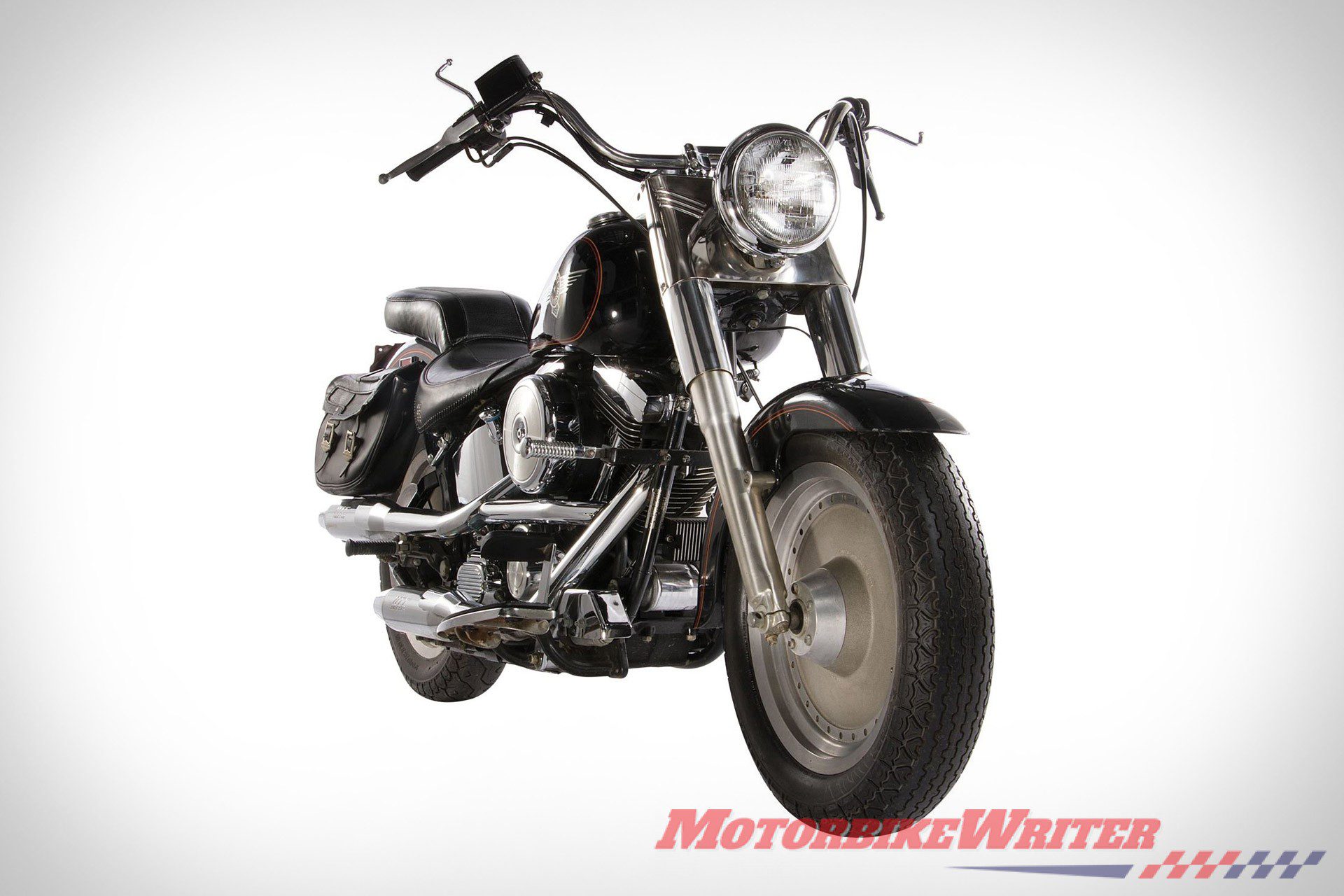 In June 2015 Terminator: Genisys movie, Arnie and a thumping big Harley-Davidson returned to the screen.
While in Australia to promote the film, the then 67-year-old former Californian Governor was photographed in Sydney on a Fat Boy Lo.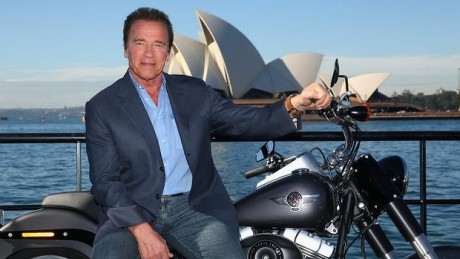 Harley-Davidson Australia spokesman Adam Wright said the Fat Boy had been one of their top sellers for many years, due in no small part to the impact of the famous Hollywood jump scene.
"I remember when I was working in retail in the early 1990s and after Terminator 2 hit the big screen we had people flocking into the showroom floors asking to buy a Fat Boy," he says.