Riding the Aprilia Dorsoduro 1200 on the morning commute is a bit like taking a bazooka to a knife fight.
Yet, Aprilia says it has repositioned its Dorsoduro supermoto range from "weekend warrior" to "fun commuter". It's really a bit of both. It's certainly no tourer as I found out.
Dorsoduro is a place in Venice where they ride scooters, not monsters like this. Not since BMW's HP2 hyper-motard has there been such a brute in the maxi-motard class. Its 96kW/112Nm V-twin engine outmuscles all the others.
But the Aprilia Dorsoduro isn't all brawn and no brains. The Aprilia is also the smartest in the class with switchable anti-lock brakes and sophisticated Aprilia traction control with engine mapping modes for sport, touring and rain that can be toggled on the fly for changing conditions.
Aprilia has added two-channel Continental ABS to the full range of Dorsoduro, plus Mana GT and Shiver Sport.
Brembo supplies huge 320mm and 240mm discs and calipers, which are more than enough to safely stop this lightweight bike.
Like all purpose-built supermotards these days, it looks like a dirt bike on steroids.
Design is minimalist with small shrouds at the front that don't quite hide some of the ugly plumbing underneath.
The height of the trail bike-style seat is a long-legged 870mm — and the saddle itself is as hard and uncomfortable as straddling a picket fence.
Riding position is sit-up-and-beg with wide bars and no wind protection. It's great for short blasts and for seeing over the traffic, but at more than 80km/h it becomes a chore hanging on. Touring is definitely out of the question.
Fire it up and the Aprilia Dorsoduro shudders and shakes; give it some revs and the mirrors stop shuddering and it feels quite smooth.
Let out the wet clutch and it springs away, although it is all very controllable with the smooth fly-by-wire throttle. There is no snatch like some bikes that have switched to this technology. You can even negotiate tight turns and small roundabouts without having to feather the clutch.
In Sport mode, it can be a little too lively for such duties, but in Touring it's fine. In Rain mode it's softer still with even more feel.
So there is a way to tame this savage beast for the morning commute. If you really want to.
But it's best experienced on twisty mountain roads where you can easily round up the sportbikes.
I had theAprilia Dorsoduro recently for a 350km ride into the country for an assignment.
While it is a fun bike in its element, it's certainly not designed for long-distance riding.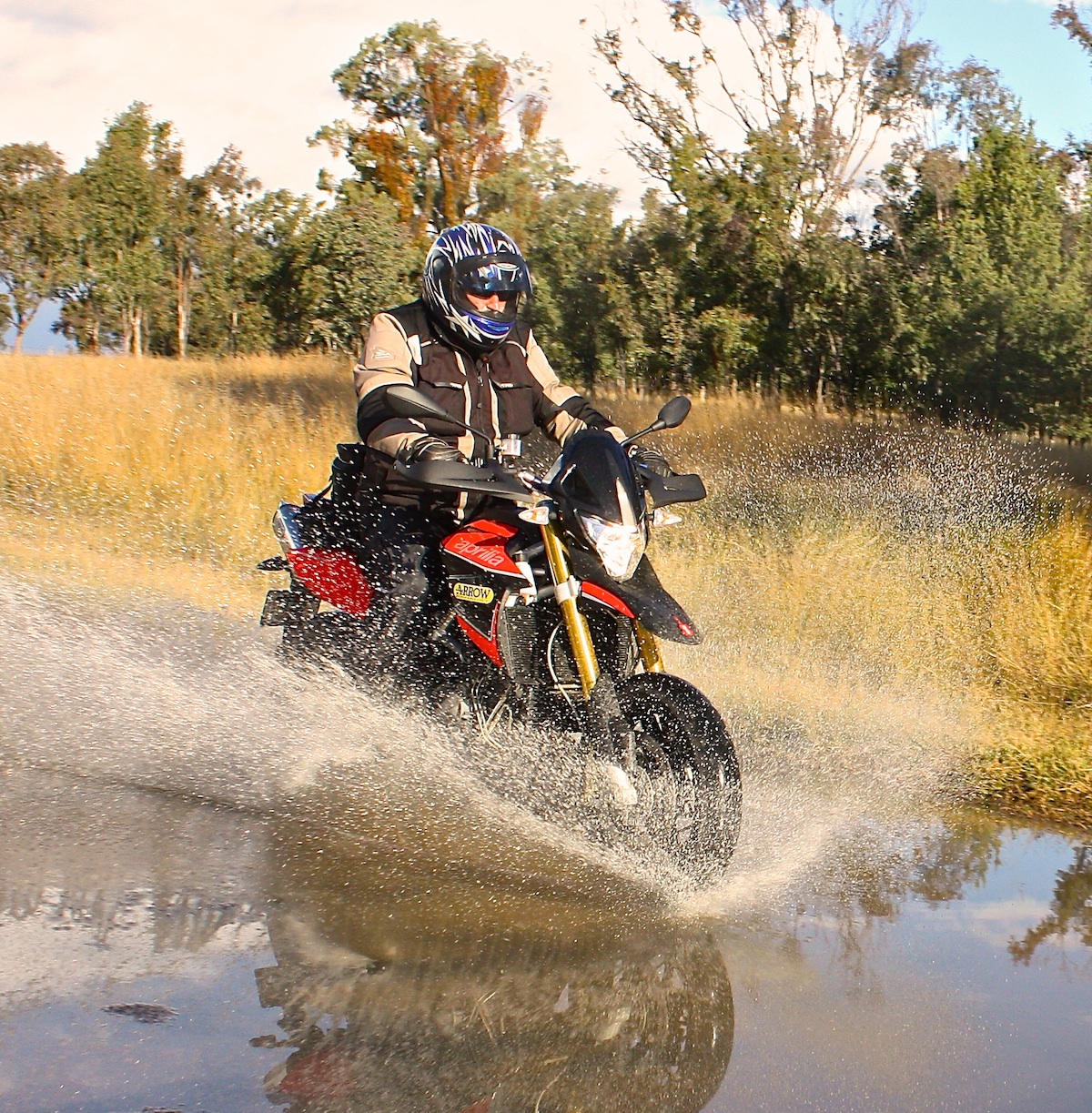 The seat is too hard for long distances. It's more like wearing a metal thong.
The 15-litre fuel tank is too small for touring and the economy isn't great. The on-board computer tells me it drank fuel at 6.5 litres per 100km.
But the engine is so addictive it encourages you to go hard and at one stage I put 12.6 litres in the tank after a very spirited 130km strop. That's close to 10L/100km which is worse than most small SUVs.
There is also nowhere to put luggage. The tank is plastic so you can't fit a magnetic bag but you can get an aftermarket bag. Meanwhile, the rear section is very narrow and the underseat exhausts will scorch any wide bag. We had an Aprilia rear bag fitted, but it is very small.
Just a couple of weeks ago, the bike was included in a launch event for the new Pirelli Angel GT tyres which included a romp through the country followed by a track session at Morgan Park, Warwick.
Most motorcycle journalists fought for the keys at the track, but wanted to give them away on the ride up to Warwick. It simply doesn't handle bumpy roads well.
Give it some smooth tarmac and it lays down the traction and sprints from corner to corner.
However, the front gets very nervous and flighty over bumps while the rear feels abrupt.
The sharp steering angle makes it quick to turn in, but also adds to its nervous front end. I'd suggest a steering damper if you want to tackle some of our sinewy back roads.
Before riding the Aprilia Dorsoduro away from the dealer, we changed the suspension from its track bias to standard road settings. But it still doesn't take the big hits very well.
Softening up the suspension also induced a bit of fork dive under brakes, so it is essential to brake early, then get off the front brake and squat the bike with trail braking, otherwise it feels nervous going into a corner.
As we found on the track, it will take ridiculous lean angles with no hint of grinding a sidestand or footpeg thanks to its high clearance.
Traction control and ABS are switchable, but you have to be stopped and on several occasions we couldn't work the function. Even the tech at the dealership had some trouble. Then, all of a sudden, it started to work properly.
While build quality is up to Aprilia's usual high standards, the alloy sidestand looks out of place and it's set too far back which makes it difficult to flick down.
I also don't like the motocross-style fuel cap. A hinged cap is far more convenient when filling up as you don't have to find somewhere to put the cap where it won't fall off and roll away across the servo forecourt.
The Aprilia Dorsoduro slots in between the Triumph Speed Triple 1050 and the Ducati Hypermotard 1100 on price and exclusiveness. But the others don't have the electronic trickery nor the power of the Aprilia.
Just don't take it touring.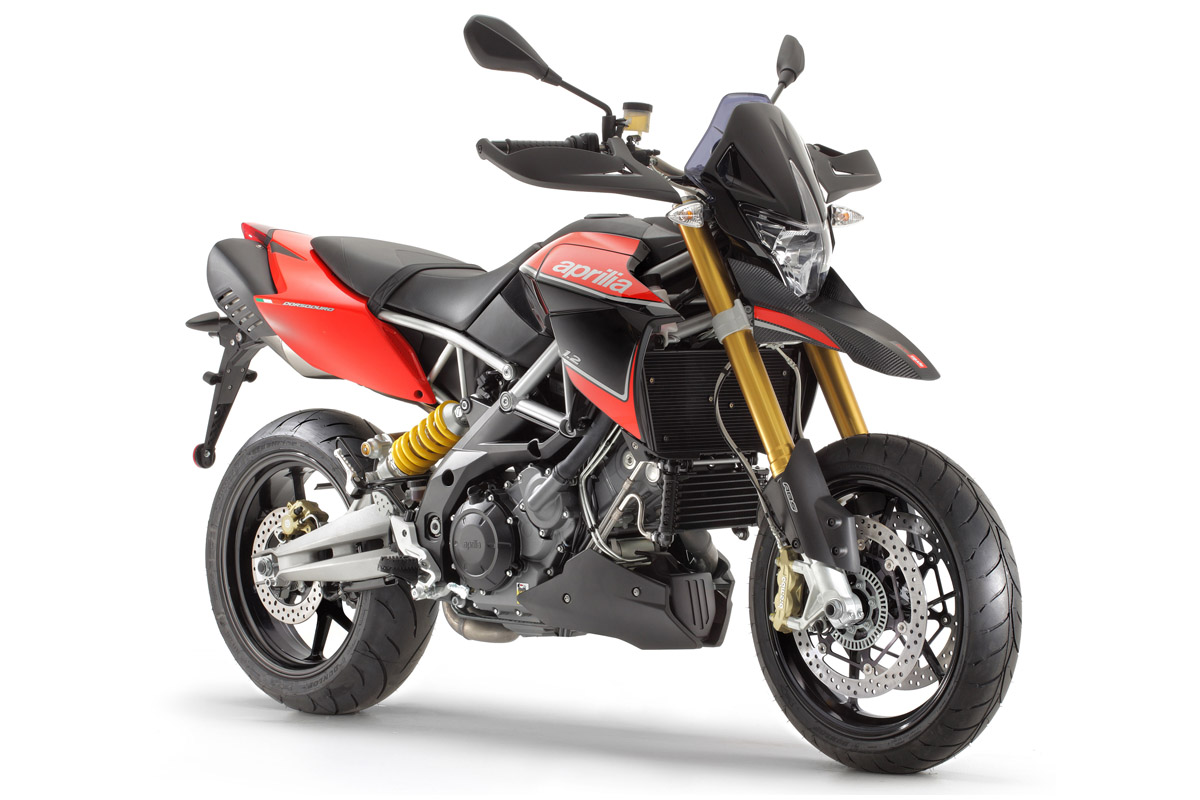 Aprilia Dorsoduro 1200
Price: $17,990
Warranty: 2 years
Service: 10,000km
Engine: 1200cc, 96kW/115Nm
Transmission: 6-speed, chain-drive
Suspension: Sachs 43mm fully adjustable inverted forks (front), aluminium alloy swing-arm, adjustable shock absorber with rebound damping and spring pre-load
Brakes: Twin 320mm discs, 4-piston calipers (fr), 240mm disc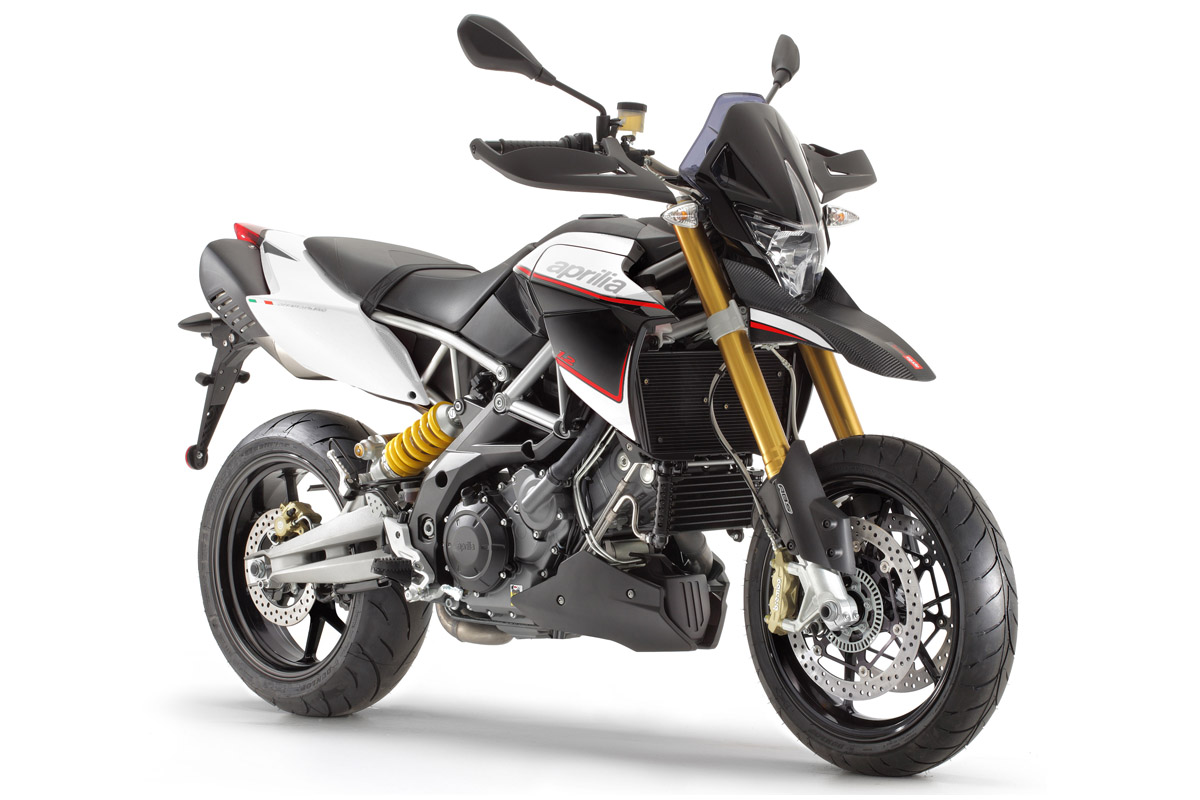 Dimensions: 2.2m (length), 905mm(width), 1.2m (height), 1.5m (wheelbase)
Seat: 870mm
Tyres: 120/70 ZR17; 180/55 ZR17
Weight: 212kg (dry)
Tank: 15L (2.5L res)