AKASO V50 Pro SE Action Camera Review
Review Summary
If a GoPro is beyond your realistic budget, the AKASO V50 Pro SE is a "good enough" budget alternative. It is, however, let down by a lack of external connectivity features for microphones and add-ons, and has some serious, though not deal-breaking, issues at higher capture resolutions.
Materials & Build Quality
Pros
Excellent digital image stabilization
Quality recording at Full HD and 2K resolutions
Multiple options in menus to set up the camera exactly how you need it
A veritable bounty of accessories in the packaging
Mounting brackets are compatible with GoPro brackets Two batteries and a charger included Excellent wind noise reduction on camera during recording
Cons
On this specific unit, 4K video recording would stop after a few seconds
Buttons, plastics feel very cheap
Display/touch screen scratches extremely easily
No 3.5mm universal external mic connection, have to use AKASO's proprietary mic (not reviewed)
Onboard mic has dismal capture quality
Mounts are somewhat "cheap and cheerful," and are prone to loosening or adhesive wearing off very quickly
2.8
Average, With Drawbacks
AKASO V50 Pro SE Action Camera Image Gallery
Being honest from the start, GoPro and DJI action cameras are expensive. Unless you are a YouTuber, an action sports star, or just need the best of the best, it can be seen as a waste of money to go after the top end. Thankfully, however, there is a complete range of action camera manufacturers that cover the range from cheap through to budget-friendly-but-still-pricey.
As a rider, I've been perfectly happy with my SENA 10C Pro helmet camera for general use, and as a "dashcam" for insurance purposes, in case someone crashes into me. However, when the opportunity arose to put a budget-oriented action camera, the AKASO V50 Pro, that has intercompatibility with GoPro attachments and mounting solutions, it was a chance to see what kind of use I could get out of what many consider to be the primary type of camera for captures while riding.
I will nip a small issue throughout the review in the bud here at the very start, even before I get into the nitty-gritty details of the AKASO V50 Pro. Throughout my time with the camera, despite it being touted as a 4K alternative to a GoPro Hero-level camera, I was only able to reliably record at 4K once. Any other time I would ask the camera to snap a picture at 4K or record at 4K, the camera would completely hard lock. This did affect both my objective and subjective opinion on the camera, although as with all things, your mileage may vary.
About AKASO
AKASO was formed in 2011, and incorporated in 2013, as a US-China international partnership. While the company is based in Shenzhen, China, it is "headquartered" in Maryland, USA. To keep the cost of all products low, AKASO focuses almost entirely on web-based sales, with some limited retail availability in high-population markets.
Recently, AKASO, based on their sales of approximately half a million camera units per year, has branched out into making heated winter sports gear. As many snowboarders and skiers use action cameras, this has been a natural evolution for the company, and heated vests, scarves, and leggings to wear under snow pants are the latest offerings. They also have started to make goggles for the slopes that are fog-free using a special coating that prevents the formation of condensation.
About webBikeWorld's Review Policy
This product was provided for review by AKASO. Note that we do not allow brands to influence review scores or content. Please see our review policies for more information.
We here at webBikeWorld believe that you can't just try something out once and give an honest opinion of it. Any product we test is actually used by our testers, and for most of July, I had the AKASO V50 Pro on my handlebars and elsewhere for almost every ride.
AKASO V50 Pro SE Features
The AKASO V50 Pro is promoted by the company themselves as the best alternative to a GoPro Hero-style camera, and to make such a claim, the action camera has a massive amount of shooting modes, photo modes, available resolutions, and uses the same mounting style as GoPro enclosures. This specific model also comes with so many attachments and extras that I was honestly surprised that it all fit into the small box that the camera came in!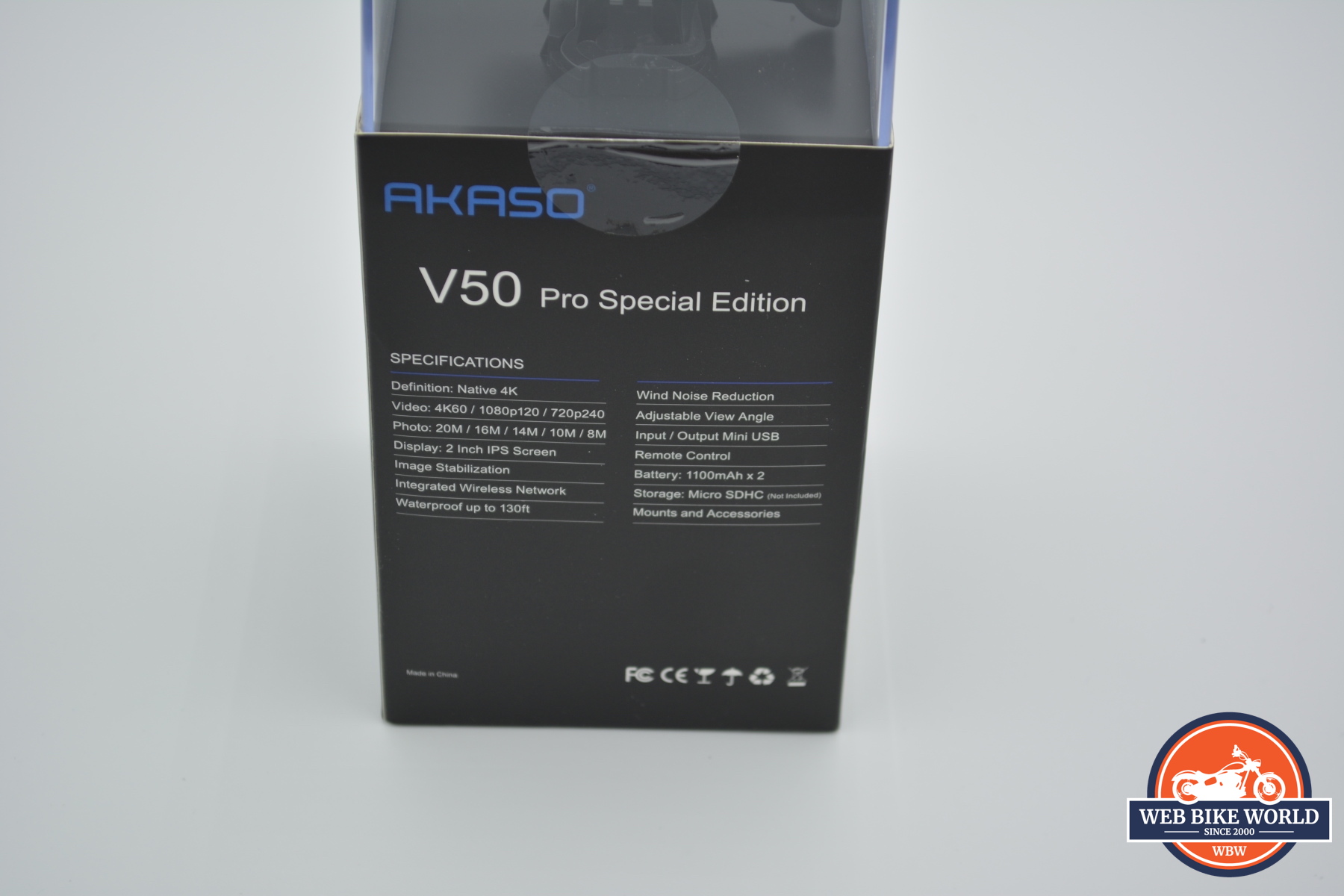 Probably the biggest feature of the AKASO V50 Pro is that it is a 4K, 2K, 1080p, and 720p capable action camera. It is also compatible with MicroSD cards of classes and sizes up to 64GB, however, a Class 10 or Class U1 is recommended for the best captures due to the massive amount of data 4K video files need. As part of all these capabilities and compatibilities, many options on the camera exist to tweak the captures to exactly what you need, from slow-motion capable captures, fast motion captures, electronic image stabilization, automatic light mode detection, and electronic wind noise reduction, among other options.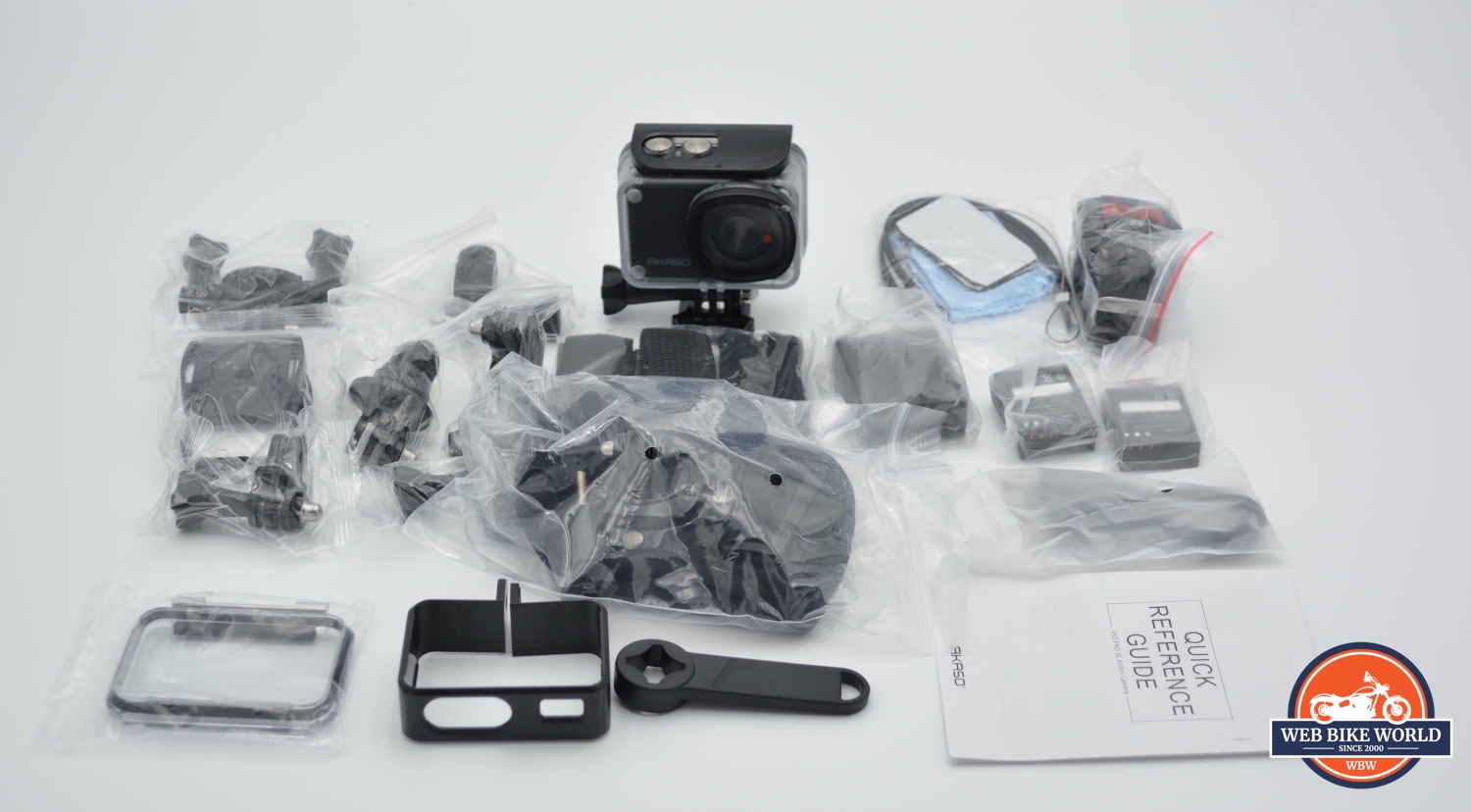 Also included as a handy feature is a remote control to start and stop recording, as well as take still photos. In the V50 Pro package, this remote came mounted on a watch strap, as it is expected that this action camera is going to be mounted on a helmet, chest harness, arm-band mount, or the like, and instead of having to fiddle around to find the record button, a simple press on the remote control is much easier.
Another feature is that there are apps for both Android and iPhone ecosystems that allow for wireless connectivity to the camera, allowing for some settings adjustments, a live stream from the camera to the phone so you can aim it properly, and playback of files on the MicroSD card to your phone. It is called AKASO Go on Android and AKASO DV on iPhone.
AKASO V50 Pro SE Accessories
There are so many accessories included in the packaging that they deserve their own section. The most prominent ones I used in my review are the "helmet mount" style sticky pad mount, which I actually stuck on the tail of my bike facing rearwards, and the U-clamp handlebar mount with the flexible elbow mount.
The camera can be housed in one of two enclosures – either a full plastic enclosure that has external access to the micro HDMI port or a shroud enclosure that is a pressure fit around the main body of the camera, leaving the front and back exposed. Both have two fingers extending off their bases and will mate with triple finger mounts with knob bolts, a la GoPro.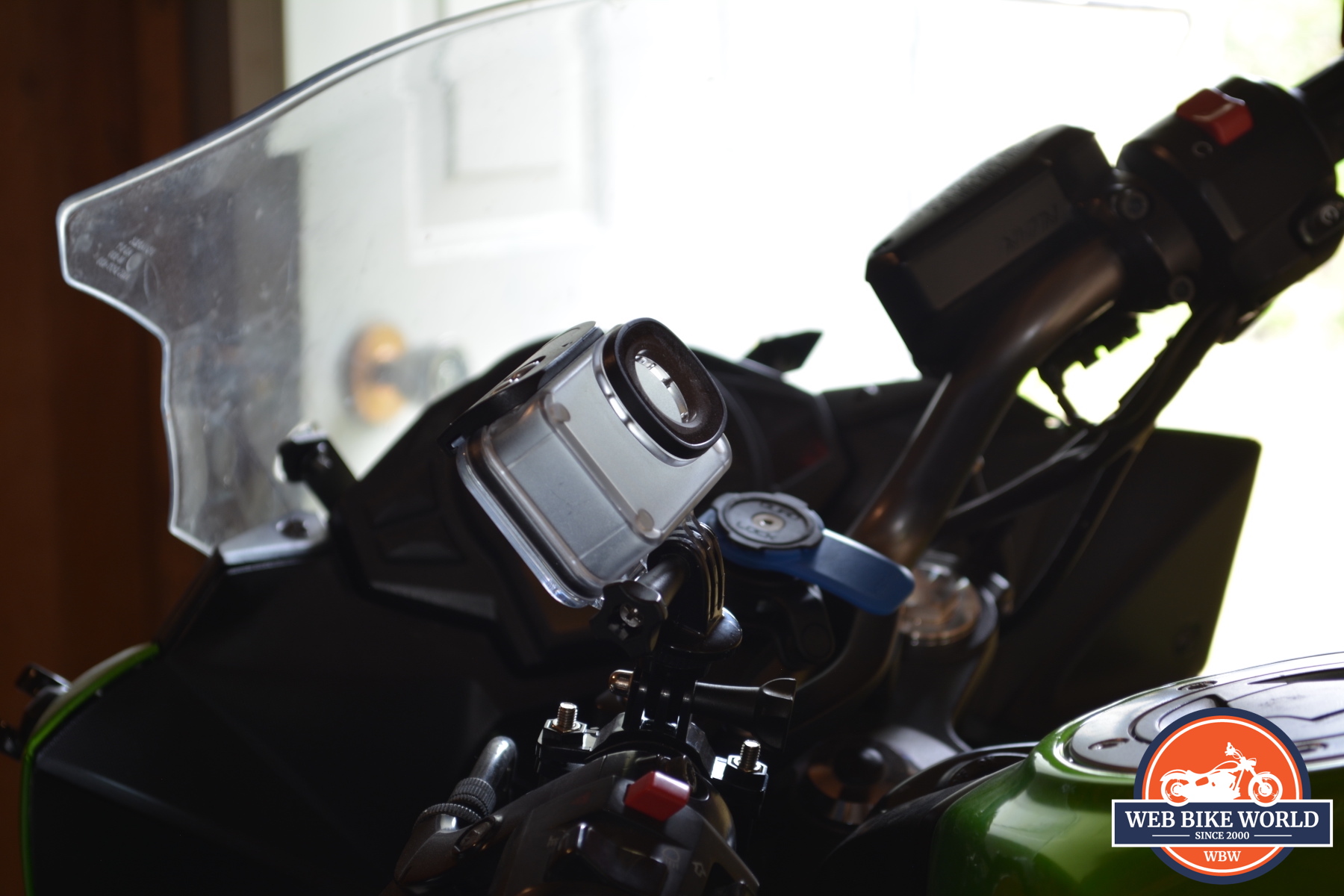 The types of mounts included are a U-clamp handlebar mount, two helmet mounts, a standard flat mount, a curved mount to extend the camera off the front of something, a flexible elbow mount, a short pivot mount, a short 90-degree mount, a long 90-degree mount, and an armband mount. And, all of these mounts are interchangeable/compatible with GoPro mounting solutions, so if you have a GoPro chest harness mount, the AKASO will mount happily to it.
The AKASO also has a tripod compatible screw mount, which uses the exact same pitch and turns as many DSLR camera screw mount holes. This means you can mount the action camera on everything from mini-tripod to a full professional tripod if need be.
Also included in the packaging are several velcro tie-down straps, zip ties to add extra mounting pressure, a steel braided thread tether, and a lens cloth. A battery charger, two batteries, and a USB cable provide for the camera's power and are quick-charge capable if you have a spare 5V USB3 port on your computer or a 5V or 7V wall charger.
AKASO V50 Pro SE Demonstration Captures
Video at 1080p/60FPS facing forward through the windshield

Video originally at 1080p/30FPS during the test of how long changing FPS rates gives in extra recording time
Video originally at 1440p/60PFS, but would not register as such, and was compressed by YouTube to 1080p/60FPS. No loss in quality, and also shows automatic light adjustment with direct sunlight and indirect sunlight.
AKASO V50 Pro SE Real World Testing
The bulk of this review is going to be here, in the real world section, so brew a cup of tea, sit down, and buckle up for some details.
The first thing that one does when reviewing an action camera is to, of course, take it for a test drive. After unpacking the camera and reading through the instructions, I set about making sure that it would take still pictures and videos at 1080p (known as Full HD), 1440p (known as 2K), and 2160p (known as 4K). On that first day, all picture modes and video modes were working fine, and I was pleasantly surprised by the electronic image stabilization that the camera had even without the optional extra stabilization option.
As well, at least in the AKASO V50 Pro package, a battery charger with two batteries comes as standard. It will plug into any USB wall adapter or computer port that provides at least 3V (USB 2.0), but seems to fast charge when attached to 5V ports (USB 3.x). All said and done, the batteries, from being fully drained, seemed to take anywhere from 45 minutes to 90 minutes to fully recharge on the front USB3.1 port of my computer tower.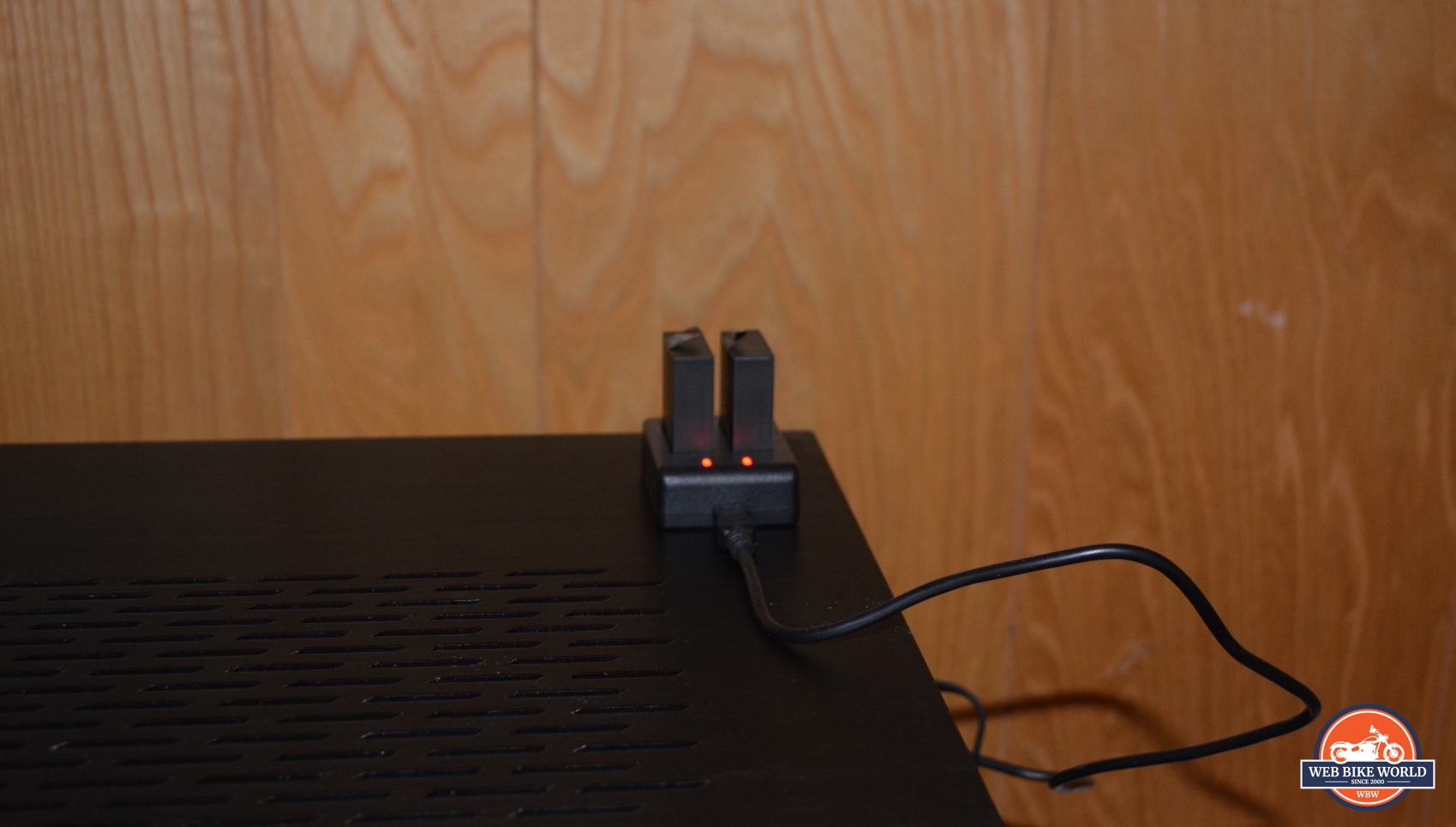 For riding, I decided to use the U-clamp with the flexible elbow mount, connected to the full enclosure case, on the left-hand side of my handlebars. This was mostly due to the brake reservoir taking up too much handlebar space on the right-hand side, as well as the fact that the right hand has two major jobs in throttle and front brakes and could not come off the grip to make any minor adjustments. You can see how it was mounted in the picture below:
For settings on the bike, I chose automatic light detection, automatic white balance, digital wind noise reduction, which narrows the input frequencies to remove wind from being recorded), and digital image stabilization. The extra image stabilization is mostly because parallel twins like my 2012 Kawasaki Ninja 650 that work on a 180-degree crank toss out a ton of sympathetic vibrations through the frame and handlebars when they get going above 4000 RPM.
This was when I hit the first snag. Other action cameras, especially GoPro's, either have a front display screen and/or LED light letting you know the camera is recording. AKASO uses a musical tone to denote its recording, and when you're wearing a helmet, a flydanna under that helmet, and earplugs, chances of hearing it are about the same chance a snowball has in the afterlife that is deemed the not-so-favorable option.
When the camera is facing out the front of the bike, through the windscreen, this is OK because you can actually look at the screen and see the little "recording" image and the timer stating how long you've been recording. When you have it mounted to the back of the bike or facing upwards to record yourself, it's not so evident. It's more of an inconvenience thing, as you can get around it by using the smartphone app or applying the reliable old Mark I Eyeball on the screen before hopping on the bike.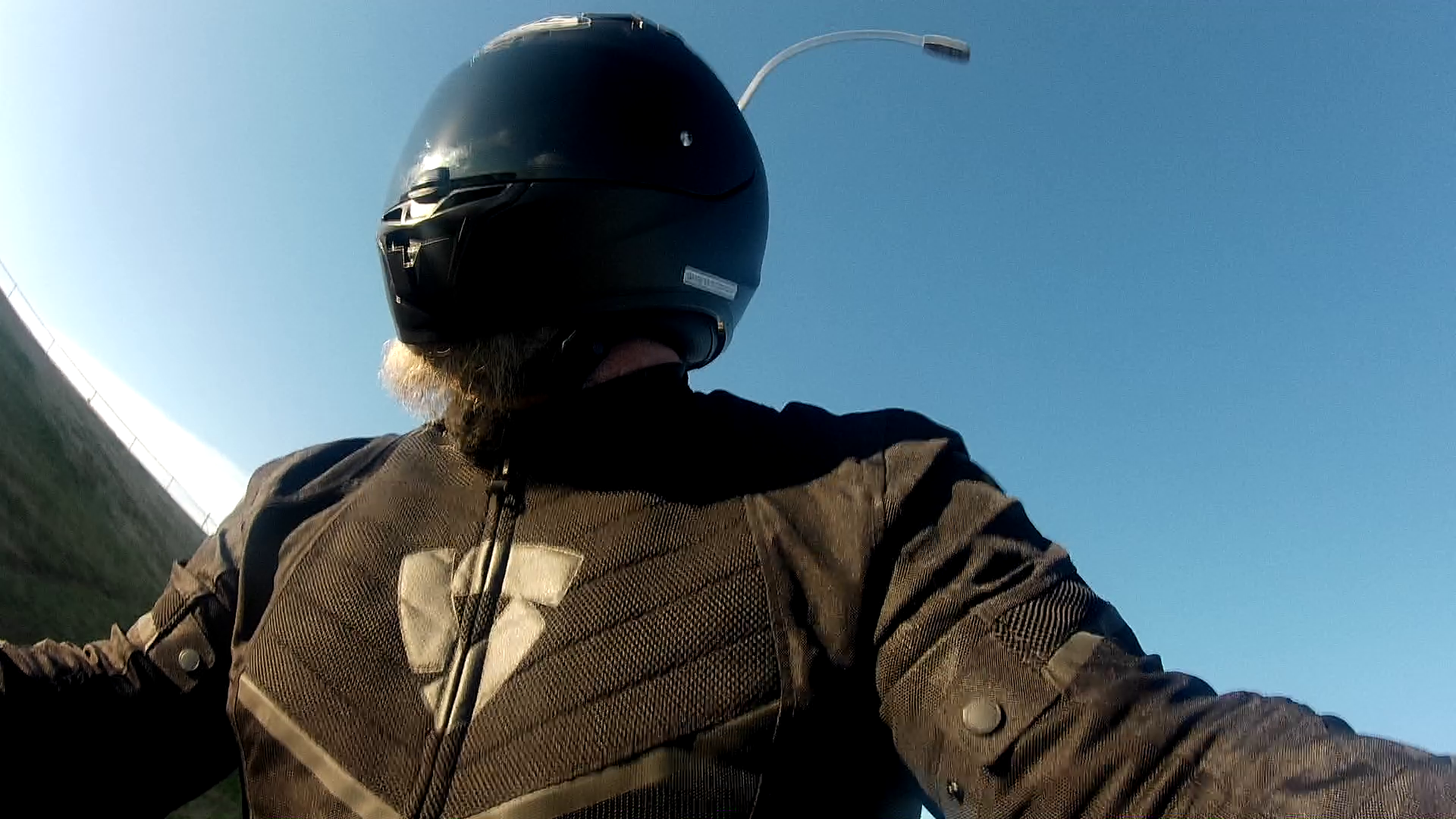 After that first ride, I did note that using the smartphone app and having the WiFi on the camera turned on, the battery life, even at Full HD, was nothing spectacular, just over an hour. The very next day, I rode again, this time with the WiFi off, and battery life almost doubled, as I was able to capture just about 1.75 hours of footage.
As shown in the demonstration capture facing out the front of my bike higher up on this page, the image stabilization is excellent. There were some parts where you can see my phone in its QuadLock mount with vibration dampener accessory wobbling about, keeping itself centered. That's how much vibration you can get on a parallel twin, and the capture was smooth as glass. I will say this about the V50 Pro, its stabilization codec is excellent.
One thing I will note, however, is that even while the camera enclosure gets a lot of wind/air flowing over it, the camera did get quite warm during active recording. It never shut down because of heat, nor did it corrupt any files, but pulling it out of the enclosure after a ride definitely gave the impression of "oh, that's a little hot, better let it cool down before changing out the battery."
A couple of days later, when I decided to do a 4K/30FPS capture, is when I hit the biggest snag of this entire review, one I could not resolve during the month I was reviewing the camera. It simply would not record more than a few seconds at 4K, and then the V50 Pro would stop working. No warnings, no error screens, just absolutely stopped dead in its tracks and would not respond to screen taps, physical button pushes, or anything.
In the IT and/or computer world, it would encounter what is known as a "hard lock." This is a situation where the software, firmware, and/or hardware gets to a point that it cannot process the information coming through it, panics, and literally stops working. It's like if you were crossing the street on a crosswalk, with the walk sign, and the instant the don't walk sign shows, you just stop moving and stand there. Traffic can't flow through you (well, it can, but you'd be injured or dead), and it creates a traffic jam back along the road so far that nothing moves.
To remedy this, in things with batteries, you usually pull the battery out, press the power button without a battery to completely discharge any capacitors in the electronics, and then reinsert the battery. I did exactly that, even going so far as to complete a factory reset using the in-camera menus, and the moment I tried to record again at 4K, it would hard lock.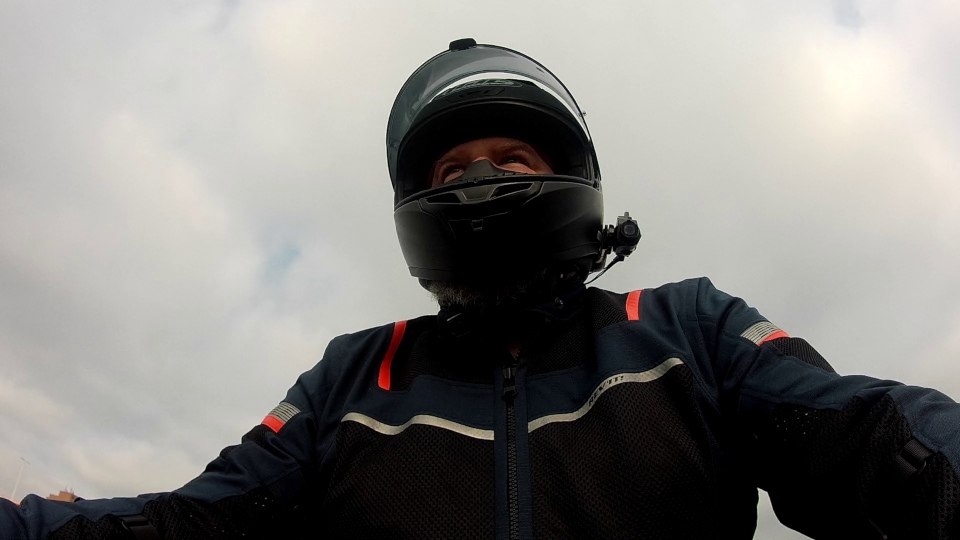 I followed all the online advice about resolving the issue, including downloading new firmware and flashing it to the camera using the microSD card in line with instructions from the AKASO webpage. The 4K capture still would not work, to the point that I opened a support request with AKASO themselves. The response was to do a factory reset, flash new firmware, or go back to my original point of purchase (which I did not have as the camera was provided to us for review) and exchange it.
While the video recording part was not working, 4K pictures were coming through perfectly, so there is at least that. Video recording at all other resolutions also worked absolutely fine, including 2K/30FPS. After multiple attempts to record at 4K/30FPS, including using a completely fresh, formatted MicroSD card, I, unfortunately, had to chalk it up to either this specific camera having a firmware issue or the V50 Pro itself not being able to handle 4K with standard settings.
Overall, here is how the dashcam rates:
1080p (HD): very good
1440p (2K): good
2160p (4K): fair to poor
I also noted during my usage of the camera, despite treating it as I would if I had bought it, meaning very carefully, the display/touch screen developed scratches at an alarming rate. I would put it down on my desk with the screen towards me, stabilize it with my hand, and push the MicroSD card in a little to let it spring out, and there was a small scratch on the screen. I didn't touch the screen knowingly, and out of the blue, a scratch appeared.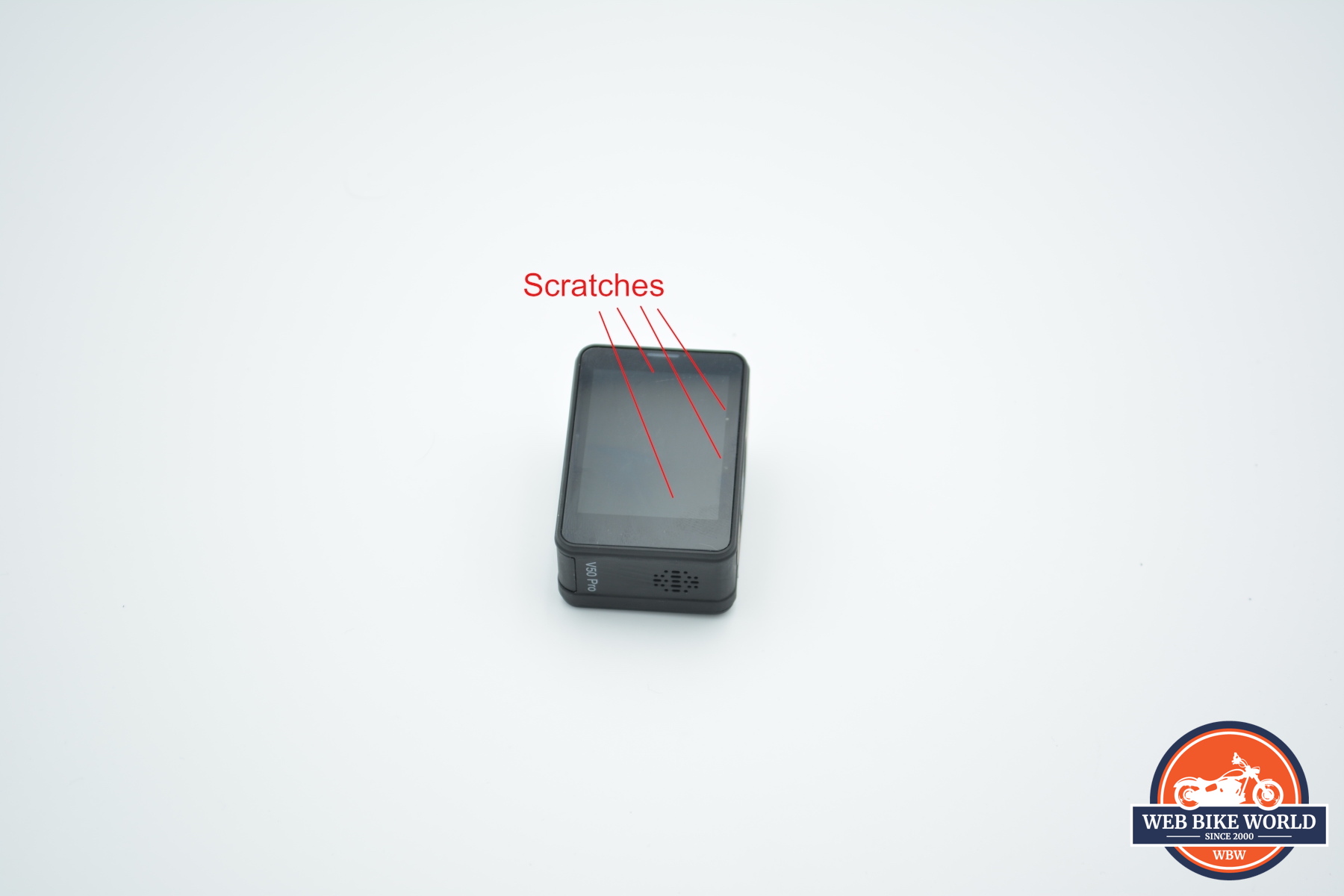 As you can see in the picture above, even just a month's worth of use has resulted in many hairline scratches, despite using LCD spray and microfiber cloths to clean the screen, and only touching it bare-skinned. I did test it once with a pair of my touchscreen-enabled gloves, but it was so finicky and off-centered that I couldn't hit the menus I wanted to.
I also noticed that despite being slightly rubberized, the casing of the actual camera has, and I am being as objective as possible here, a "cheap feel" to it. When you snap the battery door closed, it has a tinny click sound instead of a reassuring feeling of locking into place. The best analogy I can make here is when you close the door on a Honda Civic from the 1990s, and then close the door on one from the 2010s… There is a definite improvement in the sound and feel of the door, a reassuring thump instead of a squeak clunk rattle that the old steel-bodied cars had.
However, I also kept in mind that a GoPro that does 4K still costs about $350, and at that, only if you "subscribe" to GoPro. The AKASO V50 Pro does sneak in just under $110 all said and done and comes with more kit than the standard GoPro does in the box. It is eminently possible that the reason it's so inexpensive is through using thinner, lower-quality plastics, and sourcing parts from mass-market providers, instead of single-stream supply like DJI uses for the Osmos.
This also, unfortunately, carries over to the accessories bundle that came with the V50 Pro. The U-clamp was solid, but the elbow joint, after just a few adjustments of the camera and the direction it was pointed, with the joint lock itself slacked off, literally came apart in my hands. I had to use a little force to get it to mate together again, and it seems to be steady.
As well, I rode with the camera on the tail of my bike one day, and as an afterthought, just before I started my bike up to go riding, I decided to use one of the nylon securing straps through the mount just in case it came off the adhesive pad. It's a good thing I did because when I got home and looked to see how the camera had done, it was hanging by the nylon strap, and the adhesive pad, used on a cleaned and good section of my tail, was gone.
Final Thoughts: A Budget Alternative Action Camera
Keeping in mind the goal of the AKASO V50 Pro, that of being a budget action camera, it performs its job adequately for probably 95% of people out there. It's a camera that you can pop on a selfie stick, attach to your pedal bike handlebars, clamp to your bike helmet, or use to record sports events or your kids' soccer/hockey/etc games.
In terms of being narrowed down to just motorcycle use, it starts to enter into the "maybe save up" realm of things. I went into this review with the knowledge that the camera was not going to be one of the higher-end action cameras, so my objective was to rate its functionality in view of how close it gets.
The AKASO performs admirably in terms of image stabilization and wind noise reduction, and the video quality, as you can see in the demonstration captures, is more than enough to use it as a possible dash camera or just to record yourself riding. With this specific unit's 4K video recording issues aside, I found that the camera does the job an action camera should do on a motorcycle, and that is recorded with a stable image and decent quality.
I do feel let down that the only microphone options are either the abysmal onboard microphone that sounds like you're trying to talk through a foot of gel, or their own proprietary accessory microphone. To truly compete with GoPro in the important area (that of being a moto vlogger unit), having a 3.5mm universal mic jack – or even a 2.5mm universal mini-jack – would put this unit into serious competition as a gateway budget starter camera for your new motovlogging hobby.
Objectively, if it had worked perfectly across all aspects, it would have been given a 3.5 out of 5. As it is, however, and with the specific recording issues I did encounter that ended up with the official answer of "take it back and exchange it," I can't rate this action camera any higher than a 2.5 out of 5, or 50%.
It's a budget action camera that does the job but doesn't particularly excel. In layman's terms, it's good enough for the budget crowd, and you'll find plenty of use out of it for $110.
Final Overall Score: 2.5/5, or 50% 
Pros
Excellent digital image stabilization
Quality recording at Full HD and 2K resolutions
Multiple options in menus to set up the camera exactly how you need it
A veritable bounty of accessories in the packaging
Mounting brackets are compatible with GoPro brackets
Two batteries and a charger included
Excellent wind noise reduction on camera during recording
Cons
On this specific unit, 4K video recording would stop after a few seconds
Buttons, plastics feel very cheap
Display/touch screen scratches extremely easily
No 3.5mm universal external mic connection, have to use AKASO's proprietary mic (not reviewed)
Onboard mic has dismal capture quality
Mounts are somewhat "cheap and cheerful," and are prone to loosening or adhesive wearing off very quickly
Specs
Manufacturer: AKASO
Price (When Tested): $109.99
Made In: China
Alternative models & colors: V50 (no accessories bundle), V50 Pro SE (special edition with more accessories), V50 Elite (only V50 that can do 4K/60FPS)
Review Date: August 5, 2021