GoPro Hero3 Review Summary
GoPro Hero3 Image Gallery
The new GoPro Hero3 delivers the goods, no doubt about it.
In fact, we named it our Motorcycle Action Camera of the Year for 2012.
The Hero3 Black Edition has the best video quality by far of any motorcycle video camera we've reviewed.
That's the good news. Not all is rosy, however…
It is still somewhat crippled by its legacy form factor.
For example, it requires the bulky GoPro waterproof housing with the proprietary "fork" mount.
The square shape of the Hero3, despite being marginally smaller than its predecessor, is still difficult to successfully mount on a motorcycle helmet.
At least the legacy design allows the older GoPro BacPac live view with its deeper cover to fit on the new Hero3.
Which begs the question: Why isn't a live view standard on a $400.00 camera?
And without the BacPac (even with it, for that matter), the menu system is just as cumbersome as ever. And the battery life is disappointing…
One good thing though wins out: in the end, the stunning video quality from the Hero3 trumps the yestertech hardware design!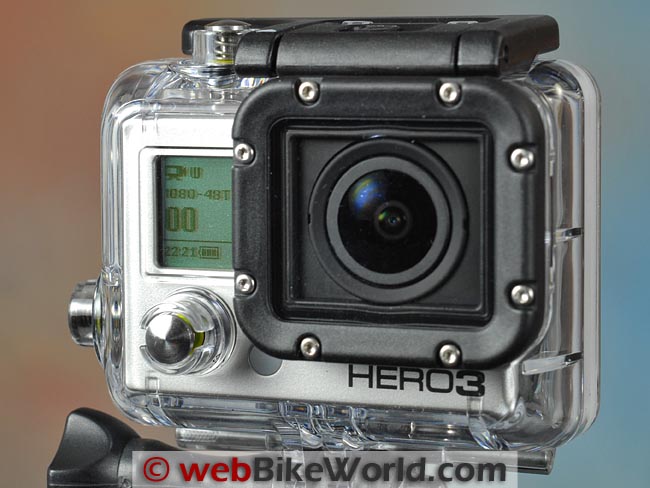 We've had mixed feelings about GoPro video cameras in the past, but the video quality coming out of these strangely square boxes has pretty much been a notch or two above the competition.
The square design isn't as difficult to work with in some sports as it is with motorcycling. Indeed, GoPro "Hero" cameras have become the de facto standard in many sports.
If you look carefully, you'll frequently see them at work in any number of action or "reality" TV shows.
For example, a couple of GoPro Hero2 cameras are frequently seen being used for the in-car video in "Chasing Classic Cars" and "Mythbusters", which tells you that the video quality of the GoPro units are pretty good.
In fact, if you didn't know it (and most viewers don't), you'd never notice a difference between the Hero2's and those multi-thousand-dollar hand-held video cameras also employed in those shows.
But we come at this from a purely motorcycle-centric perspective.
The video has to be good — no question there — but the form factor is hugely important for our sport; much more so than for, say, an in-car camera.
In fact, camera handling can be a deal-breaker, because if it's too difficult to mount the camera on a motorcycle or helmet, the best video quality in the world is useless.
And that's where the GoPro Hero3 loses some points, in our opinion. As we've mentioned in several of our motorcycle video camera reviews (index), the "perfect" motorcycle video camera has yet to be invented.
That still holds true, even with the release of the GoPro Hero3, for this camera solves but one half of the equation only: video quality.
As for the form factor, well, the Hero3 is still a bit clunky and it still requires the use of the bulky waterproof housing.
And the proprietary mounting clamp system with its loose parts is fussy and while we're at it, how about that DOS 2.1 menu system? Time to ditch it, GoPro.
The legacy GoPro form factor does have a few pros — or one, anyway — to go with these cons, however.
At least they kept the Hero3 the same height and width as the other GoPro cameras, so GoPro BacPac (review) owners can still fit the BacPac and the deeper cover on the Hero3 (a secret that GoPro isn't telling you).
That's a big relief, because having to shell out for a new BacPac on top of the already lofty cost of the Hero camera would be a real bummer.
Fortunately, the Hero3 video quality is so exceptionally good that you can overlook the form factor issues…to a certain extent, anyway.
But it just makes it that much more frustrating to wonder what coulda/shoulda been, had GoPro dumped the yestertech design and started from scratch…



GoPro Hero3 Basics
The Hero3 now comes in three flavors: the high-end Black Edition of our review; a Silver Edition and a White Edition.
All three have the newly redesigned f2.8, 6-element aspherical glass lens, which gives the Black Edition a claimed "2x Sharper" and "Professional Grade" low light capability and, we think, is one of the primary reasons for the noticeable increase in video quality.
The Silver Edition is termed "Prosumer Grade" and the White Edition is "Consumer Grade", which kind of makes you want to go for the Black, right?
But actually, the Silver may actually be the best deal for motorcyclists (although besides the new lens, it may not have much on the existing Hero HD).
The Black Edition, at $399.99 (yikes!) captures images at a maximum of 12 megapixels, with the Silver at 11MP and the White at 5MP max.
I won't go through all the feature differences here of these three, because you can read all about it for yourself in the GoPro Hero3 camera comparison chart on the GoPro website.
For sure, the Black Edition has the most extensive set of video recording capabilities of any motorcycle video camera we've reviewed, and probably more than any other camera in this price range.
More, in fact, then most $1,500.00 "prosumer" hand-held video cameras (although they typically have a much more extensive manual settings and features set).
The Black Edition includes a 2.7k Cinema video capability (2,716 pixels by 1,440 pixels for a 17:9 video format) and a 2.7k video capability (2,716 by 1,524 for a 16:9 format).
In addition, it includes the standard 1080p (1920×1080) at multiple frame rates, 720p and more. (Note: the GoPro Hero3 Black Edition owner's manual, only available as a .pdf download, refers to both "2.7k" and "2k" video formats but it's 2.7k).
There is also a 4k and 4k Cinema video capability in the Black Edition, but to be honest, they are not relevant. First of all, it only has a maximum frame rate of 15fps, which basically means very choppy video.
It also has a lot of noise, probably due to the compression or interpolation in the camera by the firmware.
And finally, the Black Edition has built-in WiFi and a remote control that, when paired with the camera, repeats the tiny front menu screen on an LCD screen on the remote.
This allows the user to choose the menu settings using the same back/forth two button choices as on the camera.

Which Format?
The Black Edition has more video formats and frame rates than you can shake a stick at, including:
4k and 4k Cinema at 15, 12.5, 12 frames per second;
2k and 2k Cinema at 30, 25 and 24 frames per second;
1440p at 48, 30, 25 and 24 fps;
1080p at 60, 50, 48, 30, 25, 24 fps;
960p at 100 fps; and 720p at 120 and 100 fps;
There's also a WVGA mode at 240fps, but we haven't been able to get that to play correctly yet either.
Finding and using all of these formats can be a bit tricky, due to the clumsy menu system, but you can't go too wrong by simply sticking with good ol' 1080p at 30 fps.
In fact, several of the other formats besides 4k are not only difficult to work with (2k and up file size and playback may choke some older computers and lower-capacity microSD cards), but we couldn't get some of the formats, like 960p and 720p at the higher frame rates, to play correctly.
And that was even on an ultra-fast, state-of-the art computer system with 10,000 RPM hard disks, 12GB of RAM, a fast video card and the latest Intel processor.
Also, what should be super-slow motion, with the 100fps and up frame rates, comes out either very choppy or the editing software interprets it as a slower frame rate.
Possibly GoPro's implementation of the capture algorithm or interpolation is different than expected.
[UPDATE (December 2012): A reader suggested slowing the video frame rates and I tried it in the video editing software and it works. Example: The 240fps video clip slowed down by 80% to 48fps plays smooth and in slow motion.]
And while the 2.7k format may sound good — hey, bigger numbers are better, right? — truth be told, we can't tell the difference between that format and the 1080p/30fps from this camera, at least at the 8MP bitrate in the Black Edition (still photo resolution up to 12MP).
Thus, you can probably get the Silver Edition, save yourself $100.00 and spend it instead on an accessory GoPro Battery BacPac.
You'll need increased battery life way more than you'll ever need 2.7k video, believe me.
Bottom line? The GoPro Hero3 Black Edition 1080p 30fps video is better quality than any other motorcycle video camera we've reviewed.
It's immediately noticeable when the raw files are played on the computer, even at full screen resolution (how they'll fare after YouTube compression is another issue).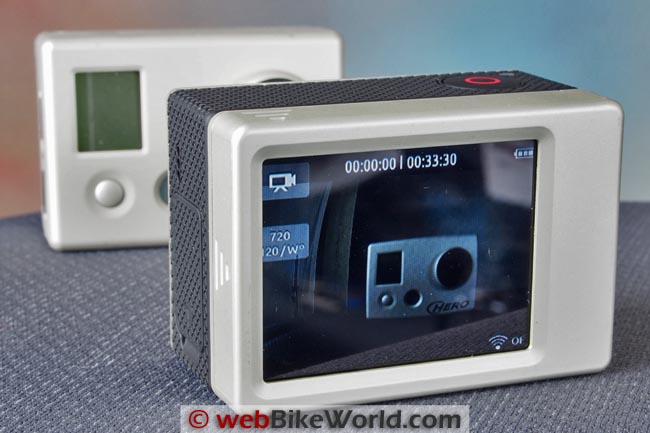 GoPro Hero3 Black Edition Features
In addition to all the new video formats and the higher-quality lens, the Hero3 now takes a microSD card rather than the SD format used in previous GoPro cameras.
You'll need a fast card too — GoPro recommends a Class 10 card as a minimum…and they're not kidding. We tried slower cards and the camera stops recording after about 5 seconds when the internal buffer becomes full.
Not all Class 10 cards are equal either, so spend a few bucks more and buy a name brand (although even that's not always a guarantee).
We bought a couple of Class 10 memory cards in different capacities and they work great.
You'll also need a lot of computer disk storage for those 4k and 2.7k video files or the 1080p at 12MP resolution.
Working with big files can be difficult, so you'll also need a honkin' computer, plenty of fast storage space and gobs of RAM. We process all of our video files in Adobe Premiere Elements ($49.99) and have been using the software since version 4.
Do yourself a favor and buy a copy if you're going to play with video — you really don't want to simply upload raw files out of the camera without editing them first, for size if nothing else. It's money well spent.
The Black Edition has built-in WiFi and a wireless remote control with a rechargeable battery.
The remote has a small LCD window that repeats the menu on the front of the camera, but it has just the same two button interface, so there's no "Back" button.
Too bad — it would have been easy enough to add one to the remote control, which would make it easier to navigate through the menu.
You'll notice a third button on the waterproof housing, on the right-hand side of the camera.
This turns the WiFi on and off but if the camera is turned off with the WiFi on, the WiFi light will remain active, the blue WiFi light will continue to blink and the camera can be turned on again via the wireless remote control.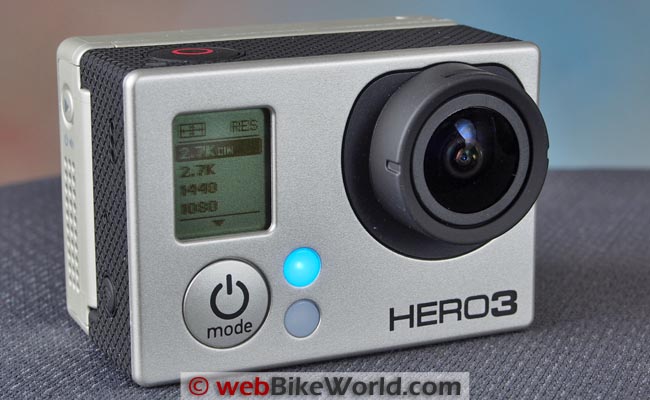 GoPro Hero2 Black Edition Brickbats and BonBons
Antiquated Menu System
The Hero3 menu system has legacy written all over it, so to speak, and that's unfortunate. At least with the BacPac the menu choices make a bit more sense than that way-too-small, 1980's style black & white text on the unbelievably tiny front display.
The menu system is where the legacy design of the GoPro really hurts: there's no third "Back" button, so if you miss a menu choice, you have to scroll all the way through the menu system until you return to your initial choice — and hope you don't pass it again.
A "Back" button would be more than welcome.
And there are way too many button pushes required to change settings. Believe it or not, we counted 29 (!) separate button pushes to do something as simple as changing to a different video format.
That, my friends, is absurd.
(UPDATE: Owners can download the free GoPro app to control the Black Edition via WiFi on a "smart" phone or tablet).
One more thing: the beeper isn't loud enough to hear when you're on the bike with the helmet and ear plugs. Again, thank goodness for that LCD BacPac so you can at least see what you're doing!
Waterproof Housing
As expected, the waterproof housing adds bulk and weight to the Hero3, which is more of a factor for motorcycle use than for some other sports.
The mildly redesigned housing has a new flat lens cover though, which appears to be made from glass or crystal. It's actually replaceable also, a nice feature continued from the original camera.
The housing comes with a solid (waterproof) and an open back cover. The open cover is for sound recording, which has much better quality in the Hero3 than on previous GoPro cameras.
You can hear the difference in the sound when watching the on-road video below, which compares the Hero2 with the Hero3 on our standard example motorcycle video camera road (the sound levels were reduced, however, during post-processing).
Camera Mount
The Hero3 legacy form factor means you'll still need the unique GoPro "fork" style camera mount system.
You can buy a special GoPro version of the Fat Gecko suction cup mount (review) with the fork adapter, but our advice is to buy a cheap fork-style GoPro camera mount adapter, which works on any standard tripod mount.
Then you can buy a standard Fat Gecko or other brand of suction cup mount and simply use the adapter when necessary.
Battery
The Hero3 battery life isn't great, with only about 1/2 hour of recording time after you consider the extra time needed to mess with the menu system to set up the camera.
It takes about 4 hours to recharge the battery via the USB port, even if the battery is only one bar down, it seems to go through a charging sequence that still takes several hours.
Curiously, the battery seemed to gain a bit of usable capacity after it was discharged and then recharged a couple of times.
GoPro sells an accessory battery BacPac, but apparently you can't use the battery BacPac and the live view BacPac simultaneously — another artifact of the last-century design.
microSD Card Slot
The microSD card and USB mini-port are hidden under a removable plastic cover on the left-hand side of the camera. The cover is not hinged, and we almost lost it immediately the first time it was removed.
However, kudos once more to GoPro for the design of the microSD card slot mechanism.
It feels solid and has a definite click as the card is inserted, unlike most of the other implementations we've tried for microSD card slots, which feel more like pushing a piece of wet linguine into a rabbit hole.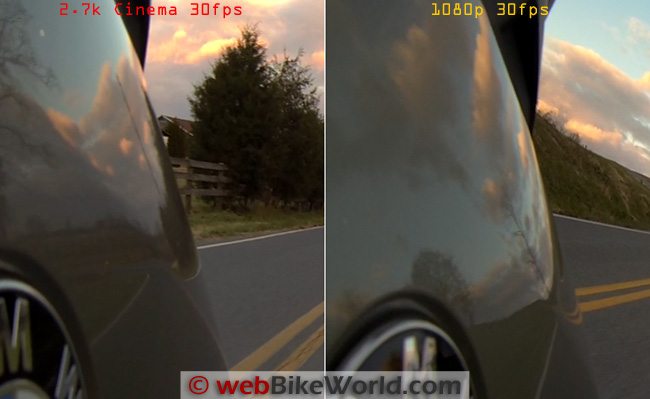 The Prize Inside: Exceptional Video Quality
The sharpness, overall quality, color accuracy and exposure of the GoPro Hero3 Black Edition is outstanding — no ifs, ands or buts about it.
It's better, in fact, than a couple of the $1,200.00+ "prosumer" hand-held video cameras we have tried, and certainly better than any other motorcycle video camera we've reviewed.
The automatic exposure algorithm gets special kudos, because there is none of the visible stepping that is readily apparent in lesser video cameras. And none of that phony oversaturated color palette, either.
The Black Edition has a "Protune" setting that allows the owner to access more features and do some limited tweaking to color balance, white balance, exposure and the higher resolutions and frame rates.
We turned on the Protune setting but left everything other than the video resolution and frame rates as they came from the factory and they're perfect.
The only fault perhaps is that the factory settings for exposure tends to be about 1 stop too dark, but that actually works out better when a bright sky is dominating the frame, as often happens when you're recording on a motorcycle.
In most cases, it's easier to modify the exposure to bring out detail in the shadows than it is for blown-out highlights in post-processing.
So the combination of the redesigned lens, the flat lens cover, the faster processor and tweaked internal system really makes a difference on this camera.
If you're interested in video quality above all else — and who isn't? — the GoPro Hero3, at least in this Black Edition, is a standout.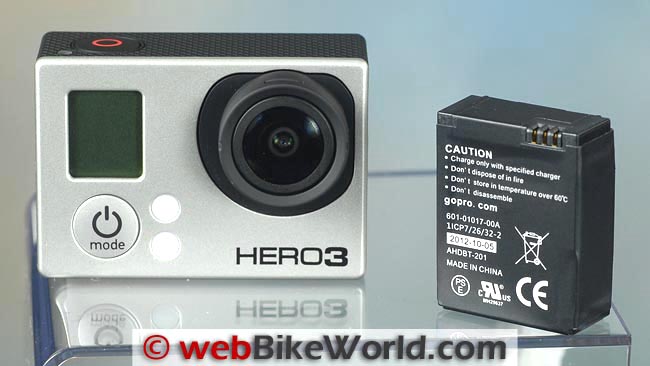 In the Box
The GoPro Hero3 Black Edition kit includes:
GoPro Hero3 camera.
60 meter waterproof housing.
Wi-Fi rechargeable remote and a key ring.
Special charging cable for the remote control. (Note: It's not in the instructions, but there's a small release button on the back of the remote. Push and hold it and the metal key ring loop is released, then you can slot in the recharger.)
Rechargeable Li-ion battery.
Quick release buckle.
J-Hook buckle.
3-Way pivot "fork" joint.
Adhesive Mounts, one curved and one flat.
There is almost no printed material with the camera; the owner's manual is a .pdf download as referenced in an earlier section.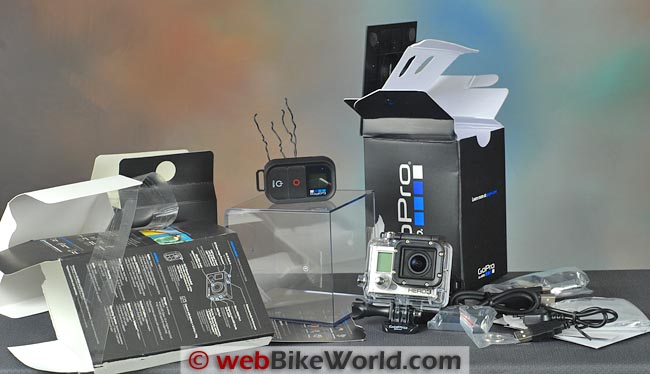 The Shame Corner: GoPro's Environmentally Unfriendly Packaging
The Hero3 camera kit comes in an environmentally unfriendly box, apparently designed by some marketing staffer without a clue.
It features a large clear plastic non-recyclable container that you have to immediately throw in the trash.
C'mon GoPro — how about putting the camera kit in a decent box that we can at least use to store the camera? Or how about a fabric carrying case for the 400 bucks??
Put a GoPro logo on it and you get free advertising!
Hard to believe that GoPro gets away with this, considering that the target market for this camera are the young outdoor types that are — hopefully — environmentally conscious.
No one apparently has called GoPro out on this, so we're doing it. Shame!
GoPro Hero3 Videos
Following is a brief video highlighting some of the features of the new GoPro Hero3 Black Edition.
Also included is a video compilation of on-road video samples taken in various GoPro Hero3 Black Edition formats. Note that as always, the YouTube compression algorithms reduce the actual quality of the video.
You can download some sample files from our YouSendIt Dropbox below, but each download may take a significant amount of time (approx. 20 to 30 minutes).
w

BW

 Video Part 1: GoPro Hero3 Black Edition Overview
w

BW

 Video Part 2: GoPro Hero3 On-Road Examples
web

BikeWorld

 Opinionator: GoPro Hero3 Black Edition

Picks…
…and Pans

Superb video quality.
Multiple resolutions and frame rates.
New sharp lens.
Replaceable high-quality lens cover.
Works with existing BacPac and cover.
Optional WiFi connectivity.
Wireless remote control.

Outdated form factor.
Packaging is an environmental Superfund site.
Menu system is the pits.
Not sure why they went to a microSD card; there's plenty of real estate on the camera?
Proprietary "fork" mounting system.
Waterproof housing adds bulk.
No back button for the menu system.
Lens can't be rotated.
Live view requires accessory BacPac.
Extended battery life requires the battery BacPac.
Only one BacPac at a time can be used.
Battery life needs improvement.
Conclusion
The video quality of the new GoPro Hero3, at least in the Black Edition, is outstanding and rivals hand-held video cameras costing much more.
Although remember that the hand-held cameras have many more user settings that can be tweaked.
We're still not fans of the GoPro Hero form factor though.
Here's our suggestion: ditch the Commodore 64 style on-board menu system completely and make it completely app-based, so everything can be set or controlled via a tablet, laptop or other wireless device.
They're almost there — a new WiFi app is coming for the Black Edition to control the features, but it needs the WiFi BacPac for others.
The app requires the first firmware update, which is scheduled for release on December 14, 2012.
The remote control helps, but it repeats the same tiny menu screen on the front of the camera and still doesn't include a third "Back" button.
This was their chance; they developed a new remote control, why not add a third "Back" button to at least make it easier to select a menu choice?
In the end, the form factor is frustrating but can be overlooked, due to the outstanding video quality. No doubt, this is the motorcycle video camera to have for 2012 and probably well into 2013.
More webBikeWorld: 
▪ Video Action Camera Reviews
▪ Intercom and Radio Reviews
w

BW

 Review: GoPro Hero3 Black Edition Video Camera

Manufacturer: GoPro (Woodman Labs, Inc.)
List Price: $399.99 (Black Edition). $299.99 (Silver Edition). $199.99 (White Edition).
Colors: Black/Silver.
Made In: China
Review Date: November 2012
Note:
 For informational use only. All material and photographs are Copyright © webWorld International, LLC since 2000. All rights reserved. See the webBikeWorld® 
Site Info page
. Product specifications, features and details may change or differ from our descriptions. Always check before purchasing. Read the
Terms and Conditions
!
Owner Comments and Feedback
---
From "T.Z." (December 2012): "Just read your GoPro 3 review and you stated "but we couldn't get some of the formats, like 960p and 720p at the higher frame rates, to play correctly, even on an ultra-fast, state-of-the art computer system with 10,000 RPM hard disks, 12GB of RAM, a fast video card and the latest Intel processor."
This in fact has nothing to do with the computer, but with the video card/monitor combination.
Most LCD monitors max out at 60hz which is 60FPS. If you try to play 120FPS, the Monitor isn't fast enough to show all the frames, so it looks jittery. Slow it down to 25% and it will be perfect…that's really what the high FPS is used for…
Rick's Reply: I just tried it in the video editing software and you're right, it works. I took the 240fps video clip and slowed it down by 80% to 48fps and it looks smooth and slow. I'll add a correction to the article, thanks.
---
From "M.R." (November 2012): "Whilst I agree with the design and ergonomics issues pointed out in the reviews, I think the reviewer may not have been aware of the true functionality of the WiFi-enabled camera.
See (the GoPro app for "smart" phones and tablets). With a firmware update, one can use an iOS or Android smartphone or tablet to access the full functionality of the Hero3 Black Edition, which I believe is the latter's main raison d'etre.
The small fiddly menu button is, I believe, meant to serve as a backup in the event that the user's phone/tablet runs out of battery, goes missing, is unable to connect, is stolen by CIA operatives from Area 51, etc.
Perhaps the reviewer could look into this and update the review accordingly. It seems completely pointless for GoPro to release a camera that goes backwards in functionality as we move forward with technology. The other parts of the review are spot-on, as always for wBW."
Editor's Note: Thanks for the info, we weren't aware of it and didn't see any info about the app in the owner's manual or the printed material that came with the camera…