AGV K1 Full Face Helmet Review Summary
Review Summary
The AGV K1, inspired by the iconic Pista GP, brings the spirit of high-performance helmets to a wider audience. It is the most affordable choice within AGV's 'K' series lineup, yet it maintains a commitment to quality and does not compromise on features or safety. With its aggressive intermediate oval design, smooth flowing lines, and a neat spoiler, this is one of the slickest-looking helmets at its price point. And with DOT and ECE 22.05 certifications, it's track-ready and street complaint, making it excellent value for money overall.
Materials & Build Quality
Pros
Wide 190° field-of-view
Soft and comfortable interior lining
ECE 22.05 and DOT certified
Sporty AGV Pista GP-inspired design
Cons
Additional visors are expensive
Double D-ring impossible to use with gloves on
Difficult to slide eyewear in
Contoured base may cause it to rollover
AGV K1 Full Face Helmet Image Gallery
Review Summary
The AGV K1 is the most affordable choice in the AGV K series lineup at ~$200 USD.
It is DOT and ECE 22.05 certified, track-ready and street compliant, and is great bang for buck.
Designed with sport-riding in mind, ventilation works best in a forward riding position and does not perform as well upright.
With the chin curtain in place, the AGV K1 is a relatively quiet helmet, even at highway speeds.
The AGV K1 comes with speaker pockets for a Bluetooth intercom system.
AGV offers the helmet in 2 shell sizes (XS-MS and ML-2XL) with 4 EPS sizes, and is very comfortable to wear (even after 6 straight hours of testing).
An Introduction to The AGV K1
Look for the "best entry-level full-face helmet" online, and I can almost guarantee that you'll find the AGV K1 to make the cut. The brand needs no introduction — it's trusted by the likes of some of the fastest and most gifted humans on two wheels, including one of the most successful of them all, Valentino Rossi. The lid that the top-level racers wear is the iconic Pista GP-RR. I've found myself on the Pista GP model page several times over the last couple of years, fully aware that the near-$2,000 price tag that some of them have is well beyond what I can afford.
Luckily, AGV understands that there's a massive market for people like me, which is where the much more attainable K-series of helmets come in. These helmets are heavily inspired by the top-of-the-line Pista GP RR in terms of style and design but don't feature the same premium materials and construction. Still, modeling after the best begets brilliance, and the AGV K1, as I've found over the last eight months or so, has a lot going for it.
We reviewed the AGV Sportmodular Carbon, which is essentially the modular version of the AGV Pista GP R race track helmet.
AGV K1 vs. AGV K1 S
The AGV K1, not to be confused with the recently introduced K1 S, sits at the very bottom of the K-series models. They're both essentially the same, with the K1 S introducing minor changes in the form of a different visor design. It now uses the same visor as the AGV K3 SV and the K5 S. AGV also claims that the K1 S features an updated spoiler design and improved airflow, but there's no data backing those claims. In any case, I reckon the difference will be unnoticeable to most people, given that the overall design and build of the two helmets are nearly identical.
This brings me to another key difference between the two helmets. The AGV K1 is ECE 22.05 approved, while the K1 S gets an ECE 22.06 rating. The new ECE 22.06 homologation comprises more extensive and stringent testing.
Since the AGV K1 S brings no substantial changes to construction, I'd go as far as to say that the AGV K1 could very well comply with these updated standards if it were subject to testing. Now, with that out of the way, let's look at what the AGV K1 has to offer.
Design & Styling
In my opinion (and I'm sure I can't be the only one who thinks so), the AGV K1 is the sportiest-looking helmet you can buy for around $200. Typically, the adjective you'd use to describe a full-face helmet is 'round', but the K1 breaks the norm with a gorgeous, narrower, more fluid design. As I mentioned, this is inspired by the Pista GP, which has a slim profile compared to many other full-face helmets. On the flip side, this shape is notably more elongated towards the front and rear with a neat little integrated spoiler.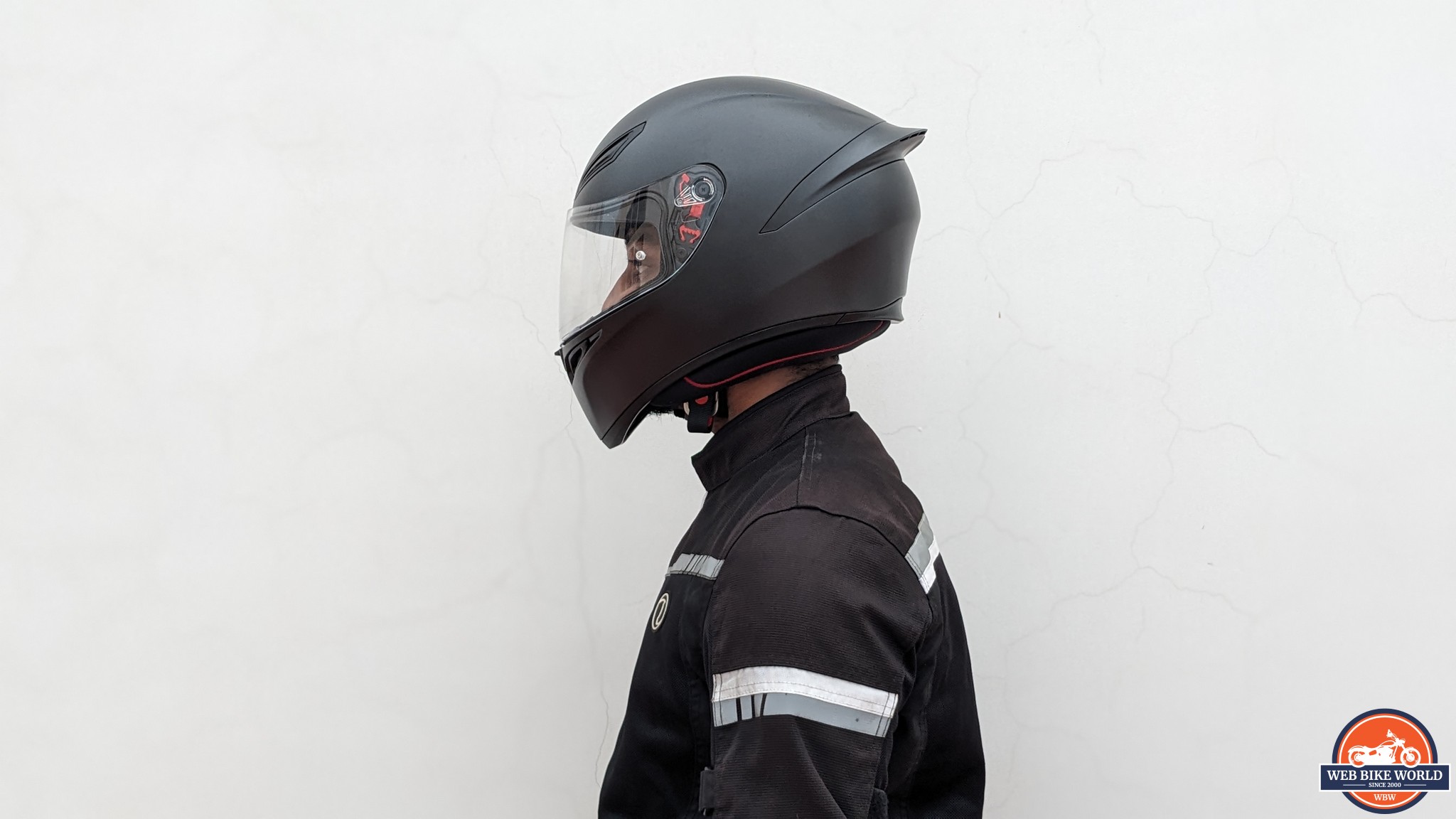 The AGV K1 uses a contoured profile around the base, and the company's rationale is that it helps reduce the risk of collarbone injuries in the event of a crash. However, this means the helmet doesn't have an entirely flat surface when you place it down. Every time I've set it down, it's done a little wobble before coming to rest. It's a somewhat unnerving feeling because you immediately assume it will roll over. It hasn't happened yet, but it's much more likely if you place it on an incline.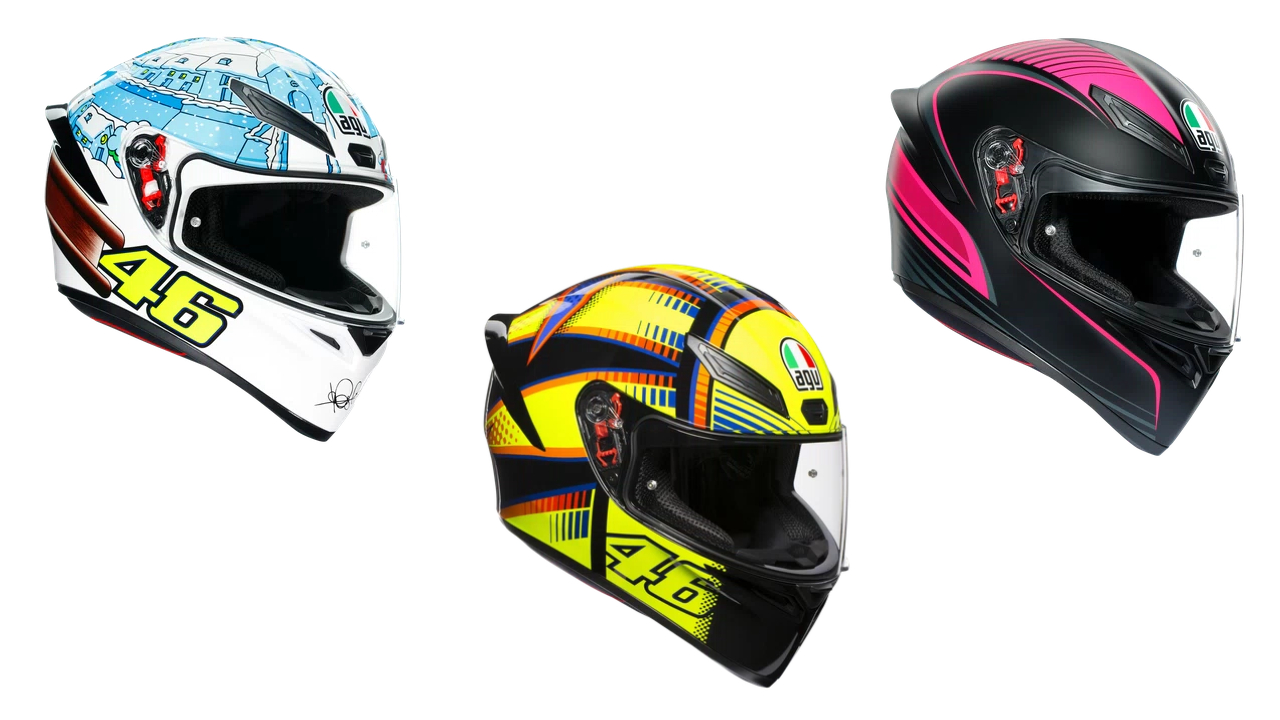 Another reason so many buyers end up choosing a K1 is for the bright, unique graphic schemes. Sure, brands like Icon have some pretty uncommon and provocative artwork on their helmets, but none were worn by Rossi. Whether you're a fan of the Italian or not, you must admit there's a market for Rossi-branded apparel. Most of the graphic schemes were a little too bold for my liking, and I must admit, I don't see the appeal of wearing a racer's numbers. For those reasons, I settled on the matte black color scheme. From looking at other reviews and pictures, I was intrigued by the 'Iridium Gold' visor and purchased that as well. At $90, the visor is expensive, but it looks smashing paired with the matte black.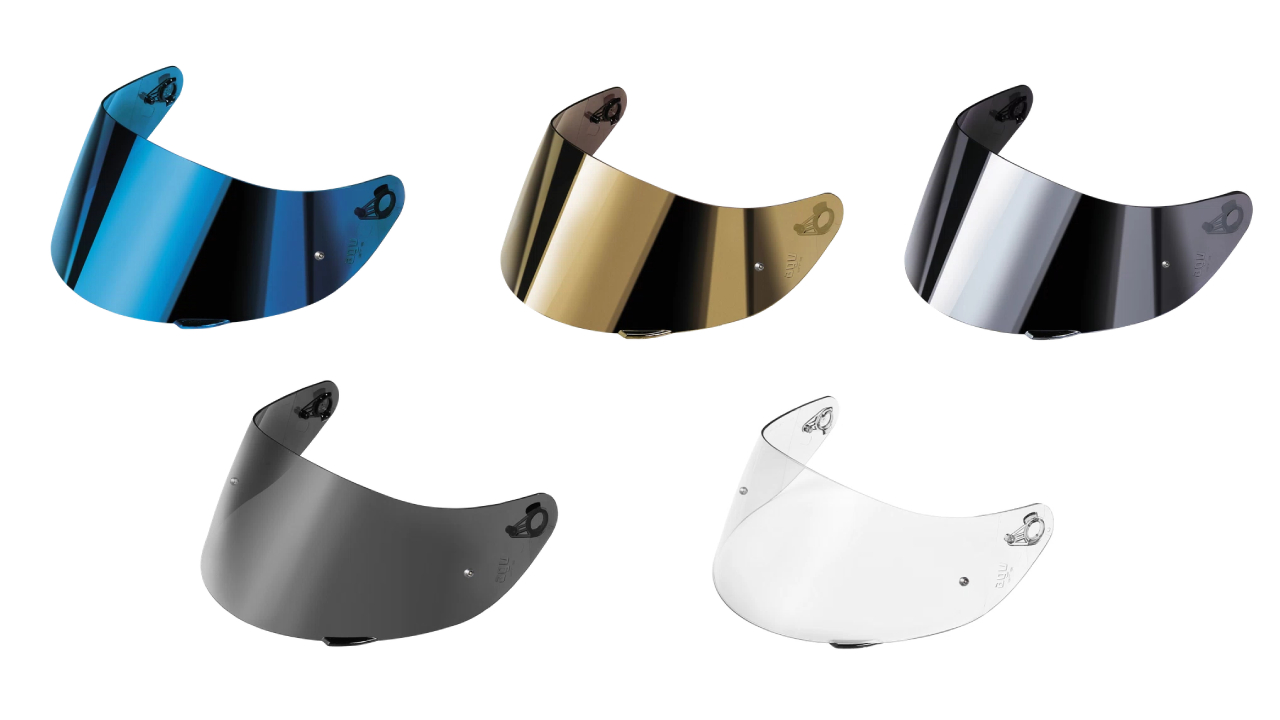 Construction
The AGV K1 is one of the more affordable helmets in the company's portfolio, but you'll find no reason to question its construction. AGV has done a tremendous job with quality control, and the K1 feels solid. The first thing you'll notice is the impressive paint finish. The helmet has no imperfections, even in tighter spots, like around the vents or bottom edges. The bare plastic bits also appear top-notch, with smooth edges and perfectly flat surfaces. It's around these areas that signs of cost-cutting tend to be apparent, but that isn't the case here. Your helmet will also be backed by the same 1-year warranty that protects every other AGV against manufacturing defects.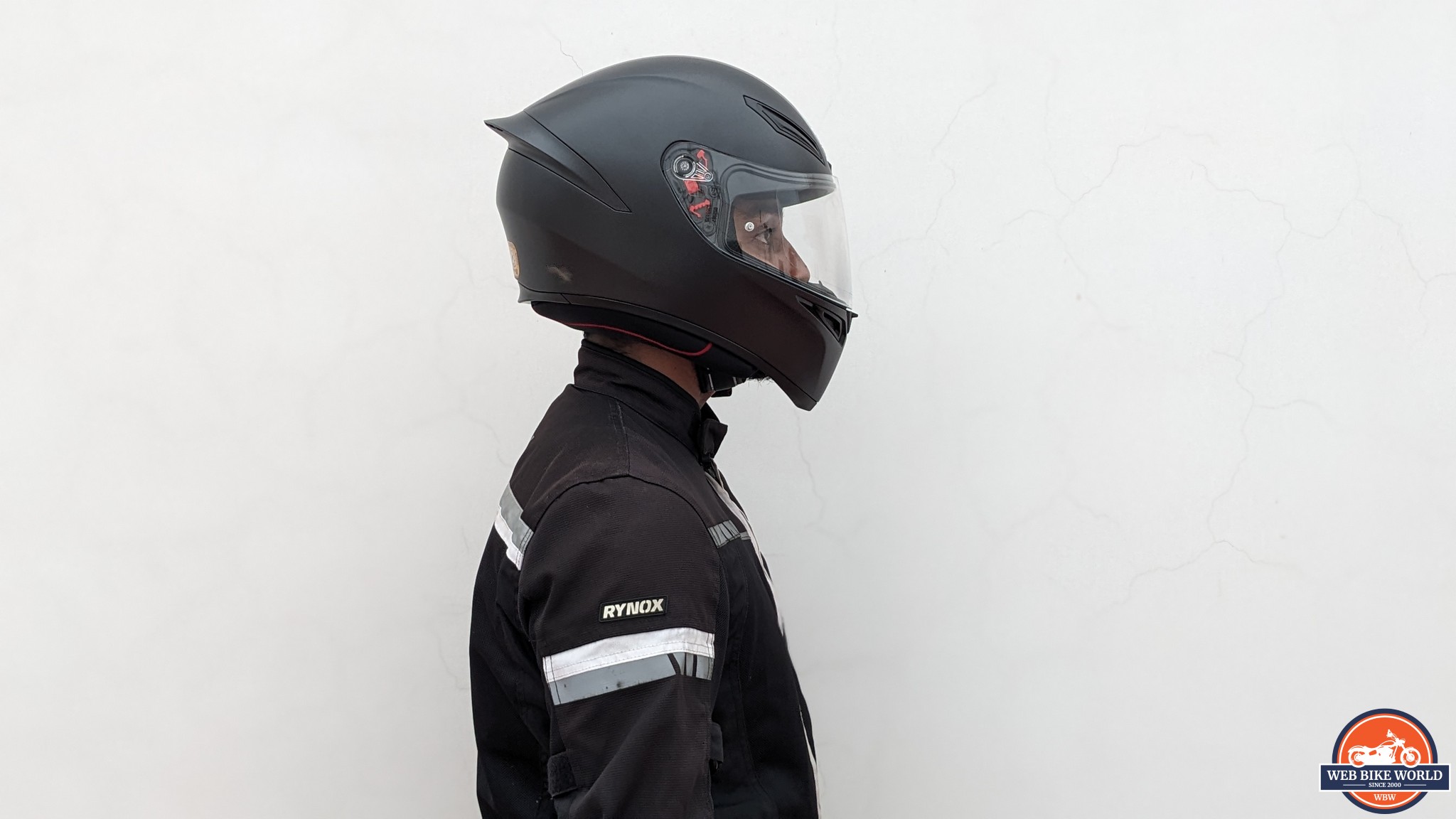 Like most entry-level helmets, the AGV K1 uses a polycarbonate shell. The company calls it a HIR-TH (High Resistance Thermoplastic Resin) shell construction. It's a widely used material in helmets but isn't as safe or light as fiberglass or carbon fiber shells. Still, as mentioned earlier, the AGV K1 does come with an ECE 22.05 safety rating, complies with DOT certification, and has a 4-star SHARP rating.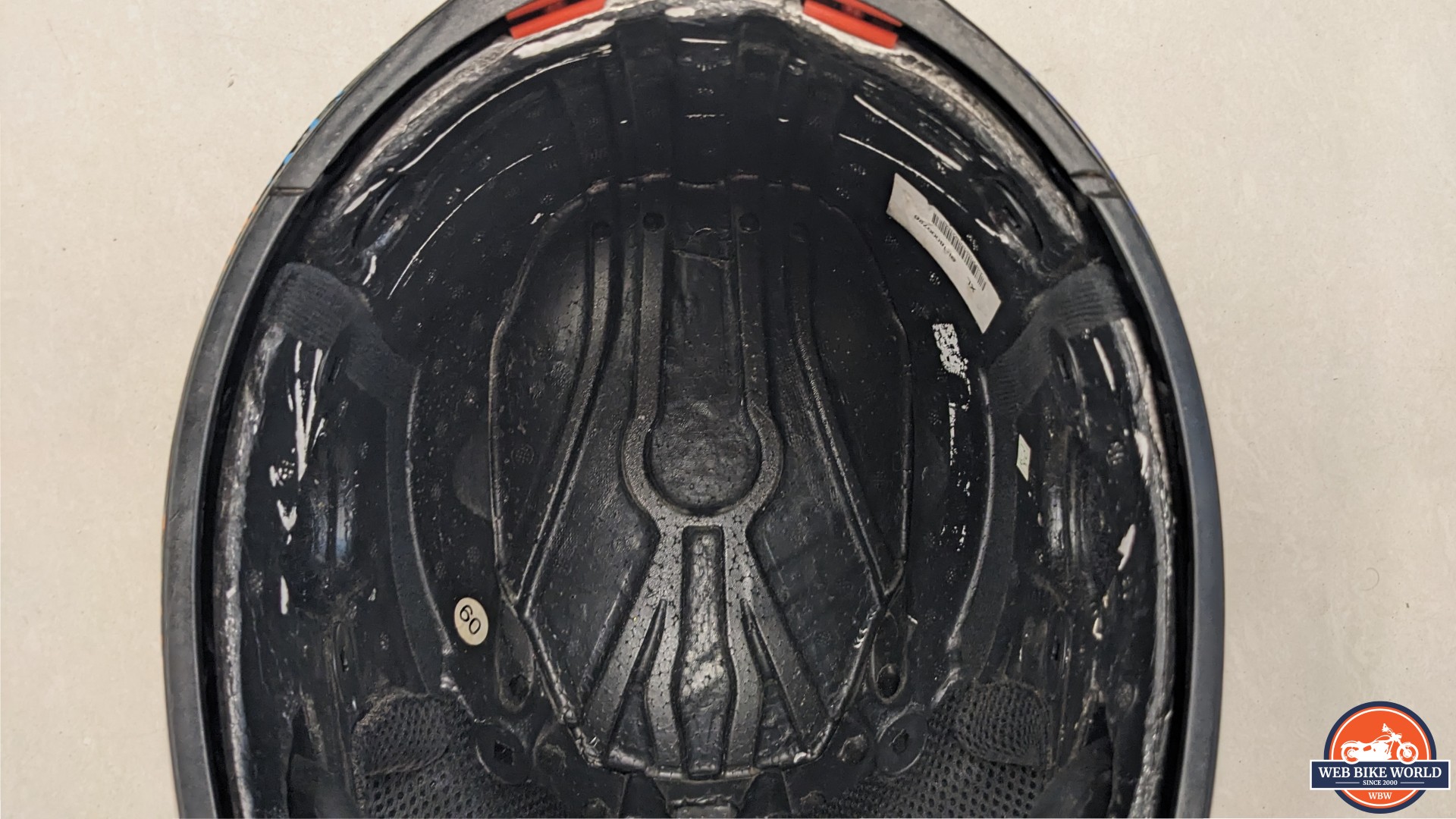 AGV K1 Visor
The AGV K1 visors are pinlock-ready and offer a 190° horizontal field of view, which is on par with the more expensive K3 SV, K5 S, and K6 helmets (Click here to read our review of the AGV K6). In terms of vision, it's easy to forget you're seeing the world from inside a helmet because nothing obstructs your view, even towards the edges of your periphery.
That said, my biggest gripes with the AGV K1 are with respect to the visor system. For starters, the Extra Quick Release System that the helmet employs for tool-free visor swaps requires more effort than necessary. On my older Shoei RF-1200, I simply had to align the visor to the locking mechanism, pull the release trigger, and the visor would click into place.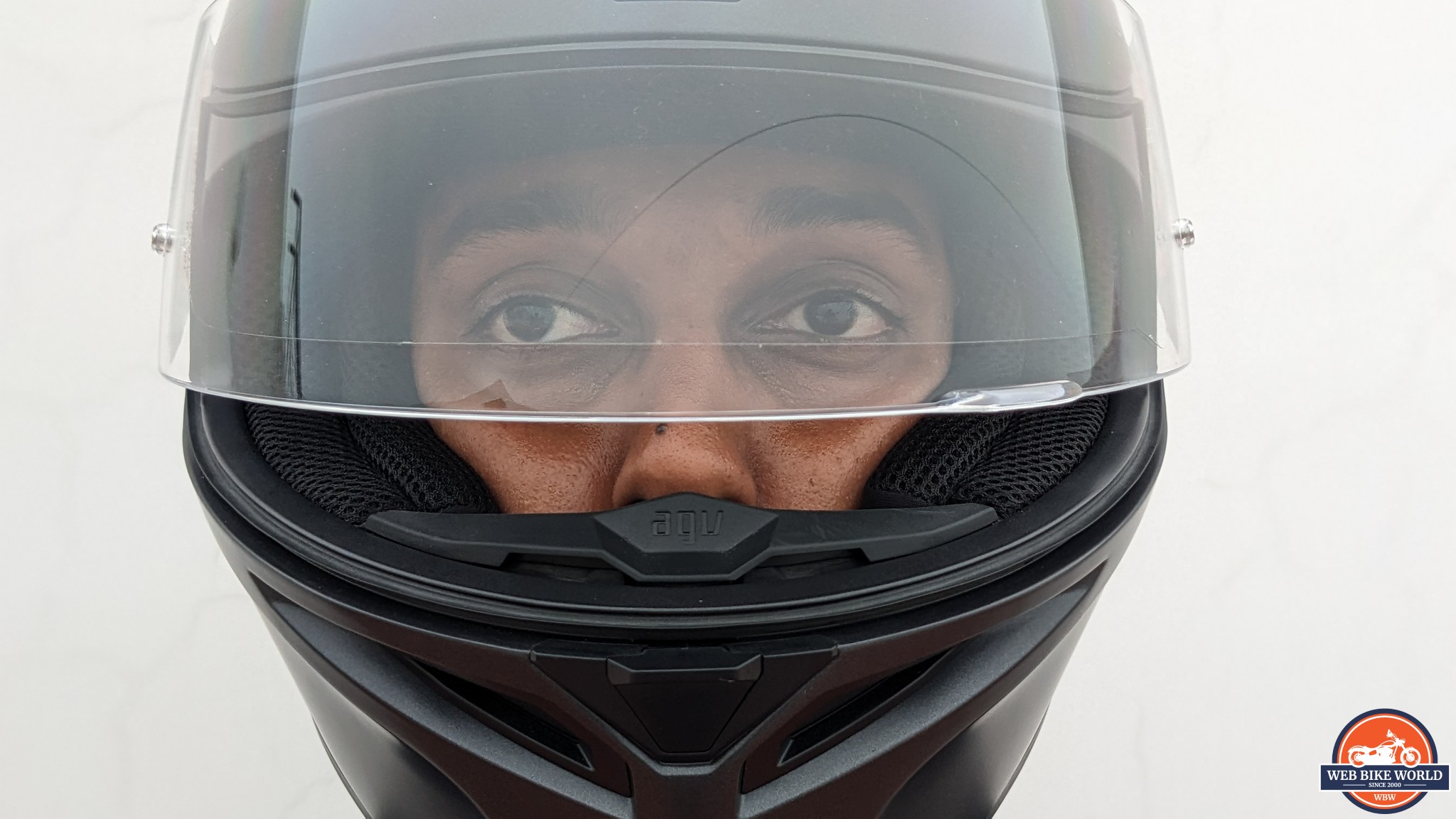 On the K1, it involves a little more concentration since you have to slide the small plastic tabs on the visor under the mechanism to ensure a secure fit. The plastic trigger also requires relatively more finger strength to operate. You get used to it after a few attempts, but I think it could've been made simpler.
Lastly, I found that the visor shuts with a ferocity that's quite jarring inside the helmet. It's unfortunate, considering the other 4 stages of the 5-level adjustment the visor provides are pretty smooth to move between.
Comfort and Ventilation
My previous helmet was a Shoei RF-1200 that is renowned for its ventilation. Despite the massive difference in categories and prices, it's hard not to make a comparison. The AGV K1, despite having more vents, does fall short in some instances. And I think I know why. AGV seems to have designed the K1 with sport-riding in mind. Angle your head slightly forward, as you would be perched on a supersport, and the 5 front vents and 2 extractors work as intended. Upright on a cruiser or something like my KTM 390 Duke? Not so much.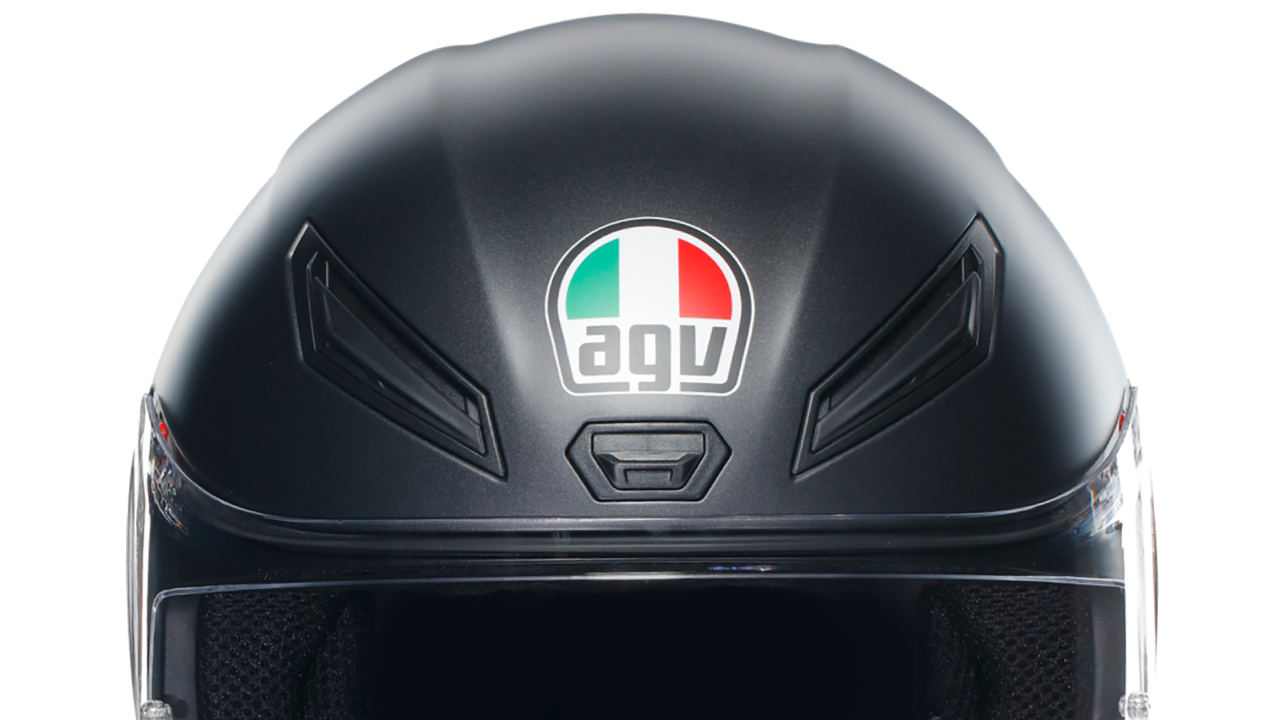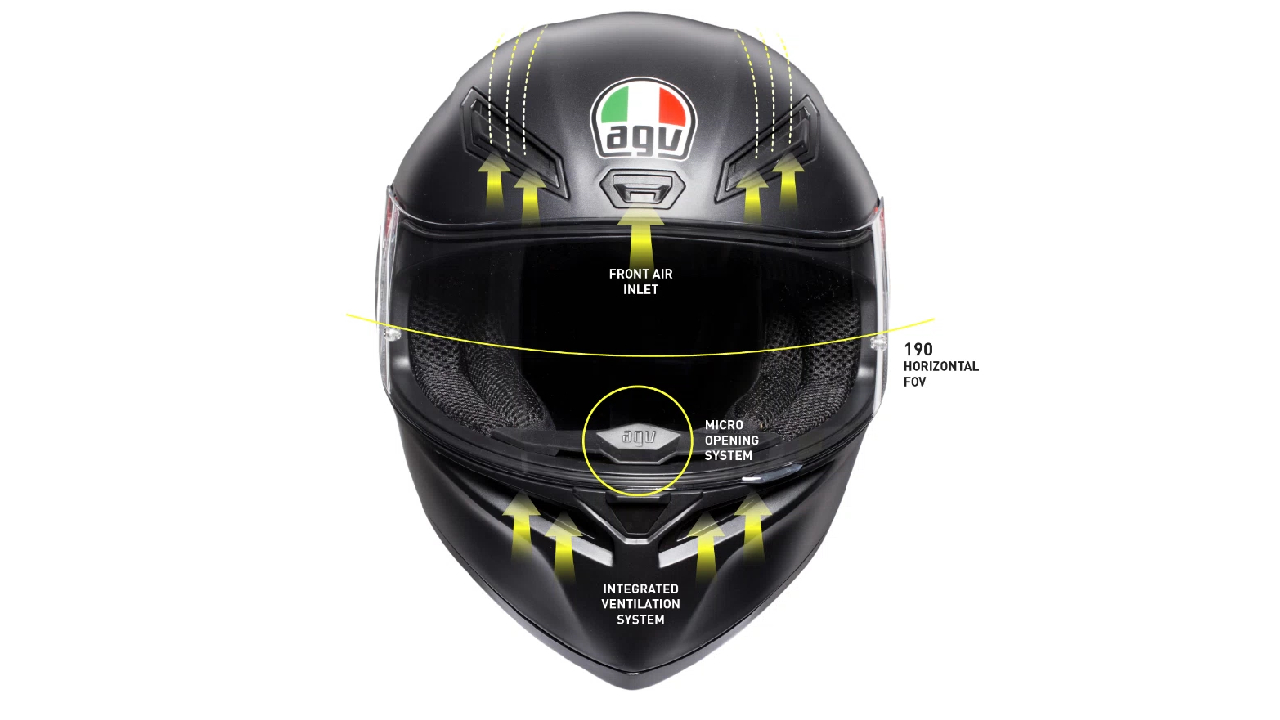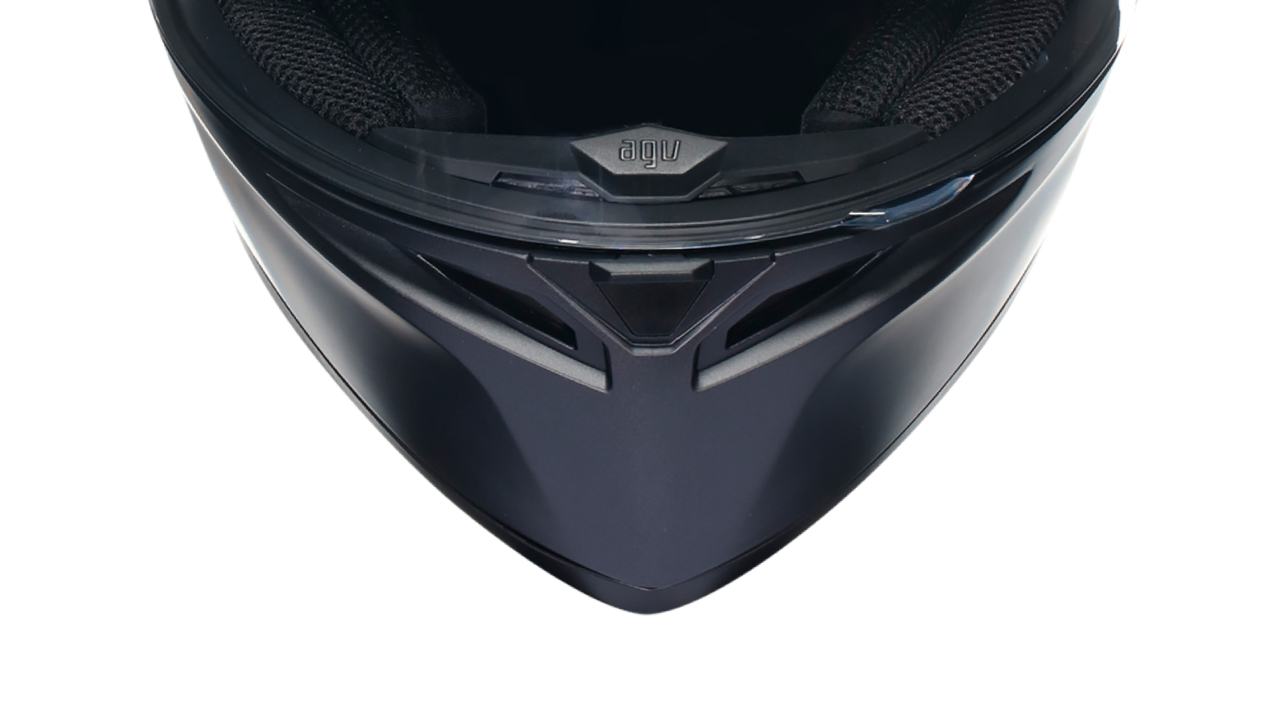 AGV calls it the 'Integrated Ventilation System' (IVS) and claims it was designed and optimized in a wind tunnel, but like I said, it's likely that this was done with sport riding in mind. And understandably so, given the positioning of this helmet in the AGV portfolio.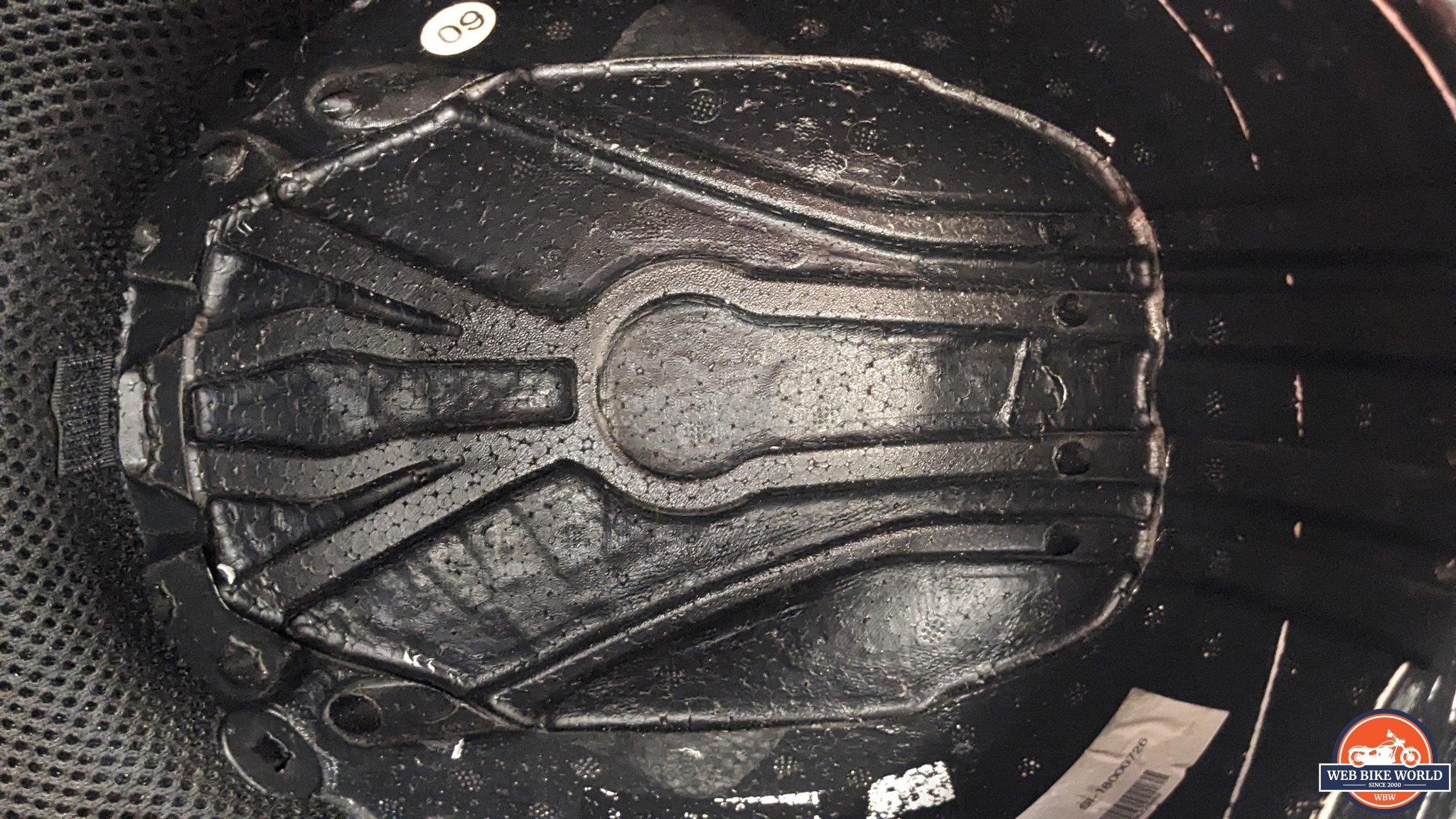 Wearing the AGV K1
With the ventilation aspect discussed, let's look at other elements that affect comfort. Firstly, the weight. The AGV K1, with its plastic shell, is a relatively heavy helmet. Luckily, you're more likely to notice this when carrying it around and not when wearing it. The longest stint I spent with it on my shoulders was about 6 hours, and I didn't feel fatigued.
While that's something to keep in mind, it's not like there's a lighter alternative from a reputed brand at a similar price point. Helmets aren't expected to be light at this price point, so it shouldn't be a deal-breaker.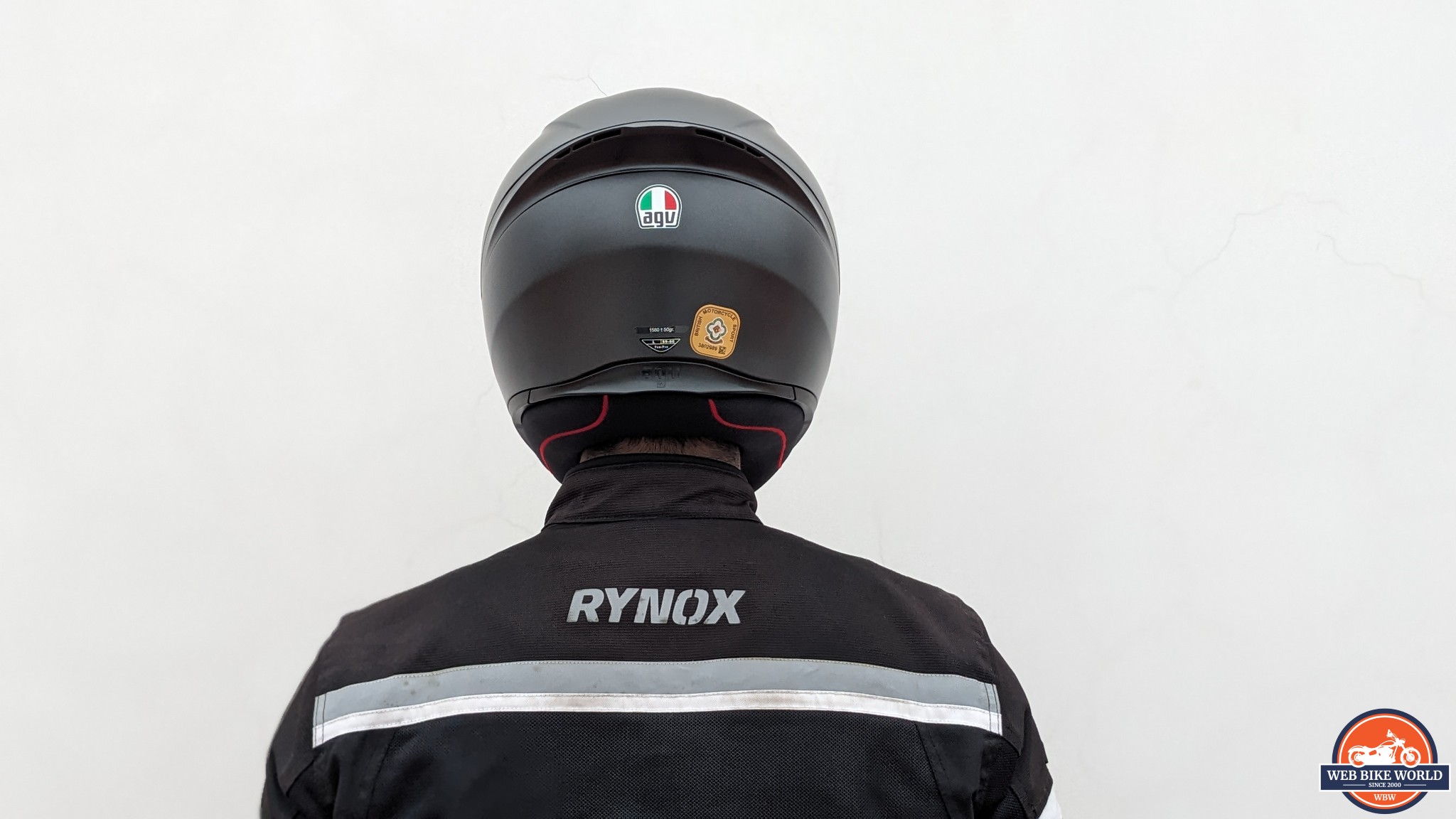 AGV offers the helmet in 2 shell sizes (XS-MS and ML-2XL) with 4 EPS sizes to further break down your options. AGV can do away by using 2 shell sizes instead of the usual 3, thanks to the sharp oval shape of the helmet. That said, this intermediate oval nature might also prove to be a downside for people with round head shapes.
AGV K1 Inner Liner
I'd go as far as to say it's one of the most comfortable ones I've experienced. They're notably softer on the skin, even compared to the Shoei RF-1200, which costs nearly thrice as much. The inner liner and cheek pads are made from what AGV calls a Dri-Lex fabric — fully removable and washable. I'm not sure how these will hold up over time, but I'll update this space when I notice signs of wear or after I've washed them a few times.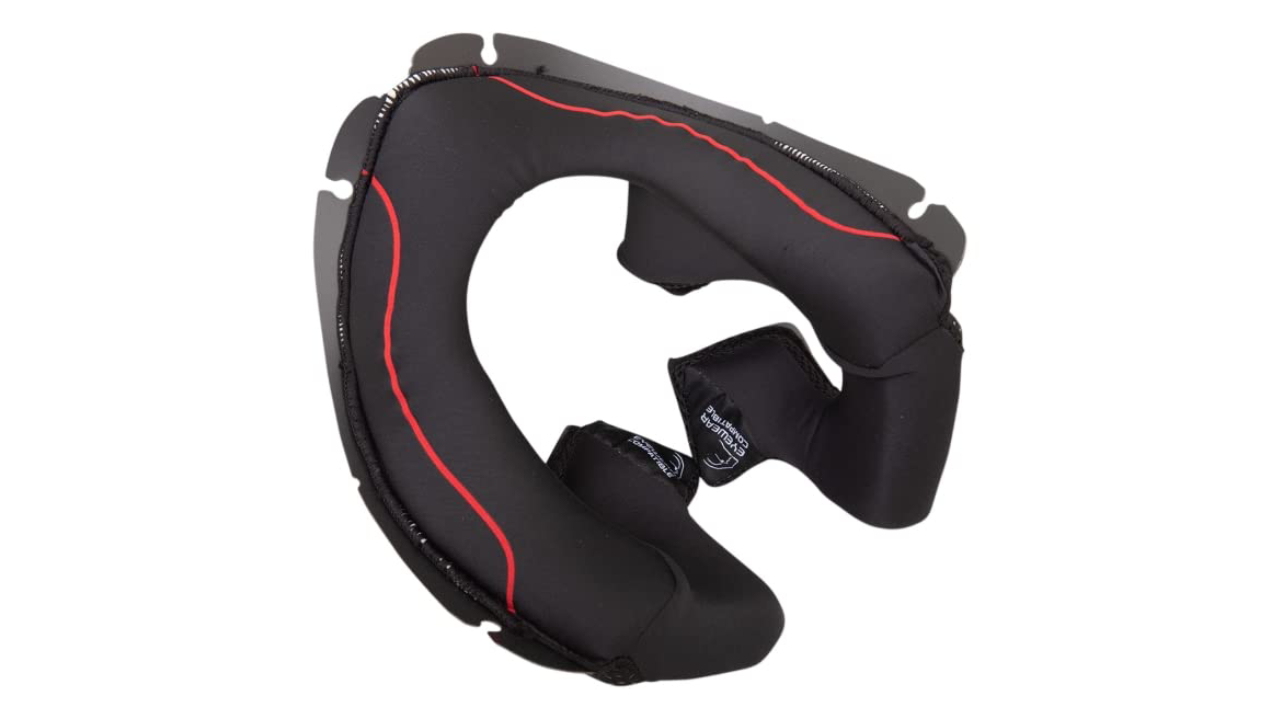 Some AGV K1 owners had issues with the velcro bit that contributes to securing the liner along the top of the helmet. It's a small square patch that ends up against your forehead when the helmet is on, and some people have complained that it sticks out through the gaps in the lining, bruising their skin. I've never experienced this so far, but if you can try the helmet on before you buy it, it's one thing you should check for.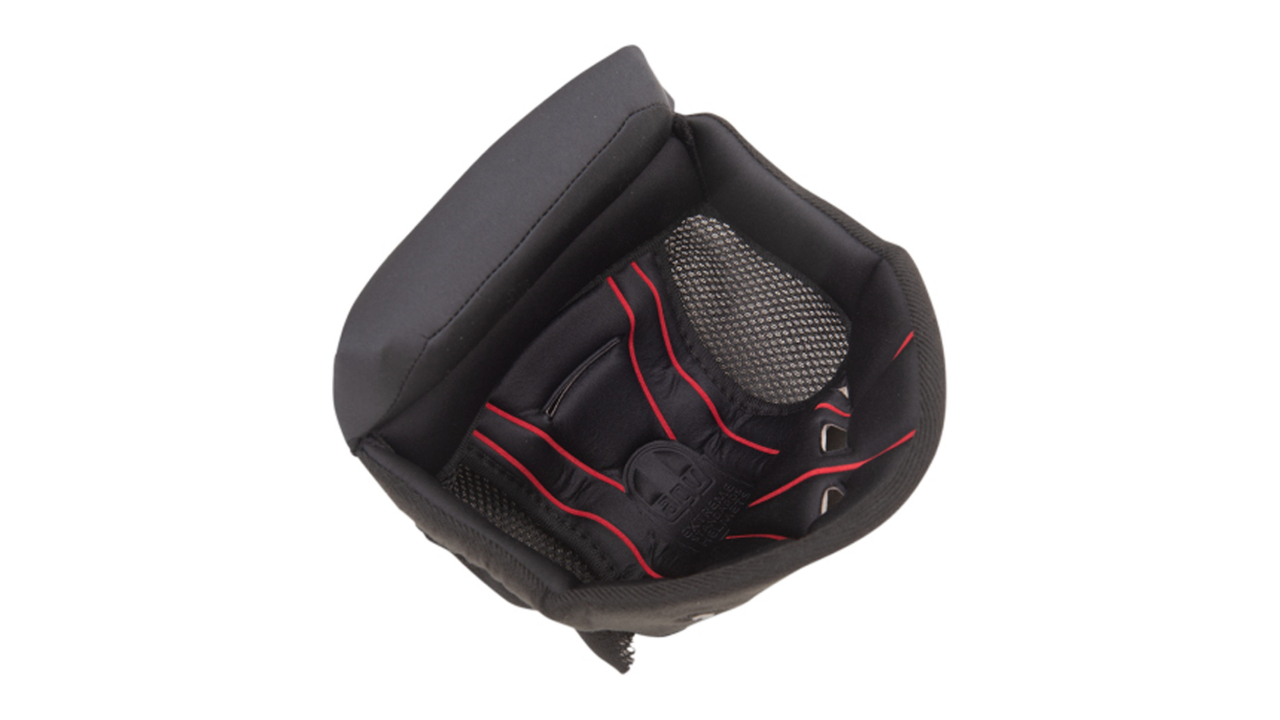 Bluetooth Communication System Compatibility
The AGV K1 comes with speaker pockets for a Bluetooth intercom system, and I've used them to install my Cardo Freecom 2X. The installation process is pretty straightforward, but like other AGV helmets, the cheek pads on the K1 are a single piece. This gives you comparatively less room to tuck away any cables or adapters since your only option is to hide them between the plastic inserts of the cheek pad and the helmet edge.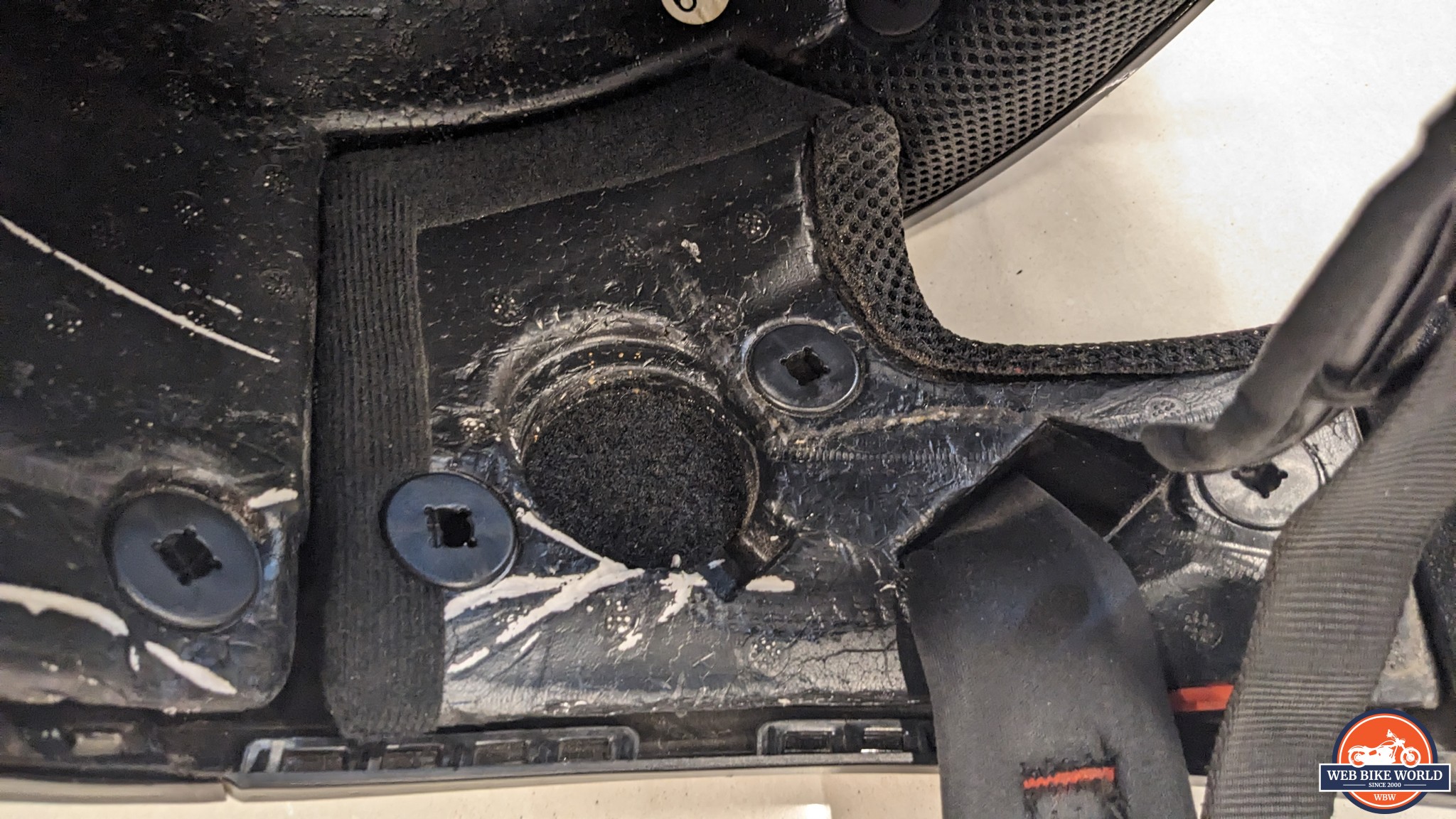 Eyewear Compatibility
AGV mentions on its website that the K1 has been "especially designed to allow wearing glasses". This is true once you're done getting the eyewear on, but I can tell you this helmet isn't designed to make this process easy. I wear prescription wireframe glasses and stabbed myself repeatedly in the temple whenever I tried to slide them in. Glasses that have a more sturdy frame will probably slide in with less effort.
Noise Levels
With the chin curtain in place, the AGV K1 is a relatively quiet helmet, even at highway speeds, and the aerodynamic design has to do with it. Again, it performs best when in a sport riding position, but it's not uncomfortably loud even when upright. In any case, I still recommend earplugs if you plan to do long stints on the highway.
Verdict
The AGV K1 is one of the best affordable sport bike helmets you can get your hands on. The styling, safety, and ample field of view are reason enough to invest in one. There isn't an option out there that's as slick with several color schemes to choose from. Most of the shortcomings I've pointed out are more inconveniences than deal breakers, so I have no regrets about how I spent my money.
Pros
Wide 190° field-of-view
Soft and comfortable interior lining
ECE 22.05 and DOT certified
Sporty AGV Pista GP-inspired design
Cons
Additional visors are expensive
Double D-ring impossible to use with gloves on
Difficult to slide eyewear in
Contoured base may cause it to rollover