Buying a helmet can be a very tough choice. There are multiple options available on the market, and at various price points. What are the features available that set one model up above the other? What kind of rider should prefer a particular model? If you love riding bikes, you would know that you need the right helmet.
Here is a review of the Shoei RF-1200 that looks at all these questions, and then some. Apart from quality and features, price and suitability for both novices and experts are also looked at. Read on to find if this is a perfect fit for you in every manner.
Shoei is one of the most reputed helmet brands worldwide, and a popular name among helmet enthusiasts. A trusted company, it is predominantly known for enduring and stylish helmets, all of which are handmade in Japan. The process is so dedicated and intricate that around fifty people are used to build each and every helmet.
Over half a century of experience has provided this company with a very loyal customer base who swears by Shoei helmets. What this review will look into is the comfort as well as the performance of this helmet, and what makes it stand apart from other Shoei helmet products.
Benefits
The RF line of the Shoei helmet is very popular. It is a hybrid that marries helmet performance and technology. The Shoei RF-1200 focuses on being light, compact and streamlined – so it is easy to use but still provides the full functionality you can expect from bulkier models. Along with the helmet itself, you get the breath guard, the chin curtain, the Pinlock Evo and a Shoei Helmet Bag to complete your helmet experience.
It is available in four different shell sizes that enhance the complete fit by helping you find the perfect size for your head.
There are many features of the RF-1200. You would love wearing the RF-1200 simply because it's comfortable. Shoei has ensured that you would love wearing them and made it out of a material that is easy to put on. We loved the fact that putting the helmet on and taking it out was a breeze, and we didn't find any discomfort even after hours of wearing it.
Some of the major ones that set this model apart from the others in the market are as follows:
Ventilation
How does the Shoei helmet score when it comes to ventilation once you are wearing it? One of the most important features that any one who takes helmets seriously will know is that a good helmet must have extremely well thought out ventilation.
There needs to be good airflow, but there also needs to be adequate silence. Reaching the perfect median between the two can often prove a tricky business. The RF-1200, however, does this job admirably. There are four air intakes and four exhaust outlets that take care of this.
What sets this aside is not the fact that these outlets and intakes exist, but that they have been designed such that they are positioned at areas where they can levy the benefit of the negative air suction. This leads to a hugely improved and effortless level of cool air intake and the expulsion of hot air. This feature can be felt instantly on first putting on the helmet.
Shield System
One of the best features about the RF-1200 is that it provides a view radius equal to a helmetless peripheral, giving you virtually no obstruction in your line of vision.
It has new ribs that provide stability and rigidity. It also weeds out the problem of bending which is often found in many premium helmet makes.
Quicker shield changes provide another bonus point to this model.
Style & Safety
You would need a helmet that doesn't compromise on the style and this one from Shoei makes just the right noises. The RF-1200 is available in a multitude of colors, which affords you a huge choice regarding personalization.
It is available in anthracite, black, black metallic, brilliant yellow, light silver, matter black, red, TC-2, TC-6, white, wine red, yellow, silver, matte deep gray, shine red, anthracite metallic, gloss black and flat black.
A helmet being a safety device needs to have great safety assurances. Shoei, as usual, delivers. A helmet needs to typically have two defensive layers. The Shoei RF-1200 showcases the Shoei Exclusive Multi-Ply Matrix AIM + shell and a dual layer, multi-density EPS liner. The full coverage of this model anyway guarantees more safety than any of the open-ended models, even on dangerous terrains or conditions.
Comfort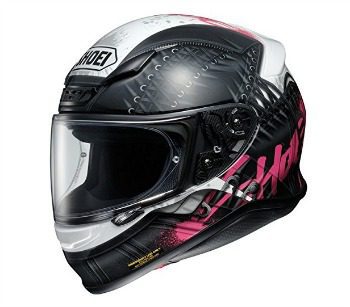 That's one area where you are not going to be disappointed. The interiors of the RF-1200 are completely adjustable, removable and washable. This is indeed a great advantage for long-term use and does not make the helmet less comfortable and smelly over time.
When you compare it to the usual nylon material used in other premium helmets, you will find that the sweat tends to cool off twice as fast in the RF-1200 interiors, making it extremely comfortable for longer rides even in hot weather.
The RF-1200 is a great helmet, no doubt, but like other Shoei products, it is a premium helmet. If you are a first timer in the helmet buying field, this is probably not your best bet. But in any other case, this is a great model, worth the money you will spend on it. The reviews for the Shoei RF-1200 are extremely positive, both short term and long term.
Any helmet connoisseur will be happy to add this to their collection. For serious buyers who are actually looking to accumulate more information about the helmet before buying it, the Revzilla website provides videos of the various features and performance points of this helmet to make up your mind about it.
Overall, it is a great product that will last you for a long time and will be worth every penny. It is a great companion for regular travelers as it provides enhanced comfort, safety, and ventilation features.