The Harley-Davidson Street 500 is a blank canvas with plenty of scope for customisation and personalisation.
It is being released early next year at $9995 ride away which should leave some with plenty of money left over for extras.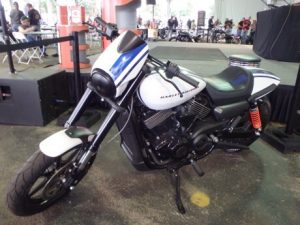 You could go and do your own thing, or take the easy option and select from 80 special Street 500 accessories, as well as many other Harley parts that fit several models.
On top of that, Harley's range of Black Label riding gear, introduced four years ago, is also perfectly suited to the hipster riders who will be among the many attracted to the Street-cred bike.
The genuine factory accessories for the Street 500 include heaps of chrome bits and pieces, or alternatively black accessories for those who believe chrome has past its use-by date.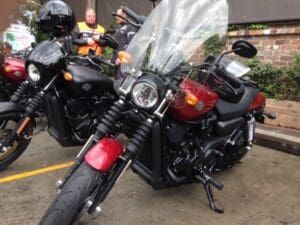 I found the Street 500 very comfortable for my 182cm frame, but for taller and shorter riders, there are options. To make the bike more comfortable for a wider variety of riders, there are shorter reach handlebars as well as taller seats, plus a special cafe racer seat for those hipsters, again.
On the media launch, we took the Street 500 for a lengthy blast along the highway in the rain and it proved a competent tourer, so there is a range of luggage and racks to fit.
There is also a touring windscreen that clips on in seconds and doesn't leave any fitting hardware behind when removed, just like the clever screen for the new Sportster UltraLow.
And if you want to take a pillion to enjoy the ride, there is a sissy bar and backrest pad.
Below I've listed the complete range of special Street 500 accessories, but remember there are other Harley accessories that will fit as well as other gear such as Screamin' Eagle pipes and various air filters that are sold at Harley dealerships.
Harley-Davidson Street 500 Accessories
(Part number, description and Australian recommended retail price)
25600033 KIT-RH ENGINE MEDALLION, DARK CUSTOM LOGO $83.58

Harley Street Garage custom

25700307 KIT, LH ENG MEDALLION, DARK CUSTOM LOGO $83.58
26900107 COVER, HOSE, CHROME $83.58
26900108 COVER, HOSE, GLOSS BLACK $83.58
29400197 KIT-A/C, HIGH FLOW, XG $102.88
31600012 SPARK PLUG, M10 $5.08
33600032 SHIFTER PEG, BURST $38.53
33600059 BURST FOOTPEG, ROUND $141.49
37200077 KIT-CABLE, CLUTCH, STREET, 55.41IN $57.84
40900358 KIT-WHL, RR, TYPHOON, CBK, XG, 15X3.5 $591.90
40900359 KIT-WHL, RR, TYPHOON, MIR, XG, 15X3.5 $720.59
41500096 KIT-B RTR, FR, LH, 292, STREET, POL $192.96
41500097 KIT-B RTR, RR, RH, 260, STREET, POL $192.96
42400008 KIT, WHEEL INSTALLATION FRONT 25MM AXLE $102.88
43000018 KIT-COVERS, RR-AXLE NUT, BLACK $38.53

Harley Street RDX 800 custom

43000022 KIT-COVERS, RR-AXLE NUT, CHROME $38.53
43000026 KIT-COVER, FRONT AXLE, BLACK $35.96
43100017 TYRE, FR, 100/80-17, MICH, CO-BRAND $212.27
43200023 TYRE, RR, 140/75R15, MICH, CO-BRAND $289.49
43300350 KIT-WHL, FR, TYPHOON, MIR, XG, 17X2.5 $720.59
43300351 KIT-WHL, FR, TYPHOON, CBK, XG, 17X2.5 $591.90
45800053 FORK TUBE COVERS, CHROME $70.71
45800056 FORK TUBE COVERS, BLACK $70.71
49000015 ENGINE GUARD, XG, CHROME $270.18
49000047 ENGINE GUARD, XG, BLACK $270.18
50300071o LUGGAGE RACK, CHROME, XG $257.31
50300091 LUGGAGE RACK, XG, BLACK $257.31
50600140 BURST BRAKEPAD, SMALL $64.27
52000084 ROAD ZEPPELIN SEAT PAD, RIDER $167.22
52000123 REACH SEAT, XG $259.89
52000124 TALLBOY SEAT, XG $259.89

Customised Harley Street

52000168 CAFE SEAT, XG $283.05

52300281 BACKREST PAD, XG $64.27
52300283 SISSY BAR, CHROME, XG $102.88
52300285 DOCKING HARDWARE KIT, XG $51.40
52300307 SISSY BAR, BLACK, XG $102.88
52400060 ROAD ZEPPELIN SEAT PAD, PILLION $167.22
55800224 HANDLEBAR, XG, REDUCED REACH, BLACK $90.01
55800237 HANDLEBAR, XG, REDUCED REACH, CHROME $90.01
56100083 KIT-GRIPS, EDGE CUT, BLK $109.32
57400192 QUICK-REL.SUPER SPORT WNDSHLD LT SMOKE $405.31
61300227 KIT-TRIM, A/C, DARK CUSTOM LOGO COLLECT'N $96.45
61300364 INSERT, A-C COVER, SE $25.67
61400269 SWING ARM PIVOT COVERS, BLACK $41.11
62700045 OIL FILTER $10.23
64900220 KIT-MUFFLER DOM (BLACK) $450.34
65100056 KIT-ENDCAP, MUFFLER, XG $115.75
65400167 KIT-HEATSHIELD, BUCKSHOT, BLACK, G $192.96
67700144 KIT-HEADLITE, LED, 5-3/4 DIA, CHROME $514.69
67700145 5 3/4 DAYMAKER LED HEADLAMP, BLACK $514.69
67900242 KIT-BRACKET, NUMBER PLATE, FRT $32.11
76000193 BOOM! AUDIO MUSIC TANK POUCH $57.84
90200906 THROW-OVER SADDLEBAGS $463.21
92900014 CENTER STAND, XG $257.31
93300007 SISSY BAR BACKPACK $192.96
93300017 DAY BAG $128.62
93300093 TANK BAG $180.09
34690-08 DIAMOND BLACK SHIFTER PEG $38.53
35286-10 SILENCER SHIFTER PEG $32.11
41451-08C KIT-WHL INSTALL, RR, 25MM AXLE $102.88
42629-00 KIT, BRAKE PEDAL PAD, NARROW BND, SMALL $57.84
42847-10 FX BRAKE PEDAL PAD, EDGE CUT $57.84
44117-07A FRONT AXLE COVER, CLASSIC CHROME $35.96
45732-86 UNIVERSAL HELMET LOCK $35.96
48990-10 SILENCER FX BRAKE PEDAL $57.84
49254-99 SHIFTER PEG, BILLET, NARROW BAND $38.53
49312-10 EDGE CUT FOOTPEG KIT $109.32
50056-10 SILENCER FOOTPEG $109.32
50911-08A DIAMOND BLACK FOOTPEG, SMALL $109.32
50978-99A KIT-FOOTPEGS, 4-SLOT, SML, BILLET, CHRM $109.32
51074-10 CIRCULATOR SEAT PAD,

 

MEDIUM $102.88
51078-10 CIRCULATOR SEAT PAD,

 

PASSENGER $90.01
51676-97A DETACH SEAT HARDWARE KIT, 2-UP $25.67
92398-09 KIT, MIRROR, TRIBAL, BLACK $167.22
92416-08 KIT, MIRROR, BUCKSHOT, BLACK $283.05
92423-08A MIRROR KIT, DOMED, BLACK $257.31
92441-10 KIT-MIRROR, EDGE CUT, BLACK $283.05
93300069A PREMIUM LUGGAGE COLLECTION TAIL BAG $218.70