The Harley-Davidson SuperLow XL1200T is not made for me, yet somehow I like it.
The SuperLow is, as its name suggests, super low with a 663mm seat height. It's built for smaller people than my 185cm frame. Short people, women and maybe novice riders will enjoy the easy reach to the ground while women and some older people will also appreciate the comparative light weight of 260kg.
When I mount up, my knees tend to stick out and wave in the wind and the seat feels too short. Maybe it would be more comfortable with forward controls, but at least in this aggressive position I feel like I'm more in control of the bike and can take advantage of its highly manoeuvrable short wheelbase. No, it's not built for me, but somehow I like it.
The T in the 1200T model name stands for touring and Harley has been very clever with this model. Many people who buy 1200 customs tend to fit saddlebags, a windscreen, improved suspension, a bigger seat, bigger foot pegs and maybe a sissy bar so they cash go touring and maybe even carry a passenger or sissy bar luggage. Now Harley has done all that for you with a quickly detachable windscreen, wider semi-floorboard-sized pegs, better suspension, touring seat and vinyl-wrapped hard and lockable luggage.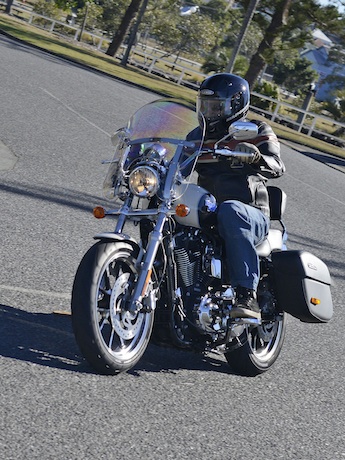 If you are short and feel comfortable on this bike, it is set up for long-distance travel for the competitive price of $19,250 with no more to spend for a lightweight long-distance hauler. 
However, I asked for the sissy bar as well so I could take a passenger or throw on my Viking sissy bar luggage for an even longer trip. The Sportster 1200T already comes with the docking points to fit accessory racks and backrests.
If you are carrying a fair bit of luggage or a passenger, it is very easy to reach down and wind up the hand-adjustable pre-loader with your left hand. No need to even get off the bike. There are directions in the manual for how many clicks to wind it up.
One of the big advantages of the 1200T Sportster is that when you finish your trip, you can detach the windshield in about five seconds with four easy latches. Once removed, there is no mounting hardware left on the bike, just nice, clean forks. You can also take the luggage off, but that requires screwdrivers. However, it still leaves the bike with a nice clean, cruiser look.
The touring Sportster also comes with Dunlop Harley-Davidson Blackwall tyres on handsome and easy to clean 10-spoke aluminium wheels.
All up, it's a smart-looking retro cruiser/tourer and at 260kg dry, it's almost 53.5kg less than the lightest Harley Touring bike and 56kg lighter than the Dyna Switchback which is the other touring option for shorter people.
The SuperLow comes with ABS and a remote key fob with keyless ignition; just flick the kill switch and hit the starter button. Very convenient.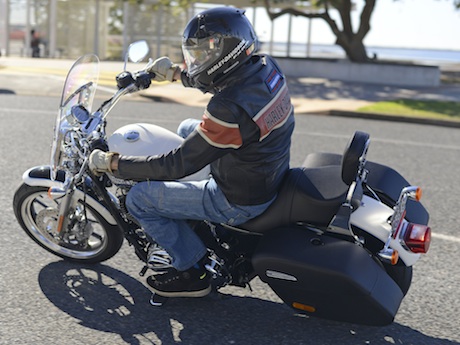 The old 1200cc V-twin pushrod engine is getting a little long in the tooth, but it's still got a nice feel that many Sportster fans have come to love. It revs smoothly, has low mechanical noise, a strong midrange and a springy feeling on the throttle. It whips away quickly in the traffic and is no slouch on the open road, pulling hard in fifth gear at highway speed for overtaking maneuvres without the need to downshift from top.
It may only have five gears, but they are a wide spread of ratios and with the good low-to-mid torque there is no need to tap-dance through the gears. Neutral is easy to find, the gears feel direct and positive – probably because of the mid-mounted lever – and they aren't overly clunky. Clutch pull is also nice and light for urban duties.
The light weight also contributes to admirable fuel economy of 4.9L/100km which gives you a touch over 300km range from the 17-litre tank.
The instruments are fairly basic with one dial to show speed and a digital LCD screen with odometer, two trip meters, clock, and a gear indicator/tachometer. You can toggle through those displays via a handy "trip" switch on top of the horn control on the left handlebar. There is no fuel gauge, only a warning light. A fuel-range readout on the LCD screen would be much appreciated.
Brakes are effective enough for the lightweight bike even with a single disc on the front. They also have ABS which is "invisible" so it doesn't spoil the appearance of the wheels.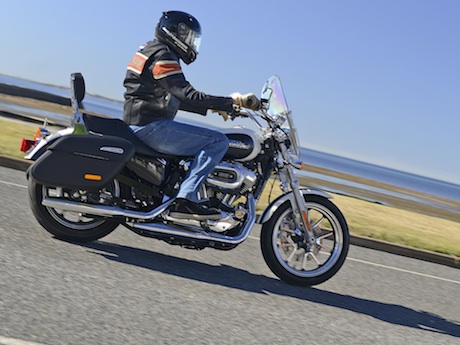 The short wheelbase and steep fork rake make it a great bike for the twisties, although you will quickly run out of clearance with about 25-degree lean angles. Despite its high manoeuvrability, it feels very stable on the highway.
Sportster riders may be sceptical about the bike's ability to ride out the bumps, but the improved suspension works well. 
At speeds over 80km/h there is a fair bit of buffeting from the windscreen, but the bike is made for shorter people who may not feel the same effect. I moved the windscreen to its highest position on the forks, stuck an extender on top and it was fine.
Although this bike is not intended for people of my height, I still find it fun and a good medium-distance tourer, even two-up. I also love the retro look and the fact that you can quickly convert it from a tourer to a cruiser.
For shorter people, they will find the Sportster SuperLow is as "serious" and comfortable as any big Harley tourer, but without the height and weight problems.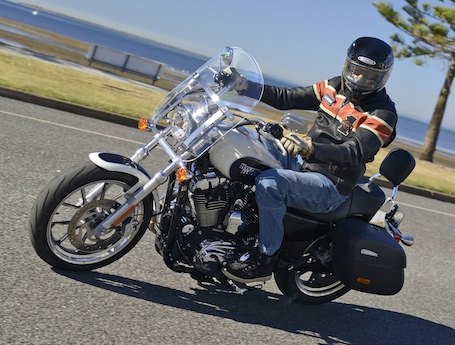 2014 Harley-Davidson Sportster SuperLow 1200T tech specs
Price: $19,250
Warranty: Two years, unlimited km
Service: 1600/8000km
Engine: air-cooled 45-deg 1202cc V-twin
Torque: 96Nm @ 3500rpm
Bore x stroke: 88.9 x 96.8mm
Transmission: 5-speed, belt drive
Length: 2224mm
Wheelbase: 856mm
Wet weight: 260kg
Seat: 663mm
Rake/trail: 29.7deg/154mm
Wheels: 10-spoke cast aluminium
Tyres: 120/70 x 18; 150/70 x 17
Brakes:  300mm single disc, 2-piston calliper; 260mm disc, 2-piston calliper, ABS
Suspension: 39mm fork, 104.5mm travel; Dual remotely-adjustable shocks, 54mm travel
Fuel: 17L; 4.9L/100km