Harley-Davidson's Street 500 is a $12,000 bike for less than $10,000 rideaway.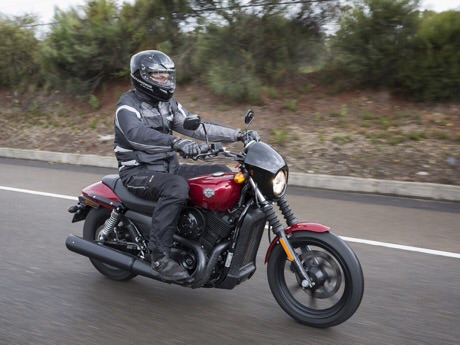 The first media test on Aussie soil and the ultra-moist roads of Sydney and surrounds has created a highly positive first impression of the new learner-approved cruiser.
Engine, transmission, riding position, brakes, build quality, exhaust sound, handling, ride and brand credibility are all of a standard you would expect from a bike worth much more.
It looks and sounds like a Harley (at least with a Screamin' Eagle aftermarket pipe fitted), but when you turn it on, it doesn't feel like a Harley as there is almost no vibe from the water-cooled Revolution X engine.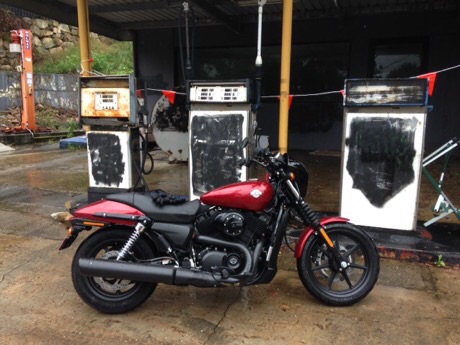 Click it into gear and it doesn't sound like a Harley either as there is only a snick, not a massive clunk.
But let the clutch out and it romps away with 50Nm of Harley-style torque pulling the lightweight 218kg bike swiftly off the starting line in the traffic light derby.
Around town it rides confidently over Sydney's broken concrete, thanks to its 17-inch front wheel and 15-inch rear wheel, a good set of rear shocks and sturdy forks. With the rear preload on its softest setting, the ride is plush without feeling sloppy.
Thanks to the wet roads all the way to Scarborough and back, it was difficult to assess its handling when pushed hard, but it coped well in these conditions.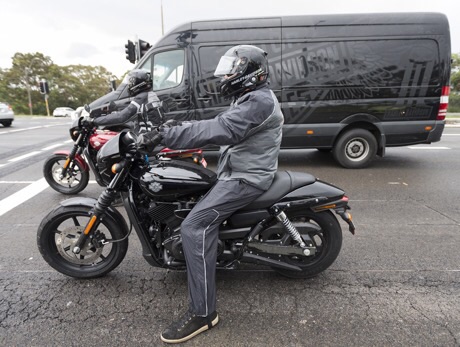 Hit the brakes and they lack some initial bite and feel a bit spongey, so you have to pull the lever and push the brake pedal hard. However, it has effective stopping power and the lack of bite makes them safer in the wet.
They are now the only bike in the Harley fleet without ABS, but the Michelin Scorchers have good stopping grip, especially in the wet.
Fuelling is very smooth which should make slow and tight maneuvres easy and together with the light clutch pull and smooth and refined transmission, it will be a competent and happy commuter.
It is powered by the new water-cooled Revolution X engine with about 25kW of power and 50Nm of torque, but only 218kg in running order which is 33kg less than a Sportster 883 Iron.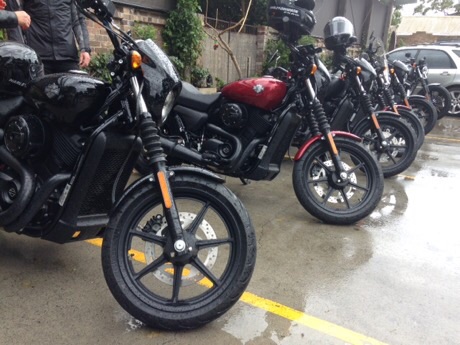 It revs up quickly, but soon runs out of breath up top. For the best results, you need to work the gears a little more than Harley riders are used to doing.
On the highway, sixth gear isn't too tall like many other Harleys, but you will have to drop it a cog or two for overtaking.
Surprisingly there is no annoying tingle through the bars from the uncharacteristaclly high-revving cruiser engine at highway speed, just a light galloping vibe.
Harley claims fuel economy of about 27km per litre delivering in excess of 360km from the 13.1-litre fuel tank which is good for touring, but also good economics for commuters.
Riding position is similar to the Sportster with a low 709mm seat height and wide mid-mount controls that get in the way a little when you stop and put your foot down; again like the Sporty.
Bars are a reasonable reach and give the rider a dirt-bike style control over the steering.
Mirrors are set fairly narrow which accommodates lane filtering but makes it difficult to see directly behind you. The smooth engine also doesn't vibrate the mirrors which give clear vision at any engine revs.
The non-adjustable brake pedal feels a little low and the adjustable gearshift is a little high. So when gearing down and braking into a corner you feel like you're riding a bicycle because your feet are at different levels.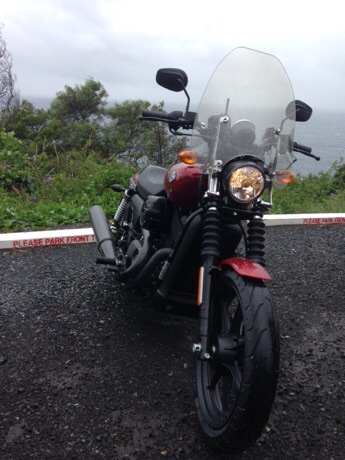 If you swapped the pegs for aftermarket units, you could possible adjust the brake a little higher.
We rode from Sydney down to Scarborough in squally conditions, but it felt sure-footed and didn't get blown around. The seat is quite comfortable and didn't start to hurt my damaged tailbone until near the end of the 100-minute ride.
Build quality is good for a $10,000 bike. They've used a lot of allen bolts, metal fenders and a simple but stylish single instrument pod. It features an analogue speedo with an LCD screen for two trips, odo and warning lights. A fuel gauge and clock would have been welcome additions.
It also comes with a locked fuel cap which you don't even get on any other Harleys except the Touring class. That's because it is made in Asia, specifically for an Asian market where they demand fuel security.
The only concerns I have about the bike are some messy cables and bare electrical wire couplings that should be tidied up.
I like the discrete position for the ignition key, although you'll need a soft fob or you will scratch the triple clamp.
This bike is going to appeal to a lot of riders, not just learners. Women, returned riders, commuters and Harley owners who want a second town-run-around will be among potential customers.
Harley marketing guru Adam Wright says they have orders from more than 300 customers already, most of whom paid a deposit before the price was announced at the recent Melbourne Moto Expo.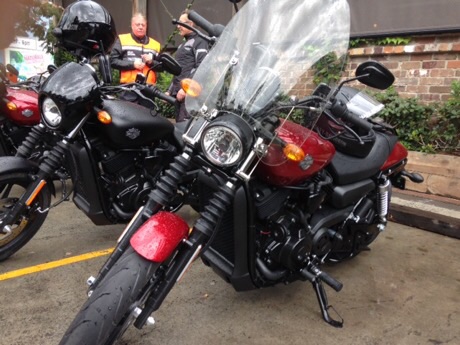 He says some thought it would cost about $12,000 and have budgeted that much, so they are now planning to buy accessories and rider gear.
At this price and with this level of performance, quality and brand cred, the Indian-built Street 500 should be a real winner.
It comes in black or red with about 80 Street-specific accessories including screens and luggage, plus a host of other generic Harley accessories that will fit.
Harley-Davidson Street XG500 tech specs
Price: $9995 ($10,995 in New Zealand) rideaway
Warranty: 24 months, unlimited km, roadside assist
Service: 1600km/8000km
Engine: Liquid-cooled, fuel-injected, 4-valve, 494cc Revolution X V-Twin
Power: about 25kW
Torque: 50Nm @ 3500rpm
Bore x Stroke: 69 x 66mm
Compression: 11:1
Transmission: 6-speed, wet multi-plate clutch, belt drive
Length: 2225mm
Width: 820mm
Height: 1058mm
Seat: 709mm
Clearance: 145mm
Rake/trail: 32°/115mm
Wheelbase: 1534mm
Tyres: Michelin Scorcher 100/80 R17; 140/75 R15
Fuel: 13.1L
Weight: 218kg
Chassis: tubular steel
Suspension: 37mm telescopic forks, twin tubular shocks adjustable for pre-load
Brakes: 292mm/260mm discs, 2-piston callipers
Lean Angles: 28.5°
Economy: 3.74L/100km, 360+km range
Check out our latest motor bike news and motorcycle reviews.