Following a big year for Triumph with the introduction of their 660 platform, Triumph is continuing their steam-roll into 2022 with even more new models such as the 2022 Tiger 660 sport. The British motorcycle manufacturer has recently adopted an ethos of low-cost ownership, and they continue to push that mentality into the new year.
Triumph continues to churn out beautifully custom special editions of their most popular models, so even if you're looking for something a little "extra" Triumph is guaranteed to have something to please.
2022 Triumph Rocket 221 3R & 3GT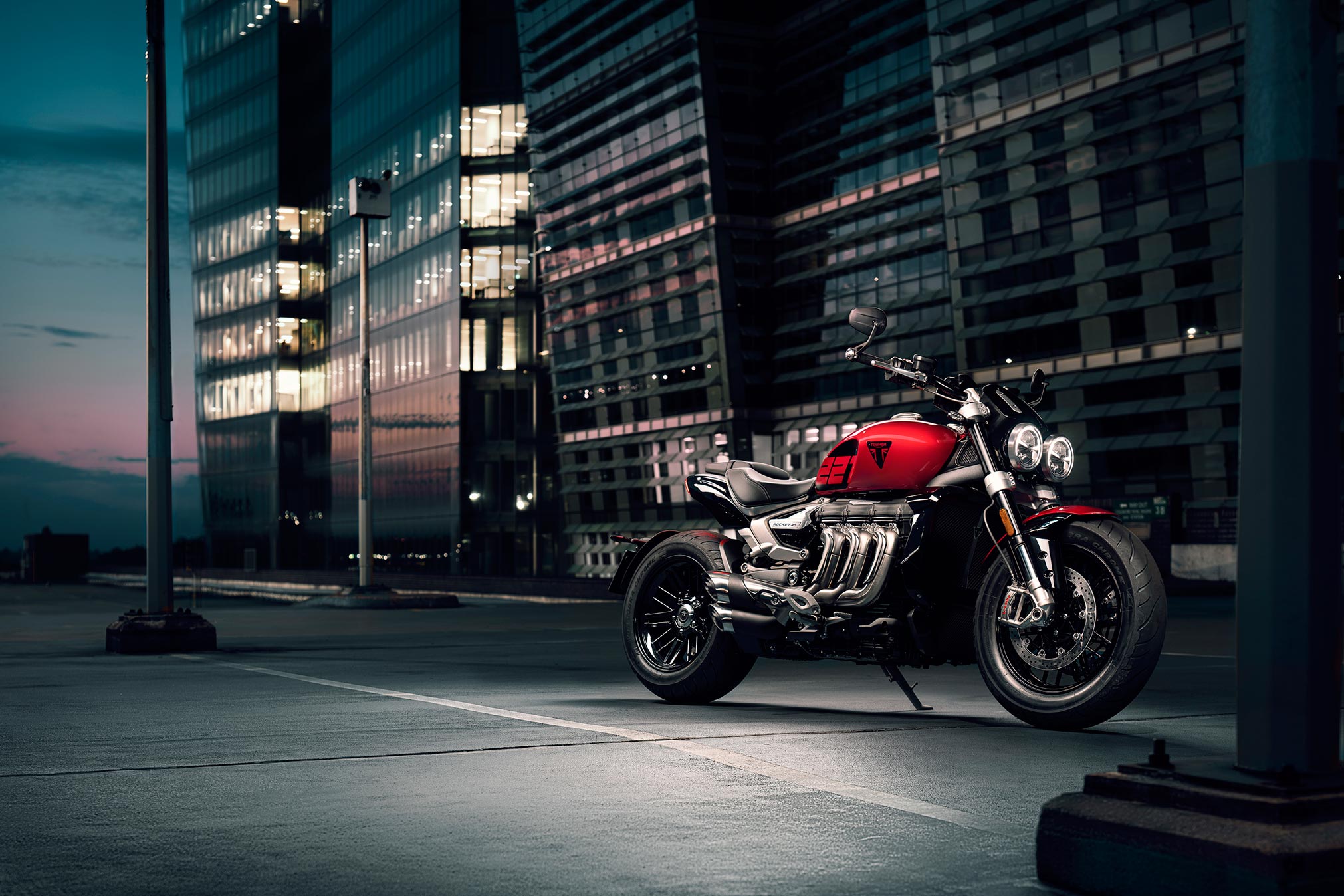 The Triumph Rocket 221 is truly a specimen of modern technology; the "King of Torque". For those out of the loop, Triumph was bold enough to denote this motorcycle "221" thanks to its astounding torque numbers. If you haven't put two and two together yet, yes, this motorcycle really does produce 221 lb-ft of torque.
The Harley V-Rod-inspired Rocket 221 is a comfortable cruiser with one thing in mind; power and torque. Triumph is so proud of how much power this motorcycle puts down that this special edition 3R and 3GT both proudly display their power figures right on the tank of the motorcycle.
The only difference between the 3R and 3GT is the handlebar configurations.
2022 Triumph Speed Triple 1200 RS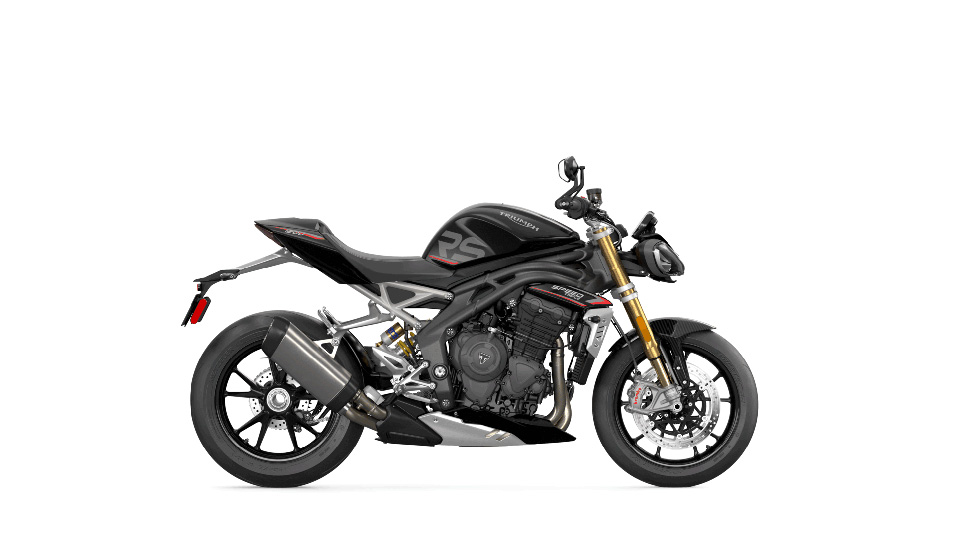 Often referred to as one of the best sounding motorcycles of all time, the Triumph Speed Triple RS provides a sporty and aggressive riding style. Paired with a recently updated 1160cc inline-three that cranks the crazy-dial up 29 horsepower to 177 hp (with the added benefit of 92 lb-ft of torque), this bike serves as Triumph's poster-boy of naked excellence.
Last year saw a major overhaul to the Speed Triple when Triumph bumped the displacement of the engine from a 1050 to a 1200 along with a complete visual overhaul, but it will remain the exact same bike going into 2022.
2022 Triumph Speed Triple 1200 RR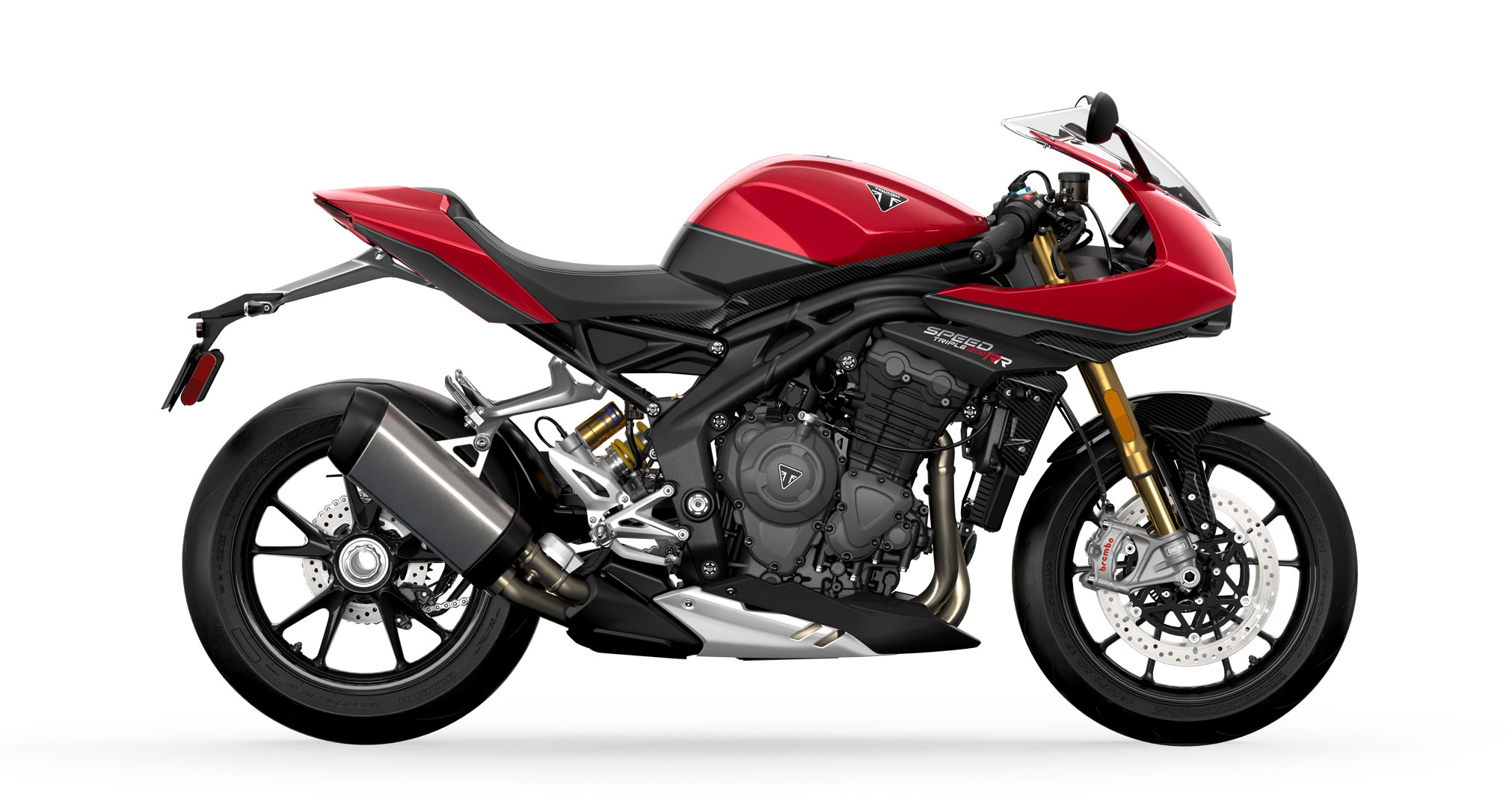 The Triumph 'Naked Triple' bike family (containing the Speed Triple and bigger Street Triple) have been a staple in the Triumph lineup for a long time now. Last year Triumph introduced the Speed Triple 1200 RR, bumping the Speed Triple 1050 up to a beefy 1200cc engine.
The Street and Speed Triple bikes have always had a styling unique to the Triple family. In a bizarre display of design superiority, Triumph has completely reimagined the new Speed Triple 1200 RR for 2022 with some insanely retro-inspired styling. The bike still puts out a torque-heavy 177 HP and 92 lb-ft of torque, except it is now shrouded in brand new full-fairing greatness. The Speed Triple now has its very own retro brother.
2022 Triumph Street Triple R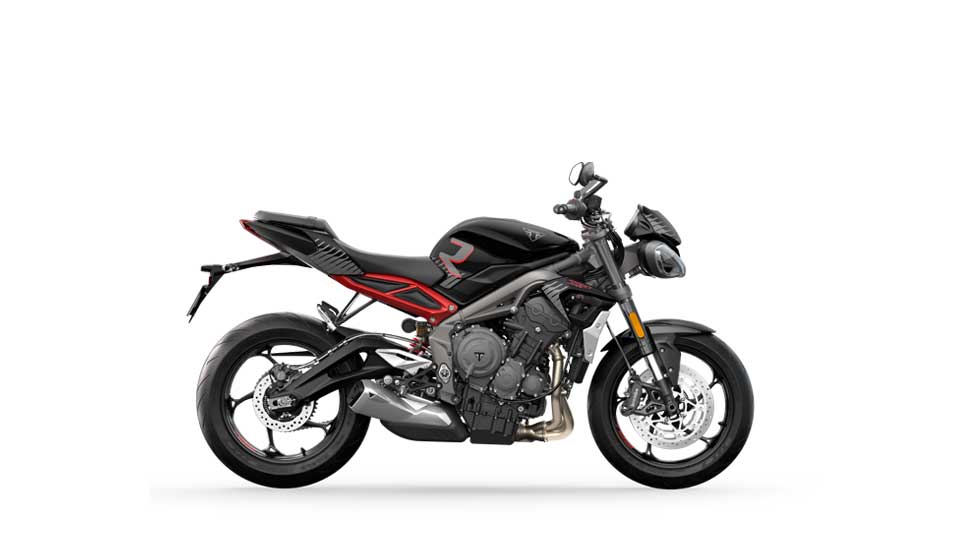 The Street Triple R is an inline-three-based, industry-leading naked middleweight with a large emphasis on torque and overall agility. It comes in three different versions depending on what you're exactly looking for, but the base R version is still a pleasure to ride.
With the 765cc engine producing 58 lb-ft of torque and having five riding modes to choose from, the Street Triple R is a serious contender when being compared to other bikes in its class. For riders on the shorter side, Triumph offers a version of the Street Triple R with a lower ride height to accommodate.
2022 Triumph Street Triple RS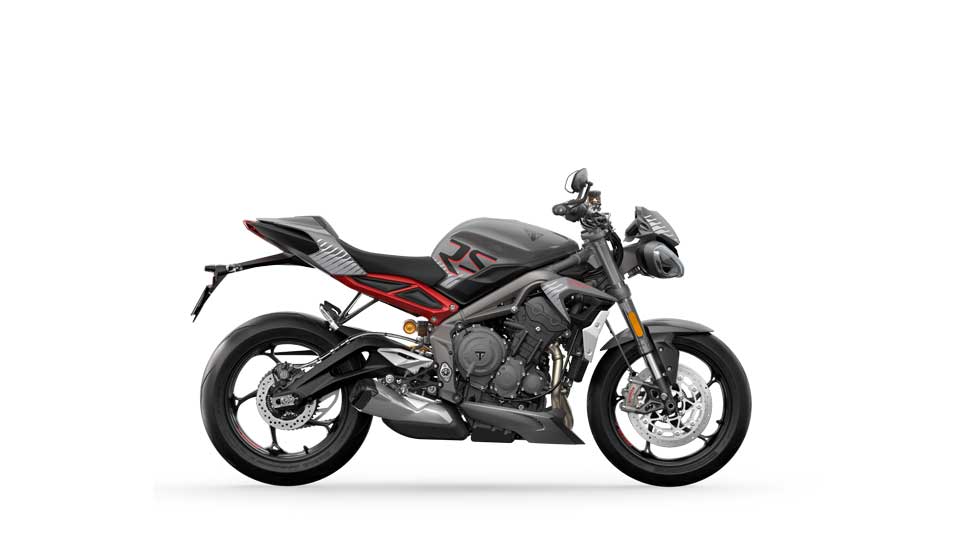 The Street Triple RS is the top-spec version available for the Street Triple family. It is the same bike as the standard Street Triple R, but brings upgraded Brembo brakes, an underbelly cowl, and a few other minor changes.
2022 Triumph Daytona Moto2 765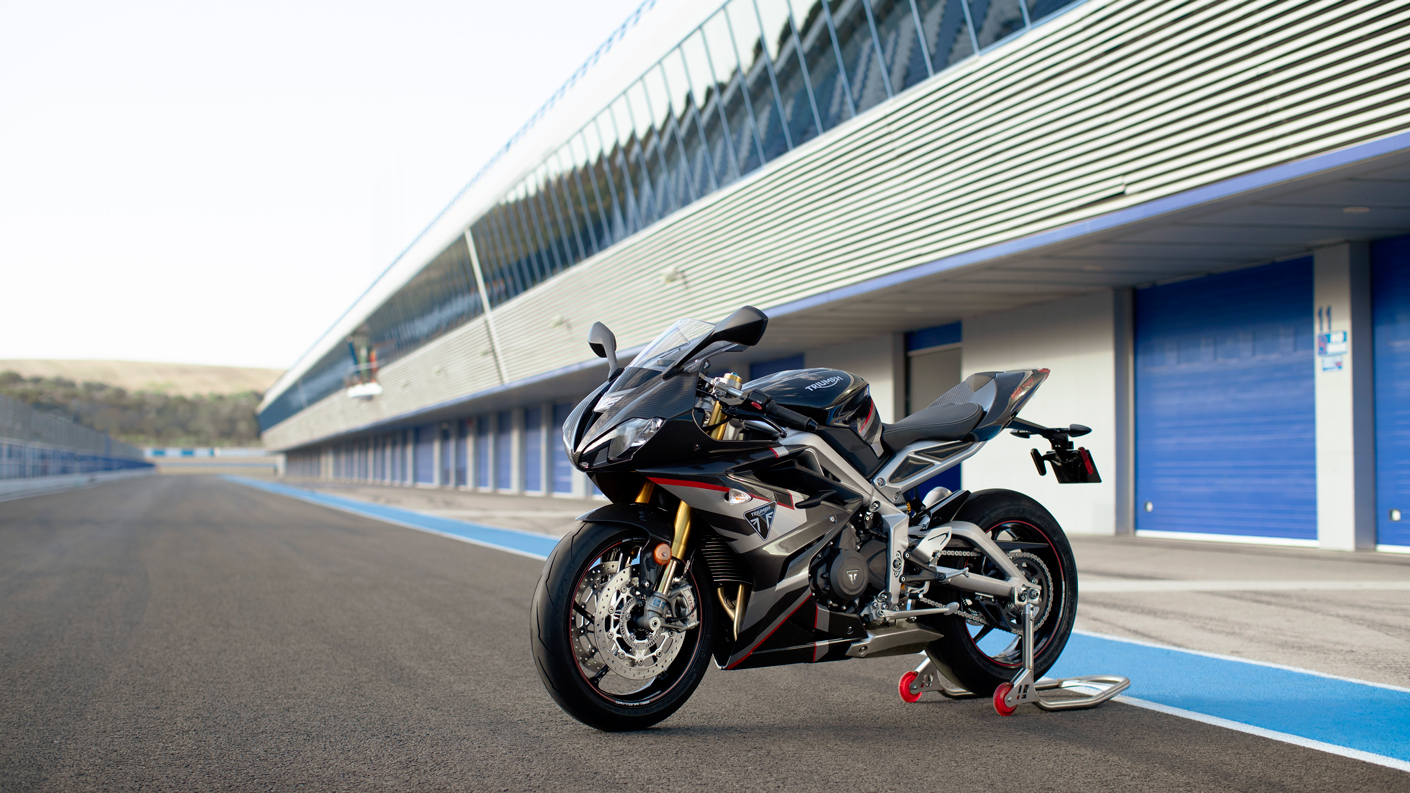 Built around the same engine found in the Street Triple, the Daytona provides a full-fairing riding experience; making it a more formidable model for casual track days. The Daytona has always been a good middleweight supersport option available in a market shared by Honda's CBR600RR and Yamaha's R6, with the inline-three being the x-factor that separates the Daytona from the rest.
2019 brought a brand new chassis and overhaul to the Daytona, and 2022 brings back a special edition Moto2 765 Limited Edition to the table in celebration of Triumph being the exclusive engine supplier for the Moto2 World Championship motorcycle racing series.
2022 Triumph Trident 660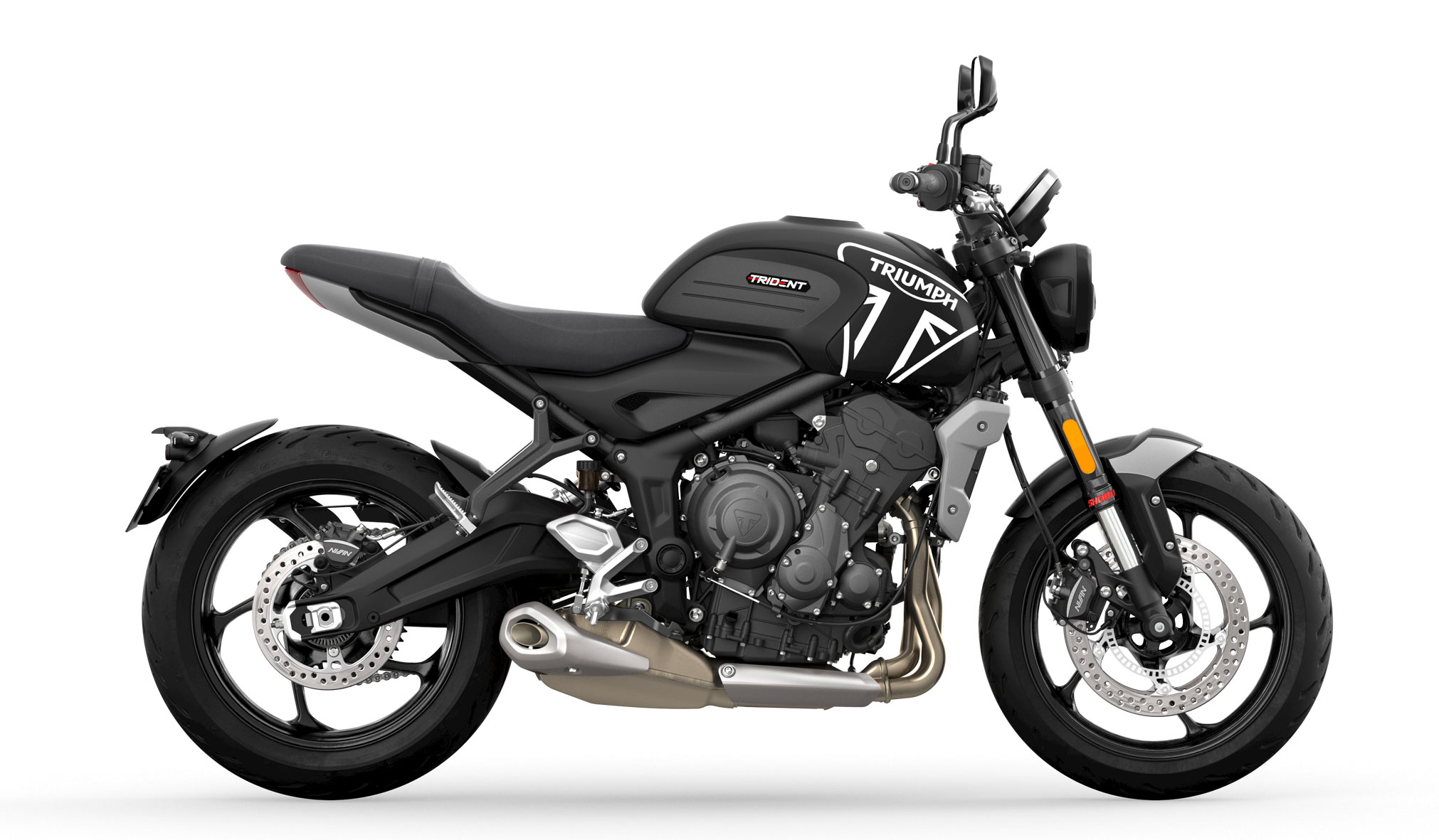 Last year, Triumph debuted its bread new 660 platform with the introduction of the Triumph Trident 660; a naked hoon-machine inspired to compete with the likes of naked bikes such as Yamaha's highly successful MT-07. The motorcycle was very well-received by the industry and saw great sales success as a result.
That brings us into 2022 with Triumph's second year into selling the Trident and first opportunity to bring changes to the motorcycle. Triumph has already jumped the gun and is introducing a whopping 67 entirely new and redesigned components to the Trident. The 660cc inline-three engine produces 80 horsepower and 47 lb-ft of torque; making it the perfect commuter or starter bike thanks to its low price point.
2022 Triumph Street Twin EC1 Special Edition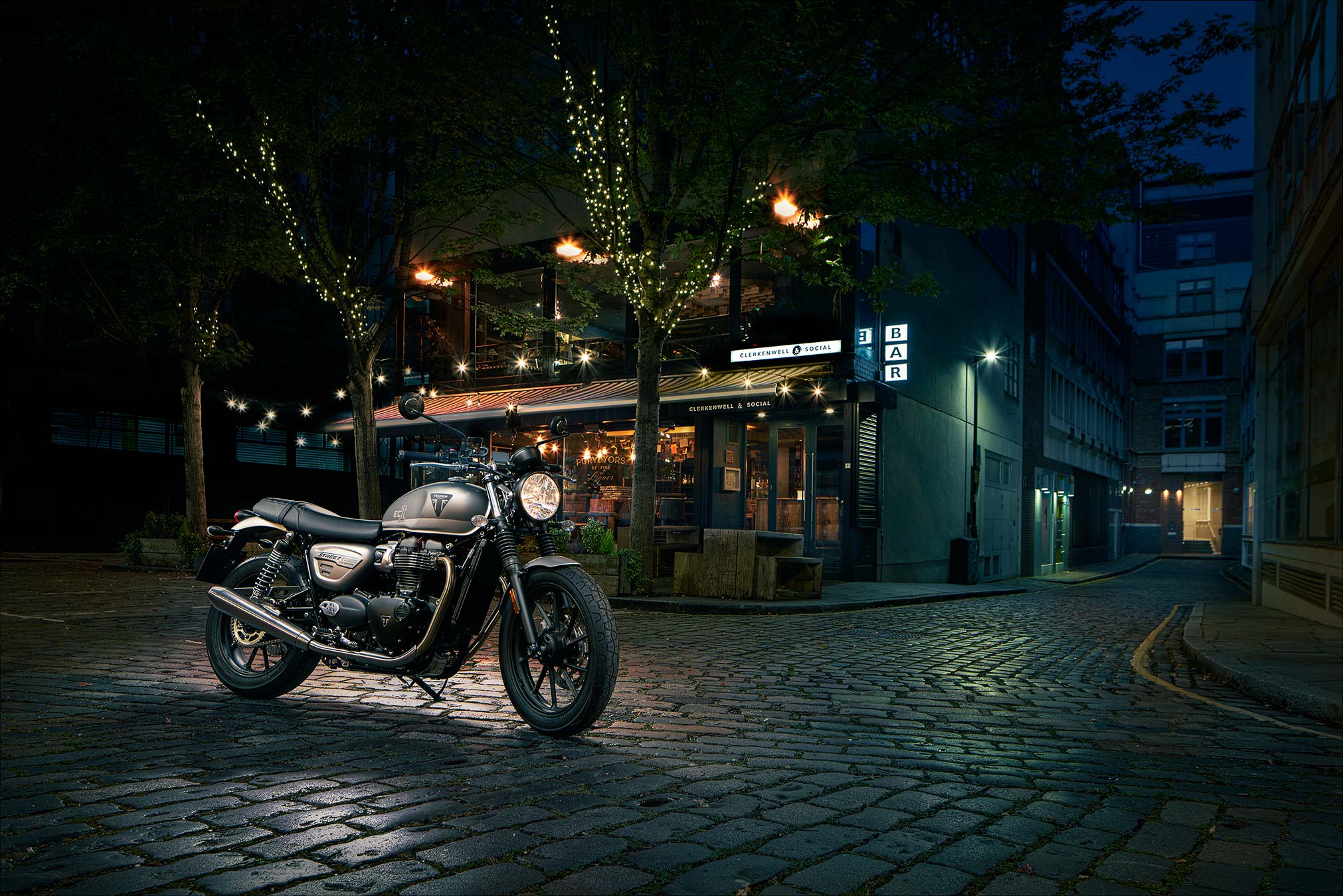 The 2022 Triumph Street Twin EC1 celebrates its classic heritage with a beautiful silver and gray two-tone paint job that is sure to bring attention. Inspired by East London's early motorcycle scene, the EC1 paint scheme and custom style detailing serve to bring back echoes of the past.
2022 Triumph Thruxton RS Ton Up Edition
2022 brings wind of another special edition Triumph motorcycle in the form of the Thruxton RS Ton Up Edition. Taking inspiration from Triumph's successful racing history, the Thruxton RS Ton Up Edition brings a special design to the existing model. A blue fuel tank with a hand-painted solver coach lining adorns the top; while a special seat, mudguard, black side panels, and accessory-fit fairing wrap the bike in limited edition greatness.
2022 Triumph Tiger 1200GT / Tiger 1200GT Pro / Tiger 1200GT Explorer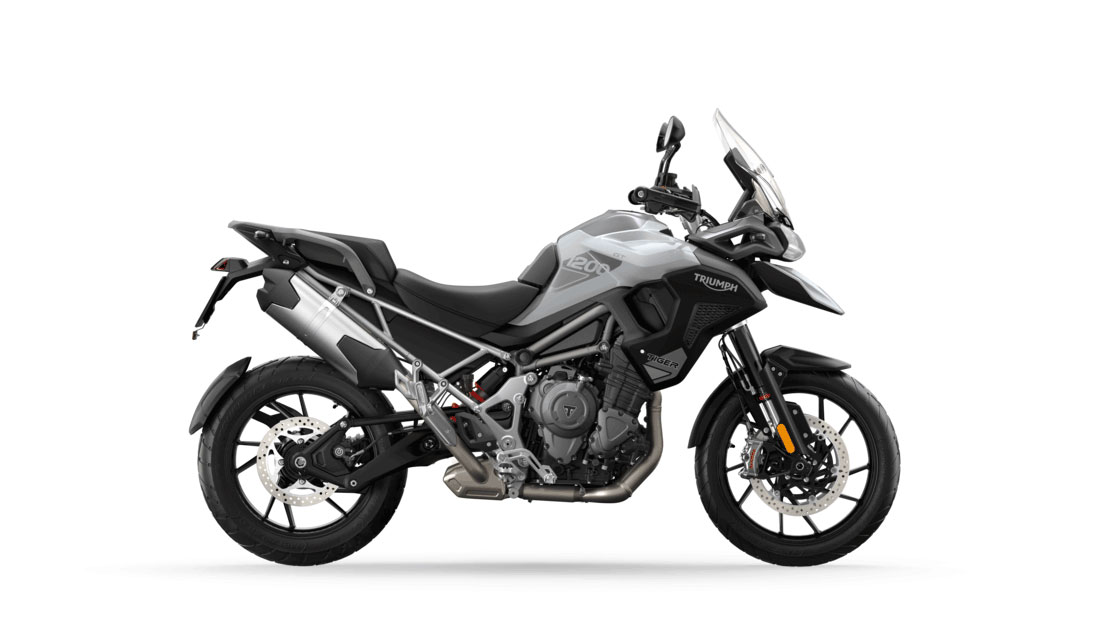 The Tiger 1200 serves as Triumph's attempt at a full-fledged ADV motorcycle. The GT edition provides a powerful and lightweight bike dedicated to road-focused adventure riding thanks to its cast aluminum wheels. Triumph sent the Tiger 1200 to the gym, and as a result, it has managed to shed an incredible 50 pounds for the 2022 model year.
The 1160cc inline-three has seen some work as well, and it now produces 148 horsepower and 95 lb-ft of torque; ample power to get you to any off-road destination that your heart desires. The accessory list for the Tiger 1200 models is practically endless, so it's up to you how you want to customize your ride!
The GT comes stock with a 20 liter tank, and the Explorer edition bumps that up to 30L.
2022 Triumph Tiger 1200 Rally Pro / Tiger 1200 Rally Explorer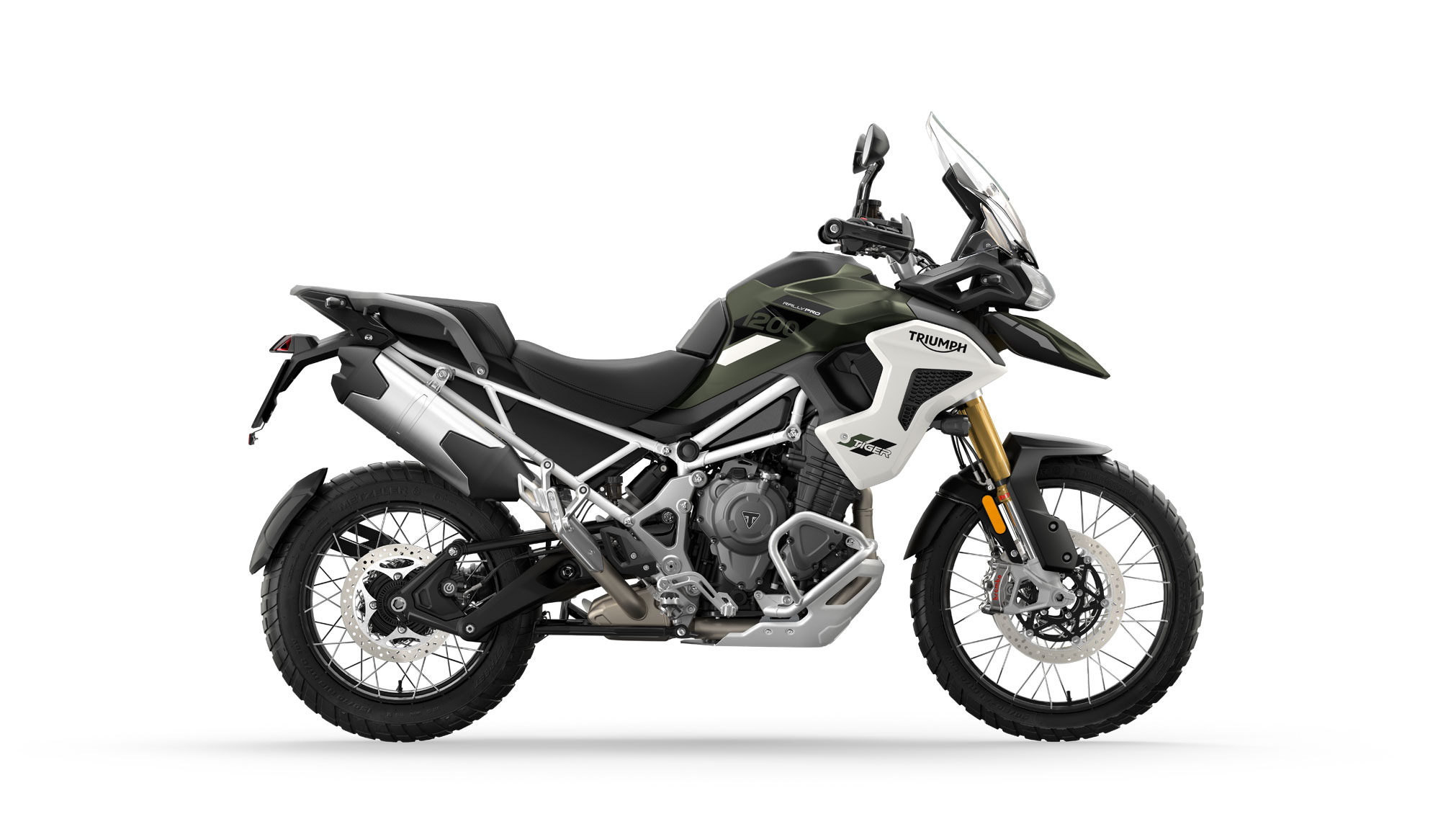 For a more dirt-inclined ADV rider, Triumph has the Tiger 1200 available in a Rally Pro edition built specifically for taking the road less traveled. The Rally model features tubeless spoked rims for increased off-road ability, two off-road specific rider modes, and some off-road specific accessories such as an engine guard and bark-busters to protect your hands.
Beyond the off-road transformation, the Rally Pro edition remains the same as the 1200GT. The Rally comes in an "Explorer" edition boasting some extra accessories included off the lot such as heated grips and seat, tire pressure monitoring system, and some other tech upgrades.
2022 Triumph Tiger Sport 660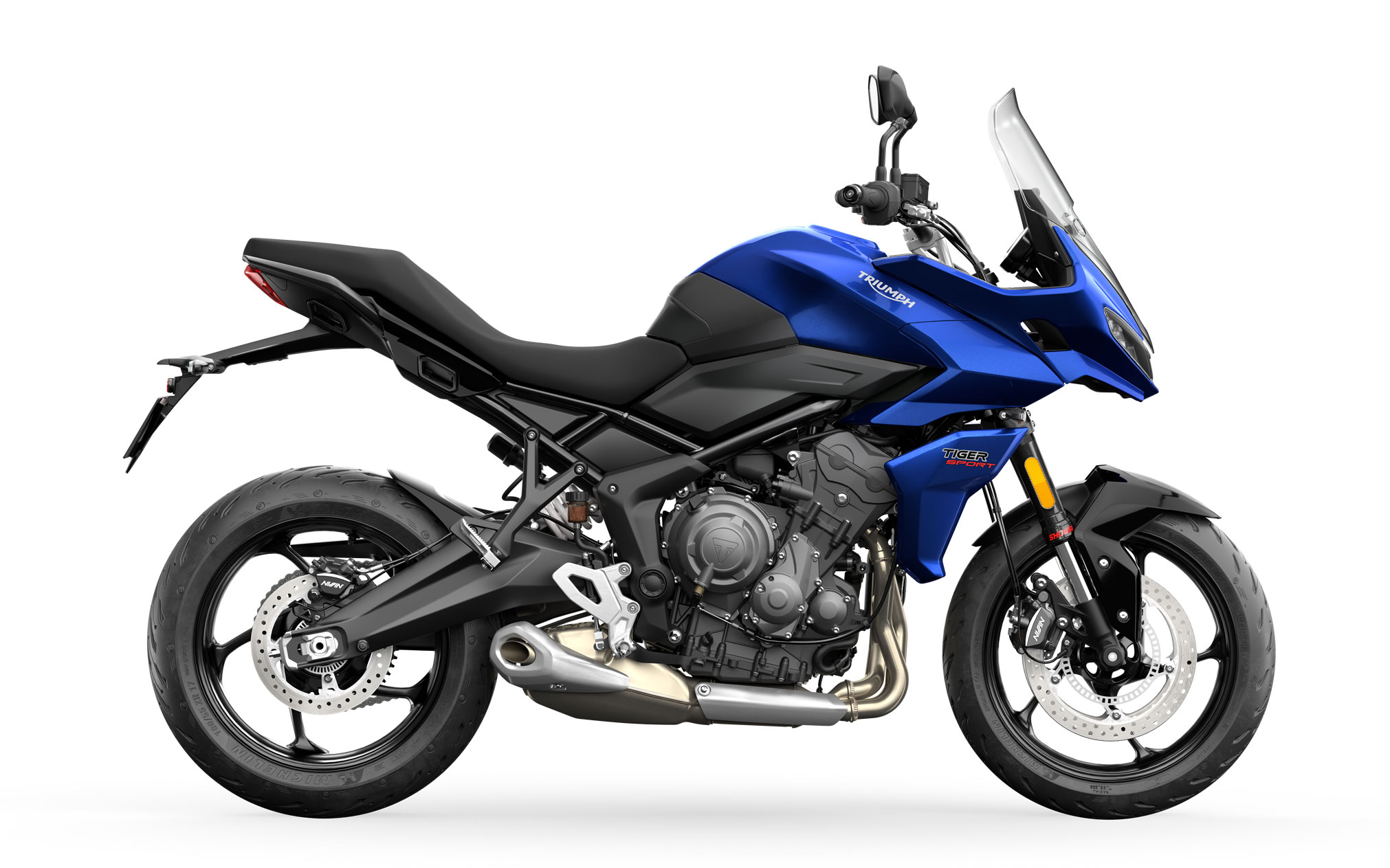 A brand new model coming to the 2022 Triumph motorcycle lineup is the 2022 Triumph Tiger Sport 660. Taking their recently introduced 660 platform, it appears as though Triumph has taken the opportunity to fill a hole in their lineup with a touring-centric middleweight bike with an attractive price and new styling.
Retaining the same 660cc inline-three from the Trident, the Tiger Sport 660 has been tuned to produce 80 horsepower and 47 lb-ft of torque. The 17L fuel tank and Triumph's endless accessory-line help this motorcycle become a dangerous threat to the middleweight touring market.
2022 Triumph Tiger 900 GT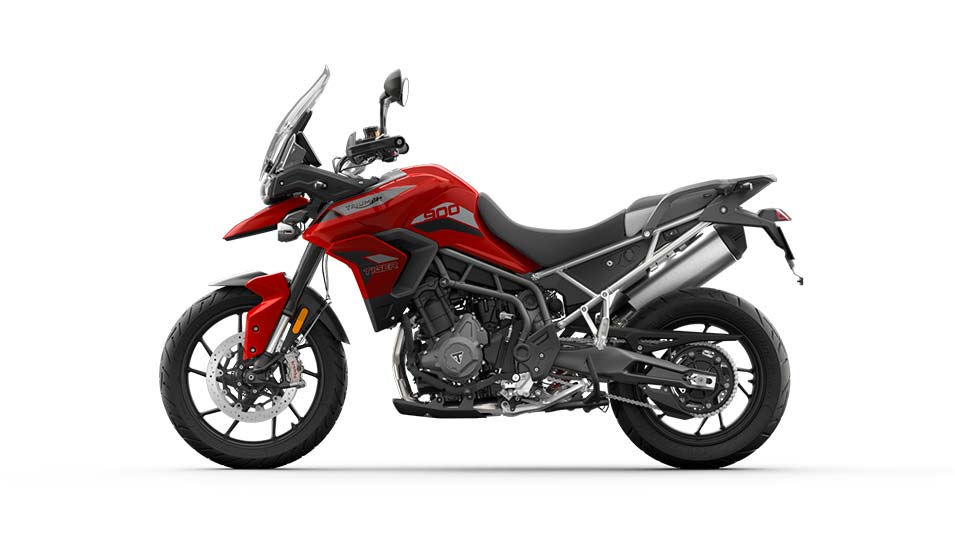 900cc's of on-road touring potential nets you the 2022 Tiger 900 GT. This is a capable middleweight ADV bike with a focus directed at on-road riding, unlike its 900 Rally brother. This motorcycle is easy to control for both beginner and intermediate riders alike with its brand new 900cc engine laying down 94 peak horsepower and 64 lb-ft of torque.
For the perfect ADV middle ground, the Tiger 900 family is sure to please.
2022 Triumph Tiger 900 Rally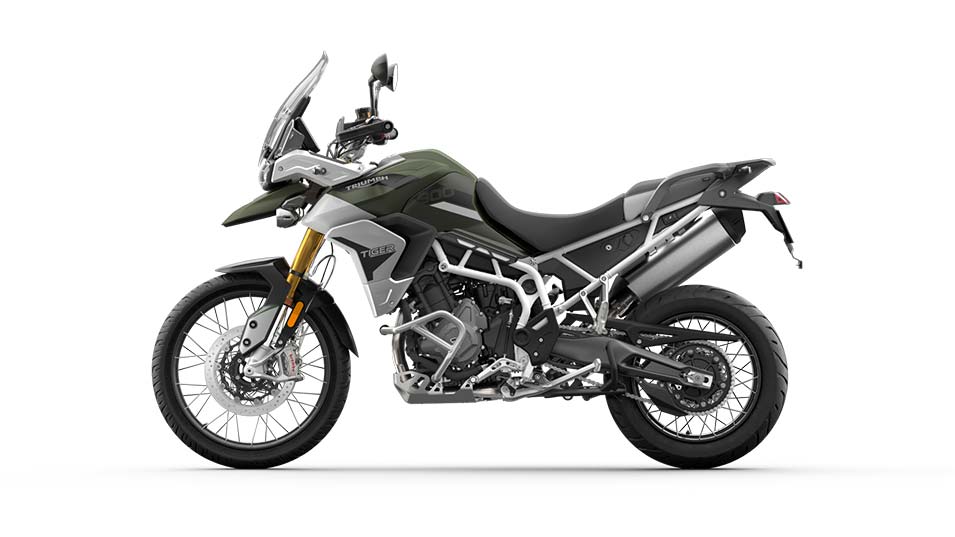 As with every road-based Triumph ADV bike, there is always a version offered with an off-road package. Equipped with the same 900cc inline-three as the GT, the Rally edition brings some off-road based features such as wire-spoke wheels, knobby tires, and an engine bash-guard.
2022 Triumph Tiger 900 Bond Edition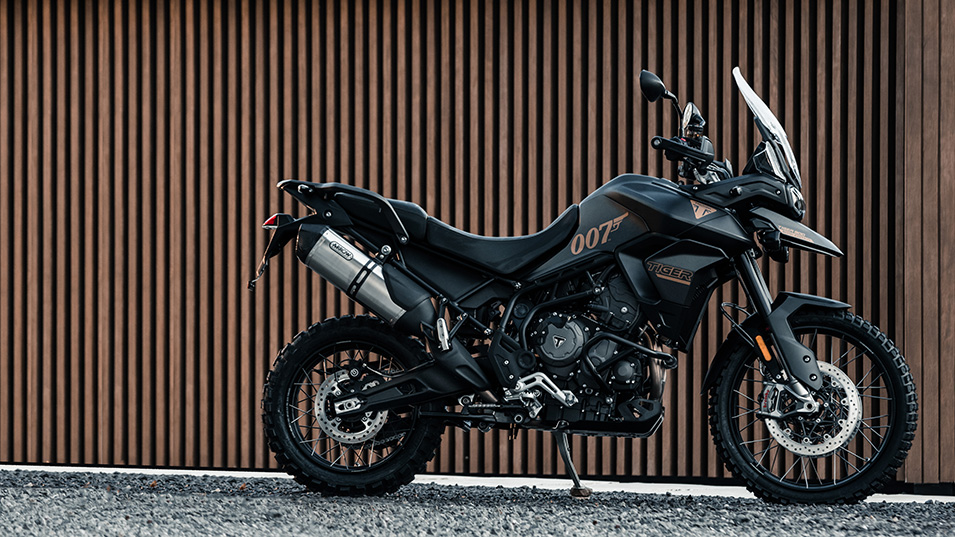 (Cue the James Bond theme) For an extra ~$5000 over the base Tiger 900 rally, you can find yourself on a 1 of 250 Bond-themed Tiger to celebrate Triumph's partnership with the British-based James Bond franchise. Sporting a special matte black livery with bronze iconography, riders can proudly represent all things British.
2022 Triumph Tiger 850 Sport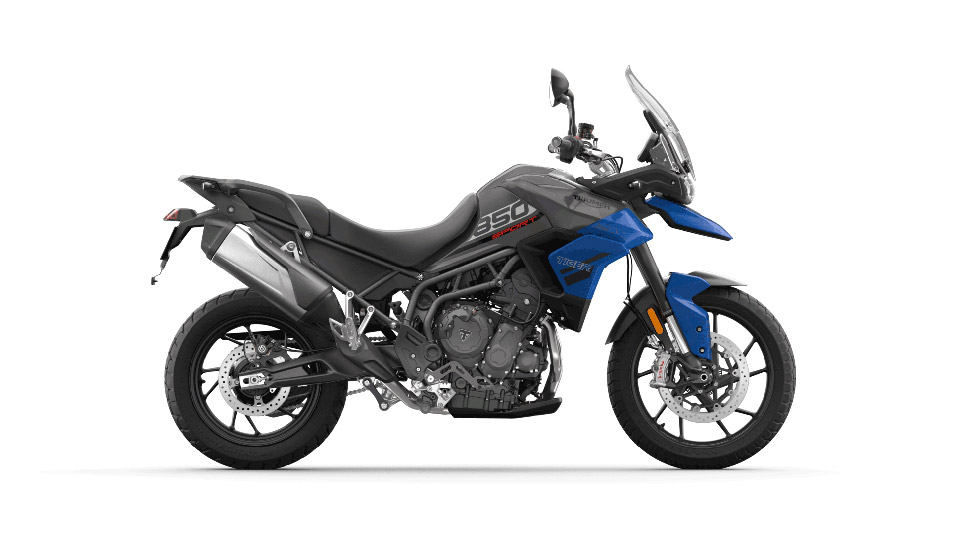 Although at times it can feel like Triumph's extensive ADV line of bikes is truly never-ending; it's important for the British motorcycle manufacturer to have a little bit of everything for every kind of rider. The Tiger 850 sport is considered the "diet" version of the Tiger 900, with the exact same engine being featured (except de-tuned to 84 horsepower and 60 lb-ft of torque).
It features more-or-less the same parts and available accessories but is aimed at being a more accessible bike for beginners looking to get into Triumph's ADV lineup.
2022 Triumph Street Twin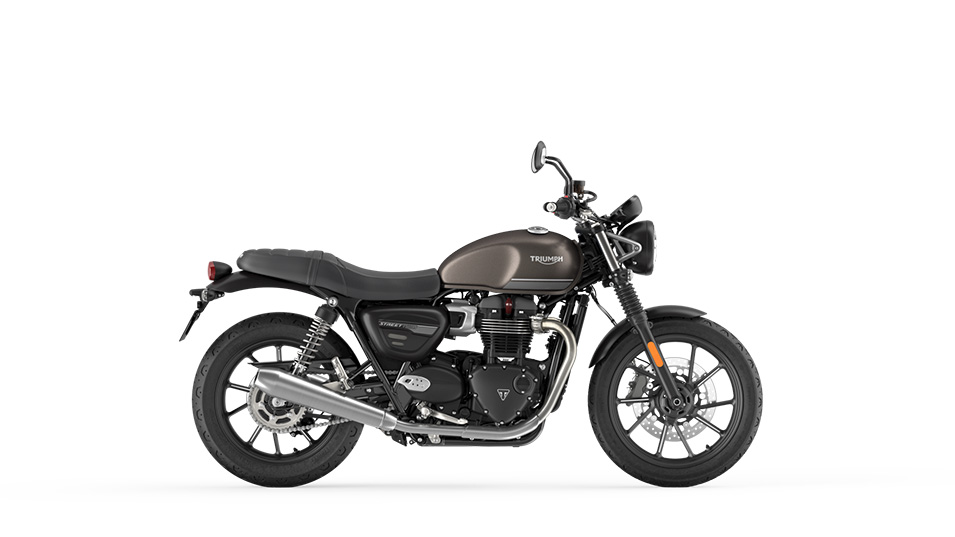 The best-selling Street twin returns for 2022 with some minor changes. The retro-styled motorcycle is designed for casual riding and subtle appearances, but that doesn't let it slow itself down. The 900cc parallel twin outputs a torque-heavy 59 lb-ft, but Euro 5 regulations have knocked a single horsepower from the previous year.
If you enjoy a simple motorcycle that gets the job done without sacrificing street-ability, the Street Twin is an excellent choice.
2022 Triumph Bonneville T100
After a big update for 2021, the Bonneville T100 is back with its vintage good looks for 2022. The T100 shares the 900cc parallel-twin of the Street Twin making 64 hp and 59 ft-lbs of torque, with high-quality Brembo front brakes and ABS to bring you back to a halt.
The wire-spoke wheels are wearing Pirelli Phantom tires, and the T100 receives a stunning two-tone paint scheme in either blue or red of course you can always choose full black. The T100 is also available in Triumph Gold Line livery for $750 more.
2022 Triumph Street Scrambler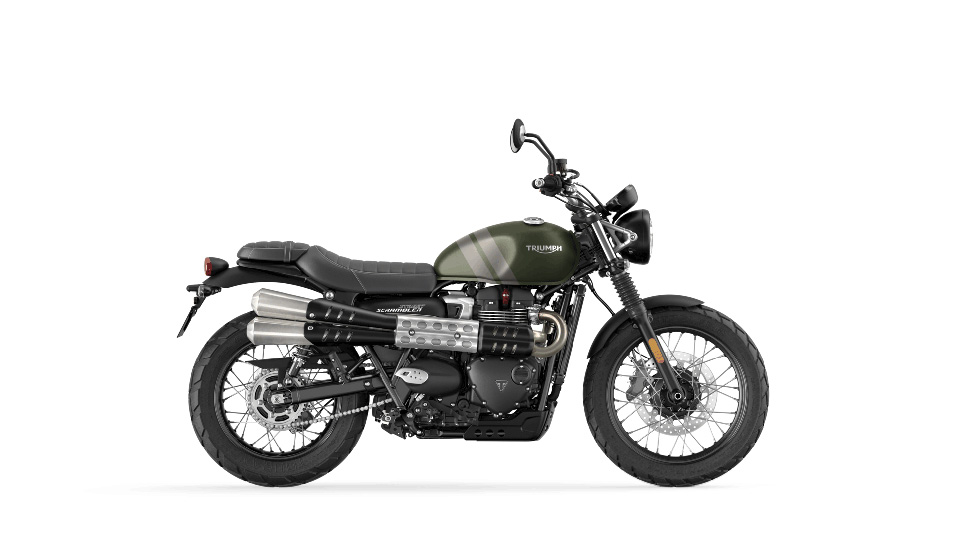 In a successful bid to bring more "scramble" to Triumph's proverbial Bonneville eggs, the Street Scrambler brings a traditional off-road look to the Bonneville platform thanks to the addition of multi-surface tread wrapping wire-spoke wheels, wide handlebars, top-routed exhaust, and engine guard; delivering what can only be explained as a much more rugged appearance.
The Street Scrambler ties its offroad cadence around a 900cc parallel-twin, capable of laying down 65 horsepower and 59 lb-ft of torque; enough to meet the recommended dose for both on and off-road riding.
2022 Triumph Bonneville T120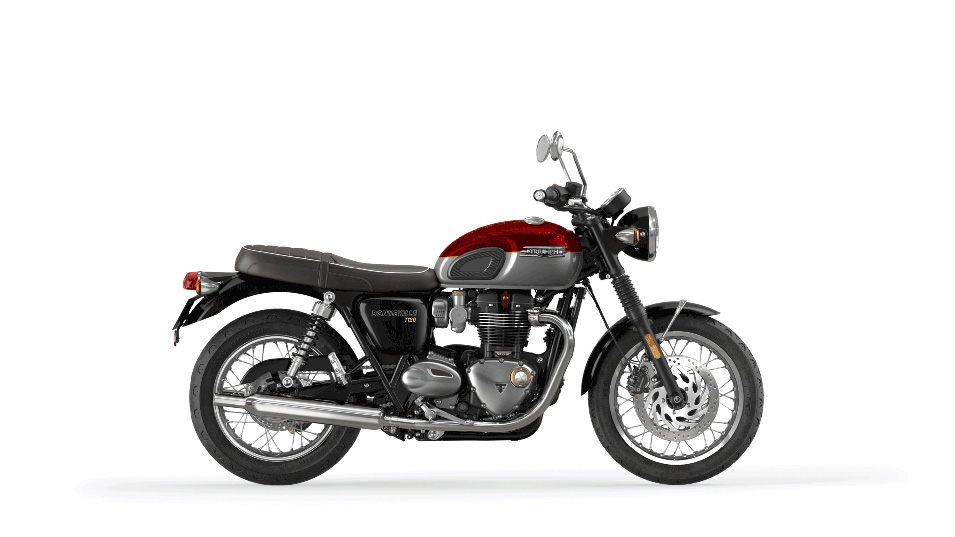 Sitting atop Mt.Bonneville is the T120; Triumph's pride and joy of their esteemed Bonneville lineup. Although it shares the same classically-inspired visuals as its smaller brother, the T120 comes ready for war thanks to its 1200cc liquid-cooled parallel-twin.
Due to the bump in displacement, you can expect the T120 to shred a little harder than its T100 counterpart; 79 horsepower and 77 lb-ft of torque to be exact. The Bonneville T120 is also available in a "Black" trim package, casting a powder-coated black shadow on all of the previously chrome components
2022 Triumph Speed Twin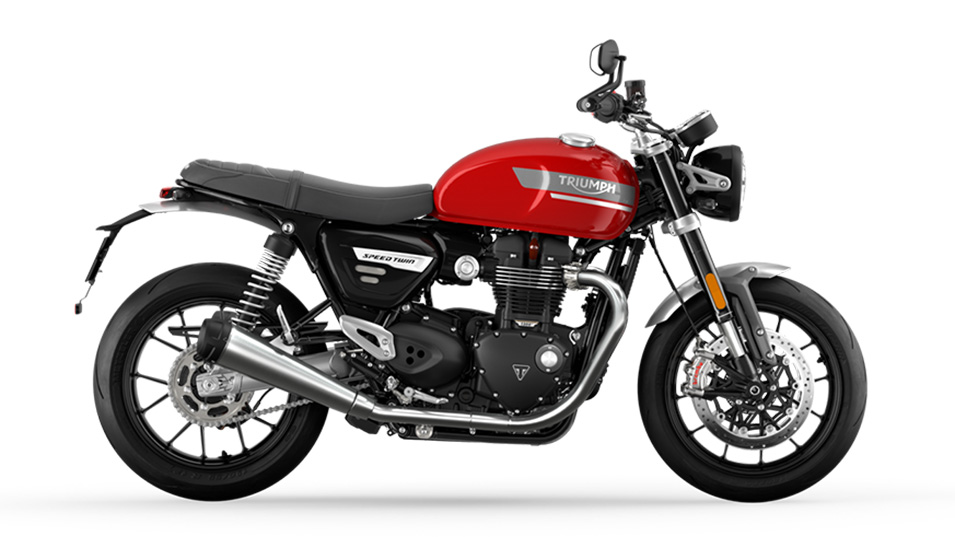 As a direct step up from the Street Twin, the 2022 Triumph Speed Twin offers a motorcycle that perfectly captures everything that is great about the street twin, but with the addition of a bigger engine and the components to back up the increase in power (for example, a Brembo brakes package).
The 1200cc engine cranks out a confident 100 peak horsepower with room to let the 83 lb-ft of torque really push you along the highways.
2022 Triumph Scrambler 1200 XC / Scrambler 1200 XE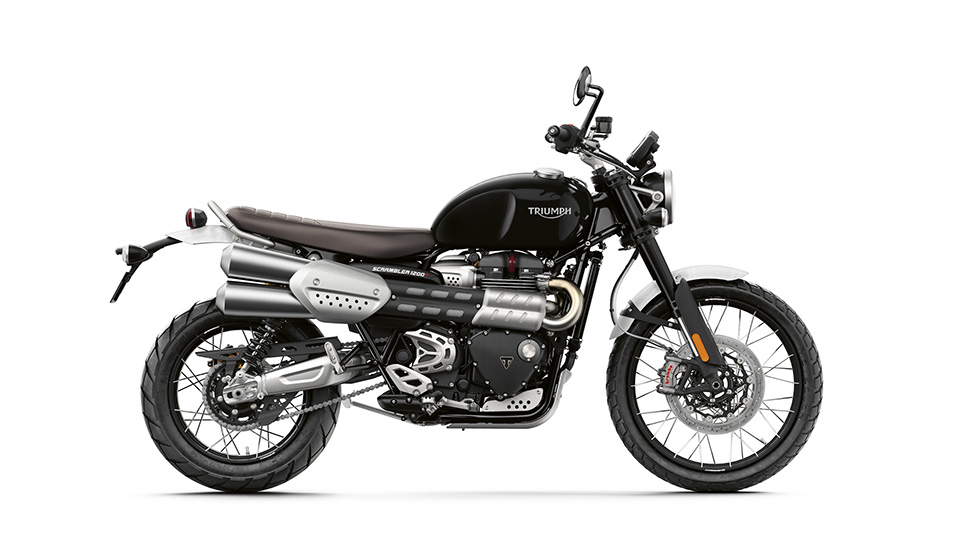 As with all things Triumph, what has a mid-displacement model must have a high-displacement alternative… In this case, the Scrambler 1200 brings a true sense of adventure with the inclusion of the Bonneville 1200 engine.
While still managing to retain the classic characteristics of the Bonneville lineup, the Scrambler 1200 produces a truly go-anywhere riding experience without having to commit to being an "ADV guy".
The Bonneville mill brings 89 horsepower and 81 lb-ft of torque to this off-road beast, making it strong both on and off the trail.
2022 Triumph Bonneville Speedmaster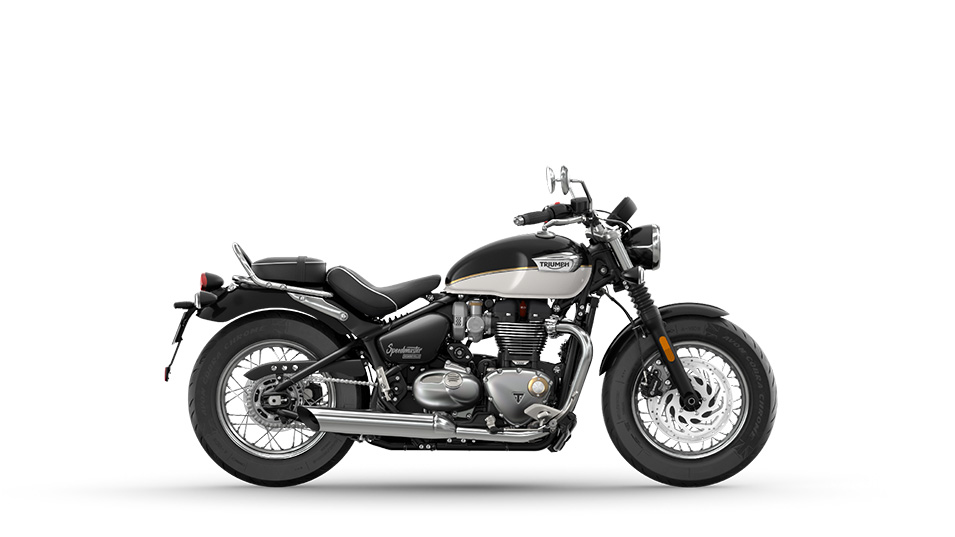 For riders that enjoy the idea of owning a Bonneville, but are more partial to cruiser-style bikes; the Speedmaster manages to wedge its way into the Bonneville lineup with its charming looks and cruiser-style design.
Built around the same 1200cc parallel twin (featuring 76 horsepower and 78 lb-ft of torque), the Bonneville speedmaster brings ample highway power to the table. As far as cruisers are concerned, the Speedmaster has a large selection of accessories for owners to customize with at their heart's desire.
2022 Triumph Bonneville Bobber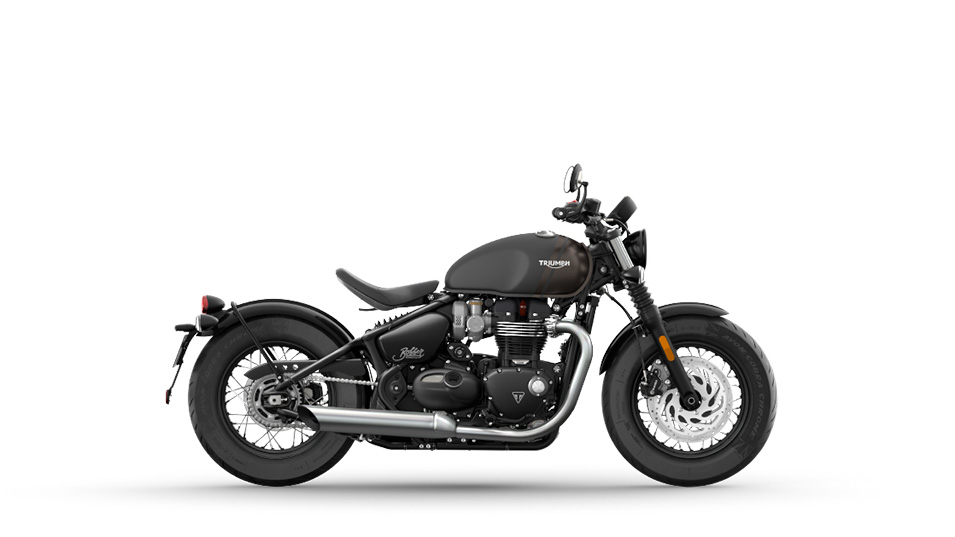 Did someone say "Bobber"? Of course, Triumph has a bobber variant of the Bonneville 1200 for those who value style over ergonomics.
Marketed as "brutal" and "beautiful", this bike takes the reductive approach to the Bonneville and strips it down to its bare minimum. Wrapped in chunky rubber, the wire-spoke wheels in addition to the blacked-out motor components give the 2022 Bonneville Bobber a menacing yet refined overall look.
2022 Triumph Thruxton RS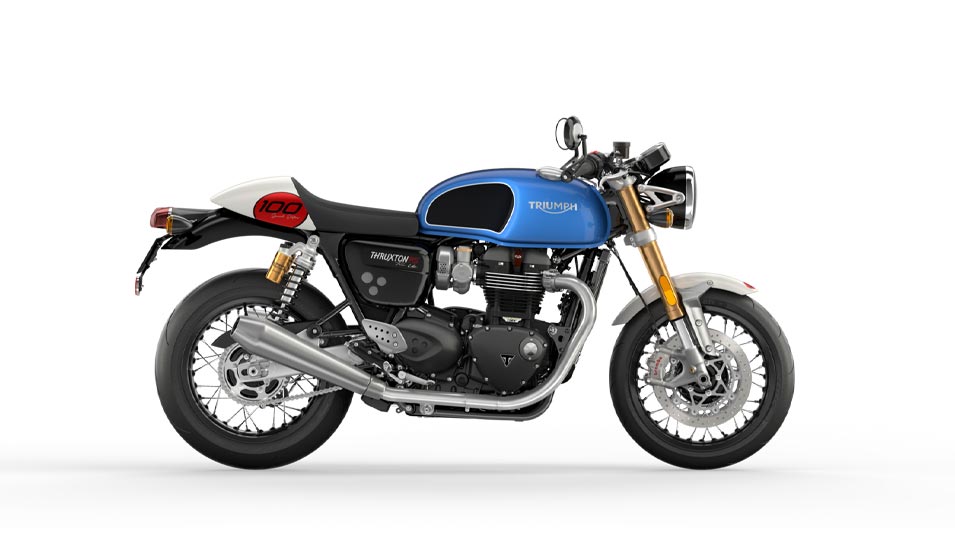 The Thruxton RS shows motorcycle enthusiasts what it really means to be a cafe-racer. An aggressive riding position, paired with a typical cafe-racer seat means that class is now in session and the Thruxton RS will be your professor of cafe-racing.
Rising from the ashes of the Thruxton 500 and classic Isle of Man TT models, the Thruxton RS brings a modern approach to a classic style thanks to tons of included tech and a 1200cc engine capable of producing 103 horsepower and 83 lb-ft of torque.