Pure Adventure: The 2020 KTM 790 Adventure R
Contents
Built on top of KTM's competition-winning, off-road racing success, the new KTM 790 Adventure R takes the brand's knowledge of trail riding and transposes it into the ultimate travel machine. It's a motorcycle designed to munch-miles over any terrain, but with enough agility and light-weight, nimble handing to traverse through the toughest of trails. Half-dirt bike and half-adventure tourer, the 790 Adventure R is the ultimate traveling companion.
Though it has impressive dirt bike-inspired architecture, the 790 Adventure relies on a parallel-twin engine rather than a single. However, the added displacement and twin-cylinder capabilities allows for more versatility, more power, and more range, but without compromising the lightness and agility you'd usually find with a single-cylinder motor. The 799cc engine produces an impressive 95 horsepower, 66 lb-ft of torque, and gives the 790 Adventure R a respectable fuel range of 280 miles.
The engine is impressive, but the standard equipment that comes with this lightweight bike is even more impressive. Plush WP Suspension and an advanced unified-braking system. There's advanced traction control, cornering ABS, and a dedicated off-road mode with the option of engaging off-road ABS too—which is made all the better thanks to the 790 Adventure R's Metzeler Karoo 3 rubbers.
The 2020 KTM 790 Adventure R is available in an orange, white, and black color scheme with an MSRP of $13,699. KTM also offers a limited edition model, the 790 Adventure R Rally, but it's limited to 500 units only.
On this page: we've curated specs, features, news, photos/videos, etc. so you can read up on the new KTM 790 Super Adventure R in one place.
---
Model Overview
General Info
Price:  $13,699
Key Features:

Anti-lock brakes (ABS)
Rally mode
LED Lighting
Key Specs
Engine type: 799cc,2-cylinder, 4-stroke, parallel twin
Power: 95 horsepower
Dry Weight: 189 kg
Seat height: 880 mm
Key Competitors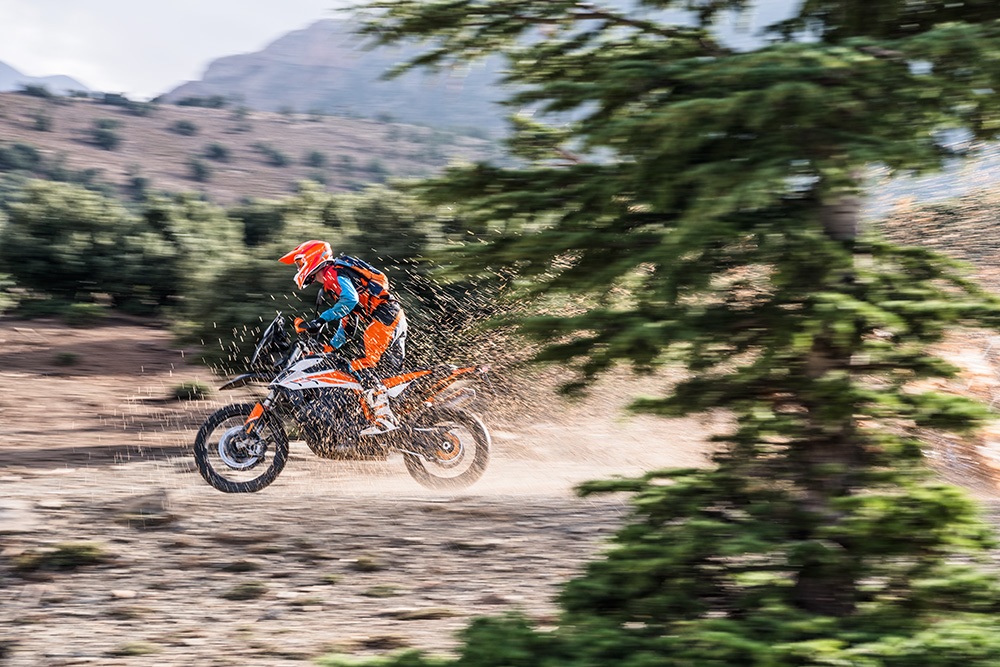 ---
2020 KTM 790 Super Adventure R Specifications
| | |
| --- | --- |
| ENGINE | |
| Engine | 799cc,2-cylinder, 4-stroke, parallel twin |
| Power | 95 Horsepower |
| Bore x Stroke | 88 mm x 65.7mm |
| Compression Ratio | |
| Fuel System | Injection |
| Starter | Electric |
| Lubrication | Forced oil lubrication with 2 oil pumps |
| DRIVETRAIN | |
| Clutch | PASC™ antihopping clutch, mechanically operated |
| Transmission | 6-Speed |
| Final Drive | |
| CHASSIS | |
| Suspension Front | 240 mm |
| Suspension Rear | 240 mm |
| Brakes Front | 2x radially mounted 4 piston caliper |
| Brakes Rear | 2 piston floating caliper |
| Tires Front | |
| Tires Rear | |
| Fuel Tank Capacity | 23 L |
| Color | White, Orange |
| ELECTRICAL | |
| Ignition | |
| Spark Plugs | |
| Headlight | LED |
| Tail Light | LED |
| DIMENSIONS | |
| Overall Length | |
| Overall Width | |
| Overall Height | |
| Wheelbase | |
| Ground Clearance | 263 mm |
| Seat Height | 880 mm |
| Curb Weight | 189 kg |
| WARRANTY | |
| Warranty | |
| Extension | |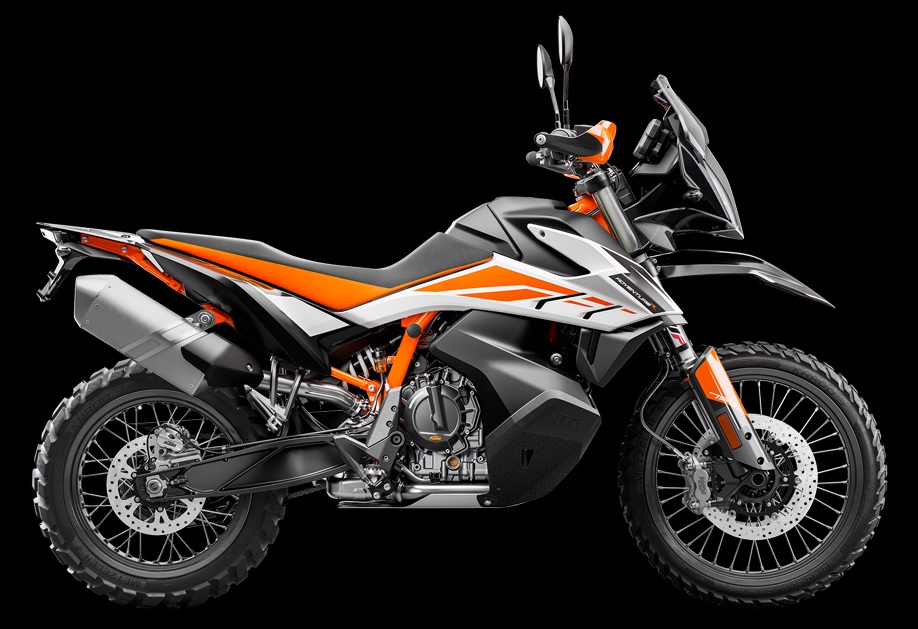 ---
2020 KTM 790 Super Adventure R Features
Engine & Exhaust
Engine
The LC8c is the most compact performance engine on the market. Pumping out 95 hp (70 kW), combined with modern electronics and a 6-speed sequential gearbox, and with an estimated 450 km fuel range, it is the perfect combination for extreme offroad exploration. On transport stages a smooth ride is assured thanks to two balancer shafts, which keep vibration to a minimum, and, with long service intervals of 15,000 km, you can ride for days on end without a worry.
Cylinder Head
The 8 valve DOHC cylinder head contains twin chain-driven camshafts and two spark plugs (one per cylinder). The camshafts are assembled, making them lighter than forged camshafts, while the cam profile has been developed to create an especially torquey engine. The steel valves are opened by DLC-coated finger followers, and a hydraulic chain tensioner tensions the camchain.
Pistons
Forged pistons with three piston rings connected by a plain conrod bearing, combine with a DLC coated piston pin for reduced piston weight and less reciprocating mass. This results in a faster revving engine and allows for a lighter crankshaft, with reduced rotating masses and improved handling.
Ride-by-wire
KTM's ride-by-wire system electronically translates the throttle commands of the rider into optimum throttle valve positions for the specific riding situation.
PASC clutch
The PASC (Power Assist Clutch) requires minimal rider input to operate. The slipper clutch on the LC8c is similar to that on the LC8, but more compact and therefore lighter. It prevents destabilizing rear wheel chatter when braking sharply or decelerating. It also reduces the hand force required for changing gears, allowing the clutch to be controlled with one finger – saving you energy when riding.
Oil circulations
Oil circulation is based on a compact semi-dry sump system to minimize friction losses. The oil is actively pumped out of the crankcase, clutch housing and gearbox, which ensures that oil does not unnecessarily flow through the engine. The oil sump is integrated into the oil pump housing, together with two pumps (one scavenge, one pressure) and a pressure regulation valve. To cool down the oil, the engine is equipped with an oil cooler similar to the larger LC8 V-twin engines.
Crankcase
The horizontally split crankcases are high-pressure cast from aluminum. This allows for reduced wall thickness, weight savings and optimized surfaces, offering the engine designers more freedom in their design. The open-deck cylinders are integrated into the crankcase.
Cylinder
The nicasil-coated aluminum cylinders are an integral part of the sleeveless engine casing. The open deck cylinder construction allows for optimal cooling, improved production tolerances, and reduces the potential for cylinder warpage during production.
Conrods
High quality pistons are connected to the crankshaft by forged conrods, which are carried by plain bearings.
Chassis
Frame
The overall geometry of the KTM 790 ADVENTURE R was developed for light handling, and comfort on long distance exploration missions – with unchallenged offroad capability. Strength was a big consideration in the design, so a tubular CroMo steel frame is used with the engine acting as a stressed member to reduce weight and overall size. All design and engineering innovations are focused on being compact and light.
Subframe
When fully loaded for adventure the bike underneath you needs to be built to last. The steel trellis subframe was developed to be compact, lightweight and also strong enough to carry a full load under the hard conditions that can be expected when extreme adventure riding.
Swingarm
The signature die-cast, open-lattice swingarm is precisely manufactured and has been optimized for stiffness and stability while still offering excellent flex characteristics. By using a direct link for the rear shock, complexity and parts are reduced. The relatively long swingarm aids in traction, stability and suspension setup.
Ergonomics & Comfort
Handlebar
An aluminum-tapered handlebar allows maximum control while offering a comfortable riding position. The handlebar can be mounted in six different positions, which results in 30 mm of adjustment range, allowing for a personal fit.
Bodywork & Graphics
TFT display
Reading valuable information like trip meter, fuel range, ABS settings and ride modes on the fly is made easier with the 5-inch, full-color, state-of-the-art TFT display. The rider can select which information and where he would like to have it displayed on the screen. The display's configuration is variable and automatically adapts to variations in environmental light. The rev counter blinks to indicate when to shift.
LED lights
LED lights are used on the KTM 790 ADVENTURE R as the main headlight, taillight and indicators. LED lights offer great illumination and visibility. They are compact, so they help reduce the overall volume of the motorcycle.
Software & Electronics
Rider aids
Electronic rider aids provide more control, performance and enjoyment to the rider under a wider range of circumstances. Designed to enhance your riding experience, the latest ABS and MTC (Motorcycle Traction Control) technology, along with different ride modes, is tailored to allow you to easily adjust the various rider aids to suit a range of riding conditions. These features can be selected, deselected and utilized to maximize the bike's innovative technology and equipment across a much wider range of terrain.
MTC (Motorcycle Traction Control)
The MTC (Motorcycle Traction Control) is a lean-angle sensitive traction control system that reacts immediately the instant rear wheel rotation speed becomes disproportionate to the riding situation. In mere milliseconds, MTC reduces engine output with an extremely smooth, barely perceptible intervention at the throttle valves until slippage is reduced to optimum proportions for the selected ride mode and current angle of lean. For particularly ambitious riders, the traction control can also be switched off.
Cornering ABS
KTM's cornering ABS system allows riders to always use the full power of their brakes while the system adjusts brake pressure to match the lean angle of the motorcycle, for safer and more predictable braking across a wider range of conditions and scenarios. It can be turned off for offroad conditions.
Offroad ABS
Braking demands are very different in sand, mud, gravel or rocks from the predictable grip of asphalt. By selecting 'offroad ABS', the ABS function is deactivated on the rear wheel, while the front wheel ABS intervention is reduced and lean-angle sensor data is ignored to accomodate the many potential cornering, steering and control scenarios offroad where the plane of movement might vary (such as leaning into a berm, rut or sand dune). This allows riders to lock up the rear wheel, which can be used to steer into corners, a useful skill for experienced riders seeking to maximize their riding experience offroad. "Offroad ABS" reduces the prevalence of the ABS on the front wheel on looser surfaces, which better balances decent stopping power with secure braking in the dirt. These settings were developed for maximum braking power with minimal electronic intervention in all scenarios. If you're going offroad, use this mode to unlock the full dynamic riding potential of your KTM 790 ADVENTURE R on the most adventurous terrain.
Offroad ride mode
"Offroad ride mode" takes the sophisticated parallel-twin power of the KTM 790 ADVENTURE R and uses sophisticated sensors to adapt the power delivery through the ECU for effective and confidence-inspiring offroad use. Peak horsepower is reduced slightly, the throttle response is smoothened out and the amount of wheel slip allowed before electronic intervention is raised to allow for a more dynamic ride on loose surfaces. On such low-grip surfaces, a certain amount of wheel slip is needed to ensure forward motion. This feature allows riders to break traction to a fair degree and to facilitate rear-wheel steering. Anti-wheelie is not used in this mode, so riders can easily lift the front wheel over obstacles. Unlike some other modes, "Offroad ride mode" is not lean-angle sensitive, meaning that traction control does not intervene when a rider uses a berm, sand dune or rut to lean into a turn.
Rally mode
In the more advanced "Rally mode" which comes standard on the KTM 790 ADVENTURE R, the rider can adapt the character of the bike more freely. "Rally mode" gives an even sportier version of the throttle response level offered in "Offroad ride mode". Slip adjust can be changed in 9 levels, varying from a high intervention level of 9 (comparable to rain mode) to hardly any intervention at all on level 1, with 7 progressive steps of intervention in between. With these settings, the slip adjust can be very precisely matched to the condition of the surface, the skill level of the rider and the requirements of the ride. Reducing slip levels can also help in conserving tires for longer when taking on further-reaching or longer-lasting rides.
---
2020 KTM 790 Super Adventure R Photos
---
2020 KTM 790 Super Adventure R Videos
---
Links