1157 LED Brake Lights Image Gallery
It's been quite a while since we posted a review of LED brake lights for motorcycles.
Not that we haven't covered this topic more ways than anyone can imagine…
At last count, there were something like 15 different LED brake and tail light related reviews and articles published on webBikeWorld.
And that doesn't count the numerous LED driving light reviews, headlight reviews and related tidbits.
There's all that and lots more, detailed on our Motorcycle Lighting page and in the links in the right-hand column of this page.
One of the reasons why we haven't revisited the LED brake light topic in a while is that after a burst of new LED brake lights were released a few years ago, not all much has changed.
In fact, the LED brake lights discussed in our November of 2007 "Motorcycle LED Tail Light Comparison: Part XV" article are still pretty much the state-of-the-art; many of the LEDs discussed here were described and illustrated in that review, so please use it as a reference.
I discovered this when I started looking around for an LED brake light replacement for the Suzuki DR650 in our Budget Adventure Touring blog.
About the best I can say for the electrical system in the DR650 is that it is adequate, even after the installation of the accessory 250W DR650 stator (review).
So any time a Watt or two can be saved by something like an LED light replacement, it's a good thing.
Not finding much new in the world of LEDs, I pulled out the box of old LED brake lights collected from all of our previous reviews and articles and gave each one a run-through on the DR650's big, blocky and plain square tail light.
The bad news is that I did not discover any new revelations, so if you have read our irregular series on LED lights, there's not much news here.
But I did find a couple of LEDs that work pretty nicely in the DR650 and I chose one to replace the original equipment 1157 incandescent bulb in the DR650 which, by the way, still burns brighter than any LED can hope for in this particular lens/reflector assembly type.
One thing led to another and I started taking photos, then video, so I figured I'd make an article out of it and post a quick update.
Again, there's nothing new here, just another look at some LED brake light replacement possibilities and a higher quality video in 720p at 60 FPS.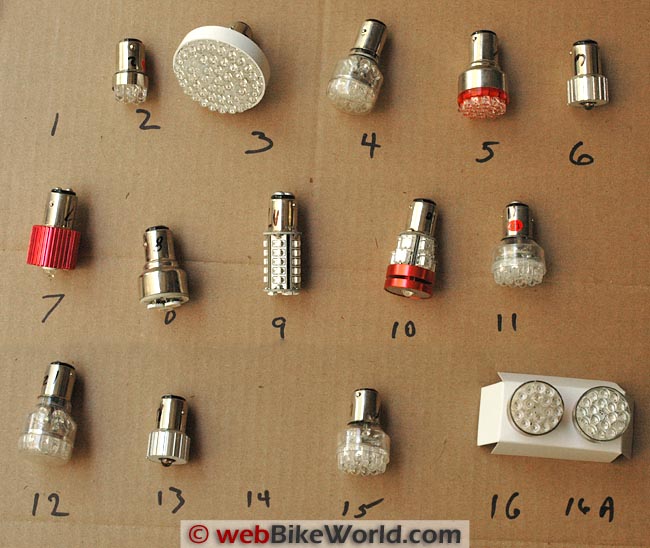 Choosing LED Brake Lights for Motorcycles?
It's been mentioned in previous motorcycle LED lighting articles, but it's worth repeating here. Simply popping an LED replacement into a tail light designed for an incandescent bulb will usually lead to disappointment.
The commonly used 1157 (has running light and brake light) or 1156 (brake light only) incandescent usually puts out more and better quality light than any LED can hope to.
This is because most reflectors and lens assemblies are designed specifically for the incandescent bulb, which also throws its light in all directions.
LEDs throw a much more directional or focused light.
They do have an advantage over the incandescent because they run cooler, use less juice and have a faster on/off cycle time.
An LED is also theoretically less prone to vibration problems, but honestly, when's the last time you had an incandescent fail because of vibration?
And the circuitry inside an LED may actually be more prone to vibe-caused failures; in fact, I've had several LED flashlights, light arrays and tail lights with one or more diode failure.
But, that doesn't stop any of us from continuing to search for the "perfect" brake light which, in 2012, usually means LED.
And purpose-built LED replacements, like the HeavyCycles LED brake light for the Multistrada, work great and are indeed a valid replacement for an incandescent setup.
Some of the LEDs that would not fit the retro-inspired GT1000 (blog), our last project bike, do indeed fit in the much bigger tail light assembly of the DR650.
This opened up some new possibilities and it illustrates once again that an LED that is a complete failure on one bike may be just the ticket on another.
This is quite different from plugging in an 1157 incandescent bulb, which is well standardized and which will pretty much perform exactly the same, no matter the brand.
You also have to be pretty careful about buying LEDs, for a number of reasons. Yep, you can get el Cheapos on eBay, but if you've learned anything from the zillions of LED articles we've published, it's that cheaper isn't usually better.
Conversely, it would be nice if you could even get more by spending more, but that isn't always the case either.
Simply put, there is still way too much variability in LED lights.
And besides the sketchy LED light suppliers, there are all sorts of cheap clones and way too much marketing hype relative to performance.
It's not like walking in to the local parts store and buying the standard 1157, which is the textbook definition of the word "commodity". 99.9% of the time, as long as it has "1157" printed on it.
It will put out the same amount of light and last nearly forever. Not so with LEDs.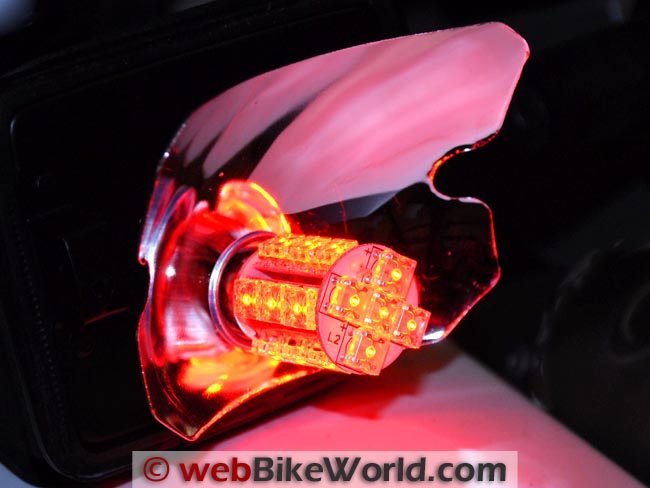 The Light Tower II
I pulled 15 different LED brake lights out of the leftover box and tried each one on the DR650.
I was looking for the best compromise for the reflector/lens assembly on the DR650.
This meant an 1157 LED replacement that would provide a strong, highly visible running light, give the most noticeable difference between the running light and brake light brightness when the brakes were applied.
Also, it would provide the best overall brightness and luminosity with the DRD650 lens and reflector assembly.
As you can see in the photos and the video, nothing comes close to the good ol' incandescent 1157.
So, to be perfectly honest, it's probably foolish to try and replace it with an LED. Basically a waste of money. But, doing the smart thing never stopped me before!
In the quest to save about 24 Watts or so, I plowed ahead, full speed.
In the end, after comparing 15 different LEDs, I ended up choosing the Super White "Light Tower II" from Autolumination, which I hadn't used before because it did not fit in the GT1000's tail light assembly.
The Light Tower II was new at the time of the last review (Part XV); it's one of the newer-generation LED 1157 types, with the uncovered diodes mounted flat on both the end of the light and radially, around the perimeter.
This one has a patented design, with 20 "Wide Angle Oval" diodes (LED = Light Emitting Diodes).
Five of the LEDs face rearward and 15 are mounted radially, to throw their light on to the reflector. The 2007 price was $17.99 and it's now $12.99, so that's progress!
Note that we have found that the white or "Super White" LED brake lights usually work best with the red tail light lens. There's no need for red LEDs and, in fact, they usually do not put out the same light levels as the white LEDs.
The Light Tower II seemed to have the best (to my eyes, anyway) combination of a bright running light with the best (most noticable) difference between the running light and the bright brake light.
It also had what appeared to me the best overall light/bright levels. Some of the others did a pretty good job also, however; so be sure to watch the video for the comparisons.
LED Comparisons
The LED 1157 brake lights shown below and in the video (below the photos) are referred to by the numbers that are illustrated in the photo at the top of the page.
Since all I had was a box of LEDs collected over the years, without all the detailed information on each light, you'll have to refer to the original webBikeWorld LED brake light reviews, listed in the right-hand column.
Also, refer to the Motorcycle LED Tail Light Comparison: Part XV article for more information and to sort out your favorite.
Note that after I got going, number 14 turned out to be an 1156, so that was removed from contention. Also, number 15 broke when it was inserted into the bulb receptacle, so it was also eliminated.
Note also that all of the photos below were taken in the same light under identical conditions, with a Nikon D70 and 18-55 VR lens set to manual at 55 mm focal distance, f7.1 at 1/50 second, ISO 640 and manually set white balance correction.
Here are the photos and video:
w

BW

 Video: LED Motorcycle Brake Light Comparison (Suzuki DR650)















LED Motorcycle Brake Light Sources
Most of the LEDs discussed here were purchased through SuperBrightLEDs or Autolumination.
See Also: 1156 LED Bulb Replacement
Publication Date: April 2012
Note:
 For informational use only. All material and photographs are Copyright © webWorld International, LLC since 2000. All rights reserved. See the webBikeWorld® 
Site Info page
. Product specifications, features and details may change or differ from our descriptions. Always check before purchasing. Read the
Terms and Conditions
!
Owner Comments and Feedback
---
From "J.J." (August 2012): "First, once again I would like to commend you on your continuing service to all of the motorcycling community by providing your reviews.
I often recommend your site to people looking for information and insights. Your helmet reviews have helped me greatly.
Regarding LED lighting, I have a bike with miserable access to the tail/brake light bulb.
In fact, removing the lens from the housing will usually break the mounting tabs requiring replacement. Because the lens is produced in such small numbers, it is expensive and has ridiculous lead times.
After breaking the first lens, I was resolved to use a bulb that would outlast the typical incandescent 1157 used as stock. LED looked like the best way to go.
SuperBright LEDs provided its most powerful SMD type with built in reflector and recommended RED transmission to use with the red tail lens.
Unfortunately, it was quite dim and I was warned numerous times by my riding buddies that they could not see the tail or brake light. I don't think the red projector works with red lenses very well regardless of what optics engineers say.
Looking at your review yesterday I learned that you had not really found a great solution for a single bulb and that an array worked well on your GT.
The "stylish" and compact assembly on my Italian beauty unfortunately can't accommodate something like that.
Well, I have found a solution.
A local shop here in Lawrenceville, Georgia (Atlanta) sells something called a GP Thunder GP-1157with the Cree-HP-W (white) LED and it is terrific.
Normal 1157 incandescent bulbs put out 420 lumens in brake mode and this one puts out about 390. It has a lens for wide field of view and has additional arrays that project horizontally and take advantage of my light assembly's reflector.
Side by side with my other bike that has a standard 1157 bulb, it looks just about identical. Total length is 2-1/4″.
Apparently the Cree chip is the new class leader in LED technology and I think it sets a new standard. Solved my problem at least.
Expensive, hell yes. These cost $35 for a pair but for me, compared to the cost and major inconvenience of broken lenses and having to disassemble parts for access, it is worth it.
You can find these … from China and with subsequent 20+ shipping days. But if you need one fast, people can get one where I did. The price is about the same.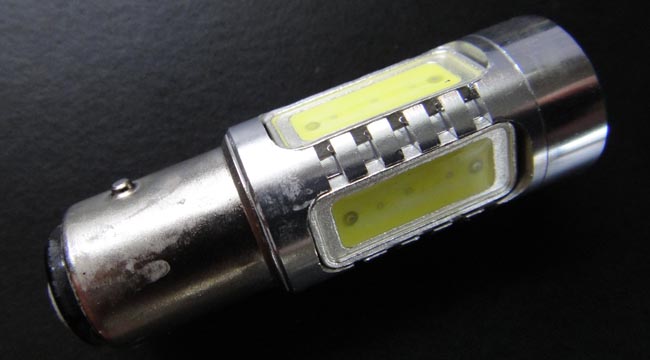 Rick's Reply: Good tip, thanks. Note that this type of bulb replacement may not have the radial output to work with all reflector or lens types.
---
From "S.K." (April 2012):  "A while back, there was a DIY posted (here) on the site BareassChoppers.com which had what I think is the best of both worlds. Their solution was to create a LED ring to go around the stock bulb.
One large benefit I see to this is that if your bulb should ever blow, at least you would have lighting on the rear still. I'd like to see something similar made on a production level, but have not seen such an item to date."
---
From "M.H." (April 2012): "I have one of these (lights) on my 1150GS. I reckon keeping the stock bulb/reflector combo for the main brake lamp but coupled with this is safer than swapping out for LED bulbs.
I get the benefit of LED's faster illumination as well as a more visible flashing, without risking subpar illumination from a suboptimal LED/reflector combo."
---
From "T.G." (April 2012): "Thank you for revisiting this and showing that LED brake light retrofits are still sub-par compared to the actual bulb. This mirrors what I am experiencing as well.
Just nothing at all that provides a nice bright "HEY I AM STOPPING" signal like the incandescent bulb.
My solution was to have a custom stator wound at ricks motorsports to add 20% more electrical power to the bike. Now I have enough for the heated grips and vest.
The only LED retrofit I have seen that is worth while was for a BMW K1200 and the $225 plate of LED's that replaced the guts of the brake light housing was a significant upgrade, but not worth it in my eyes with it's extremely high cost.
My custom stator was cheaper than the LED upgrade."
Editor's Reply: Sounds like you are referring to the HeavyCycles LED (review) referred to in the article and below, which replaces the entire tail light assembly. It's expensive, but puts out a lot of light.
Regarding your upgraded alternator, be sure to check the Voltage regulator and other electrical components to make sure they're not overheating or over capacity.
---
From "R.L." (April 2012):  "Just wanted to let you know I agree 110% with your review, view and stance; I have been on a quest for quite some time to find decent and good working LED replacement lights for my motorcycle back then, the BMW R1100RT.
After many careful considerations, I found the RoadRocketeer Brake! purpose-build LED replacement light.
And only then the results were good and more importantly, safe. (see attached pictures) Unfortunately it seems RoadRocketeer is defunct (again!) otherwise I would have had happily installed their solution into my current bike, the BMW R1200RT.
You note in the beginning of your review the reason why so many of the aftermarket LED lights fail, the existing reflector is not designed for those LED lights, or, with a BMW R11xxRT, it does not exist! (shocked).
PS: I have tried and own the #6, 7, 10 & 13 on your photo-overview. Other then that, I started using Kisan Tech's TailBlazer, the BMW Deluxe rear LED Light (which is an add-on and not a replacement) and the HyperLites.
AddMore Ligths is also an add-on for that matter.
The reason I write this comment to you, and I hope you start to agree with me by now after so many LED reviews, the only good solution is most often then not a purpose-built replacement light.
That means a complete unit, such as the RoadRocketeer, the WhiteLights from Germany, Weiser and so on.
Keep up the good work of educating your readers that more often then not, those LED replacement lights do not work that well.
But also keep up hopes that some day, a good solution will become available.
PS: If you know any one willing to sell their Road Rocketeer BKI-0115, I'm prepared to give an arm and a leg for it. ;-)"
Editor's Reply: Try the HeavyCycles LED (review); they made a custom unit for the Multistrada and another HeavyCycles LED brake light (review) for my BMW R65.