Our Experts Have Been Brightening Lives by Reviewing Aftermarket Motorcycle Lights For Over 20 Years
Welcome to the webBikeWorld Motorcycle Lighting Reviews index! This is the directory of motorcycle lighting and auxiliary light reviews. It also includes motorcycle LED light reviews, motorcycle headlight reviews, motorcycle brake light reviews. Also reviews of headlight modulators, LED brake lights, brake light flashers, high-powered halogen, Xenon and HID bulbs and more.
With a little bit of research, you'll be able to make a much better buying decision when it comes to aftermarket motorcycle lighting. At wBW we've been testing electronics on bikes for over 20 years and we've learned a lot in that time. Unlike most of the gear we review, lighting takes some work and lights need installation. Back in the day we did a lot of soldering to connect wires together for the best and safest installation (since then we've fallen in love with Posi-Locks and recommend them to anybody we meet). 
The thing you will find when working with aftermarket lights is that your motorcycle electrical system is often your limiting factor. For a simple upgrade that shouldn't cause issues you can start by improving your built-it headlight output. Buy a replacement halogen or LED headlight bulb, install and you're done. If you want more light the next options is adding a set of auxiliary driving lights. Remember, the more lights you add the more you draw amperage so using LEDs is a great idea because they draw less than halogens. 
Disclosure: We make money (and keep the site running) through ads and affiliate links. That means that when you click a link to sites like RevZilla or Amazon you are supporting us because we may get a commission if you purchase. We have developed a policy that you can find here but the gist is that our reviews are 100% unbiased and we don't take payments or allow potential commissions to dictate what we say about products.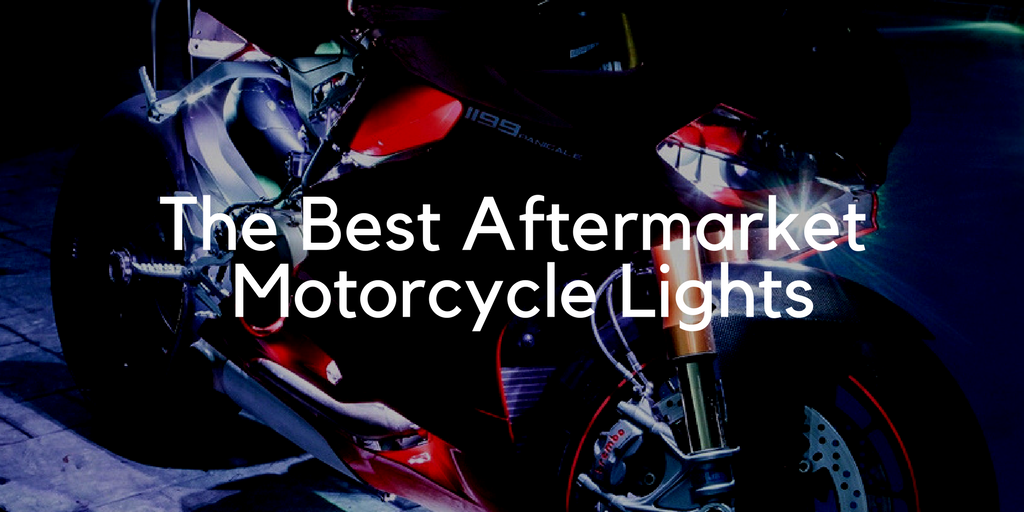 Our Favorite Motorcycle Lights
Some motorcycle riders love reading our in depth reviews while others want to skip the details and get straight to the best. We created our top 10 lists with the goal of helping you quickly find great lighting products we highly recommend. These are the best of the best aftermarket lighting products according to the editorial team here at wbw. Remember, every use case is different so don't take these lists as gospel. 
Best LED Lights and Bulbs
Best Auxiliary Driving Lights
Best Motorcycle LED Headlights
Best Motorcycle Auxiliary Front
Best Headlight Upgrades
Best Motorcycle HID Lights
Best LED Brake and Tail Lights
Best LED Conspicuity Lights
Best Modulators
Shopping Now? We Recommend:
webBikeWorld has worked closely with RevZilla over the years to provide our testers with products to review. In addition to being a great site to shop from, they're also a great partner. Both Amazon and Revzilla have a big selection of LED Lights and Bulbs, Auxiliary Driving Lights and Motorcycle LED Headlights.
RevZilla

Free shipping on orders over $40
30-day no-nonsense return policy
Excellent selection of all major brands
Awesome pricing
Buy Motorcycle Lights on RevZilla
Amazon

Free shipping (with Amazon Prime)
30-day return policy
Excellent selection
Competitive pricing
Buy Motorcycle Lights on Amazon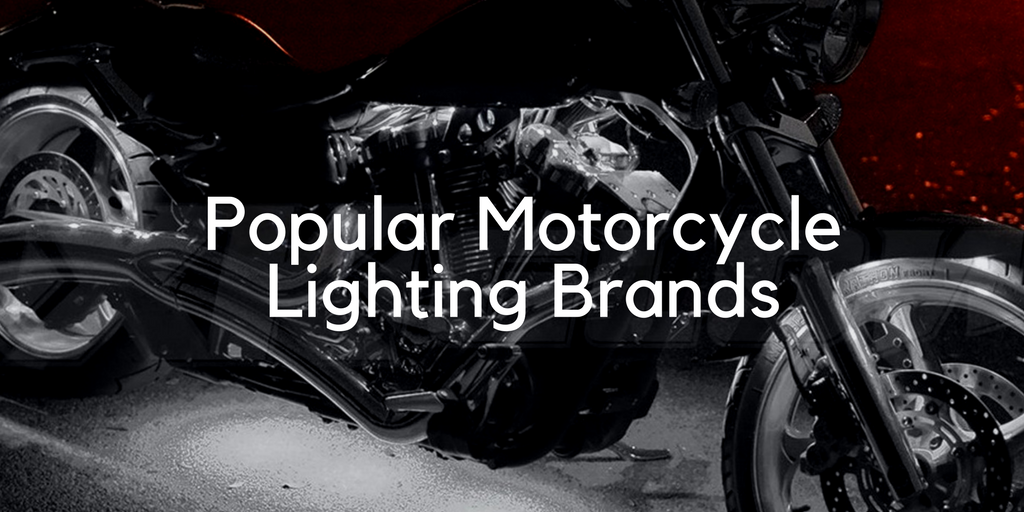 Popular Motorcycle Lighting Brands
We have reviewed hundreds of helmets over the year at WBW so we know a thing or two about which helmet brands our editors love. We also see the analytics on the site so we know which brands get the more views and attention from our readers. Between consumer interest, our editor's opinions and generally who we think is really innovating in the helmet space, here are the most popular brands at the moment.
Denali Electronics


Denali's  LED light kits, accessories, auxiliary brake lights and other products are all top of the line solutions that we absolutely love.
We're fans of the versatility and the great mounting solutions, controllers and plug and play adapters. Denali lights put out an amazing amount of light with minimal power draw designed specifically for the limited output capabilities of a motorcycle. Additionally Danali developed the SoundBomb line of extremely loud horns that command attention from careless drivers.
Find Denali Lights on Amazon
Find Denali Lights on RevZilla
Custom Dynamics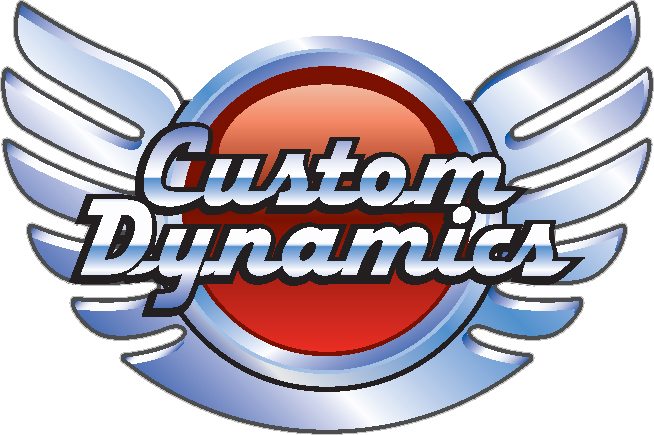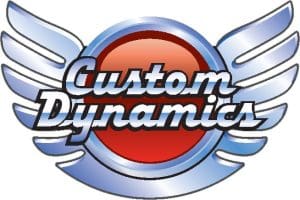 Custom Dynamics are committed to manufacturing and distributing only the highest quality motorcycle lights and accessories. From LED Accent Lighting to LED Headlights and LED Turn Signals, you can find a lot of solutions.
The Custom Dynamics team has great replacement bulb solutions as well as custom stuff for the DIY tinkerer.
Based in Youngsville, NC, Custom Dynamics was founded in 2002 with a focus on offering the highest quality LED lighting products and electrical modules to the motorcycle industry. Their products are available for a wide range of motorcycle brands including, but not limited to; Harley Davidson, Victory, Indian, Yamaha, Honda, Suzuki, Kawasaki, and Can-Am.
Find Custom Dynamics on Amazon
Find Custom Dynamics on RevZilla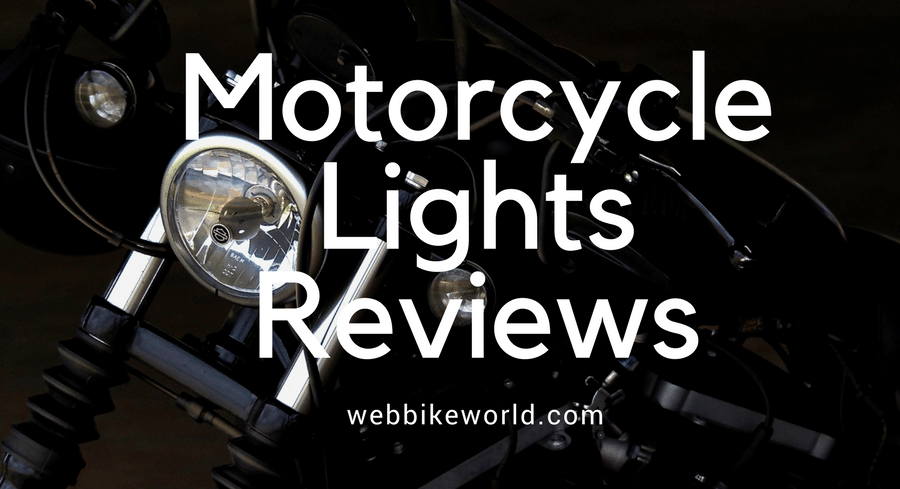 Recent Reviews
Check out our most recent motorcycle light product reviews.
Motorcycle Auxiliary Front Light Reviews
Motorcycle HID Light Reviews
LED Brake and Tail Light Reviews
LED Conspicuity Light Reviews
Headlight Modulator Reviews
Brake Light Modulator Reviews
Headlight Relay Kits and Wiring Harness Reviews
Motorcycle Electrical Accessory Reviews
Specialty Motorcycle Lights
Sportbike Dual Headlight Conversion
Doubletronics has a module to convert dual-headlight motorcycles so both bulbs work at the same time  |  Double Headlights (NL) sells a kit that allows both the low and high beam headlights on a sportbike to work together
Xenon Headlight Bulbs – Halogen Headlight Bulbs
Be careful! Many different terms are used to describe light bulbs without reference to any standard meanings! This is also known as "hype"!  |  Coolbulb sells the high-quality Raybrig "Hyper Halogen" and "Whitesonic" bulbs from Japan; these are expensive bulbs, claimed to be very high quality and originally developed for auto racing.  The Whitesonics claim up to 5000k of white light, with claimed outputs of 130/125W from a 60/55W H4  |  Light Lens has many different types of Xenon, Halogen and other bulbs in all of the popular sizes  |  WhiteLight has Xenon bulbs at reasonable prices  |  Many different types of colored bulbs for headlights, brake lights and turn signals at Installer.com
Heavycycles 2007 Brake Light Replacement  | HeavyCycles Original Custom LED brake light – tail light and Flexible LED Light Strips Reviewed!
Xenon Directional – Motorcycle Brake Light Bulbs
wBW Visitor D.J. also sent us a tip on using Xenon marker bulbs for directionals and brake lights; wBWhasn't reviewed any of these bulbs yet, but the potential exists for higher output from your directionals, turn signals or brake lights by using Xenon 1156, 1157 or other marker bulbs
Sources for Motorcycle Headlight Bulbs
1stAutoBulbs (UK) carries Bosch, Philips, Osram and more and has free delivery in the UK  |  PIAA lighting is sold in many motorcycle shops; here is the PIAA Lighting page |  CBT Importscarries PIAA bulbs and auxiliary lighting equipment  |  Fosmo Lighting from the U.K. (also known as Power Bulbs) – Large selection of light bulbs; free shipping anywhere in the world  |  Information on Motolights and various mounting options for motorcycles  |  Guaranteed headlight protective coverings available at X-Pel Light Protection; see the wBW installation article  |  Saengmakes the popular "Night Cutters" halogen driving or fog lights  |  The Blinker Buddy sends a vibration through the motorcycle's seat each time the directionals cycle on and off; this alerts you that the signals are still active so that you can turn them off  |  The Safetylight kit keeps all four directionals on and then flashes them at five times the directional flashing speed when you apply the brakes; in Dutch but with English translation available  |  Also see the wBWMotorcycle Safety page for more information and articles on motorcycle visibility
Wedge Turn Signals – Wedge Brake Light Bulbs
Some European motorcycles like BMW and Ducati are starting to use the wedge bulbs as turn signals; many different types of LED wedge and incandescent wedge bulbs are available at Autolumination and Superbright LEDs and Lighting Ever
Opinions, Facts and Fiction
More info on the difference in various types of H4 bulbs  |   The Road Safety Index has some interesting articles about the effect of lighting sources and colors on visibility
Bulb Replacements
Modern bulbs for vintage motorcycles (and cars) including the P45T, BA9S, BA15S and more in 6V or 12V; they also have replacements for many types of older marker lights, turn signals and indicator lights
Running Lights – Directionals – Brake Lights – Turn Signals
Silver coated turn signal bulbs that work under clear lenses are available at Autolumination  |  Watsen Designs makes various types of LED turn signals and tiny LED "stealth" brake lights for sportbikes  |  LED brake light flasherworks as the bike decelerates  |  PartsNgo has tail lights, spot lights and directionals  |  Peterson Manufacturing makes heavy-duty LED and incandescent lighting for trucks and other vehicles; they also have a 50W incandescent tail light bulb that probably burns too hot for motorcycle use  |  LED turn signal lights at 2-BSeen attach to the handlebars for a custom look  |  Electrical Connection has a nice assortment of LED lights, replacement LED turn signals and brake lights and more  |  Vizible Technologies intelligent motorcycle brake light modulator
High Output Headlight Wiring Harness – Headlight Relay Switch
See the wBW review of the Eastern Beaver Motorcycle headlight relay kit, a wiring harness to add a relay to headlights for better output  |  More pre-packaged headlight relays and wiring kits available at Painless Wiring  |  Fuzeblocks makes a fuse block with a built-in relay, claimed to be "easy to install, fits into a small space, provides a built in relay…" and can be switched on and off with the bike if desired  |  More info on relays, headlights and visibility, reflective vests, decals and stickers and more on the wBW Motorcycle Safety Page
LED License Plate Bolts
British Customs has a nice set of chrome plated LED license plate replacement bolts (with white lights)
Neon Motorcycle Lights
Dr. Neon sells custom lengths of neon motorcycle lights to install anywhere on the bike; they also have neon spark plug wires  |  City Glow has neon and LED lighting for motorcycles
Bulb Nomenclature
An H4 bulb is also referred to as a 9003 or an HB2; the 9005 bulb is also referred to as an HB3; a 9006 bulb is also referred to as an HB4.  Many motorcycles take an H4 (9003) bulb – check your owner's manual.  Be careful of how much juice your wiring and switches can take!  You may need to rewire and/or go through a relay.  Interesting light bulb FAQ on this page at Coolbulbs
Bulb Brightness – Color Temperature
Color temperature is measured in Kelvin units (K).  Higher K values mean "whiter" light.  For example,  incandescent light bulbs are around 2800K; a stock halogen bulb has a color temperature of around 3200K;  the so-called "performance" bulbs run about 3500K; Xenon bulbs run near 4000K; HID lighting systems run from 4000-5000K and daylight is 5400K .  Note that there is a difference between output (lumens) and color, or "whiteness" (Kelvin units).
Turn Signal – Brake Light Bulbs
Check out this wBW article with conversion chart on substituting different types of incandescent brake light and tail light bulbs for your OEM bulbs – you can get more brightness with the correct replacement.  Explains similarities and differences between 21/5W, 2057, 1034, 1157, 2397 and 2357 bulbs
Halogen vs. Xenon Bulbs
This is where it gets confusing.  There are all sorts of unsubstantiated and marketing claims made for various types of lighting.  Xenon gas is sometimes used under pressure to fill the bulb; it supposedly cools the filament, and the Halogen on the filament can create increased light output.  Whether or not Brand "X" is manufactured correctly is anyone's guess!  See below for online sources for light bulbs
Can You Increase Your Light Output?
Opinions vary; it appears that a lot of it depends on the size, shape and quality of your motorcycle's headlight reflector and also the bike's wiring.  Some tests on the "superwhite" type bulbs show that the bulbs actually decreased output!  But many owners claim much better visibility; could it be the increased K values change the perceived brightness?
All LED's Are NOT Created Equal!
I'm a big fan of LED's for use on motorcycles (less heat, use less power, more resistant to vibration, etc.) but some LED's are much better than others.  We occasionally will receive an email telling us that some company has an LED replacement for $5.95, and that we're crazy for spending more.  Just for the record, there are cheap LEDs and there are good LEDs.  The cheap ones can have as low as a 5 degree wide light spread plus they can be very dim. The really good LEDs currently have a 120 degree light spread and put out 4,000 milli-candela per LED — but you'll pay for them.  It doesn't make any sense to try and improve your rear lighting but use cheap LED's that actually decrease visibility instead.
LED Turn Signal Flashing Problems?
In some instances, an LED bulb used for a turn signal may cause the bike's electrical system to indicate that a bulb is burned out.  This may be manifested by an increased flashing rate.  The reason for this may be that the bike's electrical system isn't picking up the fact that there's a bulb because of the very low power consumption of the LED. This problem can usually be solved by adding a load resistor wired  across the turn signal bulb to simulate a filament bulb load.  See the webBikeWorld article on adding a load resistor to your bike.
Interesting Auxiliary Motorcycle Lighting Products
The Lead Dog helmet light attaches to a helmet for off and on road visibility  |  The Signalfly LED wireless helmet brake light!
Motorcycle Tire Lights:  See the wBW review of Tire Flares
More: Motorcycle Technical Articles and Maintenance Information on the wBW Maintenance and Technical Articles page