There are many types of yoga – hot, prenatal, restorative, power, etc – but we've never heard of moto yoga before!
Indian farmer Gugulotu Lachiram, 40, of Khammam, has been a keen sportsman for years and loves motorcycle riding and yoga. So it seemed natural that six years ago he would combine them into his unique brand of moto yoga.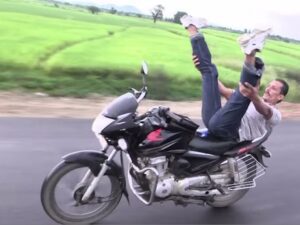 "I completely love doing stunts on my bike," he says. "I will continue to do so for the next 10 or 15 years."
Surely this form of exercise lengthens your life and 50-55 wouldn't be too old to continue doing yoga, although performing it on a motorcycle at 60km/h could be a life-shortening experience.
"I take risks when I perform but so far no accidents," he says. "I get scared when I perform stunts, but I feel happy too."
While we don't condone stunt riding on public roads, you have to admire this guy's balance, poise, strength and riding skills.
Please continue to do your yoga on a mat or in bed, not on your motorcycle on a public road.