Vaktare M.G. Pilot Racer Jacket Review Summary
Review Summary
The Pilot Racer from Vaktare is a near-flawless example of how form doesn't have to come at the expense of function. It's a fashion jacket that requires few concessions with respect to safety or wearability. It's comfortable, meticulously made, and manufactured by an American small business using American labor and materials. I love this jacket.
Pros
Great looking
build quality
color
feel and comfort of the leather
huge pockets
just freakin' look at it.
Cons
No riding pant integration or belt loop
wide sleeves may ride up in a crash
interior pocket doesn't zip up
expensive.
Several months ago Estefan Duarte from Vaktare Moto Gear got in touch with us about reviewing one of their riding jackets. A bit of back and forth landed us on the Pilot Racer jacket. Estefan then went dark for a bit before notifying us of shipment. His reason for disappearing? The jacket needed to be made first.
Vaktare Moto Gear is a boutique brand based out of Los Angeles that focuses on American-made riding apparel that is also fashion-forward. Almost every component and material used in the Pilot Racer is American-made or American-sourced. Apparel is made in small quantities and with exacting detail. These qualities help Vaktare stand out in a crowded marketplace, but they also mean that Vaktare's products come at a premium compared to some other brands.
Personally, I'm fine with paying a premium so long as that premium is worth it. I'd rather purchase one more expensive thing vs 2 or 3 less expensive things that need premature replacing.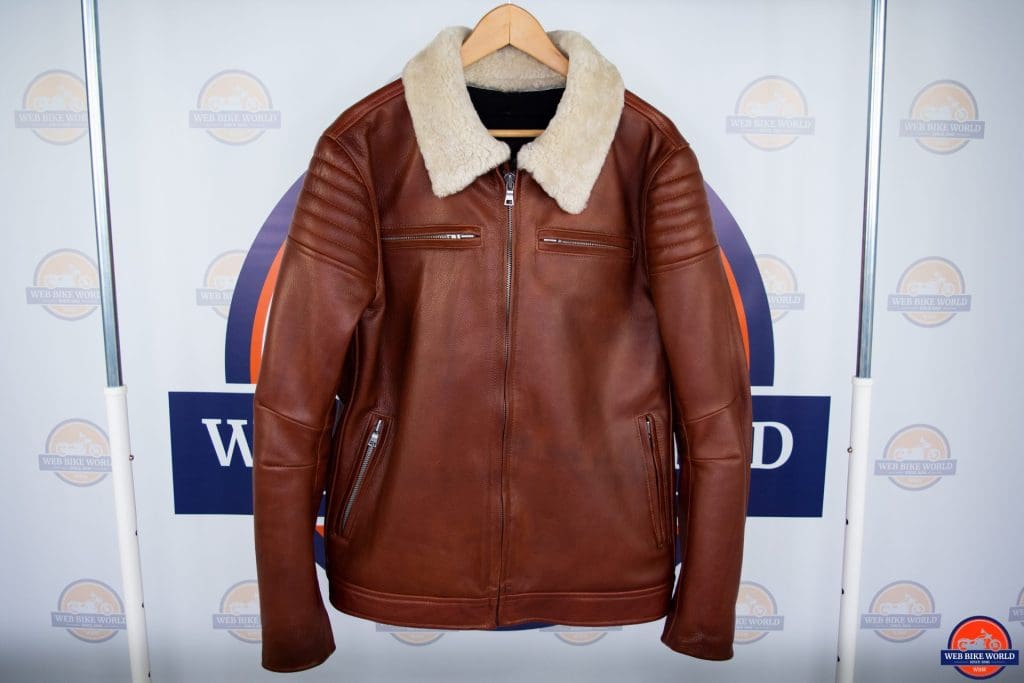 The Pilot Racer arrived approximately two months ago and I've taken every opportunity to wear it, both on the bike and in general.
My experience has been very positive: the Pilot Racer is a near-perfect example of how fashion and function can blend together. It's not perfect, but it's close… real close.
About Vaktare Moto Gear
Since I was unfamiliar with Vaktare prior to receiving this jacket for review, I wanted to spend some time getting to know them as a brand. Who a brand is and what they're about is important- these qualities provide a brand with its personality and purpose. I quickly learned that Vaktare is very much a boutique business, with my contact, Estefan, at the helm.
Estefan began designing motorcycle jackets at age 19 after realizing that there wasn't anything available on the market that satisfied his need to be fashionable with his desire to also be safe.
"I was tired of looking like a stormtrooper in bulky leathers and wanted something that could protect me and look good at the same time. At the time, nothing satisfied me so I decided I would have to create something unique and locally made. That's how our first wool collection was born."
In their LA studio, Vaktare designs and develops their products. Apparel is handmade. This process has numerous advantages to it:
They support local industry by using American-sourced materials (in particular, high-grade leather)
They employ local artisans and professionals
They support the local economy
They have 100% control over the quality of a garment
They can customize individual orders to suit specific measurements or requests
Founded in 2013, Vaktare is a small crew of just six people. These six people design and manufacture their gear in-house.
"Everything we make comes straight from our Los Angeles workshop, nothing is ever outsourced. This is simply so that quality control can be maintained at the highest level. Its easier to use proven manufacturing techniques or even correct mistakes when the producing is happening right before your eyes. Watching a jacket go from raw materials to a finished motorcycle jacket is rewarding for all of us at the shop. Its a great privilege of knowing someone is going to use our garment over a lifetime, and with the right care, it will last generations."
There's is a rare story in today's competitive apparel landscape. It's refreshing, too: the more integrated into the powersports industry I get, the more I begin to see trends: outsourced products, rebranded and re-sold domestically. Very few companies produce in America.
This isn't to take away from the value brands that utilize outsourced manufacturing can bring to the equation. A well-made piece of gear is well-made, regardless of where it comes from. But, in my opinion, something made domestically, and with care, is deserving of a little more consideration.
On Being "Made With Care"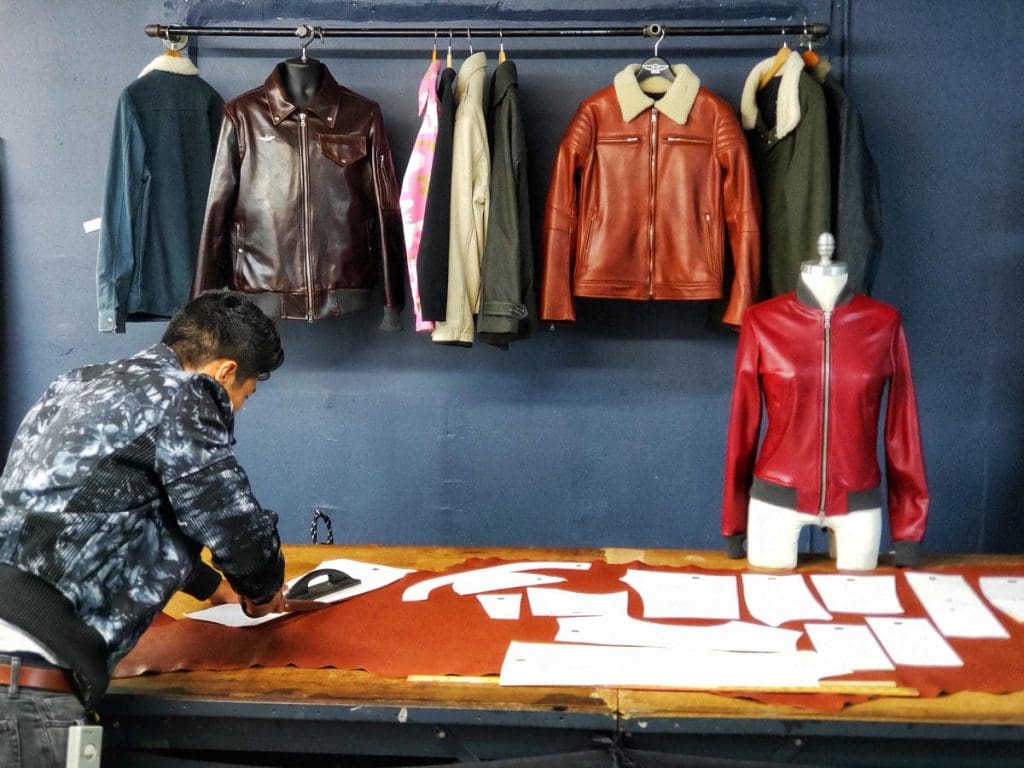 After receiving the Pilot Racer I emailed a few questions Estefan's way, specifically surrounding how the jacket is made and the steps that are followed throughout its production. There are a few things that stand out to me:
Nothing is outsourced – All aspects of construction, from design to cutting to sewing to tailoring, are handled in-house. Estefan is a self-proclaimed stickler for quality and looks, so it's important to him that they are able to oversee every step of manufacturing. Even the zippers are made by an American company (G2 Zippers).
The typical jacket takes 3 days to be made – Production starts with picking out a full-grain cowhide and hand cutting it. This process is laborious: since each jacket comes from one specific cowhide, only one can be cut at a time). Once the leather is prepared, the materials are then sent to the tailors to put it all together. The jacket is then hand-waxed and laid down to set.
A bespoke jacket just for you? No problem – One thing about Vaktare that I found interesting is that they can make your jacket to your specific measurements. This is a byproduct of the handmade process, as it empowers them with a certain level of flexibility not possible in a mass-produced environment.
Only high-end materials are used – From the leather to the hardware, Vaktare only uses high-end materials. This is why they've chosen to use full-grain leather for the Pilot Racer, for example, in place of less-expensive varieties.
Vaktare offers free lifetime servicing of their garments – This includes waxing, re-waxing, or minor repairs. In Estefan's words, "if it's repairable… we'll repair it." Repairs specified include patches, seam repairs, zippers/snap hardware, and other small problems.
It is because of these five qualities that the Pilot Racer starts at $849 without armor.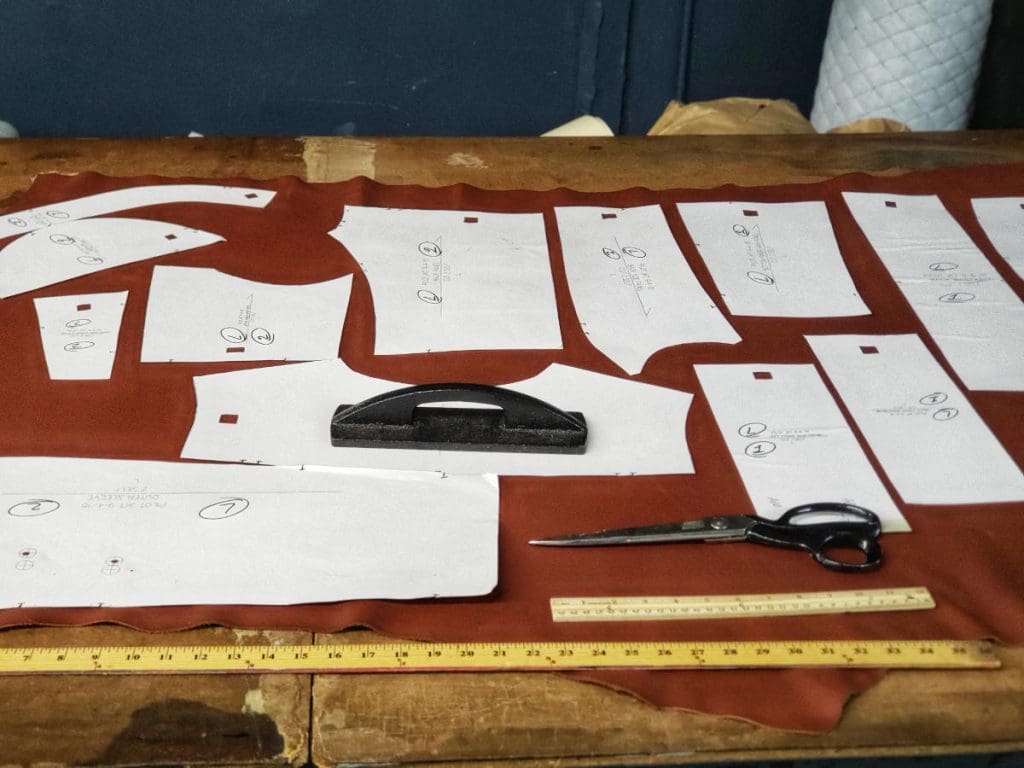 Specifications
From Vaktare:
1.1 – 1.3mm American sourced Full-Grain Cowhide.
Sleeve darts for natural arm movement.
Extra sleeve length for riding position.
100% American-Made. Produced in small batches to ensure the highest quality.
Stretch cotton body lining for move-ability.
Luxury G2 Zippers made in Los Angeles sourced from UCAN LA Company.
Adjustable cuff zippers.
American-made snaps.
Genuine Shearling wool collar. 3 heavy-duty snaps to keep it in place.
Stitched with size 96 industrial nylon 6,6 thread. Double-stitched on integral seams.
Designed, Sourced, Made in Los Angeles, California, USA.
4 Zippered pockets.
Breast pocket.
Pockets for back, shoulder, and elbow armor.
The Pilot Racer is a Damn Good Looking Jacket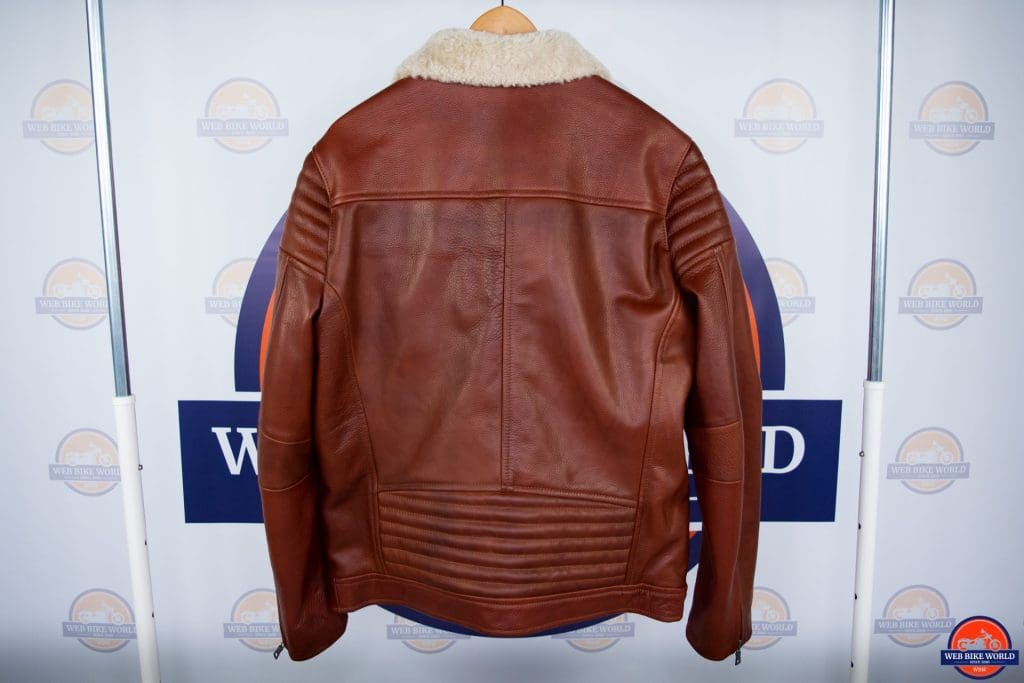 The Pilot Racer is a homage to the Pilot style that made its debut via WWI fighter pilot jackets. It's a blend of traditional style and modern cafe racer influences, and it's holistically beautiful. This isn't a case of "all show and no go", either. No compromise was made with respect to build quality anywhere that I can discern.
Style is subjective, and as a colorblind fella, I tend to shy away from speaking too heavily to aesthetics. To be fair, I've been rocking the same "jeans and a t-shirt' style since I was 14, so you should take my sentiments regarding style with an appropriate amount of salt.
But there's no salt needed here. The Pilot Racer is one handsome jacket and everybody that's seen it agrees. It's the only moto jacket I've ever worn that attracts unsolicited compliments. I'm not complaining, either: when wrapped in this cognac-colored beauty, I very much feel as good as I look.
Poppin' Collars & Making Dollars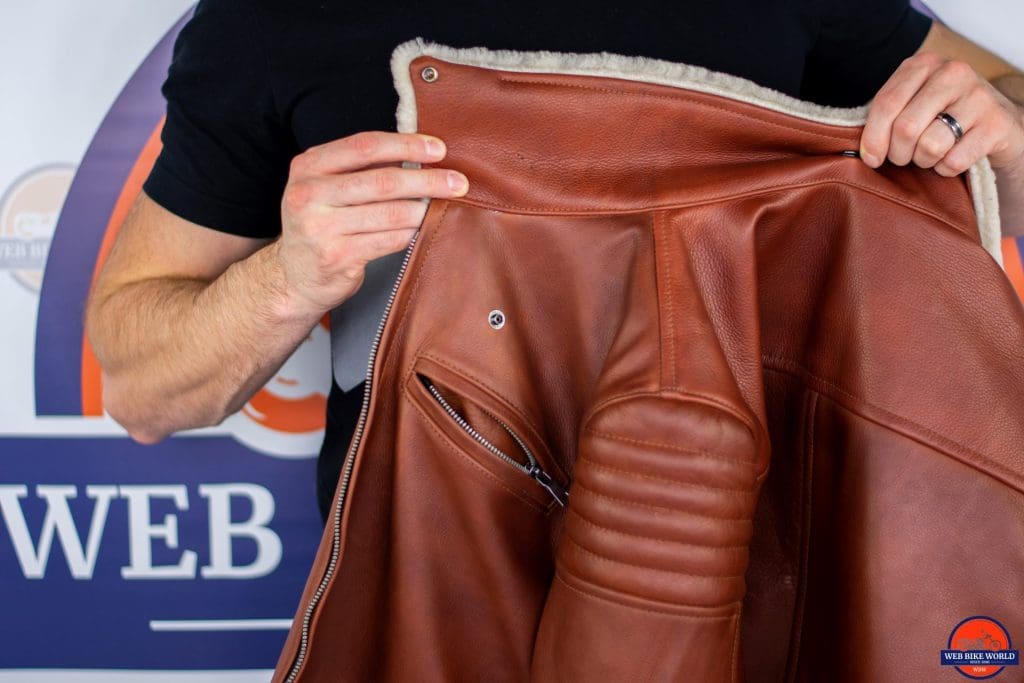 The Shearling wool collar sits securely in place thanks to three snaps: two on either side of the lapel, and one centered at the rear. The snaps keep the collar even and properly aligned, even after many hours of wear.
The wool itself is a tad warm for hot weather riding, but beautifully appropriate once the temperatures drop somewhat. Living in the great frozen nation of Canada, the Pilot Racer proved that it's more than capable of keeping you warm during autumn riding. More on this down below.
Hand Sewn Details & Texturing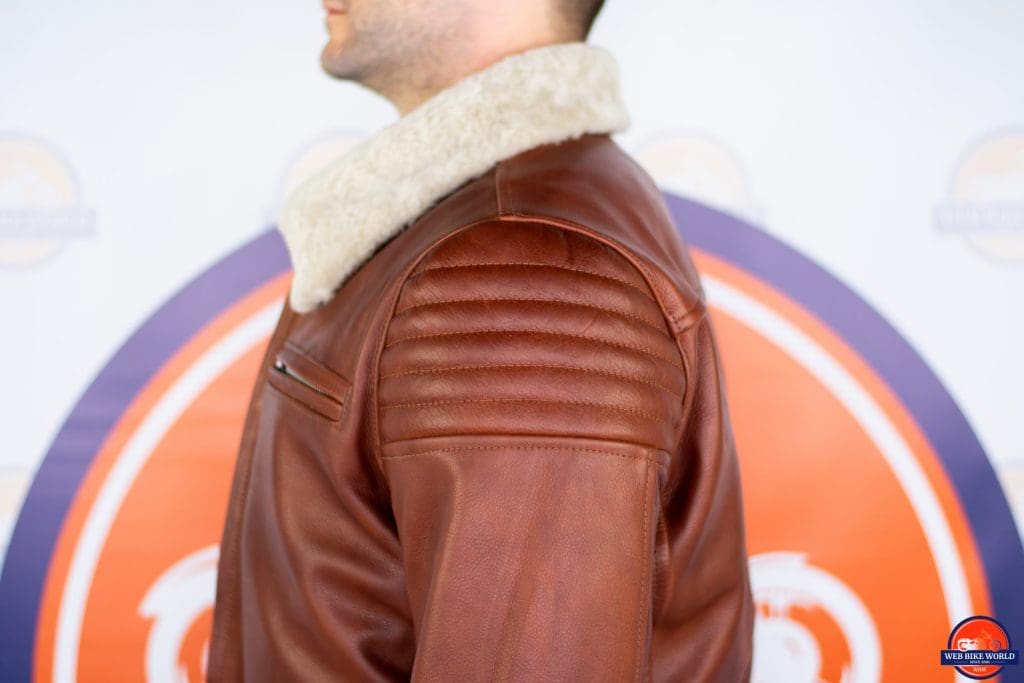 The shoulders are given emphasis thanks to hand-sewn accents in the leather that sits directly above the shoulder armor pocket. The attention to detail here succeeds in making the shoulder area attractive and successfully masks some of the bulk that shoulder armor adds to this area. A similar effect is given to the lower back.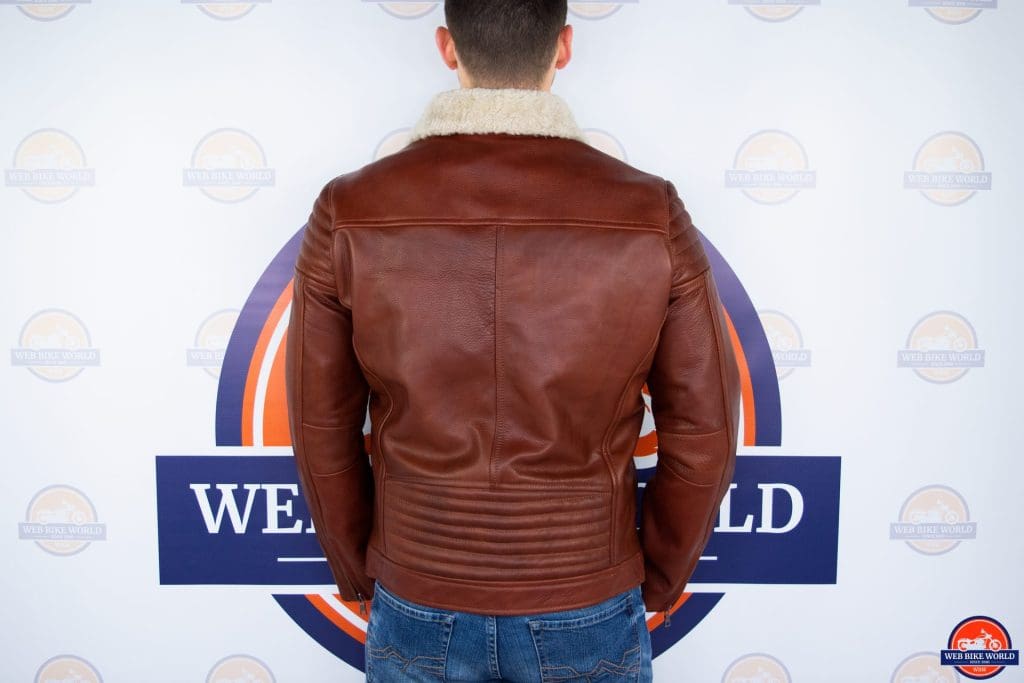 Other hand-sewn details throughout the jacket include accent seams and partitions in the leather – such as at the elbows – that draw the eye and break up the leather without relying on gimmicks, flashy logos/graphics, or over the top embroidery. As a result, the jacket feels polished and looks high-end.
Bomber Style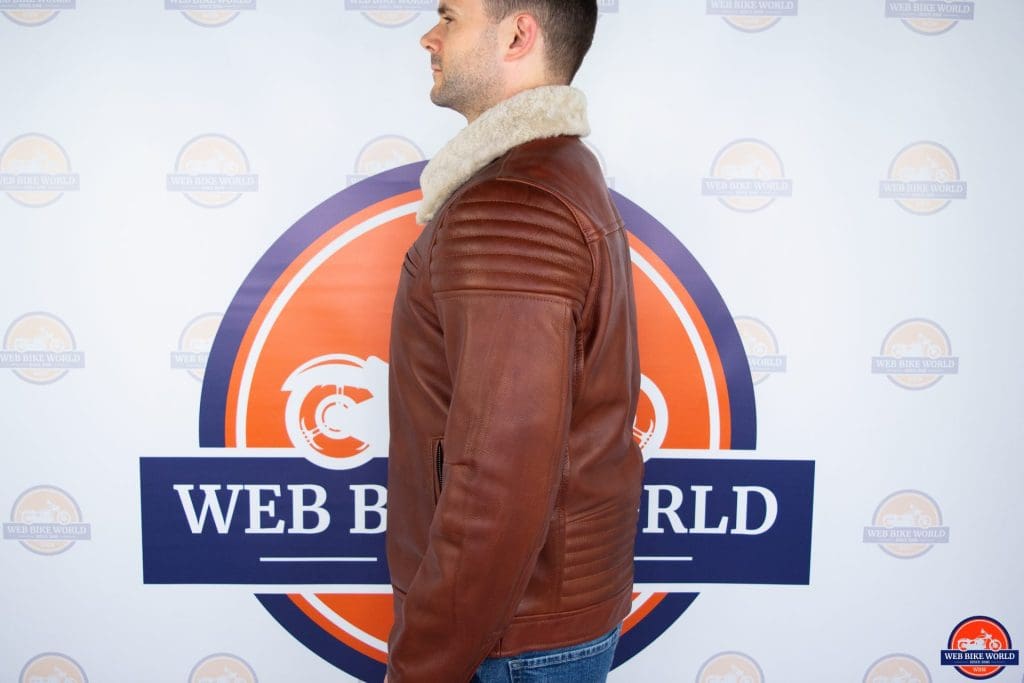 As you can see from the photos, the Pilot Racer is a bomber-style jacket that will fit right the waistline of most people. You may be able to get yours made a bit longer if you request it. Personally, I like the long-leg/short-torso look a bomber jacket gives me. However, I also have some questions with respect to safety. Namely, will the jacket's short cut expose my lower torso if I decide to do some sliding on the pavement? This concern is emphasized by the lack of adjustability in the torso. More on that below.
Fit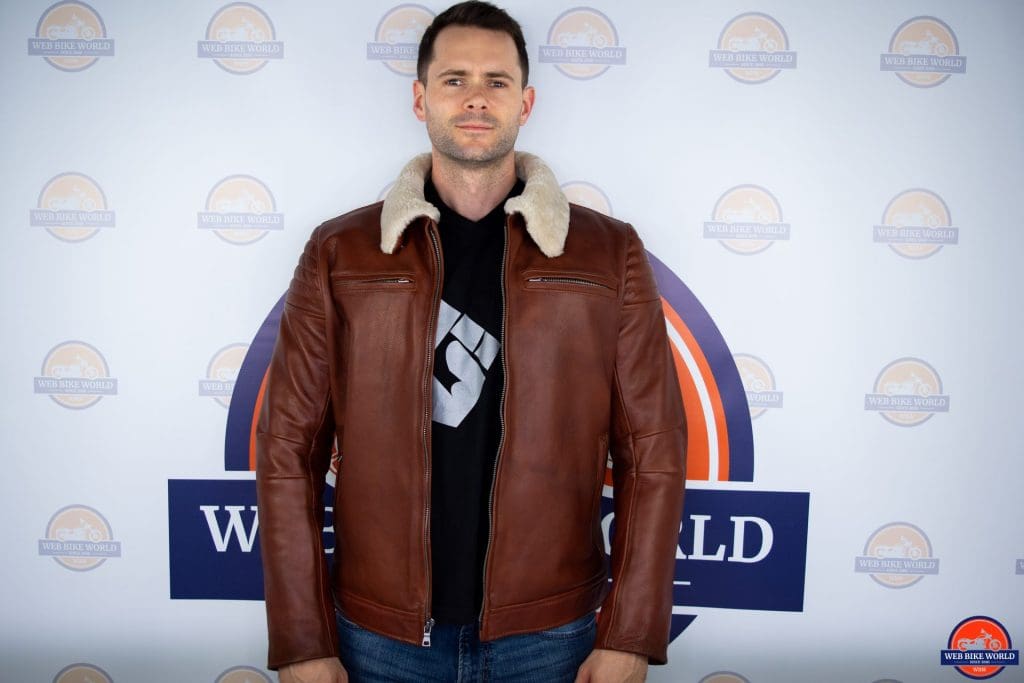 For reference, I am 6'2″, 195lbs, and have a V-shaped upper body: broad shoulders and a largeish chest at 45″. I'm wearing a size XL, which I find to be fitted but not snug. I'd describe the fit as "athletic". 
The sleeves are a bit longer than your typical jacket which I've found allows them to extend that crucial extra inch you need when you're in the riding position. However, the sleeves are also wider than you'd expect and this has the unfortunate side effect of letting in a bit of a draft. I'm also worried that they would ride up should I have an unfortunate meeting with the pavement.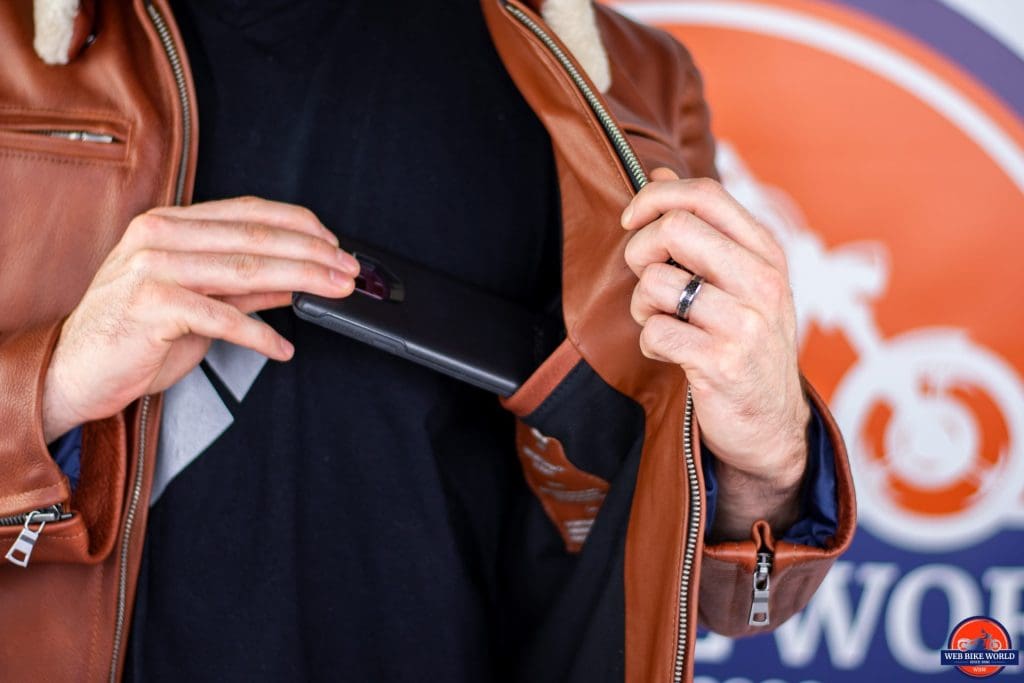 Range of motion in the arms is mostly good, though you can feel the tightness of the fit when trying to raise your arms to shoulder level. The jacket comes along, but you'll feel snug in your upper back and shoulders. Happily, you can give a pretty decent hug while wearing the Pilo Racer.
Comfortable, But Not Particularly Adjustable
The Pilot Racer is a comfortable jacket to wear and, for the most part, fits me as good or better than any other jacket I've owned. This is awesome because if it didn't, my options in terms of customizing the fit are limited. Save from having Vaktare bake my measurements into the jacket when manufacturing it, there's little else you can do if you want to expand or compress fit in some areas.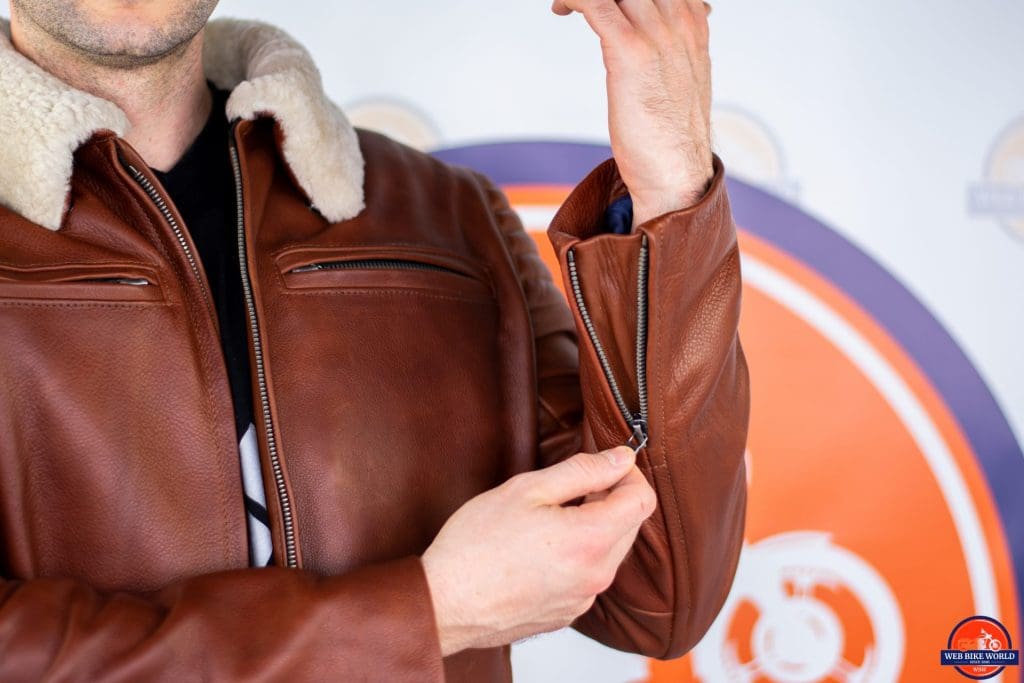 Wrist-zippers along the forearms allow you to open up the sleeves, but you are unable to tighten them once the zippers are closed. If you're wearing gauntlet-style gloves this won't be much of an issue for you, but everyone else will notice the large wrist opening. Then, as I mentioned before, there's the issue regarding the potential for the sleeves to ride up should you find yourself sliding around on the tarmac.
You have no ability to customize the tightness of the waist, either. It comes as it's cut, so if you get yours as an exact match, make sure you keep the same measurements.
The lack of adjustability shouldn't be much of a problem for you if you conform to their size chart (or have your jacket customized to suit). Wearing the XL, at no point did I feel that I needed to bring in the waist at all – I find the fit quite good in this area – but the same is not true of the sleeves. I'd love to be able to compress the cuff to restrict airflow.
Safety
At $849, a lot of people are going to be surprised to hear that the Pilot Racer does not come with any integrated armor. However, you do have the ability to place your own armor into the shoulder, elbows, and lower back. Vaktare also sells armor on its website for a reasonable fee, though most armor will work.
Vaktare uses 1.1 – 1.3mm full-grain leather for the PIlot Racer. Most "heavyweight" leather riding gear is 1.1 – 1.4mm, so the Vaktare fits right in line with that. It certainly feels it: the jacket carries a heft that similarly sized textiles and lightweight leather doesn't come close to.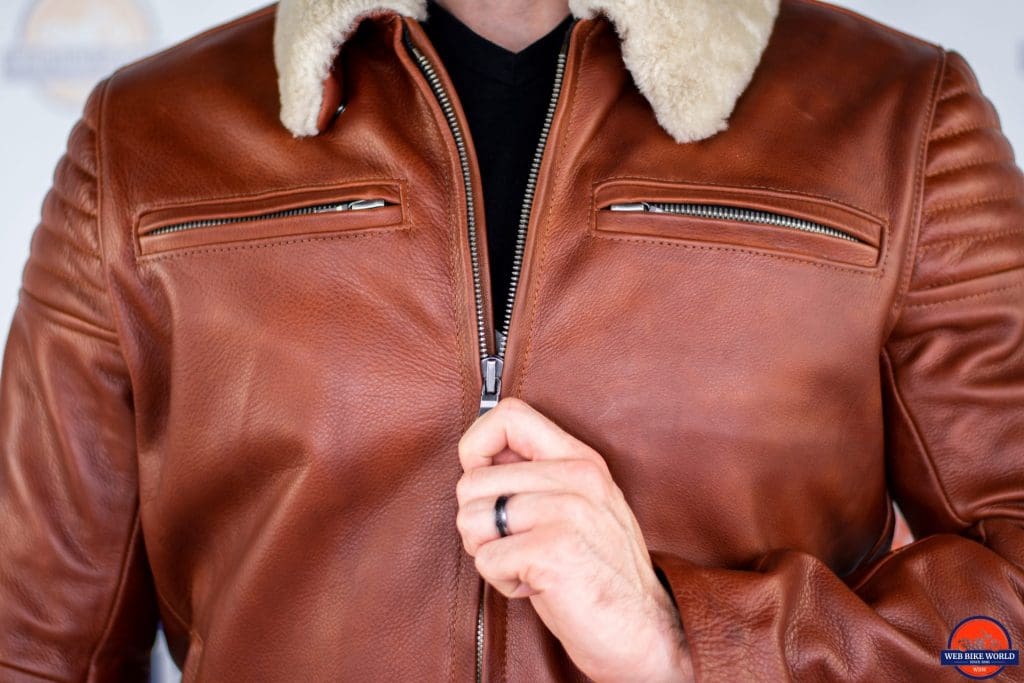 When it comes to leather goods and safety, the quality of the stitching and supporting hardware is equally as important as the leather itself. Jim thinks I'm a bit of a stich-snob (after my recent review of the Velomacchi Speedway gloves), but I disagree- I just think that something ought to be made well, and seemingly small things can make a big difference. After all, having leather panels rip away while you slide along doesn't do you any good.
In this area, Vaktare doesn't disappoint, with excellent and uniform stitching throughout. Major areas are double-stitched. The hardware used for zippers/snaps is also good and well-integrated into the jacket.
However, there are two areas that I think Vaktare could improve on here:
Reduce the diameter of the sleeves, or allow the wearer to compress the opening via a strap/zipper/buckle/etc. I recognize that this may detract somewhat from the overall look, but I'd rather a jacket look 3% less cool than have the cuff ride up right when I'm face down staring at the pavement. Road rash sucks.
Include a belt loop to bind the jacket to your pants. There's nothing to secure the jacket to your pants, meaning that the bomber-style of the cut may come back to bit you in the butt in the event of a crash. Admittedly, this isn't super likely… but sewing in a belt loop or two is such a trivial thing that why even have the risk at all?
Comfort, Storage, & Quality of Life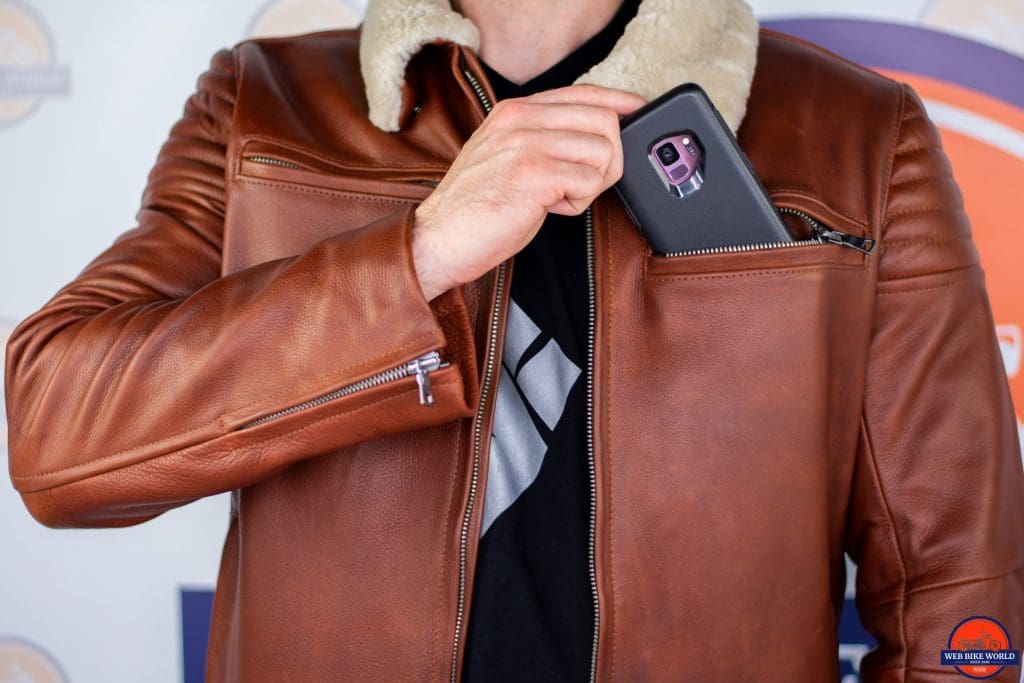 High-level: I love this jacket. I like how it feels when wearing it, I love how it looks when riding with it, and I think that Vaktare's done a great job making it a very livable jacket.
Note: this is not a waterproof jacket, but it is water resistant. Make sure yours is waxed if you think you're going to get wet while wearing it.
Overall Comfort
There is no area on the Pilot Racer that is uncomfortable, even when in a sport/touring riding position. It feels great, thanks largely to the natural qualities full-grain leather possesses. It's soft, compliant, and warm. The cotton liner is soft and pleasing to the touch; it doesn't catch or get snagged on your shirt.
The Shearling wool collar feels luxurious against my neck and, happily, didn't irritate my freshly-shaved skin. I also felt it does a pretty good job insulating your neck from wind- given that I was riding in weather where the temperature dipped slightly below 48F, keeping my neck cool is a major plus. If collars aren't your thing, though, you can get the Pilot Racer without one. In its place, there is a simple leather strap and two snaps.
But come on, the collar is awesome 😉
Depending on where you live, the Pilot Racer would be a warmish jacket to wear during the hot summer months, but I'd have no issues riding with it in the spring/summer/fall. Then again, I'm a Canadian and everyone knows we were born into – and molded by – the snow.
One thing to note: I found that wind would buffet up the sleeve to about my elbow if I was wearing thin gloves. The wide cuff can let in a lot of air (and water, I suspect, but I didn't test this).
Storage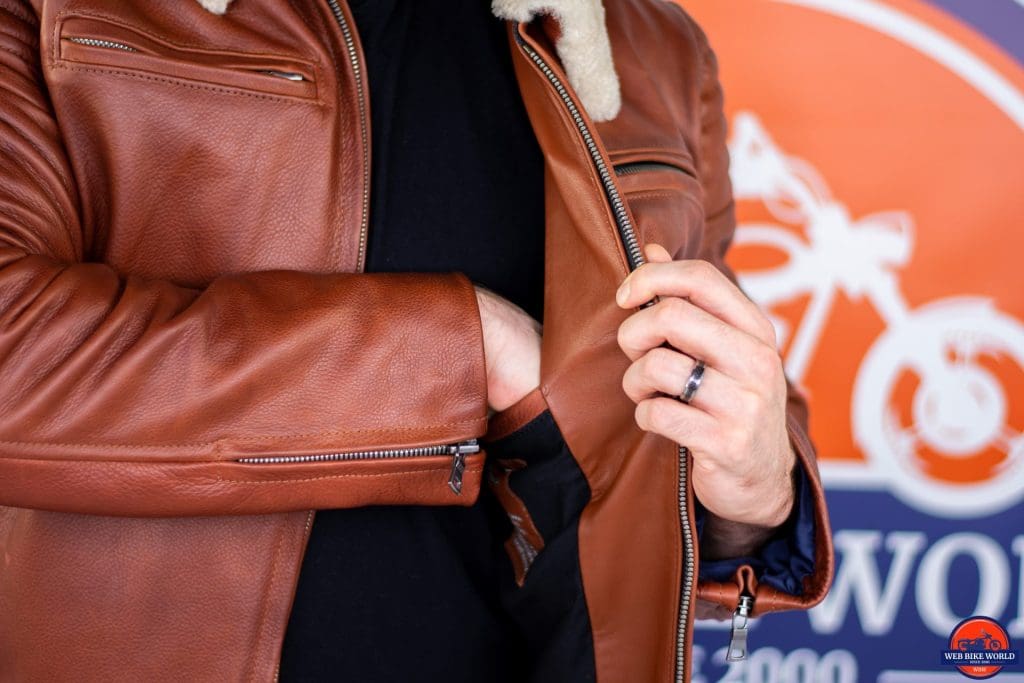 The Pilot Racer is four zippable pockets on its exterior – two waist-pockets and two breast pockets – and a single unsealed interior pocket at the left breast. All the pockets are huge, easily fitting a smartphone, set of keys, and wallet… with room to spare.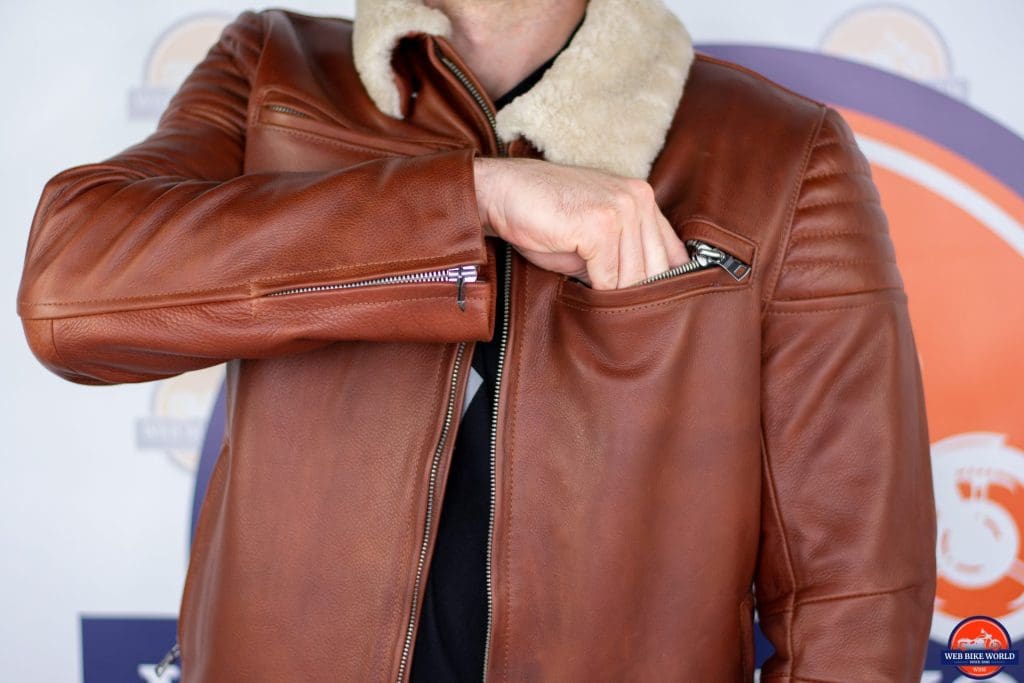 That said, I wish the interior pocket could be sealed somehow. As big and as cavernous as it is, I'd still prefer a way to seal it up.
Call it a quirk of mine, but ever since I got a little throttle-happy over an oversized speedbump and had my phone slide right out of the interior pocket, I've been paranoid about it ever since.
Build Quality & Long-Term Durability
Admittedly, I am not a tailor (shocking, I know) and so my assessment of the build quality comes from anecdotal experience vs. professional experience. The long and short of it is that the Pilot Racer appears to be impeccably made.
Throughout the jacket, stitching is even and nearly flawless. Panels are symmetrical and there are no irregularities that I can see. After two months of regular wear, both on and off the bike, the jacket looks almost brand new…
… with the exception of the full-grain leather itself, which attracts markings and imperfections. This is part of what gives leather its charm: the story it tells after years of wear and use. But if you're someone who likes things to perpetually look "new", a full-grain leather jacket shouldn't find its way into your closet. Look for something synthetic or textile, both of which are more resistant to wear marks.
Case and point: while riding down the highway, a passing car spat out a rock that hit me square in the chest. I remember this clearly, both because it felt like getting hit by a hammer at the time and because there's a mark on the Pilot's chest to commemorate the experience.
Leather wear aside, after scouring the Pilot Racer looking for any sign of flaws, I found one – and only one – along the inside left breast: marks where the leather had been scratched or torn? I'm unsure as it's difficult to tell because it is hidden away on the inside of a seam. Considering that the leather comes from a single cowhide, a single flaw is certainly acceptable.
All Said, The Pilot Racer is an Excellent Riding Jacket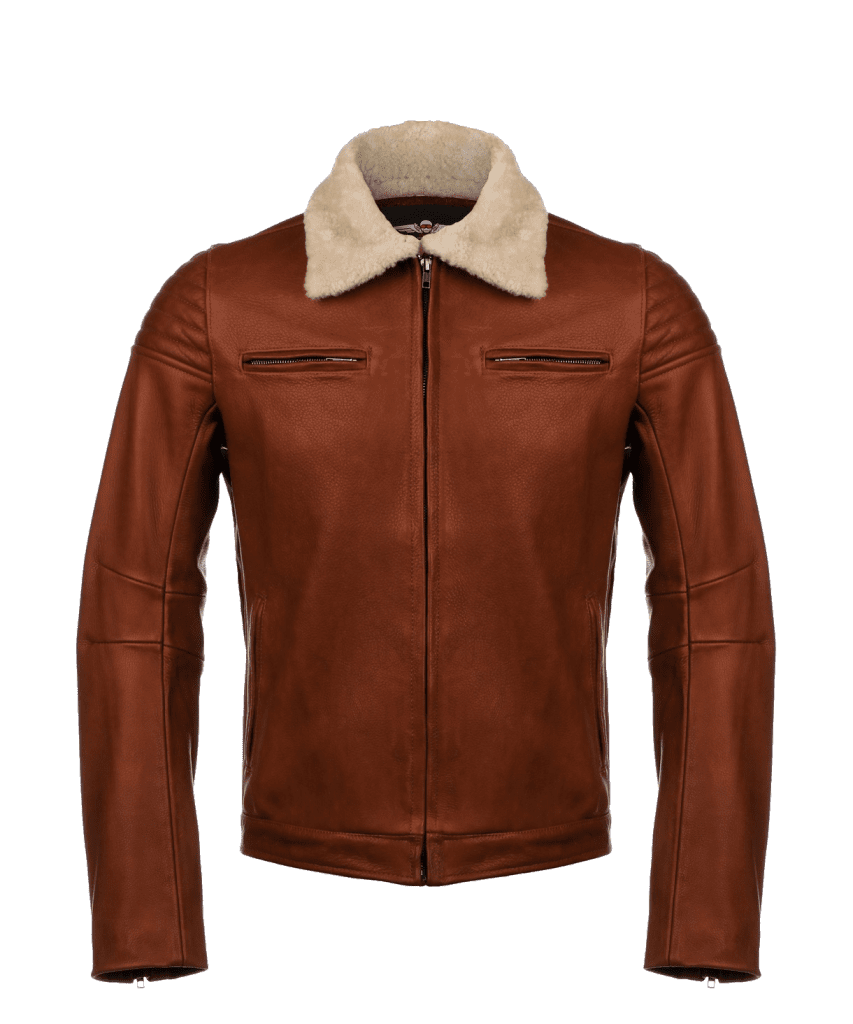 Fellow writer Jim Pruner remarked that the Pilot Racer is a bit too pretty for him. He loves his waterproof and well-insulated textile riding gear. I get it. If safety is 100% your focus, this Vaktare will prove capable but ultimately insufficient.
I'm not saying or (even implying) the Pilot Racer is unsafe – quality leather, room for CE-level 2 armor, and great construction provide plenty of protection – but safety isn't why you buy the Pilot Racer. You buy the Pilot Racer so you can roll up to a restaurant, hop off your Triumph, and meet your friends on the patio. It's the perfect "get together" riding jacket because whoever you're meeting won't know that it's a riding jacket.
If you aren't concerned about being able to ride in the rain or pair up to a full leather riding suit, I think you'll find plenty of reasons to really appreciate the Pilot Racer. I definitely have.
I think it's worth supporting products from companies that stand behind their product. Vaktare offers no-charge lifetime servicing and small repairs when you buy a jacket from them. At $849 ($949 kitted out with armor), the Pilot Racer is a pretty serious investment. Considering that the jacket itself is going to last for many years with just basic care, it is good to know that the company that made it will take care of it should something happen to it.
If you're wanting a high-end leather jacket that is safe, comfortable, and stylish, you may have found your match with the Pilot Racer.
Pros
Awesome looking
Very well made
Comfortable
Huge pockets
Excellent fit
Cons
Wide sleeves may be problematic
Now way to connect jacket to pants/belt
Interior pocket doesn't seal closed
Have to buy armor separately
Specs
Manufacturer: Vaktare
Price (When Tested): $849
Available Sizes: S- XXXL
Made In: America
Review Date: November 2018