Velomacchi Speedway Gloves Review Summary
Review Summary
The Speedway gloves are comfortable and certainly attractive, but their fit isn't "true"- they fit larger than their size chart suggests. The conductive finger/thumb tips work but are clunky compared to other gloves I've tested recently. Finishing quality is okay but don't expect perfection. Overall, these are stylish gloves that are comfortable but not without their faults.
Pros
Very comfortable
stylish
external armor provides excellent dexterity
built-in squeegee for riding in the rain.
Cons
Fraying on some stitches from new
conductive fibers are a little clunky
not waterproof due to finger venting
style > protection
3.5
Average, With Drawbacks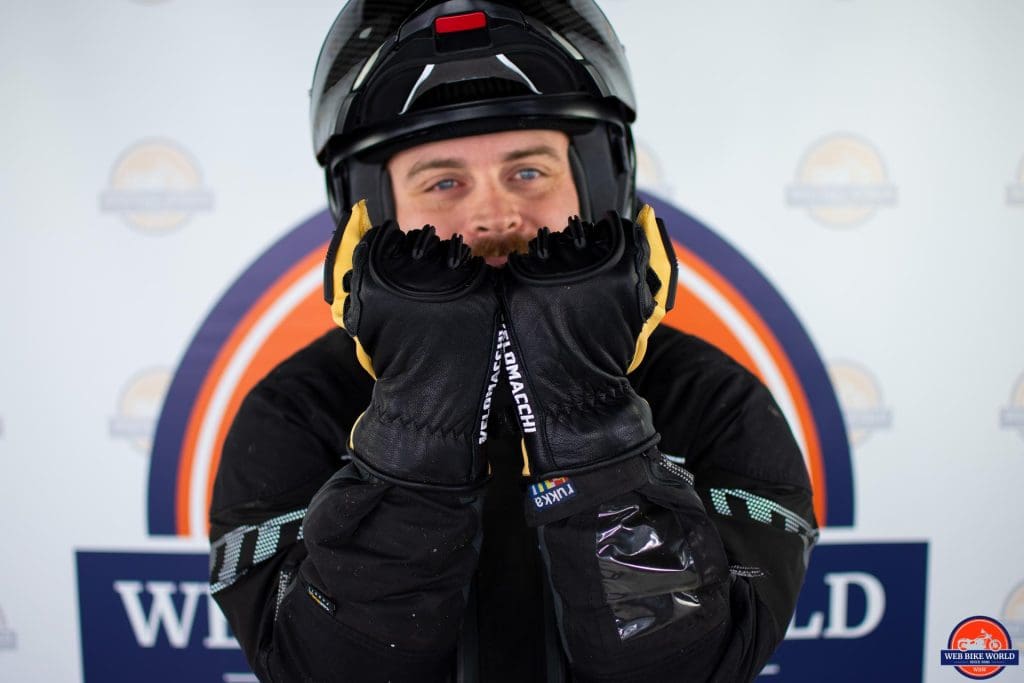 They say that the first impression is the most important, so it's best to make it count. On that basis, first impressions of the Velomacchi Speedway gloves – Velomacchi's first foray into mass-produced digit defenders – are very positive. The 60s style jumps out at you and captures your attention almost immediately. These gloves will send you back a few decades and have you looking all the better for it.
But the Speedways are not without faults, and it's those faults that keep these gloves from being truly exceptional. Problems with QC mean the gloves look excellent but lack polish; when examined up-close, both gloves have several areas where this lack of polish is visible. While minor, those of us that value fit and finish may struggle with a $150 pair of gloves with uneven trim and fraying threads.
These imperfections resulted in a lower score for the purposes of this review. On my hands and on the road, the Speedways are among the most comfortable gloves I've worn (even if they fit a bit bigger than the typical large).
Disclosure: Velomacchi provided these gloves at no-charge for the purposes of this review.
Features
Made with deerskin and goatskin leather
Conductive finger and thumb tips
High-impact for finger protection and goggle wipe
Brass rivets on the hypothenar impact zone
Adjustable velcro wrist strap
Style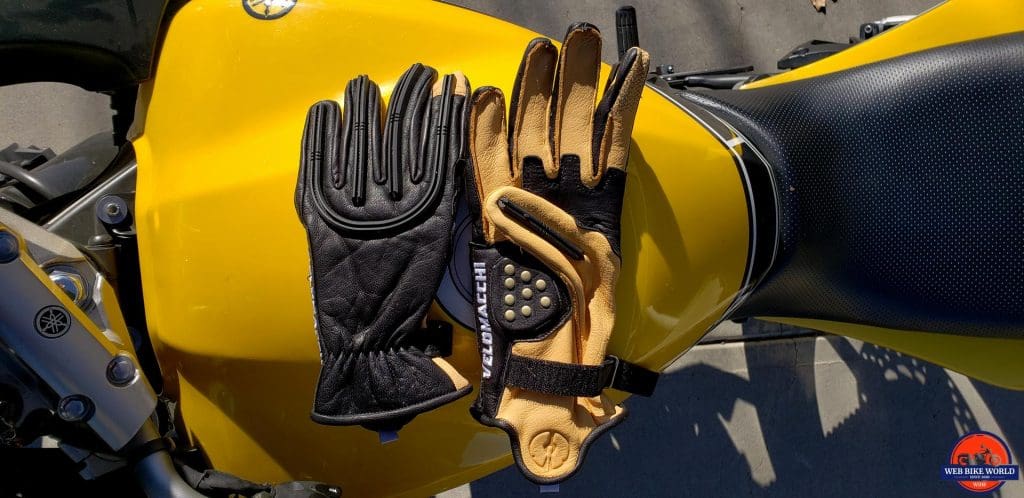 The Speedway's are unconventional, even if you ignore the 60s theme. These gauntlet-style gloves feature external TPR rubber finger guards that are a marked visual differentiator compared to most gloves, and the palms provide extra protection via a leather palm pad that has brass rivets intermixed for extra abrasion resistance.
These safety elements become a foundational component of the overall style of the gloves. Even if you can ignore the brass rivets on the palm, there's no way you can ignore the rubber finger guards- they're unlike anything I've ever seen on a motorcycle glove. They extrude about 1/4″ from the top of the glove and are quite noticeable.
You can get the Speedway in tan/black, as I have here, or black on black. The black on black versions are a bit more incognito – the finger guards and palm pad blend in a bit better – but a bit more incognito doesn't mean the same thing as actually being incognito. These gloves are attention-getting, and I personally think that's a good thing.
A Funky & Good Looking Motorcycle Gove!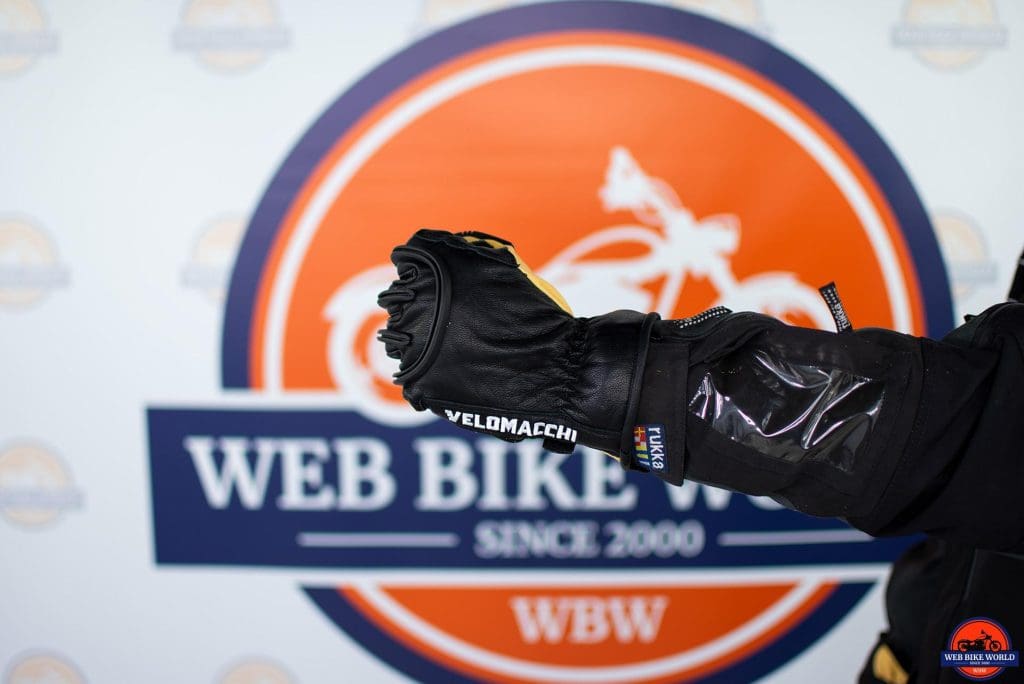 Branding is big and bold but contained to the side of the glove; the color scheme feels retro and elegant in comparison to many race or touring-inspired gloves.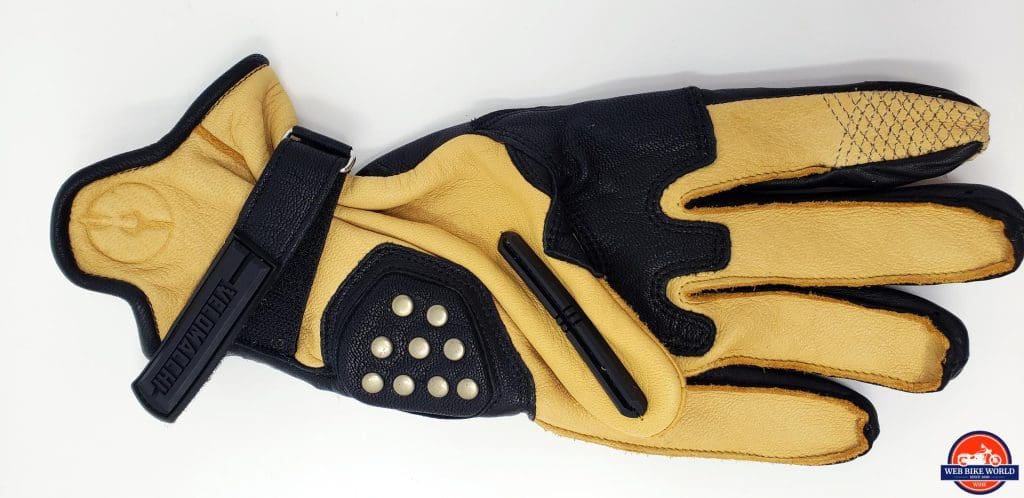 Textures and materials are relatively consistent, helping the glove feel a bit more universal than gloves that showcase flashy graphics, color, and emphasized armor.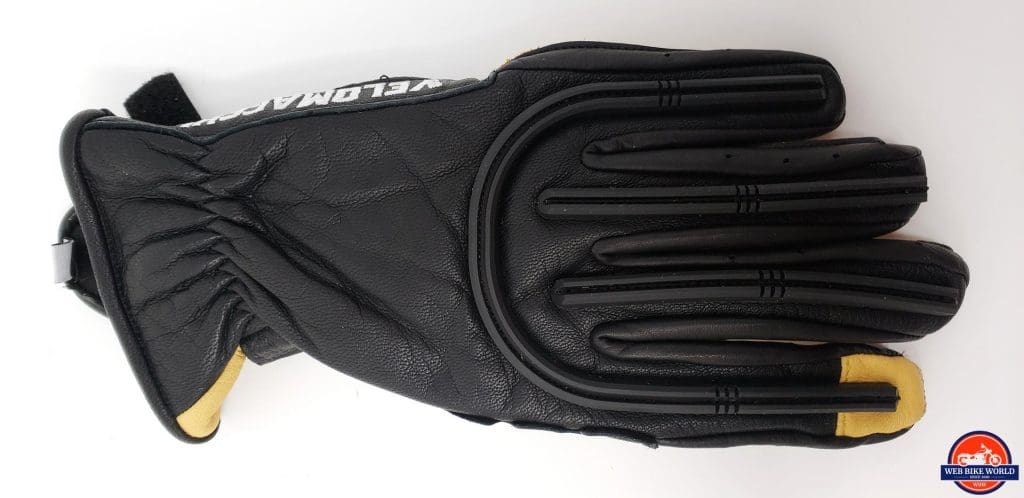 If you ignore the squeegee-esque rubber finger protectors (which, for the record, can indeed be used as squeegees- I tried) and the palm pad full of brass rivets, the Speedway's pass for… okay, never mind. They're definitely motorcycle gloves, but without all the usual flashy branding and colors.
These gloves have a distinct style that I find attractive, rubber finger guards and all. 
Build Quality
Unfortunately, once you get up close to the Speedways, deficiencies in their build start to become noticeable. A frayed thread here, an off-angle cut there… none of these areas are critical – the structural integrity of the glove does not appear to be compromised in any way – but they are visible. The photos used in this review, for example, are from the day I received the gloves and before I had ever worn them on the road. To see frays and uneven cuts in a $150 pair of gloves is disappointing, even if the impacts are only cosmetic.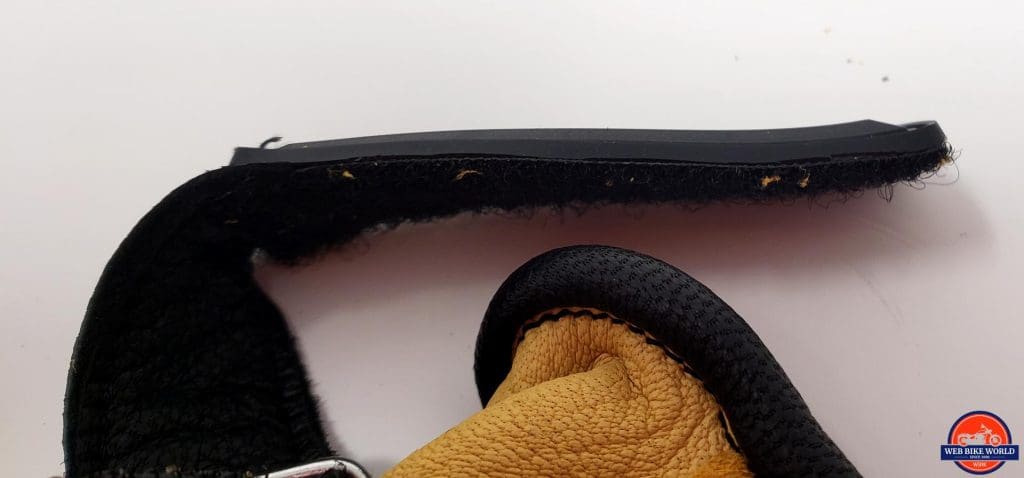 The QC issues exist on both gloves, but in different areas. This can partly be explained by how they're made (by hand) but also speaks to what I feel is a misaligned price-point: these gloves should be $200 or $250 gloves, with excellent QC, vs. $150 gloves with mediocre QC.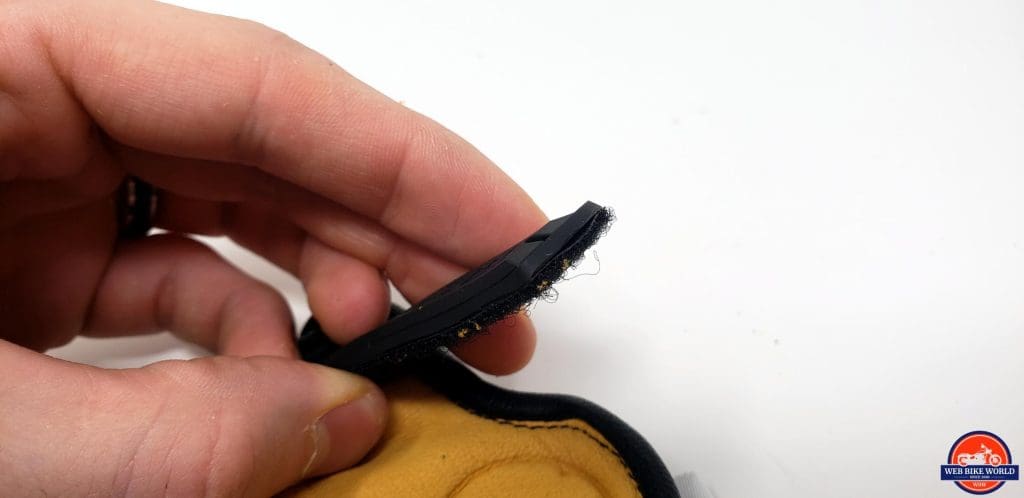 These gaps in build quality, however frequent, are minor and, honestly, forgettable once I'm riding. The comfort of the glove and the dexterity they offer overshadow the gaps in build quality.
The feeling I'm given with these gloves is they had materials they wanted to use – deerskin and goatskin leather – and a price point they wanted to hit – $150 – and the gloves were reverse engineered to achieve those two factors. I'd have rather a bit more energy gone into quality control and the price raised a bit so that frays and strays weren't visible as opposed to cutting corners to reach a lower price point.
Comfort
These are, by far, the most comfortable feeling motorcycle gloves I've ever worn. The deerskin interior is plush and downright pleasing to the touch. They feel soft and comforting, like I'm shaking hands with an old and very dear friend. That's how I felt after the first time I put them on, and they've only gotten more comfortable since.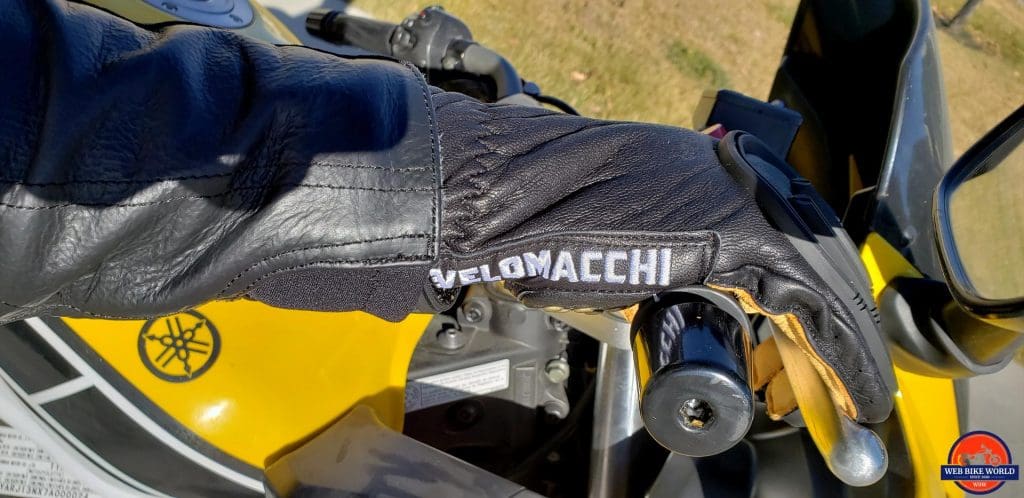 The gloves are warm and mostly unvented, save for a few holes on the sides of each finger. I've been wearing them in lukewarm weather for the most part, with temperatures averaging between 60 and 70 degrees. My hands have never felt cold and remain pretty comfortable overall.
Warm weather riding doesn't result in buckets of perspiration, but if you live somewhere hot, gauntlet-style leather gloves are likely a recipe for sweat. The Speedway isn't a hot glove in that it isn't filled with insulation or padding, but the all-leather construction and minimal venting means that they can heat up inside.
However, there isn't much in the way of padding and so that means that the Speedway's are best suited for warm weather, two-maybe-three season riding. If you live somewhere hot and want a good looking leather glove, these might be your ticket. If you live in a northern climate, you'll want another set of gloves for early spring and fall riding.
Fit
Make sure you review the size chart and confirm before ordering. These gloves are the biggest large I've worn. I also have Fieldsheer Countour and REAX Tasker gloves on my bench right now, both size L, and the Speedways fit much larger than both. My fingers never feel like they reach the tip of the glove, and this results in a bit of loose material at the fingertips. This is most noticeable in the index finger, where I find I have to "pull" the glove back with my other hand if I want to use a smartphone.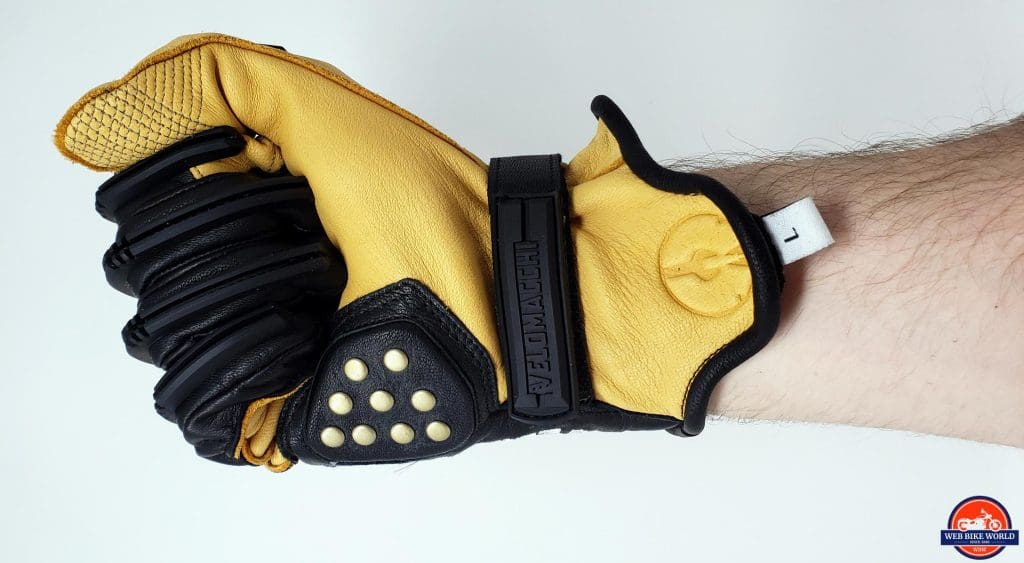 Operating the motorcycle controls, and helmet audio controls, is fine. In fact, the Speedways communicate a good amount of feedback through the leather. But when operating sensitive devices, such as a smartphone, the index finger is all but useless for me unless I use the other hand to pull the glove taught.
Using the velcro wrist strap, you can adjust how the glove fits around your wrist. Unless, like me, you happen to have skinny wrists- then you're limited in how tight you can get it, as you'll run out of velcro quickly. I have 6.75″ wrists and find that I'm using the last 1/8″ of velcro to secure the strap.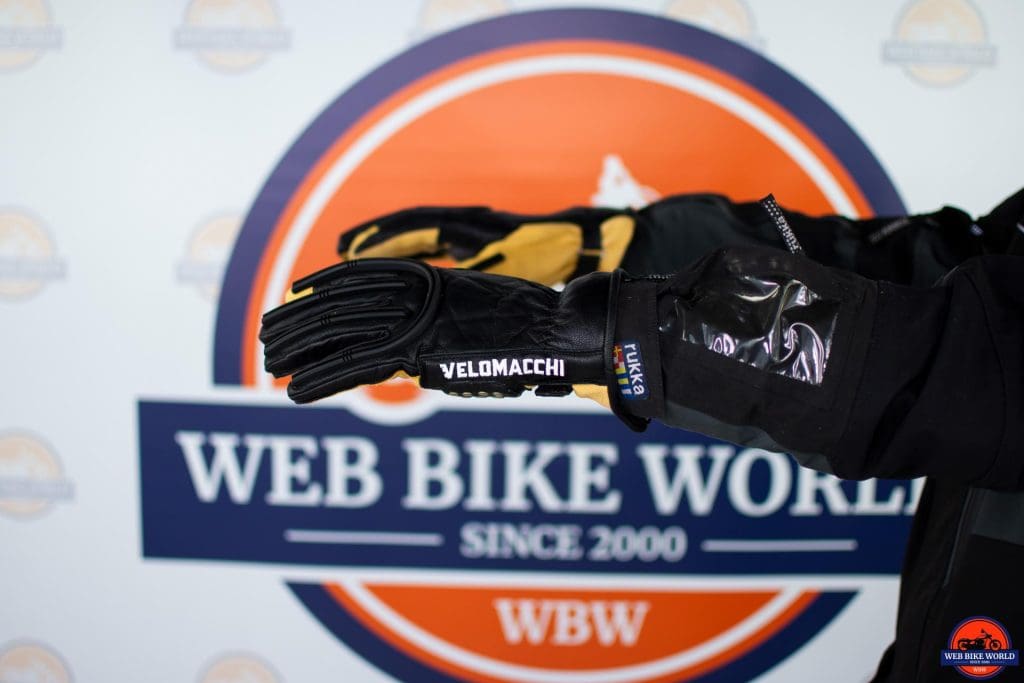 The thing is that my hands fit into a large according to the Velomacchi's size chart- my palm is 22.5cm wide and my finger is 11cm long. I bet I could have gotten a medium and found them to fit just fine. I recommend trying them on in person or shopping from a vendor that allows for no-hassle size exchanges.
Protection
The leather is on the thin side and, while comfortable, it is also clear that these gloves are more about style than they are about protection. That's okay as long as you're aware of what you're getting your (digits) into.
The bottom line is that these gloves, while offering much more protection than bare-knuckle riding, leave much to be desired in comparison to other gloves that are more protection-focused. If you're looking for a glove that's more style than abrasion resistence, then great- you'll love these. If you're wanting a glove that can take a beating, you'll want to keep looking.
Good Looking & Affordable*, but With Some Corners Disappointingly Cut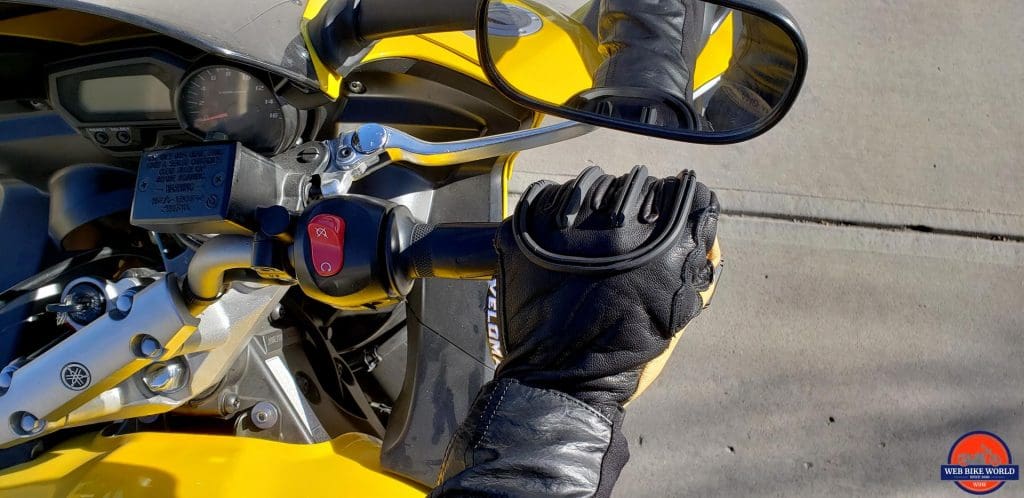 The Speedway gloves are an interesting pair to review. On one hand, they're the only glove I've ever worn where I got excited after opening the package. Between the two-tone leather, riveted palm pad, and awesome-but-also-weird rubber finger guards, the Speedway's are definitely unique and worth getting excited over.
But, on the other hand, I expect better quality out of a $150 pair of gloves. Multiple loose threads, frayed ends, off-angle cuts, and other small gaps in their build quality are individually minor but frequent enough that it cheapens the overall experience. $150 gloves are premium gloves, and when you look into the premium segment, it's not uncommon to see gloves nearing the $300 mark. In that context, the style and materials offered make put these Velomacchi's on the affordable end of the premium segment, but its precisely because of that positioning that I'm so critical of their QC.
Velomacchi offers a lifetime warranty on their products. I have not contacted them regarding the QC problems on these gloves, but I'd be inclined to had I purchased them.
Still, despite their flaws, these are also the gloves that I've enjoyed wearing the most this riding season. They're comfortable – increasingly so as I wear them – and just so darn neat looking. They're as much a conversation piece as they are a piece of safety gear… a description that is rarely applied to motorcycle gloves. The 3.5 star rating reflects that, as much as I enjoy wearing them, there are a few areas that could stand to be improved. If these gloves were to come without the visual defects that they have, with perfect or near-perfect finishing quality, they'd be a solid 4.5 star glove.
Pros
Very comfortable
Good looks and unique style
Great dexterity thanks to exterior-mounted armor
Built-in squeegee
Cons
Small QC problems
Conductive fingertips are clunky
Fits large
Specs
Manufacturer: Velomacchi
Price When Tested: $149
Made In: Designed in USA / Made in Vietnam
Alternative Colors: Black on Black
Sizes: XS – XXL
Review Date: November 2018