The world's fastest electric bike can be yours for a $10,000 deposit. Lightning Motorcycles is taking deposits now on their 150kW (200hp) Lightning LS-218 street-legal sportsbike.
Lightning Motorcycle marketing manager Jojo Chang says the total price is $US38,888 (about $41,500) plus friehgt and various import duties and on-road costs. "We are looking for dealers in various countries, including Australia to distribute LS-218," Jojo says.
The San Carlos, California, manufacturer is no stranger to performance with its electric superbike winning last year's Pikes Peak Hill Climb. It not only won its category but also beat all the fuel-powered vehicles by a whopping margin of 20 seconds. Lightning also holds the land speed record for fastest production electric motorcycle in the world at 215mph with a fast run of 346km/h (218mph) at the Bonneville Salt Flats.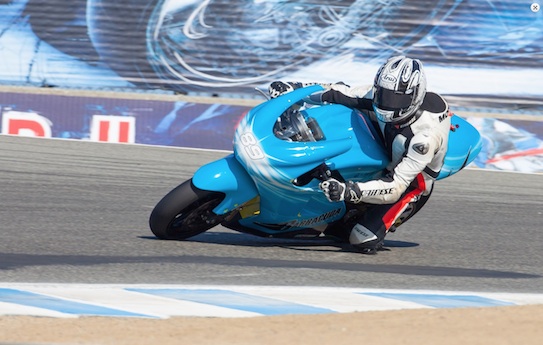 The Lightning LS-218 is a direct street legal version of the same bike with the company claiming range of 160km and a quick-charge time of 30 minutes. Options include a fully programmable Android display, carbon-fiber swingarm and frame, titanium fasteners, custom graphic wrap and seating. It is expected to look very similar to their race bike, except with lights and mirrors.
The race bikes are built to customer order and start at $38,888, but there is no word on price for the street-legal version. However, the company is now taking deposits to reserve a bike. Their next project is a lower-powered electric bike called the Aion that is targeted to compete against 650cc twins.
"Since 2006 the Lightning team has been dedicated to developing electric motorcycles that meet and exceed the performance of the best ICE alternatives", says Richard Hatfield, CEO of Lightning Motorcycle.
"To have broad acceptance from the motorcyclist community, we need to provide design, performance and value that competes head to head with the best gasoline motorcycles on the market. Lightning's R&D team has developed electric vehicle technology through years of competition at racing events around the world. We believe that the LS-218 offers consumers the best of design, performance and value in today's market."
"Consumers no longer are required to pay more for less performance to support green technology," says Hatfield.