If you're looking for a bit of sunshine this winter, head north to the Sunshine Coast which has some of the best riding roads in Queensland.
Many Brisbane riders head up to the Sunshine Coast for a day ride, but by the time they arrive and have lunch, it's time to head home.
By the way, we highly recommend eating at motorcycle friendly Rick's Garage or Kenilworth Hotel, although you are not short for great eateries at this tourist mecca.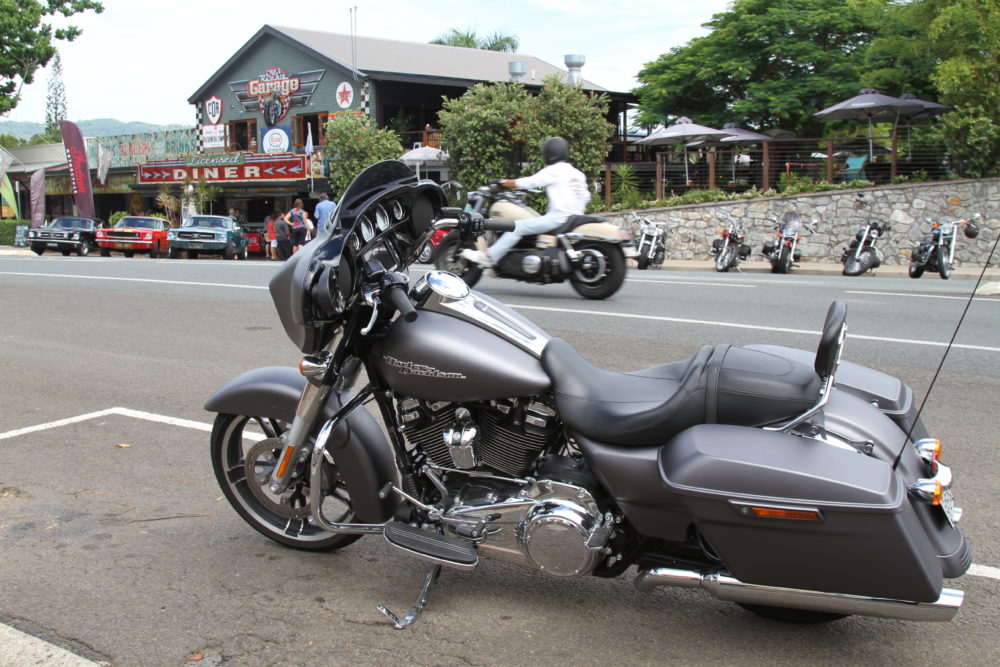 However, we suggest staying a night or two in winter when temperatures are in their 20s from 8am and accommodation rates are often less than half the high season rates.
Central location
We chose to stay at the Ramada Marcela Beach Resort which is a redevelopment of the old Surf Air where we stayed as honeymooners some three decades ago.
It's now mushroomed from one to three modern towers with a bistro downstairs, massive pool, day spa, undercover secure motorcycle parking and easy beach access.
It's also right opposite the Sunshine Coast Airport, so interstate riders can easily fly in, hire a bike and base themselves here at a central point on the coast for day loops to the south, west and north.
Marcoola Beach is away from the heavily trafficked tourist areas with instant access to the looping, meandering roads into the Sunshine Coast hinterland.
Ramada manager Luke Saunder says the location is great for riders as it's central.
"It's away from the hustle and bustle, it's right opposite the airport and there is a bistro on site and restaurants across the road," he says.
And winter rates are very accommodating. For example, a single hotel room is about $115 a night.
It's even cheaper if you ride with friends. A nicely appointed three-bedroom apartment would cost $500 a night through the summer high season, but it's only $199 a night if staying two nights or more.
While we are familiar with the roads south of the Maroochy River and west to the Blackall and Conondale ranges, we are not as familiar with the Sunshine Coast roads to the north.
So we recruit Motorbike Writer Facebook followers Kristian Steenstrup on a Moto Guzzi Griso and Tina Tolley on a Continental GT as our local tour guides.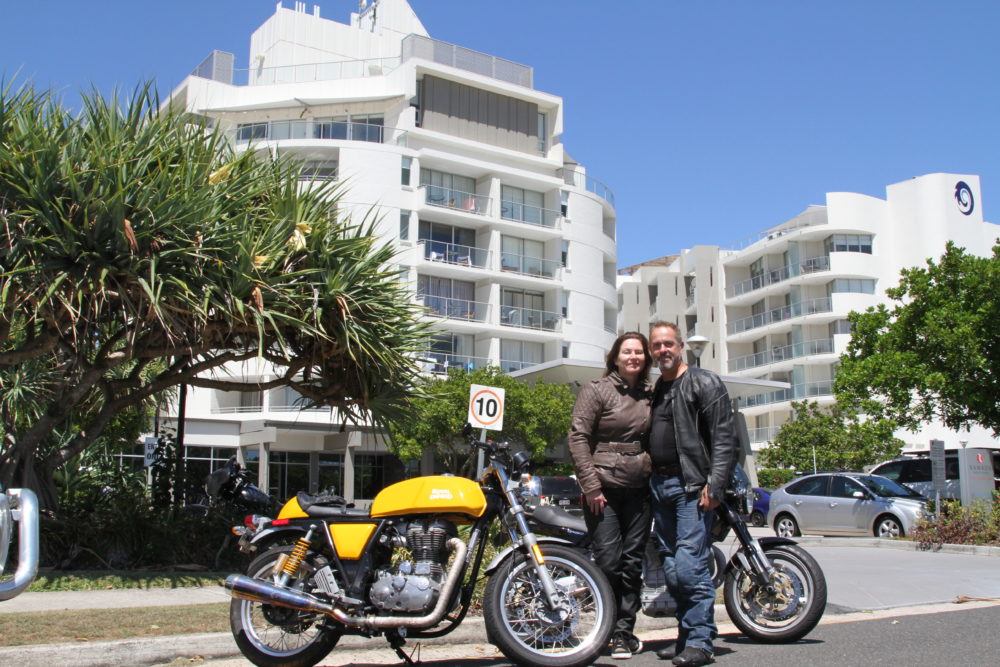 "We mostly look for the "Marilyn Monroe of roads" – smooth, lots of curves and not too skinny," Kristian says.
"Mostly they are 80km/h roads which suits our little bikes better."
However, there are also plenty of adventure roads around from the gravel forest trails in the Conondale and Mapleton forests to the sand and clay of the Cooloola forest and Noosa North Shore beaches.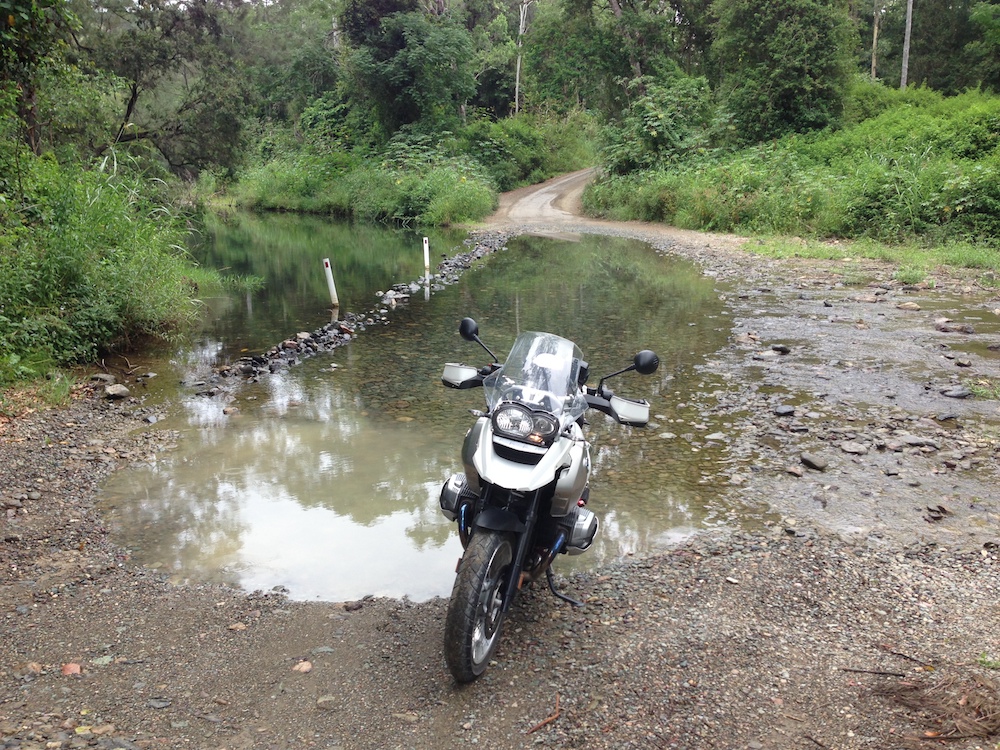 Smooth riding
But for this ride, the roads are mainly smooth tar.
We start with breakfast at the Guru Life cafe on Petrie Creek Rd which is a popular cafe destination for riders for breakfast, lunch and dinner.  An army-painted chopper in front of the roasting machine is a good guide to its clientele.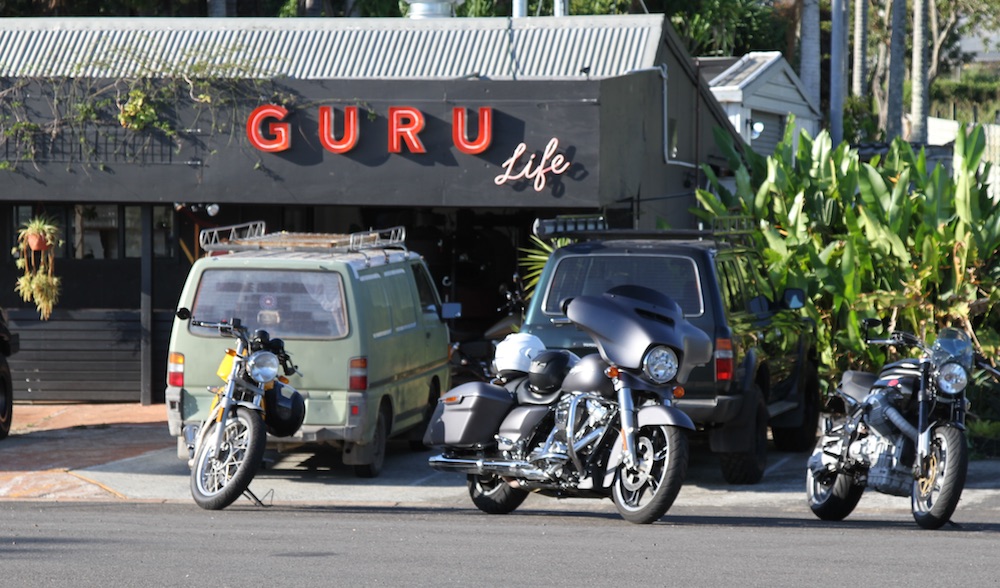 We then wind our way over a couple of ridges along the Yandina Bli Bli Rd and head north through North Arm to Eumundi.
The markets are heaving with tourists when we arrive, so we skirt town and take the Eumundi Range Rd which squiggles north, opening up stunning views to the western ranges.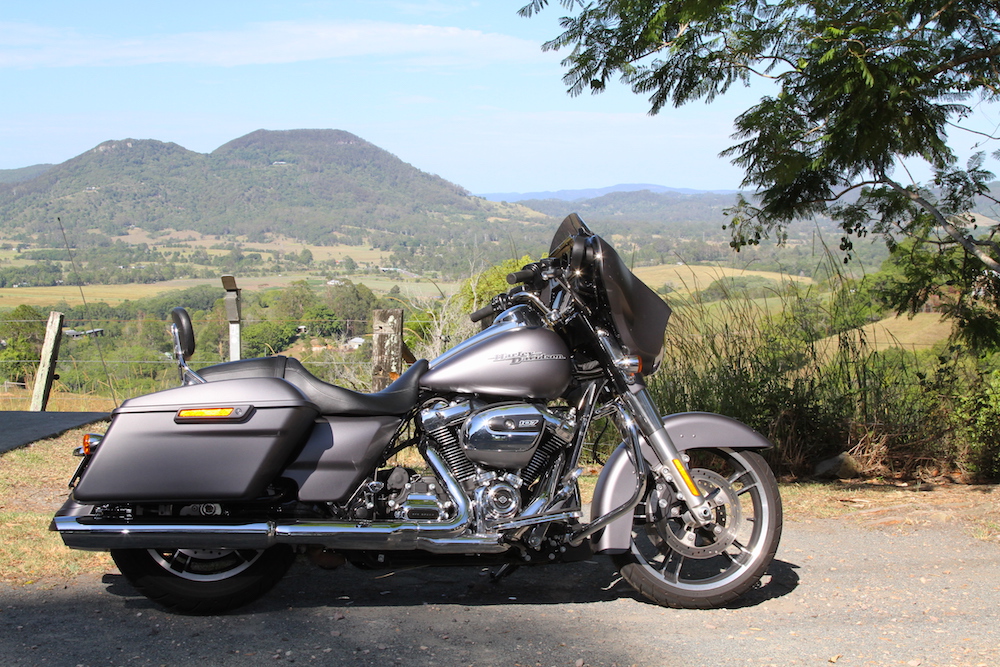 It eventually delivers us into Cooroy, one of many thriving tourist towns with seemingly more cafes and craft shops than houses.
For here, take the Mary River Rd and Black Mountain Range Rd so you criss-cross the Bruce Highway and end up in Pomona; an even smaller town with an even higher proportion of trendy little cafes.
It's then a short trot to the smaller Cooran with two trendy cafes and little else.
Here you should look for the first turn after crossing the railway line. It's called James St and has a sign declaring "To Coles Creek Rd". It's another challenging range road with smooth tar and plenty of twists and turns.
The road eventually empties out into the fertile Mary Valley where we take up the Old Bruce Highway and Mary Valley Rd to Gympie.
Continue through town toward Tin Can Bay where you can venture west along the road to Widgee or north on Sunday Creek Rd.
Heading southbound
Instead, we head south on Cedar Pocket Rd which winds through a pleasant valley and crosses several creeks and farm dams.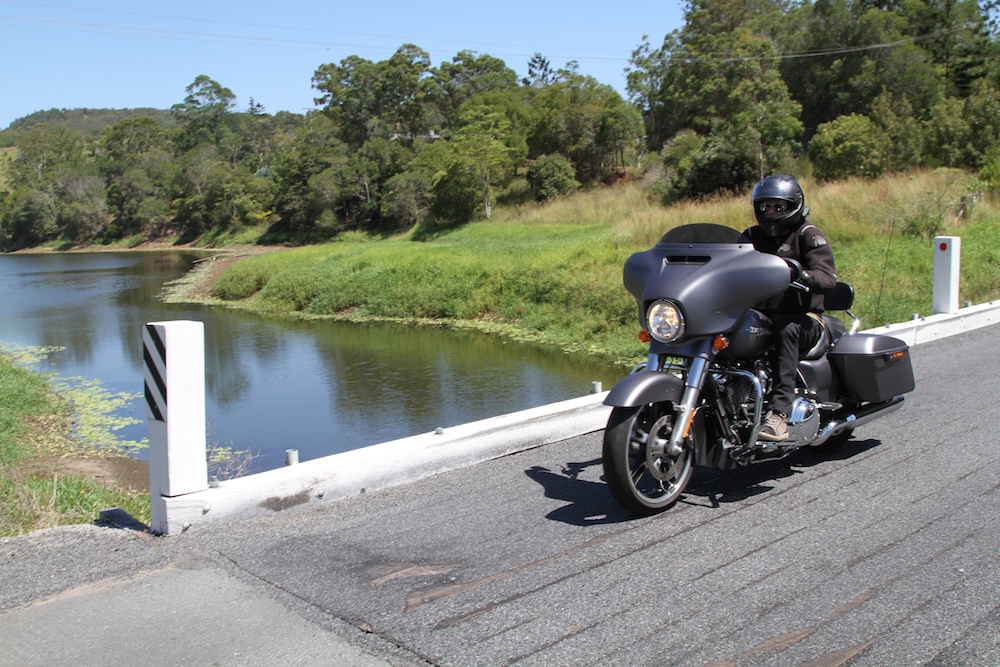 Although there are some rough patches and a short section of single lane with dirt verges, it's worth it for the short twisty ride over the range on smooth and winding asphalt.
Drop into Kin Kin for lunch. There's a pub, a couple of houses and the Kin Kin General Store which has great coffee and food all made with local produce.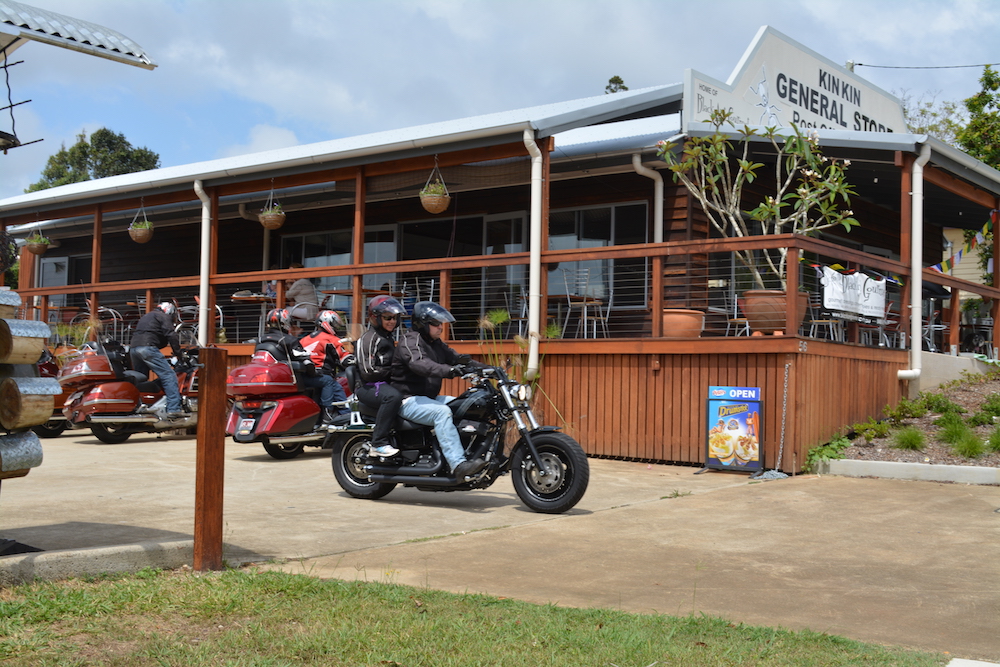 The return journey to Marcoola Beach takes us on most of the same roads.
If you stay overnight or a couple of nights, you can explore more of the region's best roads.
Great Sunshine Coast roads
They are so good one promoter last year planned to stage a Sunshine Coast International TT in the Blackall Range. Sadly, the venture fell over.
The roads here can be challenging and exciting like Postmans Track which is so steep that when they surfaced it with tar, they poured it straight over the lateral erosion berms. They're great for getting some air on the ascent, but be careful on the descent as you could go over the handlebars.
Some of the roads simply offer gob-smacking vistas such as Bald Knob Rd with its commanding views of the Glasshouse Mountains.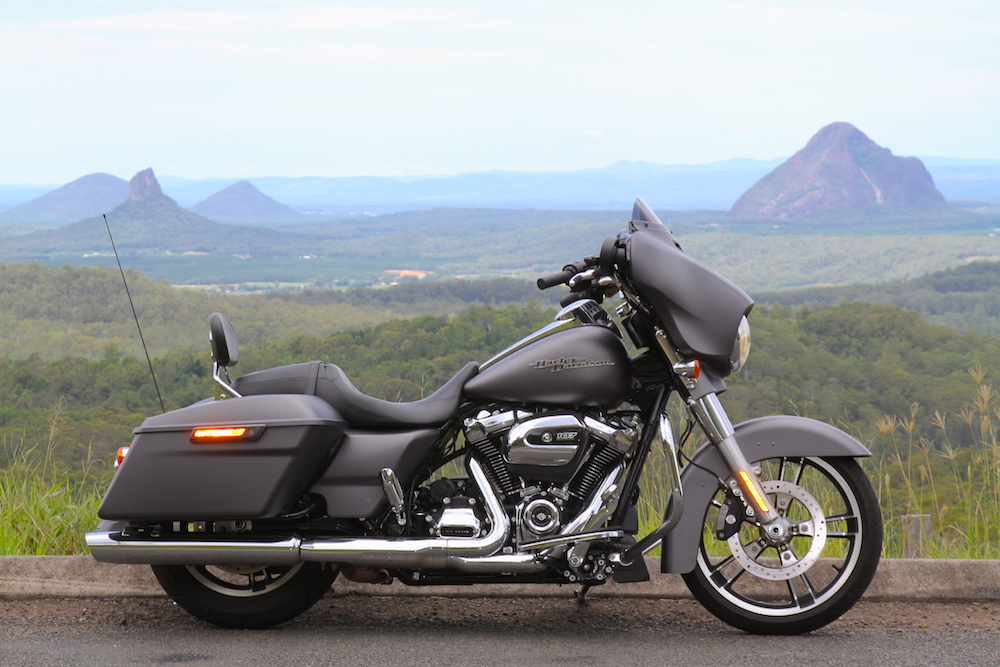 None of the roads is straight, except for the highways that slice through the region. Stay off them and you will be counter-steering all day long.
A tour through this region should include the following must-do roads not already mentioned in our travelogue: Palmwoods Mapleton Rd, Bald Knob Rd, Obi Obi Rd, Postmans Track, Reesville Rd, Mountain View Rd, Eastern Mary River Rd, Dulong Rd, Hunchy-Razorback Rd, Tunnel Ridge Rd, Kiel Mountain Rd, Paynters Creek Rd, Kenilworth Skyring Rd and Kenilworth Brooloo Rd.