Maybe your kids will grow up to be riders just like you if you have these Harley-Davidson posters hanging in their bedroom.
In its latest innovative online marketing campaign, titled "Road of Imagination", Harley-Davidson Australia is offering a chance to win these canvases autographed by the Aussie artists.
The fantasy land campaign is being run on Instagram and Facebook that shows three illustrations featuring the learner-approved Street 500.
It was developed by Harley's new PR company, 303 Mullen Lowe, who have been HD Australia's creative and media agency for 10 years and have been managing their social media strategy for the past 18 months.
HD PR manager David Turney says the campaign aims to target young adults and strong followers of Instagram. 
"The insight into creating the artwork was that food, travel and surfing are the top three lifestyle followings on the channel," he says.
"It ties in between HD's purpose to fulfil dreams of personal freedom and the imaginative lengths that content generators of the three themes go to, to differentiate and build their following."
The first illustration features Neptune's Paradise and says "When the asphalt meets the sand, you're in Neptune's land".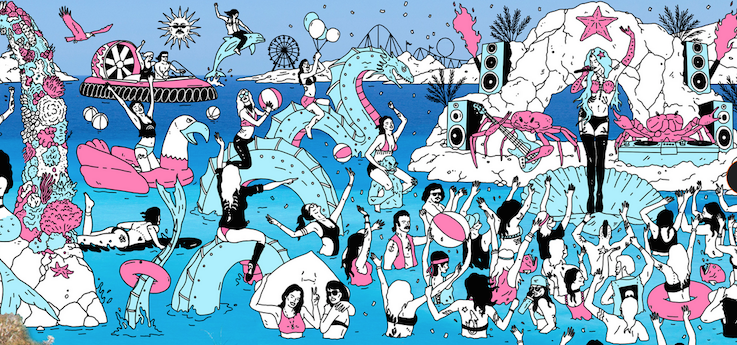 In a new twist on the roadhouse burger bar, the next illustration features burgers growing from trees and says "This pit stop, make sure you eat the burgers before they eat you".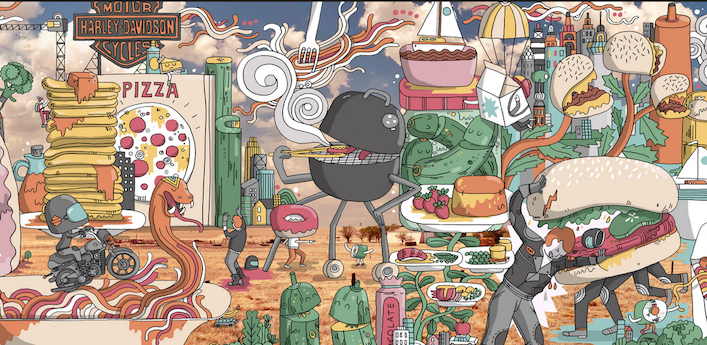 The final illustration is a scary camping site with a wolf and says "This detour on the highway of life could get hairy". Hopefully that one doesn't cause nightmares!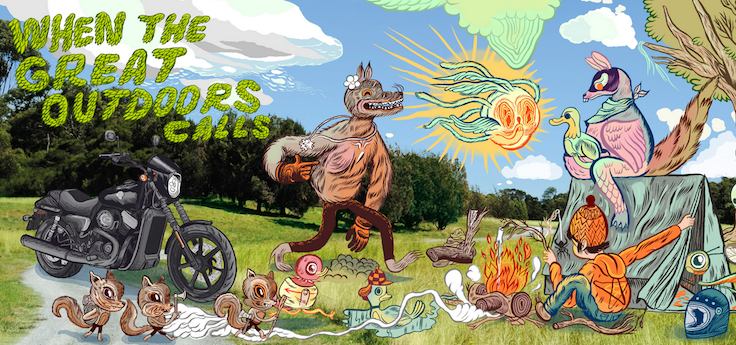 303 Mullen Lowe executive creative director Richard Morgan says they based the illustrations on what young people share on social media.
"We analysed the things young people are already following on Instagram like food, surfing and travel, and used this as leverage to connect with new audiences," Richard says.
"It was great tapping into these insights to grow Harley's following even more."
To win one of the three illustrations on canvas, entrants need to fill out a form and, in 140 characters, describe their own image of where the road would take them.
Harley has long been targeting families with their child-friendly museum in Milwaukee and family oriented HOG rallies.
You can't blame the American motorcycle manufacturer for trying to instil some brand loyalty from an early age.
And don't kids love a big, shiny motorcycle? Who hasn't had children ask to sit on their bike?
If more children were introduced to motorcycles – or at least bicycles – at an early age, they would have a better appreciation of vulnerability, road craft and road safety.