More than 100 women riders are commemorating an historic 1916 motorcycle journey across the United States by the Van Buren sisters, Adeline and Augusta.
The commemorative event started in Brooklyn on July 3, 2016, and finishes in San Francisco on July 23, following in the Indian tyre tracks of the Van Buren sisters, says event organiser Alisa Clickenger. 
"With World War I looming, the Van Buren sisters wanted to demonstrate that women had what it took to be dispatch riders in the Army, and their transcontinental journey on a pair of motorcycles made US history," Alisa says.
"This was quite an accomplishment for two courageous women at a time when few roads were paved, post-Victorian attitudes were in full flare and women did not yet have the right to vote.
"This ride is intended to honour their achievement and promote the growth of female motorcyclists within the motorcycling community."
While it was very rare for women to ride 100 years ago, the number of US female riders has doubled from 2003 to 2015 to about 14% of the riding population, according to the American Motorcycle Industry Council's Motorcycle Owner Survey. In Australia, it's about 10%.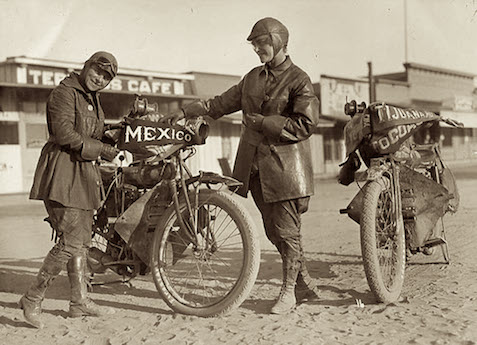 The riders include Adeline's great-granddaughter, Sofié Ruderman, and Sarah Van Buren, great-niece of Adeline and Augusta.
They are following the original 1916 route as closely as possible, although in much less time than the three months it took the sisters.
While the Van Buren sisters rode Indian motorcycles 5500 miles (8850km) across the country, the commemorative ride is sponsored by BMW.
Riders will raise awareness and funds for Final Salute which provides temporary and permanent housing for more than 500,000 homeless US female veterans and the American Women's Coalition of Motorcyclists, which supports scholarships to increase the number of female instructors and coaches for road, dirt and track motorcycle rider training.