Review Summary
The AMP Go is a basic offering from UClear meant to be a low-cost entry point for simple rider/passenger or rider/rider use, but it is still a UClear. Meaning users get outstanding audio performance, no microphone muss or fuss, and lots of configuration versatility to boot, all for a great price.
Overall Audio Performance
Pros
Lightweight, sleek, easy to mount module
Small form factor mounting pieces
Audio pickups integrated into speakers
Boomless microphone installation
Easy to use,
Outstanding audio
Pulse Pro speaker option for even better audio
Over the Air firmware updating
PRICE
Cons
Mounting pieces need updating
No FM radio
No external harness for charging on the go (yet)
UClear AMP Go Image Gallery
Introduction
As identified in the UClear Motion Series – Motion 6 and Motion Infinity postings, just about everything UClear has marketed or provided for some form of testing has been reviewed by wBW and that includes a broad-range review of the UClear AMP Intercom models in January 2017.
And until the release of the Motion Series systems, the Motion Series 6 and Motion Series Infinity, both reviewed by wBW, there hasn't been a lot of change to the UClear lineup for some time, fewer firmware updates with performance tweaks and subtle feature enhancements.
In starting the Motion Series reviews this spring, I had asked if one of the AMP series systems could be provided allowing the pursuit of two objectives:
Having a current base product for companion testing with the Motion Series devices
Facilitate what I hoped would be a comparison between the current and (at the time) a pending AMP series update.
But while the AMP Go was received courtesy of the UClear rep and immediately put to work alongside the Motion Series systems, it seemed the outlook wasn't likely to see new or updated AMP series systems near term – ah well.
While the first objective is achieved, the second won't be, at least not right now. But if we couldn't do a comparison between two generations of AMP series devices, we could do a refresh on a current one, as is also being done for the Sena 30K system.
And as most of the older original HBC100 and HBC200 series systems that had been languishing to varying degrees were charged up, updated as applicable, and already invited to the Motion Series test party, the timing was right.
For readers of the original UClear AMP series review and related UClear reviews, some of the following will be familiar, although perhaps with a different spin and different perspective on what is the budget-priced but certainly not budget-performing UClear AMP Go.
AMP Go Overview
The smooth rounded styling of the classic UClear module is both distinctive and discrete. It can virtually disappear on a helmet, thanks to the small mounting options.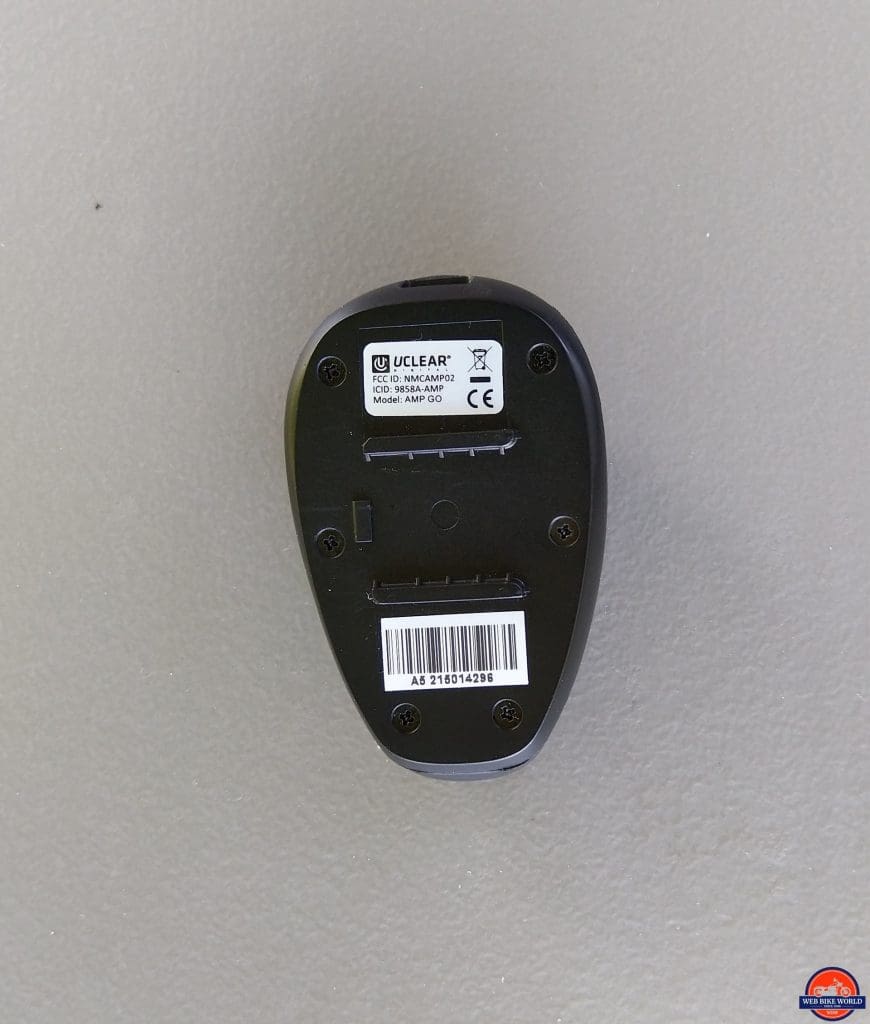 And of course, the AMP Go series systems utilize the classic housing that features three large buttons on the front face and a single mini-USB port on the lower right end.
The three controls – the Power button that dominates the left face side, and the Volume Up and Down buttons split horizontally on the right. As is usual of course, all three buttons have multiple functions, although it's all quite basic and easy to remember with use.
Functioning as both the headset connector and data/charging interface port, the mini-USB port is the only external interface break in the sleek outer form of the AMP Go. With the headset lead fully and tightly inserted, it is extremely resistant to the elements.
AMP Go Specifications
Bluetooth: v4.2 (BR/EDR/BLW), Class 1
Profiles: Headset Profile (HSP), Hands-Free Profile (HFP), Advanced Audio Distribution Profile (A2DP), Audio-Video Remote Control Profile (AVRCP), & Intercom
Group Intercom: Up to four (4) users
Range: Up to 300m per user
Battery: 3.7V Lithium-ion
Talk Time: UP to 12 hours
Stand by Time: UP to 400 hours
Operating Temperature: -30C to 60C (-22F to 140F)
Required Charging Temperature: 0C to 45C (32F to 113F)
Controller Size: 73.6 x 44.5 x 25.4mm (2.9 x 1.75 x 1in)
ClearLink App: Android 4.4 or later, Apple iOS 8 or later
Limited Warranty: One (1) year on Controller Unit, Six (6) months on Accessories
AMP Go Features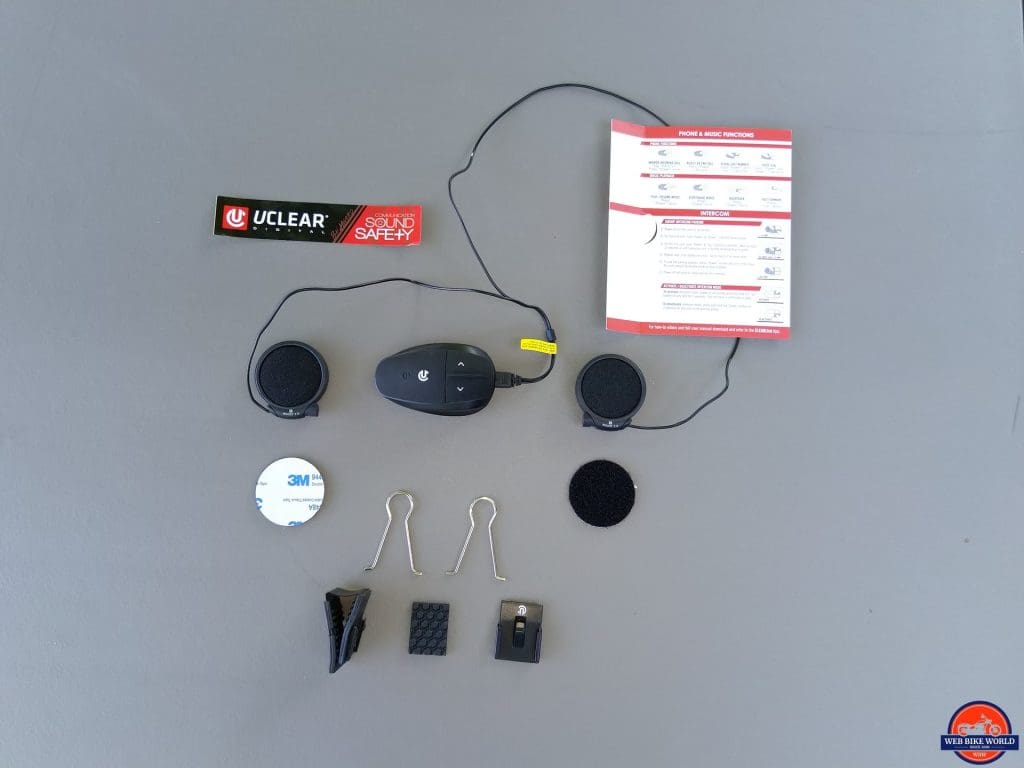 (From Manufacturer's Feature Listing)
Small Group Intercom – full duplex private intercom for four (4) users with up to 300m range between each user
Bluetooth Intercom with Multi-Hope Technology – as more riders are connected, the intercom range is extended with each user
ClearLink App – free mobile app that allows users to wirelessly customize and update AMP Go settings anywhere, anytime using a Bluetooth phone (smart device) connection
AMP Processor with Reliable Bluetooth 4.2 – 10X more data at up to 2.5X faster speeds than previous versions
Multi-Point Bluetooth Device Connectivity – units connect to multiple Bluetooth enabled devices simultaneously, such as smartphones, music players, or GPS
Boost 2.0 Speaker/Microphone Array – AMP Go includes hi-definition speakers featuring built-in microphones
Patented Boom-Free Dual Microphone – exclusive concealed dual-microphone array delivers exceptional voice clarity
Hands-Free Voice-Activated Call Pick-Up – utilize hands-free smartphone operation to answer calls with simple voice commands
ABF Technology – our patented Advanced BeamForming technology allows the discreet dual-microphone to capture and extract specific sounds, virtually eliminating all background noise
Industry's Most Portable System – units transfer easily between helmets or headsets so you can use your UClear for every activity (wide ranges of accessories available)
Advanced Communication Features – music over intercom overlay, call conferencing, voice activated call pick-up, control of Apple Siri or Google Voice
Weather Proof – ride with confidence in all weather conditions, wet or dry, warm, or cold
Upgradeable System (Investment Protection) – enjoy simples wireless firmware upgrades as new software becomes available
Helmet Fitment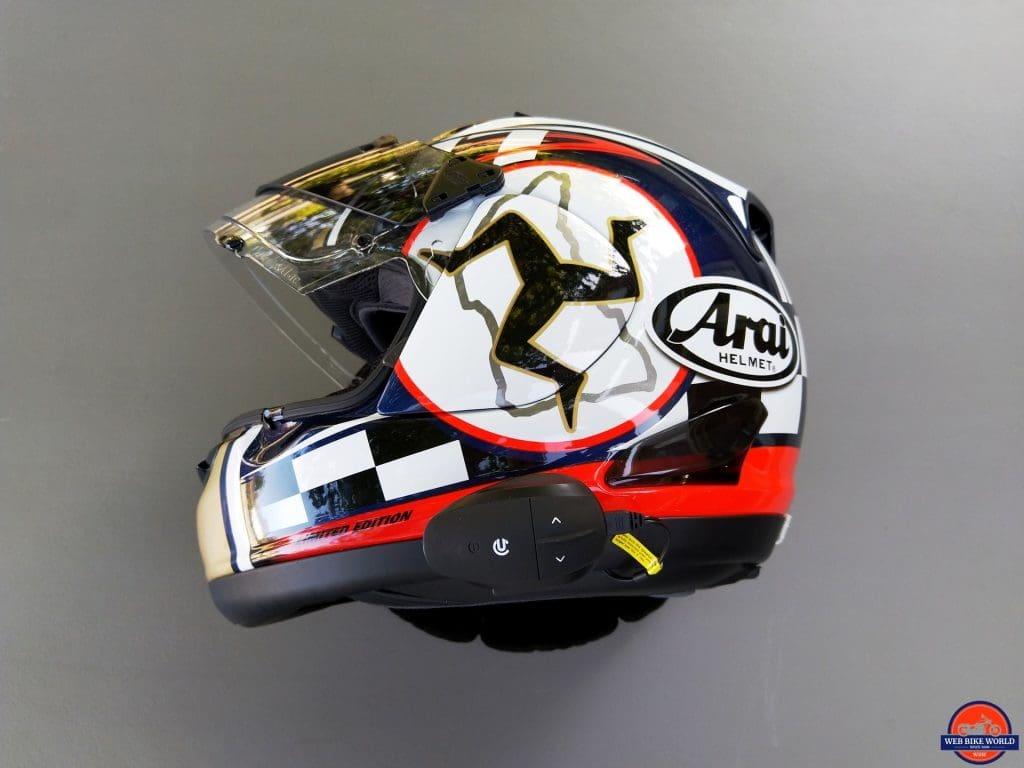 Mounts
Mounting pieces include the small low-profile classic permanent mounting clip with an adhesive backing that fits the module very close to the helmet (seen below on the SCHUBERTH C3).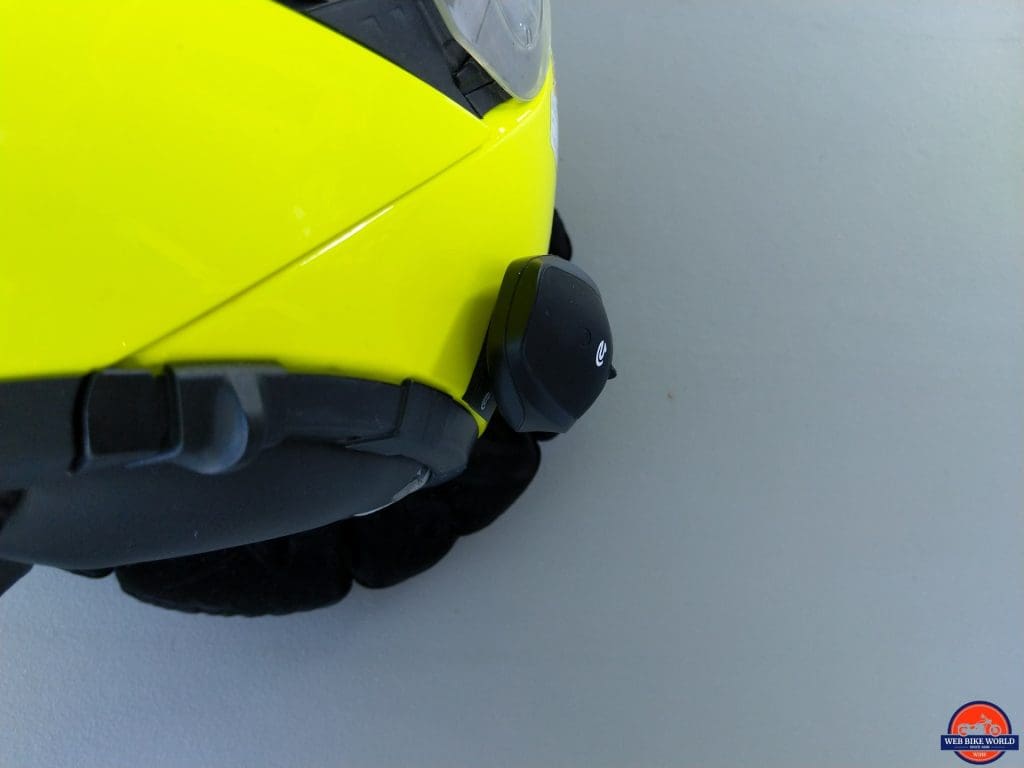 The other is an easy-to-use and remove clip mount. The clip mount appears a bit small to be effective, but between its spring steel clamp pressure, non-skid pads, and overall lightweight of the module, it works.
Speakers & Mic
In having gotten used to the Pulse Pro approach that has the small audio pickups (microphones) on short stalks, some readapting to the Boost Pro 2.0 speakers with the AMP Go featuring the traditional integrated pick-ups positioned on the outer edge of each speaker was needed.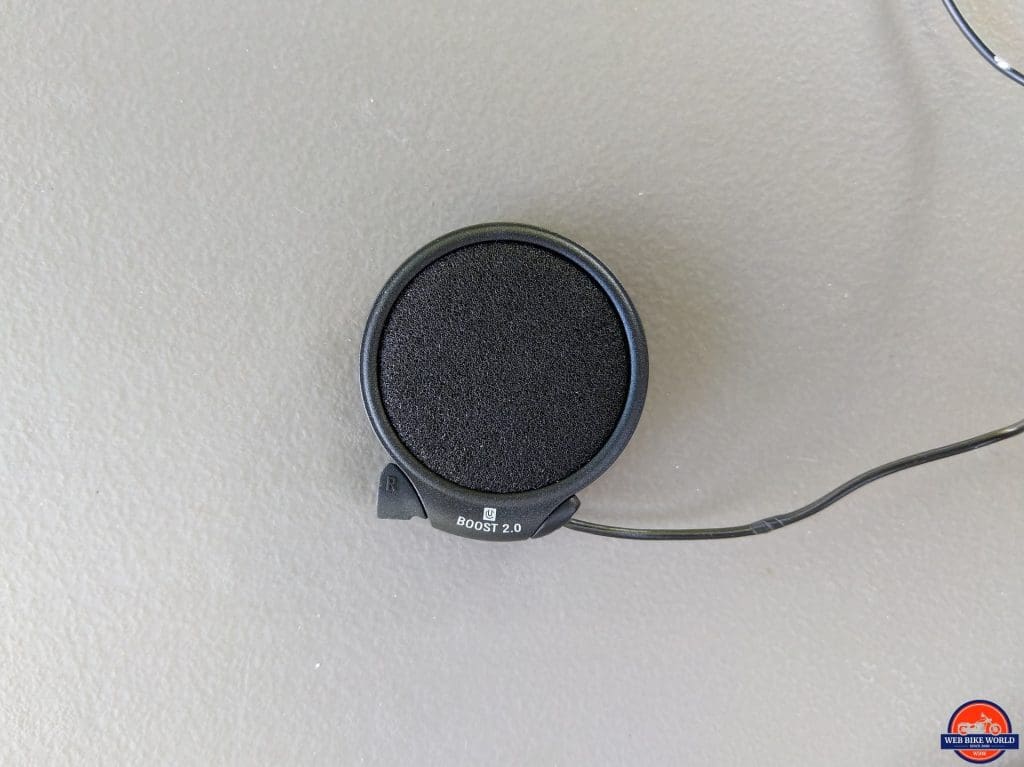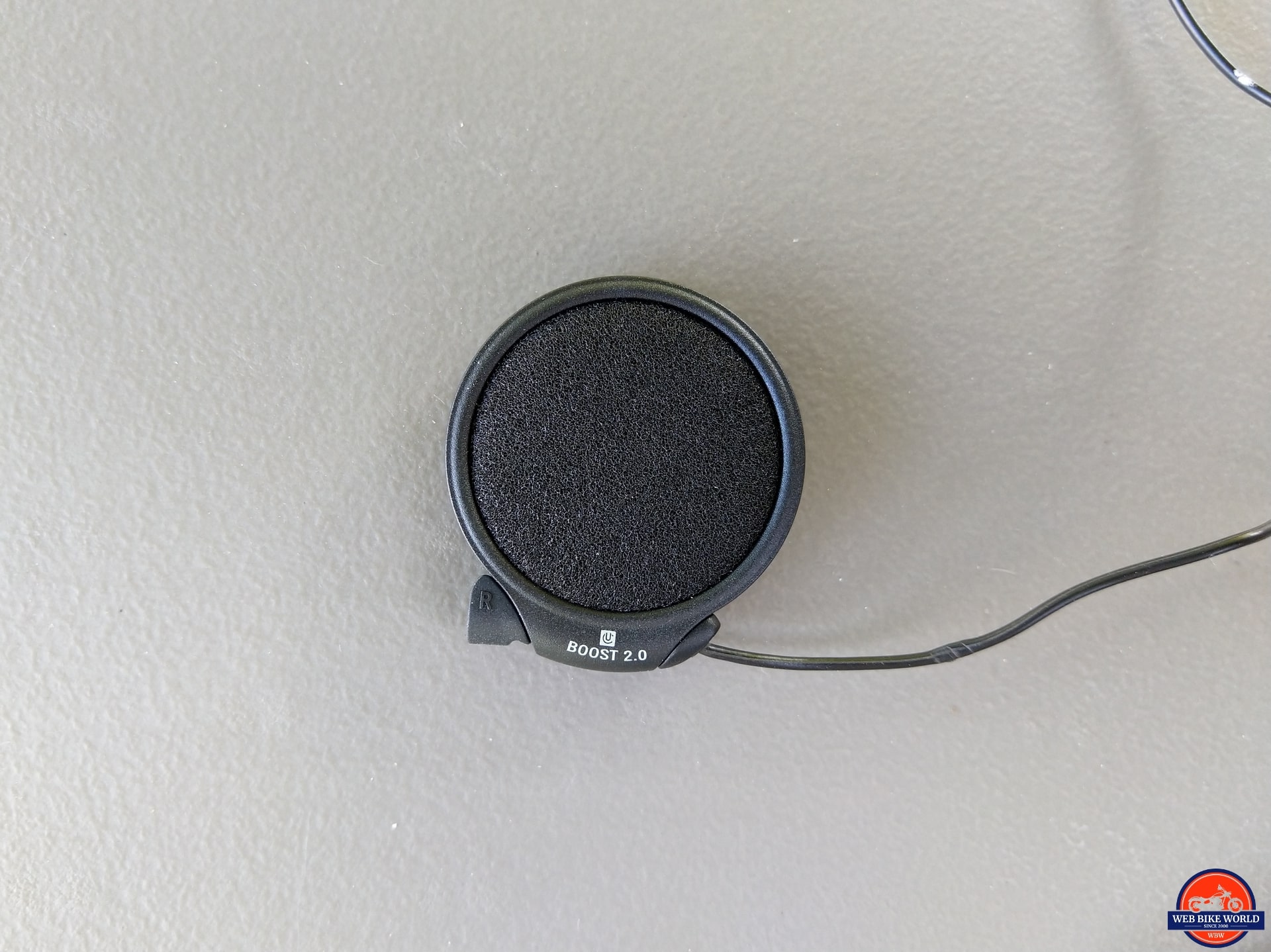 The speakers are 42mm (1.65in) in diameter and 11mm (0.43in) deep. The small microphone bulge adds a 5mm bump. But none of the helmets proved to be difficult hosts for the headset.
I did trim out about 2mm of material from one helmet lining at the point where the microphones sat, so the speakers would sit evenly over and could be pushed in slightly to the recesses. But this was it regarding modifications between four different helmets – two full face, one three-quarter, and one modular.
I purposefully varied microphone placement in the helmets, using the standard forward-facing orientation along with having the microphone bumps oriented at the top and at the bottom and orientations in between… none of the placements seemed to have any detrimental impact on intercom performance.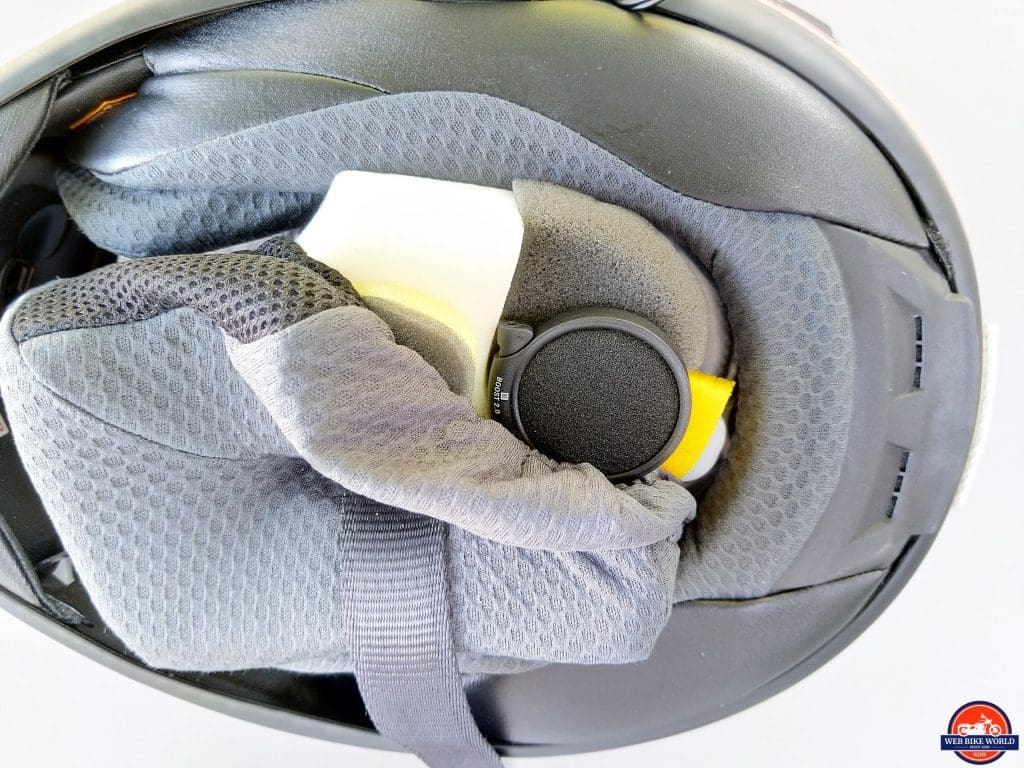 Ease of Use
With the device fully charged up (Red LED for charging, Blue LED for charged) using the supplied supplied USB data/charging cable, it is time to put the AMP Go to work – initially as a test companion to the Motion Series devices.
One point to note here regards connectivity of the mini-USB headset to the Bluetooth module. It is very important that the headset connector is firmly inserted into the port until the three ribs on the connector are hidden – this creates the weather proof connection.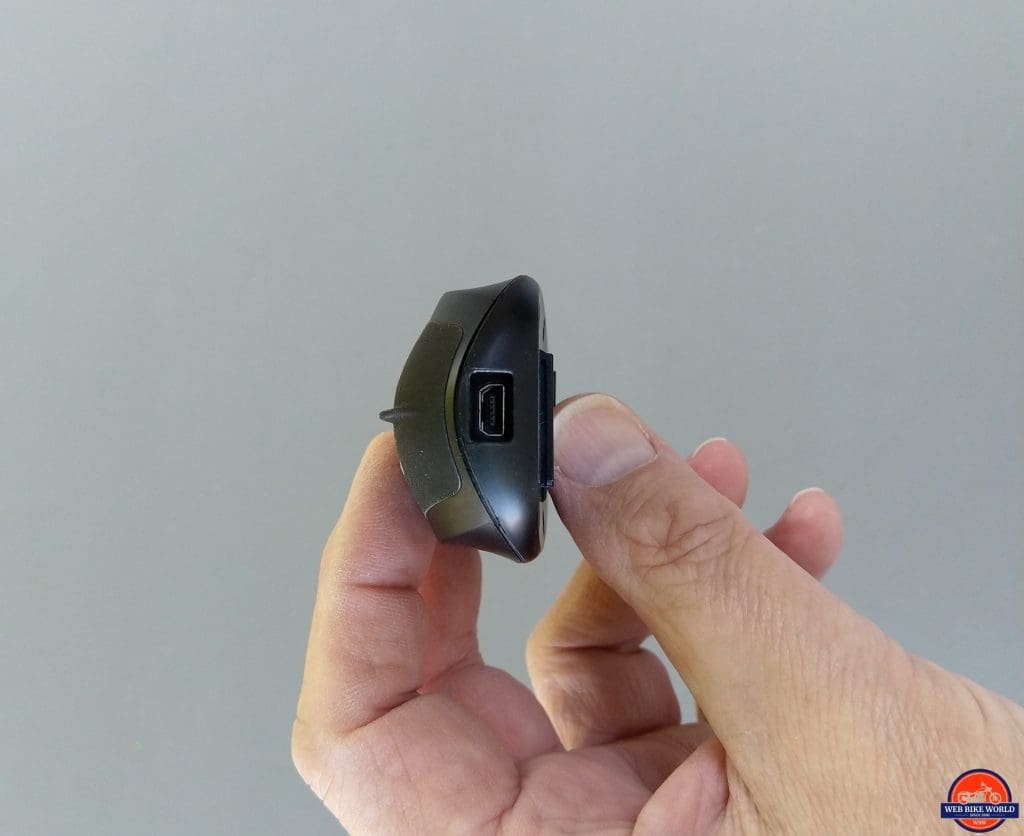 Large Buttons – Vague Feeling
Previous UClear reviews of HBC and AMP series products have all identified one issue with the three buttons – they were tactile friendly but felt soft (squishy) – precise activation of the desired function could be hard to accomplish. Although with use, results are better.
Zooming forward in time finds this observation is still valid, although to be honest, the AMP Go buttons are firmer with less of that squishy hunting feel. But the controls on the new Motion Series devices exhibit the same very soft feel with action that isn't as positive as it should be.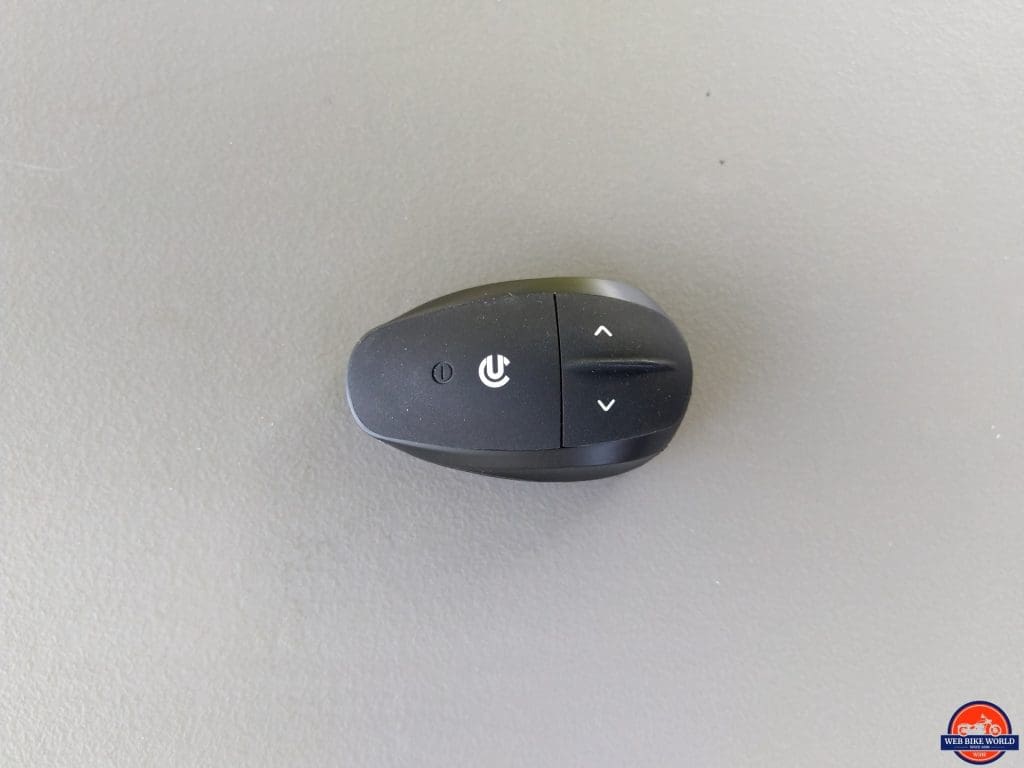 Basic Control Use
Once past the soft and somewhat vague feeling buttons, getting things done with the AMP Go system is quick, involving use of the three input controls in some sequence.
Power Up/Down – Press the UClear logo Power button for about three (3) seconds – a tone is heard and the LED flashes rapid Blue for a few seconds during boot-up then settles into a once per second cycle. Press the control again for four (4) to five (5) seconds to get another tone and three Red LED flashes as the system powers down.
Volume Up/Down – With the system on, quick taps of the Up or Down buttons increases or decreases headset volume.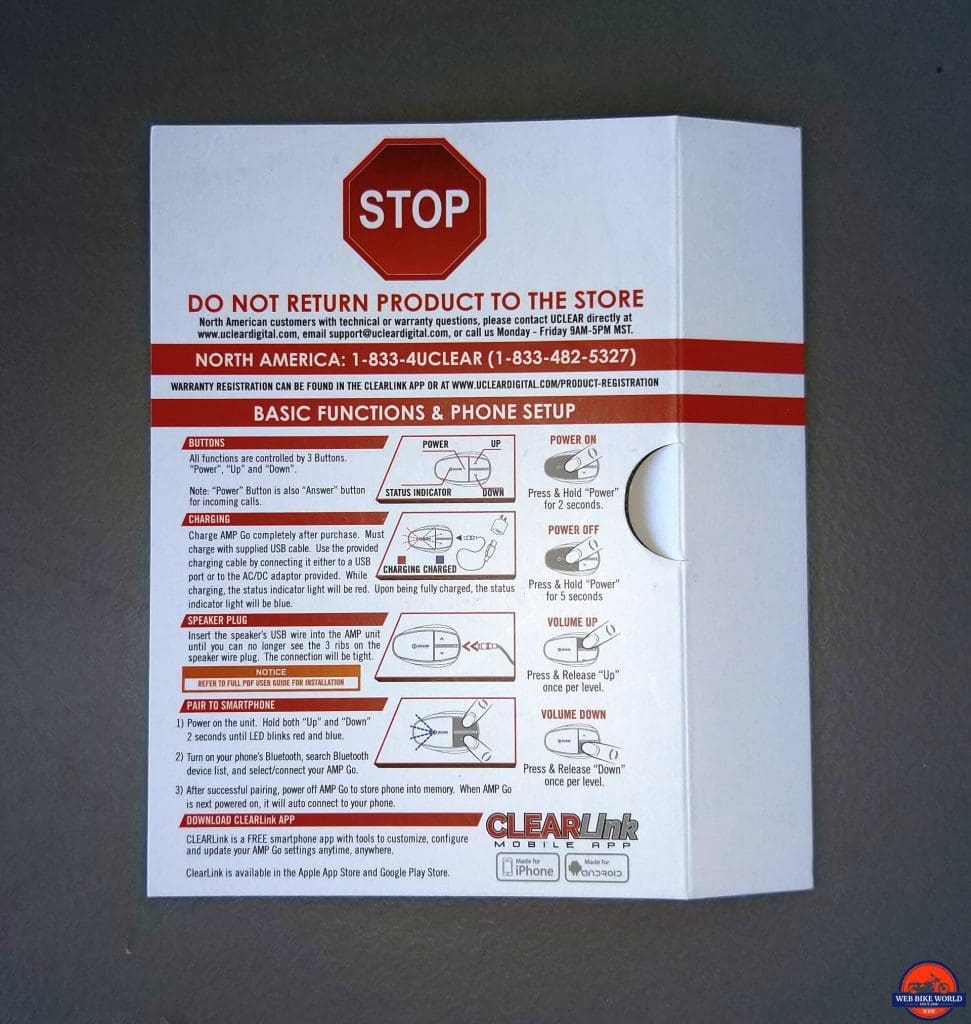 Bluetooth Device Pairing
The ideal sequence has the UClear turned on, then put into pairing mode by pressing the 'Up' and 'Down' buttons together for two (2) seconds until the LED flashes Blue/Red.
Make sure the device to be paired is on and its Bluetooth activated and 'visible' or 'search' (add new device) mode as applicable.
Within a second or so (depending on the device), the UClear ID should appear on the list of available devices – click on the appropriate UClear device to complete the pairing so the devices connect for audio and music streaming as activated.
UPAIR – Pairing & Connectivity
Pairing compatible devices to the UClear AMP Go is a simple and quick effort, with the Volume Up and Down buttons used for general Bluetooth device pairing.
Like other Bluetooth helmet systems, the UClear AMP Go can be paired to multiple devices. Once the UClear has been rebooted, the discrete pairings are (unless specifically deleted on the paired device or by a reset of the UClear module itself) remembered and recognized for future use. It serves to simplify establishment of a desired configuration.
Firmware Update Changes
With the original AMP firmware, only one audio source or stream could be heard at one time, with lower priority audio connections 'paused' or switched in/out. There was no multi-tasking or audio-overlay capability
But with the 2.4 and 2.41 firmware updates for the AMP series devices, music/intercom audio overlay along with some other audio handling enhancements now provide the means for users to listen to music (A2DP stream) while using the intercom.
As well, during an active intercom session, navigation instructions from a paired standalone GPS device (but not a smart device app) or phone call audio is routable to the active intercom channel – more on this in the Music/Intercom Audio Overlay Section.
Intercom Performance
The UClear AMP Go supports a standard two-unit (Rider/Passenger, Rider/Rider, etc.) configuration or a three or four user small group intercom for added versatility.
Both the UClear AMP Series Quick Start Guide and the more detailed AMP Series User Guide do a very good job of describing and visually walking through the needed steps.
With multi-party groups configured, the Multi-Hop capability comes into full play, enabling increased end to end ranges beyond the typical point to point range of 300M (plus).
Two-Unit Intercom
For a basic two-system intercom configuration, once the two devices are paired, pressing the 'Up' button for two (2) to three (3) seconds initiates an intercom session and holding the 'Down' button for two (2) to three (3) seconds ends the session.
An initiated session is announced with an audio beep and (typically) a few milliseconds of static/noise, followed by an absence of any noise and just pure voice communications with the other party/parties.
These (very) brief periods of any noise or static are evidence of how fast and how efficient the whole UClear digital-signal-processing (DSP) process works.
Test it for Yourself – One of the best ways to test and assess the efficiency and effectiveness of this system is to stand beside (at a safe distance) to a multi-lane highway, train track or a similar ongoing high-noise event and… initiate an intercom session.
The user on the other end of the link may never even discern any of the noise from your end, testament to how fast the ambient noise sampling and subsequent adjustment is done.
Group Intercom
For the AMP series devices, a multi-party group intercom is buildable and for the AMP Go this means a maximum of four users. Whether creating a two, three, or four, unit intercom group, the sequential building block process remains the same.
Once built and the system rebooted to save the parameters in to memory, recreating the group environment is as simple as having all (available) paired systems turned on and with one of the users pushing the 'Up' button for the prescribed two (2) to three (3) seconds to activate things.
The systems will broadcast/search for a few seconds as the units are found and added to the collective. Once done, the intercom is active for the users.
If someone is late to the party or wanders out/in of Multi-Hop territory, they can manually join the group by pressing the 'Up' button for about five (5) seconds or until a beep is heard and they should then be part of the collective again.
As with other intercom sessions, deactivating the group intercom is done by pressing the 'Down' button for two to three seconds until the tone is heard.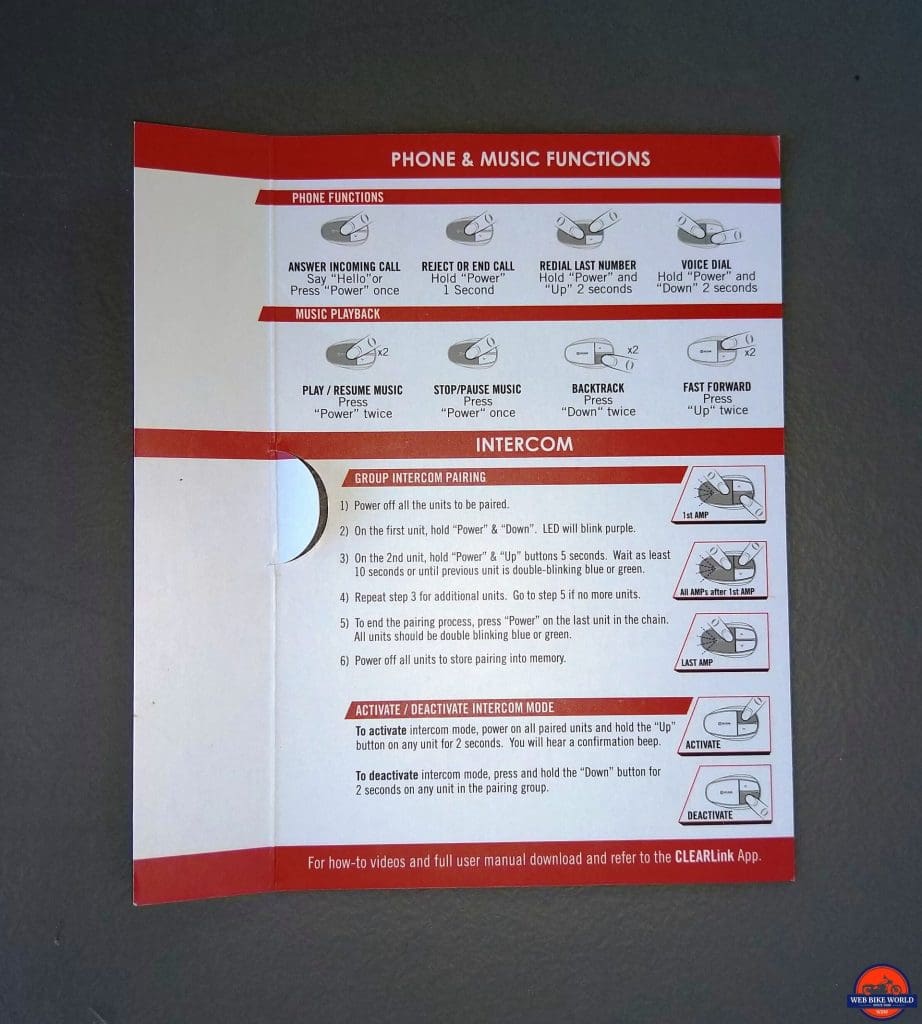 Private Intercom
When communicating in a group intercom environment, a two party 'Private' intercom session is possible. From Group Intercom mode, press 'Power' and 'Up' on the two units until their LEDs blink Purple. From this state, press 'Power' on the second unit to end this private intercom pairing sequence – it only needs to be done once.
To go to a private intercom session from the group, press 'Power' once on each of the two units. A double beep is heard, and the two-party session should be active.
Rejoining the group intercom session is easy, just press 'Power' once on each unit again, wait for the double beep, and the group should be heard again.
Cross-Brand Intercom
Cross-Brand or universal intercom mode is supported by most UClear units depending on the firmware release. Start by putting the target brand/model device in its main device (phone) pairing mode.
Now press and hold the AMP series 'Power' button for about ten (10) seconds until its LED blinks Purple – when it goes Blue, pairing should be complete. Reboot the AMP system to store this pairing into its memory.
Multi-Hop Notes
This feature or capability has been a trademark of UClear for some time now, even before others were offering multi-user point-to-point configurations. But it isn't always a known feature to UClear users – kind of unfortunate as it works and works well.
Basically, each compatible and active system becomes a 'repeater' in the classic sense regarding radio frequency communications. Most other brands offer similar capabilities for their multi-point group-based capabilities.
The largest intercom or Multi-Hop group successfully set up and used is six, actually eight when the two Motion Series systems are added. This is with most of the participating systems being aging HBC200 and 220 systems from previous evaluations and two HBC200 systems in use by other riders.
Once the 'group' is paired, connected, and a session activated, it all comes together quite nicely – although individual system limitations impact overall performance. Its not mesh-based communications, but for what one might call 'old form', Multi-Hop can be effective.
Phone Connectivity
Although involved in the technologies, I've never been a heavy consumer of mobile phone services. For the most part, it was and remains a requirement based on being connected for safety and response reasons.
As such, I admittedly don't go out on two wheels (powered or otherwise) unless some form of connectivity is provided or can be accessed in some way. It's truly a part of my personal safety envelope.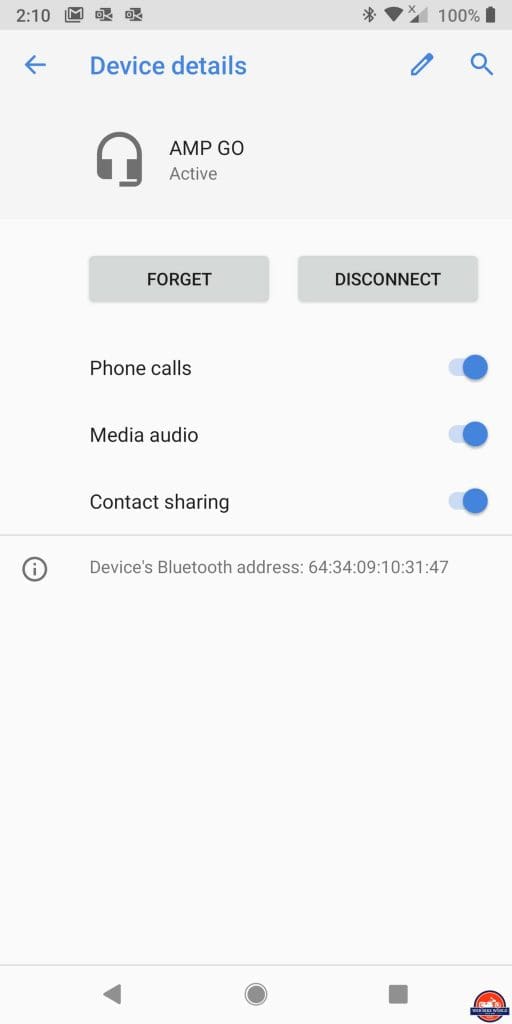 One of the biggest reasons I am a believer in this aspect of communications comes courtesy of the original UClear Bluetooth systems and, of course, reinforced even further now that the USAFE feature is available on the Motion Infinity system.
Even in those early days, when all Bluetooth systems were truly 'limited' shall we say, the UClear phone features provided unequaled ease of use, reliability and clarity. The same words regarding the phone feature of the AMP and Motion Series systems are as applicable now as then.
With an incoming call, a unique ringtone is heard and after the first or second ring, saying 'Hello' loudly once has other lower priority audio stopped and the call activated. Manual answering is done by pressing the Power button once. Rejecting or ending a call is done by a two (2) second press of the Power button.
To redial the last number (incoming or outgoing), press the Power and Up buttons for two (2) seconds or alternatively, press the Power and Down buttons for two (2) seconds to activate Siri/Google voice commands for further contact access and phone use.
Once done with the phone stuff, any previous audio or audio-overlay stream resumes.
One of the best take-aways from the Phone feature? The fact that most callers, unless told, never know that you are out playing hooky or otherwise 'busy' but on two wheels.
Music Streaming & Audio Overlay
Since their first BT helmet system, one of UClear's primary objectives or perhaps their sole objective, has been to provide the absolute best helmet audio environment possible regarding voice clarity and sound reproduction.
And, it is hard to find a dissenting voice regarding accomplishment of this objective.
Streaming & Control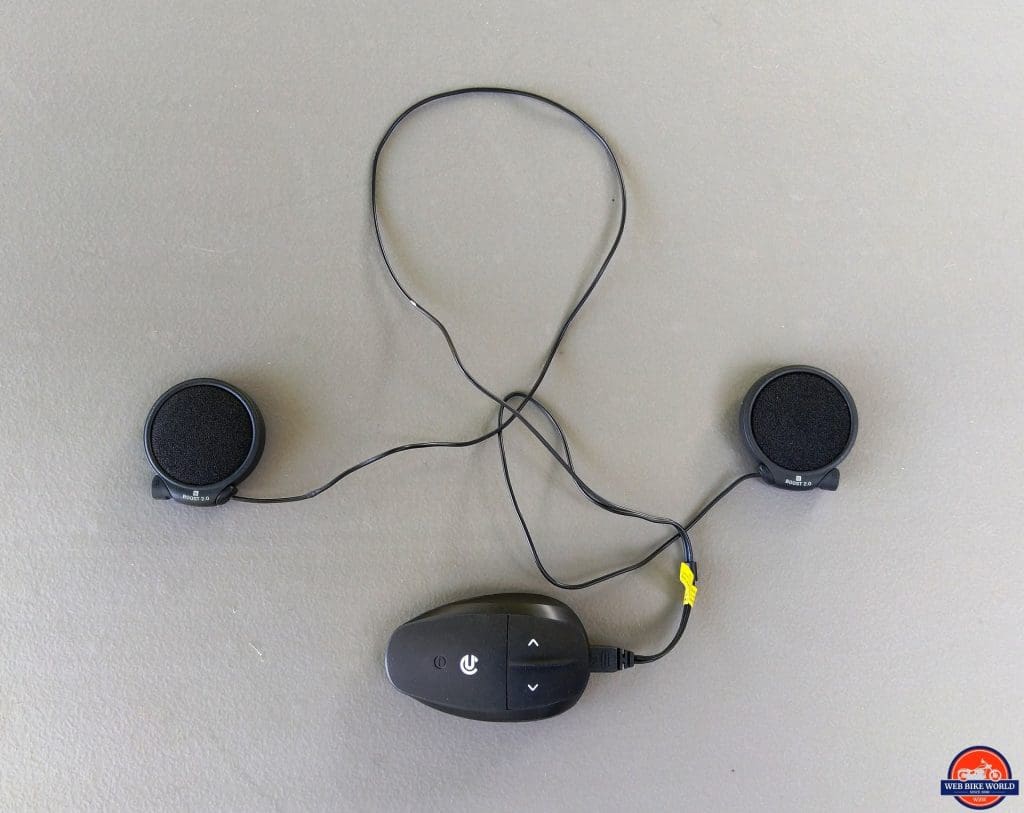 In addition to the usual superb audio (appreciating Bluetooth streaming standards), the AMP Go provides the expected AVRCP controls: Play Music = press the 'Power' button twice; Stop/Pause Music = press the 'Power' button once; Backtrack = press the 'Down' button twice; and, Skip Track = press the 'Up' button twice.
This feature works quite well, although if other switching or tasks are ongoing, AVRCP control can be a little slow or hesitant and on occasion, it has just quit working until the system was reset.
Music/Intercom Audio Overlay Enhancements
So now we come to what is, or seems to be, one of the biggest issues voiced regarding UClear systems, including the newest Motion Series systems…
No, the UClear systems do not, even the Motion Series, support multiple active audio connections in the same manner that the mid to upper tier products like the Sena 20S and 30K and the Cardo scalarider Packtalk series do.
Yes, the UClear systems do, with the latest firmware loaded, provide music/intercom audio overlay along with other audio management options that many users are not likely aware of. Unfortunate, as many of the enhancements address the most common audio issues expressed.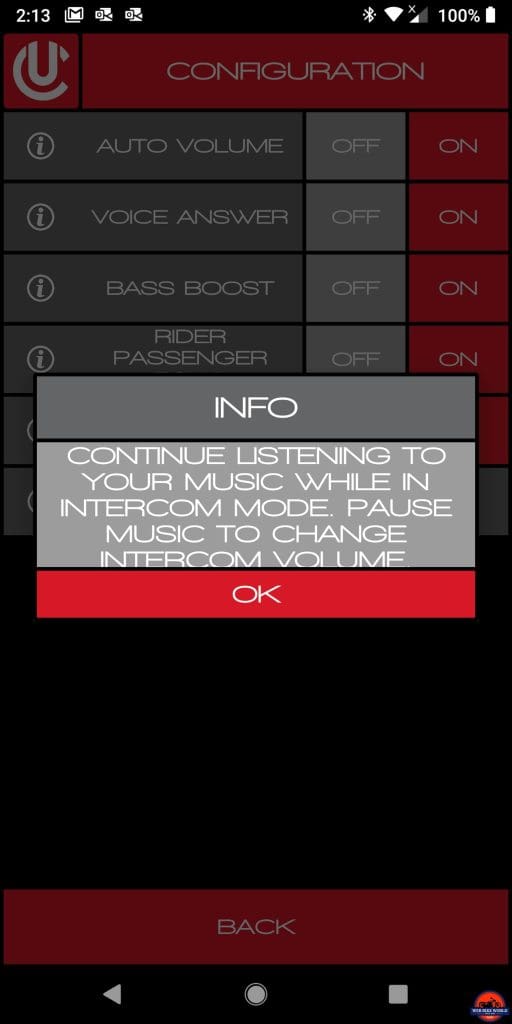 With the release of RC2.4 firmware, a basic music/intercom audio-overlay capability was added as well as other audio handling enhancements. And the subsequent RC2.41 firmware provided additional refinements as well. Some of the firmware updates are identified below.
Audio Related Firmware Highlights
Allow user to enable/disable music-intercom overlay feature through the CLEARLink app

If enabled – both music and intercom are heard at the same time
If disabled – intercom has higher priority over the music, so music is not playable

Music/Intercom Overlay Volume Control

When both music and intercom are active, the Volume control only works on the music
To change Intercom volume, stop the music first, adjust the Intercom volume and restart the music stream

New MMI: Routing GPS/Phone Audio to Intercom (an audio sharing workaround)

Press 'Power' button three times to toggle the routing of active GPS or Phone audio to the Intercom channel
A 'double beep' indicates that the active GPS audio is routed or,
A 'double beep' indicates that the active Phone audio is routed
Press 'Power' button three times again to stop the routing to the intercom of the GPS or Phone audio; indicated by a single 'long beep'
Note – the GPS routing only works for standalone or modular devices – Garmin, TomTom, etc., it does not work for mobile or smart device-based apps

((Comment – this app-based audio is overlaid and heard as part of the (existing) A2DP music streaming connection))
In still working through some of the latest firmware tweaks and playing with companion systems, including the BMW TFT hub, not all the AMP series tweaks have been fully tested. But, in essence, the highlights identified above work in providing more audio management flexibility.
CLEARLink App & Updates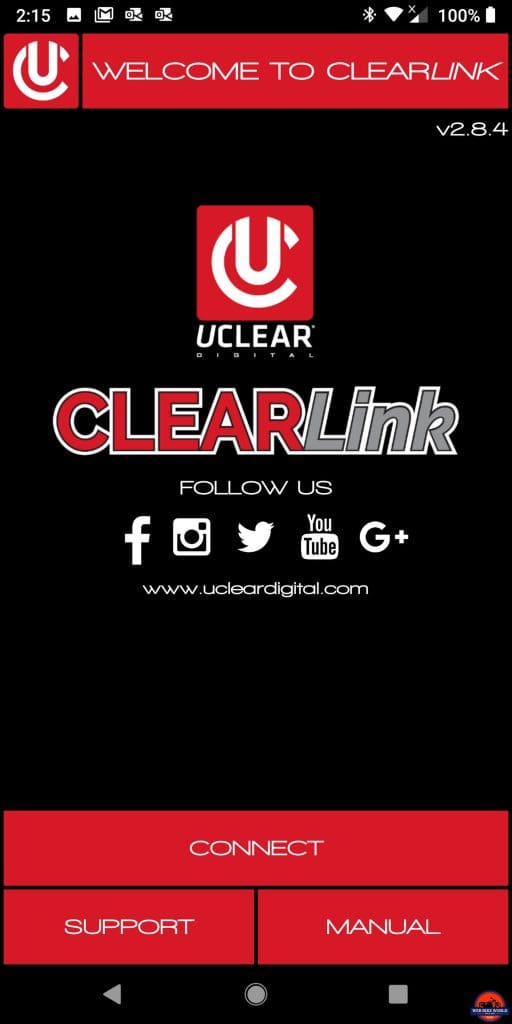 The CLEARLink app is still pretty sparse, a fact articulated in the Motion Series reviews. Although in supporting those systems the app does reveal far more content and versatility.
However 'sparse', it is still better than nothing (I say) and if it helps users fine-tune and extract a bit more from their investment, it's good. Especially as many users don't or won't spend much time perusing either the Quick Start or main AMP Series User Guide.
Both the app-based animated tutorial and the full PDF documentation are available when using the app. As note, the animated screen by screen tutorials are very useful, although as the UClear rep admitted, population of AMP-specific content is an ongoing activity.
Another benefit of installing and using the CLEARLink app is that the user has immediate access, with a data or network connection, to available Over the Air or OTA firmware updates.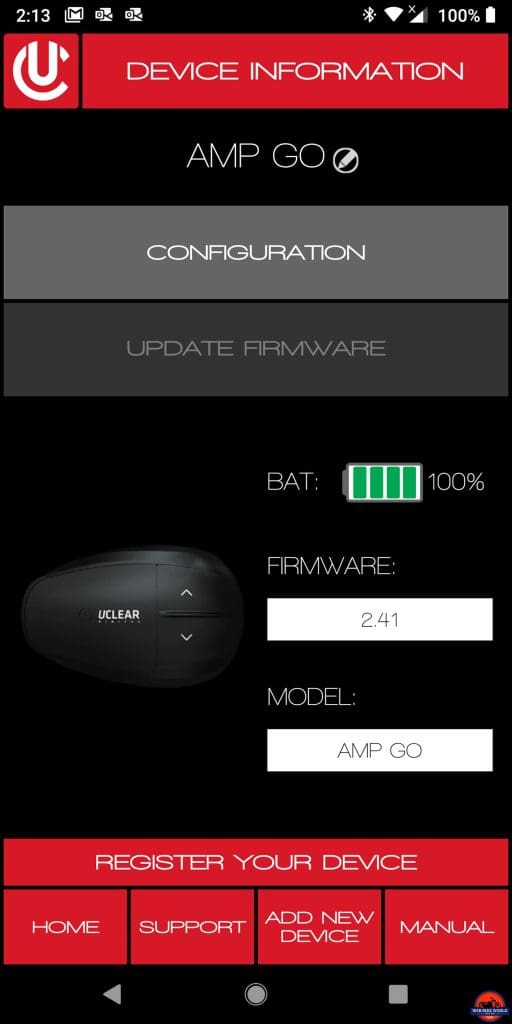 On the Road with AMP Go
The AMP Go system proved to be a real contender during the Motion Series reviews, acting as the 'stable' go-to medium during some non-destructive but frustrating initial testing of the Motion 6 and Motion Infinity.
After a couple of short rides and some adjusting of the five settings – all now 'On', the AMP Go wasn't and hasn't been touched since, other than to authorize the Over-the-Air (OTA) update jump from an early firmware release to the latest v2.41 identified above – an activity that was perfect validation for this unique feature.
As part of small group intercom configurations using a mix of HBC, AMP and Motion Series systems with DynaMesh and Multi-Hop managing things, the AMP Go just hums along, delivering what is still among the best motorcycle headset music audio ever heard and crisp clear intercom services.
Uclear keeps a very modest claim regarding AMP GO range – around 300m per user. And that range is realistic under virtually all conditions, although some range diminishment is observed in very hilly terrain or in built-up areas. On the flip side, up to 500m + has been viable.
And when three to four users are staying connected via Multi-Hop, terrain, and other impact issues are minimized in having multiple connections and (typically) shorter distances between users.
For the most part, audio switching has never been an issue with later Uclear systems used and the AMP Go doesn't burst that bubble, providing smooth switching between connected devices based on the defined priority. And resumption of previous audio happens within one or two seconds.
With music/intercom overlay activated, intercom back and forth, along with music streaming (with or without A2DP overlaid app-based navigation instructions), it just carries on – seldom does it hiccup in any way.
Battery life is good. 
Max use: With pretty much continuous intercom use, some streaming and the odd phone call, a full day plus is possible.
Minimum use: When the system is just providing dedicated intercom services, getting two and more days is within its abilities.
The only downfall here is that the (anticipated) charge on the go harness hasn't been seen yet…
Conclusion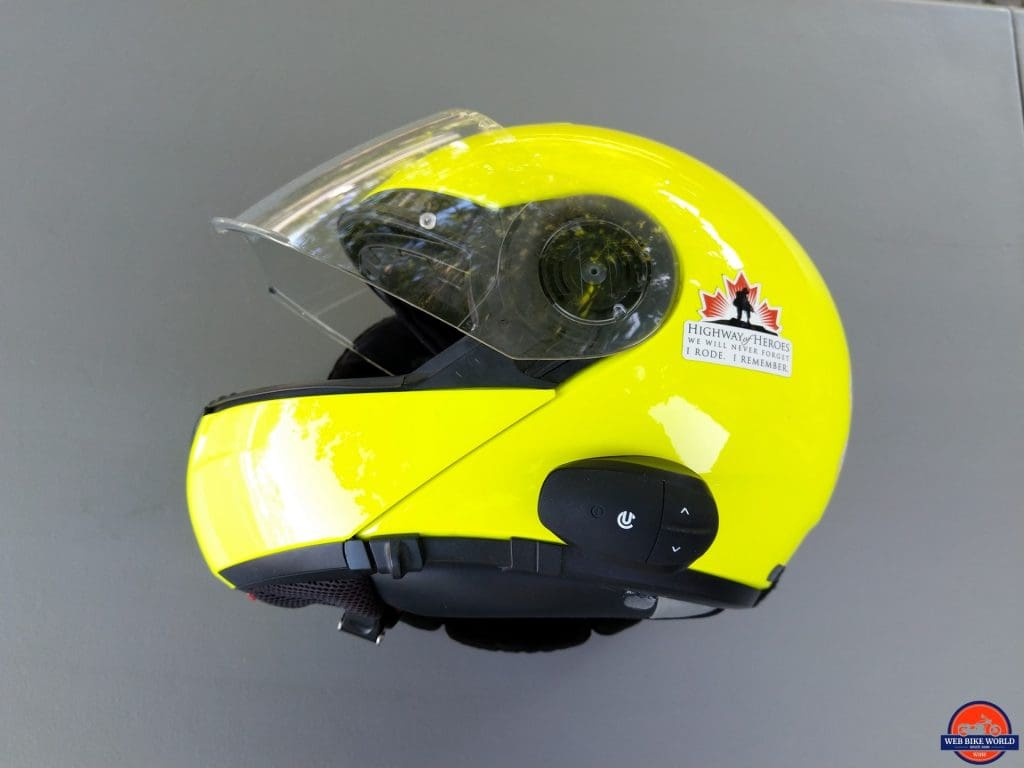 One of Uclear's primary objectives is to provide the absolute best helmet audio environment possible regarding voice clarity and sound reproduction. And, again, one doesn't hear many dissenting voices regarding the accomplishment of this objective.
And just when it seems that the competition is overtaking, Uclear comes up with an even higher performance standard, like the Pulse Pro 2.0 headset found with the Motion Series systems.
Not that the Boost 2.0 speakers set with integrated ABF audio pickups is lacking – it isn't, even when compared to most other standard system headsets on the market. The AMP Go might be the 'basic' system, but regarding audio, it certainly isn't, no matter whether its phone, intercom or stereo music.
While other brand systems support multi-channel audio through advanced multiplexing or in using discrete multi-channel audio overlay handling thanks to multi-BT chipset capabilities, Uclear stays the course. And in being very aware of the issues and nuances, this decision is something I can live with, and appreciate.
Bottom Line: If you want simplicity, if you want outstanding fitment flexibility, if you want close to the best audio performance available (that being from the Motion Series), and if you want with value with performance, then the AMP Go deserves a close look and listen.
Pros
Lightweight, sleek, easy to mount module
Small form factor mounting pieces
Audio pickups integrated into speakers
Boomless microphone installation
Easy to use,
Outstanding audio
Pulse Pro speaker option for even better audio
Over the Air firmware updating
PRICE
Cons
Mounting pieces need updating
No FM radio
No external harness for charging on the go (yet)
Specs
Manufacturer: UClear Digital
Price: $119.95 USD or about $170.00 CAD
Fitment: Universal
Warranty: One year on Controller Unit, Six months on Accessories
Original Review Date: May to July 2019