UClear HBC200 "Force" Intercom Review
The new UClear HBC200 "Force" Bluetooth intercom system uses the same "boomless" microphone design as the proven UClear HBC100 intercom (review).
The UClear intercoms are unique, because they do not have the typical boom or wired microphone found on other intercom systems.
This eliminates some of the wiring and complexity when using a boom mic to a full-face, open-face or flip-up helmet.
The microphones in all of the UClear intercoms are built into the speakers.
This may seem surprising, but the system is based on the "Adaptive Beam Forming" technology used by UClear for the military communications systems they also manufacture.
The functionality, operation and helmet installation of the HBC200 intercom system is very similar to the HBC100 and other motorcycle intercoms.
The HBC200 has improved range over the HBC100; a pair of HBC200 intercoms can communicate in full duplex at distances up to 700 meters.
The UClear "Multi-Hop Technology" is also new. It allows multiple HBC200 intercoms to communicate in full duplex at up to 2 kilometer (claimed) range, with each paired HBC200 acting as a "relay station" to the next, down the line.
This is another technology that UClear has adapted from the military, reflecting the company's background in manufacturing helmet and intercom systems for military use.
HBC100 owners will feel immediately comfortable with the new system and the HBC200 also has the same excellent quality speakers and loud volume as the original.
The HBC200 dual-pack kit costs about 10% more than buying two HBC100 intercoms, so if you're planning on connecting more than a pair, the HBC200 may be the system to own.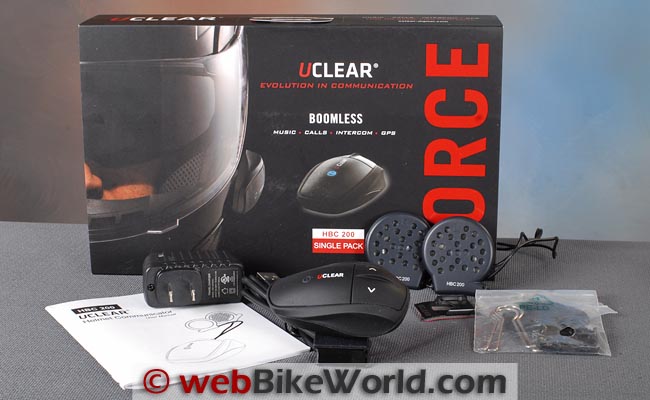 Format for This Review
I'll briefly describe the basics of the UClear HBC200 intercom system in this Part 1. The pair was then turned over to H.B.C., who performed the usual detailed evaluation and pairing tests and comparison with the HBC100 system.
See the detailed UClear HBC200 Review Part 2 for more information and final conclusions.
UCLEAR Firmware Update Provides Compatibility With Other Brands
UPDATE (April 2, 2014. Press release edited by webBikeWorld.com) UClear announced a firmware upgrade for their intercoms that allows cross-brand interoperability with different brands of Bluetooth headsets.
The firmware update is available via a free download today on the UClear website.
Additional benefits of the firmware update include Multi-Point communications that allow a user to link their UClear intercom with a second Bluetooth device for increased versatility.
For example, a user can not only add a smartphone, but also a dedicated Bluetooth GPS device.
Background
The UClear HBC200 was introduced on webBikeWorld during the 2012 Dealer Expo (report) in thisUClear HBC200 preview. It's amazing that here it is in December and we're still working through a backlog of products from the Dealer Expo, held last February!
Before you know it, the 2013 show will have arrived…
The UClear products are different than other motorcycle intercom systems, because they do not have the typical wired or boom microphone.
UClear makes communications systems for the military, and they have introduced that experience to motorcyclists with the "boomless" system, called the Adaptive Beam Forming Digital Microphone Array.
If you haven't read the webBikeWorld UClear HBC100 intercom review you may want to take a look, because it will give you some background on the unique technologies employed by UClear.
For example, as you can see in the photo below, the microphones are built into the speakers on the UClear intercom systems. That little "hook" on the end of the speaker is the mic.
The speakers are placed in the helmet with the microphones pointing forward and the technology forms a sort of "cone" or "sweet spot" in front of the rider's mouth, which picks up the sound.
Don't ask me how it works, because I couldn't tell you, but it does!
There is more of an explanation about the UClear Digital Microphone Array Technology on their website.
For the motorcyclist, this means no boom or wired mic to worry about. It is liberating, no doubt about it!
And the UClear HBC100 and HBC200 systems are tiny compared to, say, the Scala Rider G9 (review) and Sena SMH10 (review), which seem very bulky in comparison — both in the size of the intercom module itself and the mounting system (and the boom mic).
Another advantage is that the HBC100 or HBC200 intercoms work with open-face, full-face or flip-up helmets with no other additions, accessories or different installation procedures (we have not tried either intercom with an open-face helmet).
The small size and light weight of the UClear intercoms (each module weighs only 36 grams) and the absence of a boom mic are the most attractive aspects of this intercom  in my opinion.
This makes them easy to mount, easy to operate and combined with the light weight, this is all-around a stress-free system.
This design philosophy of "keep it light, keep it simple" has definite appeal…and has attracted many motorcycling fans to the UClear brand.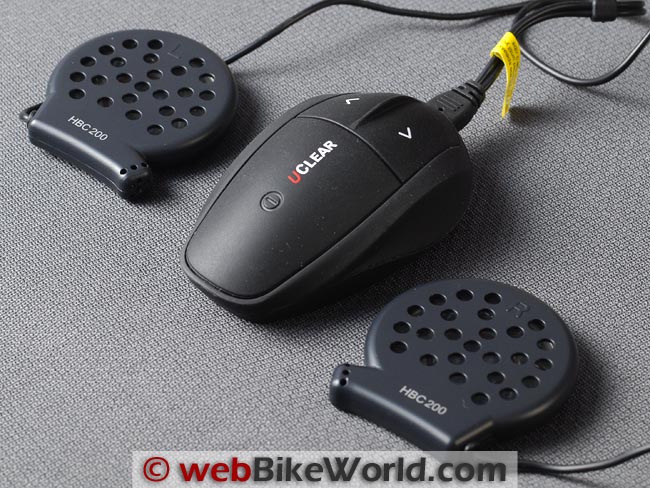 UClear HBC200 Features
Small, lightweight and easy to mount are nice features, but they don't necessarily make a useful motorcycle intercom system if the sound quality and functionality weren't also up to par.
For the UClear HBC200 (and the HBC100, for that matter), you don't have to worry.
The system works well — although it has a few quirks — and the speaker volume is exceptionally good and better (or louder, anyway) than most other motorcycle intercom systems.
The excellent volume results of the UClear speakers was confirmed in a recent webBikeWorld review for the Tork XPro speakers (review), where I used a Extech sound meter to compare the sound levels of a few of the different motorcycle intercom systems to the Tork XPro speakers.
In the table published in that article, the HBC200 speakers were louder than the Sena and Interphone F5 (review) intercom systems, topped only by the Tork speakers and the Tork Mini-Booster amplifier.
Note, however, that at 7 mm thick and 50 mm across at the widest point (diagonal across to the mic tip), these are big speakers.
The outer surfaces are hard, made with what feels like a metal or aluminum cover, and the presence of a relatively hefty magnet can be felt inside.
So the speakers may not fit in all helmet types, especially helmets with shallow or small ear pockets. You may want to try this first on your helmet or see if you can borrow a pair of HBC100 or HBC200 intercoms from a friend to make sure they'll fit.
---
Where to Buy UClear HBC200
Check Reviews & Prices on Amazon
Check Reviews & Prices On RevZilla
See More: Motorcycle Intercom, Motorcycle Accessories, Motorcycle Helmets
---
Difference Between the HBC100 and HBC200 Intercom Systems
The HBC200 system is very similar to the UClear HBC100 intercom system and the speakers appear to be identical. The HBC100 is in the hands of webBikeWorld evaluator H.B.C., who will do a direct comparison in Part 2 of this review.
Besides the additional features for the HBC200 described in this Part 1 review, both UClear intercom systems have identical buttons and they operate the same, so current UClear HBC100 owners will feel immediately comfortable with the new system.
The major difference added to the HBC200 is, in addition to the new "aerodynamic" intercom module shape compared to the square shape of the HBC100 is the "Multi-Hop Technology" capability included in the HBC200.
This is another technology borrowed from the military. Unfortunately, since we only have a pair of the HBC200 intercoms, we can't fully evaluate it.
UClear claims that a pair of HBC200 intercoms have a range of up to 700 meters (your mileage will vary, of course) and a network of "up to 10 or more" HBC200's will support full duplex communication for around 2 kilometer distance.
Each HBC200 acts as a sort of "force multiplier" for the others, relaying the communication signal down the line.
So it appears that if you're planning on using your UClear intercoms in a group of more than two people, you may want to opt for the HBC200 over the HBC100 to take full advantage of the new distance capabilities.
The other feature differences that are now available in the HBC200 include the ability to update firmware and also a type of automatic VOX volume/loudness control.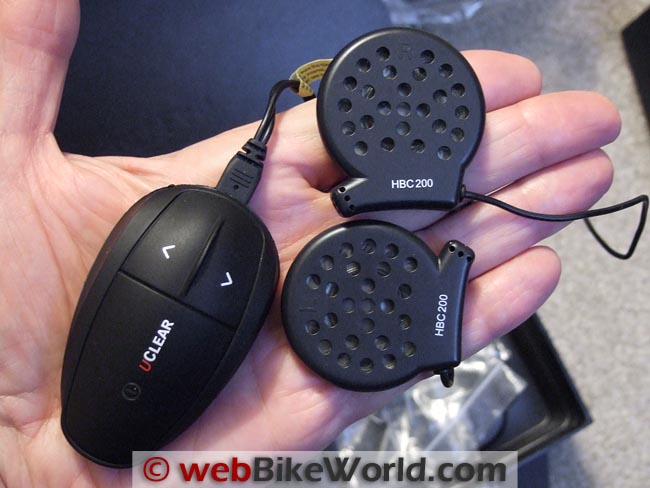 Operating the UClear HBC200
The HBC200 doesn't have the huge list of features you probably don't use anyway and again, the philosophy with this system is to keep it simple.
The focus is on rider-to-rider and rider-to-pillion communication which in my opinion is as it should be for a motorcycle intercom system.
It pairs with a cell phone or music player with A2DP and AVRCP profiles, so you can control your MP3 player. I tried it briefly and it worked. It also easily pairs with a cell phone (the HBC200 uses Bluetooth 2.1) and I have made and received calls on it.
But I have only used those features to try them out for the webBikeWorld review and mostly I used it as an intercom.
The simplicity of design is reflected in the owner's manual, which is refreshingly simple and easy-to-read. It's even printed in a small (4″x5″) book format, so you can actually turn the pages!
Not like those fold-out things you get with most electronic gear today or, worse yet, online-only copies.
The HBC200 immediately paired with everything I tried and this seems exceptionally fast with a cell phone. There are three buttons on the intercom module: the large on/off "Answer Button", which also has a small red/blue LED status display light.
The up and down buttons to the rear control volume and the other functions.
It does take a bit of memorization to remember which buttons control which functions…but only if you're using the "advanced" features like making cell phone calls.
Otherwise, the intercom is easy to use, even though it doesn't have the built-in spoken status announcements and help like the Interphone F5 and others. This is where the simplicity of the design helps; you don't really need the spoken assistance.
This is an intercom for what I would call "serious talkers" who need to whom communicating with a passenger or other riders is paramount.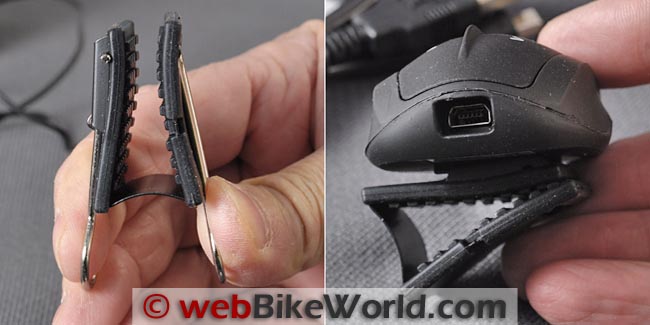 ---
Where to Buy UClear HBC200
Check Reviews & Prices on Amazon
Check Reviews & Prices On RevZilla
See More: Motorcycle Intercom, Motorcycle Accessories, Motorcycle Helmets
---
Mounting the HBC200
The speaker/microphones connect with a mini-USB port in the rear of the HBC200 intercom module, so one more thing you don't have to worry about is a bulky helmet mount.
However, the spring metal friction mount that does come with the system might be considered a bit crude by some. It works best in helmets with room between the shell and the liner and not so good on those helmets with the large bottom gasket that prevents any type of motorcycle intercom mount from being used.
The mount for the HBC200 appears to me to be the same as the mount provided with the HBC100, but I'll have to leave it up to H.B.C. to tell us whether the two mounting units are compatible.
The bottom line here is that if the UClear mount clip fits your helmet, it works fine.
It's very lightweight and once more, simpler may be better. It sort of fits with the petite size of the overall HBC200 (and HBC100) intercom system and design.
In fact, the speakers are almost the biggest part of the system…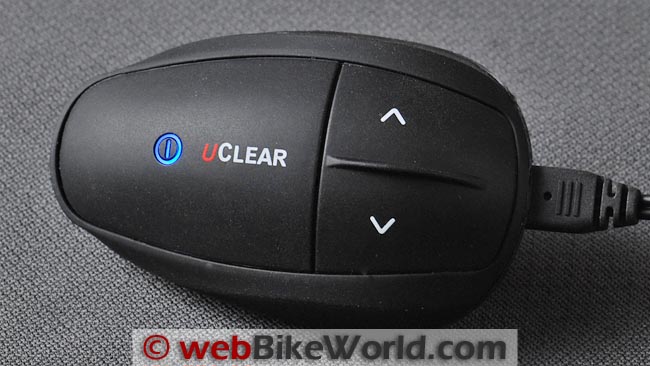 Quirks of the HBC200
Buttons
Just a few things I'd like to mention. First, although the buttons work well, are easy to find and the case is at least somewhat weather resistant, the buttons do feel a bit, well, flimsy compared to other intercoms I've used.
It's not that they feel like they'll break or anything; just that the membrane cover feels a bit loose from the top of where the actual button is hidden underneath, so there's a bit of movement of the membrane "skin" when you press a button.
Some owners may notice it, while others may not. I hope it doesn't indicate a weakness or thinness of the membrane cover that will wear out over time.
Also, when wearing gloves, it's sometimes difficult to get a good "feel" for the buttons, where they are located on the intercom module and pressing them.
There's a horizontal molded bar separating the up and down buttons, but overall the new "aerodynamic" shape, the slightly rubbery membrane feel of the buttons and the slightly slippery rubber surface can make it a bit tricky sometimes to get the button pushing sequence correct.
Background Noise and Feedback
The other quirk has to do with the Adaptive Beam Forming technology. I didn't get to use the HBC100 intercoms very much at all, so I can't comment on the comparison to this HBC200. But we did notice a few things.
There does seem to be a certain amount of echo sometimes; more noticeable in some circumstances than others. The "cone" or "sweet spot" in front of the rider's mouth that is picked up by the mics sometimes and somehow includes background noise, so we can hear this transmitted as one rider speaks to another.
In all fairness, this happens sometimes with boom mics also, although I don't think as often because the tip of the boom mic can be kept close to the speaker's mouth.
The extra sound occasionally causes a strange type of echo that both the rider who is speaking and the passenger or other rider who is listening on the other HBC200 unit can hear.
There is also a certain amount of feedback noise that is apparent sometimes, especially at low speeds or if the rest of the outside environment is quieter than normal, like when you're standing next to the bike before starting it, talking with your passenger.
In fact, if the helmets are close enough, there can be quite a bit of feedback as one "cone" in front of the mics interferes with the other.
Sound Quality
The sound quality of the HBC200 system also seems just a bit more "tinny" or "processed" to me. I'm guessing this is probably due to the noise cancelling technology and to what I assume is some pretty intensive sound processing for the Adaptive Beam Technology mics.
This is combined with a very brief pause before the first sound is received by the passenger or other rider. It doesn't really cut off much, but the first part of the word seems a bit choppy.
The counterweight to all this is the amount of volume that the HBC200 and the speakers put out, which is outstanding and mostly too loud for me, even though I and my helpers for this review wear ear plugs.
In fact, a couple of times I couldn't get the volume to go low enough, which is a unique problem to have for a motorcycle intercom system!
The problems with echo and feedback aren't enough to scare me off from the other benefits of this system and in fact probably all motorcycle intercom systems can use improvement in these areas.
Just note that there may be some different expectations when using this technology.
---
Where to Buy UClear HBC200
Check Reviews & Prices on Amazon
Check Reviews & Prices On RevZilla
See More: Motorcycle Intercom, Motorcycle Accessories, Motorcycle Helmets
---
Charging and Battery Life
Even the box for the HBC200 intercom kit is a model of simplicity and some functionality. It can be used to store the intercom and accompanying gear and accessories.
This includes the charger, which is something of a bonus because it's a plug-in wall outlet USB charger that also works for charging other USB accessories.
Thus, it's a "twofer" and it beats having to connect the intercom module(s) to your computer for a charge.
I don't know how long the battery lasts; I'll leave that also up to H.B.C. to find out.
All I can tell you is that after the initial charging, which took about 2 hours (the modules were partly charged when I got them), I've used them for probably 6 hours total and they're still going strong.
UClear claims a 10 hour talk time or listening to music and a 400 hour standby time.
Conclusion: Part 1
In Part 2 of this review, H.B.C. provides an in-depth follow-up, with a comparison of the HBC200 to the HBC100 and other intercom systems and a report on pairing the HBC200 with other electronic devices.
I enjoyed my time with the new UClear HBC200 intercom system.
The combination of light weight, simplicity, ease of use, talk time and the focus on communication, rather than other features I don't use, is what impresses me most about this system.
My feeling is that if you're more interested in having a motorcycle intercom that is easy to install, easy to set up, very transportable from one helmet to another and you aren't fond of the boom mic (who is?), this system is for you.
Part 2: UClear HBC200 Review
w

BW

 Review: UClear HBC200 Intercom
Manufacturer: UClear Digital
List Price: $449.95 (Dual Pack)
Colors: Black.
Made In: Singapore
Sizes: N/A
Review Date: December 2012.
NOTE: The webBikeWorld evaluators wear properly fitted ear plugs for intercom evaluations. This is reflected in the opinions on sound quality and speaker volume. Your experience may differ. Always protect your hearing when riding a motorcycle (more).
Note:
 For informational use only. All material and photographs are Copyright © webWorld International, LLC since 2000. All rights reserved. See the webBikeWorld® 
Site Info page
. Product specifications, features and details may change or differ from our descriptions. Always check before purchasing. Read the
Terms and Conditions
!
---
Where to Buy UClear HBC200
Check Reviews & Prices on Amazon
Check Reviews & Prices On RevZilla
See More: Motorcycle Intercom, Motorcycle Accessories, Motorcycle Helmets
---
Owner Comments and Feedback
---
From "K.G." (April 2016): "I am very disappointed in this system. It paired it with my phone easily and I can adjust the volume on the phone (I know this only because I can see the adjustment on my phone) but I can't hear anything through the ear phones.
I tried answering phone calls and listening to music and can't do either. It probably would have been much better if I would have got a users manual with the system (all I got was a quick start guide)."
---
From "R.H." (September 2013): "Just got a firmware update 1.07 for the UClear HBC200 headsets. I'm not sure when this update became available. I just happened to stumble across it this evening.
This update pretty much fixed all the problems I had with the headsets.
There were dropped connections and operational problems when trying to listen to audio sources and also use the intercom.
I am now able to pair an A2DP adapter and android phone with the HBC200 headsets and everything is working smoothly, pretty much seamlessly.
I think the time you spent researching and responding to my problems may have helped to get these good results from UClear technical support. I just wanted to thank you for your time and effort. I've already emailed UClear and thanked them for the update."
---
From "J.W." (August 2013): "I bought a pair of UClear HBC200's and we are having some of the same issues as others. We can communicate "good-enough", so I'm happy with that. I can clearly hear her at any speed. She can clearly hear me up to about 40 mph.
Music use  with the intercoms has not been as successful. We bought the Sena SM10 (review) to split the output from one GPS unit and mp3 player to both of us. Be aware that the Sena SM10 is not totally compatible with the UClear HBC200 as intercoms.
I am working with UClear to try and make it function.
With the original firmware it would sometimes work for my wife but not for me. Upgrading the UClear HBC200 units with the latest firmware, now neither unit can switch between music and intercom and then back again.
Hopefully the next UClear HBC200 firmware upgrade will correct this. The Sena SM10 does work for me, only if I am riding alone, and I am not using the intercom function."
---
From "R.G." (July 2013): "My experience with the subject unit has not been very positive. I replaced my trusty wired intercom (Autocomm brand) that worked perfectly, with the subject units after ready positive reviews.
The minor feedback or echo mentioned in the reviews is making the units pretty much un-usable for my wife and I. I sent an email to the company and received no reply so I'm disappointed with that too.
When we are farther than about 10-20 feet the units work pretty good but as soon as we're on the bike and only a foot or so between our helmets the feedback/echo is so severe that we can barely communicate and are constantly having to repeat ourselves.
Seems to me that a small adjustment to the firmware for the mic sensitivity might cure the problem but with the company not responding to my email, that doesn't seem to be an option.
I will likely be selling these to some other sucker and buying something else or waiting for a better system."
UPDATE From "R.G." (April 2014): "Well, after a firmware update the units worked much better.
I contacted UClear and they said if the firmware update didn't resolve the echo and performance, they would send the updated headsets with the microphones on short wired leads for more ideal placement in the helmet.
Received the new headsets for free and installed them with the microphones behind the cheek pads and pointed inward at mouth level. The units now work wonderfully.
Clear conversation at any speed (that I ride that is) and I am really satisfied with how this as worked out after I was pretty much going to sell them. Nice work UClear!"
---
Editor's Note
Here's an edited dialog between "R.H." and H.B.C. regarding the UClear HBC200.
Note that we do not sell the products, nor do we provide support, so this dialog is way out of the scope of a webBikeWorld review, but there's some good information here that I thought might be worthwhile:
From "R.H." (June 2013): "I bought a pair of HBC200 (intercoms) in June 2013. Part of the reason I made this purchase was the good review in webBikeWorld.
From my experience using the HBC200's it appears that you can not listen to music and also use the intercom. I can stop the music by double tapping the answer button but when I try to start the intercom nothing happens. The intercoms will not initiate."
H.B.C.'s Reply: No you cannot, with the HBC200s, use or listen to both music and the intercom at the same time (see my notes below).
But your issue with the system seemingly not switching between the two functions would indicate that something is wrong — outside of perhaps having to wait for a few seconds while the system switches from the music source (A2DP profile) to the intercom (IC or HSP profiles), there shouldn't be an issue.
When I say switching is "seamless", it typically means just that — reliably and without fail — but it doesn't mean instantaneous; there is always a timing lag and the processors used on most of these systems have limitations and the more complex the firmware, some impact may be noticeable.
R.H.: No, I did not mean to talk over the intercom and have music in the background at the same time. I've used many different Bluetooth headsets and I know that only one profile at a time is possible.
What I mean is that you can not switch from music to intercom on my HBC200's. You can use one or the other, you can not switch. When I say using music and intercom at the same time I mean simply having both capabilities. My HBC200's require constant pushing of buttons to accomplish anything.
H.B.C.'s Reply: Per my comments above, this is not normal — again, possibly due to configuration issues or indeed, the system or systems may not be functioning properly. I would urge you to keep pressuring UClear for some support.
And on a related note, as mentioned earlier, I have updated the HBC200 systems with the initial firmware release, with good results and real improvement in switching and device support.
From "R.H.": "I believe the reviewer on webBikeWorld said that he wasn't  interested in listening to music so maybe this problem was not discovered. It would have been good to know that it is not possible to listen to music and use these intercoms to communicate at the same time. I believe that would be a deal breaker for most users. It is bad enough that you have to constantly perform the dance of the buttons to make these things function."
H.B.C.'s Reply: I use all audio functions of the Bluetooth systems, including the HBC200 systems and they have never failed to stream stereo music, a feature I do use consistently, especially when riding alone.
When music is streaming from a connected source and except for the odd occasion when there may be a timing issue that can cause a switching delay, the music stream will be interrupted, and then resumed, usually in less than two seconds, once a higher priority audio session, like the intercom, has ended.
If the system or systems are configured properly and the paired device is fully compatible, there should be no issues, less the odd timeout due to switching. If the devices are paired properly and fully compatible, you shouldn't have to be done the "dance" with the controls all the time.
R.H.: "That in itself could be a deal breaker. Then to learn that music and intercom can not be used at the same time in any manner is very disappointing. I can use these for either intercom or music, just not at the same time. I am using the UClear WT300 to stream music to one unit and a generic Bluetooth transmitter for the other unit. I have contacted UClear support on a separate issue to which they gave a quick response. I have yet to hear from them on the media player issue."
H.B.C.'s Reply: If you have to use the WT300 or a Bluetooth Adapter (BTA) to stream music and cannot get this feature working with the systems themselves, then something is seriously wrong in the set-up or with the systems.
And while from my perspective the UClear HBC200s are nearly seamless, they are not as good as other new systems on the market or those that have benefited from firmware updates (the firmware update for the HBC200 that we applied provided real improvements) and most of them switch even faster with 99.99 percent reliability.
As the Editor has noted and as we clearly point out all the time, most Bluetooth helmet systems can only work with one audio source at a time, although there are exceptions. Now having said that, some systems can support simultaneous single channel audio sources such as a three way call with a caller, a user and a connected intercom party.
And other systems actually take a multi-channel approach that allows music streaming to continue as background with the primary audio — like an incoming call or intercom in the foreground.
R.H.: Technically, you could say that there is some automatic switching. If I'm listening to music my passenger can start a conversation by pushing the volume up button. My music will cut off when she initiates the intercom and we can talk. She has to find the volume up button to make this happen.
The intercom stays on until one of us pushes the volume down button. The intercom never cuts off by itself. If she pushes the volume down button to stop the intercom then my music will restart 80% of the time. If I push the volume down button to stop the intercom then my music will resume about 50% of the time.
H.B.C.'s Reply: As clearly stated by UClear, they do not use an active VOX feature, so intercom use is based on manual activation and de-activation (i.e., button pushing), after which any other previous music streaming on either headset should resume.
What does concern me is the stated reliability in resumption of music. But going back to the basics, have you Reset and Re-Paired the systems and devices — one system at a time and with everything else turned off? I cannot stress this enough for initial trouble-shooting.
R.H.: If I am playing music I have to double tap the answer button to stop the music and after 10 seconds or so I can push the volume up button to start the intercom. So it takes three button pushes and about 15 seconds to start a conversation. This makes the intercom somewhat impractical.
If I'm busy working the bike with both hands I might not be able to fish around for the HBC200 buttons at the same time.  Taking 15 seconds or so just to talk is not really acceptable either. By the time I finally get the intercom going whatever I had to say might be irrelevant.
Your quote about automatic audio switching only applies when the passenger starts the intercom. For me to start the intercom I have to go through the procedure I've described. To me, this makes the intercom-music mix unacceptable for motorcycle use.
H.B.C.'s Reply: Based on device audio priority (Phone, Intercom and Music), this should not be the case.
If you are streaming music to the headset, tapping the Volume Up button to initiate the (higher priority) intercom will automatically stop the streaming.
You should not have to manually stop the music and then wait before initiating the intercom; the switch should be automatic. It should be one push.
Granted, without an active VOX capability (except for phone answering), the switching is done based on priority or manually as desired.
R.H.: Selecting the right Bluetooth system is a matter of knowing how the system will be used, with what devices, including your onboard system, how it will be used and whether the features, and limitations, of the Bluetooth system make for a good fit. Some of your comments are relevant but also revealing and it is possible that a VOX capable system would be a better solution for rider with passenger and minimize the button pushing.
If I stream music from the UClear WT300 to the HBC200 headset using the A2DP protocol then the intercom will not function. The only way I can stream music and switch to the intercom is using phone and media connection from my Droid Razr. This means I can not listen to Sirius radio or Garmin voice prompts from the bike.
I have to turn off the WT300 to regain the intercom function once the A2DP stream is started. Having to turn the adapter off and on and pair up to the headsets again makes this operation unacceptable for motorcycle use.
H.B.C.'s Reply: The WT300 has three modes:
Advanced communication mode with UClear headsets that allows easier switching between the WT300 functions and UClear headset functions (proprietary feature)
HFP: intended for other Bluetooth systems that support hands-free; and
A2DP: basically the WT300 functions as a Bluetooth Adapter or dongle, serving as the host for a wired connection.
These three modes are separate or discrete functions and must be configured manually by re-pairing or re-initiating the desired mode.
From your statements, this "limitation" could be a factor.
The WT300 (currently) is not meant to be an automatic multi-function device, it is intended to provide additional capabilities that can enhance standard Bluetooth headset performance.
So when the communication mode is enabled for PTT, then yes, some functions of the headset will be limited, as the needed profile is being used by the WT300. But if the WT300 is in communication mode for PTT use, then the A2DP/AVRCP profiles should be available with the headset…this is one reason why the WT300 has discrete or singular modes.
But when using the WT300 and a UClear system, like the HBC200 system, the Advanced Communication Mode Pairing should be used, that will allow manual or VOX-activate PTT from the headset Answer button or the wireless remote PTT control.
And this will allow the headset to connect to a smartphone and another intercom.
Although once the headset's Mobile Phone or Intercom audio become active, the WT300 will be automatically disconnected, as the headset priorities remain just that.
Connecting or disconnecting the WT300 with the headset is done by holding the Down button on the headset for two seconds — once the WT300 is out of the loop, other paired devices with the headset should be available for use, including the Intercom.
Your results are far different than what I experience, which takes me back to configuration or real system problems.
R.H.: UClear is also misleading when they advertise the capabilities of the UClear WT300 adapter. The WT300 can be used to interface with a two way radio but once this is started no other function of the HBC200 headset is usable. The WT300 has to be turned off to regain any other function on the HBC200.
They claim in the manual that there are three protocols for the WT300. There is HFP (Hands Free Protocol), A2DP and Advanced Audio Protocol. The Advanced Audio Protocol is supposed to be exclusive to the HBC200. In reality this protocol does not exist. The two units will not pair up as described in the manual.
H.B.C.'s Reply: Per my comments above and unless there has been a recent change that haven't found yet, the WT300 does not support AVRCP — something most Bluetooth adapters do not, although it does provide the A2DP streaming.
Many users think that an A2DP capable device will automatically support AVRCP as well; not true, for both physical and electrical reasons.
R.H.: "I contacted UClear support and their work around is to pair the WT300 to the HBC200 as if it were a generic Bluetooth headset. This means there is a choice of HFP or A2DP. Once either of these protocols are established the HBC200 can not be switched to another use such as intercom.
The only way to get the intercom working again is to power down both the WT300 and the HBC200. In the HFP protocol there is an aux input jack on the WT300 which will stream a mono audio channel. This mono audio channel keeps playing when the two way radio starts."
H.B.C.'s Reply: Acknowledging some information disconnects or shortfalls, there are issues in what is stated in the manuals and in what many users end up discovering, although that in itself is not unusual — different configurations with different devices can and typically will provide different results.
So I am going to discuss some of the points you have made with UClear support and I will do some more investigation from my end and provide the Editor with some more feedback in the near future.
Please let us know how you make out – hopefully some of the information provided above will help.
UPDATE From "R.H." (July 2013): "I have an update on my UClear HBC200 headsets. I sent my original headsets back to UClear and exchanged for a new pair of headsets with updated firmware. The operation of the (replacement) headsets is no different.
If you pair the headset to an A2DP source you then loose the intercom function. You can start and stop music, you can not use the intercom. The UClear HBC200 headsets work well as an intercom only unit.
I think UClear is deceptive when they advertise these headsets as multi purpose headsets. You can use them to listen to music or use them as an intercom. You can not switch between these two functions.
Although UClear has been responsive to my questions and quickly offered to exchange headsets I don't think they have been truthful about the capabilities of these headsets. I have tried four headsets and it is not possible to use the intercom after the headsets have been paired with an A2DP audio source.
When using the AVRCP profile the intercom can be switched with music.
You must stop the music with the answer button or up-volume button and wait 5 to 10 seconds to activate the intercom. This is inconvenient, but at least it is possible.
I agree with WebBikeWorld regarding the intercom function of the UClear HBC200. They are pretty amazing when you consider there is no boom mic. The battery life is also very good.
I think the limitations that exist when you try to mix other audio sources with the intercom should be made clear. I think most people will buy these headsets in order to mix intercom and other audio sources."
---
From "C.B." (June 2013): "After many, many different tests and tribulations I have had to return my intercom units. They were great…if you only want the intercom. They are great…if you only want the phone, music or GPS.
But if you try and combine the Intercom and any other function it becomes a button push dance and then half the time you may not get it to work.
The last nail in the coffin was when the GPS commands wouldn't come back. I'm sad, I so wanted to make them work.
Maybe when the UClear has the HBC500 units available, I try them again. I loved the boomless feature. If I did not have a partner, and I want to just use the phone, music or GPS features I would have kept them. But I need the intercom feature.
The UClear 200's are great as long as you do not need the intercom function of the intercom to be combined with anything else."
---
From "T.G." (June 2013): "Thanks so much for the initial review and even more thanks for the follow up. Yes indeed this is a great bike to bike intercom and if you stop there it's wonderful.
Trying to integrate listening to music or taking phone calls is a frustration exercise in button pushing. The buttons are not that easy to find and there seems to be varying amounts of delay and even sequence of the 3 buttons.
They are hard to find with bare hands and even impossible with gloves.
If your priority is bike to bike then don't pair it with a phone. If you want to listen to music that's great as well but to do any of those and try to use it as an intercom it plain just sucks.
It's got real potential but I am taking my back and looking for a better just an intercom. Any suggestions?"
---
From "C.B." (May 2013): "I bought a set of UClear HBC200 intercom units. The units were working great for intercom only use. I love the boom-less design.
But…if you try to also play music, they become push-to-talk intercoms.
Listening to music you must push to talk, then push to stop talking then double tap to restart the music. This is a very poor setup for a modern motorcycle intercom unit.
My very old Chatterbox intercoms had a boom mic and needed a wire for the music but you did not have to dance the buttons to talk, stop talking and restarting the music each and every time.
UClear did not have any real help to correct the intercom use.
If you would show how you get the intercoms to work like a normal intercom in your review please post details. There is going to be a firmware upgrade if it fixes these issues I'll keep them. If not, I'm afraid I have to send these units back."
H.B.C.'s Reply: "This topic is covered in the multi-part review. You may either have a bad set of intercoms or perhaps have not set them up correctly or not using them correctly.
Our two HBC200 Force intercoms, before or after the (not yet released) firmware update work 99.99% of the time in switching between priority audio (i.e.: phone calls, to intercom, to streaming audio).
The UClear systems are simple in that they basically just support a phone or GPS, the intercom and a stereo audio stream, without the more complex but advantageous firmware such as Sena uses.
In taking this simple approach with a focus on audio and intercom quality, the UClear devices only need to switch between these basic pairings, which is why to me, going all the way back to the HBC100 systems, they have been so effective.
I do a lot, and I mean a lot of Bluetooth consultation and installation work here in (Canada) — all for free, and in doing so, I probably have a pretty good pulse on the Bluetooth user environment, at least in this neck of the woods.
Most users here in Ottawa, many of which have had me install or configure their HBC200 systems, and other brands, are not having any problems, except those that are "finger" related.
But, having said that, two HBC200 sets, one bought at a motorcycle show and one on-line, are problematic – something akin to what the user below is experiencing. But I haven't yet gotten physical access to these systems, so cannot comment further.
I did refer the owners to the UClear Support contacts — a hit-and-miss experience as noted on most forums, although the support (we at webBikeWorld) have received has been good. (Also), the firmware update might help…"
---
From "K." (December 2012): "Two weeks ago I purchased the dual set of HBC200s from UClear. The prospect of eliminating the boom mic as well as the umbilical cord to my Harley Ultra Limited was just too attractive.
UClear had a booth at the International Motorcycle Show with samples of their products for demo in the very noisy trade show environment. (A motorcycle stunt team show was in progress less than 100 feet from their booth making it very noisy indoors).
My friend and I donned a couple of helmets with the UBC200s installed and walked around the show floor. We were able to talk to each other via the units despite the loud environment.
In fact, the received audio didn't seem to contain any of the background noise at all! Instead, from the helmet speakers all I could hear was my friend's crisp, clean voice.
With the helmets on, the ambient noise in the building was muffled a little, but was still loud. Ear buds would have eliminated the ambient noise problem.
In fact, the UClear people at the booth had a set of their prototype earbuds that I tried. With them, talking with my friend was like being in a quiet room and carrying on a private conversation despite the loud environment.
When the UClear was paired with an iPhone for music, the quality was as good as I've ever heard via earbuds; certainly good enough for entertainment while motorcycling on the open highway. That was enough to sell me (and my friend) on the product.
We each bought a dual Force 2/pk. So now, 2 weeks later, I've had ample time to play with the headset and make several un-scientific tests. Pulled the old corded set out of my SCHUBERTH C3 (review) and installed the UClear.
Installation took all of 5 minutes. I was reminded how difficult it was a couple of years ago when I installed the corded headset in the C3 flip-front helmet.
I put the helmet on my head and closed the flip-front. It was weird; no cord or microphone boom to deal with!
If you've installed a corded headset with a microphone boom in a C3 helmet, you know how difficult it is; and how the mic boom always gets in the way of closing the flip front. All that is gone with the UClear set.
First task was to pair with my Garmin Zumo for music, routing directions, and hands-free telephone operation.
(My iPhone is paired with the Zumo, I have been using a wired interface to the Harley's radio system for making or receiving phone calls using the HD radio in the AUX position).
Pairing with the Zumo was easy and quick. Played some MP3 music from the Zumo and it filled my helmet with stereo sound. Same with routing directions from the Zumo.
Then while stationary on the motorcycle in the driveway, I initiated a telephone conversation to my wife in the house via the Garmin Zumo.
She said that the voice quality was similar to a hands-free or speaker phone, but could not hear any background noise.
We continued the phone conversation as I started the motor and began to ride. She couldn't hear the motor at all; just my voice.
I announced the speeds, "10 mph", "20 mph", "30 mph" and so on. Got up onto the Interstate and kept increasing the speed 10 mph at a time, asking if she could still hear me at each increment. Her replies were always, "No change." or "I hear you fine."
Finally, at 80 mph I came along side a semi tractor trailer. As I slowly passed it, I asked, "Can you hear me now?" Got the same reply, "no change, I can hear you fine".
I could barely hear her over all the road noise, but apparently the noise is somehow cancelled out by the UClear system microphones. She heard only my voice, no other noises. O.K., so now I'm really excited about the UClear.
All I need is to somehow create a Bluetooth link between the UBC200 headset and my Harley Davidson radio. I want to be able to use the Harley AM/FM/Weather/CB radio via the UClear headset.
That's where we run into a little problem. Our Harley radios are not Bluetooth capable and no one currently makes a plug-and-play "dongle".
I contacted UClear for their suggestion. They have another product, a WT300 "Spider" (review)that will give Bluetooth capability to any CB, walkie-talkie, MP3 pod, AM/FM radio.
But apparently any radio except our motorcycle radio systems! So in order to use the HBC 200 headset, one has to give up the Harley radio system. This is not good.
There has to be a way to "Bluetooth" our Harley Davidson radio systems. Why is it so hard that vendors are not trying? There's a huge market for such a device.
I purchased a WT300 Spider Bluetooth Communication Adapter from UClear. My hope is that it will be possible to fabricate a cable adapter so that the WT300 can be simply plugged into the microphone jack on my motorcycle for receive and transmit audio.
I foresee that eventually, Harley Davidson will have to include Bluetooth radio systems in their motorcycle radios to accommodate the ever-popular wireless helmet speakers.
But in the interim, an adapter is the best we can hope for. I'm confident that receive audio will work.
Transmit (for the bike's CB radio) may be more difficult. I received the WT300 "Spider" Bluetooth Communication Adapter yesterday. Will write another review when/if I get it working with the Harley radio system.
The HBC200 battery life seems astounding! I charged the UClear unit when I bought it over 2 weeks ago.
Even after using it on every ride since (some rides of an hour or more each) and have never turned the unit off, it still pops to life and pairs every time I don the helmet and push the button.
The helmet speakers are fine for local riding around town, even for brief transitions onto the Interstate loops around Dallas. But for long distance riding, noise-blocking earbuds will be a "must".
I'm on a waiting list for a set when they're released by the company. The ones I tried at the International Motorcycle Show were prototypes, not in production yet. I'm anxious to get a set.
The only negative is that it's not easy to find and push the buttons on the helmet-mounted unit. They're under weatherproof rubber membranes, one has to feel for their location; impossible with full-finger gloves.
So I've been using the Garmin Zumo's volume control, instead; leaving the HBC200 on a full volume."
H.B.C.'s Reply: The WT300 "Spider", as reviewed, could provide a solution, but you still need an audio output connection from the H-D system to the Bluetooth adapter whether it is the WT300 or the Sena SM10 product.
If your H-D Ultra Limited onboard system has a DIN connector, an expedient solution might be the optional Sena SC-A0120 3.5mm Stereo Jack to 7-Pin DIN Cable for Harley Davidson Ultra Classic — it might work.
Alternatively, if you have the ability to "tap" into the speaker wires at some point, then something like the Autocom Factory-type Stereo Music Lead, Part 2273 or 2275 (.pdf) kits allow you to add the necessary external audio output connector.
With an external stereo connector in place, either the WT300 or the Sena SM10 Bluetooth Adapter (review) would work.
Your comments about audio quality, particularly in high noise environments, reinforces my experience with the HBC100 and 120 units and soon, with the HBC200 units as I work on the Part 2 Follow-On. Let us know how you make out, and if you have any questions, send them in."
---
From "M.D." (November 2012): "Just before my last trip back to sea I got an email from the guys at Revzilla saying they had received, finally, a shipment of the new HBC200's. I have been waiting on that since I read your reviews!
I ordered one straight away (a set as in the link) and received it in time for my trip out west with the wife as a pillion passenger on my VFR 800.
We rode two up along the entire Angeles Crest Highway and the freeways to and from the mountains on both sides as it was a trip to the California Superbike School and back at the Willow Springs Racetrack in Rosamond California.
All I can say is that the UClear units are the best thing since sliced bread for motorbike comms. We both had earplugs (foam) in, and at full volume while doing 80mph on the freeway I wished I had just a tad more volume.
We both wear Scorpion full face helmets and we were on the VFR with a Double Bubble windscreen so not much protection there and the Scorpions are not the quietest of helmets either.
But anywhere else you had to turn the volume down, and without earplugs in around town you had to turn it way down which is very easy with the glove friendly buttons.
My Dad phoned to see when we would be back from the track as we were guests at their house and he had no idea I was even on the bike, much less doing 65 mph it was that clear. All I can say is they work, better than advertised which is very refreshing indeed.
Now I can't wait for the earbud adapters! Thought you should know."
Other WebBikeWorld Intercom Posts