UClear has revised its Bluetooth intercom lineup with the new AMP systems.
The popular UClear HBC100 (review) and UClear HBC200 (review) will be gone when current stock is depleted.
There are now three AMP systems: the AMP, AMP Plus and AMP Pro.
That's more or less a "good, better, best" hierarchy, with the AMP Pro having all the bells-and-whistles.
Roughly speaking, the AMP Go and AMP systems replace the HBC100, while the AMP Plus replaces the HBC200 with its dual "brow" mics.
The AMP Plus system includes Bass Boost speakers and the AMP Pro system is top-of-the-line, with the UClear Pulse Speakers (review) included.
The bass response — even with the least expensive AMP systems — actually does seem better than probably all of the other OE intercom speakers we've reviewed.
But wait; there's one more: the AMP Go, a UClear dealer exclusive.
It connects up to 4 users (the base AMP system connects 2 only) and it's a screamin' deal at $119.99.
Offering the AMP Go through dealers only is an interesting strategy, because it will surely attract customers to the local bike shops.
All of the new AMP intercoms have the same look and feel as the HBC100, 200, Force and older UClear systems, so existing UClear fans will be happy.
The physical shape and format of the AMP intercoms is the same and remains as one of the smallest full-featured external intercom modules available today.
The streamlined shape continues with three membrane type buttons that are relatively easy to use, albeit with some button-pushing sequence memorization required by the user.
There are several technological updates in the new systems, including:
Bluetooth 4.2 for "10x more data at up to 2.5x faster speeds".
Connect up to 4 intercoms (AMP Go), 6 intercoms (AMP Plus) or 10+ intercoms (AMP Pro) with Multi-Hop technology (comm distance increases as more intercoms are added).
The new UClear ClearLink app provides wireless firmware updates, no USB cables needed. That's a big plus.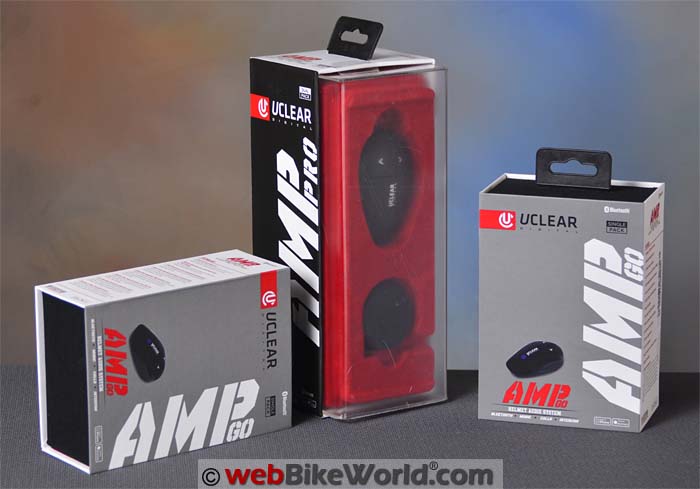 It's been a while since we reviewed any UClear intercoms, so newcomers to the UClear family might not realize that one of the biggest selling features and the most significant differentiator is that these systems do not use boom or wired mics.
If you're not familiar with UClear intercoms, you'll probably think "Wait a minute: an intercom without a microphone?"
Well, not exactly… UClear uses a very unique "Advanced Beam Forming" microphone system that eliminates the need for a boom or wired mic.
Every time I see a pair of the UClear speakers, with their built-in Advanced Beam Forming mics, I wonder how they work.
After all, you're basically embedding the speakers with the mics deep inside the ear pocket in your helmet. How will those mics ever pick up any sound from your mouth?
Beats me how it works, but it does. Chalk it up to another miracle of modern technology…
The higher-end UClear intercoms have a slightly different take on Advanced Beam Forming; they have two incredibly tiny wired mics attached to the better Pulse speakers.
Those tiny mics need to be placed up above the brow in the helmet's headliner, sticking out just a bit. Again, somehow they focus the sound from your voice and it works, without a boom mic or wired mic needed.
AMP Systems Overview
As is the case with most modern intercom systems, it's impossible to describe all of the details and features — there are just too many. So for sure we'll probably miss a few here.
This is made slightly more confusing because there are now four new UClear intercom systems, each with a slightly different feature set.
Probably the easiest way to classify the AMP intercoms is by the number of connected users.
The AMP connects 2 intercoms, the AMP Go system pairs up to 4 intercoms, the AMP Plus can pair up to 6 and the AMP Pro up to 10.
Also, the AMP Go system is a dealer-only special limited edition; actually a smart strategy by UClear to attract new buyers and give "brick and mortar" dealers something unique.
We'd recommend that dealers take special interest in this strategy and familiarize staff with the operation of the AMP Go and use the intercoms on their own rides, so they can assist customers and answer any questions.
And we'll also surmise that there's a secret hidden UClear strategy in this, because once you know how to work the basic AMP Go, you pretty much know how to run any other UClear AMP system.
AMP Pro Differences
The AMP Pro is the top-of-the-line system at $299.99 for a single unit. It has the dual headliner mics and it allows group intercom connectivity for many (10+) AMP Pro intercoms; music sharing and it comes with the UClear Pulse Pro speakers.
Note that the base AMP intercom does not have Multi-Hop technology but the AMP Go does (for up to 4 units).
w

BW

Video: UClear AMP Intercoms
AMP Thoughts
Burn and I agree that after using the AMP Go for the last few weeks in on-and-off winter weather, we're impressed.
There's no doubt about it; UClear intercoms hew their own path.
UClear intercoms are quite different from other motorcycle Bluetooth intercom systems, so if you're used to a "normal" intercom, the size, shape and Advanced Beam Forming mic system on a UClear device can be a bit baffling at first.
But what at first glance may appear so different soon feels retty natural.
The fact that there are just 3 buttons on an AMP intercom may seem limiting, but in fact, those 3 buttons do everything required, with just a bit of memorization by the user.
How UClear was able to make all this work with just three big buttons is the magic here.
The only thing "missing" is an FM radio, but hey, FM is dead, right?
If you really want FM, buy a Bluetooth transmitter and stick it in any FM radio with an earphone output. Done.
For us, there are two motorcycle intercom functions that are crucial: ease of use and the reliability of the intercom.
This means that when a button is pushed, it has to work first time, every time.
The intercoms must pair quickly and without a hitch and operate clearly, reliably and without issues.
The AMP intercoms score 100% on that. In fact, we haven't had a single problem using any of the AMP functions. Every feature has worked first time, every time, quickly and without a hitch.
For example, pairing two or moreAMP intercoms is easy and nearly immediate; ditto for turning the intercom function on and off.
Our systems also pair immediately with smartphones, tablets and other devices.
And listening to and controlling music playing is just as easy, fast and intuitive…once you've learned the simple button-pushing sequence.
We've been so impressed, in fact, that we created an extended video (above) showing how the AMP intercoms pair, using the intercom function and listening to music.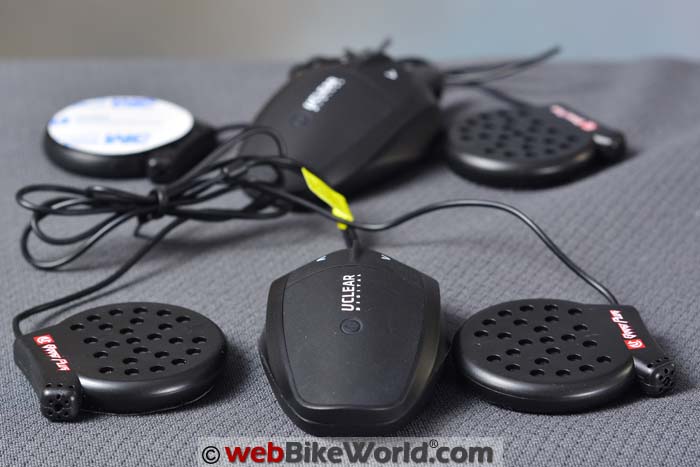 AMP Specs
The AMP systems use Bluetooth 4.2, the latest version, along with what UClear says is an "all new AMP processor".
The processor was designed to take advantage of Bluetooth 4.2 features such as lower power requirements and a claimed 250% faster and 10x more capacity" over previous versions of Bluetooth.
In reality, all we can say is that the AMP Go and AMP Pro systems we have work reliably and without fail, whether it's pairing, connecting or talking.
Even the base model AMP Go includes the alphabet soup of HSP, HFP, A2DP, AVRCP for connectivity.
The batteries are non-removable 3.7V lithium-ion, with a claimed talk time up to 10 Hours and standby time of 400 Hours.
Other specifications include a suggested operating temperature range of -30 C (-4 F) to +60 C (140 F), which should easily meet the requirements of any motorcyclist anywhere on this planet (and possibly even Mars).
UClear provides a one-year warranty on the AMP Go and two-year warranty on the AMP Pro, which is pretty good.
UClear AMP Documentation
If you're familiar with previous iterations of UClear intercoms, like the HBC100 or HBC200, you'll probably be able to run the AMP systems right out of the box without having to read the AMP intercom quick start guides.
Those guides at first appear to be too basic and they're kind of jam-packed with info, making for a bit of difficulty to the presbyopic.
There's also a complete AMP owner's manual (.pdf) that is interesting because it covers all of the AMP systems, from the base AMP to the AMP Pro.
It spans just two pages, so you'll probably want to grab a copy of that also.
UClear also has a series of quick YouTube videos conveniently gathered on the UClear website, illustrating the various features and setup.
One more: in the UClear ClearLink app, there's a link to a series of animated images that also help to illustrate the user instructions, but these are not narrated and the playback seems too slow-moving to be very useful.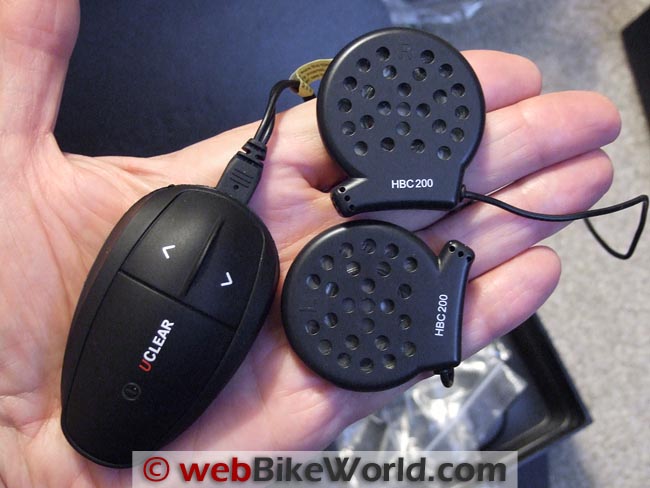 Operating the UClear AMP Systems
Operating the AMP systems is easy, once you memorize the various button-pushing sequences. But as far as button-pushing goes, these are fairly simple.
In other words, if we can do it, anyone can!
There are only 3 buttons on an AMP intercom: the main on/off button; an "Up" button and a "Down" button.
That's both good and bad, because, for example, on the AMP Go, the main on/off power button is engaged for much more than just on and off.
On/off power button functions on the AMP Go:
Powers on the intercom (long press).
Powers off the intercom (long press).
Answers an incoming call (short press).
Rejects an incoming call (2-second press).
Ends an incoming call (2-second press).
Plays music (2 short presses).
Stops music playing (1 short press).
Then there are combination sequences using the main power button:
Redial last number (2 second press of the main power button + Up button).
Voice dial (2 second press of the main power button + Down button).
Also, the on/off power button is used for paring:
Pair intercoms (hold main power button + Down button until purple LED flash).
Pair second and multiple intercoms to first (hold main power button + Up button until purple LED flash).
When all intercoms are paired, press the main power button on the last intercom to end the pairing sequence.
If this all seems complicated, actually it's not really, surprisingly. All it takes is a bit of practice and a few glances at the quick start guide.
Note also that depending on which AMP system you own, there will be a few button-pushing sequences specific to that device.
For example, the AMP Plus and AMP Pro includes a music sharing feature and there is a specific button sequence to initiate this function:

You'll probably want to print a couple of copies of the quick start guide to take with you, but once you use the more frequently needed button-pushing sequences a few times, it seems easy enough to get the hang of it.
But the best thing about the AMP intercoms we've used is that the functions and button-pushing all works as expected, first time every time.
That's a big deal; it doesn't always happen on most/many intercom systems, most of which require a lot of back-and-forth study with the instructions and a certain degree of frustration.
Then after all that, you still never really trust that the system will do what you want when you're on the bike.
One other aspect to consider is that you don't have to move down into menu levels with the AMP systems to get anything accomplished and that seems to make the systems easier to use, despite the button-pushing combinations.
Also, the AMP intercoms do not have a voice command or assistance system…but most or all of those have their faults also.
Some day, we'll surely see a completely voice-controlled motorcycle Bluetooth intercom system that works, is fast and accurate. Until then, we have to deal with buttons.
Phone Call and Intercom Handoffs
During our time over the last few weeks with the AMP systems, we had no issues at all during any switching.
Example: While listening to music streaming, phone calls are announced with a very unique ringtone; say "Hello" once, the music stops and the caller is connected. When the call is ended, music streaming resumes.
Intercom connections are made by pressing the Up button for 2 seconds and ended by pressing the Down button for 2 seconds.
An intercom connection is announced with a beep and a split-second of static; if you were listening to music, the stream is continued when the intercom conversation is ended.
The handoff or switching works every time, seamlessly.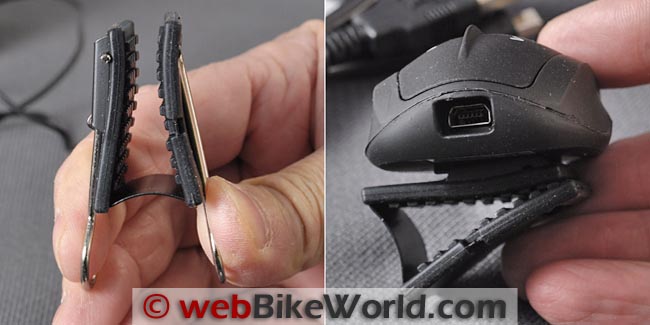 Intercom With GPS?
We often get this question: During an intercom conversation, can I hear GPS instructions?
This function is largely based on the ability of the individual BT system to handle multiple HSP/HFP profiles and not all system do this, or they don't do it well.
Some Sena systems have a Selective Profile Pairing capability that can allow GPS instructions from a dedicated navigation device or even a paired smart-phone running a navigation app with audio.
But typically the intercom will still be interrupted, although if the headset supports a multi-channel environment, then the intercom counts as one (mono) channel and incoming phone/navigation (mono) audio counts as the second and may be facilitated concurrently.
However, a true multi-channel BT system that supports concurrent audio streams, like the Sena 20S and some of the Cardo Scala Rider devices, will allow the user to conduct an intercom session while listening to an A2DP stream.
And it will also have an incoming single channel navigation audio stream come in as well, all overlaid as foreground/background audio.
And if you're using a smartphone with a primary A2DP (two-channel connection) and a navigation app with audio output, the smart device can simply overlay the single channel navigation instruction audio onto the stream so the headset user gets both.
Some of the smart devices will actually attenuate the onboard audio as foreground and background attenuation.
We have identified this in previous reviews, but its not a guaranteed thing across the board.
Some configurations can also mitigate the issues with the smartphone paired to the (smart) GPS device (Garmin zumo590/590LM).
And with the GPS device providing BT "hub" services, it can manage A2DP and phone audio and its own navigation audio, all streamed to the headset.
The more basic systems, like the original UClear systems, typically just support two devices and concurrent audio isn't guaranteed or possible.
Speaker Mounting
The actual AMP intercom module size and shape hasn't changed and it's one of the smallest external motorcycle intercoms you'll find.
There's a single USB port in the rear and the USB mic/speaker connection has a water-resistant surround that seals the port when the USB is pushed firmly home.
The AMP, AMP Plus and AMP Go systems use the larger speakers that are contained within a thick plastic housing.
These measure 8.2 mm thick and they're about 50 mm across at the widest point, measured to the tip of the built-in mic.
This hasn't changed from older UClear intercoms and the size means that there can be some issues fitting the speakers in a helmet with shallow ear pockets.
But the speakers fit without a problem in the new Arai Quantum-X (review) and the Arai Corsair-X (review) we used during this review.
The AMP Pro comes with the UClear Pulse Speakers (review), which are actually thicker at around 11 mm but have a soft foam covering.
AMP Go Microphone Mounting
The AMP and AMP Go intercoms have their microphones built into the speakers. The most surprising aspect of a UClear intercom to new owners is discovering that this actually works.
You'd never think that a microphone attached to a helmet speaker that's buried in an ear pocket would pick up voice as well as a boom or wired mic, but it does.
Granted, in the old days, there were occasional problems with what was then called the Adaptive Beam Forming mics, but that seems to have been mostly cured with recent UClear systems and especially so with the AMP intercoms.
AMP Plus and Pro Microphone Mounting
Both the AMP Plus and AMP Pro have the tiny Advanced Beam Forming microphones attached to the speakers at the end of wires (24 cm long for the AMP Pro).
The wires have to be routed up from the ear pocket and the microphones are placed so they stick slightly out of the liner along the brow of the helmet, one on either side.
UClear doesn't give much guidance on doing this, other than a small illustration in the full owner's manual. Curiously, there's no video that we found to show how to mount the AMP Pro mics in a helmet.
We mounted ours temporarily by routing the wires inside the helmet, to the inside of the padding.
A permanent installation would mean either routing the wires on the inside of the helmet liner or perhaps making a small hole in the liner to route the wire, depending on the configuration of the helmet and how the liner pieces are assembled.
Helmet Mounting the AMP Intercom
Nothing has changed on the external helmet mounting system for UClear intercoms and to be honest, the system could use an update.
There are only two options: use what UClear calls a "temporary" mount by clamping the thing that looks exactly like a big folder clip on to the helmet.
It's very thick and won't fit between the liner and shell of many modern helmets, especially those helmets with a stylized molding around the bottom.
The only other (and best) option is to use the small stick-on mount, then attach the folder clip thing to it.
Be sure to follow the directions for mounting the stick-on; let it cure for 24 hours before attaching the clip and intercom.
It's just not a very clean mounting system and UClear should work on developing something different with a more appealing look.
The Beam Forming Blues
The only artifact still to be conquered is a bit of a strange "Outer Limits" type static noise in the background that you might hear when talking on the intercoms when there is very little external background noise.
The AMP systems do have an updated Digital Signal Processing system that is very good at cancelling any noise other than the user's voice, however.
Also, older UClear intercom users sometimes reported an "echo" when riding with a passenger.
This happened occasionally when the "cone" or "sweet spot" of the Beam Forming mics would pick up the sound from either the rider or the passenger, causing a feedback echo.
This can happen if you're on a touring bike with a big windscreen that forms a quiet riding "bubble" and it's quiet enough to hear the rider's or passenger's voice, which can be picked up by the other intercom.
It can also happen with a passenger if you're riding slowly, without a lot of ambient noise and again, the rider's or pillion's voice is picked up by the other system.
We did not have the opportunity to evaluate this with our AMP intercoms, so we'll depend on owners to report back in the comments section at the end of this review.
There's a tradeoff here; not having to mess with a boom or wired mic is one advantage that must be weighed against the possibility of an echo in some riding situations.
Intercom Range Notes
UClear seems to be the most realistic when it comes to stated range with their intercoms.
For example, the AMP Go is rated at 200 meters and we had no trouble getting that and more in clear line-of-sight.
The AMP Pro is rated at 700 meters, which is about the max for any pair of current Bluetooth intercoms and again, we got more than that — nearly one kilometer on a flat and clear line-of-sight.
Connect more than a pair of AMP intercoms and the distance will be stretched that much more for each connected device.
This is the "Multi-Hop" technology that uses each paired intercom to act as a sort of beacon repeater to connect the others in an extended group.
We haven't tried this because we only have a pair of AMP Pro intercoms, but that's what UClear claims and we have no reason to doubt it.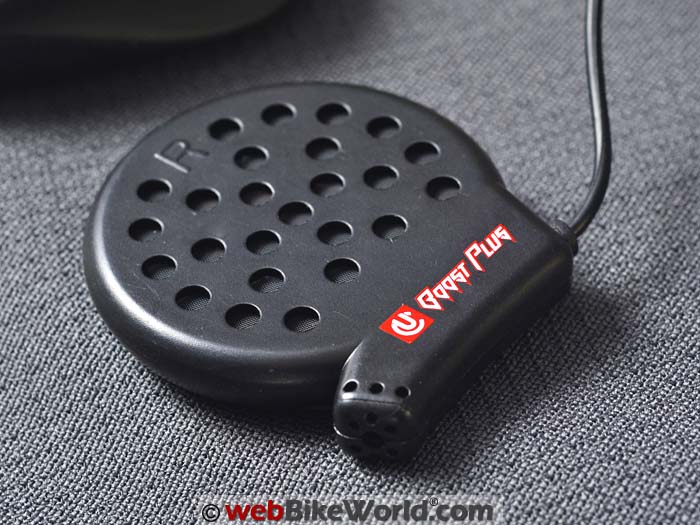 Those Buttons…
We mentioned the buttons in our previous HBC100 and HBC100 reviews and the membrane-type buttons on the AMP systems are the same, but for some reason they don't bother us as much.
They have a different feel from other intercoms and sometimes they can be a bit fussy to push — like when you're trying to hold both the up and down buttons for pairing.
They have to be pushed exactly in the right spot and precisely simultaneously to initiate the pairing feature.
So there will be mixed opinions on the buttons, because the membrane cover can feel a bit disconnected from the location of the actual button underneath.
As we mentioned in previous UClear reviews, there's a bit of movement of the membrane "skin" when you press a button.
Sound Quality
The sound quality of the new AMP Go and AMP Pro intercoms we're using is outstanding and better than we remember from previous UClear systems.
The sound volume can be turned up quite loud and the most surprising thing is the bass response, which is excellent and probably better than any other current motorcycle Bluetooth intercom system.
The ClearLink app has an on/off switch for "Bass Boost", which improves bass response. Ours are turned to "on"; the sound quality and bass response is excellent even in the basic AMP Go speakers.
This isn't concert hall acoustics obviously and as with all motorcycle intercoms, you'll need to mount the speakers as close to your ears as possible inside the helmet.
We also use the Poweramp app on an Android smartphone and tablet, which includes a built-in preamp and equalizer.
We've recommended this before in other webBikeWorld intercom reviews and it's also covered in some detail in our UClear AMP video.
But overall, the ability to raise the volume and the bass response is quite surprising, compared to previous UClear intercoms.
Note as always that all motorcycle intercom speakers have relatively poor sound quality when compared to listening to even poor quality headphones or earbuds in a quiet room.
There's a lot of external noise when riding a motorcycle that affects the sound and it's also important to mount the speakers so they are as close as possible to your ears when the helmet is on.
As the distance from the source of sound increases, the decibel level (intensity of the sound) decreases according to the Inverse Square Law, so for example, doubling the distance of the speaker from your ear decreases sound by 4 times less.
Can I Use Earbuds?
Note also that UClear sells a variety of speakers with the built-in beam forming microphones. The assortment includes a set of earbuds with beam forming mics, in both long and short versions.
The UClear accessory speakers have the water-resistant USB connector.
Other brands of speakers or ear buds can not be used because the won't have the beam forming microphones built in.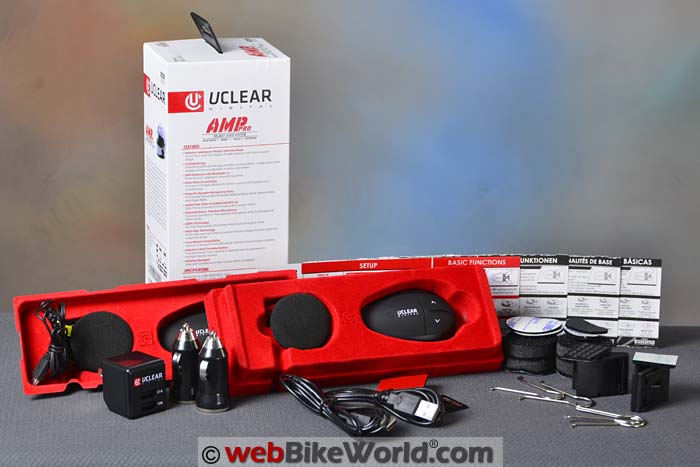 AMP Charging Notes
The AMP Go single kit does not include a charger, but any USB charger will work. It took about 2 hours to charge each unit.
The AMP Pro kit comes with a wall outlet, USB cables and two accessory outlet chargers.
The ClearLink App
Also new is the UClear ClearLink app, available for Android or iPhone devices.
It quickly finds the AMP intercom and automatically connects and firmware updates are wireless, which is a nice feature.
Otherwise, although the look, feel and operation of the ClearLink app is excellent, there's not much else you can do with it.
Only a very few features on the intercom can be changed and although there's a built-in user guide, you're better off using the quick start guide and full guide in .pdf format.
Conclusion
In new UClear AMP intercoms are a positive upgrade from the older systems, although much hasn't changed, which is both a plus and minus.
UClear owners should have no problems at all moving to the new systems and new owners will find a very reliable intercom that has only a brief learning curve that is in reality probably easier and quicker than most modern Bluetooth systems available today.
The sound quality, range and most of all the rock-solid reliability of the way the buttons work and how the features are implemented can't be overlooked.
We work with a lot of motorcycle intercom systems and although the term "ease of use" is thrown around with abandon, it really does apply here.
Having features that work quickly, reliably and easily every time is really important when you're using an intercom on a motorcycle and the UClear AMP systems deliver.
And although the price increases as you move up through the AMP lineup, we think the current value leader for any motorcycle Bluetooth intercom today is the AMP Go with its list price of $119.99 for a single kit.
w

BW

 Review: UClear AMP Intercom
Manufacturer: UClear Digital
List Price: $199.99 (single)
Colors: Black
Made In: Singapore
Sizes: Single and dual kits. Open face and full face.
Review Date: January 2017
NOTE: The webBikeWorld evaluators wear properly fitted ear plugs for intercom evaluations. This is reflected in the opinions on sound quality and speaker volume. Your experience may differ. Always protect your hearing when riding a motorcycle (more).
Note:
 For informational use only. All material and photographs are Copyright © webWorld International, LLC since 2000. All rights reserved. See the webBikeWorld® 
Site Info page
. Product specifications, features and details may change or differ from our descriptions. Always check before purchasing. Read the
Terms and Conditions
!
Owner Comments and Feedback
---
From "C.F." (June 2017): "Just rereading your UClear AMP series review and I'm reminded of what I've just worked out with my own set.
Firstly, I already had a set of the newer speakers with separate mics, so I bought the cheapest AMP model and plugged them in and they worked fine.
The other thing is to go to a lot of trouble to align the middle of the speaker to exactly where your ear hole is.
Our current helmets (BMW System 5) have an indent for speaker location, but I found my speaker volume wasn't  good.
After a little cut and shut to move them, the volume level increased significantly."
---
From "S.S." (January 2017): "Thank you for the latest review on these Bluetooth intercom systems.
My great disappointment in my purchase of the Interphone Tour (review) last year has left me very cautious about these systems and I think one of the most important features is never mentioned in these reviews.
This feature is the ability to be using the intercom with your riding partner and have directions from a cell phone cut in so that you don't miss any turns.
The Interphone Tour does not do this, as I unhappily discovered. So, the question is, do any of these new UClear models do this successfully?
The other issue I have with my Interphone Tours is that the volume is too low to hear, even with all settings correctly set to provide the loudest volume.
Since the UClear speakers seem larger, I am guessing they may have greater output than the Interphone Tour? Thanks for any info you can share!"
Rick's Reply: The problem is, there are so many features on modern intercoms that it's impossible to evaluate them all.
Of all the local reviewers here that help out, GPS use is almost non-existent and no one owns a dedicated GPS; I haven't owned a dedicated GPS in probably 10 years, so I can't answer for that.
I tried the UClear AMP Go and Pro to see if smartphone GPS instructions come through when on the intercom and the answer is no.
I'm not sure, but the smartphone probably lacks an electronic signal from the phone to the intercom like there is when a phone call comes in to say "pause what you're doing and listen to this" and then return the intercom to its prior state after the GPS instruction is ended.
Do any intercoms allow GPS instructions while the units are in intercom mode? I can't remember, maybe some webBikeWorld readers will comment on this.
Regarding the speakers, no intercom speakers ever seem loud enough, but to be honest, I think most users have unrealistic expectations of intercom speakers.
There is a lot of external noise when riding a motorcycle and the speakers can never really overcome that.
The important thing is to mount the speakers so they're as close as possible to your ears when the helmet is on. It's the inverse square law, doubling the distance from your ear decreases sound intensity to ¼, etc.
The UClear AMP speakers sound about the same as just about any other intercom speaker. I guess that doesn't tell much but it's all subjective anyway