Harley-Davidson has added traction control to its 2019 Trikes and may soon have to add the safety feature to its motorcycles.
The US National Transportation Safety Board has voted unanimously to recommend to the National Highway Traffic Safety Administration to introduce traction control and ABS to all motorcycles.
ABS has been mandatory on all passenger cars in the US since 2000 and electronic stability control since the 2012. Neither is required on motorcycles.
Harley has 24 models in the US fitted with ABS and 18 where it is an option.
Harley-Davidson Australia only imports bikes with ABS. It will be mandatory here from November 2019.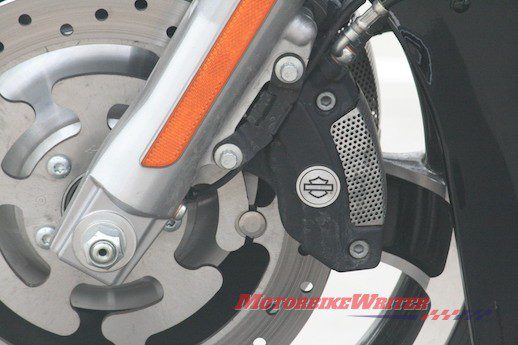 There is also talk of introducing a mandatory requirement for traction control in Australia.
While traction control is available on many motorcycles, Harley has so far resisted.
But it might not far off the pace after the introduction of the technology on their trikes.
Trike traction
Harley-Davidson product planning manager Charlie Wartgow says the 2019 Tri Glide and Freewheeler tricks will not only come with traction control but also ABS linked brakes and Drag-Torque Slip Control System which prevents the rear wheels from locking under downshifts.
Charlie says the company is putting a lot of emphasis on their trikes for conquest sales.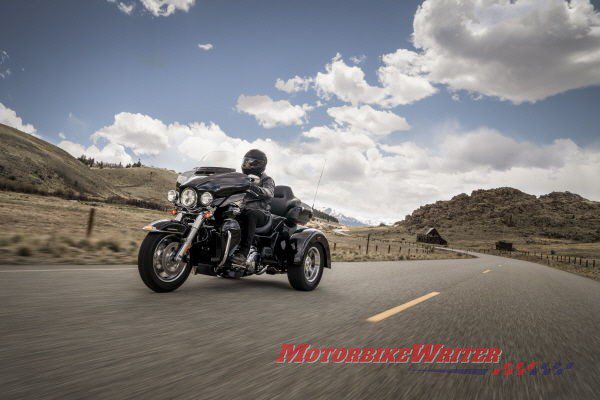 He says one in three 3 Tri Glide owners is new to the sport or new to the brand.
Charlie also points out that 95% will buy another Harley-Davidson and 62% will buy another trike.
"They also put on the most miles of any Harley customers — slightly more than CVO — with an average of 6700 miles a year," he says.
The stripped-down Freewheeler has about 28% female owners, compared with 10% for the Tri Glide.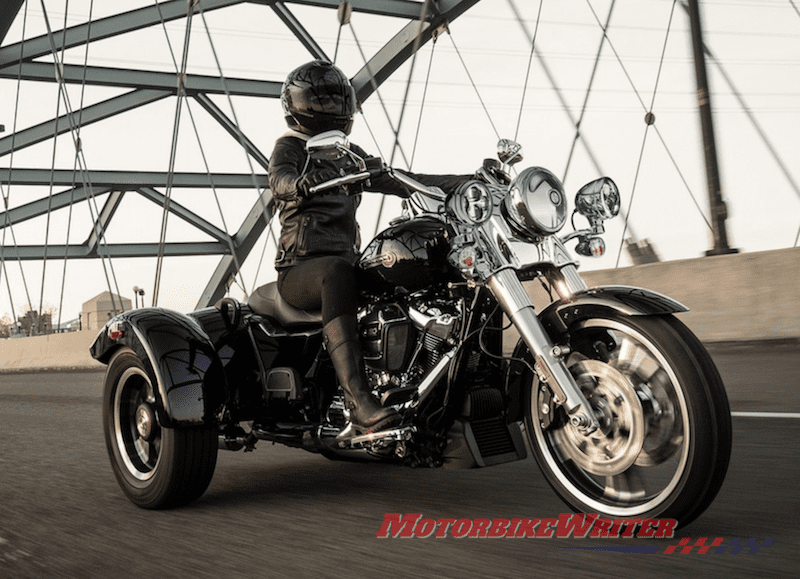 "This is a significant product in bringing more women into the sport and Harley," he says.
The new Reflex Linked Brake system for 2019 Harley-Davidson Tri Glide Ultra and Freewheeler is fully electronic.
It uses an inertial measurement unit (IMU) and ABS sensor technology to improve traction, stability and braking control in a straight line and corners.
Trike updates
The 2019 trikes also get the Touring suspension with dual-bending-valve forks and emulsion rear shock with hand adjustment preload nob.
They are now powered by the 114 Milwaukee Eight which also powers the Ultra Limited, Ultra Limited Low, Road Glide Ultra, Road Glide Special, Street Glide Special and Road King Special.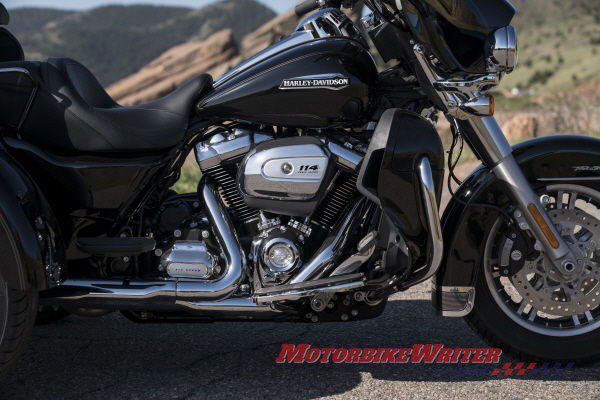 It delivers up to 5% more torque than the Milwaukee-Eight 107 (up 8Nm to 166Nm) and is up to 5% quicker to 100km/h.
The 2019 Trikes come with the new Daymaker Adaptive LED deadlight which illuminates the inside of the corner.
Freewheeler costs  $42,995 up from $40,250 and the Tri Glide Ultra is now $53,250 ($50,995).