Toby Price looks set to score an historic first win for an Australian in the world's most gruelling motorsport event, the Dakar Rally, with a 37:39 minute lead going into the final processional stage tomorrow.
No competitor has ever lost the race with a lead of this length on the final day as the special stage is too short.
Cheer on Toby by sending a message of support to his official Facebook page.
Toby scored second place in stage 12 today, the longest stage of the two-week rally at a staggering 930km with a 481 special.
He was 7:32 minutes behind Yamaha rider Helder R0drigues of Portugal, but importantly two minutes ahead of overall second-placed Stefan Svitko (Portugal KTM) who finished fourth today.
"This was a long stage with 480km," Toby said. "It was on really sharp shale-like rock. It was really sketchy, really skatey and it felt like I was riding on ice. We had a couple of excursions off the track a couple of times so we thought we'd whack it down and make sure that we get to the finish."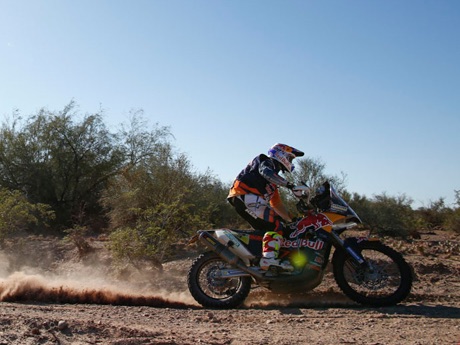 Our only Australian competitor this year basically just needs to show up and ride tomorrow to score his first win and the first for an Aussie in the 37-year history of the gruelling event.
It will be a well-deserved victory for the five-time Australian off-road champion as he has won five stages and no other rider this year has won more than one.
"I haven't really looked into the history of results yet," Toby said after the day's stage. "I'll look at that tomorrow once it's all done. If that happens it will be a bit of history and I'll be pretty stoked with that. See you tomorrow. Cheers."
Twenty-seven-year-old Toby, of the Hunter Valley, last year achieved a stunning and significant third place. He was not only the top-placed rookie but also the equal highest-placed Aussie finisher in the event's history after fellow rookie and privateer Andy Haydon placed third in 1998.
Highlights of today's special stage will again be shown on SBS at 5pm and it will be interesting to see how many of the mainstream media cover Toby's victorious performance.