Apps to Improve Your Ride
Let's be honest, we've all been out on the bike just to be caught in the rain or worse, a speed trap. With these apps, you can ensure those are yesterday's problems. You have probably heard of these apps, but check out some of the features that you may have missed! 
Are you getting the most out of your apps? Let's find out
Google Maps
This app is one of the world's most popular apps coming in at over 1 Billion active users per month. Chances are if you're reading this, you already have it. But do you use it on every ride and get the most out of Google Maps? 
Not only can you use it for knowing where to go and how to get there. You can use it to get a ton of pre-trip and post-trip information. Besides, you can also use it to get important information during your trip. Below we have listed some of Google Maps' key features and what you can use them for on your next ride, far or near.
What're the Best Features of the App?
Google Assistant

– Need to find the next gas station without pulling over to look at your phone? This feature can be used with applicable Bluetooth devices to change or find destinations on-the-go using Google Assistant. 
Google Timeline

– Want to see how many miles you've racked up this week? Month? Year? Easy! In Google maps, click on the top-left menu and click "Timeline". This will tell you where and when your trip was, which can be super handy if you're one of those "let's ride to get lost riders" and want to replicate that same ride. 
"Speed Trap"

– Have you ever been riding on the highway cruising along listening to your favorite tunes and notice a speed, AFTER you ride through it?  Guess what, that's no longer a common occurrence with the recent updates to Google Maps. But keep in mind this feature relies heavily on passengers in other vehicles updating the speed traps. This means it also results in some false alerts.
Where Can I Find the App?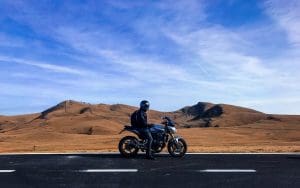 What if I'm Not Riding?
No worries, we got you covered. Have you ever been to a busy city looking for parking? Well, there's an app for that too. With the HonkMobile app (available on Google and iOS), you can pay for and extend your parking from your phone. Super convenient when visiting larger cities or places you've never been. Check out some other handy car locator apps that you can use while out driving or riding!
Where Can I Find the App?
Accuweather
This app is a must-have when going out on the bike. This app is jam-packed with cool information that you may or may not need, so you think. As the saying goes, "it's better to have and not need it, than to need it and not have it". This app of course comes with the basics, current temperature, hourly and 10-day forecast. Here are some of the best features for you to check out before or even during your next ride.
What're the Best Features of the App?
Radar

– This feature is especially useful when you are heading in any general direction. It can show you if a weather system is headed in your direction of travel. You can then plan your route accordingly as this feature will typically provide you with a couple of hours of advance radar. 
Allergy Outlook

– If you're one of the 50 million people in the United States that suffers from seasonal allergies, chances are this feature is going to provide you a great benefit. There is almost nothing worse than riding around and all of a sudden you start to suffer from symptoms due to seasonal allergies.

Wind

– Easily one of the most forgotten items to check before you head out for a ride. Not only does the app tell you how hard and which direction the wind is blowing, but it also tells you "Max Wind Gusts". This could be a real life-saver depending on your experience riding in windy conditions.
Where Can I Find the App?
Autoist Diary
Have you ever forgotten when you last changed the oil in your car or motorcycle? Or ever wonder how much money you've spent on your vehicles? Well, now you don't have to try to memorize these things. Autoist Diary is a comprehensive app to manage your vehicles. This app is designed to keep track of everything from maintenance expenses to when your next oil change is due. Below are some of my favorite features.
What're the Best Features of the App?
Expenses

– With this feature, you can easily keep track of every dime you have spent on your prized motorcycle or plain daily driver. You can even track the accessories you purchase such as gear or bike parts.  
Reminder

– This feature takes care of the ol' "When did I change my oil last?". You can set a reminder to repeat over a certain amount of time or mileage if you keep the app up to date on your vehicle's mileage.

Service Stats

– This feature works with the "Expenses" tab when you track the amount of money spent on different items. Ultimately, it can help track your true cost of ownership of your vehicle. I know this may seem like a scary thought, but trust me, it could help you budget for that brand new exhaust you're looking to purchase. 
Where Can I Find the App?
Not available on iOS store
Other Accessories
If you're looking for other cool accessories, you'll want to check out some of our Bluetooth Intercom reviews.