UClear Motion 4 Lite Review Summary
Review Summary
The UClear Motion 4 Lite is the newest member of the Motion Series family. As its name implies, it is a four-user based system with a slightly reduced feature package compared to its older siblings the Motion 6 and the Motion Infinity with its USAFE feature, but it does tout the hybrid DynaMESH pairing and intercom capability common to all Motion systems. Packaged in the small but very stylized Motion series housing with equally small, lightweight, and easy to use mounting pieces the Motion 4 Lite should fit on virtually any helmet. It doesn't have the Gesture Sensing feature, but its Voice Command repertoire is well equipped to handle most common user input. New pending (or released) firmware features include adjustable auto-fading when audio overlay is used, a new remote-control screen for quick access to phone, intercom, and music controls and, the ability to record intercom audio. But what really sets the Motion 4 Lite apart from its competition is its MESH intercom capability for only $169.95 USD.
Build Materials and Quality
BT Pairing & Connectivity
Overall Audio Performance
Pros
Bluetooth 5.0 provides system performance boosts, power efficiencies, evolvability
Duplex HD 4-system intercom using MESH or BT
Intercom range of up 800m per system
40mm Pulse Pro 2.0 speakers for superb HD audio reproduction
Dynamic App-based EQ and L/R Balance settings
App-based Noise Suppression setting
New firmware release updates some features and adds new ones
CLEARLink App now common to all models
UClear firmware updates can be done OTA using the App
U-Move sensing turns system Off after two minutes and On with any movement
Versatile DynaMESH features and superb audio performance at very competitive price
Cons
Multiple edges and shaping of controls not the best – takes time to learn & use effectively
No Gesture Control feature
No Voice Command feature
Output volume could be better
UClear Motion 4 Lite Image Gallery
Introduction
Hmm, must be fall. We've had our first snow fall, mixed in with the brightly coloured leaves still drifting off the tree branches, with both settling onto the still green lawns; and now we are finishing up almost two weeks of early fall-like weather; up and down we go – the past, present and future well represented it seems.
But for the present, despite our COVID-19 environment and time of year, we can still anticipate (hope for) some late season, albeit cool, riding – a continuance of sorts from a spring and summer that saw some riding, but pretty much locally oriented, although it all provides the opportunities to keep using and evaluating new motorcycles and new products.
And speaking of new motorcycles, the 2020 BMW F 900 XR, a new model that I literally jumped onboard over early this spring didn't survive the short-term ownership assessment despite its outstanding motor. Another short ownership experience and another lesson learned along the road and part of what makes motorcycling such a fascinating lifestyle.
While tempted to wait for the later (probably) spring arrival of 2021 40th Anniversary models, riding weather is still upon us, so (another) F 850 GS Adventure in Rallye trim, but in 2020 guise now occupies space in the home fleet garage and as usual, I'm discovering those multiple small tweaks and changes that BMW Motorrad is both famous and infamous for on a yearly basis.
The accessorizing is well underway with a couple of motorcycle specific pieces already mounted along with early versions of the INNOVV ThirdEYE (Blind Spot Detection & Lane Change Assist system) and the forthcoming INNOVV K5 (4K and 1080p) dual channel camera systems, both now full up and running for late fall road testing and of course, future wBW reviews.
Along with the accessorizing, another focus is ongoing reviews of new and updated BT communication systems: two from IASUS – the REKON Helmet and the Stealth Throat Microphone systems, both now turned over to the Editor; and, two from UClear – the now released and renamed AMP GO2 and the new Motion 4 Lite.
With the UClear AMP GO2 review now submitted to the Editor and published, the second of the two UClear systems provided – the Motion 4 Lite has the spotlight shone on it.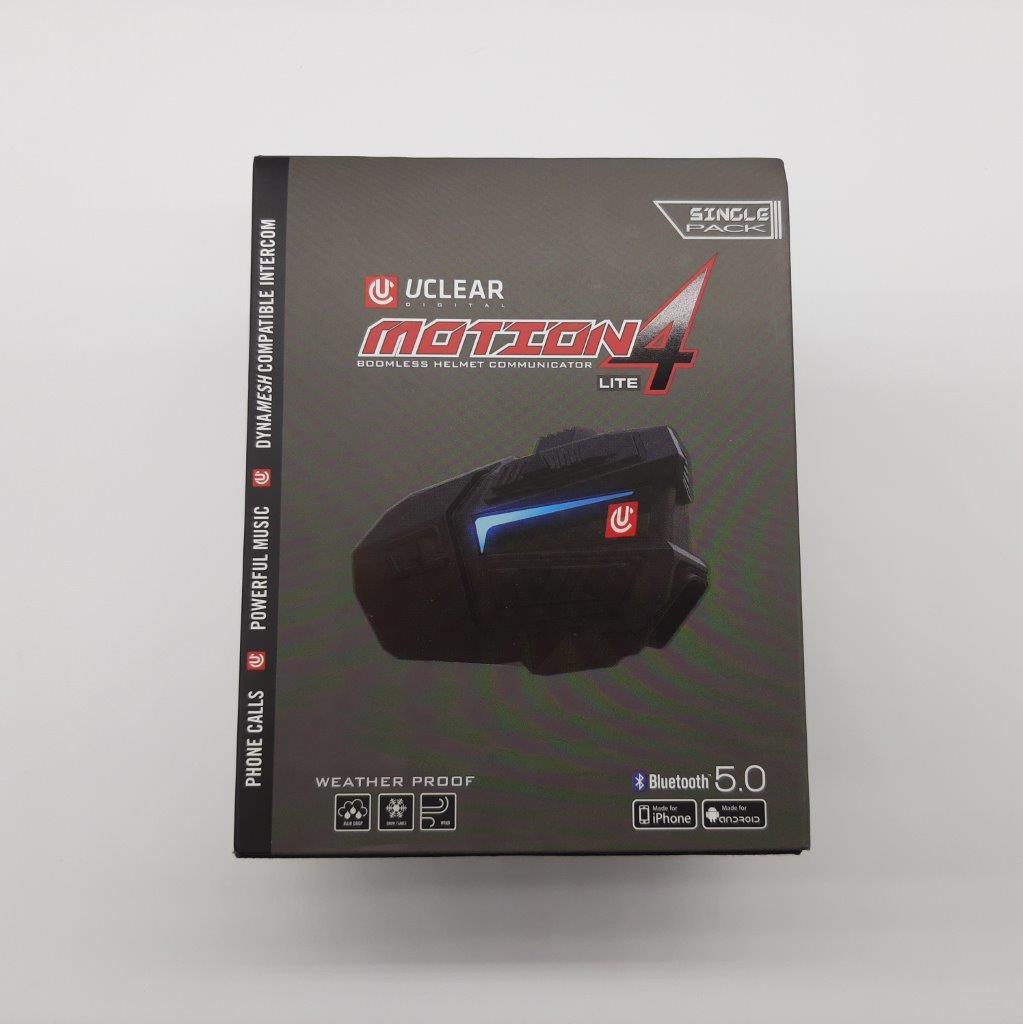 UClear and the Motion Series
UClear states that the Motion Series is based on direct feedback from riders, dealers, and industry experts and is intended to be the most advanced, easiest to use, most durable, most portable, best sounding, longest lasting and weatherproof comm systems, ever…
There is no arguing that the hybrid DynaMESH feature that combines the best of both Bluetooth and MESH along with UClear's Multi Hop technology is unique and proving to be very versatile.
And there is also no denying that between the Motion Series Pulse Pro 2.0 speakers and CLEARLink App features providing EQ, Left/Right balance and (Noise) Suppression control the Motion systems do provide a tunable helmet audio environment that is second to none.
Related to the value pricing, feature and performance-pushing comments made in the UClear AMP GO2 submission, UClear wants the Motion 4 Lite to be the value priced DynaMESH offering, with the goal of having the MESH intercom feature provided at all price points.
As its name implies, the Motion 4 Lite is fully endowed with UClear's unique hybrid DynaMESH pairing and intercom feature but is a little lighter regarding some of the other top tier features found on the Motion 6 and of course on the fully-loaded Motion Infinity with its still unique USAFE feature.
How does the younger member of the Motion Series stack up against its older and (admittedly) more feature-rich siblings? Time to find out.

The UClear Motion 4 Lite
The UClear Motion 4 Lite is the newest member of the Motion Series line and its designation or product name is based on the fact that it is a member of the Motion Series line, the '4' identifies the total number of systems it can pair with (including itself) and the 'Lite' is a reference to the fact that it is the trimmed-down variant compared to its two older siblings.
And the family resemblance is uncanny…unless one turns the Motion 4 Lite module over and looks at the identification label there is nothing else to visually differentiate any of the (now) three Motion Series variants from each other.
With all the differences being under the skin so to speak, one needs to go through the documentation and once the system is charged up, do some 'learning', or in this case, some refreshment of things in that the original Motion 6 and Motion Infinity are here and in use.
Like the other Motion Series products, the Motion 4 Lite comes with Bluetooth v5.0 with all its new abilities and enhancements particularly regarding connectivity, pairing and switching along with significant gains regarding system efficiencies resulting in much improved battery life.
The Motion 4 Lite feature list includes:
Voice prompts with seven languages currently supported & voice prompt volume control (something other manufacturers would do well to provide)
Adjustable noise suppression/cancellation
Adjustable graphic EQ and Left/Right balance features
Pulse Pro 2.0 speakers
Dual MEMS microphone array on extension leads
Four user (system plus three) pairing capability for intercom feature
EZ Button one-touch group intercom pairing
Individual system intercom ranges up to 800m (875yds or 0.5mi)
Audio overlay (intercom/music streaming, etc., as enabled under CLEARLink App)
Siri/Google Voice interaction
Music sharing
CLEARLink App features and OTA firmware updates
U-Move – system turns off after two minutes, restarts immediately when moved
On the 'Lite' side:
No Gesture Control feature
 Four-user system vice the six of the Motion 6 and infinite pairings with Motion Infinity
No U-Command – voice activated feature
The four user limitation for the intercom feature isn't a big surprise in the overall Motion Series scheme given the Motion 6's six-user scheme and the Motion Infinity's unlimited pairings; providing a 'good, better, best' marketing scenario.
And it does address the (typical) less can be more approach taken for value-added tier-based pricing; keep enough leading features – like DynaMESH, Pulse Pro 2.0 speakers and an audio environment tuning toolset, while minimizing or removing other abilities to provide a feature and performance baseline that can go head to head or even outperform the competition.
Features & Specifications
Features (Compilation)
Industry-first MESH intercom with Multi-Hop for infinite rider pairing
Up to 800m (874yds or 0.49mi) per individual person/user
Automatic system reordering optimizes connection strength while maximizing communication distance
EZ Button pairing – one touch intercom pairing
Audiophile quality, for HD communication and HD music
Pulse Pro 2.0 speakers with dual MEMS extension microphones
Helmet audio tuning with adjustable gain, graphic equalizer, left/right balance and ABF noise cancellation when using the CLEARLink App
Multipoint compatibility to connect multiple devices at once
Music/Intercom Overlay (and new App-based features now enabled)
Control of Siri/Google Voice
Media sharing
Call conferencing, etc.
ULINK Universal Device Pairing for multi-brand interoperability
CLEARLink Mobile App – one comprehensive model-adjusting user interface to configuration, settings management, and over-the-air (OTA) firmware updating
Fully weatherproof (no IP rating though)
Motion sensor provides automatic on/off action
Long battery life, up to 18 hours, fast recharging with USB-C interface
Industry leading two-year warranty
Specifications
Bluetooth: v5.0 with BR, EDR and BLE, Class 1 output
Bluetooth Profiles Supported: HSP, HFP, A2DP, AVRCP, GATT
Intercom Range: Up to 800m (875yds) or 0.5mi per system
Talk Time: Up to 18 hours
Standby Time: 400 hours
Operating Temp: -29C to 60C (-20F to 140F)
Charging Temp: 0C to 45C (32F to 119F)
Charging Time: 2.5 to 3 hrs
Controller Size: 72 x 44 x 26mm (2.8 x 1.7 x 1.0in)
CLEARLink Mobile App: Android 4.2+ and Apple iOS 8+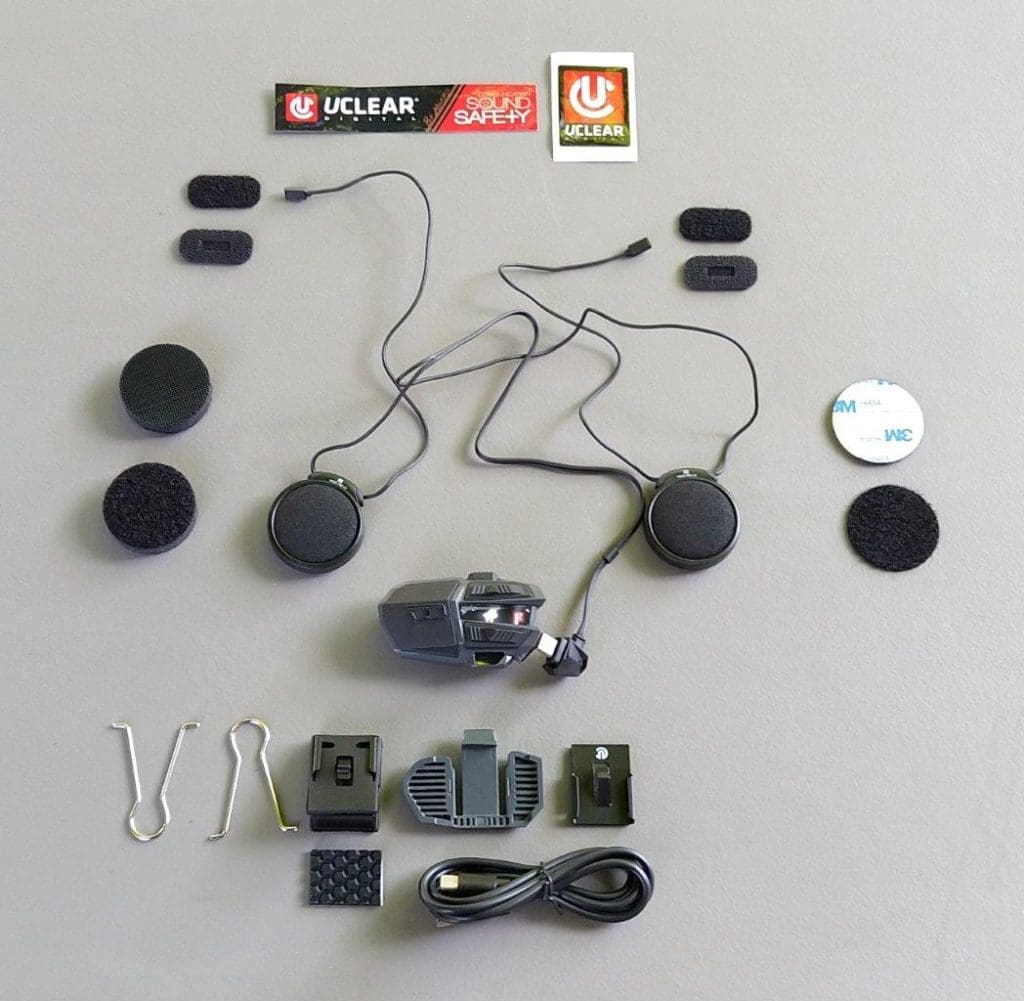 UClear Motion 4 Lite Installation
As with all UClear systems, installation of the Motion 4 Lite is simple in or on virtually any type of helmet…note I said virtually, some helmets can pose a challenge depending on shaping.
Everything that should be needed, at least for a typical installation, is included in the retail box packaging, all neatly and securely sealed in small plastic bags.
And for those riders and consumers that don't think a modular or three-quarter, or half-helmet is a good home for a UClear system, think again. There may be challenges and some adaptation might be needed but the end results are usually darn good or outright great.
Box Contents
1 x Motion 4 Lite Controller Unit (BT module)
1 x Pulse Pro 2.0 Speaker & MEMS extension lead microphone headset
1 x new style permanent (adhesive) mount
1 x classic permanent (adhesive) mount
1 x temporary (slip-on) mount
1 x USB-C charging/data cable
Dual USB AC/DC Wall Charger
DC Car Charger
Speaker mounting kit (adhesive and hook-n-loop pieces)
Motion 4 Infinity Installation Insights
As with the approach taken with the UClear AMP GO2, there are some observations to be made regarding the placement of the MEMS extension microphones along with some pro/con points and insights that might assist in the installation process.
UClear Mounting Pieces – the Motion Series kits include one additional mount, plastic with engagement slots, sturdy top clip, and adhesive backing; this is now the preferred mount on any of the helmets used. Its shape and footprint match the back of the module and there are no concerns about module security once it is engaged on this mount.
Of the original two mounts, the small metal adhesive backed piece is the easiest to use, provides a small footprint and low profile and is (pretty much) a universal solution for most helmets. There is some permanency with the adhesive mounting though, and one also needs to make sure the small metal spring tang secures the module.
Alternatively, the small V-shaped slip-on or clamp (paper-clip style) mount for full face helmet use is also easy to use with its shaping and tensile spring loading characteristics providing an often-effective slip-on pressure fit.
But on some helmets, the short engagement sides may not provide much 'clamping' force as provided by other brand pieces that are larger and use a pressure-plate approach for strength. In this case, it helps to use the included silicone pieces to both protect helmet surfaces and minimize slippage. And again, make sure the spring tang engages the module positively.
Speaker Placement – for any helmet system installation, it is important that both speakers be placed in the same position and at the same distance from the ears in order to provide the optimal listening experience, appreciating that requirements may be different between users…
MEMS Microphone Array Placement – once the speakers are secured in place, the small MEMS extension microphone pieces need to be mounted using the same symmetrical approach as taken for speakers (especially if recesses are not provided).
This symmetry is needed for optimal performance of the UClear Advanced Beam Forming (ABF) technology used that is virtually unbeatable in its effectiveness. With the microphone array fitted symmetrically, a virtual 'sweet spot' is formed for audio pickup in the helmet.
In having done between 150 ad 200 UClear helmet system installations (integrated or MEMS extension based systems) over the years, I've only had three or four that failed to provide the expected intercom or helmet audio; and two were subsequently found to have damaged microphone leads from previous usage.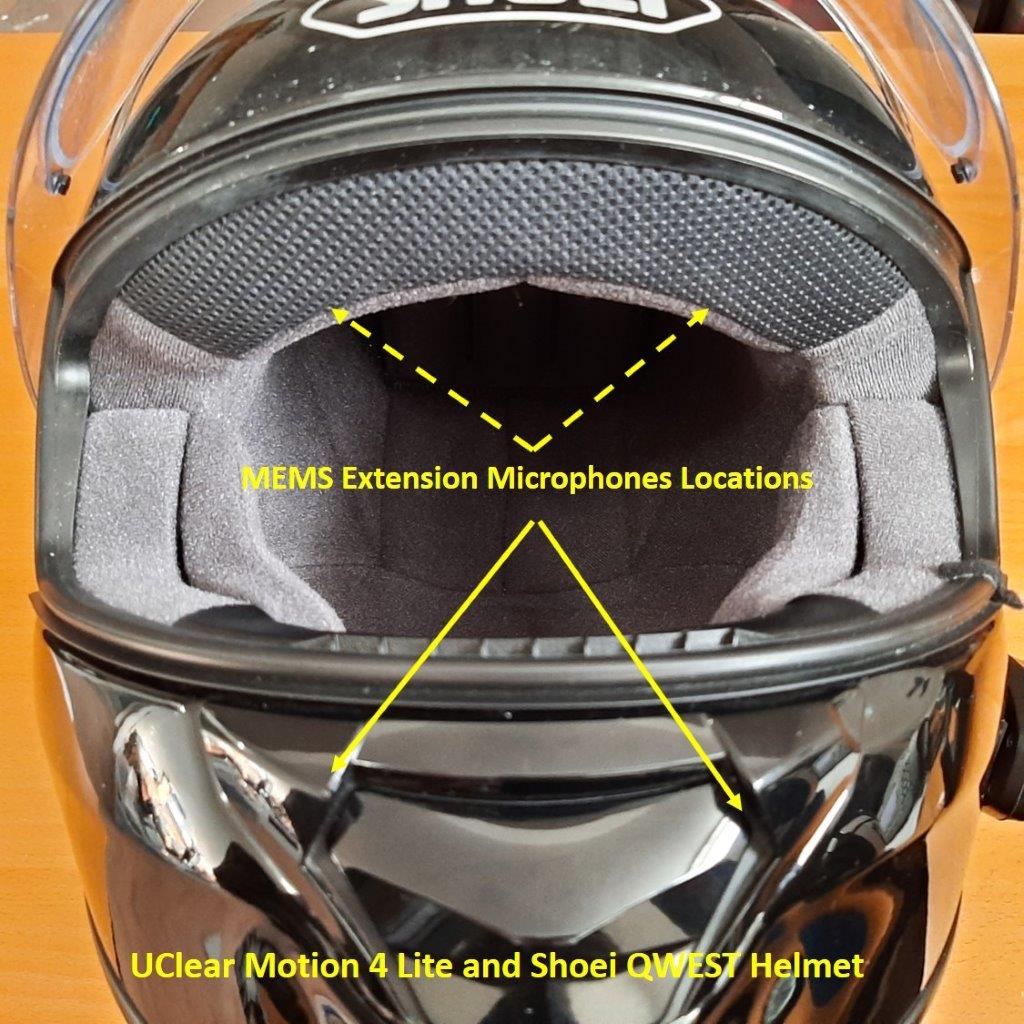 Shoei QWEST Full Face
The UClear Motion 4 Lite saw the first installation and use on the Shoei QWEST full face helmet and while its owner has a newer Shoei this one continues to provide excellent service as a 'tester' in that it is easy to work with and in now having been used for testing many BT systems, it is a known entity regarding cockpit and helmet aerodynamics and noise levels and as an audio environment, etc.
Module – the small slip-in or paper-clip clamp mount, with the silicone inserts in place, work well on this helmet, as with most full face helmets and while not held in place to the same degree afforded by a larger clamp mount approach, for the lightweight UClear systems it works.
Speakers – balanced placement of the Pulse Pro 2.0 speakers is easy – just position them in the EPS liner recesses and orient them so the extension leads for the microphone array pieces run out the cut-out at the lower front and the headset leads run out the cut-out at the upper back of the recesses; it all makes for a clean installation.
Microphone Array Placement – one of the best locations for the MEMS extension microphones are along the left and right front sides of the chin guard, just where the side liner pieces end. The extension leads are run directly forward from the speaker housings between the EPS lining and cheek pads, with the flat cut-out adhesive placement pieces used to secure the small microphones in place, with the hole facing the occupant.
An alternative spot is along the upper brown area of the helmet, either tucked in on the flat array are along the lower edge of the brow, tucked flat between the EPS liner and the open weave mesh of the headliner or between the EPS liner and the padded brown liner (the small microphones should not be felt through the padding).
If a brow area placement is to be used, it is better to loop the microphone extension leads back up along with the main speaker lead and if the headliner is not easily removed (as in this older QWEST model), small pass-through holes are needed to have the microphone pieces run between the EPS liner and the headliner.
Regardless of where the dual microphone array is to be mounted, the critical requirement is to have them mounted symmetrically – positioned equally from left – right and height perspectives in the helmet; and, do some intercom/audio testing to optimize helmet audio.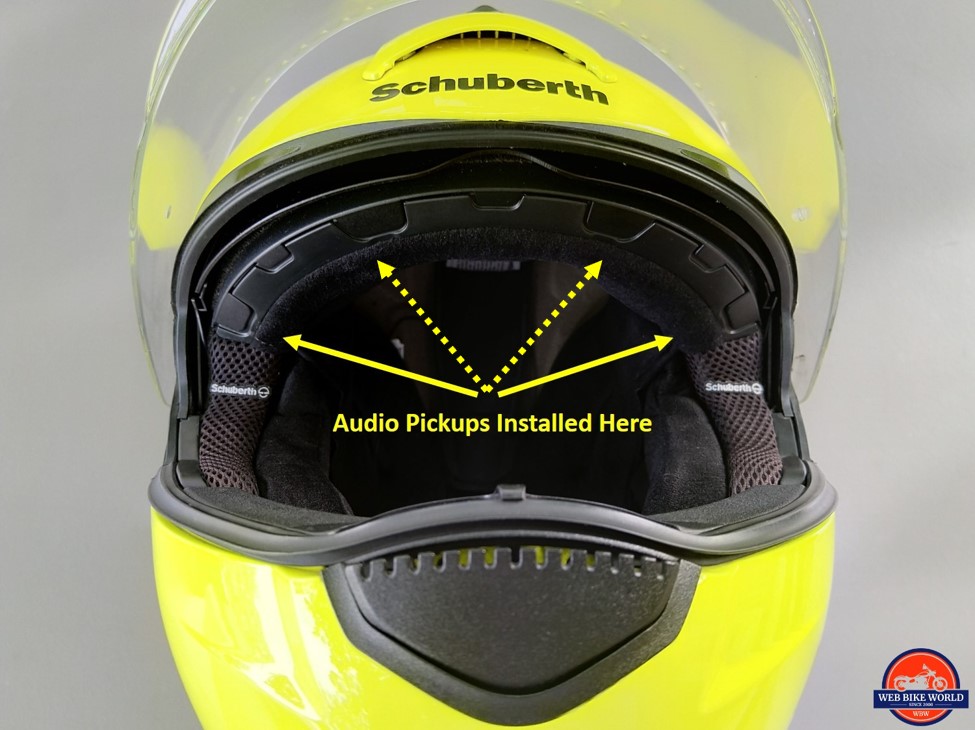 Schuberth C3 Pro Modular
The Schuberth C3 and C3 Pro helmets are arguably the or one of the best audio environments for a helmet headset, especially for UClear Systems with their outstanding audio components. All the positive design features including helmet aerodynamics and a quiet sealing interior optimize the helmet audio experience.
Module – between the modular construction with the pivoting chin bar and a sealed lower edge (the wire/plastic cable insert), an adhesive mount works just fine, either using the provided small square metal mount or the newer larger stylized piece. Alternatively, if flexibility and mobility is needed, using something like 3M Dual Lock works as well.
Speakers – virtually all Schuberth helmets feature a diagonal elongated recess in the EPS layer to house speakers, with this slight angulation facilitating optimal placement of speakers vis-à-vis the ears. The main lead for the right speaker and microphone runs in across the top of the helmet between the EPS and the head liner.
Microphone Array Placement – effective symmetrical placement of the small microphone pieces has them placed on the left and right horizontal surface (underneath the breathable weave material stitched into the plastic insert edge) or vertically on the upper brow behind the padded headliner. Another good spot is just at the top of the cheek pads at the sides.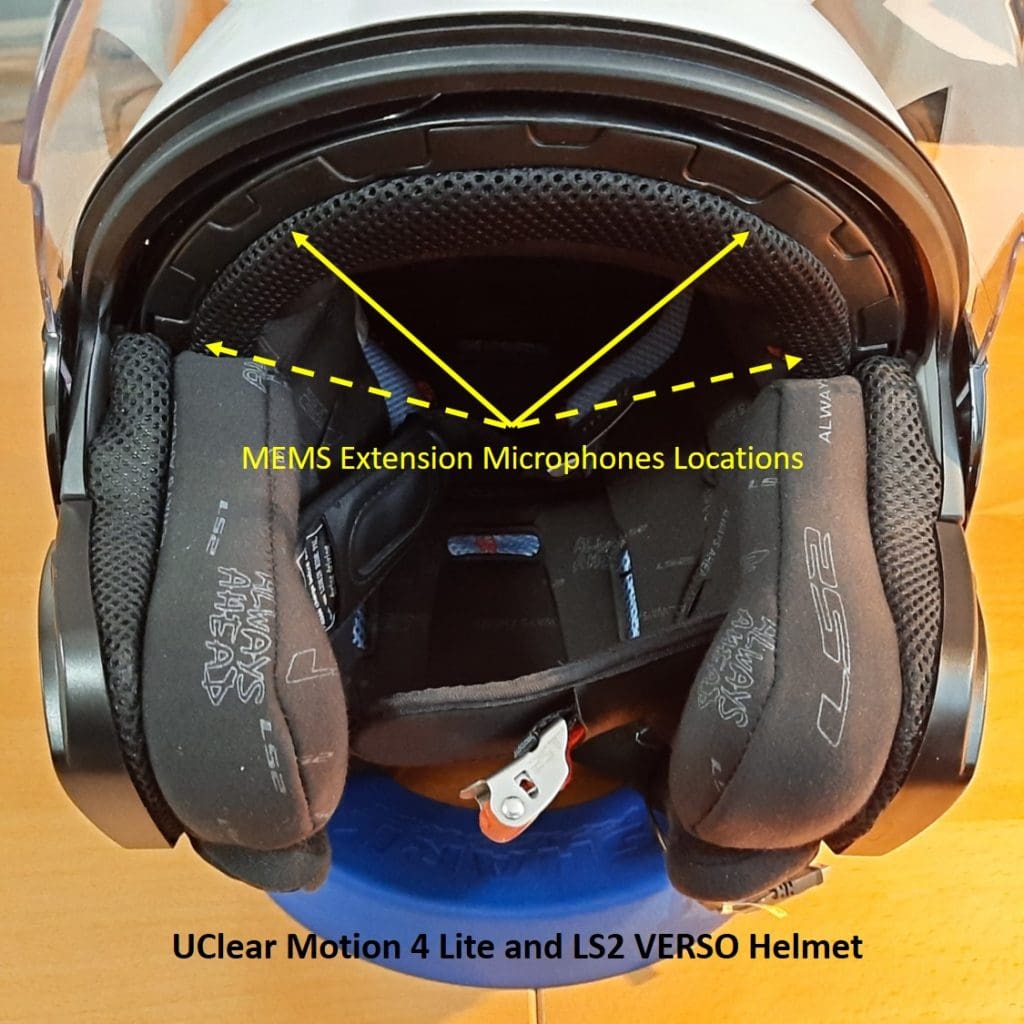 LS2 Verso Three-Quarter Style
With modular, three-quarter or Jet-style and shorty helmets, the benefits of the UClear integrated or extension microphone solutions really come to the fore; and the LS2 Version three-quarter style helmet is an excellent host for the Motion 4 Lite system, as it has been for other UClear systems.
Module – as with the Schuberth, design and fitment of pieces precludes (easy) use of a clamp style mount, so either of the small adhesive pieces provides an effective low profile mounting solution.
Speakers – with relatively large open from the front recesses for speakers, there is a lot of placement versatility in the LS2 as well and along with the large soft loop pads installed, adjusting speakers by 5mm or more is easily done to get optimal placement vis-à-vis the ears; this physical 'tuning' is always worth the effort regarding audio rewards.
Microphone Array Placement – as with the Schuberth helmet, access to the brow area – on the flat of the EPS liner or up against the inside wall, is easy and the small adhesive cut-outs for the microphones allow precise secure placement. I also use small sections of Gorilla tape, shaped like the UClear pieces for additional helmet installations.
Test placements of the microphone array should be done for a three-quarter or open style helmet especially if it is used in a noisy cockpit environment, although the UClear dual array pickup and noise management features are hard to beat or defeat; but fine tuning of the audio pick-up environment can pay real dividends regarding the user experience.
I've ridden un-faired motorcycles, at speed, with open-face helmets or helmets like the LS2 Verso with UClear systems using either the integrated speaker/microphones or the MEMS extension microphones and its amazing how effective the system is; individuals calling in or connected via intercom never hear anything but crystal clear audio.
UClear Motion 4 Lite – Initial Use
The standard operating procedure or SOP with a new system, once initial layout photos are done, is to get it fully charged in preparation for bench testing or first helmet installation use.
A USB-C interface is used on the Motion Series systems and UClear thoughtfully includes a dual USB-A AC/DC wall charger. Connect the provided cable to one of the USA-B ports on the charger or to a USB-A (charge compatible) port on a computer and fully seat the USB-C end into the module – there is no 'orientation' for USB-C connections, just alignment.
If not fully charged, the module LED shows RED when connected to indicate that charging is ongoing and then shows Blue once the battery is topped up.; it does not take long with the faster USB-C charging capability.
Push the large front button for two seconds to turn the system on confirmed by a Purple flash of the LED and then rapid Blue pulses. If the Voice Prompt is on (default), a 'Battery Level xx' voice prompt is heard and if a paired device is found and connected, the 'Headset Connected' prompt follows.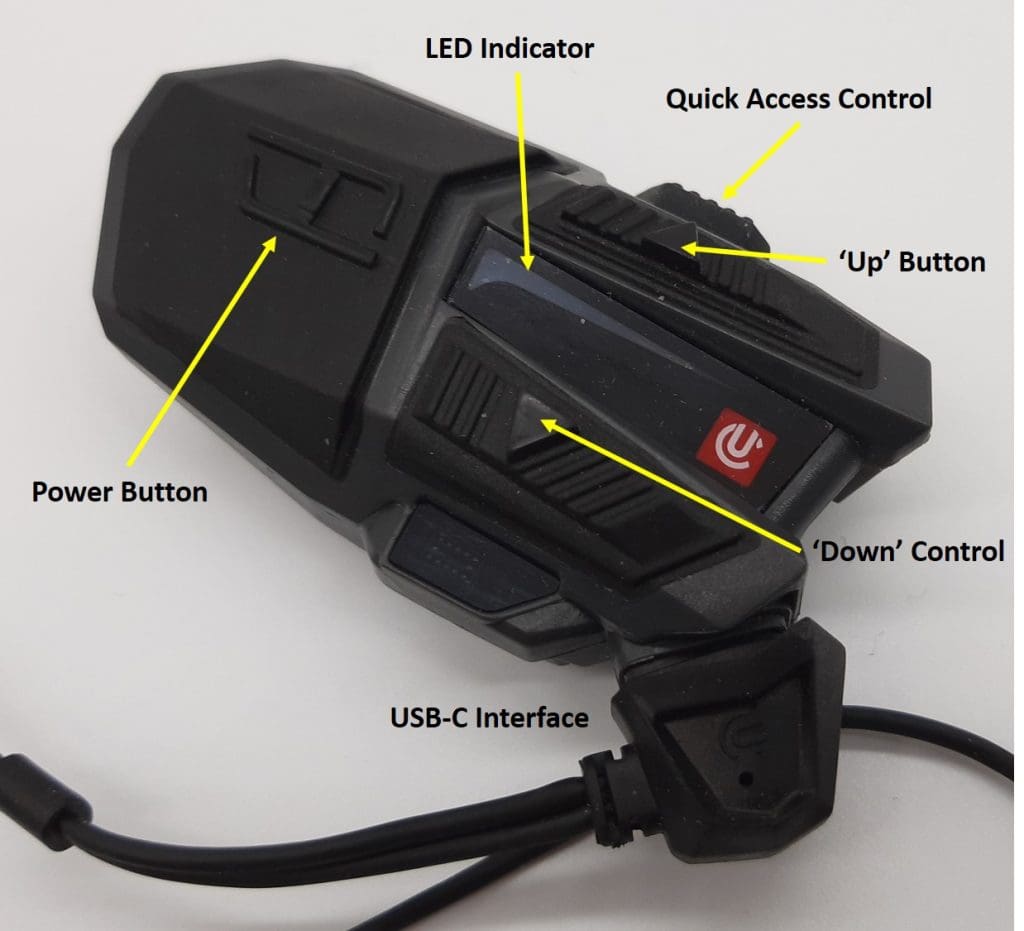 To turn the system off, press the front button for three to four seconds – the LED goes Red, 'Power Off' is heard and the system shuts down.
Device Pairings
U-Pair
U-Pair is used for pairing with any compatible BT device – phones, tablets, GPS, OEM systems, MP3 players and BT PTT radios or related accessories.
With the system powered ON, press, and hold the Up & Down controls until the LED blinks the familiar Blue and Red pattern. Look for and select the 'Motion 4 Lite' listing from the device's BT pairing listing. Note – if you see a listing with 'BLE' added to the system's ID, like "Motion 4 Lite BLW", do not use it.
Bluetooth v5.0 pairing is (typically) fast – one or two seconds and everything is done, then the system goes to standby indicated by a Blue flash every two seconds.
Intercom Pairings
DynaMESH
This is a UClear exclusive offered only with the Motion Series systems. Other brands offer dual-mode BT and MESH intercom capabilities, but UClear's offering is a hybrid, with some abilities that I don't think are yet found in other dual-mode systems or at least not well documented…
DynaMESH has the ability to pair with any UClear or non-UClear model using the ULINK feature and does so without disturbing the MESH aspect of the network.
For example, if you have four Motion Series units and bring an AMP GO/GO2 in or another brand system, the four Motion units remain in MESH mode communications and the other units are brought in via a direct BT pairing to any of the four Motion units – all good so far.
However, with most other mixed mode intercom environments if one or both of the BT-based systems disconnects or is disconnected – due to range or the user turning the system off, it won't always be rejoined automatically or even be allowed to rejoin manually (user intervention) except to the original paired system.
Within the DynaMESH environment however if the BT user requests to rejoin, even if in a different (riding) position or (system) order the network will connect this user back in to the nearest Motion unit so the user can start communicating within the group, rather than having to wait for the original (direct) pairing opportunity (that may or may not come about).
This approach is (essentially) what a dedicated MESH environment provides but the DynaMESH capabilities add versatility not seen with all mixed-mode intercom features; this then is the 'dynamic' of DynaMESH.
Universal Intercom Pairing Mode
U-Pair is used to pair any of the Motion devices to another brand system. To do this, make sure the other brand system is ON and put into its phone/device pairing mode (not its intercom pairing mode). With the Motion device OFF, press and hold the Power button for 10-15 seconds until the LED is flashing Green.
Once the two systems pair and connect, the LED on the Motion device goes into a double-Green flash pattern, and the other device should show its intercom mode flashing (e.g. – double Blue for most Sena systems), indicating that a universal intercom link is open.
UClear Motion 4 Lite – Audio Features & Performance
To be succinct – the unassuming Pulse Pro 2.0 Speakers provide superb audio output; that was the assessment when first used in the Motion Series 6 and Motion Infinity helmets over a year ago and that assessment has not changed regarding their use in the Motion 4 Lite; being tied for top place with the equally superb IASUS XSound 3 speakers isn't a bad thing…
CLEARLink App-Based Features & Helmet Audio Environment Tuning – as a collective, all the features – some current, some coming in a pending firmware release, continue to be a 'way cool', dynamic and, one of the best helmet environment customization solutions available
The EQ or Equalizer features provides individual Bass, Mid and Treble slider adjustments over a -12dB to +12dB range, while a Left and Right audio balancing slider address cockpit, helmet or user issues.
Noise Cancellation (Suppression) Profile – provides Noise-Reduction (NR) within a 0 to 100 dB range (Low, Standard to High) using a vertical screen slider; the default setting is '50'. Like all the 'tuning' features, this one is (very) effective for optimizing the helmet environment.
As experienced with the Motion 6 and Motion Infinity systems, between the Pulse Pro 2.0 speakers and the CLEARLink app based audio tuning and noise reduction features UClear remains in the lead with their installable systems regarding the ability to provide the user with a clearer, quieter, more comfortable and, safer helmet audio environment.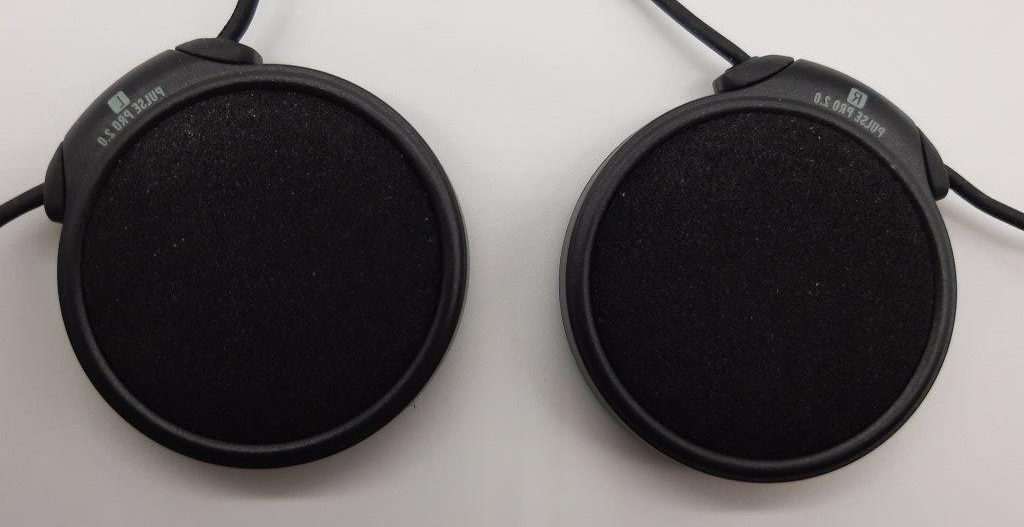 Motion 4 Lite – Management & Exploitation
Firmware Updates
With electronic systems including helmet communication products, one of the best ways to fully exploit everything a system can do is to keep its firmware updated. Bugs, along with feature and performance tweeks and, the addition of completely new capabilities can (depending on system architecture) be addressed through firmware updates.
Firmware version 1.42 is the latest currently available, but the breaking information regarding a new firmware release (see below) is (very) good news and it is likely to be available before this submission is published. A companion update of the CLEARLink App will be released concurrently.
The firmware update, once officially released, will be pushed out to users for Over-the-Air (OTA) updating via the CLEARLink App or if the user prefers by manually downloading and installing the package update from the UClear Firmware Support page.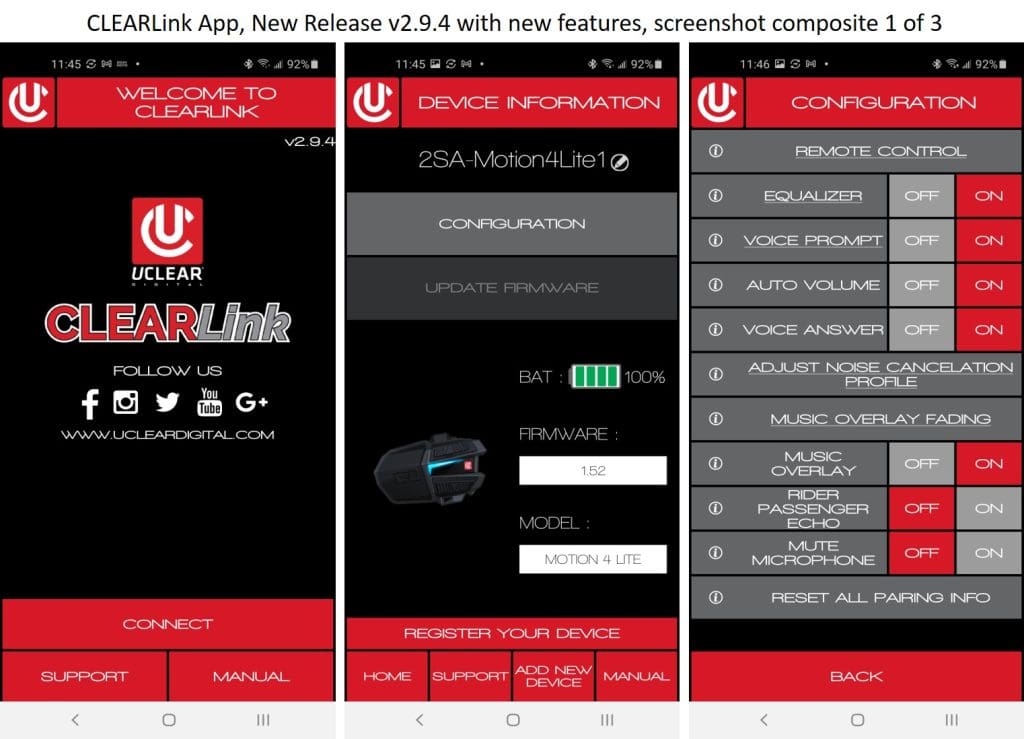 CLEARLink App & New Features
 Available for Android and iOS users, the CLEARLink App provides the means to interact directly with Motion and AMP series products to fully exploit Motion series capabilities and App-based features including audio output and optimization of the helmet environment. Over-the-Air (OTA) firmware updating can also be done from the App.
The pending/released firmware and CLEARLink App updates will provide at least two, possibly three, three new features, all of which I've had the opportunity to beta test on the Samsung XCover Pro Android phone with the Motion 4 Lite, Motion 6 and Motion Infinity systems updated as well. Some of the newest features are provided below.
Auto-Fading – available for both iOS and Android versions, this adjustable music fading capability is most welcome. Activating the 'Music Overlay Fading' bar on the Configuration Menu opens up the Music Overlay Fading Level screen with a single slider, adjustable from 0 (no fading) up to 5dB (fast fading), with the default setting being 3dB. Depending on how fast or how slow you want the fading to occur, the user now has the 'con'.
This new feature works in conjunction with the noise suppression capability; a cough or sudden external noise spike won't trigger fading, but normal speech will and with initial use, its pretty seamless.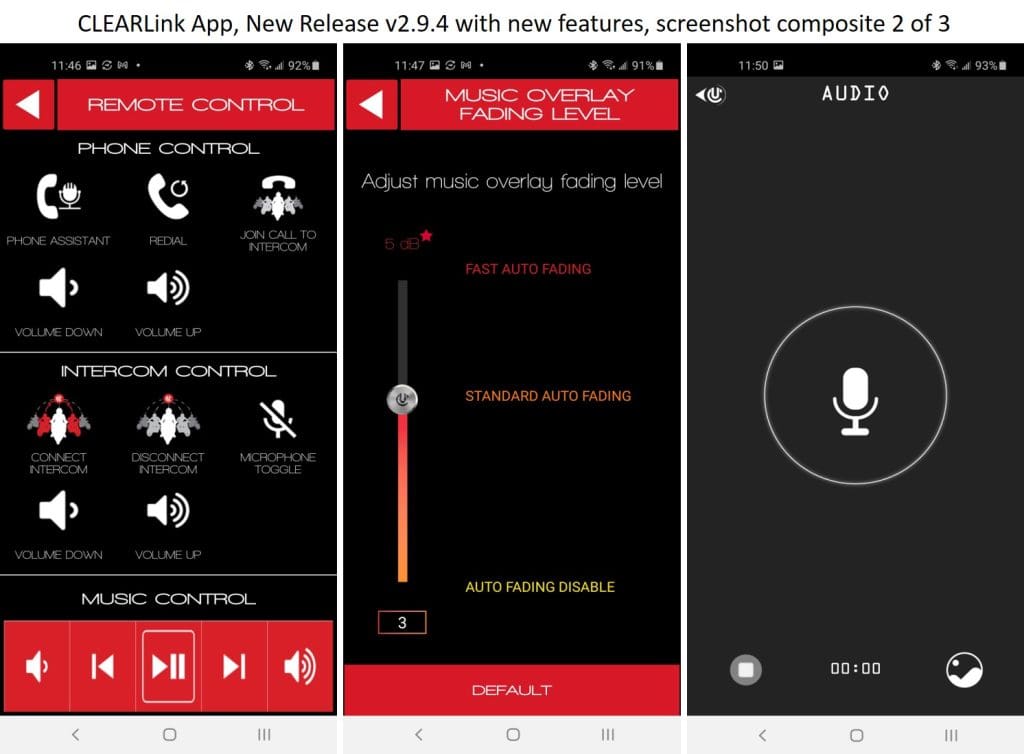 Remote Control – both iOS and Android versions will have this feature enabled. It sits at the top of the Configuration Screen and when activated, the new 'Remote Control' screen appears with its three functional segments – Phone Assistant, Intercom Control and Music Control.
Specific function icons are grouped in two rows in the Phone and Intercom segments while the bottom Music Control is a clean horizontal layout. It's likely to see some changes going forward but even now it is easy to use and functional, providing a command-centric focus.
Audio Recording – this new feature was only in the iOS beta, but Android implementation won't be far behind; luckily an iPad Mini 4 and iPhone 8 are at hand. The Android beta works well, with simple PTT-screen activation and 'Stop' and 'Playback' icons. The recordings are saved off as .wav files with time-display file names.
Down the Road – in looking ahead, related to the original and newest features, and thinking of what could be next to enhance current features, a few things come to mind and I suspect that they are indeed being worked on; the Motion systems with Bluetooth v5.0 onboard have a lot of evolvability.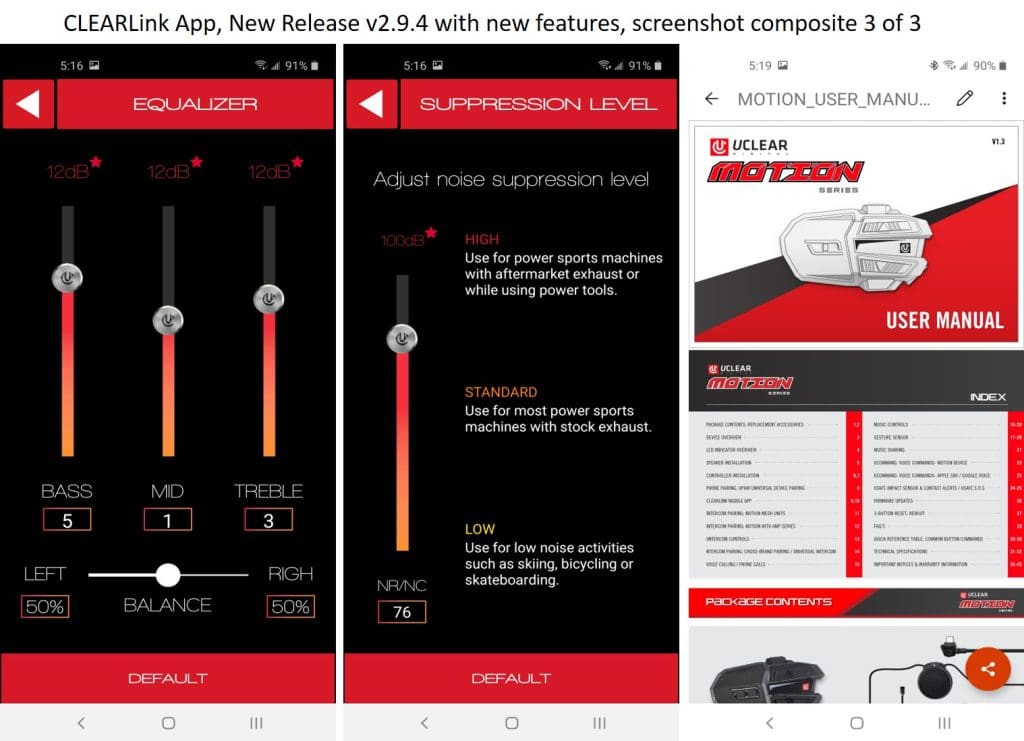 On the Road with the Motion 4 Lite
With all three Motion Series systems in the loop, along with the UClear AMP GO2 or the original AMP GO, a four-system UClear environment is formed up for testing and ongoing riding use and overall, there isn't much to complain about.
Bringing all four systems together is easily accomplished in two ways. The first is done as a mixed model environment with AMP and Motion systems. The AMP unit is powered OFF while the Motion units are ON.
Put the AMP unit directly into pairing mode by holding its Power and UP buttons until the LED flashes Purple; now press and hold the Quick Access (top) button on the Motion systems for 5-6s until their LEDs flash Purple. With all systems flashing Purple, press Power on any Motion unit to initiate the pairing sequence – units will double-flash Green as they connect.
At this point, all but one unit should be flashing the double-Green. Press Power on the unit still flashing Purple to end the pairing sequence – it to will then go double-Green; all done.
The second way, depending on availability of systems, is to pair the three Motion systems together as a MESH-based group; done by putting them all in pairing mode per above, pressing power on one of them, and then pressing Power on the last one that is still flashing Purple to finish the sequence.
From this point, the AMP unit can be paired to any of the Motion systems and brought into the DynaMESH network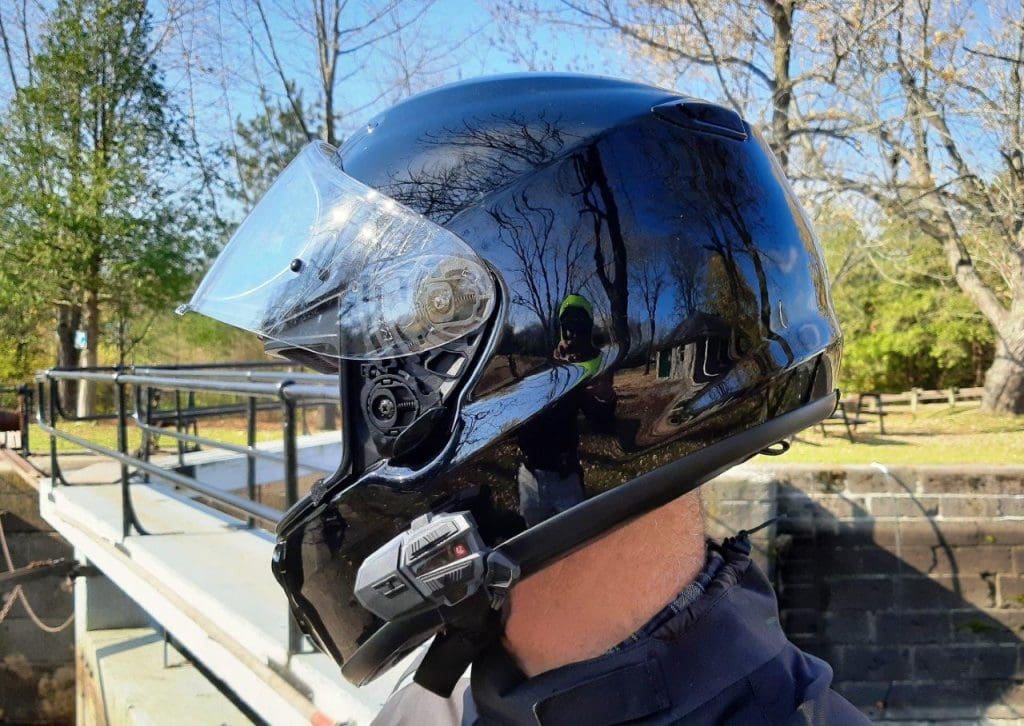 And for the most part, this is about as hard as it gets on the road unless an individual user perhaps messes something up in playing with their system – which might then need to be paired again. But typically, once paired, any of the systems will find the network and an entry point.
With DynaMESH and Multi-Hop technologies managing things, 600 to 800m or slightly more between individual systems is more than doable in open and uncluttered terrain conditions, although the AMP system may fall out sooner if at the far end, although it will reengage once back in range.
There is no doubting that the UClear audio environment leaves little to complain about even in noisy cockpit environments with a noisy helmet, although at speed and between differing motorcycle platforms, there will be some ups and downs, most noise induced.
And unless said noise simply drowns out everything, intercom audio remains crystal clear with background and environmental noise spikes filtered out almost immediately. If more attenuation is needed to address the noise, the App-based tools really make a difference; take the time to experiment with them (safely) during rides…
If there is a bugaboo for UClear systems and, other systems as well, it is a shortfall regarding peak volume settings. This is a common observation and while the argument regarding 'how much is too much' is valid, a better median is needed, while also appreciating that this would impact battery life, etc.
Speaking of battery life, as noted with the UClear AMP GO2, two to three half-day riding sessions with constant intercom chatter didn't have the battery drained on any of the Motion Series systems and most were just below the mid-point; more extensive use of the media streaming will, of course, impact consumption.
And yes, all three of the Motion systems put themselves to sleep after two minutes of inactivity, unless there is a fair bit of vibration of movement nearby. A light touch on the module or on the helmet has them waking up instantly and reconnecting to everything; this alone helps extend battery life.
Road Picks – intercom clarity and audio performance; Road Nits – 4-user limitation and output volume.
Conclusion
With entry level features and well-priced systems more of a market focus, the Motion 4 Lite is uniquely placed; UClear has thrown the gauntlet down.
But at a current price point of $169.95 USD, there isn't (current) much head-to-head competition for the UClear Motion 4 Lite, especially as it has many of the key features found in the other more expensive Motion 6 and Motion Infinity products.
There is little, if anything, in this price and/or feature range to rival the DynaMESH, audio output, and helmet environment tuning capabilities found with the Motion 4 Lite and the CLEARLink App; although more and more systems are being endowed with similar features. But UClear still does it best.
And the almost year-long wait for new firmware is over, with new firmware features and lots of App enhancements for even better audio management and a great 'command centre' oriented screen to enhance the user-interactive environment as well. And there is more coming…
Bottom Line: It might be the newest and lightest feature-wise of the Motion Series, but the Motion 4 Lite more than holds its own, especially given DynaMESH, the Pulse Pro 2.0 speakers and App-based audio management and helmet environment tuning features. At a price point well below the 200.00 USD mark and only slightly higher than basic entry level systems, it is, or should be on the investment short list regarding helmet audio systems. Highly recommended.
Pros
Bluetooth 5.0 provides system performance boosts, power efficiencies, evolvability
Duplex HD 4-system intercom using MESH and BT with up to 800m per system
40mm Pulse Pro 2.0 HD speakers for superb HD audio reproduction
Dynamic App-based EQ and L/R Balance settings
App-based Noise Suppression setting
New firmware release updates some features and adds new ones
CLEARLink App is common to all modules
UClear firmware updates can be done OTA using the App
U-Move sensing turns system Off after two minutes and, On with any movement
Versatile DynaMESH features and superb audio performance at very competitive price
Cons                        
Multiple edges and shape/layout of controls not the best, takes time and use to interact effectively with the controls
Gesture Control & U-Command features are missed
Output volume could be better
wBW Specs:
Manufacturer: UClear
Price when tested: Single system $169.95 USD
Made In: China
Warranty: 2-years
Review Period: August to end-October 2020
Review Submission Date: 13 November 2020