For 30 years "Tex and Pip" dreamed of doing a lap of Australia and last year they realised that dream aboard a 22-year-old BMW R 1100 RT, named Bertha.
Writing under the pseudonym of Pip Brown, the pillion is now seeking to have a book published about their epic adventure.
"In my story I have included historical facts about the places we explored, stories shared with other travellers, entwined with poignant reminisces, of previous life experiences," she says.
"Over 32,000 words and close to 16,000km travelled in just under 10 weeks."
If any publisher out there is interested, the author can be contacted via email.
Here are highlights provided by "Pip"::
Travels with Bertha 
On a cold winter's morning in Adelaide June 2017, Bertha was all saddled up and ready to go, a small two-man dome tent, and minimal gear on board. Don't even think about bringing a curling wand or high heels ladies, you never know where they may get shoved. Helmet hair is par for the course.
Tex and Pip had donned layer upon layer of clothing; their plan to motorcycle around Australia, chasing sunshine over 10 weeks. Having 40 years of motorcycling experience behind them, they were determined to cross it off the bucket list once and for all. Pip (Tex's wife of 38 years) couldn't think of a better way to do some soul searching and reconnect while sitting astride Bertha behind her husband singing the blues at the top of her gut-wrenching tone-deaf voice. The best thing was, no one else could hear. 
By the time they reached Forbes in NSW, Tex noticed the tyres wearing out faster than usual. Normally Bertha would get 8000 to 10,000km per tyre. These had only done 3000. Perhaps it was due to the heavy load. In Dubbo they received the grim news that no tyre in town would fit Bertha's 18" rim. Could be a few days away.
They pressed on to Tamworth under beautiful blue skies, although the weather was still crisp. The elusive 18" tyre could not be immediately sourced. Buzz, an old motorcycling mate on the east coast at Woolgoolga, was awaiting their arrival. The budget was tight, they didn't wish to wait for a tyre delivery. An executive decision was made to head off down the eastern escarpment of the Great Dividing Range from Glen Innes to Grafton, then on to Woolgoolga where they could stay with Buzz and order in new tyres.
With hearts in their mouth and blood pumping through their veins, they began to wind their way down the range, on this fully laden iron pony with by now two suspect tyres. The weather was drizzly, by half way down this steep mountain it was steady rain. The song, Slip Sliding Away came on their intercom. The lovely ferny fresh smell of the damp forest penetrated their nostrils. It was a relief to arrive at Buzz's house. Damp but, pleasantly satisfied.
A glorious week was spent with their beautiful daughter who is studying at the Sunshine Coast University. The weather picture perfect. Moving on to camp at Woodford on the Fraser Coast. 
Camping adventures
By now, they were quickly becoming efficient at erecting their little blue tent, with self-inflating mattresses, a four-plug adaptor to charge their intercom and phone. A powered camp site was essential for these. They needed their constant music playlists to groove along the highways. No need for heated gloves now.  Stopping every two hours for a walkabout, stretch, water and snack.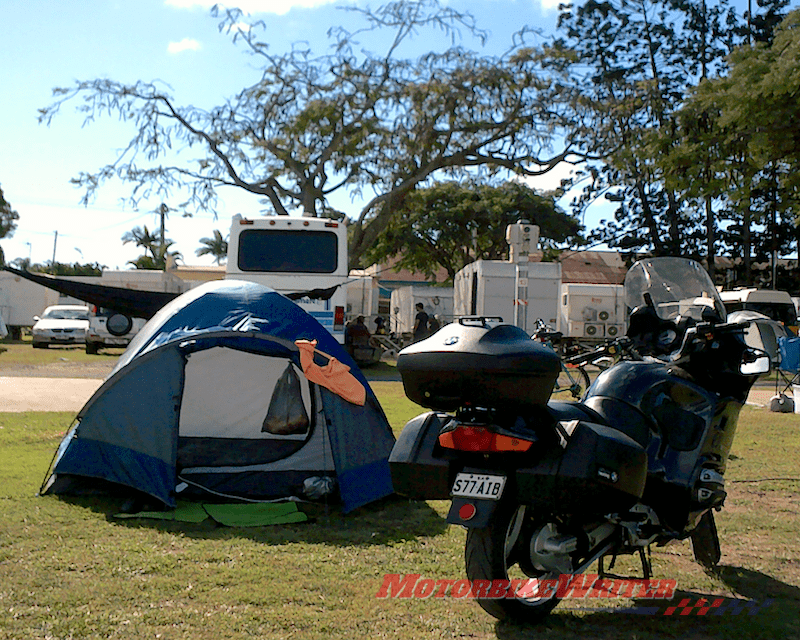 Pip had never felt so fit and healthy, her abs and gluts were firm and toned like 30 years ago from all the incidental exercise of camping, squatting to boil the billy for tea, crawling in and out of the tent. Being almost 60 years of age, this was impressive. No gruelling workouts either, just sheer fun and adventure.
Travelling inland through Winton the sides of the highway littered with roadkill. Mostly dead kangaroos. The stench in the air was putrid. Their golden rule was never to travel at sunrise or sunset. This is when the wildlife venture to the roadside for feeding. Camp was always set up by 3pm each afternoon. Never did they come close to colliding with the big hoppers, who seek out shade in the middle of the day.
A close encounter with a family of wild water buffalo in Dunmarra NT was another unforgettable experience. 
Duct tape saviour
By the time they reached Darwin they had been on the road for about four weeks. Life couldn't get much better than this. It was 30 degrees. Back home they were shivering in below 10 degrees. Apart from the tyres wearing out unexpectedly fast, the only other problem so far was the right pannier clip which broke, forcing them to make temporary roadside repairs. All praise the inventor of duct tape, their saviour helping them make the distance to Cloncurry. A small cordless drill was purchased and their motel room converted into a workshop, while Tex fashioned a replacement metal clip affixing same to the pannier and bike. It lasted the rest of the journey.
Exploring waterfalls in Litchfield National Park showcased some of Australia's most magnificent scenery.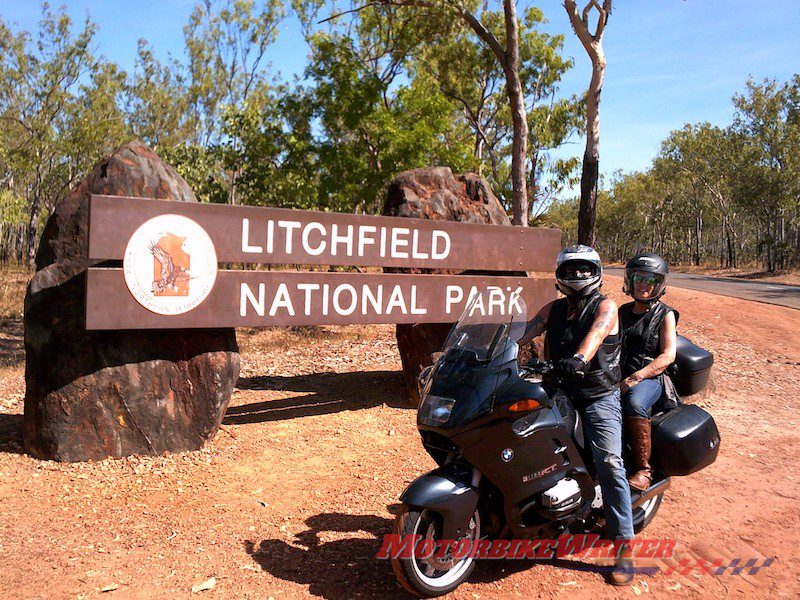 At Kununarra on the north coast of Western Australia, they were the only tent campers, everyone else was in cabins or vans. To Pip's horror she soon figured out why, as a huge crocodile leapt out of the Ord River only metres in front of her. Tex was in the showers when the hysterical Pip raced in to inform Tex of the reptile near their camp. The other naked men in the showers were shocked to say the least. It turned out, it was only a freshie. ONLY a freshie, it was enormous, and so close, Pip even saw the evil little glint in his eye. 
A camp site in Broome on the waterfront overlooking the pristine Indian Ocean was picture perfect. The interesting people met on this adventure, sharing stories is an experience they shall cherish forever. Most of them curious to discover what these two old codgers on a 22-year-old motorcycle that still looked like new, were all about. The Western Australian coastline is beautiful, with so many more places to stop and explore, next time.
They became held up in Geraldton awaiting the arrival of new brake discs, due to the bomb threat scare that grounded all Australian flights. Bertha still had her original factory fitted discs from 22 years ago, when they discovered they were one serious braking away from total disaster. Struth, that was a lucky discovery. The weather was cooling down, it was becoming close to the time when they were to make their dash back across the Nullarbor to home. 
What a totally mind-blowing experience. So glad we never gave up on our 30-year dream.
Bye bye Bertha
PS: Bertha is getting a well-earned rest. Last month the couple bought a BMW K1600 to continue their travels and plan to do Tassie in early 2019.