As I roll up to the scrutineers at the Champions Ride Day at Lakeside Park, I'm aware of all eyes in the pits on the Harley-Davidson Fat Bob I'm riding.
You can almost read it in their eyes: "What's he doing here with a Harley?"
The scrutineer has the same look in his eyes and says: "This should be interesting."
Gasoline Alley Harley-Davidson dealer principal Fergus Bell had invited me to the track day when I caught up with him recently at the Ellaspede Dust Hustle.
That's an event which is an enormous amount of fun because of the inappropriate bikes riding on the flat track course.
Ferg was riding his Low Rider S with slightly knobby tyres and a whole heap of other mods and having a blast. So were the spectators who enjoyed the deep baritone rumble of his Screamin' Eagle 120RX (144hp and 133Nm) through a Kiwi Harris 2 into 1 pipe.
Ferg told me he also bolts on Dunlop 211 GP tyres and rides at track days.
2018 Fat Bob
I showed interest so he invited me to his next track day to ride a 2018 Fat Bob.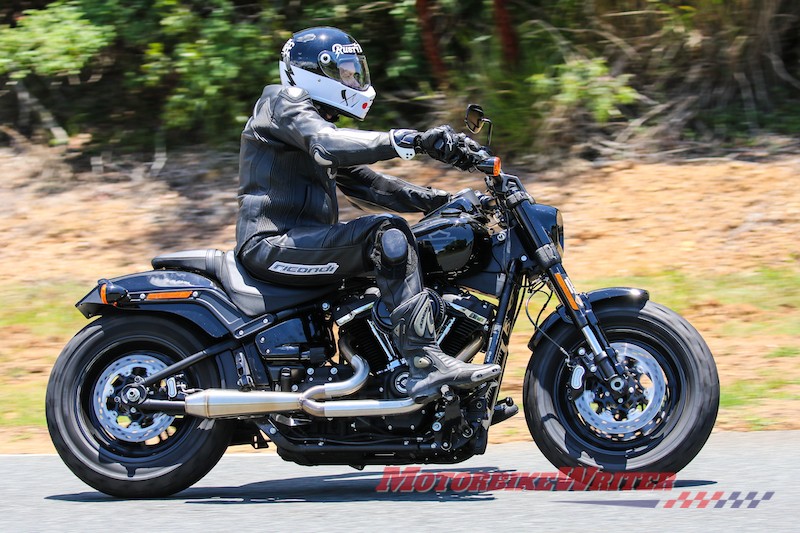 The Fat Bob used to be a Dyna, but it is now part of the all-new Softail family with a stiffer and lighter frame, single rear shock, cartridge forks and Milwaukee Eight 107 and 114 engines.
Click here to read my 2018 Fat Bob road test from the USA launch.
Ferg has supplied me with a 114-cube version with a Screaming Eagle Supertuner and Two Brothers Racing exhaust, but still on its standard block-treaded, high-profile tyres.
I enviously eye off his Dunlops and ponder how this rubber is going to last around the tight rollercoaster track.
Track days
Track days attract a wide variety of rider talents and machines. There are professional and amateur racers with their mechanics and tyre warmers right down to novices who ride in on their street bikes with a backpack containing some sandwiches and a couple of bottles of water.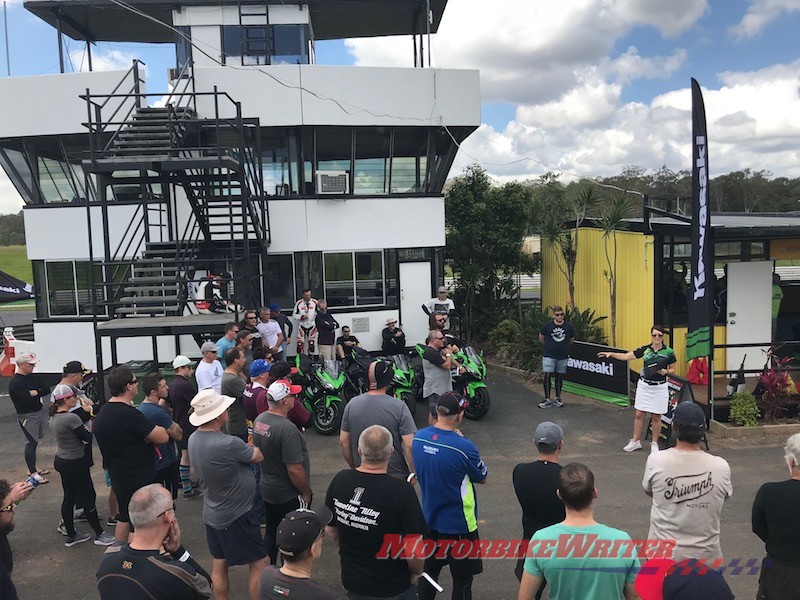 You don't see many road-going Harleys. In fact, we are the only two on this day.
The British, European, American Racing and Supporters (BEARS) group still holds events and attracts some riders on Harley sportsters (883-1200, XR750 -1200).
However, a Fat Bob and a Low Rider on a track are very rare sights, indeed.
And as we queue up for the slow group, all eyes are on us.
When the gate opens, everyone muscles past us on to the track so they don't get caught behind the "mobile chicanes".
After the obligatory two laps without passing, IT'S ON!
Throttles are wound to the stops and everyone is out of their seats Rossi-style around the corners.
What no one expected was the two big ol' Yank tanks rounding them up around the outside of the corners and leaving them for dead on the straights.
Guys from the faster classes are all up against the pit wall with their cameras out, capturing the noise and action.
All too soon the first session is over and the grin on my face is wider than it's ever been.
I've done many track days, but always on purpose-built sports bikes.
Like the Dust Hustle, riding an inappropriate bike on a track can be enormous fun for the rider and spectators.
Track test
So how did the Fat Bob go?
As you would expect, it was compromised on the track by lean angle, brakes, weight and rubber.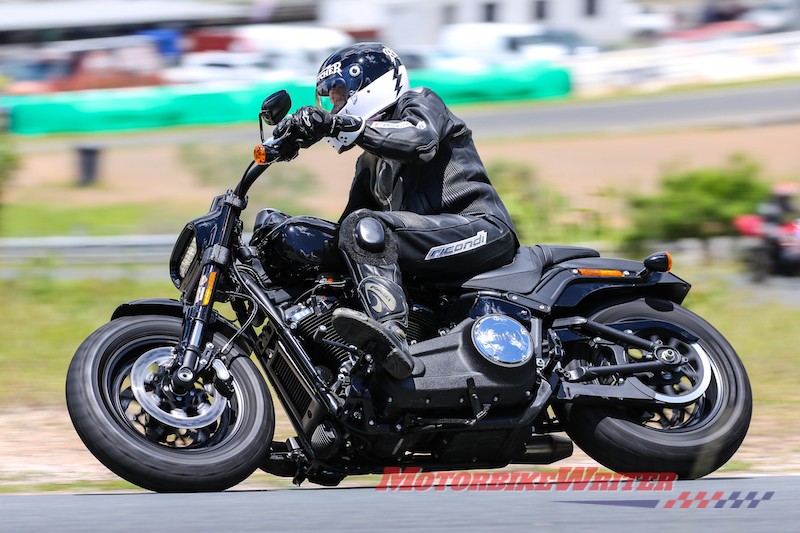 So I adapted my riding style to brake early, take the corners wide and get on the gas as soon as possible.
The overtaking rule for Champions Ride Days is that you can only overtake around the outside.
One rider did run down the inside of me into one corner under brakes and later apologised. But that's ok; I was expecting more to do the same.
But the low clearance meant I had to make the outside line, anyway. So I was able to round up many of the riders around the outside.
My lean-angle guide was the sound of the pegs and supports grinding away underneath me.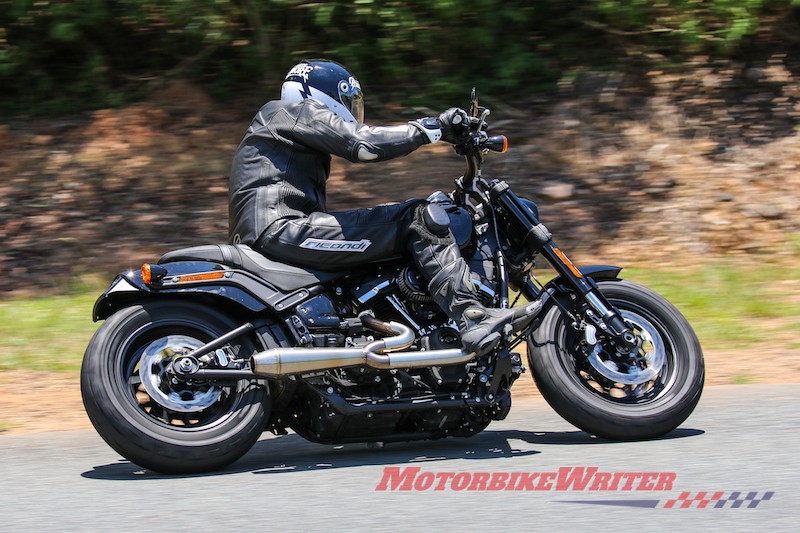 Being on the widest line, I was able to get on the gas earlier and with that enormous 155Nm of torque the bike was able to gap riders off the turns and run away down the straights.
The low 5000-rev limit had me short shifting from third to fifth, but the torque meant I could roll through all corners except the tight "bus stop" section in third.
The Fat Bob has totally inappropriate rubber for the track. Apart from the block tread, the high profile makes it squirm under acceleration and braking, especially the front with an 80% profile.
On the front-straight kink, the front tyre walked around a bit, so I had to back off and couldn't hold it flat.
The brakes are strong, but not track standard, so you have to apply them early to slow down this 306kg beast.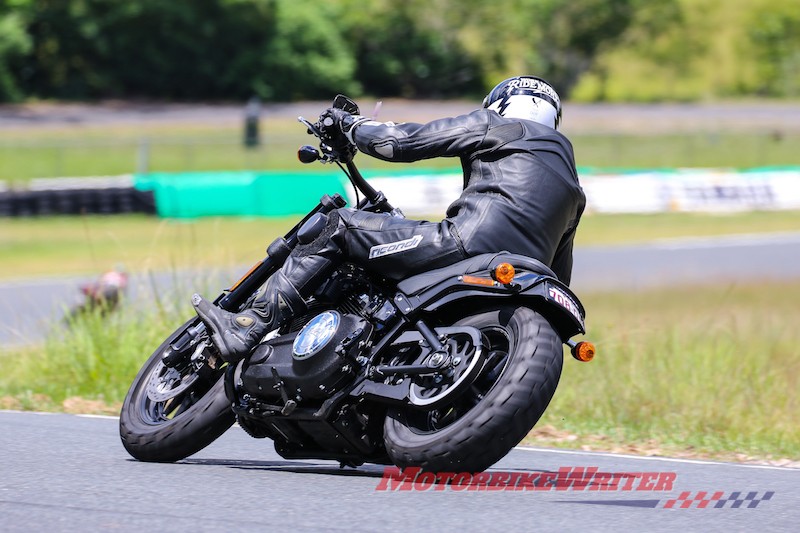 However, after two sessions, they still felt strong with no hint of any fade. Mind you, I did use a lot of engine braking as well.
So, in the end, it wasn't the clearance, weight or brakes that were the real hindrance, but the standard tyres.
Better tyres would easily have this bike running competitively in faster classes.
Over the last few laps of the second session, the bike was power sliding and leaving big "blackies"on all the corners.
Perhaps that is what made it so much fun.
Anyone can wind on the throttle on a sports bike, lean through the corners and go reasonably fast on a track day.
But it takes a lot of guts and determination to chuck a beast like this around a track.
It's hard work, but the rewards are immense and the fun factor is 11 out of 10!
The only down side is I almost chamfered the right footpeg into oblivion (Lakeside is dominated by three major right turns).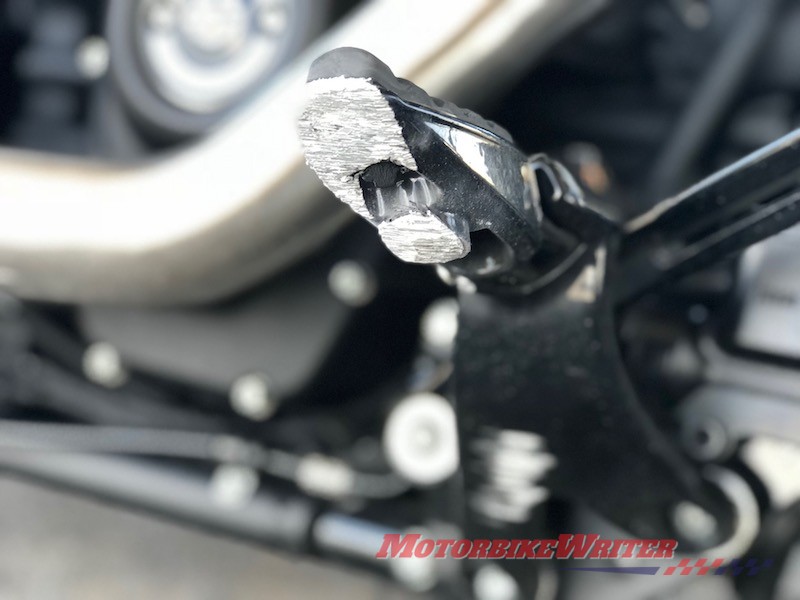 Back in the pits, I apologised to fellow riders if I had held them up. But they all grinned and said it was fantastic to see – and hear – the big Hogs on the track.
Ferg's Low Rider S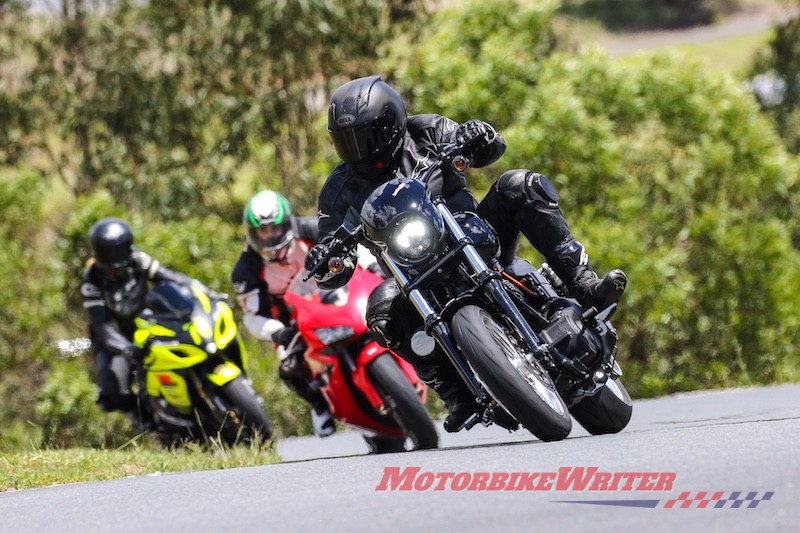 I've known Ferg for about 20 years when he worked at Honda, BMW and Harley and have ridden with him on many bike launches.
He is a talented rider and was way quicker than me on his modified 2017 Dyna FXDLS Low Rider S.
Apart from performance upgrades — Screamin Eagle 120RX engine and clutch, Harris pipe and HD oil cooler — Ferg has made some clever mods to improve handling, grip and clearance.
They include: Ohlins shocks, progressive fork springs and gold valves, Fat Bob triple clamps, Superbace fork brake, Hardcase Performance 4-inch riser, Rental Fatbars, Track Dynamic Alloy Swing Arm, 2017 Low Rider rear guard, 17-inch Excel rims, Dunlop 211 GP tyres, ABS disconnected, custom braided brake lines, 27cycle alloy #shredpegs, Lucky Daves seat, H-D LED Daymaker headlight, Speed Angle lap timer.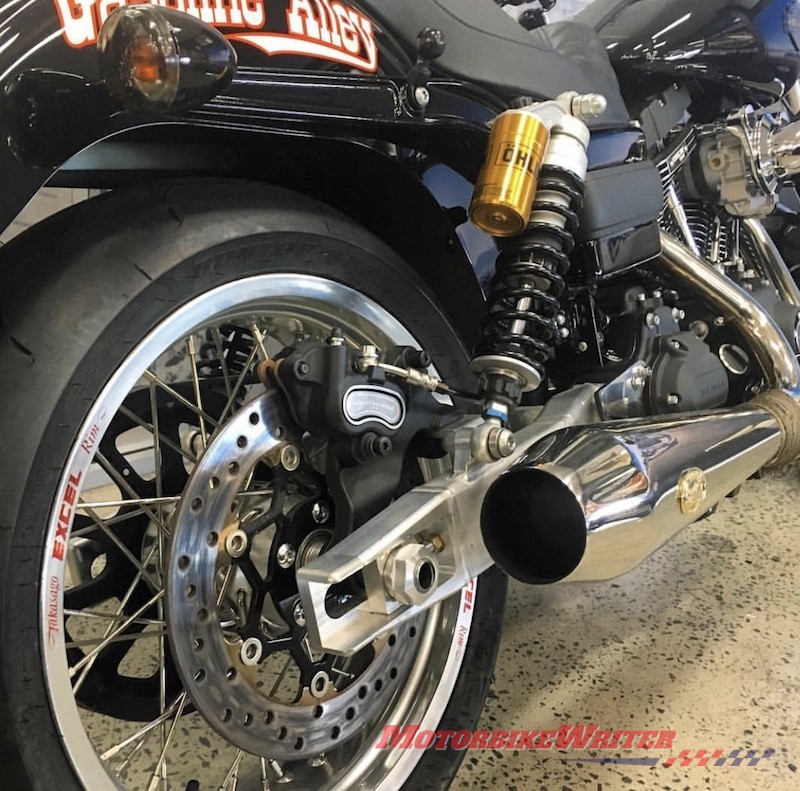 His lap timer shows he hit 195km/h on the straight with a best lap of 1:17.56. That compares with Shawn Giles's 1997 superbike record of 57.46 on an RVF 750.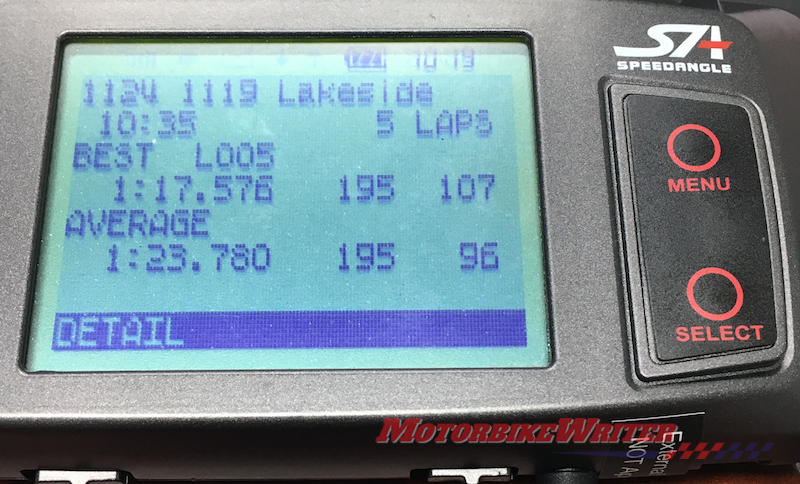 He also packed one can of "skill and ability" for the day.
"That doesn't seem to have worked," he says.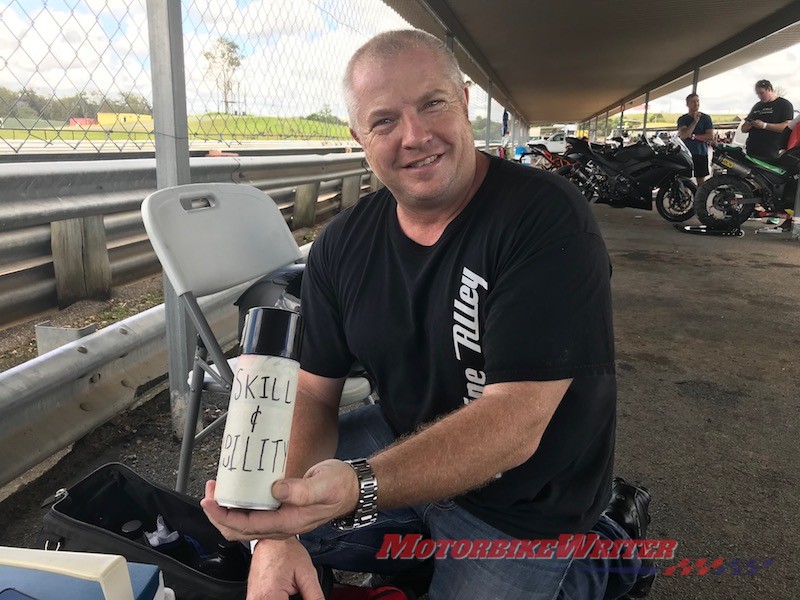 Ferg hopes to attract more Harley riders to join him on track days.
If you are interested in joining him, contact him at Gasoline Alley Harley-Davidson.