Riders concerned about road surfaces and maintenance may be interested in a test Sydney City Council is running with concrete made with recycled material.
Council has installed a short 30m test section consisting of 15m of traditional concrete and 15m of recycled "geopolymer" on Wyndham Street, Alexandria, a heavy use road to the airport.
The geopolymer material is made using industrial waste from coal-fired power stations and steel factories mixed with concrete.
Council seems more concerned about scoring greenie points with their recycling, but riders will be more interested in its traction and wear capabilities.
Concrete concerns
We asked council whether it had been tested for suitability for two-wheeled vehicles, given riders are the most concerned about road surfaces of any road user.
A City of Sydney spokesperson assured us the surface of geopolymer "is just like traditional concrete".
While concrete usually has good traction in the dry, it can be slippery in the wet.
However, the spokesperson says the road pavement of the Wyndham St trial has been "broom finished".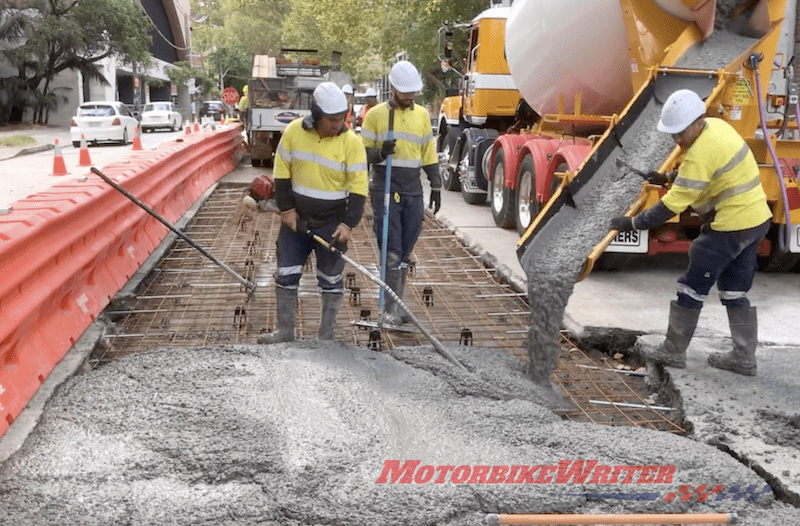 "This finish allows for small ridges in the pavement that increases traction, meaning bike riders' braking and steering controls are not compromised," she says.
Depending on how it is laid and the materials used, concrete is often considered longer lasting with better traction (at least in the dry), but also noisier and more expensive.
The latter is the main reason it is not used more extensively.
Use of recycled materials makes concrete a more attractive proposition.
However, concrete is also laid in slabs which can shift and create ridges between them that can destabilise a motorcycle.
In this case, the road is already made of slabs.
Uni monitors
Nine sensors have been positioned under the surface to monitor and compare how the geopolymer material performs.
UNSW Sydney researchers will monitor the road performance for up to five years.
Professor Stephen Foster, Head of School of Civil and Environmental Engineering, describes the trial as "a huge step forward" but he is talking about the recycling component.
"This trial will help drive step change in the industry. Many concrete companies are already doing a lot to change, but this trial really gives it another push," Professor Foster says.
"Research into geopolymer has been undertaken since the '90s, but it's only now that it's starting to be commercialised. 
"While we'll monitor the road performance for up to five years, a lot of the data collected in the first three to 12 months of this world-first trial will be used to confirm our models and strengthen our predictions."
Geopolymer is made from fly ash and blast furnace slag and generates 300kg of CO2 per tonne of cement, compared with the 900kg from traditional cement production.