The handsome new Suzuki V-Strom DL1000 will feature traction control, slipper clutch and ABS, but not electronic suspension like many of its competitors.
Adventure riders will cheer the absence of too much high-tech as the V-Strom has made a name for itself over the years as a cheap, simple and robust go-anywhere machine.
Suzuki Australia Motorcycles marketing manager Lewis Croft says it will arrive next autumn with prices announced closer to the launch date.
ABS adds $600 to the 650 V-Strom and traction control and slipper clutch could add up to an extra $1000. The current non-ABS V-Strom 1000 is listed at $12,590, so my guess is they will try to bring it in at less than $14,000 which would still be a bargain.
Despite costing more, V-Strom fans may welcome the addition of traction control as it should make the more powerful bike more manageable on dusty roads.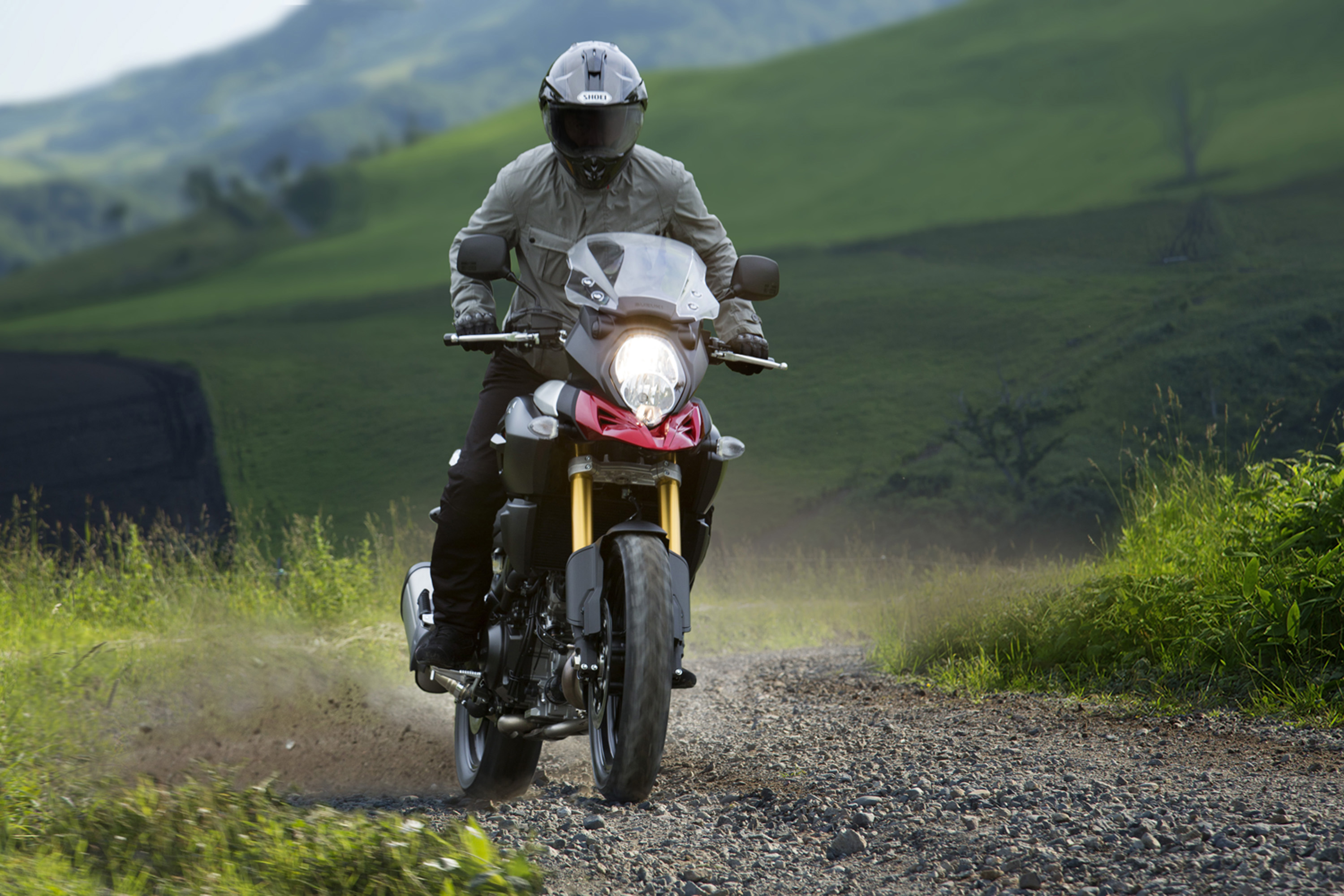 Not that power has increased by much. It's only up 2kW to 74kW and the torque has only increased by 2Nm thanks to boring out the V-twin by 2mm to 1037cc.
However, the torque comes in at 4000rpm, rather than 6400 revs in the previous model, so the traction control should be a welcome addition.
The "Advanced Traction Control" system monitors front and rear wheel speeds and adjusts  the throttle, crank and gear position to regulate output by ignition timing and air input.
It has two modes – Mode 1 allows modest wheel spin and Mode 2 allows almost none – and it can be totally disabled.
The extra engine output also required new gear ratios and a slipper clutch to prevent rear wheel lock-ups on downshifts.
Low to mid-range engine performance was improved by a slew of engine internal changes which also improves fuel economy by 16%.
Despite the tank being reduced by two litres to 20 to make a more compact riding position and reduce weight, fuel range should be slightly better thanks to the lower fuel consumption.
It may not get electronic suspension adjustment, but the new adventure tourer should be a more capable handler thanks to adjustable upside-down gold-anodised forks and a single adjustable rear shock.
Other welcome improvements are a wind-tunnel-designed ratcheted windscreen, and a slimline luggage system, rather than the unsightly and wide bags of the current model.
The screen has three height and angle settings that can be adjusted by hand. The previous windscreen was a nightmare of buffeting, so let's hope the new screen is a vast improvement.
The optional three-part luggage system consists of a 29-litre left pannier, 26-litre right pannier over the single compact Euro 3 exhaust pipe and 35-litre top box which all conveniently lock with the ignition key.
They can be removed without need of tools and the mounting frames can also be unclipped for a clean naked bike appearance.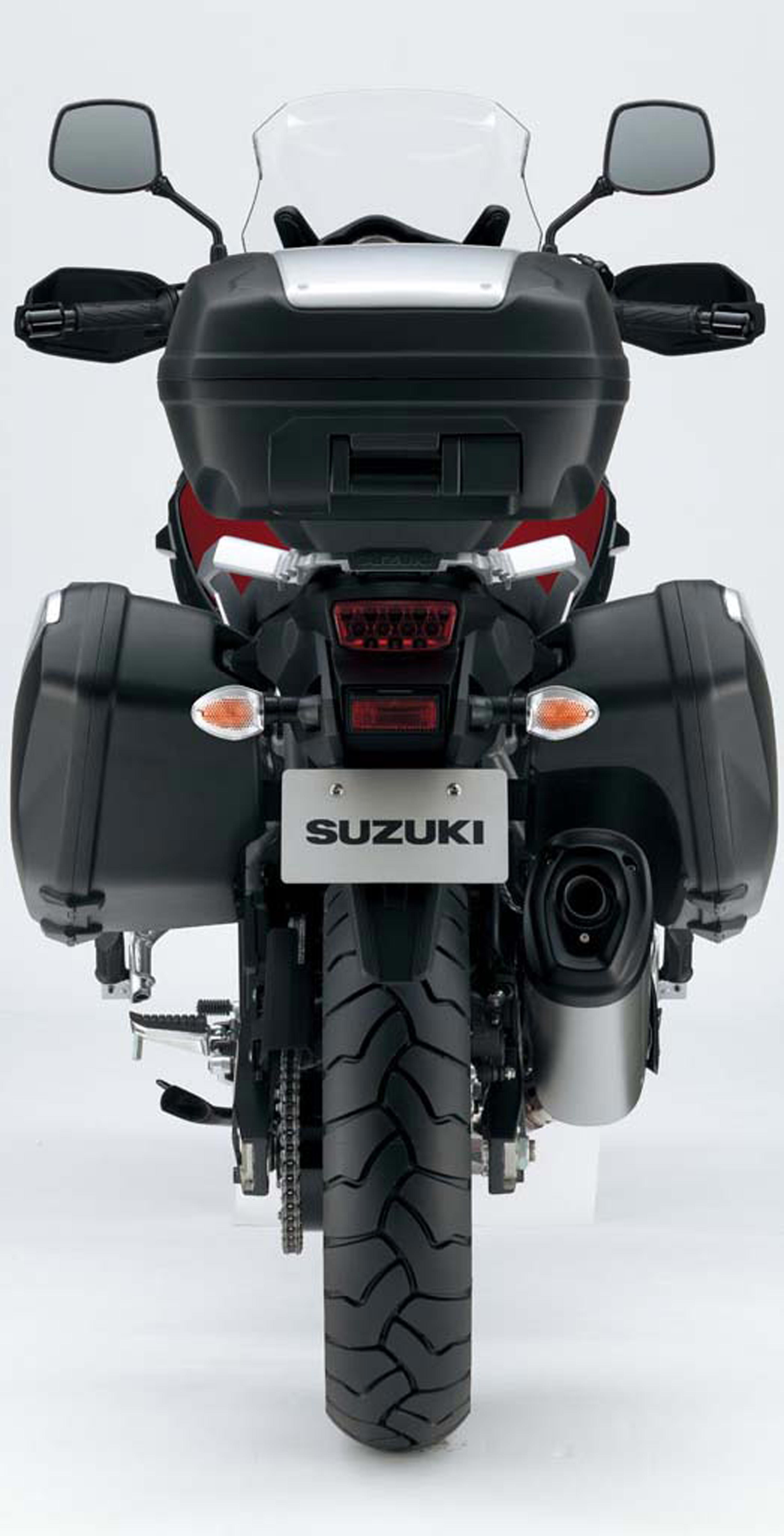 While aesthetics was never a strong suit for the V-Strom, the new model is very handsome. Almost as charming up front as the Ducati Multistrada and as brutish in the rear as the BMW R 1200 GS.
The new twin-spar aluminum-alloy frame joins to the swingarm with a slightly longer wheelbase for better high-speed stability.
Suzuki claims it has reduced weight by 6kg, partly from the smaller tank.
The instrument cluster now has an analogue tachometer and a host of digital information including fuel gauge, economy, speed, range, gear indicator, traction control mode, battery voltage, coolant temperature and trip meter.
There are four color choices – red, black, khaki and white – although it is not yet known which we will get in Australia. The khaki sounds interesting, but Suzuki has only released images of the bike in red.