Suzuki V-Strom 1000 ABS Review Summary
A fix has been found for the V-Strom's ridiculously bad throttle response.
I blasted the new V-Strom 1000 ABS in my Suzuki V-Strom 1000 ABS "First Impressions" and then again in the Suzuki V-Strom 1000 ABS review.
In my opinion, the bike has three main problems.
First, the weight. I was completely disappointed after reading all the pre-release press nonsense about the "light weight" of the new V-Strom.
I guess it's all relative and I have yet to find a scale nearby where I can get an actual weight of my real-world example, but one push off the side stand will tell you that this bike is no lightweight.
Second, the light switch on/off throttle response of the stock V-Strom was so bad that it made the bike nearly unrideable. I came this close to selling it after only a few hundred miles because it was so bad.
To confirm, I had a couple of very experienced local riders try the bike and they completely agreed.
Third, Suzuki tuned the old V-twin engine to make all of its torque between 0 and 4,000 RPM. Why? It's nuts. Combine that with the on/off throttle and you have a real handful.
That tiny torque spread means that for most of the riding you'll do on city and rural roads — and even on the interstate — you'll be running only around 2,000 to 3,000 RPM.
Think about that for a second — those engine speeds are barely above idle on some bikes.
And since the torque curve drops like a rock after 4k, you get zilch revving any higher. There's nothing there and the only thing that happens if you keep the throttle turned is lots of vibration and not very much kick.
All of this means that the bike just isn't a heck of a lot of fun. After all, who wants to putt around at 2,500 RPM? Half the fun of motorcycling is revving the ever lovin' piss out of the bike just for the feel.
The V-Strom feels like a sleepy old man in comparison.
As an example, my Suzuki GW250 (review) doesn't even start to come on the boil until about 5,500 RPM or so. From there it revs all the way up to 11k and it sounds utterly fantastic as it does.
And, by the way, the engine is as smooth as silk all the way. It is an absolute blast to ride and you'll want to peg the throttle as often as you can because it's so much fun.
There are a few other quirks with the new V-Strom, like the crazy whistling sound from the cam chains; the understeering Bridgestone Battle Wing tires.
There's also the weird handlebar angle with a reach too long for even a 34″ sleeve length; the top-heavy feel that makes sharp slow-speed turns a frightening adventure (UPDATE: here's the fix for that!) and the wooden-feeling brakes .
But all of that I could live with…if only the Kamikaze throttle response could be fixed. Then, it hit me…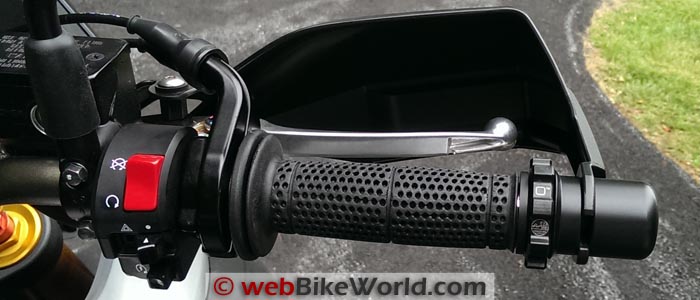 The Fix
To quote Yogi Berra, it was "déjà vu all over again" when I realized I had the same problem with the Multistrada 620 (Blog) project bike a few years ago. The solution to that was the G2 Throttle Tamer (review).
Could it also tame the light switch throttle on the V-Strom, a bike with nearly twice the capacity, horsepower and torque?
The short answer is "Yes"!
I ordered up a G2 Throttle Tamer for the 2014 V-Strom — make sure you order the 2014 version and not the earlier version — and quickly installed it, just before a road trip. I was in such a rush, in fact, that I forgot to take photos.
But the G2 Throttle Tamer is very easy to install on the new V-Strom.
I I removed the Kaoko throttle lock (review), squirted some WD-40 under the grip and then stuck an air nozzle between the grip and the plastic stock throttle tube and gave it a shot. It came right off.
Open the throttle cable housing and place the cables on the G2 cam — making sure not to mix up the two cables — and that's basically it.
You'll need a new set of hand grips because the stock Suzuki grips fit over a flange on the end of the stock plastic throttle tube.
Since I was in a hurry, I used an old set of sticky motocross hand grips left over from some long-forgotten project.
The only catch with using motocross grips is that I had to slice off the closed end to fit the Kaoko back on and I matched it on the left side.
After that, I had to adjust the throttle cable play — it's very easy to do on the V-Strom — and you're ready to go.
The Result: A "Normal" Bike
The results are amazing — it makes all the difference in the world on this bike, more so than the Multistrada.
The throttle is definitely tamed and riding in 2nd, 3rd and 4th gears (where you spend the most time in the city, suburbs and rural areas) now feels just like a "normal' bike.
I can twist the throttle and get a reasonable response from the engine, without feeling like I just hit the warp drive button.
This fix is so dramatic and so simple, it makes you wonder why Suzuki doesn't change the cam profile on their throttle tube. If the V-Strom throttle was like this from the beginning, I would have never noticed a thing.
OK, so the bike isn't without its quirks — it's way too heavy and the engine still seems like an antique that is out of place on this type of bike. But everything pales in comparison to the wacky throttle response.
Suddenly the other issues fade into the background once the throttle response was fixed. I still say it's a boring bike and it's a handful at low speeds, but it's now much, much easier to live with.
And who knows? I may even come to like it!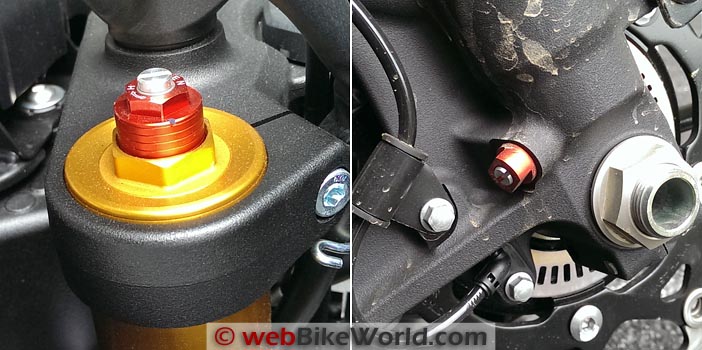 Fix the Suspension Too…
The stock Suzuki suspension setting recommendations for dealer setup make the bike crazy hard.
Don't let your dealer use the Suzuki setup; instead, soften the rear shock from the dealer setup by two full turns, then soften the compression and damping by 2 clicks and finally, let the preload out to the 5th bar (8.5 mm showing).
This removes the hard-as-a-rock Ducati superbike-like suspension setting and helps soften the overall response to make the bike more realistic for the real world.
Combined with the sweet throttle response from the G2 Throttle Tamer, you'll have a very streetable bike that's also better off-road.
(Although there's still no way anyone will convince me that the V-Strom should be taken on anything more than a hard-packed gravel road).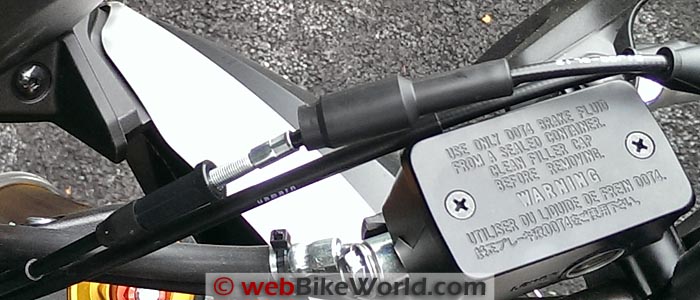 Conclusion
If you own a 2014 Suzuki V-Strom 1000 ABS, get a G2 Throttle Tamer. It's brand new for the 2014 V-Strom, so make sure you get the 2014 version, not the version for the earlier V-Stroms.
G2 Ergonomics lists the 2014 version as part number "40-4F-136-dl1000", but confirm before buying, because this wasn't the part number they had listed a couple of weeks ago.
Note that there is also a G2 Throttle Tamer with a similar part number of 40-4F-136 (without the "-dl1000" appended) and G2 Ergonomics says it's the same.
G2 sent me the wrong Throttle Tamer the first time and it took a few phone calls to get this sorted out, probably because the 2014 part is so new.
If you have a G2 Throttle Tamer tube, all you need is the new cam for the 2014 V-Strom 1000 ABS and you can slip it on over the end, replacing whatever cam you currently have.
Note to Suzuki Dealers: Do not let a 2014 V-Strom 1000 ABS out of your shop without installing a G2 Throttle Tamer first. Your customers will be much happier.
Note to Suzuki: What were you thinking? Mold the stock tube cam profile to soften the response and you'll have a happy lot of customers. This is the world's cheapest fix with the most dramatic result anyone could ask for.
I'm very interested to hear from V-Strom 1000 ABS owners with your opinions. Be sure to check the Suzuki V-Strom 1000 ABS Blog for updates on accessories and information.
THE FIX:

 Cheap Tweaks Make a Huge Difference

In addition to the G2 Throttle Tamer, I made three more changes that have finally got the V-Strom modded to my liking. The fixes are relatively simple, which tells me there's a lot of potential in this bike that Suzuki could easily exploit for the next model year, were they so inclined.
Bar Backs/Bar Risers: I installed an SW-Motech bar back bar riser kit (review) on the V-Strom and it makes a big difference, bringing the bars closer to the rider over that long fuel tank and improving control and feel.
Raising the Fork Tubes: An old zero-cost tuner's trick, raise the fork tubes on the V-Strom by 10 mm and you'll change the geometry, making for a faster-steering bike that yields another big difference. It's especially noticeable when trying to get the V-Strom to initiate a sharp turn from stopped.
Tires: I also replaced the slow-steering Bridgestone Battle Wing OE tires with the Metzeler Tourance Next (review) pair for another huge difference in steering feel and response. The Metzelers give the bike an almost sportbike-like feel, with much faster side-to-side transitions and pickup to center after a lean.
These three changes, along with the G2 Throttle Tamer, have totally and completely transformed the bike.
I can't do anything about the John Deere engine, but believe me, these small changes cure 90% of the bike's ills. Big, huge difference that has made me a much happier camper.
Publication Date: August 2014
Part 1: First Impressions  |  Part 2: Towards Normality
Also: 2014 Suzuki V-Strom 1000 ABS Blog
Master Listing of All wBW Motorcycle Product Reviews
Note:
 For informational use only. All material and photographs are Copyright © webWorld International, LLC since 2000. All rights reserved. See the webBikeWorld® 
Site Info page
. Product specifications, features and details may change or differ from our descriptions. Always check before purchasing. Read the
Terms and Conditions
!
Owner Comments and Feedback
---
From "T.S." (February 2017): "Now I have 40.000 km s behind me on the V-Strom 1000 ABS, last 1000 with the G2 throttle tamer. The web purchase took a long way from US to UK over Germany, and friends brought it down to Turkey.
Agree it is clearly better to drive the engine now. Thank you for the tip."
---
From "A.B." (March 2016): "Thank you for your honest review of this bike and the associated fixes, It's refreshing to read the real reviews of an owner/ web reviewer.
I especially appreciate the throttle fix with the G2 product, as I owned a bike (620 Multistrada) with switch throttle I can attest to the benefits of slowing the initial throttle action.
Your suggested suspension tweets are welcome, could you please be a little more specific as to what you turned by how much?"
Rick's Reply: It's been a while since I adjusted the V-Strom suspension, I know I ended up with the rear shock knob turned out (released) all the way, completely backing off what I guess is the rebound.
I think I let off 2.5 full turns from the preload on the top of the shocks. I weigh about 200 with all my gear on, so this will vary depending on full riding weight.
Basically, I just kept experimenting, letting out a little at a time and keeping a quick note because it's easy to forget what was changed.
---
From "J.R." (March 2016): "I was just emailing to let you know I enjoyed your article on the 2014+ Suzuki V-Strom and I appreciated Rick's candor about its deficiencies.
I recently purchased a brand new 2014 V-Strom 1000 and, after riding few a few hundred miles, found myself feeling like a few things were missing or out of adjustment, but I couldn't put my finger on it.
The touchy throttle response was a big one, but coming from an '06 Suzuki SV650 with similar response, I was starting to think that's just how FI bikes drive.
When I read this series and saw mention of the same issue and the G2 Throttle Tamer, it sounded like exactly what I needed. Since I was already going to be installing some aftermarket heated grips, it seemed like a good time to order the Tamer, too.
I just got it all back together the other day (along with an Eastern Beaver PC8 for wiring up some more accessories) and, man, what a night and day difference. I'm feeling better about my moto purchase again.
FWIW, I also tried to install some bar backs I bought off of Craigslist (not the SW-Motech bar back/bar risers mentioned in the article), but unfortunately found myself without enough slack on the brake line to make 'em work.
The section of brake line with the little junction box that connects to the ABS line, doesn't seem to be easily available in longer sizes yet either — at least not where I was looking — so I put that off for now.
Next step (after getting the bike back from the dealership for some Suzuki safety recall fixes) is probably to play with the suspension a bit. I'll definitely use the settings mentioned in the article as a starting point.
Anyway, I just wanted to say thanks for the info and keep up the good work. The install articles are very thorough and with a lot of great photos that make our lives easier."
---
From "B.P." (July 2015): "So far, I've installed the bar backs, raised the forks 10mm, and installed the G2 Throttle Tamer. These modifications, coupled w/ softening the suspension settings as suggested, have transformed the riding experience. I no longer have that sense of impending human sacrifice!"
---
From "C.M." (March 2015): "I have a couple of hundred miles on my new DL1000 Adventure and literally everything you say about this bike is spot on. Because of that I'm going to pretty much take your suggested mods at face value and try every one of them.
The throttle on this bike is really hard to get used to as you say. I've ordered the G2 and am very hopeful that it's going to fix the problem.
I've also ordered the bar riser/back setup from MoTech. (See SW-Motech Bar Back – Bar Riser). I spent time on the bike in various positions looking for the sweet spot of comfort and arm/hand position with the stock setup.
I didn't really notice pressure on my hands but I notice that my preferred riding posture is very tall and that I prefer to lean back slightly. When doing so on the current set up my arms are nearly locked straight which isn't good.
One note on standing on this bike. Both the touchy throttle (feels like you are going to fly off the back of the bike while standing in 2nd gear) as well as the low bar position makes it nearly impossible to stand and ride with the factory setup.
Clearly the risers and (hopefully) the G2 will fix for the stand up issue as well.
I'm going to also try the fork tube fix. (See Raise the Fork Tubes for Better Handling). This bike steers so slowly and I'm hopeful this helps per your feedback. The tires I'm holding out hope that the factory set will do me for a few thousand miles. (See Metzeler Tourance Next Review).
I'll probably want a set of 80/20s down the road and am going to be researching which tires to go with in a few months.
While I won't be attempting anything close to serious dirting on this rig, I will be doing fire roads, desert roads in Death Valley and Nevada, etc. and figure I'll want a set that will do reasonably well in those settings.
Anyhoo, you asked for feedback and there's mine. Thanks again for all of the fantastic information. I feel like you have helped to seriously accelerate my potential enjoyment of this bike.
As time goes on and I spend more time on on it if there's anything I can add that is new information, I'll pass it along."
---
From "R.D.M." (August 2014): "Seems like you are getting enough negative press about your dislike for the new V-Strom, so I will not pile on. Just wanted to relate my experience of late with the new Adventure V-Strom.
First, I have logged over 70,000 miles on my 2005 DL1000 and had no intention of replacing it. I have ridden a 1200GS in the Alps, and while it is certainly competent, I am not about to spend twice as much for the same performance.
The new KTM, BMW are nice, but I do not need 120+ hp and neither do most.
OBTW, I had my 2005 dyno'd to eliminate the throttle lag and it ended up that my hp and torque were exactly the same as the new Strom, but at 6000 rpm torque peak.
So I rode the new Strom and ended up buying the adventure model…just like you. Got a great deal, but here is my impression to date after 1000 miles.
– Love the new power band!!! Allows for relaxed but quick riding. Have ridden the Dragon and Cherahola Skyway at very brisk pace and still got over 50 mpg. In fact highest has been 54.4 and lowest 50.4! Reduction in the gas capacity seems to be a non-event.
– Whatever they did to the chassis is amazing. Instantly started hitting lean angles that ton the old Strom would have had pucker marks in the seat! New Strom seemed to be asking for more!
Disagree with you on the Battle Wings, but tires are subjective. All I (we) know is they they seem to be working great on the Strom and my wife's BMW F700GS.
– Ability to transition is far improved over the old Strom. With the old Strom had to muscle the bike from side to side. The new bike transitions easier and far more quickly. In fact, I was over correcting at first and now seem to more "think" the bike through corners.
– Just received and installed a new Yosh carbon fiber slip on. Took about 8 pound off the bike and looks way better. Try it!
– My wife and I have used the Ventura pack system for years with our V-Stroms (her 650 and my 1000). I installed the system on the new Strom and it is a great compliment to the bike.
For day rides can use the 10 liter tail pack with out the panniers. For extended tours, can use the Ventura packs (81 liters combined) along with the panniers if desired.
OK, so I disagree with a lot of what you have said to date, but I can see you coming around. So hope that you take my initial impressions well, but I can tell you my plan is to put 100k on this beauty."
Rick's Reply: I'd suggest trying the G2 Throttle Tamer, it makes a huge difference, as does lifting the forks about 10 mm in the clamp.
Just put on a set of Metzeler Tourance Next tires and those also seem to make a big difference, kind of like power steering. Really lightens up the steering. I have to put a few hundred miles on them at least before coming to a final conclusion, but the difference is immediately noticeable.
Also just got the SW-Motech bash plate and a couple of sets of the new Denali lights to install, and a set of bar backs/risers to see if they work. Also the brush covers for the rear brake reservoir and exhaust valve. So, plenty of reviews coming soon…
---
From "S.A." (August 2014): "I owned a 2003 DL1000 and put 45,000 miles on it. The front end was vague feeling so handling was just OK and the air management off the fairing and resulting buffeting was horrible but otherwise it was a great bike.
The Suzuki dealer always told me it was the best running DL1000 they had ever seen so maybe I was lucky. I loved the 1,000cc V-Twin and mine always ran great. Brakes, suspension and ergonomics all very good.
Your website is the bomb and thanks so much for the great job and all the great info. I have followed your reviews and impressions of the New DL1000 with great interest. I have agreed with a lot of the impressions of bikes that have been expressed on your site. I was surprised at how much you dislike the new V-Strom 1000. From the comments I can see I'm not alone.
The fact that the motor ran out of torque after 4,000 rpm wouldn't bother me as I like shifting early and like bikes that pull hard from low rpm. If you read the review … on Motorcycle Daily of August 22 it's hard to believe your both talking about the same bike.
I can't chalk it up to his having received a "specially" prepared press bike. Others have commented on the Motorcycle Consumer News review. Their reviews almost always seem accurate and unbiased.
I have not ridden the new DL1000 so it is impossible for me to contradict your review. I think it is very possible that a lot of your disappointment may stem from a different set of expectations.
My DL1000 ran fine at low rpm, much better than a Ducati, but again I was told it ran better than most. If you synced the throttle bodies with no improvement be sure your dealer knows what their doing. Thanks for a great site and for your honest reviews."
Rick's Reply: Don't know why my experience is different than some other press reports, but I can tell you that it's not different from many owners who have written to me.
One thing's for certain: I bought and own the bike and have been using it much longer than any loaner borrowed by the press for a day.
Also, my job is to be the critic. I'd guess a lot of owners who just spent $15k on a new bike don't want to or won't admit that they don't like it. I'm here to put it through the wringer and let you know what works and what doesn't.
If I didn't do that or if I reported that everything was rosy, I'd expect a justifiable pillorying.
To be honest, I find it a bit curious that many people who do not own a new V-Strom and haven't ridden one nevertheless have their own pre-conceived notions about the bike after reading the general press reviews, but they disagree with my opinions as a "real" owner.
As an example, a long email arrived a couple of days ago excoriating me on what I wrote about the V-Strom in the Part 1 and Part 2 reviews and telling me how I was wrong.
After some correspondence back and forth I asked if he owned one of the new V-Stroms. The answer was "no". Not sure if that's funny, weird or just crazy…
Unlike those people, I did spend $15,000.00 of my own hard-earned money on the bike, which gives me a different perspective on what I like vs. what I don't and it definitely ups the expectation levels. It also gives me all the right in the world to complain if I find something I don't like.
I also got an email recently from someone who basically said that if I didn't have something nice to write, I shouldn't write at all. Really? That's absurd. We don't live in Stepfordville. If you want to read only about good things, you're on the wrong planet…
In any case, the G2 Throttle Tamer has made a huge difference, so I plan on keeping the bike. In fact, I just did a horn upgrade, added the BikeVis Bullets visibility lights (review) and a few other tweaks I'll be writing about.
I also bought a set of the new Metzeler Tourance Next tires (review) to install this week, so stay tuned!
---
From "T.S." (August 2014): "I have 8000 kms on the new Suzuki V-Strom 1000, coming from another 2 cylinder low-rev high-torque bike, the Honda NC 700 X. I am used to driving on low revs, and enjoy this.
My neighbour has an Honda VFR 700, 4 cylinder high rev character. When we exchanged the bikes when I had the 700 X, we both got into different worlds. He would bump into the rev limit 6500 of 700 X, I would be surprised going to 8000 – 10000 revs long time in the same gear.
The choice of V-Strom for me was just the stronger, safer and more comfortable version of the same type of bike I like.
The low-rev character is explained in all initial reviews and technical documentations of Suzuki, which I knew clearly before I ever saw the bike. I hope you will get used to it, since there would be no solution to this character change I guess.
I hardly get over 6000 – 7000, mostly drive between 3500 – 5000. Not really below 3500 where the throttle sensitivity and discomfort comes more up. Suzuki writes in the user manual, "disengage clutch when slower than 20 kmh", which shows the bike is not comfortable with the engine at low speeds.
In the city of Istanbul for daily working traffic, I use my 300 scooter J. The same was when I had the 700 X. I feel the same throttle problem at low revs and low speed, naturally stronger than the NC 700 X.
Disengaging clutch to half when really required as help.
The adjustment of throttle also helped (there was some free room which is removed, which was adding to the issue). I would try the G2 Ergo Throttle Tamer, but it is not available, not used and experienced in this country, I would not like to be the first around.
Overall very happy with the machine and preparing for 4 weeks, 5000 km tour second half of September. Maybe I know more to say afterwards. Enjoy riding on Strom (I hope)."
---
From "J.S." (August 2014): "Just a thought, but the early Kawi Versys 650 machines came with the same throttle problem. On/Off switch at 4000 rpm and below.
The fix was to simply adjust the throttle position sensor about a half millimeter off of the factory marked setting, towards the open throttle direction.
This makes the ECU think the throttle is open a tiny bit more than it really is and adds more fuel accordingly. It seems to have no effect on fuel mileage and is a very small adjustment.
The real problem isn't throttle cam, it's simply fueled too lean at 40% rpm and under to meet EPA requirements. A throttle cam will sure help mask it though. Not sure if that would work on the V-Strom, but it works a trick on the Versys."
---
From "J.H." (August 2014): "It has a semi gear driven valve system. The whistling you hear is just the gears. Change the bars for Protaper ATV Mid height. Pull the forks up 10 mm in the trees and a lot of the ponderous slow speed handling dissapears."
Rick's Reply: Good tips, thanks, I forgot about the fork trick, I'll try that.
---
From "D.F." (August 2014): "I'm beginning to think that the reviewer for the 2014 V-Strom has such a dislike for this motorcycle that I'm not getting unbiased reporting. Either he just hates it or he's got a very bad example.
Based on reading many other reports and trolling the vstrom forums, I don't hear most of the things that this reviewer seems to just hate, I mean the weight? it's not a surprise. Why don't you give it to someone a little less biased."
Rick's Reply: I bought the bike with my own money, unlike the print magazines who get a massaged version on loan for a day.
I had great expectations, as you can see if you've read all the threads, right back to when I first announced the bike and the first photos published from the AIMExpo show last year. Unfortunately, those expectations were not met.
All reviews are purely opinion. I report it exactly the way I see it and if it doesn't agree with others or isn't something that meets your expectations, well, there's nothing I can do about that.
So in other words, if I lied and agreed with everyone else, then everything would be rosy and that would be better than me reporting it the way I see it? Won't happen on webBikeWorld, sorry…