Am Ryker Boots Review Summary
Customization and Adjustability
It's no secret that I think motorcycling is one of the most wonderful experiences in the world. So, when I was first invited to test Can-Am's newest three-wheeler, the Ryker, in 2018, I was quite skeptical (as I'm sure some of you reading this are as well). But the Ryker 900 blew me away on so many levels during that first ride, that I just had to get my hands on one for the long-term.
One year later, the verdict is in: the Ryker Rally is different from a motorcycle, but is just as much fun on the open road and when taken to the dirt.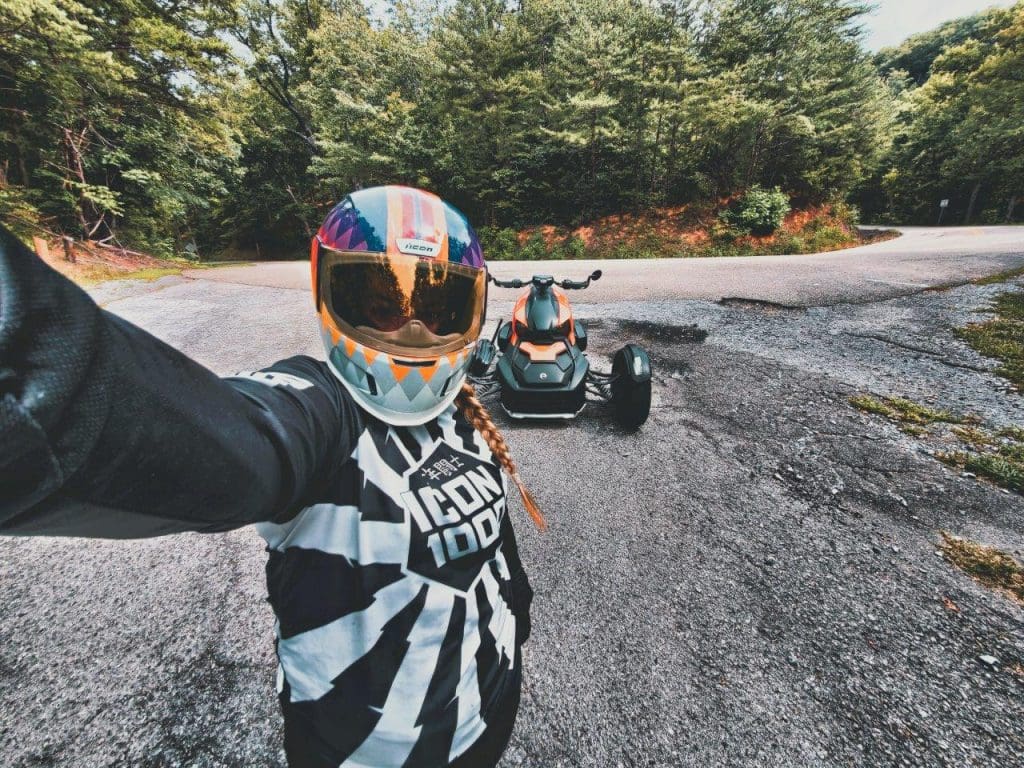 When it comes to the powersports industry, fun is the most important factor that drives us riders to continue to purchase these "toys" – for lack of a better word. So it's a good thing that Can-Am is run by true enthusiasts who know a thing or two about the joys of riding and why the experience is what it's all about.
They believe everyone should feel what a rider feels. Their goal when developing the Ryker was to democratize the open road — make riding more accessible to everyone. And so, they did exactly that.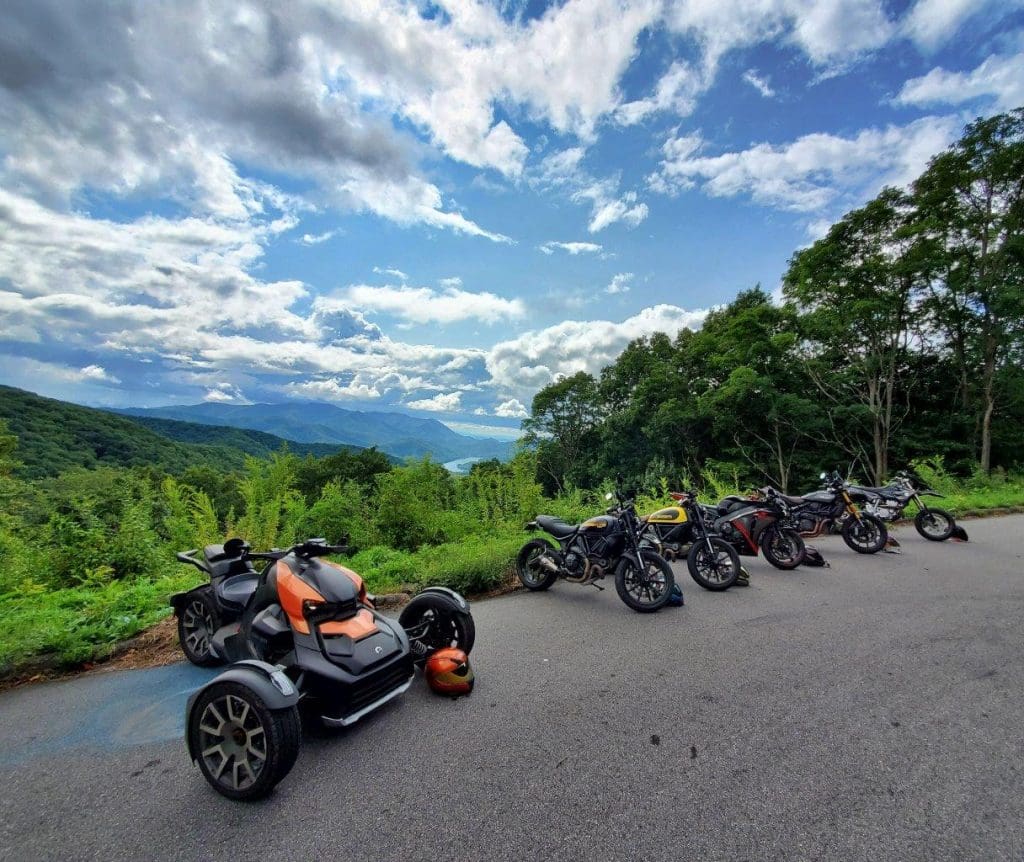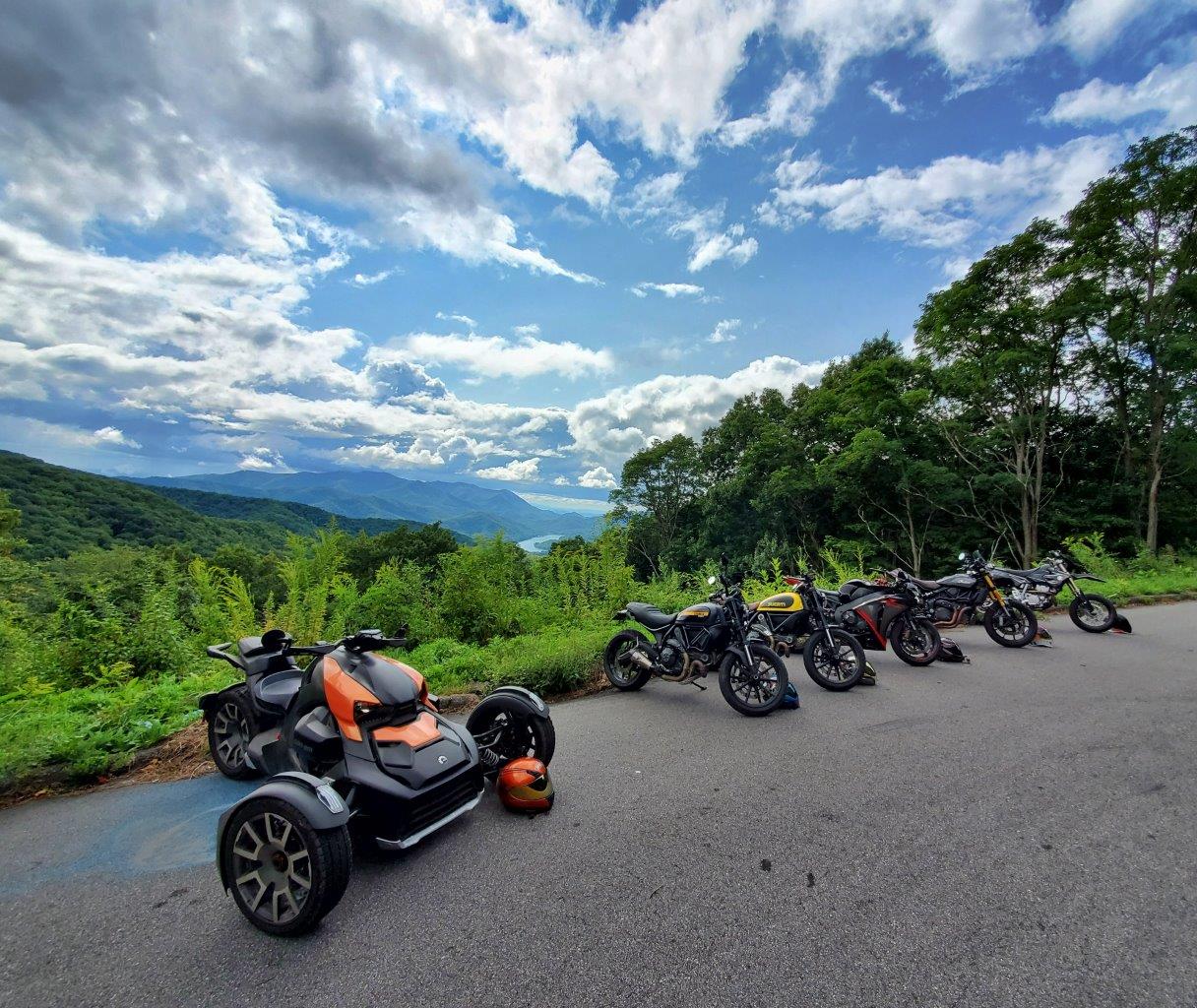 Can-Am designed the Ryker for anyone and everyone – from the slightly-interested to seasoned veterans. Their full line of three-wheelers aims at bringing new riders into the fold, as well as keeping current riders on the road longer than traditional motorcycles.
They've been purposefully and intentionally changing the face of riding since the Ryker was introduced, and they have been wildly successful.
Can-Am even opened the invitation and called out their haters in 2020 – all are welcome. Even if you have no interest in ever riding on three wheels, I can bet that you have wished for someone in your life to fall in love with riding even when they clearly have no interest in motorcycles whatsoever.
I suggest you keep reading. If nothing else, the Ryker can open the door to having fun on the open road where a wall existed before because it is extremely user-friendly for beginners. That's something we can all appreciate.
The Ryker 900 Rally is Extremely Fun and Easy to Ride
One of the most important aspects of the Ryker for me was how much less stressful it is to ride in general.
3 wheels mean no balancing, checking for slippery surfaces where I'm planning to stop, struggling to put my kickstand down, or reading the slope of the road to decide which foot to put down (I tippy toe most modern bikes with my 29-inch inseam).
With CVT, there's no clutch or shifting or wondering what gear I'm in – and there's reverse for parking ease, no pushing or shuffling around on my toes.
Linked brakes with ABS mean one press with my right foot gets the job done regardless of the road surface, lean angle, or direction of the handlebars.
No, those things aren't hard for me as a motorcyclist of 14 years, but they are still on-bike tasks nonetheless. Instead, I get to relax and focus on having fun and still get that wind-in-the-face sun-on-my-back enveloped-in-my-surroundings feeling. Can you feel the stress melting away yet?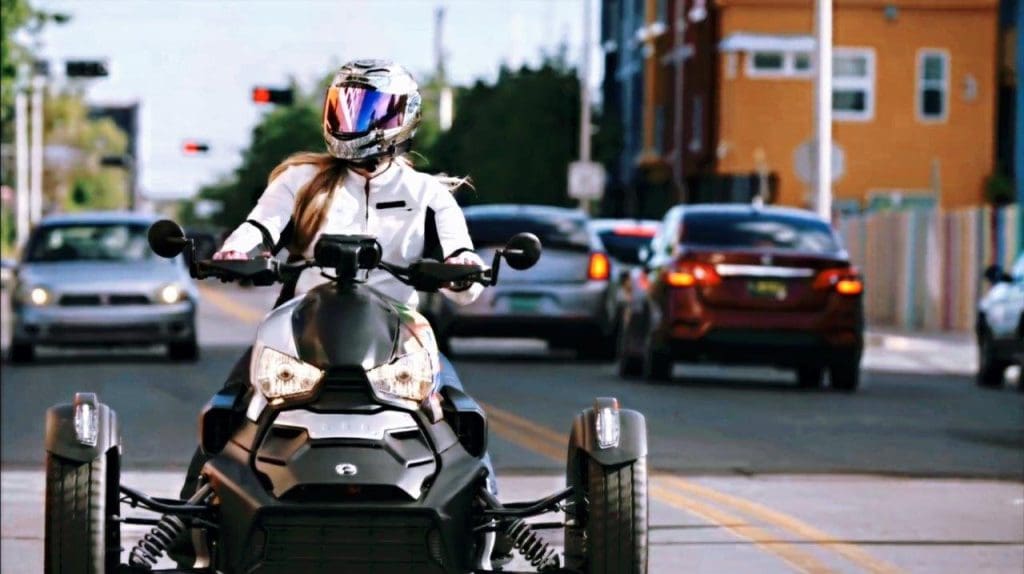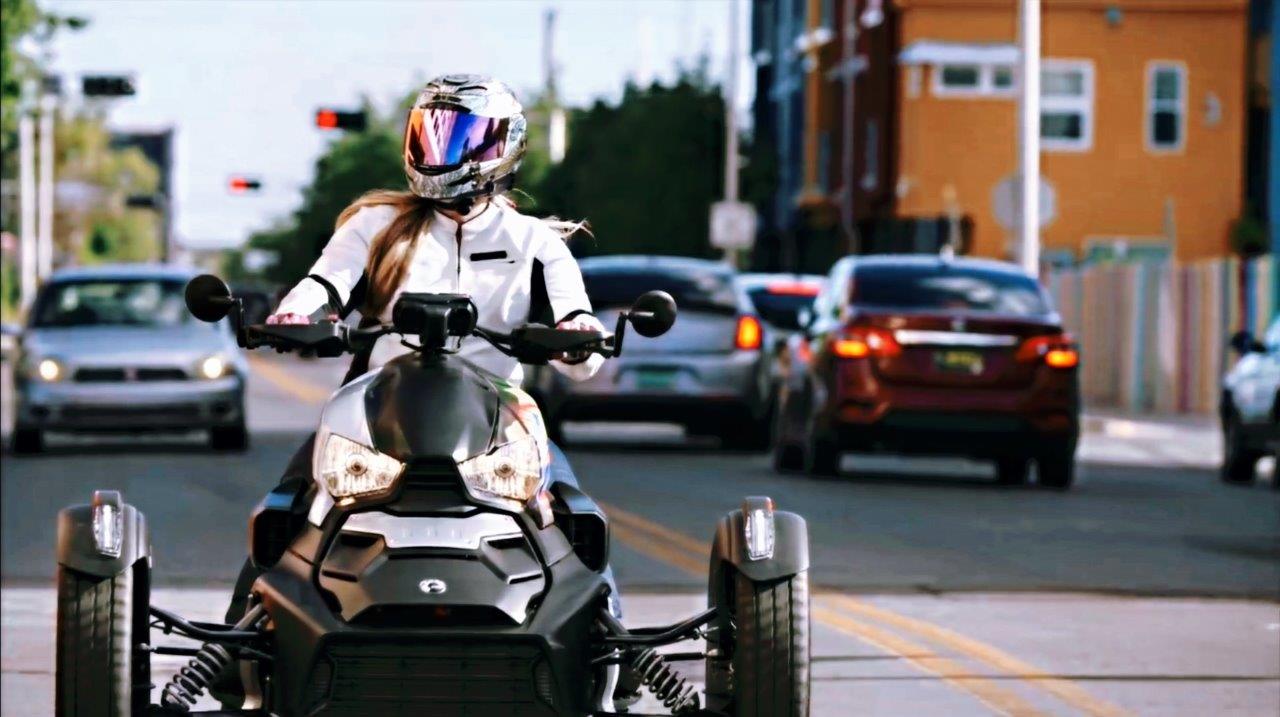 Learning to Ride the Ryker
Beginners rejoice. With just three major controls: handlebar, throttle, and foot brake – it is extremely easy to learn to ride as well. It doesn't get much simpler: just roll on the throttle to go, press on the footbrake to stop.
After 11 years as a certified motorcycle instructor, I've seen my fair share of new riders struggling to develop the skills to ride one simple circle in a parking lot and come to a smooth stop. That learning curve is almost completely flattened on the Ryker, and I even witnessed it firsthand with a group of absolute beginners last year.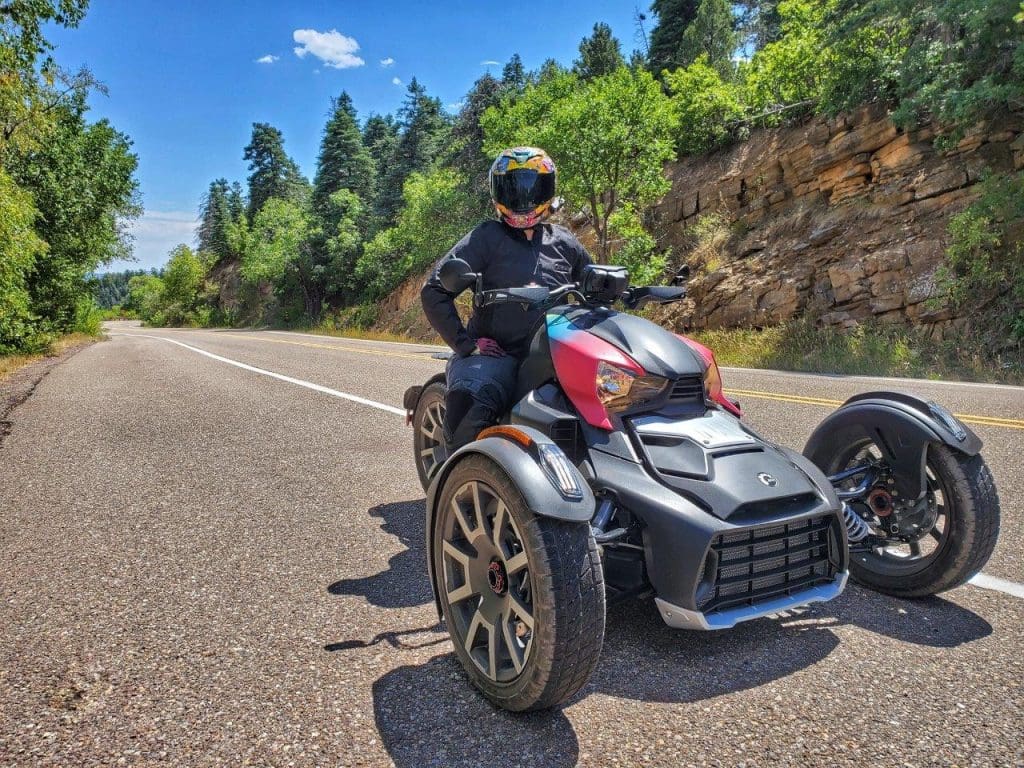 For me, it took about 5 minutes in the parking lot to get the hang of it. Turning the handlebars instead of counter-steering was not a big issue, although I do know a few others who struggled with this aspect more, especially those who had zero experience on a quad.
Body positioning was a bit of a trial-and-error until I figured out that weighting the pegs and leaning my body into the corners was actually the right thing to do. The Ryker does take some upper body strength, because there is no power steering, and as such, twisty roads are quite a workout.
Keeping a relaxed grip is also key because even a tiny amount of weight on the handlebars makes the Ryker react – it is a control input after all – and that made everything feel a little erratic (strictly rider error). Every time I switch from a motorcycle to the Ryker I have to remind myself not to press on the handlebars and fight the urge to countersteer for the first 5 seconds.
Most of the Ryker 900 Rally's Standard Features are Above-Standard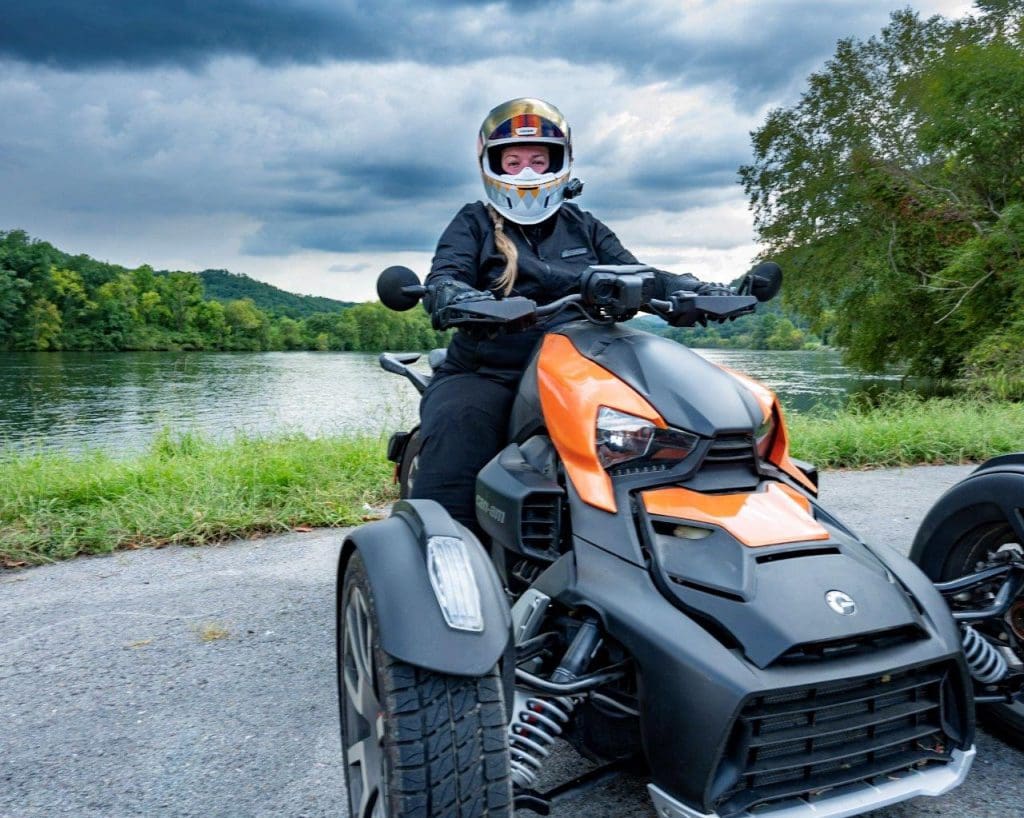 Photo Credit: Mike Waller
Customization and Adjustments
Probably one of the most impressive features of the Ryker is the UFit system. The Ryker can be dramatically changed in less than a minute, so finding the perfect fit is easier than on any other production motorcycle, Trike or Spyder.
Both foot pegs can be repositioned forward and backward with an incredible span of more than nine inches, without the use of any tools or even a second hand. On the right, the brake pedal moves in conjunction with the foot peg, making it an easy change on the fly.
The angle of the brake pedal is also easily adjustable to fit any riding style and foot size with no tools needed. I have even changed the footpeg position and brake lever angle while waiting at a stoplight.
The handlebars can be adjusted to slide towards or away from the rider over a span of about 4 inches, changing both the reach and sitting position based on the rider's personal measurements and preferences.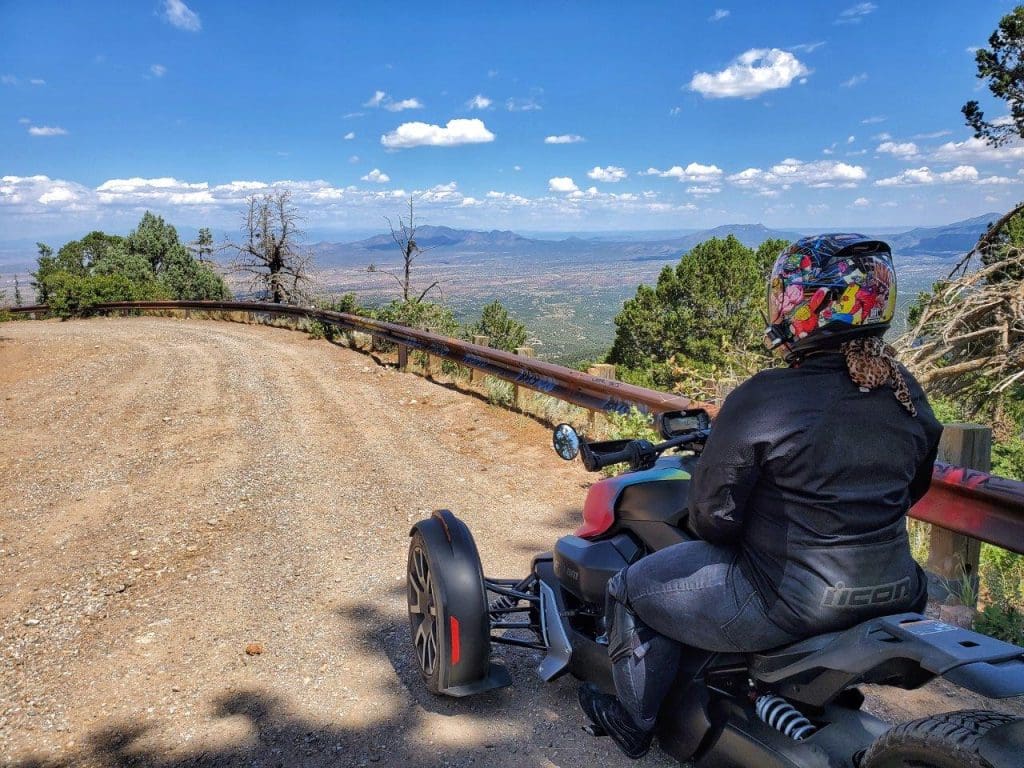 Adjustable suspension specs:
Front: KYB HPG with preload adjustment / 6.38 in. (162 mm)
Rear: KYB HPG 40mm with remote reservoir 4-position compression adjustable damping and preload adjustment / 6.89 in. (175 mm)
I tend to change the footpegs, brake lever angle, handlebars and rear suspension every time I go off-road, so being able to switch back and forth so quickly, without tools, help or excessive strength, is truly awesome.
When it comes to customization of looks, the options seem endless. Can-Am suggests there are over 75,000 different configurations when it comes to color options and clip-on accessorizing, so no Ryker will be the same.
I've changed the color of my Ryker three times this year, and each switch took about 10 minutes. Changing the panels is so easy, I could almost stand to change colors every ride – now I just need a place to store all the extra panels. Head over to Can-Am's build-your-own feature on their website to try it out yourself.
Storage
A small storage area in the front of the Ryker comes with a USB charging port and will easily hold a cell phone, charging cord, sunglasses, hat, and a wallet or small zipper bag. I find myself wishing that the "frunk" would lock. An aftermarket locking mechanism can be purchased separately.
The Ryker Rally comes with the MAX MOUNT tail section. This accommodates a slew of Can-AM accessories that are sold separately. The MAX MOUNT tail is also is ready to accept the LinQ rack which opens up even more possibilities for luggage and storage. I have yet to experience these options but have heard great things from my fellow Ryker riders.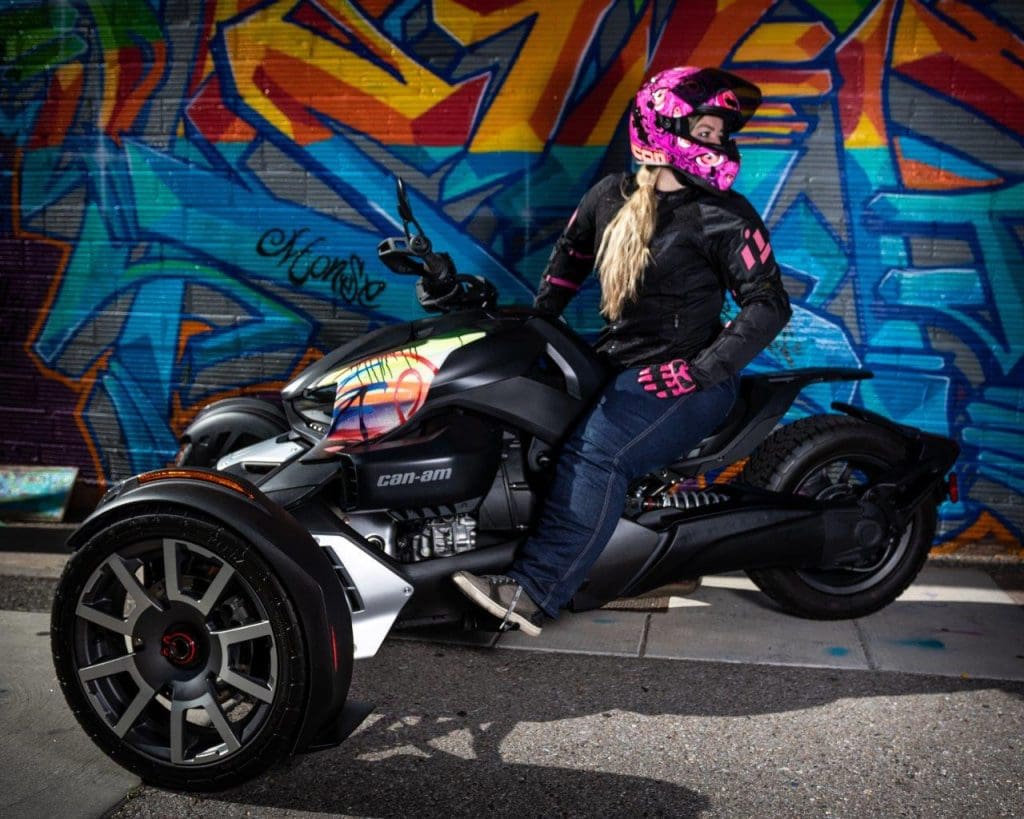 Photo Credit: Rob Burnside
Ignition and Display
The Ryker has no key. Just a little fob that clicks in place next to your left knee. This does have the potential for disaster – more than once I walked away from the Ryker without grabbing my dongle.
The good news is, the startup procedure is very unique – think back to the secret controller sequences of early Nintendo days. If someone wanted to steal the Ryker, even with the fob in place, they would need to know the secret handshake or they'd never get it to start.
Once you've done it a few times yourself, it becomes second nature and is easy to remember. Start, roll throttle forward, press the brake, start again.
The single 4.5 inch display is clear and easy to read. Unlike some other displays I've experienced, it is not blindingly bright at night. Optional/changeable information displayed includes speedometer, tachometer, odometer, trips, distance to empty, engine lights, fuel gauge, clock, and engine modes.
Buttons on the left allow you to select different items to view and switch ride modes easily and quickly (more on those below).
Seat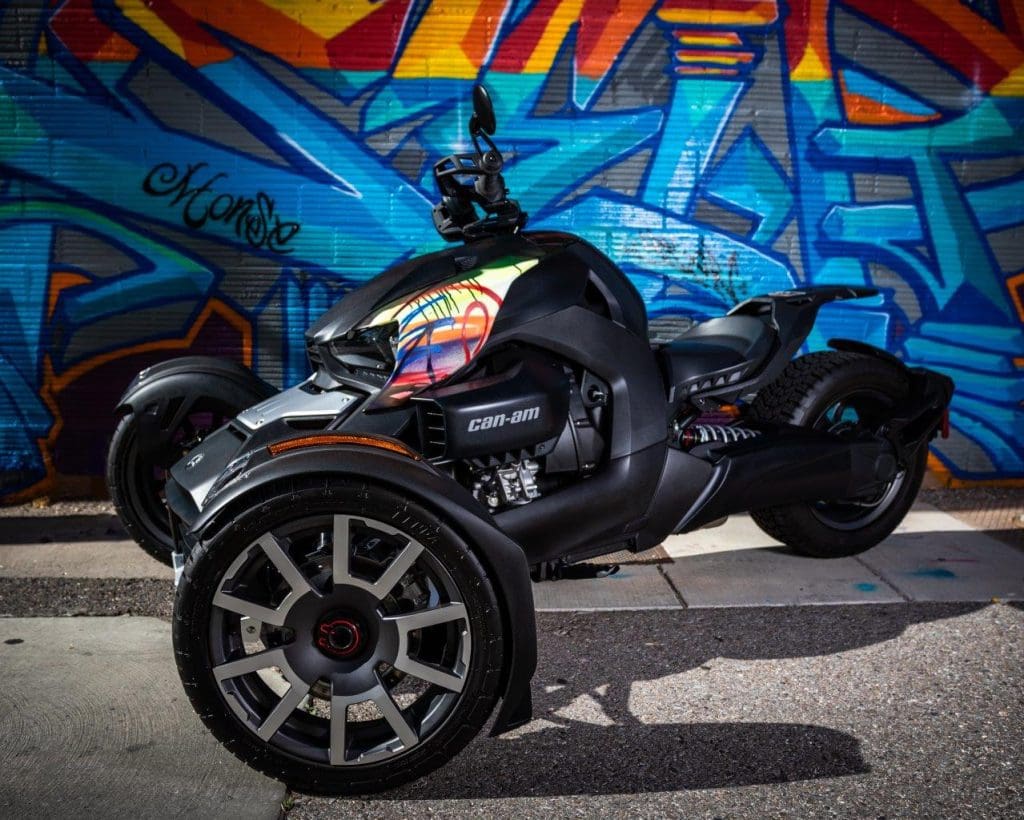 Photo Credit: Rob Burnside
The standard seat is a chunk of hard rubber with a raised lip at the rear and I definitely couldn't wait to upgrade to a more plush seat. This is one of my only gripes. Mind you, different body shapes will react differently to the standard molded seat, but for me, it became uncomfortable after a very short amount of ride time.
There are several options when upgrading – I've tried two different seat upgrades and both were worth every penny. This seat (seen in the photo below) from Can-Am is what I use now and I love everything about it, including the high-end look.
I also chose to add a passenger seat and footpegs to my Ryker's MAX MOUNT. As a rider with a short inseam, I've never been able to carry passengers on any of my motorcycles – balancing the bike on its own is enough of a challenge as it is.
On the Ryker, I am fully confident carrying passengers. I even gave my Mom a ride this summer for my first time ever. The experience was easy, seamless, and fun.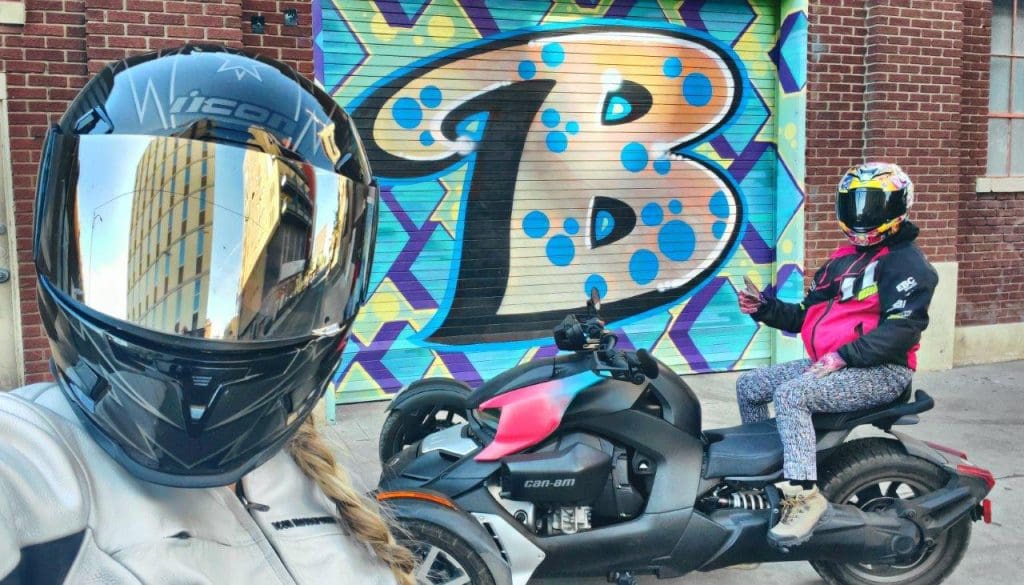 The Ryker 900 Rally is One Smart Machine
Advanced Electronic Rider Aides
The Ryker Rally has four ride modes: eco, standard, sport, and rally.
Eco is as expected – smoother throttle response without being sluggish; great for rain, new riders and when carrying new passengers.
Standard is perfect for non-hooligan urban riding, with a good amount of torque but enough traction control to prevent rolling burnouts at take-off and drifting the rear wheel around corners.
Sport mode is for when you do want to have all the fun I just mentioned – traction control is dialed way down and the torque goes to full blast.
Rally mode is your best friend for off-road riding and in this mode, ABS and traction control all but go bye-bye.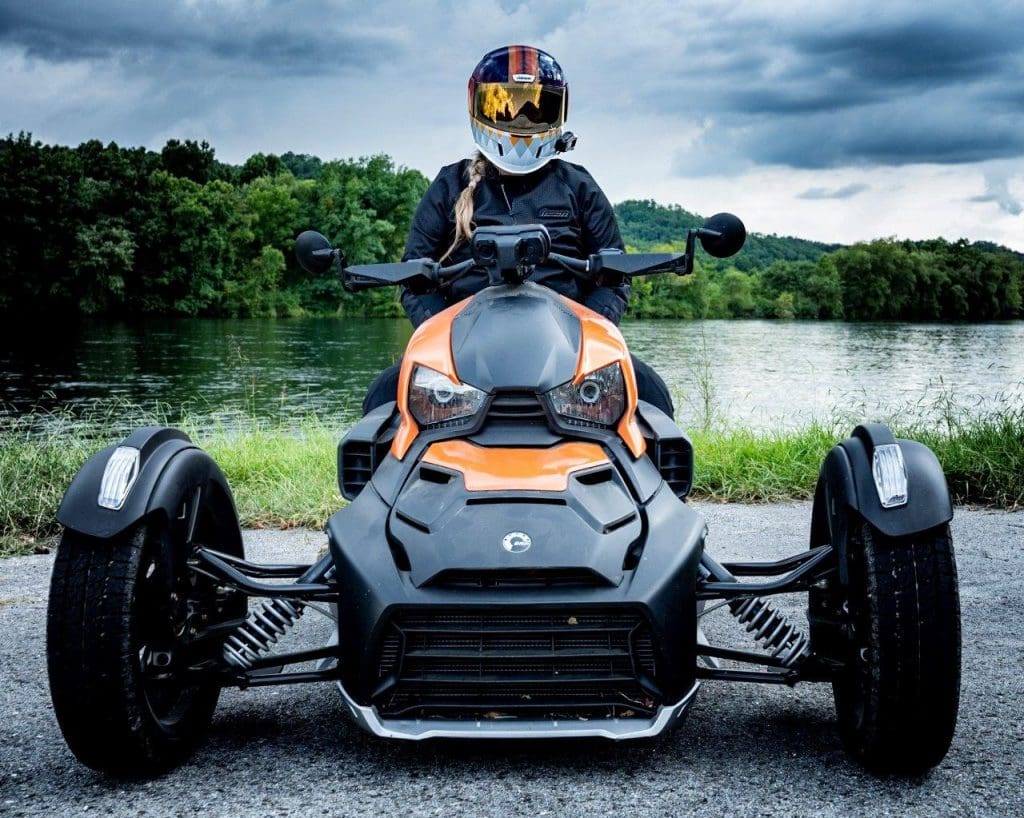 Photo Credit: Mike Waller
A feature I love about the Ryker is that it remembers the mode you last used and will start back up in that mode automatically – this is true except for Rally mode (for obvious reasons).
Sport mode is my personal favorite. I found myself giggling on every ride. It was hard not to act up a little because I knew the electronics had my back and high-siding wasn't an issue. If you have trouble with self-control, this might not be the best choice in vehicles. The amount of torque is insane, even when rolling at highway speeds. This thing always wants to go now.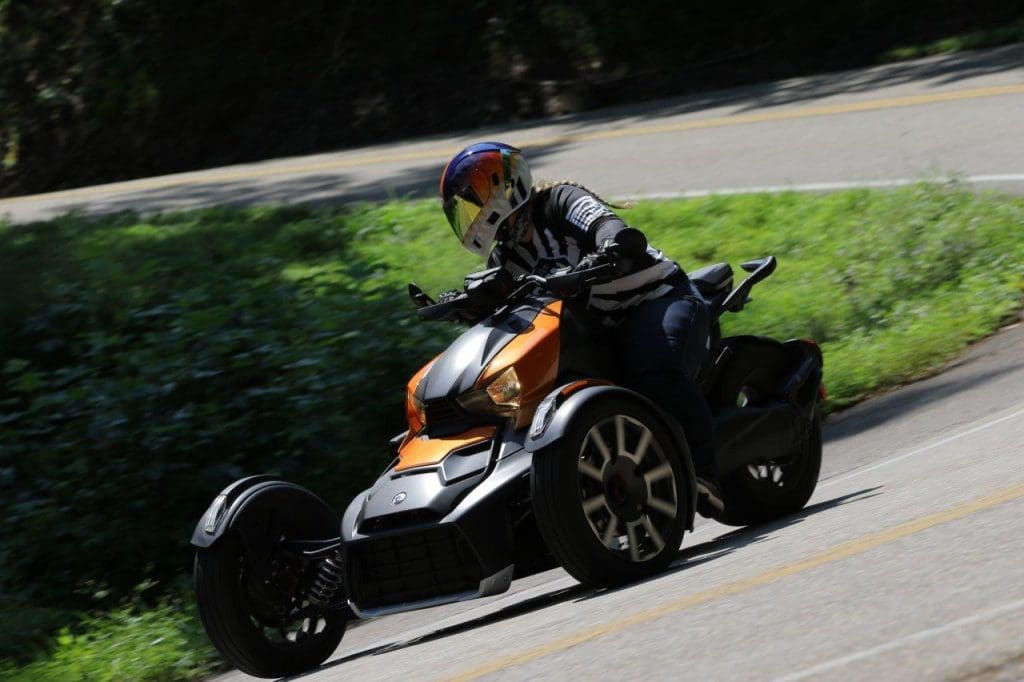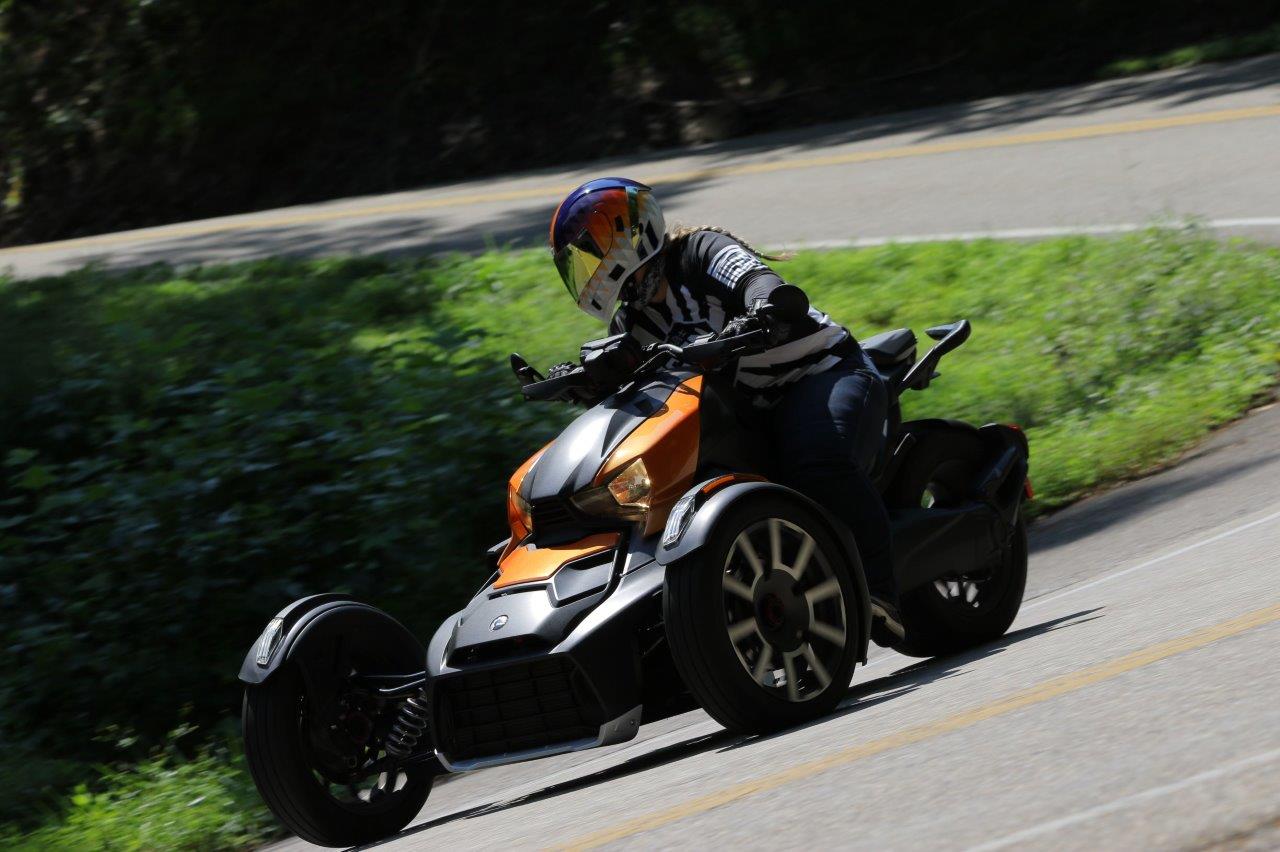 Photo Credit: Killboy.com
Rally mode opened up an entirely new set of roads for me to explore. My usual concern for dropping my naked sportbike on a dirt/gravel/muddy road doesn't apply when I'm on the Ryker. I was really surprised at first at how well it performs and how easy it is to adjust the suspension to be more suitable for the extra bumps (just a twist of a knob).
With the low ground clearance – just 4.4 inches – the Ryker isn't meant for extreme off-road trails by any means, but it handles really well on hard-pack dirt and even feels solid and easy to ride in the gravel and sand. Having the confidence to just go out, get loose, and not fear a day-ending lowside makes all the difference. I really enjoy taking the Ryker off-road.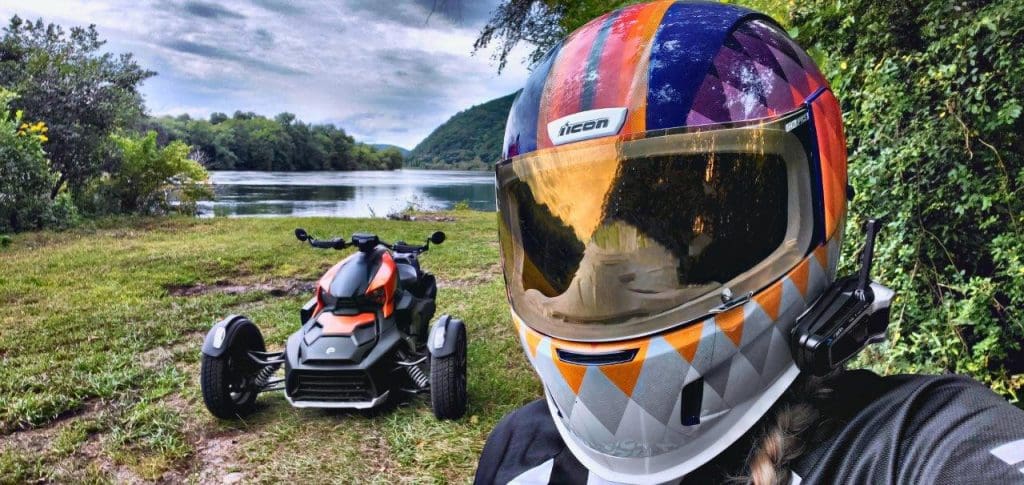 The Ryker is equipped with a Bosch VSS (vehicle stability system) which combines anti-lock brakes (ABS), traction control and stability control.
The Ryker's ABS is seamless and feels quite smooth when activated, which was rare for me until I was riding aggressively in the mountains. Beginners might activate it easily when startled because of the "stomping on the brake" muscle memory most people have from driving a car.
Traction control kicked in mostly when cornering aggressively and when practicing my race starts after red lights. In sport mode, if you really crack the throttle wide open, you'll get a decent rear tire squeal and spin. In Rally mode, which should only be used on unpaved riding surfaces, be prepared; let the rear tire slide around as much as your heart desires.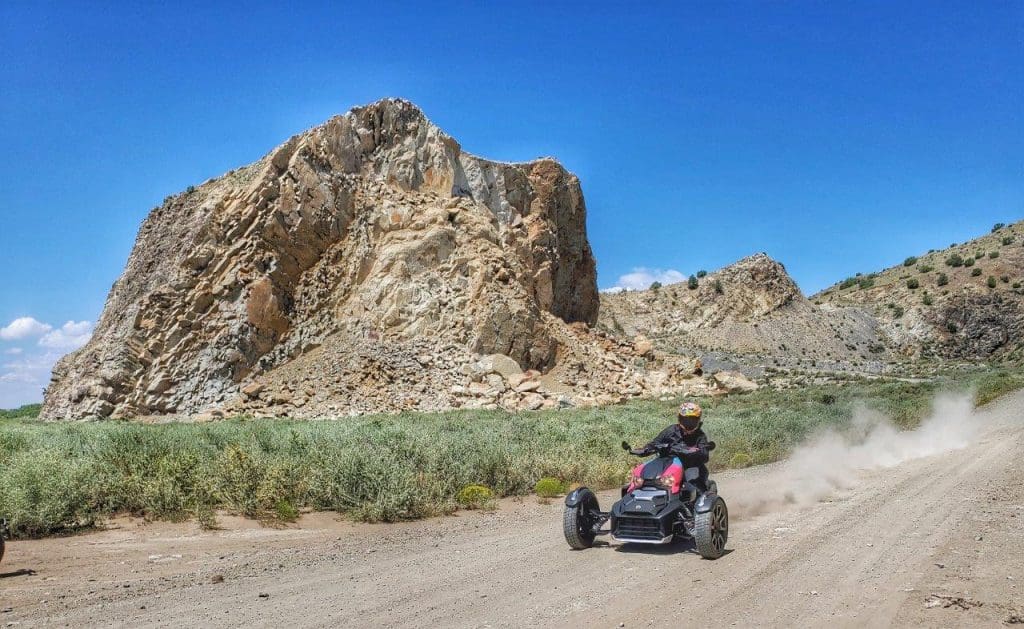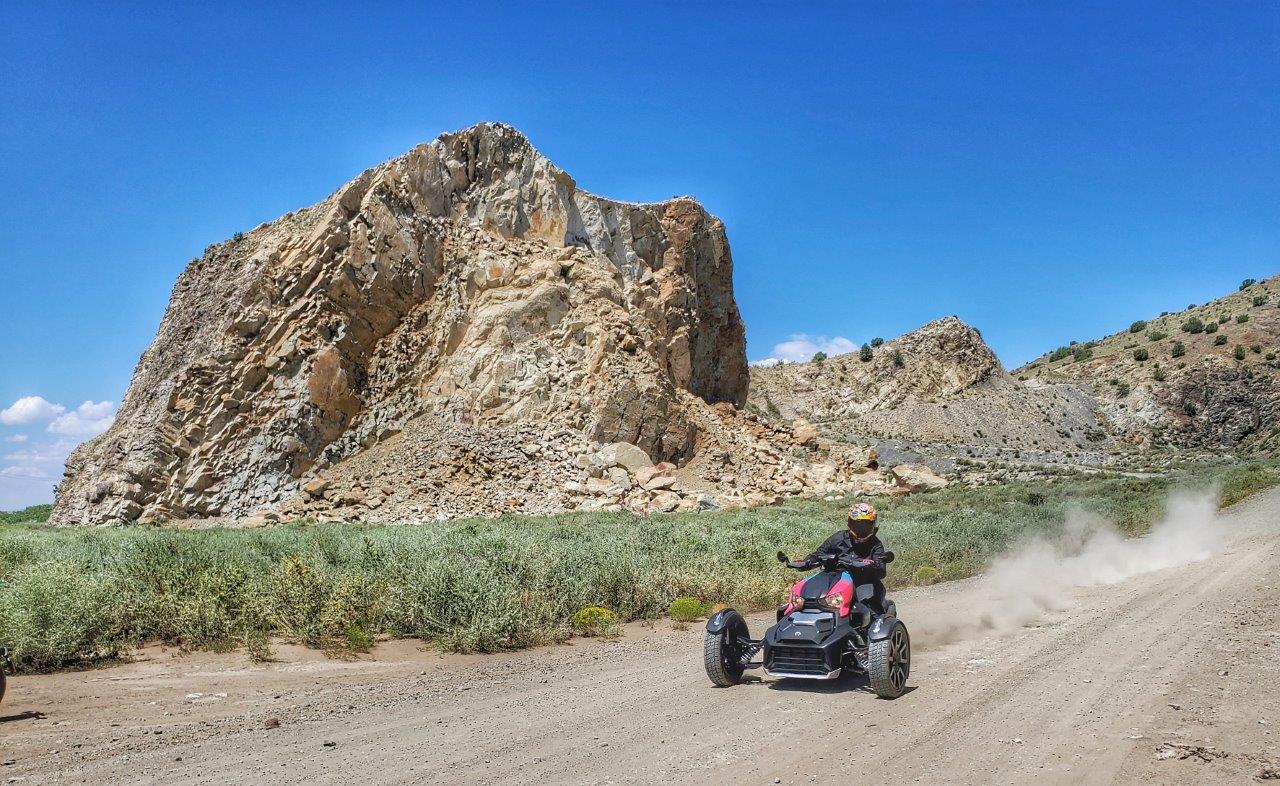 The stability control kicks in if you really screw up, that is, if you push the Ryker beyond its stability limits. I experienced this feeling of the engine "backing off" on a regular basis when riding the Tail of the Dragon – due to aggressive riding in sport mode on off-camber corners.
Stability control never pushed me over the yellow line on right-handers, but I can expect it would have if I had bumped the speed up more. The good news is, the Ryker will not flip over thanks to this same system. I know a few professionals who tried their best to get a wheel to lift off the ground with no luck.
Needless to say, I don't recommend using the VSS as a miracle cure for riding stupid, but it will keep the Ryker from flipping/tipping in normal on-road riding conditions. No promises if you decide to take it over any sweet dirt jumps (which you really, really shouldn't do).
The Ryker 900 Rally Gives Me Piece of Mind
Safety
Wider than a motorcycle and with running lights strategically placed on both front wheels, the Ryker is easier for other motorists to see way down the road. I did experience this first hand when riding in town.
In fact, people stare more often than not, simply because they've never seen anything like it. However, the lower ride height makes you less visible to vehicles directly beside you, especially trucks and SUVs, so that needs to be kept in mind.
And of course, the Ryker fits nicely into typical blind spots just like a motorcycle, so there's no magic cure for visibility besides being aware and diligent.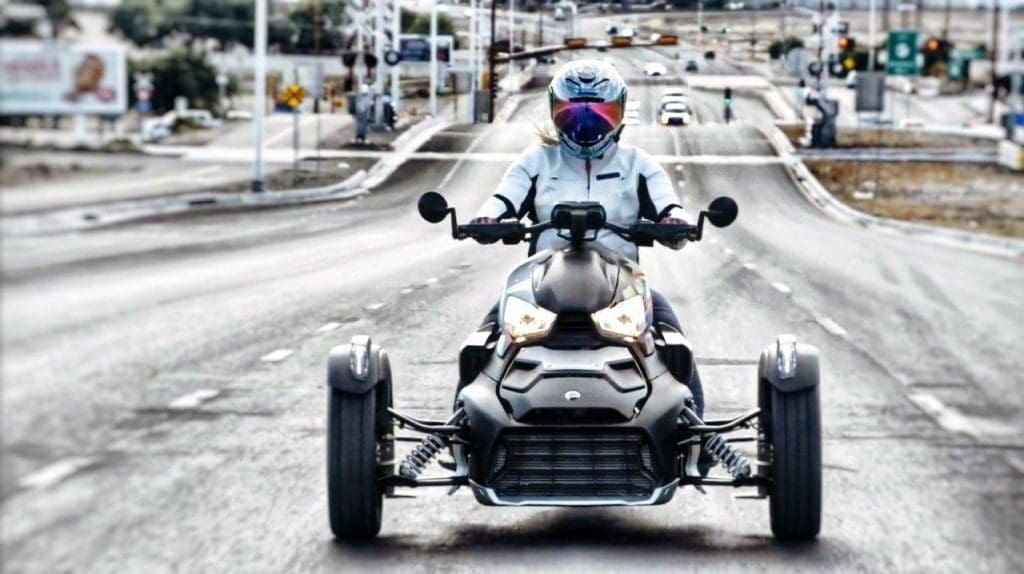 With no chance of dropping the Ryker, there's no need to worry about the ability to pick up a heavy motorcycle, or get stuck/crushed underneath it. You don't even have to put your foot/feet down when you stop, so no chance of slipping, and no issues getting your laces or pants caught on a footpeg and tipping over, either.
The Ryker warns you with several loud beeps if you've stopped the engine without first engaging the parking brake. It also beeps when you first put it into reverse. This is annoying for me. Others might find it a convenient reminder. To each their own.
Security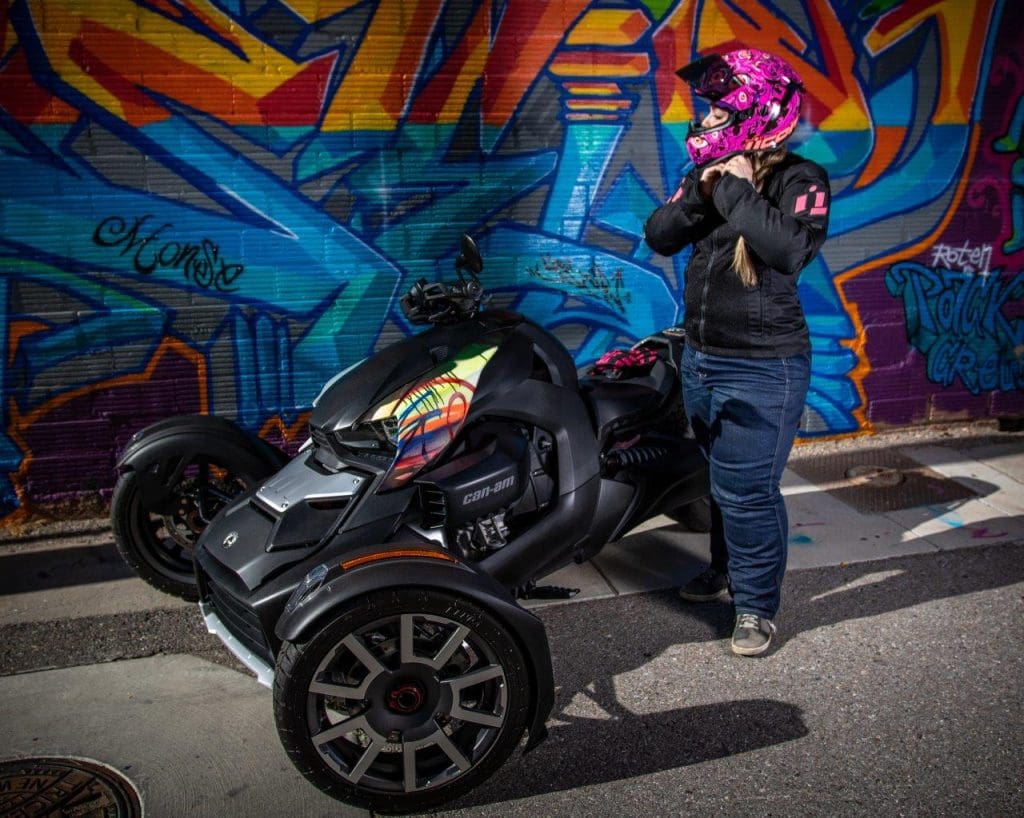 Photo Credit: Rob Burnside
When it comes to lifting, the Ryker is heavy – 627 lbs dry to be exact – with a very low center of gravity. It cannot be picked up and carried away, and pushing it onto a trailer or truck without power is much harder than with a motorcycle.
The key fob I mentioned earlier uses BRP's digitally encoded security system (D.E.S.S.), and without that fob, the Ryker won't run and can't be hotwired easily. They also don't have universal parts that can be used on a plethora of other vehicles.
With these things in mind, the Ryker is less likely to be stolen and harder to steal, although it isn't unheard of for one to go missing. I keep mine in the garage. A parking brake lock or rotor lock can also be purchased to make it even harder to steal.
The Ryker is Easy to Maintain
The Ryker has a final shaft drive. This means the Ryker's drivetrain is maintenance-free, with virtually no need for any mechanical know-how. No cleaning and lubing a chain, checking a belt, or worrying about making any adjustments on my own. It also means I can continue to ride in the gravel and dirt without issue.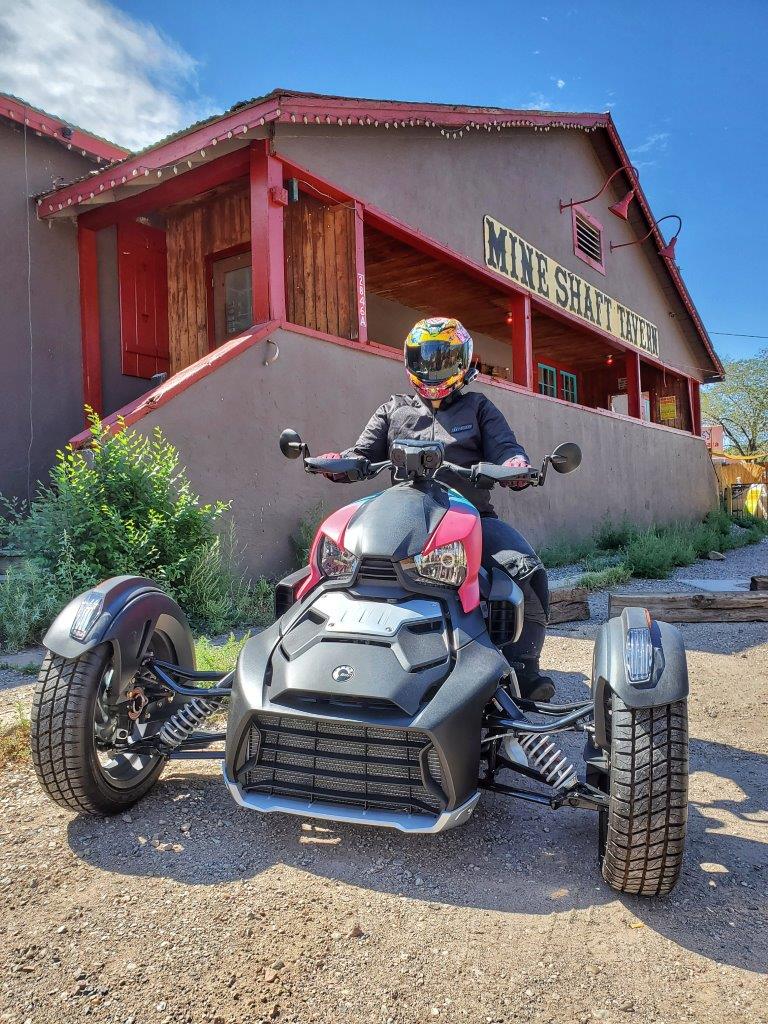 Oil changes on the Ryker can be done at home, and if you need help on that, YouTube has the answer. All other scheduled maintenance I simply bring to a dealer to perform. Standard costs and maintenance schedule are on-par with most modern sport motorcycles – not cheap by any means but infrequent enough to be affordable.
The computer is also designed to learn about an individual's riding style with every additional mile and it even takes damage assessments. My Ryker told me exactly when it was time for maintenance—something usually only more expensive motorcycles do. Just another way the Ryker is less stress, more fun.
The Ryker 900 Rally Looks Cool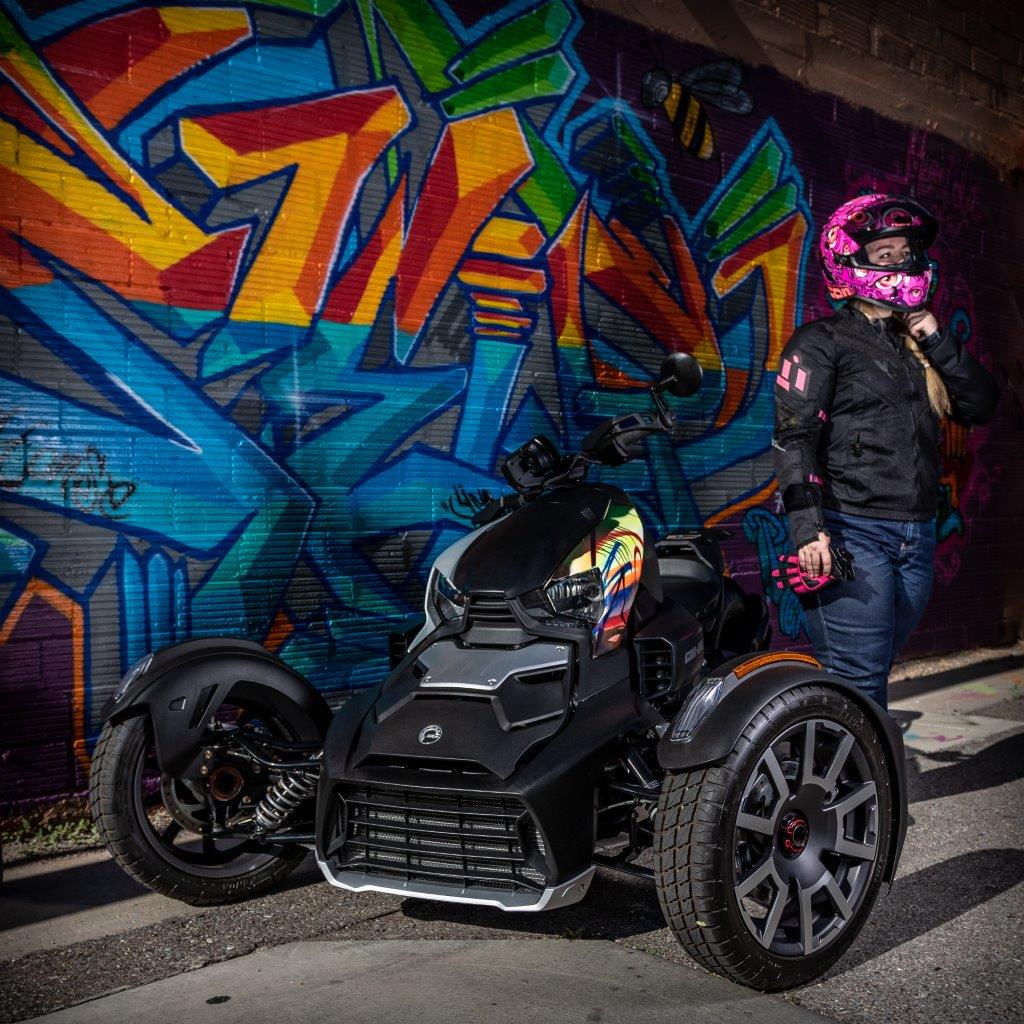 Photo Credit: Rob Burnside
I really like the way the Ryker looks just sitting in the parking lot—it's a perfect combination of aggressive and compact. Compared to the Spyder, it is much smaller and lower to the ground.
Many onlookers have paid us compliments over the last year, which isn't a reason to buy, but is definitely a bonus. With that said, the Ryker Rally is sexy and cool in addition to being fast, easy to learn, low-stress, affordable, and very fun to ride.
Bang for the Buck: 5 out of 5
Ease of Use: 5 out of 5
Standard Features: 5 out of 5
Customization and Adjustability: 5 out of 5
Safety and Security: 5 out of 5
Specs At A Glance
2020 Can-Am Ryker Rally 900
Displacement
Rotax 900 ACE in-line 3-cylinder
Seat Height
24.2 inches
Fuel Capacity
5.28 gallons
Dry Weight
616 pounds
Price
$11,499