Australia isn't the only country that is vilifying riders with (or without)  anti-association and consorting laws.
Californian police have been profiling riders by stopping, searching and detaining riders without any legal basis.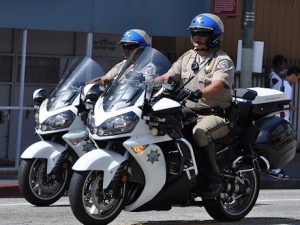 Now a petition has been launched to support anti-profiling laws in California and rider Tabitha Montalvo has asked MotorbikeWriter to share the petition link to encourage Aussies to sign and support the proposed Bill.
"I noticed you're active on Change.org for similar interests," she says. "Would you please consider signing and promoting our Anti-Profiling Against Motorcyclists Bill for California, USA on your Facebook and other social media sites? The Bill will be presented in January and we need worldwide support. Thank you!"
The petition says the proposed California Bill RN 14-24215 would "add minimum standards and training requirements to the Penal Code to ensure that the profiling of motorcycle riders is addressed in the course of law enforcement training in conjunction with existing training regarding profiling."
"Profiling of motorcycle riders means using the fact that a person rides a motorcycle or wears motorcycle paraphernalia as a factor, without any individualised suspicion of the particular person, in deciding to stop and question, take enforcement action, arrest, or search a person or vehicle, with or without legal basis under the California Constitution or the United States Constitution.
"This Bill would require all local law enforcement agencies to adopt a written policy designed to prevent the profiling of motorcycle riders, as well as to review and audit existing policies to ensure their compliance."
Rather than more Australian High Court challenges against existing anti-bikie laws, we should follow the lead in California and seek to introduce anti-profiling laws.
To do that, we need politicians in each state to champion anti-profiling laws.
The current batch of anti-bikie laws seems to have given police the right or at least tacit approval to harass all any motorcycle rider, which is basically social profiling and no better than racial profiling. The laws have also emboldened the media to vilify all riders.
Recently, a West Australian traffic officer instructed his team to target every motorbike on local roads, although he says that is because of the high crash rate among riders.
Apart from signing the above petition, Aussie riders can also protest against the rising vilification of riders by attending the Last Stand Freedom Ride in Canberra on December 1 and state-based rallies on December 7.
Canberra rally organiser Dale Maggs says we "need to change the perception by police and media that all riders are bad guys".