The Silver Eagle cooling vest is water activated to allow evaporative cooling while you ride.
It works nicely in hot weather, especially when it's humid.
The vest works best when air flows over vest, as in motorcycle riding with a mesh jacket over the top.
A single soaking lasts two hours or more.
A T-shirt should be worn underneath; you'll feel dampness but the cooling factor really helps.
The vest also provides some insulation in cool weather.
The Silver Eagle vest is available in various designs and colors and women's styles and sizes also available.
Introduction
It's only been within the last couple of years that motorcycle clothing manufacturers have finally started to produce clothing suitable for very warm weather.
This is surprising, since the vast majority of motorcycle riding takes place during the summer months.
For many years apparel manufacturers have been focused solely on producing a single set of clothing that would "do it all".
The problem is that unlike the motorcycle riding neighbors of the Jetsons,  we don't yet have the technology that allows a single garment to work in a range of 30 degrees to 90 F., or that will provide cooling air flow while still being waterproof.
The result?
Our typically bulky jackets and pants with "breathable" waterproof liners (vastly overrated) and zip-out insulating inserts.
To stay comfortable with seasonal temperature change, you still need separate clothing ensembles.
Until just about a year or two ago, there was also the added problem of a distinct lack of clothing suitable for riding in really hot temperatures.
Unfortunately, many motorcyclists can't afford to purchase multiple outfits for various niche weather patterns, so other than the odd day when you just happen to own a set of comfortable clothing, you had to make do with whatever you had.
Although I guess I shouldn't complain — back when I started riding, life was simple (and so were we!).
Jeans, T-shirt and maybe work boots in the summer; add a leather "bomber" jacket found at the local thrift shop, and there was your summer and winter riding outfit!
The recent trend towards highly breathable fabrics that still offer a modicum of crash protection for summer use has really opened up a whole new outlook on hot weather riding.
It helps that these new products are relatively inexpensive, which provides motorcyclists the potential of affording two sets of riding apparel, one for winter and one for summer.
Some chemists or scientists somewhere must be hard at work on developing new technologies for human comfort in hot weather, because it seems as if a lot of new products are being released that can help us keep cool.
One of these new technologies is the ability of a special fabric to hold water and then slowly release it as a gas to provide an evaporative cooling effect.
 The Silver Eagle Solution

Silver Eagle Outfitters offers many different types of garments using the Hydroweave technology that provides this effect.
Their vests, hats, and other products are used in the construction industry, by motorcyclists, hunters, equestrians and anyone else who needs comfort in temperature extremes.
If you're going to ride in really hot weather, the Silver Eagle vest offers an interesting way to keep cool.
In the past, I've sometimes avoided riding in the heat of the day, because even with one of the mesh jackets, it can be too darn hot to enjoy the ride. This is especially true in the southern U.S.A., where winter is the preferred riding season.
How It Works
The Silver Eagle vest must be "activated" to obtain the desired cooling effect. To activate the vest, it must be soaked in cool water. Silver Eagle Outfitters suggests two ways of doing this.
The "package activation method" involves placing water in a plastic bag and soaking the vest for 15 minutes.
The vest comes with a "Zip-lock" plastic bag for this purpose.
The instructions suggest placing no more than 16 ounces of water in the bag and then inserting the vest. This method minimizes the amount of excess water that might drip from the vest, but takes a bit of time.
I use the "submersion method", which is a bit easier to manage. I place the vest in a spaghetti pot of cool water for about 5 minutes (minus the pasta, of course!), then gently wring out the excess moisture and wipe down the inside liner.
Silver Eagle claims that the vest can't be over-soaked, but the submersion method seems to allow the vest to soak up as much water as possible and provide the greatest amount of cooling effect time when the vest is worn.
We have a nice, deep well that throws out cool tap water, which works well for activating the vest.
But Silver Eagle Outfitters also suggests placing the vest in the refrigerator after activation but prior to wearing it for an even better cooling effect.
On the Road
It does take a while to get used to the feeling of the damp vest on your body; it feels a bit "icky" at first.
It's not actually as soaking wet as, for example, a wet T-shirt (which is a pretty yucky feeling!), but it does feel damp.
The evaporative effect really starts to work as air flows over the vest; note that this type of garment is not designed to work under a jacket with poor airflow.
I wear the Silver Eagle vest under a Joe Rocket or Firstgear mesh jacket, and the cooling effect is pretty dramatic once I'm underway.
We've had one of the coolest and wettest springs on record here in the Mid-Atlantic, so it wasn't until the end of June that the weather finally warmed up enough to fully appreciate what the vest can do.
A couple of 90+ degree days with heavy humidity gave it a good workout.
The cooling effect is very noticeable up to about the first 2 hours and can definitely make a difference.
One day, as I was riding, I passed some people sitting barefoot under a shade tree, waving fans in their faces. It was a hot day; too hot to be active. But I felt fine, and it kind of gave me a chuckle.
The Silver Eagle vest also provides a bit of warmth when its not activated. It works well in the spring and fall when you need just a touch of warmth under a jacket.
When the vest is dry, it folds up into a pretty small package, so it's easy (and handy) to carry on the bike to use in the evening. Of course, it's also handy to have during travel, as you can soak it in cool water just about anywhere when you need the cooling effect.
It seems to take about a full 24 hours for the vest to completely dry out. Silver Eagle suggests that you don't store the vest in a sealed container or bag unless it's completely dry.
Sizing
I usually take about a size 43-44 men's jacket, and Silver Eagle Outfitters recommended an XL sized vest.
It fits well, with just enough room for movement. It's important to make sure the fit is correct, so that the vest will stay near your body to provide the correct cooling effect.
Silver Eagle has a variety of sizes and vest designs, so you'll probably find one that fits.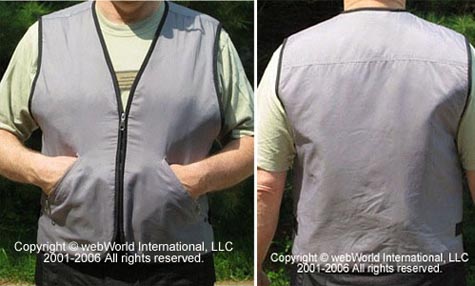 Other Features
The vest also has a decently hefty zipper up the front. The zipper is made from plastic and the pull tab and slider is metal.
There are also two short pockets (photo above), which come in handy for small items like earplugs.
The recent photos of this vest on the Silver Eagle website don't show zippered pockets, so they may have been discontinued on this model. The vest also has adjustment tabs on each side, which have a button snap that allows 35mm (1-3/8″) lateral adjustment.
The vest illustrated in these photos is really designed for construction workers, so the back is a bit longer than you need for motorcycling.
But I had no problems either folding it over to fit under a short motorcycling jacket or stuffing it under the back waistband of my riding pants.
Conclusion
If you live or ride where it gets really, really hot and humid, the Silver Eagle vest may work as well for you.
The price is reasonable, especially considering that it can also be useful in cool weather.
Don't forget that the vest can also keep you cool for non-motorcycling activities too!
w

BW

 Review: Silver Eagle Outfitters Vest
List Price (2007): $40.00
Made In: China
Colors: Silver, khaki.
Sizes: S-2XL
Review Date: May 2009
Note:
 For informational use only. All material and photographs are Copyright © webWorld International, LLC since 2000. All rights reserved. See the webBikeWorld® 
Site Info page
. Product specifications, features and details may change or differ from our descriptions. Always check before purchasing. Read the
Terms and Conditions
!
Owner Comments and Feedback
---
From "K.P." (June 2016): "A for a friend moving to Texas I was searching for a link as I personally have one of these.
My warning to everybody I have recommended it to is do not use in temps under 80-85 degrees or you will can cut diamonds with your nipples. The slightest breeze cause these to get cold.
I have ridden in 100+ with the vest under a mesh jacket and can say the cooling property can only be beat with an air conditioner and closed windows.
Mornings just fold it up, put in in the supplied bag, add 1 liter of water, remove as much air as possible (only because of space considerations) and put it somewhere on the bike.  As temps get up above mid 80's, put it on over a shirt and put a mesh jacket over it.
Nice thing your clothes do not get wet. However if it dries out you can dunk it in water with light massaging, lightly wring it out and use again. When doing this you clothes may get damp, but in those temps, who cares.
I can highly recommend this product. They also sell neck gators, bandannas and hardhat liners with the same technology.
Recently recommended this to a friend who suffers from MS and cannot take hot weather. He wears his almost all summer long. He also swears by it with the only complaint that it does take a breeze or more to cool. If air is not moving over it the cooling does not work."