California ATV and Side by Side Clubs List
This is a list of ATV and side by side clubs based in California. If you know of others, or want to make a correction to the California ATV Clubs listed please contact me.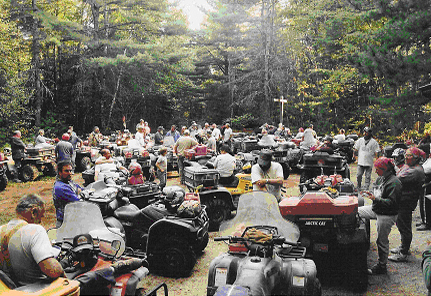 Club ATV West Sacramento, CA 95758 ATTN: Bob Hocker Email: quadnut @ msn.com Info: Open to Ride or Race in woods, sand, cross country, MX, scrambles, mountain man (and woman). We explore new places, enjoy camp-outs and photography. If you enjoy riding ATV's and sharing your experiences with others look us up today.
Desert Freaks California ATV Club 10432 Mallison Ave. South Gate, CA 90280 ATTN: Desert Freaks Email: ochavez001 @ hotmail.com Phone: (323) 564-7392 Info: Just a few people who love to get out there and ride Desert trails, sand and more.
LA ATV Association 13440 Ratner St. N. Hollywood, CA 91402 Contact: LA ATV Assoc. Email: shota_mkrtumyan @ yahoo.com Phone: (818) 808-5050 Info: Family oriented club that plans trips once a month throughout S. California & Baja Mexico. We are seeking career oriented individuals that are weekend warriers. Dues are $100.00 per year per family.
Morongo Basin Search & Rescue Team 6527 White Feather Rd Joshua Tree, CA 92286 Contact: Craig Littleton Email: SarDesertRun @ aol.com Phone: (760) 365-8185 Fax: (760) 322-4341
No Limit Riding 9617 Hunt Ave. South Gate, CA 90280 Country: USA Contact: Humberto Email: garcia436 @ sbcglobal.net Phone: (323) 893-1399 Info:Family and friends that enjoy riding from Pismo Beach to El Mirage.
Riders 2125 E Howell Ave, Ste E. Anaheim, CA 92806 Contact: Jeff Bolt Email: rider-admin @ ridersonline.org Phone: (949) 226-8317 Info: A great bunch of guys that enjoy riding.
Sand Thumpers Mt. Shasta, CA 96067 Country: USA Contact: Adam Oreck Email: adamoreck @ hotmail.com Phone: (530) 261-1220 Info: Seeking family oriented people who like to have a good time, eat, drink, and GO FAST! www.sandthumpers.com will provide details about our annual Poker Run and Pot Luck at Winchester Bay!
Sierra Neveda ATV Association – SNATV P.O. Box 8558 Reno, NV 89507 Contact: Brian Starbuck Phone: (775) 323-5551 Email: zampano1 @ msn.com Info: Do You Wanna Ride? Tired of being excluded? Get Organized. Join other ATV riders for high-desert / Sierra mountain trail rides and MX / TT racing.
Shasta Rock Rollers ATV Club P.O. Box 5389 Cottonwood, CA 96022 Contact: Raymond Parker Email: BigRam2 @ earthlink.net Phone: (530) 347-1751 Info: A family based club for riders of all types and abilities.
The Players 2069 E. 120 St. Los Angeles, CA 90059 Contact: Fren Portillo Email: fren @ resourcecollection.com Phone: (310) 956-1343 Fax: (310) 219-3280 Info: Primarily ATV riders.
West Coast ATV Riders Oxnard, CA 93030 Contact: Manny Email: manmarr8 @ aol.com Phone: (805) 205-3082 Info: Ready for Glamis? We are located in Ventura County and are looking for new riders of all skill levels. If you like to ride please call or email.
West Coast ATV Riders Association 147 Nataqua Ave. Pacifica, CA 94044 Contact: Rodger Ras Email: quaden @ pacbell.net Phone: (650) 359-6142 Info: A family oriented club for all skill levels. Working to become the most comprehensive ATV club in Northern California. Dues are $25 per house hold annually.
Wolf Pack 2927 Holdrege Way Sacramento, CA 95835 Contact: Allen Henningson Email: allen @ running-with-the-pack.com Web Site: http://running-with-the-pack.com/index.html Phone: (719) 238-3714 Fax: N/A Info: ATV Club in Sacramento California that is looking for riders of all ages and levels who ride sport and 4×4 ATV's.
If you know of other California based ATV clubs, want to suggest changes to these listings or have a story to share about good times with any of these clubs please leave a comment below.