Over the last few years, we've seen a phenomenal rise in the number of ATVs that we have access to purchase. This steady growth has also resulted in an increase in the options that beginner ATV enthusiasts can own. Gone are the days when you had to walk into a dealership to only have a couple of lower-capacity offerings to choose from.
See Also: Best Cheap ATVs
Since there are so many ATVs to select between, narrowing down on the right one can be confusing. To make things easier for you, we've put together a list of the best ATVs for beginners on sale at the moment. Since we're already at the tail end of 2022, most manufacturers have already updated their portfolio to include their 2023 models, and those are the ones you'll find on this list.
We recommend using our list as a reference—you should always try and get a test ride of a vehicle before deciding to purchase it.
Note: Multiple models listed below have power steering-equipped variants. While power steering will undoubtedly make the experience easier for beginners, it also makes the ATVs notably more expensive. Considering most beginners will be looking to get an ATV on a budget, we've listed only the standard variants. If your budget allows it, you should consider the better-equipped variants of the models we've included.
2023 Kawasaki Brute Force 300
Starting at $4,799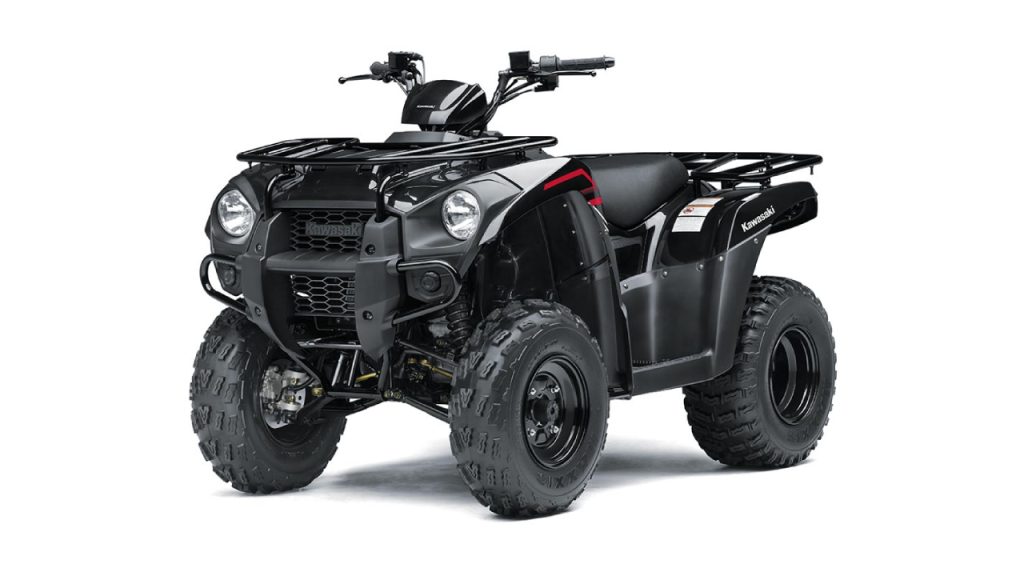 There are only a couple of 2023 ATVs listed in Kawasaki's current model lineup. One of them is the 2023 Kawasaki Brute Force 300, which might be one of the best beginner models available today. As the 300 in its name suggests, it's got a smaller engine than the other models on this list. Powering the Brute Force 300 is a 271cc motor that makes 15.9 lb-ft of torque. The company hasn't revealed a horsepower figure. This engine is mated to a CVT with a high and low ratio, but it's a 2WD.
The 2023 Kawasaki Brute Force 300 has a ground clearance of 6.1 inches and a towing capacity of 500 pounds. While the Force 300 is limited when compared to some of the other ATVs on this list, it is also considerably cheaper than them. The Brute Force 300 is excellent if you're just looking for a machine to do casual trail riding and not more intensive work. The fact that it's smaller and lighter than the others on this list makes it one of the top contenders, especially if you can live without 4WD.
2023 Can-Am Outlander 450
Starting at $6,699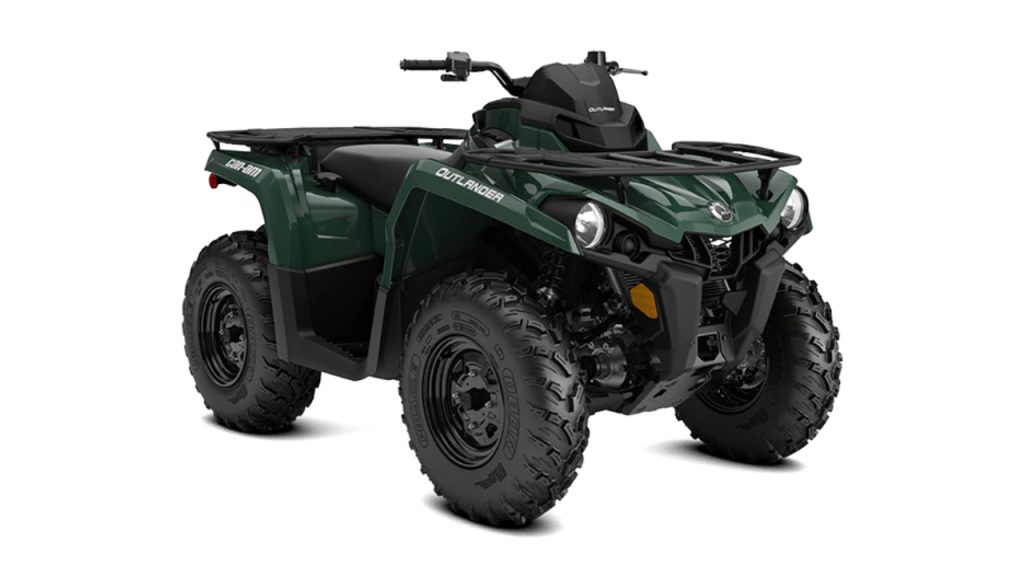 Next on the list of beginner-friendly ATVs is Can-Am's Outlander 450. This Canadian ATV is a direct rival to Yamaha and many others on this list, which means you can expect them to be quite similar in terms of specs and features. The standard 2023 Outlander 450 is the variant we'd recommend from Can-Am as it's 8 inches shorter than the Max variant. This makes it a lot more friendly and nimble in terms of handling. You will also be less stressed about taking it into tighter spaces. Buying this variant will also save you around $1,000.
Powering the Outlander 450 is a 427cc Rotax engine that makes 38hp. This engine comes with a CVT with high and low gears, selectable 2WD and 4WD modes, and a limited-slip differential. This ATV has a ground clearance of 10.5 inches and a towing capacity of 1,300 pounds. While the ergonomics on the standard Outlander 450 are more compact than the Max, it's still reasonably spacious. The engine braking on the Can-Am is effective and can lend a helping hand to inexperienced riders.
2023 Suzuki KingQuad 400FSi
Starting at $6,849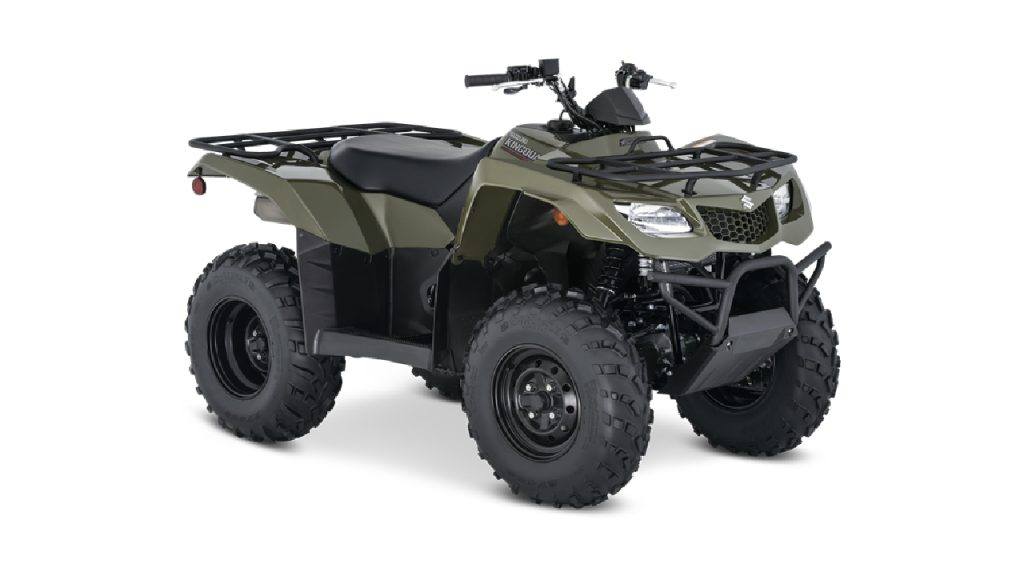 Suzuki joins the list with the KingQuad 400FSi. It sits between Kawasaki's Brute Force 300 and Yamaha Kodiak 450 in terms of performance. Powering this beginner ATV is a 376cc engine. Unfortunately, the Japanese brand hasn't revealed power or torque figures for the KingQuad 400FSi. This Suzuki is also paired with a semi-automatic five-speed transmission. Unlike the Kawasaki, the KingQuad 400FSi features a 4WD system.
One has the option to switch between 2WD and 4WD and also between high and low gears. The ATV also comes equipped with a limited-slip differential. As for the ground clearance, it's a respectable 9.8 inches which isn't the highest or the lowest figure on this list. What is quite surprising is that the company has refrained from revealing the KingQuad 400FSi's towing capacity.
What they have mentioned instead is that the 25-inch tires on the ATV will deliver impressive performance in the wet. While the 2023 Suzuki KingQuad 400 FSi has a lot of positives, keep in mind that it costs about the same as some of the more capable 450s.
2023 Yamaha Kodiak 450
Starting at $6,899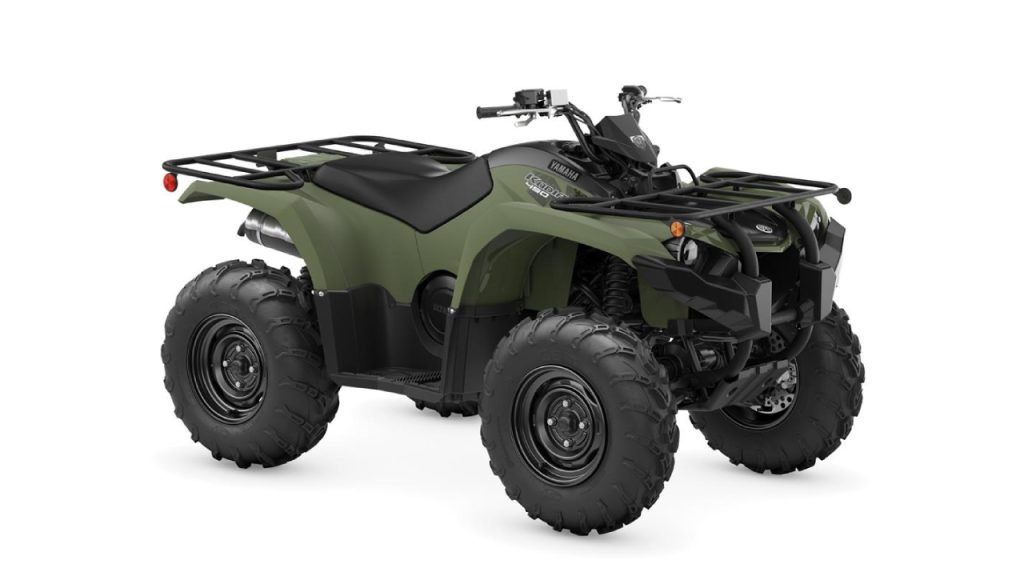 You might be surprised to see a Yamaha on this list because they've made everything but beginner ATVs in recent years. It was not long ago when Yamaha had its focus set mostly on high-performance machines. With the introduction of the Kodiak 450, Yamaha had a capable midsize ATV in its line-up. While its 421cc engine might still seem quite large for a beginner, its compact chassis and CVT transmission make it fairly easy to ride.
The smaller dimensions also make this ATV less intimidating while improving its maneuverability. That being said, this ATV is still pretty roomy in terms of its ergonomics, which means it can accommodate riders of various sizes.
The 2023 Kodiak 450 comes equipped with the company's 'On-Command' drive system, which features a 2WD, 4WD limited-slip, and 4WD full-differential lock. Other specifications that show off its capability are its ground clearance of 9.6 inches and a towing capacity of 1,322 pounds. Beginners will also appreciate the all-wheel engine braking feature.
2023 Polaris Sportsman 450
Starting at $6,999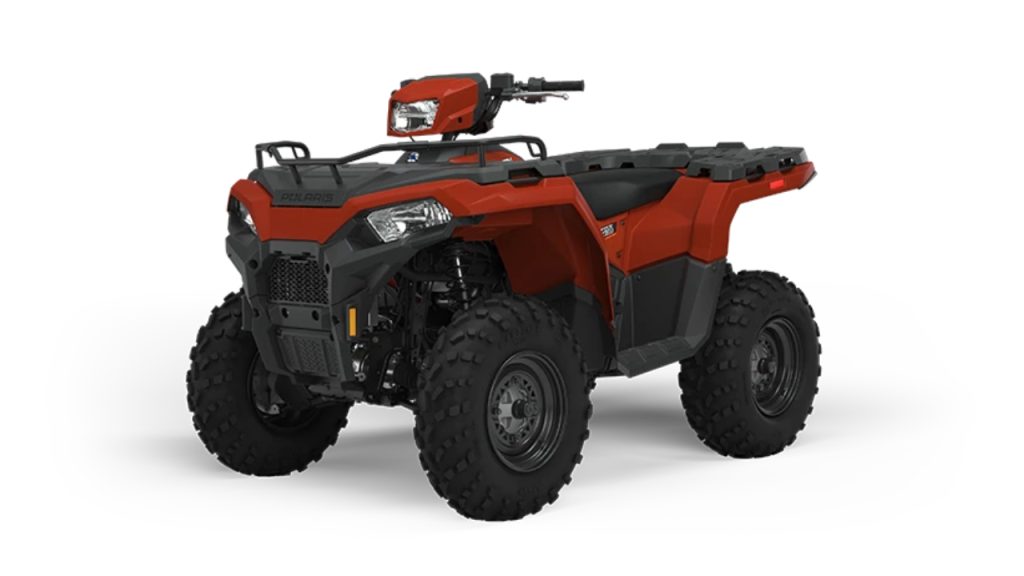 Any list of ATVs wouldn't be complete without a Polaris. Choosing one from Polaris' current lineup isn't easy, but the company's Sportsman 450 is a significant contender in the space and should be at the top of your list if you intend to use it on a farm. While this ATV has a lot going for it, make note that it is one of the larger models on this list. The Polaris Sportsman 450 has some segment-leading features, but its horsepower rating isn't one of them. The Sportsman 450 has one of the largest engines at 499cc, but it only makes 33hp.
That being said, it should be sufficient for most beginners. What is quite impressive is that it has a towing capacity of 1,350 pounds which is a class-leading number. The Sportsman 450 does feature an on-demand 4WD system but doesn't offer engine braking. The lack of engine braking means that riders must be proficient with the brakes.
The Polaris Sportsman 450 has a ground clearance of 11.5 inches, the highest in its class. It has managed to do so thanks to large 25-inch tires and long travel suspension. The 2023 Polaris Sportsman 450 is one of the most potent offerings on this list, but it's not as beginner friendly as the others.
2023 Honda FourTrax Rancher 4X4
Starting at $7,299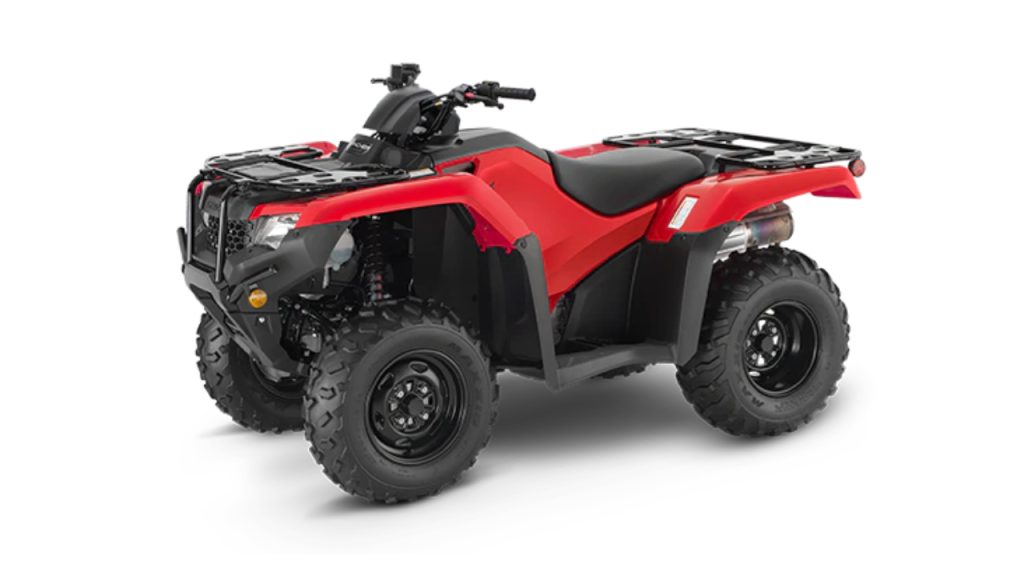 Last on the best beginner ATV list is the 2023 Honda FourTrax Rancher 4X4 ES. The 4X4 variant sits above the standard 2WD Rancher, priced at $5,899. However, we've picked the 4X4 for this list as it's more fitting, with most models being 4WD. Coming back to the Honda, it uses a 420cc engine paired with a five-speed manual transmission with an electric shift function. The ES-equipped models cost $300 more than the standard 4X4, and it's the one we'd recommend, given that this is a list targeting beginners.
Honda has refrained from stating power and torque numbers, but one can expect more than performance for a beginner. The 2023 Honda FourTrax Rancher 4X4 is equipped with the company's TraxLok system. This allows switching between 2WD and 4WD electronically. Like the other 4WD ATVs on the list, it also features a limited-slip differential for the front wheels.
As far as towing capacity is concerned, the Rancher 4X4 can pull 848 pounds. Regarding ergonomics, the Honda is pretty spacious, with an open riding triangle. The longitudinally mounted engine also helps improve the room on offer. Honda has said that it has been designed to allow for "mobility, control, comfort, and safety." This makes it one of the best current Honda ATVs for new riders.