We've compiled a list of five of the most expensive ATVs you can buy in America in 2022. Interestingly, these models come from just two of the big names in the industry—Can-Am and Polaris. You'll also see that these ATVs are part of just a couple of model lines from each manufacturer; however, the individual variants are vastly different from each other and cater to different audiences and riding conditions.
Until a few years ago, it wasn't that often you found an ATV that crossed the $10,000 mark, but as performance and features improve, this is getting all the more commonplace. Typically, higher price tags come with higher quality, and that's definitely the case with these machines. These are some of the best ATVs you can buy today, and the steep prices are justified.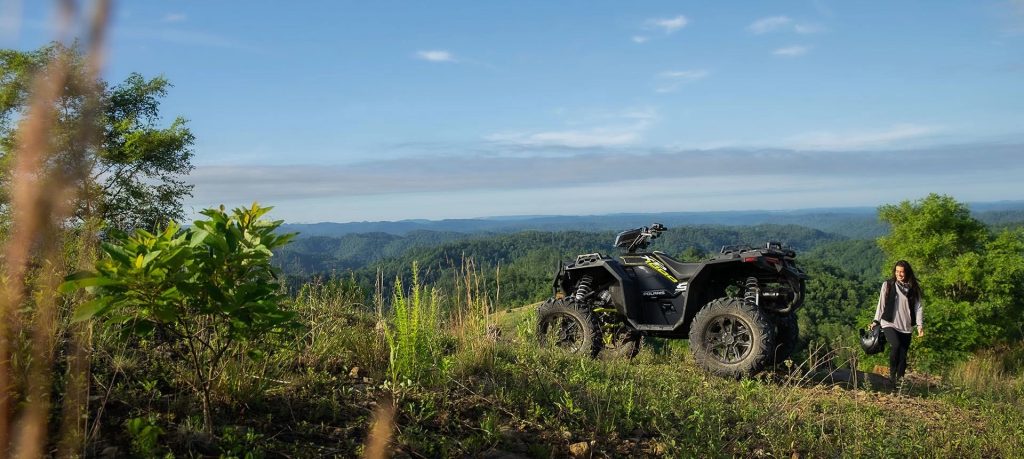 We also want to reiterate that this list comprises ATVs—no UTVs or side-by-sides. If you'd like to see a list for those, drop us a comment below. Without any further ado, here are the five most expensive ATVs you can buy, sorted from least expensive to most.
2022 Can-Am Outlander X XC
Starting at $15,399
The Can-Am Outlander X XC may not be the most expensive model in the Can-Am 2022 lineup—or even in the Outlander range—but it's still one of the most capable machines the Canadian manufacturer offers. It's powered by a 976cc, liquid-cooled, Rotax V-twin that produces 91hp, making it one of the most powerful stock ATVs you can get your hands on.
The Outlander X XC can get past the 85mph mark, and unsurprisingly, this performance is complemented by seriously impressive hardware. Slowing the vehicle down are twin 214mm discs at the front and a single 214mm disc at the rear—all four of them working alongside hydraulic twin-piston calipers. Suspension is handled by an arched double A-arm at the front and an independent torsional trailing arm at the rear, offering 9.2 inches and 9.9 inches of travel, respectively.
This is a go-anywhere machine, and it comes off the production line ready to take on the world. An aluminum front bumper with a top brace, tapered handlebar with handguards, and aluminum skid plates all around is standard equipment. On such a heavily equipped ATV, the only accessories that you could benefit from are a winch (which the Outlander X XC is prewired for) and some added storage, if required.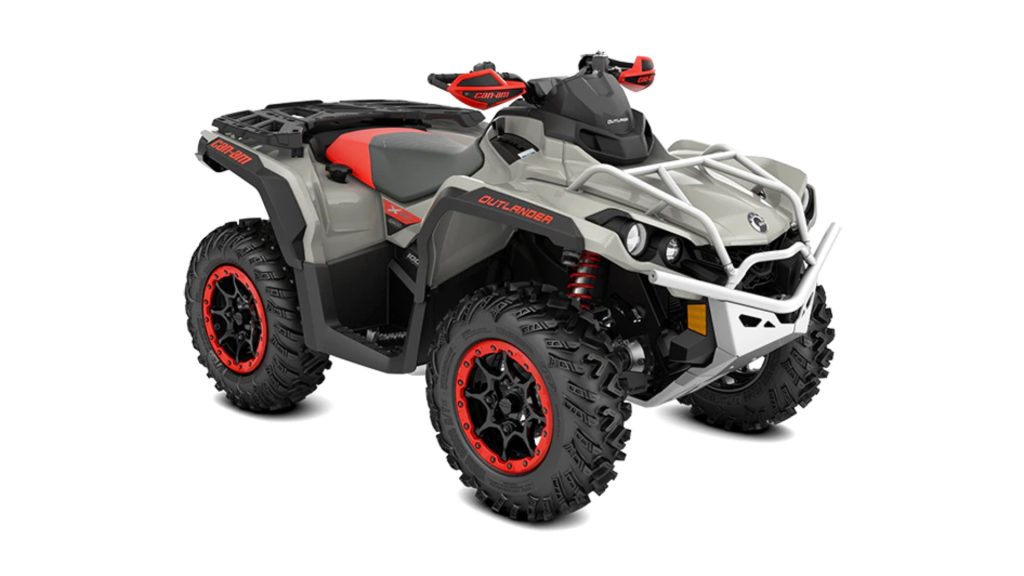 2022 Can-Am Outlander Max Limited
Starting at $15,799
The 2022 Can-Am Outlander Max Limited shares a lot in common with the Outlander X XC we just looked at. Components like the engine, suspension, and brakes are identical between the two models. The most significant differentiating factor between the two is that the Outlander Max Limited is more utility-based than the Outlander X XC.
While the latter comes equipped with 26-inch ITP Terra Cross tires, the former has larger 27-inch Maxxis Bighorn tires that should help you traverse even the stickiest of situations. The Outlander Max Limited has a longer wheelbase (by 8 inches) at 59 inches, due to the larger tires. It's also heavier by 74lbs, weighing 900lbs dry.
While the Outlander X XC comes only with a rear rack, this ATV has one at either end for a total capacity of 300 lbs. It also comes with a winch from the factory, rated for a towing capacity of 3,500 lbs. As you can see, the two Outlander models are quite different regarding the features they offer.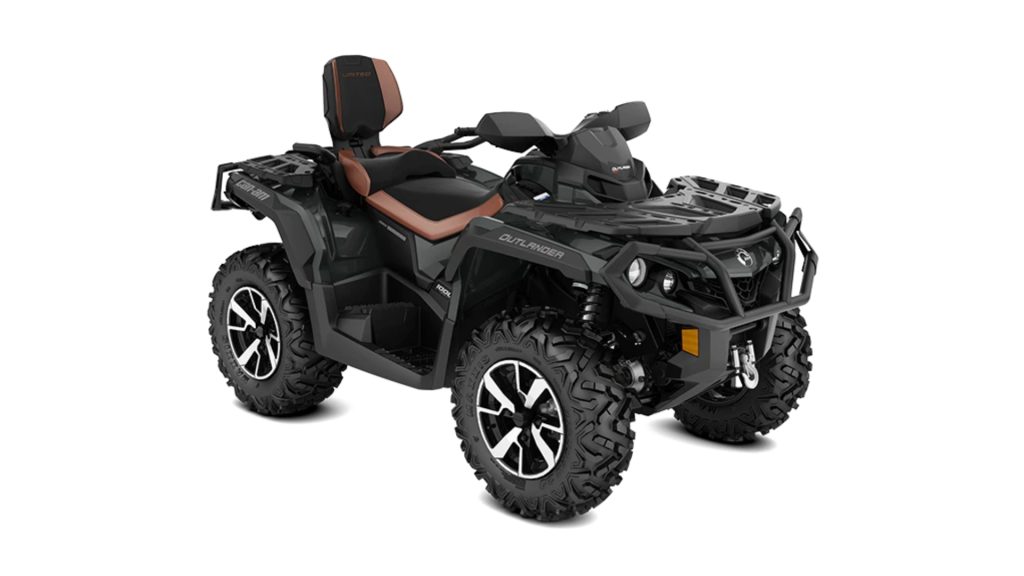 Can-Am Renegade X MR 1000R
Starting at $16,499
The Can-Am Renegade X MR 1000R is the most expensive ATV from the manufacturer for 2022, and it loses out on the top spot (shared by two Polaris models) by just $100. You'd expect a lot if you were paying this kind of money for an ATV, and the range-topping Renegade does not disappoint.
The engine is the same as the one on the two Outlander models we just looked at, but the Renegade also comes equipped with a snorkel, allowing you to wade through deeper waters without having to worry. Suspension and braking hardware is the same, but Can-Am has equipped this machine with large 30-inch tires on 14-inch wheels.
It comes pre-equipped with a winch, bumpers at either end, an aluminum handlebar, grab handle, skid plates, and handguards. All that hardware results in it being the heaviest Can-Am on this list, weighing 991 lbs.
Can-Am mentions that this ATV is built for Mud, Performance, and Trail use, all of which it excels at.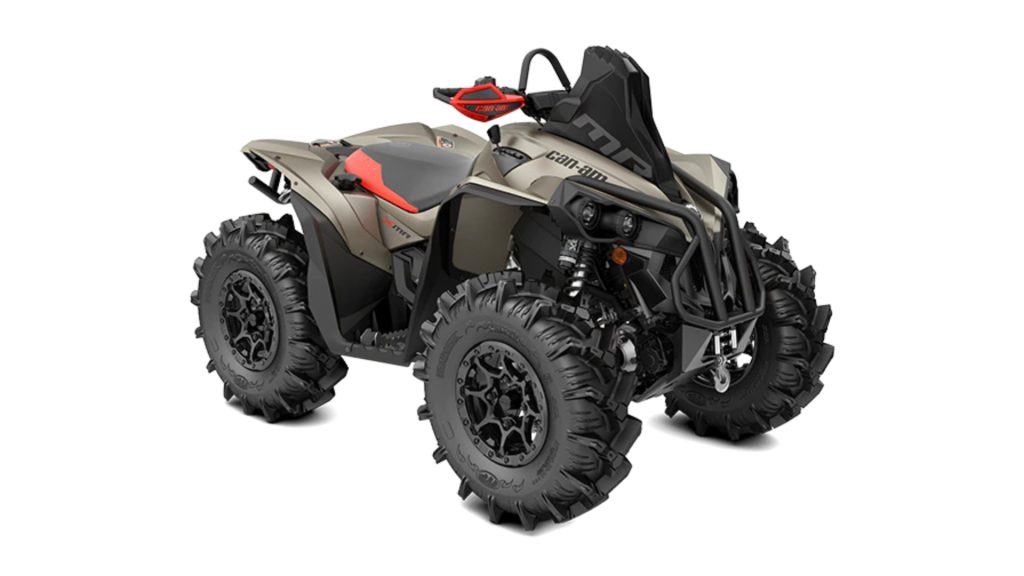 Polaris Scrambler XP 1000 S Limited Edition
Starting at $16,599
The Scrambler XP 1000 S ties with the Sportsman XP 1000 S for the coveted spot of "most expensive ATV in America." While the two share many similarities, like their powertrains, there's a stark difference in their intended usage. The Scrambler XP 1000 S is at the very top of the Sport series for the 2022 Polaris ATV lineup, and as its name suggests, it's been designed to do one thing—get across rough terrain as quickly as possible.
Propelling it is a 952cc, ProStar twin-cylinder engine that produces 89hp, and keeping it going irrespective of the terrain is one of the best suspension systems you'll find on a stock ATV. The kit from Walker Evans Racing comprises an arched dual A-arm at the front and 3-way adjustable shocks at the rear, with 12.5 inches and 14 inches of travel, respectively.
For the $16,599 you pay, you also get adjustable handlebars, an 11-inch Pro Armor LED light bar, and a front differential borrowed from the Polaris RZR XP 1000.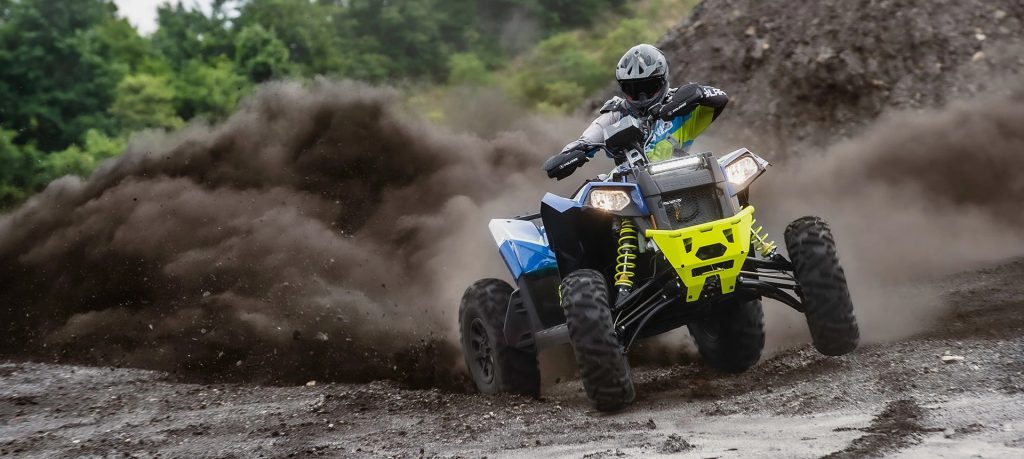 Polaris Sportsman XP 1000 S
Starting at $16,599
While the Scrambler is the sport-oriented sibling, the Sportsman has more of a utility background. That said, Polaris hasn't taken the 'S' suffix lightly, and it's kitted the Sportsman XP 1000 S with a sportier suspension, more ground clearance, and multiple other performance-oriented features compared to the standard Sportsman XP 1000.
Compared to the Scrambler, it offers active descent control, 425 lbs more rack capacity, and just as much more payload capacity.
The Sportsman XP 1000 S chassis is based on the one from the Ranger XP 1000. However, Polaris has tweaked it with 31% larger tubing for a more robust machine. Additionally, the suspension components and front mudguard have been reinforced as well.
The XP 1000 S offers a 55-inch wide stance. This, in combination with block-pattern 27-inch tires, results in a stable ride with heaps of traction.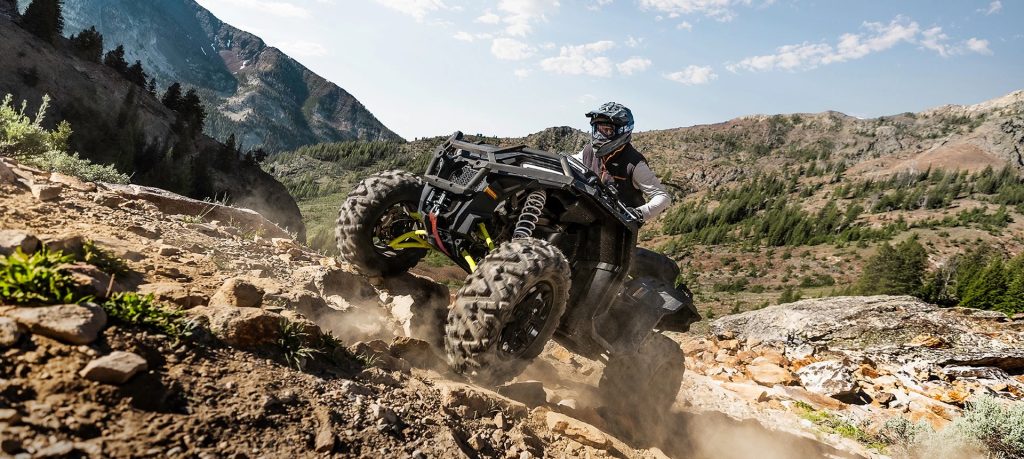 Most Expensive ATVs in the U.S.
Can-Am Outlander X XC — Starting at $15,399
Can-Am Outlander Max Limited — Starting at $15,799
Can-Am Renegade X MR 1000R — Starting at $16,499
Polaris Scrambler XP 1000 S Limited Edition — Starting at $16,599
Polaris Sportsman XP 1000 S — Starting at $16,599