What's better than bombing down a forest trail, mud and dirt flying, the engine chugging along under you like an unleashed demon, and flicking the rear wheels a little sideways around the bends to get the grin on your face permanently etched there? Strange concept, but doing so safely is even better.
We're not talking about reducing the level of fun you're having, not by a country mile. What we mean here is wearing good off-road gear. Boots, gloves, knee, and elbow armor, maybe even full chest and torso armor. But definitely, always, and forever: wear a helmet.
There are hundreds of awesome off-road helmets out there, spread across varying price brackets. Typically, as your budget for a helmet increases, the features and safety levels you'll have access to will rise as well. That said, there are some great helmets you can get your hands on, even on a tight budget. We've researched and compiled a list of some of the best ATV helmets for off-road riding, split into three price categories.
Best Entry-Level ATV Helmets
Priced under $300.
Bell MX-9 MIPS Helmet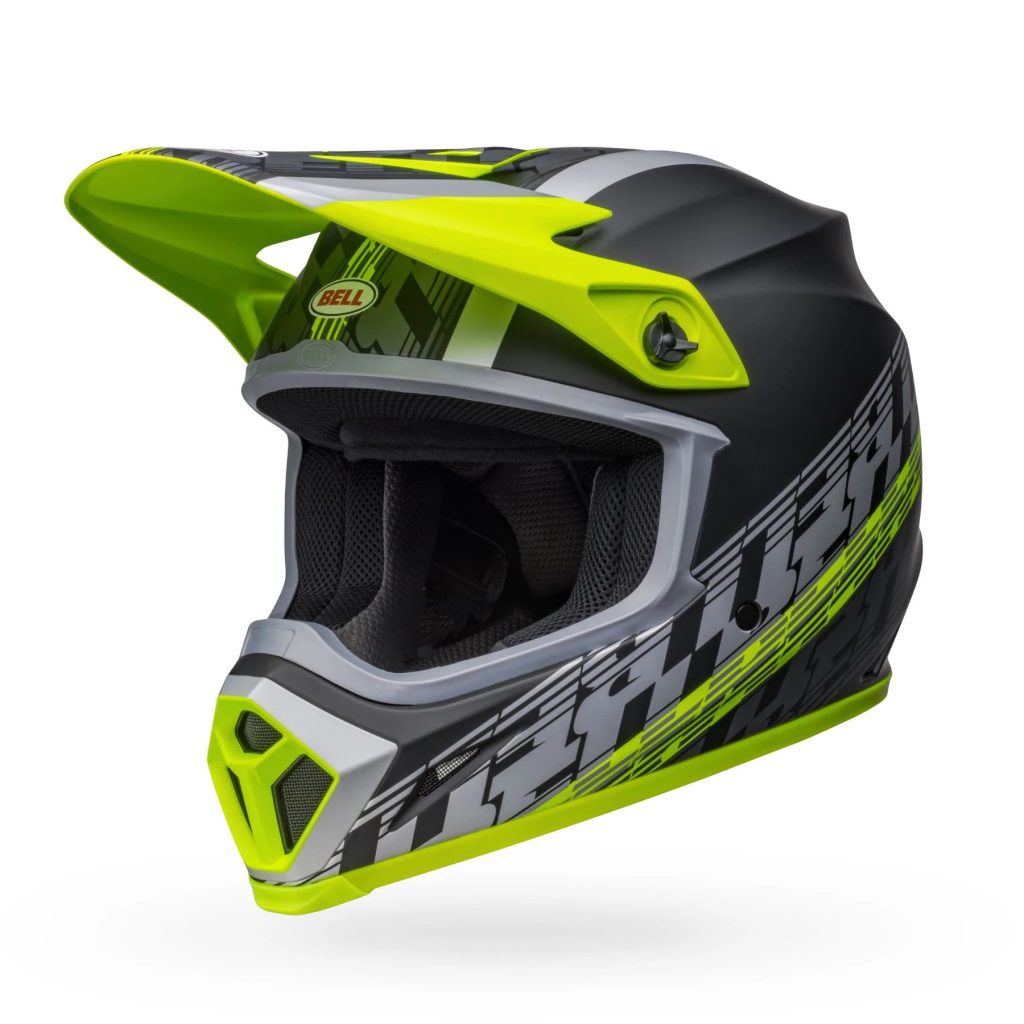 Why?
The MX-9 MIPS is what you get when you combine one of the best-rated, most popular off-road helmets ever with a new bit of technology. MIPS stands for "Multi-Directional Impact Protection System" and has trickled down from motorcycle racing.
What does it do? In short, it is a cradle system behind the top liner of the helmet that absorbs the first millisecond of rotational energy on the helmet in the event of an impact. This diffuses the energy across the cradle, preventing that initial rotational shock from rotating the helmet itself, which protects the neck from sudden rotations.
Specs
MIPS Multi-Directional Impact Protection System for dramatically improved rotational impact energy displacement
Lightweight polycarbonate shell
3 shell sizes
SM: XS and SM Helmets
MD: MD and LG Helmets
LG: XL and 2XL Helmets
Velocity-flow ventilation system for cooling and comfort
Moisture-wicking, removable/washable air-channeled comfort liner
EPS-lined chin bar
Integrated vented roost guard
Padded chin strap with D-ring closure and strap keeper
Five-year warranty
DOT and ECE certified
Fox Racing V1 Matte Helmet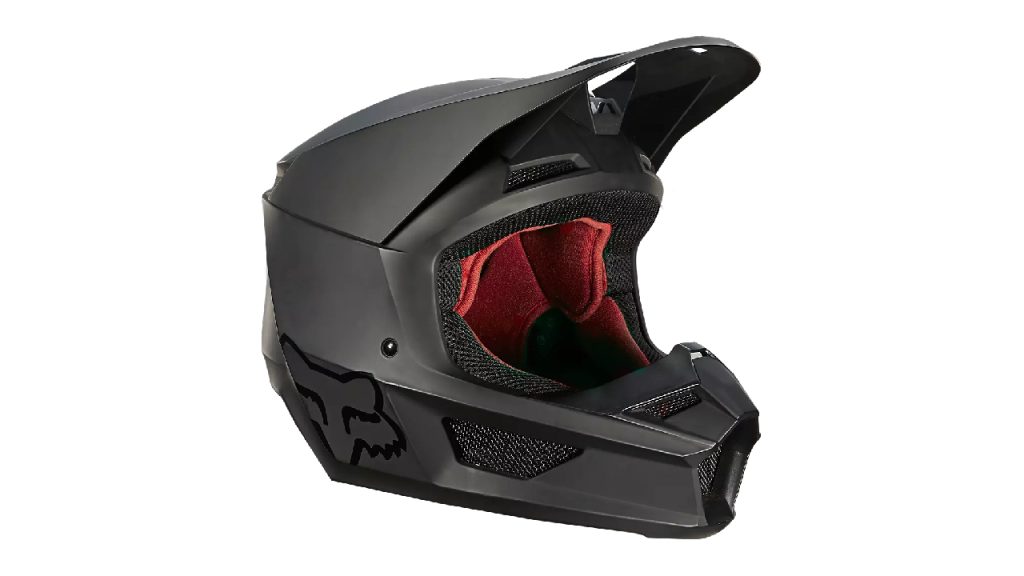 Why?
Fox Racing is a name nearly synonymous with off-road adventure through some type of motorized vehicle with two or more wheels. As such, the V1 Matte helmet is one of the best helmets to have ever come from the legendary company.
Not only is the helmet made of injection molded polycarbonate, not only does it have dual density, multi-layer EPS foam for impact energy absorption, but it also features the MIPS rotational protection system.
It also features a magnetic sun peak release system that pulls the peak away from the helmet during a crash or impact, reducing torsion on the head or neck. It also, as evidenced by the multiple grilles all over the helmet, features insane ventilation.
Specs
Multi-Directional Impact Protection System (MIPS) equipped
Magnetic Visor Release System (MVRS) is designed to release in the event of a crash
Lightweight, injection-molded polycarbonate and ABS shell construction
4 shell and 5 EPS sizes for a precise fit
Removable and washable comfort liner and cheek pads
9 intake and 4 exhaust vents for optimum airflow
Meets ECE 22.05 and/or DOT certifications
ICON Airflite Moto Rubatone Helmet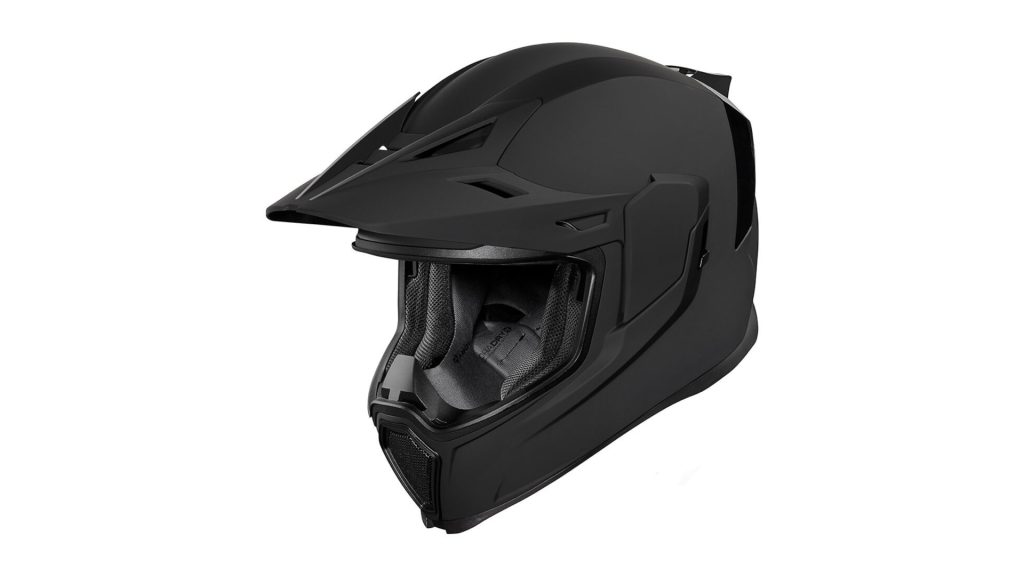 Why?
The Airflite series from ICON has become legendary in just how many different helmets belong to the range. The Moto Rubatone version is the perfect helmet for someone who not only rides ATVs but also has a motorcycle and doesn't want to shell out for two different helmets.
The Moto Rubatone, in off-road spec, removes the clear visor and instead installs a sunpeak over the visor opening. The opening is shaped so that even the biggest goggles will fit, and the peak is designed to break away should a crash happen. In motorcycle spec, the sunpeak comes off, and a clear visor is installed. In both specs, it is fully ECE and DOT-rated.
And best of all, all the ventilation is designed to work in either mode!
Specs
Injection molded polycarbonate shell for strength
3 shell sizes: XS-SM, MD-LG, XL-3XL
Clear face shield included
Aerodynamic, removable visor peak included
Multiple oversized intakes and exhaust ports
Removable side plates
Molded breath deflector
Chin curtain
Removable Hydradry moisture-wicking liner
Recessed twin channel supervent cooling system
All world standard meets or exceeds the following: DOT FMVSS 218 (US), ECE 22-05 (Europe), SAI AS1698 (Australia), and SG (Japan) safety and testing standards
Best Mid-Range ATV Helmets
Priced $300 – $550.
Bell Moto-9 MIPS Prophecy Helmet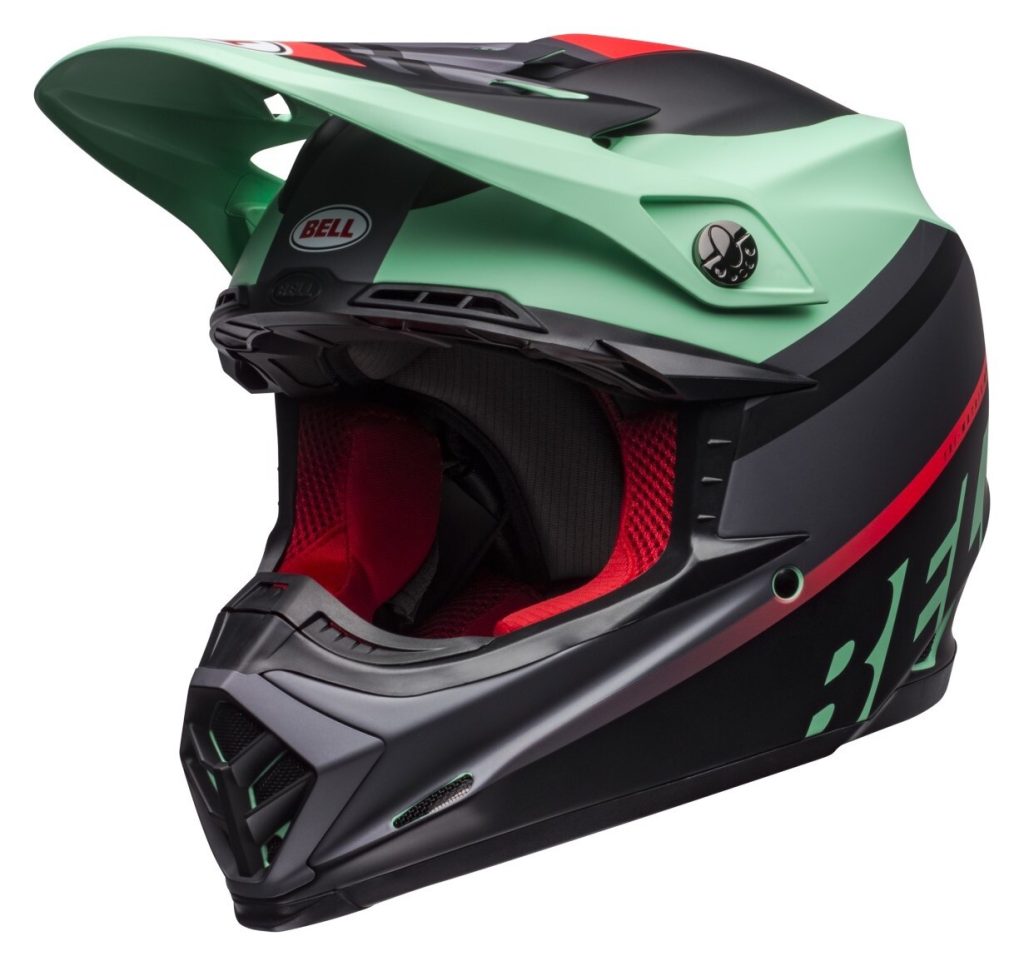 Why?
The Bell Moto-9 MIPS helmet is the updated version of the popular Moto-9. The MIPS technology introduces an added layer of safety by reducing the effect of rotational forces on the neck in the event of an impact. Made from a lightweight Tri-Matrix shell and the company's Velocity Flow Ventilation system, the Bell Moto-9 MIPS helmet is excellent for all-day riding.
An exciting feature of the helmet is the Magnefusion Emergency Removal System (MERS) cheek pads. As the name suggests, these allow you to easily slip the cheek pads off, so you can get the helmet off a rider without risking spinal injury. The Bell Moto-9 MIPS is Snell M2015 and DOT-certified.
Specs
Lightweight composite Tri-Matrix shell
 MIPS energy management system
Velocity Flow Ventilation system for maximum cooling
Fully adjustable Flying Bridge Visor with air intake vents
Removable/washable X-Static XT2 silver liner
Magnefusion Emergency Removal System (MERS) cheek pads
QuickFlip visor screws for easy adjustment even with gloves on
Fully ventilated EPS-lined chin bar
Integrated vented roost guard
Magnefusion magnetic strap keeper
Padded chin strap with D-ring closure
Eject System ready
Five-year warranty
Snell M2015 and DOT certified
Klim F3 Carbon Phantom Helmet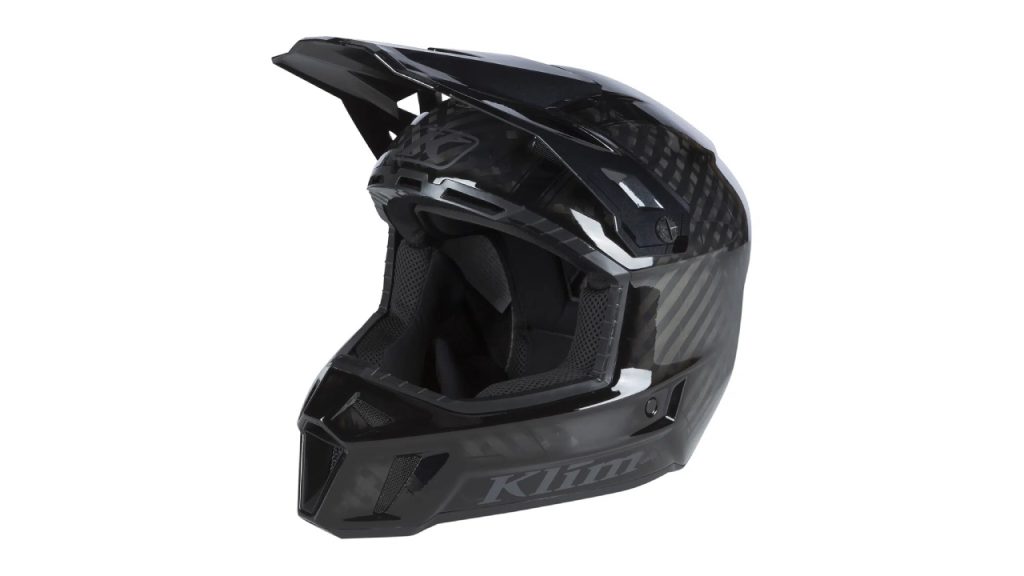 Why?
Klim is the name in the adventure and adventure touring motorcycle space, so it only fits that they also make some of the best off-road helmets. The F3 Carbon is based on the popular F3 helmet and uses hand-laid carbon fiber, making it the lightest ECE helmet the company produces.
The EPS layers inside are triple-density and specially shaped to provide the most protection from the most angles. Because of this, Klim could stuff a simply unbelievable 13 intakes and 6 exhausts for ventilation, meaning it is impossible to overheat in this helmet.
The liner and padding are all designed with the most head sizes and shapes considered and should fit 90% of people who try this helmet on. The helmet can also work on its own or be combined with a neck brace system for competitive ATV races.
Specs:
Carbon fiber hand-laid shell
Shell construction process avoids deposits and imperfections
Triple-density EPS
Fid-lock quick-release strap
Upgraded visor resists cracking
13 intake vents
6 exhaust vents
Direct vent EPS design
Exceeds ECE 22-05 certifications
Alpinestars Supertech M8 Factory Helmet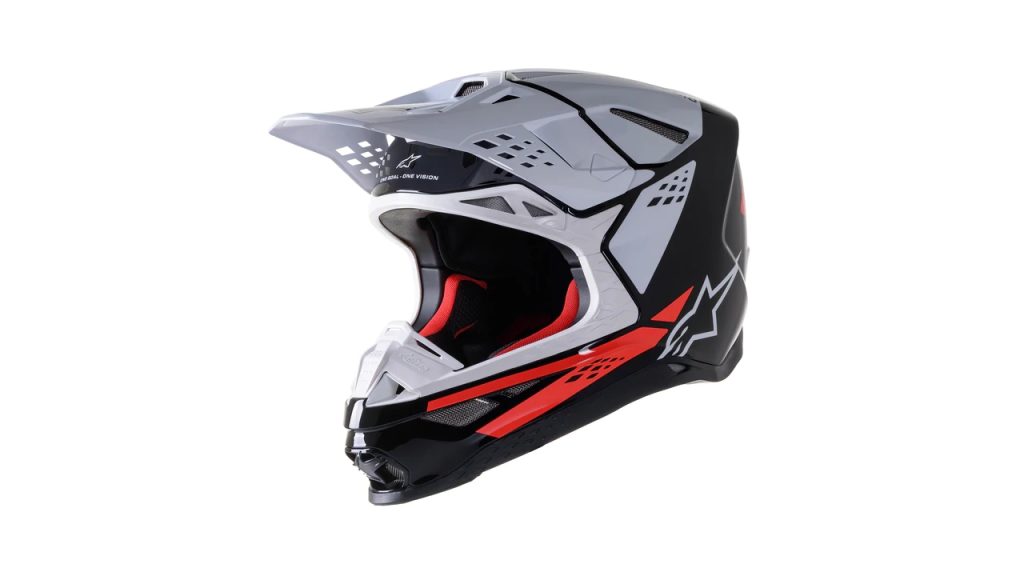 Why?
The Alpinestars Supertech M8 Factory helmet is a product of years of development from one of the global leaders in riding gear. With the Supertech M8 Factory, the company has focused on creating a super protective helmet while also being lightweight, reducing muscular effort in the neck, shoulders, and back.
Like with most of the company's helmets, the external shell on the Supertech M8 Factory is smooth and devoid of any features that might act as a load point in the event of a crash. It also features Multi-directional Impact Protection System (MIPS), like multiple other helmets on this list, that reduces rotational impact energy.
Priced at $544.95, it's on the higher end of the mid-range spectrum, but it's a helmet that comes with the best that Alpinestars offers.
Specs
Lightweight multi-composite combination shell: uni-directional carbon composite with an aramid layer
Shell layers with an epoxy resin bonding for limited outer shell deflection so that the energy spreads wider and is better absorbed by the EPS liner
Four shell sizes
Multi-density EPS polymer liner four-section construction that allows for specific densities of polymer to be prepared for different zones around the helmet lining
Patented A-Head fit system allows the M8 to be tuned precisely to the rider's preference with a micro-adjustable pad that is connected to the inner shell
Patented visor release system ensures the peak detaches from the helmet if subjected to a significant impact while maintaining shell integrity
The base of the S-M8 has been sculpted for collarbone protection and includes an energy-absorbing pad
MIPS is incorporated to reduce rotation motion energy with a low-friction slip layer between the comfort liner and the multi-density polymer energy absorption shell
Emergency Release System cheek pads
Designed to allow a helmet eject inflation system to be fitted into the inside crown of the shell (sold separately)
Wide 26mm chin strap
Visor designed to direct airflow along with intake and exhaust vents
Hydration compatible
Removable and washable Coolmax liner
DOT and ECE certified
Best High-End ATV Helmets
Priced over $550.
Arai VX-Pro4 Helmet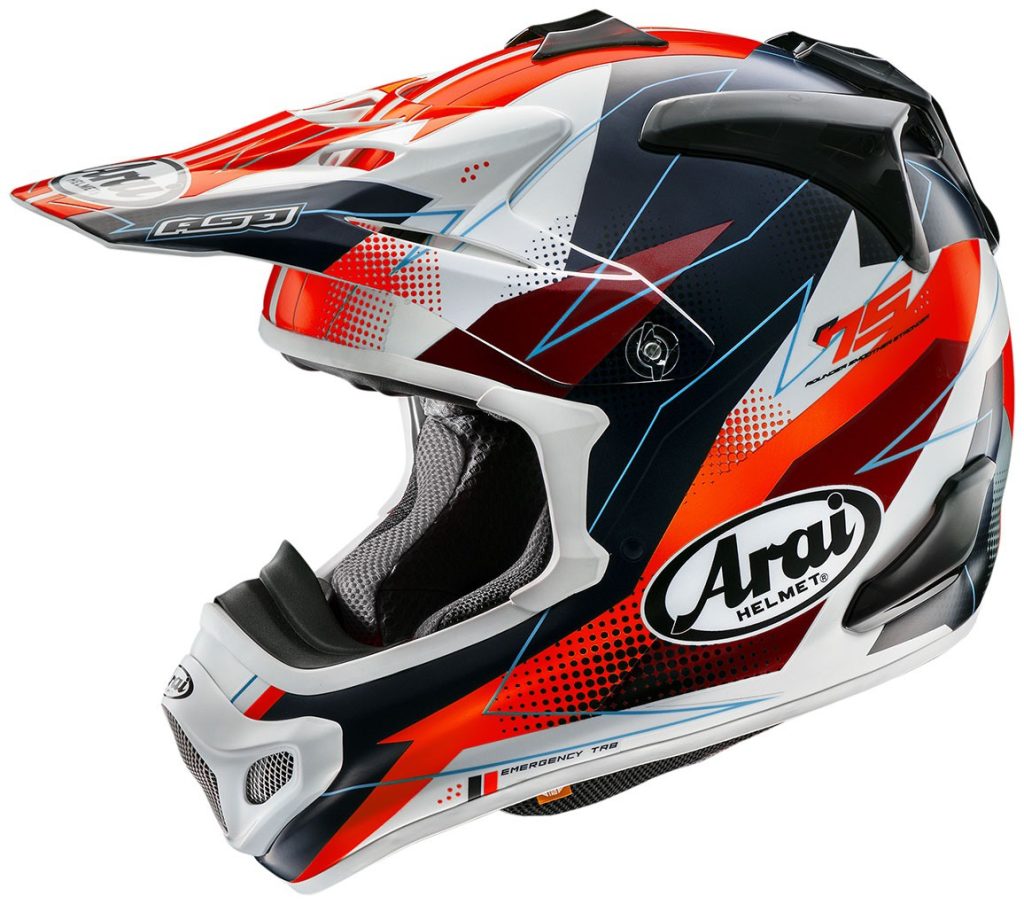 Why?
Arai is one of the leading names in helmet manufacturing, renowned for its high-quality, hand-made helmets. The VX-Pro4 is its most advanced off-road helmet and follows in the footsteps of the popular VX-Pro3. Like with its other helmets, Arai has based the shape of the VX-Pro4 on the R75 shape concept, and the helmet has no exaggerated edges or protrusions on the shell.
Over the VX-Pro3, Arai has redesigned the interior liner and cheek pad for better comfort and ease of wearing. Other updates include the addition of a new chin mount and more efficient bents for better airflow. The VX-Pro4 also comes with an extremely wide eye port, which will accommodate just about any pair of goggles. It's also one of just three helmets on this list to have received a Snell M2020 certification.
Specs
Complex laminate construction for helmet shell that reinforces without adding weight
FCS (Facial Contour System) that enhances comfort around lower jaw while staying snug
Strong venturi vacuum at rear thanks to easy-to-clean diffusers
Center top vent for increased airflow
Under-peak air intake to collect and direct cool air into helmet
Inner chin vent shutter prevents debris from entering in dusty conditions
Goggle ventilation and lower side vents
Arai peak that forces air into forehead vent ports for cooling
Relief ports reduce lifting at higher speeds
Removable and washable Dry-Cool interior liner developed and tested for MotoGP
Snell M2020 and DOT rated
Shoei VFX-EVO Helmet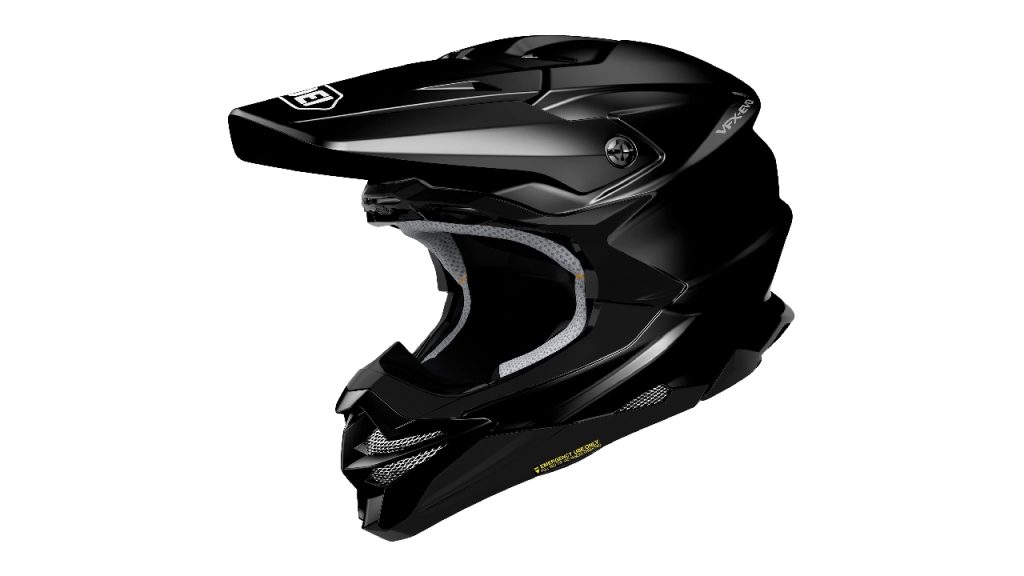 Why?
Shoei calls the VFX-EVO the world's most evolved motorcycle helmet. While this can be a point of contention, the VFX-EVO comes with the safety and tech you'd expect from the best helmets out there. Shoei has equipped the helmet with M.E.D.S. (Motion Energy Distribution System) that reduces rotational forces on the head in the event of a crash. Compared to its predecessor, the VFX-W, this helmet reduces rotational forces by an impressive 15%.
Shoei has also made some notable tweaks to the mudguard that ensures that it lets you wear goggles quickly and eliminates the possibility of it obstructing your vision. The brace nose cover also has a removable mesh layer that keeps out dirt and debris. The Shoei VFX-EVO complies with the latest safety standards with a Snell M2020D certification.
Specs
Lightweight Advanced Integrated Matrix Plus (AIM+) shell construction combines high-performance fibers with organic fibers to create a shell structure that is lightweight, rigid, and resilient
Expanded rib shapes across the rear enhance strap-holding performance for goggle wearers
Four shell sizes increase fit options that help comfortably fit most head sizes
Aerodynamic properties are maximized through extensive wind tunnel and rider testing
Extra front intake vents combine with rear exhaust outlet vents and an enlarged neck outlet vent to maximize flow-through ventilation
Cool air passes through the front intake vents, cools the helmet interior, and is exhausted through the rear vents by the force of negative air pressure
3D Max-Dry removable liner system material absorbs two times its weight in moisture
E.Q.R.S. (Emergency Quick Release System) features special straps under the cheek pads, which allow them to be easily removed, so the helmet can be quickly taken off by emergency personnel after an accident
Aggressively shaped, streamlined V-470 visor is easily installed or removed with three external screws, using the center screw to adjust for optimal visibility
M.E.D.S (Motion Energy Distribution System), a flexible insert that helps absorb sudden impact to the head in the event of a crash
Larger mouthpiece for improved air intake
Ergonomically shaped mud guard
Snell M2020D and DOT approved
Bell Moto-10 Spherical Helmet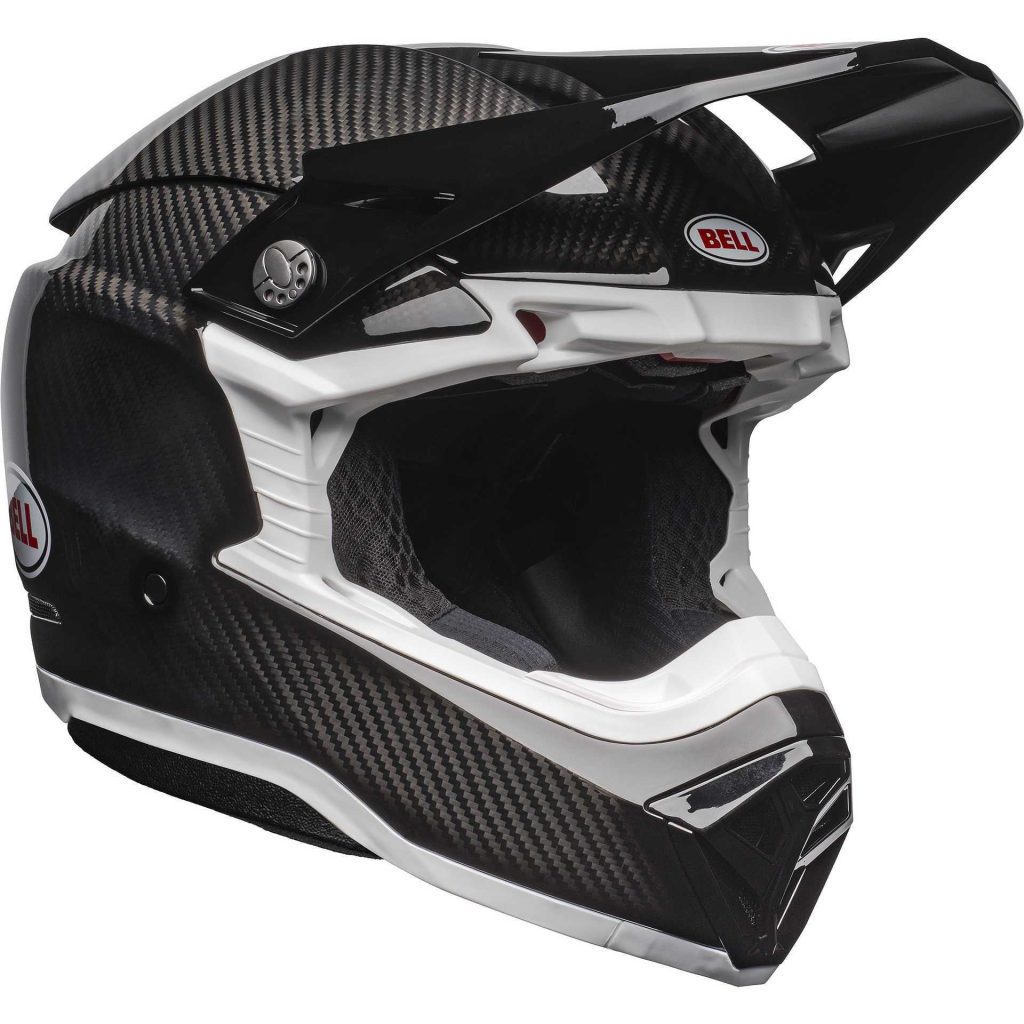 Why?
Bell pioneered the dirt bike helmets we see so commonly today. The Bell Moto-10 is the most advanced helmet the company has ever made, and it's been designed with input from the company's racers. The Moto-10 employs a 3K carbon shell, making it extremely light at 1,600 grams. The 'Spherical' in the helmet's name comes from a technology that uses a ball and socket design to redirect impact forces away from the brain.
Bell also claims that the eye port on the Moto-10 is currently the largest on the market, translating to a broad field of view and the room to accommodate any goggles. Other features include a Virus CoolJade comfort liner and a sweat management system that channels perspiration away from the goggles.
As you'd expect from Bell's range-topping dirt helmet, the Bell-10 Spherical is certified by DOT, ECE, and Snell M2020.
Specs
Spherical MIPS technology
Segmented 3K Carbon Fiber shell construction
Thermal exchange airflow system
NMR (No Missed Races) Bumpers
Bumpers constructed with EPP material
Panoramic goggle port
Sweat management
Virus CoolJade removable comfort liner
Magnefusion Magnetic emergency release cheek pads
Flying bridge visor with air intake vents
Padded lined helmet bag included
DOT, SNELL 2020, and ECE certification