The new Shoei X-Spirit III motorcycle helmet joins 52 other helmets to score the maximum five stars in the UK's Safety Helmet Assessment and Rating Programme (SHARP).
SHARP is one of the most recognised independent rating systems in the world and the new Shoei is one of four from the brand in the top ranking, including the previous X-Spirit II. (See all five-star helmets below)
The Shoei helmet is just arriving in Australia now from $999 (£549.99) for plain colours and up to $1199 (£649.9) for graphics and replicas such as Marc Marquez (pictured top). They come in sizes XS-XL.
The helmet also scored the highest marks in every impact test area for a perfect score.
In the SHARP rating tests, helmets are dropped from varying heights at different speeds (8.5m per second, 7.5m/s and 6m/s) to record the impact resistance.
A dummy head inside the helmet records the details of impact as the helmet is tested from every angle.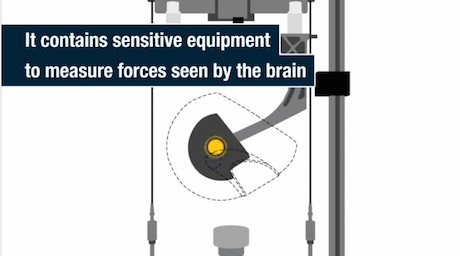 The test also drops the helmets on a sloped area to record how much frictional impact a helmet gets on each side. The X-Spirit III detailed minimum friction.
Shoei's X-Spirit III is the latest pure racing helmet and is used by some of the best riders across the globe such as John McGuinness, Bradley Smith, Eugene Laverty and Shakey Byrne.
All the helmets listed on the SHARP site are European approved and legal to wear in Australia.
Other five-star full-face and modular* helmets are:
AGV: Corsa, GP Tech, Pista GP, S-4, Stealth, T2, Veloce GT
Arai: GP5X
Bell: M1, M3R, M4R, M4R Carbon, M5X, M5X Carbon, M6
BMW: System 5
Buell: Turbulent
Caberg: Duke*, Tourmax*, Konda*, Trip*, V2 407, V2R, V2RR, Vox
Duchinni: D832
HJC: HQ1, IS-17
Lazer: Bora, Lazer LZ6
Marushin: 777 Samura, 777 Tiger, RS1 Carbon, RS2 Carbon
MT: Matrix, Revenge
Nitro: Aikido, Evo Carbon FF, N1700VF
Shark: Evoline 3*, Race R, Race R Pro, Race R Pro Carbon, RSR2, RSR2 Carbon, RSX
Shoei: Qwest, X-Spirit III, X-Spirit II, XR-1100, Vandal
X-Lite: X603, X702