Imagine controlling your helmet camera via spoken instructions, narrating your video with crystal clarity while you ride and hearing the battery status over your helmet speakers.
Well, now you can with the Sena Prism action camera starting from $399* plus ext
ras.
Sena is well known as the maker of Bluetooth headset units for helmets and uses that experience to bring convenient hands-free technology to helmet cams.
We haven't tried the Prism yet, but we've used their Bluetooth units and found them to be robust, reliable and well designed, so the camera should be good, too.
Unlike the ubiquitous GoPro, it has a low profile so it sits closer to the helmet and won't create as much fatiguing wind resistance. As for its legality, you should read this.
Sena claims the Prism has "amazing images and stunning audio", but it's probably the features that will convince you to buy one.
As the first action camera with Bluetooth, it can be voice activated which means you don't have to take your hands off the bars. However, you can activate it via the buttons and jog dial on your Sena Bluetooth headset if you prefer.
It will pair with other Bluetooth headsets, but some of the features will not be available, depending on the brand.
If paired with a Sena Bluetooth headset, you can start, stop, communicate and narrate with the same clarity as making a phone call, which is pretty clear in my experience.
Prism has a sleep mode which you can access via headset buttons to preserve the battery charge. The unit also speaks to you, telling you the state of pairing, battery charge and how long since you last recorded.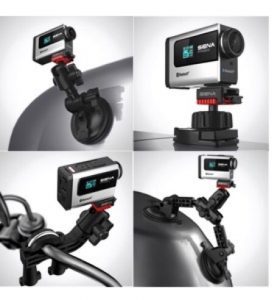 Sena has developed an Android and iPhone app so you can tailor all the settings, share video with friends and view the instructions.
The company has released a range of quick-release mounts for your bike on the bars, lights, windscreen and even the mirror via clamps and adhesives.
There are also helmet mounts to suit almost every type of helmet. They include a clamp, adhesives and a goggle strap that should get around any alleged illegalities.
The Sena Prism costs $399, the waterproof housing is an extra $39,95, lithium-ion battery $19.95 and mounts range in price from $17.95 to $79.95.
(*All prices in US dollars. Shipping is extra.)
Sena Prism
Record time: 2 hours
Operating temperature: -10˚C ~ 55˚C (14°F ~ 131°F)
Waterproof: 1m (3.28ft)
Dimensions (main module): 63.0 mm x 44.0 mm x 23.0mm (2.5in x 1.7 in x 0.8 in)

Sena Bluetooth action camera bike mounts

Camera weight: 100g (3.53 oz)
Battery weight: 25g (0.88)
Bluetooth: 4.0
Audio: Internal microphone, wind noise reductions
Field of view: 140 degrees, 3.5M pixel CMOS
Aperture: f/2.0
Video Resolution: 1080p 30fps; 720p 30 / 60fps; 480p 120fps
Photo Resolution: 3.5MP (3:2); 3.2MP (4:3); 3.0MP (16:9); 5.0MP (16:9)
Burst Shot: 10 / 5 / 3 pic
Time-lapse: Photo & Video Single pic per 1 / 3 / 5 / 10 / 30 /60 sec
TV-Out: Micro HDMI
Battery: 1100mAh lithium-ion, charging time 3.5 hours