Riders have been advised to fight fines for having a camera stuck to their helmet in the wake of a crackdown on helmet cams in NSW.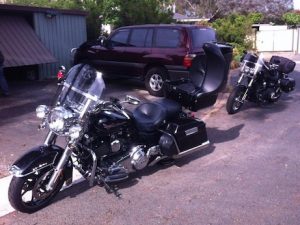 Harley Fat Bob rider Chris Stokman, 54, of the ACT, was one of those fined $311 and 3 demerit points last week by NSW Highway Patrol between Kempsey and Coffs Harbour for having a helmet cam.
"That's a fairly hefty penalty, especially when he could have just given me a warning," she says. "My husband (Terry) and I do thousands of kilometres a year on our bikes around eastern Australia and have never encountered an issue before," she says.
At least one expert says this is an example of police misinterpreting the Australian Design Rules.
Australian Motorcycle Council spokesman and expert in helmet laws, Guy Stanford, says the laws are very complicated and are interpreted differently in each state.
READ ABOUT THE LAWS IN EACH STATE
The cause of the concern is that the design rules stipulate a helmet cannot be modified with anything that sits out more than 5mm from the shell. However, Guy says a helmet cam or Bluetooth unit that is stuck on is a temporary accessory, not a permanent modification of the helmet.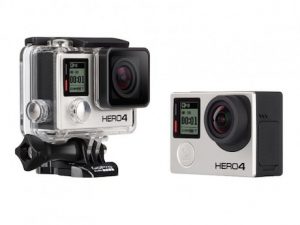 A permanent modification would require the shell to be tampered with such as drilling holes in it to secure a helmet cam or any other device such as a Bluetooth unit. In Chris's case the camera was attached via velcro. Attachments can also be via double-sided tape, a suction cup or clamp that does not pierce the outer shell.
NSW police have been emboldened in their interpretation of the law because a GS rider fined in October agreed to admit guilt in return for having no conviction recorded, no fine and no cop demerit points. Guy says his admission has set a dangerous precedent.
Chris says the officer who issued her fine suggested she appeal on the grounds it is a little-known law.
Guy has written a pro-forma letter to the NSW police that can be used in an appeal against the fine. He says he will write similar letters for riders in other states. It reads:
Dear Sirs,
I was issued with Infringement Notice No XXXXXXXXXXXXX on the basis my helmet is not in compliance with NSW Road Rule 270. 
NSW Road Rule 270 requires a rider to wear "an approved motor bike helmet" NSW Gazette of 5 November 2010 at Page 5402 carries the definition for "an approved motor bike helmet" for purposes of Road Rule 270. 
This definition provides for "approval" through a sticker attesting compliance with a nominated standard.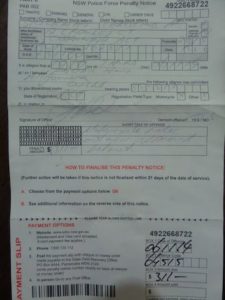 My helmet continues to bear the approval sticker as required.
A camera is an accessory. Many accessories are available for helmets. Accessories are distinct from a modification.
Removal of an accessory returns the helmet to original condition, while modification of a helmet does not.
There is no NSW regulation that provides for revocation of approval of a motor bike helmet.
My helmet was "approved" prior to purchase and it is because it was approved for use on NSW roads that I purchased it.
 The standard referenced in the definition of Page 5402 of the Gazette of 5 November 2010 is not a regulation and contains no regulatory subject matter that provides for approval or revocation of approval.
The referenced standard is not a NSW in-service regulation. Without doubt, I was and continue to wear an approved helmet. The presence of an accessory camera is irrelevant.
This Infringement Notice is not based on NSW regulations and I request that it be withdrawn.
Yours, etc
We are still waiting on a legal interpretation of the law and advice for riders from Maurice Blackburn Lawyers and a statement from the NSW police on their blitz. Stay tuned for more on this developing issue.
Meanwhile, read the stories below which give some background on this complicated issue which could be resolved at a coming Standards Australia forum into helmet laws and safety certification in Sydney next year.