Polish company Seemore plans to introduce head-up display (HUD) helmets in the wake of the controversial collapse of Skully Helmets in the USA.
Rather than making the helmets, Seemore founder Gzegorz (Greg) Palmer tells us he is negotiating with three major European helmet manufacturers to include their HUD device.
"We have great knowledge in HUD technology/engineering and together with experienced helmet manufacturer we will deliver product which will fulfil biker's needs (safe, all needed functionalities and easy to use, comfortable)," he says.
"Knowledge and experience of helmet manufacturers are very important for us.
"According our plan, we will present common product on middle of 2017," he says.
Skully raised nearly $15 million from crowd funding and orders for their AR-1 HUD helmet.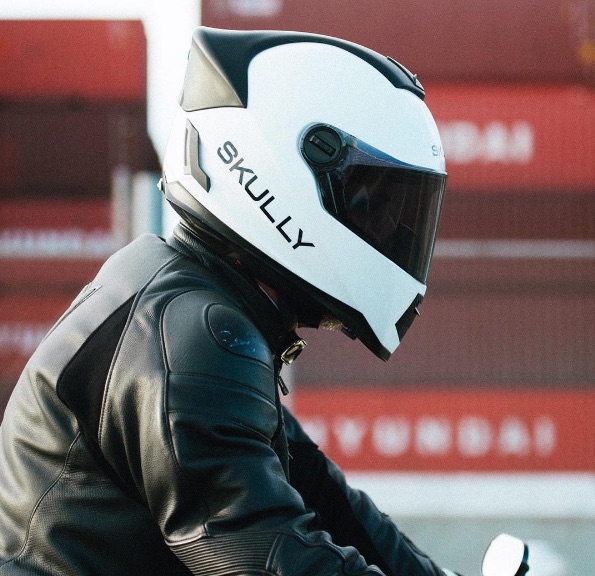 However, it now appears funds may have been misappropriated by the founders for fast cars, fast women and other extravagances, according to a civil law suit against the collapsed company.
Now Seemore is ready to step in and be the first too market with a commercially available HUD helmet.
Their system is different to those proposed by Skully and BMW as well as the aftermarket BikeHUD system as it has the transparent screen at the top of the visor opening. They claim this is more convenient and safer because data can be read more quickly.
Like other HUD systems, Seemore will allow riders to quickly access information such as speed, speed limit, speed camera alerts, GPS navigation, incoming calls, traffic and accident alerts and points of interest without looking down at the bike's instruments.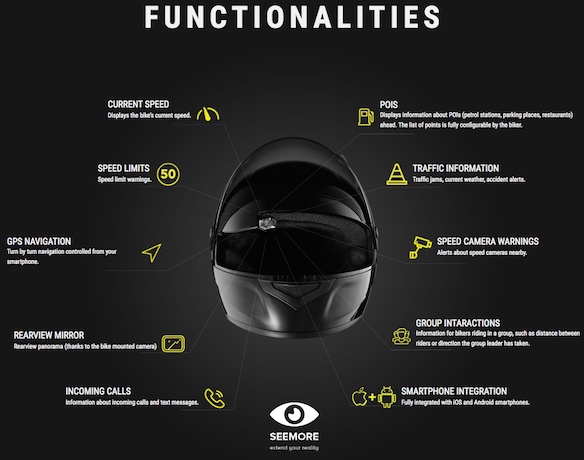 It will include a rearview panorama from a Bluetooth camera mounted rearward on the back of the bike rather than on the helmet like with the Skully, so it does not change view with the rider's posture or head movement.
It will also help with group riding by providing distances between riders and direction the group leader is riding.
Seemore consists of the transparent screen, a controller with processor responsible for communication and data display, and a battery, all tucked inside the helmet so there is no affect on the helmet's aerodynamics or safety in a crash.
Greg says price is not yet available as it will depend on negotiations with a helmet manufacturer.
The unit will be fully charged through a USB cable in 2-3 hours and have up to 12 hours of working time, depending on how much information the rider decides to display.
"We have fully functional beta version ready to be tested by our testers, helmet manufacturers and limited number of journalists," Greg says.
"It's prototype so always we do face-to-face tests."
However, Greg says he will send Motorbike Writer the next version for test.
We look forward – and rearward – to it!