The 10th annual Far Cairn Rally at Tottenham in central NSW and the second for 2017 will be held in September after the 2016 rally was washed out.
The 2016 rally was postponed to March 2017, but organisers decided to stage the annual rally again in September, giving supporters two opportunities to attend this year.
A highlight of the rally is the 33km Sunday ride to the Centre Cairn monument that marks the geographical centre of the state.
The rally is organised by the BMW Touring Club of NSW which has so far raised more than $30,000 for the Motorcycle Accident Rehabilitation Initiative (MARI).
MARI was established by St Vincent's Hospital in Sydney to support the long-term physical injuries, and social and emotional problems encountered by motorcycle crash victims.
Since then, the Dr Wings Bike Force was established to do the volunteer work of MARI (Riders Caring For Riders Programme) throughout Australian hospitals.
Club president Alan Peters says riders on all types of bikes, not just BMWs, are invited to attend the rally.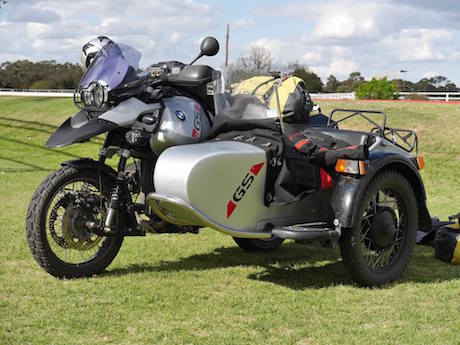 He says the rally provides an opportunity to "enjoy a relaxed ride" in some beautiful NSW countryside.
"The locals are looking forward to the Far Cairn Rally as much as we are. Please remember we will be the guests of the Tottenham community – at all times please respect the township, its speed limits, showground property and the community amenities."
Tottenham is about 120km north of Condobolin, 120km west of Dubbo and the Centre Cairn monument is 33km out of town near Five Ways.

The town is accessible by sealed roads, as well as dirt roads for adventure riders, from several directions.
There is limited accommodation available at the Tottenham Hotel, but plenty of camping at the racecourse about 3km from the town's centre. It features a grassy paddock with hot showers and some under-cover space.
Entry fee is $25 which includes a badge and Sunday breakfast. Commemorative t-shirts are available for $25.
You can register on their website or pay at the rally, but organisers would appreciate pre-registration to organise catering.
Riders meet at the pub on the Friday night and Saturday night includes video presentations, raffles and a bonfire.
Saturday night dinner and Sunday breakfast will be a barbecue cooked by the local Lions Club. Breakfast is included in the entry cost along with a rally badge.
To donate to M.A.R.I Australia Incorporated:
                   Account Number 1045 5574
                   BSB 062-318
                   Westfield Shoppingtown Tuggerah