This scruffy and elderly Thai mechanic was shunned by several motorcycle dealerships before he finally bought a Harley-Davidson Forty-Eight Sportster with cash.
Lung Decha is reported by AsiaOne.com as being an "honest and diligent mechanic who has partially retired from work".
He does not smoke, drink or gamble and saved his money to buy his "dream bike" which cost 600,000 baht (about $A24,000).
He paid for the bike on the spot with cash.
It seems sales people did not treat him seriously because he wore a dirty, oversized t-shirt and thongs.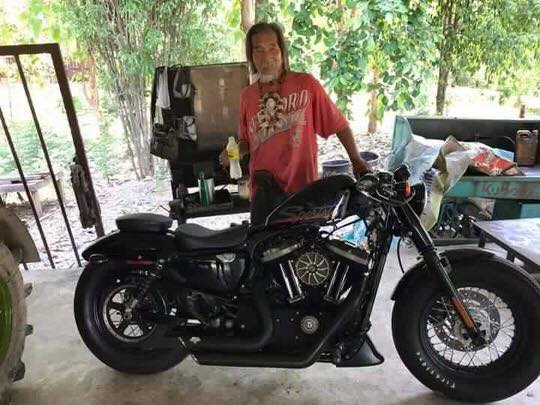 In a MotorbikeWriter article last year compiled by a former sales person, one of the tips for customers to get a better deal is to "try to smell nice".
"If you or your riding gear have an odour, no sales person will want to spend long enough with you to arrange a test ride or bargain. And they certainly won't want you trying on any clothing," the former sales person suggests
They may not also allow you to ride if you are not dressed for the occasion.
One Triumph Motorcycle dealer in India has refused to hand over a new motorcycle to any customers dressed in thongs (flip flops), shorts and a t-shirt.
However, it seems sales people should not judge a book by its cover, although it is not known whether Lung rode the Harley home in his thongs or had it delivered. If you've ridden in Thailand, you'll notice that rider safety gear is minimal.
We've also had a lot of female riders complain about sales staff ignoring them because they assumed they didn't ride.
Have you ever been shunned by sales people because you were not dressed appropriately? Please leave your comments in the space below.