A few weeks ago, in April (2016), I had the unfortunate circumstance of experiencing a lowside crash on my 2006 Triumph Sprint 1050.
It was one of those instances where you just don't anticipate the likelihood of a crash.
I assume there is always the possibility of a crash of course, but in this case I was simply on my way home from work as I swung myself through the roundabout (traffic circle) about a mile away from the office.
As I came around in the left-hand portion of the circle before straightening up to continue, I suddenly found myself closer to the ground than I expected.
My rear tire was on its edge before I knew it and it was slowly letting go.
Slow enough in fact that I was thinking "Well I'm going to be on the ground in a moment". And then I was.
The Sprint slid about 30 or so feet (around 10 meters) and I slid maybe a quarter of that.
The bike didn't strike anything and most of the damage was cosmetic. In fact, I rode it home shortly after getting it back up on two wheels.
My gear did its job beautifully and I was unhurt. I was a bit achy the next day in a couple of spots, but not even a bruise appeared.
The bike was totaled, even though it was only cosmetic damage. Plastics and other sundry parts are expensive and on a ten-year-old motorcycle, the economics (and perhaps my laziness) meant that didn't make much sense to fix it. Time for a new one…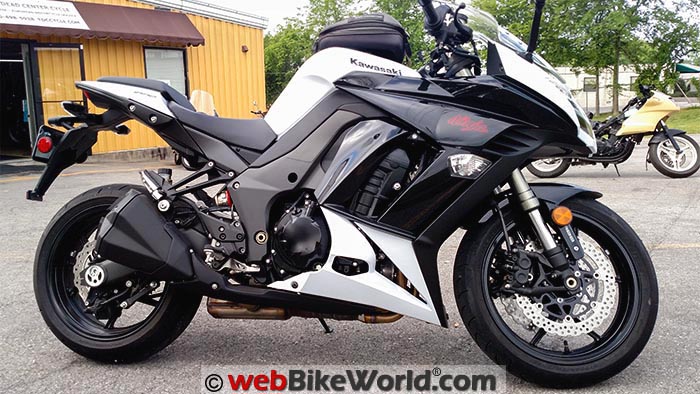 The Decision
There were only a few choices in my mind when I first realized I would need to get a new bike (and that realization occurred before I had even gotten up on my feet after I went down).
Like the Editor, I had been lusting after the Moto Guzzi Griso for a while. These are beautiful machines and they move down the road smartly too.
Another consideration was a used 2008 Triumph Sprint that I found for sale, about two hours away in a neighboring city.
I certainly would be aware of what I was getting into there, but perhaps I wanted to try something different now that I had the chance?
There were also thoughts of Speed Triples and Street Triples and maybe even the latest generation of Honda's VFR 800…
Decisions… Motorcycle purchases for many people are a very emotional experience and that includes me.
You don't necessarily need a motorcycle but rather we want a motorcycle and we have strong feelings about why we get the one we do.
Something different happened for me this time as I began to look at bikes to purchase — I started thinking practically and logically.
This is not the way I usually make a decision on which motorcycle to buy!
As a result, I started directing my thoughts at a lower cost, reliable, but still capable machine.
I had recently been on a new Suzuki GSX-S1000 at the Continental Sport Attack 3 (report) press launch and I liked it.
I wanted a bit of wind protection though for interstate travel, so I went in search of its sibling with a fairing, the GSX-S1000F.
The local dealer really is local, at barely over a mile away from my workplace, so I left at lunch to go see what they had on hand.
There were no "F" models in stock but I was told they could get one in a couple of days.
Then, as I was talking to the sales rep, I noticed another bike that was just being pushed into place on the showroom floor.
"This is a 2013 model we just received from Kawasaki's warehouse.
They had some leftover stock and we had them send us this one and maybe another one if they have any left", the sales manager was telling me.
Well let's see. It was white, I have always liked white motorcycles.
It's a sport touring machine — with emphasis on sport — which is also what I'm looking for. And it was priced at least $2,000 lower than the other bikes I was looking at.
This last point is of interest.
Making a decision about a new motorcycle purchase based on the fact that it's on sale? That wasn't the only reason of course.
Still, I knew this Kawasaki wasn't going to be as sexy as a Guzzi, nor would it have the character and howl of a British triple. Such a good deal though…
As you may have already guessed by the title of this review, I went back the next day and slapped my money down for a 2013 Kawasaki Ninja 1000 ABS (in white).
So logic won in this case.
But, will I end up being bored with it? Will I get annoyed with the "buzziness" inherent to the typical inline four motorcycle? Time will tell.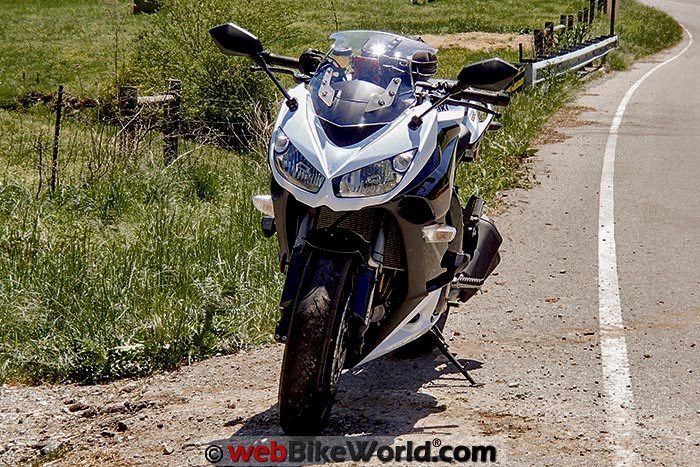 The 2013 Kawasaki Ninja 1000 ABS
The Ninja 1000 is one of three bikes based on Kawasaki's 1043cc engine. The other two are the Z1000 "naked" or roadster and the new-for-2015 Kawasaki Versys 1000, big brother to the 2015 Kawasaki Versys 650 LT (Blog), one of the current webBikeWorld Project Bikes.
The Ninja 1000 is classified in the "sport" category by Kawasaki, which doesn't really tell the whole story…or maybe it does.
I'm preparing to invoke a very over-used term in the world of motorcycle reviews: "all-'rounder". There, I said it. Now that it's out of the way I'll elaborate.
The Ninja 1000 is trying to be the street bike that does it all — and by all, I mean commuting, back-road strafing, light touring, and even track days.
The Ninja 1000 was a new model, released in 2011. At the time, it was based on the popular z1000 standard or "streetfighter".
The Z has been in production for two previous generations, so the release of a 3rd gen bike with a faired sister in the Ninja 1000 meant that a lot of R&D time had already been spent on the drivetrain.
This new Kawasaki liter bike in appeared as a 2011 model and brought the powerful, and well sorted, 1043cc engine together with an upright seating position and provisions for hard luggage.
My own 2013 example shown here is pretty much unchanged from the 2011 model.
It's viewed by some as a sport touring bike with the emphasis on sport and by others as a supersport but with more relaxed ergonomics.
Is there really a difference?
My previous ride — the 2006 Triumph Sprint ST — was a sport touring bike that was pretty sporty. I would say that the Ninja 1000 is simply a sportbike with optional bags and higher bars.
Either way you slice it, the Ninja 1000 ticks the right boxes for anyone who wants a powerful motorcycle to straighten a twisty road while also being comfortable during the ride back home on a straight stretch of highway.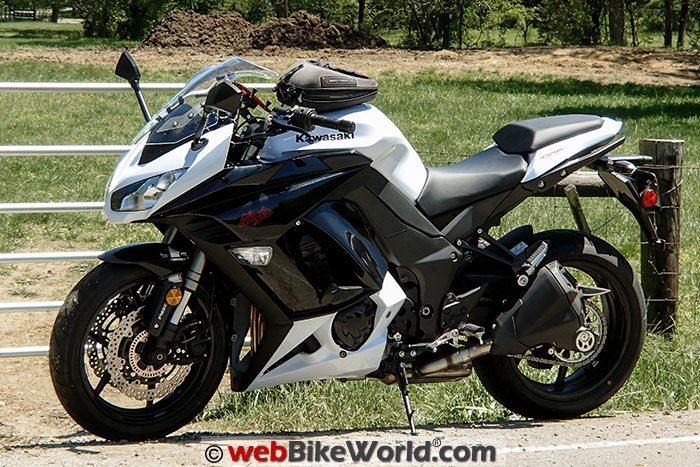 Ergonomics
The Ninja 1000 seating position is surprisingly upright with a slightly relaxed handlebar-to-seat-to-foot-peg setup. I'm 5'10' with a 30 inch inseam and I can place my feet pretty much flat on the ground, so the seat height is good.
The seat is relatively hard but the bike has only about 400 miles at the time of this writing. Some more seat time will likely help; so far, it seems to get a bit more comfortable each time I ride. Whether I'm just getting used to it or it's conforming to me, I'm OK with that.
When seated, I am more upright than I was on the Sprint ST, even with the bar risers installed on the Triumph, which increased bar height by 1.25 inches.
The seating position of the Ninja 1000 makes me feel like I am riding "on" the bike rather than "in". Also, the foot pegs seem a little further away from the seat, so the overall positioning is much more touring (or standard) and a lot less sporty than the Sprint.
Adjustable Windscreen
The windscreen on the Ninja 1000 is mounted in a way that places it over the front of the fairing rather than flush against it. This helps reduce turbulent air and it does make for a quieter ride in my helmet(s) than did the windscreen on the Sprint.
Also, the screen is adjustable and can be set in one of three positions.
This is done by pressing down on a tab under the cockpit fairing and then grasping the screen to move it up or down. It is a very simple setup, but simple can be good; there are no electronics or additional motors and associated switches to add weight or to fail.
The only downside is that adjustments can only be made when I'm stopped. But with only three positions, it is unlikely that anyone would need to fidget with the settings very often.
Despite the small size of the windscreen, the different positions are very noticeable. The low and mid positions work well for me as they don't send much turbulent air at my head, with the mid position being perfect for the highway.
The low position puts more wind on the chest area but will be handy in warm weather and it is also the quietest position as far as wind noise goes with my helmet.
The highest position does induce helmet buffeting, which also turns up the volume on the noise factor.
There are also plenty of aftermarket windscreens available, so the options are there if I want more or less wind protection. Overall, the wind and weather protection of the stock windscreen is pretty minimal however, much like the average sportbike.
The lower part of the fairing doesn't push a lot of wind around my legs and the narrow nose fairing doesn't do much to keep the wind off my hands.
The overall fairing arrangement does seem to do a good job of venting the engine and radiator heat away from my legs. This was an area where the Sprint could cause problems.
Of course, summer has not kicked in yet, so we'll see how this might change during the hot days yet to come.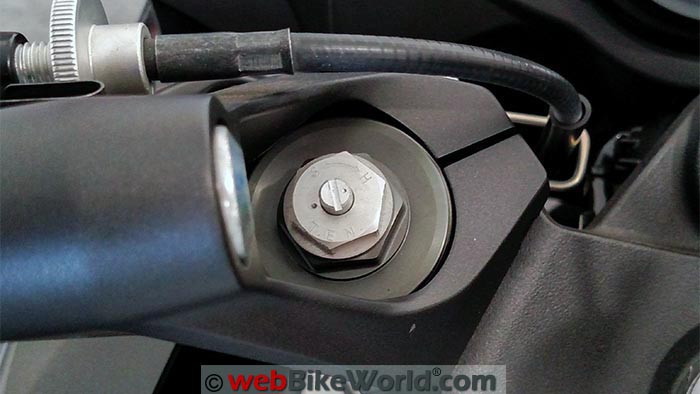 Instrument Cluster Quirks
Something that definitely shows the sportbike roots of the Ninja 1000 is the lack of space around the instruments. The bike has a relatively small amount of "dashboard" surface area compared to most sport touring bikes.
This might not be a problem unless you need space for installing buttons and other controls for accessories.
In my case it turned out fine, as I do have enough space enough for my heated grip controller and the switch for my driving lights. But installing items like a Powerlet adapter or USB charging port in the meager space provided would likely not work.
There is also an omission in the 2013 Ninja 1000 instrument cluster that was then addressed in the later models (2014 and beyond).
There is no display for engine temperature on the 2011-2013 Ninja 1000, only an indicator light for overheating. But I think any water-cooled streetbike these days should have a temperature gauge of some sort. This is something I may be adding down the line.
More Accessories
I do intend to add a power port as well as an SAE power lead for a Battery Tender (review), which I'll located under the seat for hidden but easy access.
I will also follow up soon with some reports on installing various accessories, so keep an eye on this space for that.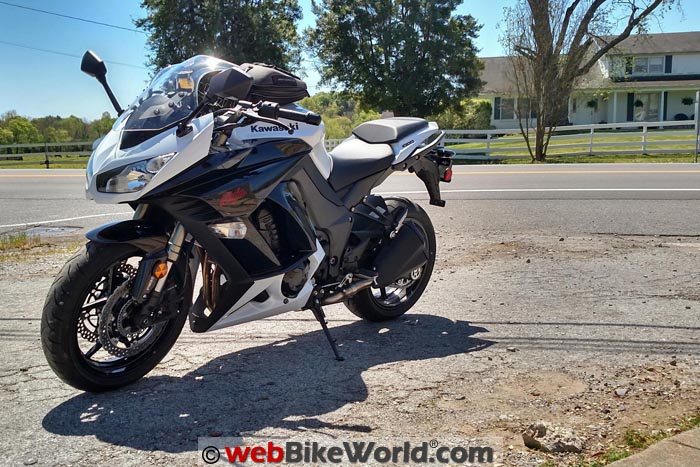 Conclusion (So Far)
At this point, I'm happy with my purchase. The Ninja 1000 is more comfortable than the Sprint, even though the Triumph was more of a focused sport tourer.
The Ninja 1000 is also smaller and this makes it easier to maneuver around the garage with our two cars and a BMW R1100R in there as well.
Yes, these are both logical and practical points and they don't end there.
The Kawasaki was certainly a money-saver with a good deal as a new leftover from the factory. There's always something to be said for a brand-new motorcycle that hasn't been potentially misused by a previous owner.
With a new bike, anything that happens is your own fault!
Finally, I have not mentioned yet anything about performance, handling and other characteristics. That's because I have not yet reached the break-in service mileage, so I have to restrict the engine to its 4,000 rpm limit.
Also, the Ninja rolls on hypersport Bridgestone BT-016 tires which, while very sticky, make the Kawasaki feel a bit nervous, with very easy turn-in.
That's good for a superbike, but a little too twitchy for my tastes on a sport touring-ish motorcycle.
Over the coming months I will be posting more information as I install accessories, such as heated grips, luggage, driving lights and more.
Also, once I can "open 'er up" after the break-in period, I will report on actual ride performance. So watch this space for more!
Publication Date: May 2016
See Also: Continental Road Attack 2 EVO Tire Review
Master Listing of All wBW Motorcycle Product Reviews
Note:
 For informational use only. All material and photographs are Copyright © webWorld International, LLC since 2000. All rights reserved. See the webBikeWorld® 
Site Info page
. Product specifications, features and details may change or differ from our descriptions. Always check before purchasing. Read the
Terms and Conditions
!
Owner Comments and Feedback
---
From "C.R." (May 2016): "Welcome to the Club 1000! I've had my 2012 for four-plus years now and have really enjoyed my time with it and I haven't made nearly the amount of modifications suggested by C.A. in a previous comment.
There's really only one significant dent in the ownership experience — the insurers treat it like it's a ZX-10R. Allstate, Geico, Progressive, all wanted more than $1,500/year to insure. Ouch. Did you have a similar experience, or did you find a wellspring of sanity?
Enjoy the riding, get rid of the stock tires, they turn into square bricks in 2,000 miles or less.
I was fine with the seat for a couple years that includes rides of greater than 10 hours in the saddle, but it's now starting to be uncomfortable after only a couple hours of riding. I look forward to reading your experience with the bike!"
Brandon's Reply: I had a very similar experience with insurance. I was with Progressive with my Sprint and was paying less than $500 a year for full coverage on it AND our BMW R1100R.
When I went to check with them on a similar policy for the Ninja, they wanted over $2000 for full coverage. I received similar quotes from Geico and some other insurers.
In a bit of a panic I looked at some of the online forums to see what others had experienced and learned that Dairyland Cycle and some others including Allstate were considerably lower on this particular machine and did not quote it for the same premium as a ZX-10R.
I contacted my agent on the following day (Monday) and she was going to look into it as well for me and she ended up putting me with Safeco (Liberty Mutual) which was in a similar range of coverage and premium I found at Dairyland and Allstate.
And yes, Allstate was providing a reasonable quote so perhaps they changed their tune since the other owner went shopping for insurance.
It is a disappointment that some (many really) insurers don't understand the differences in the models but there may also be some "we don't WANT to insure these bikes" feelings involved too.
Maybe they are deliberately pricing themselves out of certain classes of bikes and aren't too concerned about what exact model fits where.
I'm still paying more for the insurance on the Ninja than my 10 year old Sprint, and I'm sure that the new-ness factors in. What's funny is the Sprint has a larger engine (by 4cc's) and is geared high so top speed is actually higher in stock form than the Ninja 1000 (159 vs 145 I believe).
And the Triumph parts are generally more expensive as well. Not a whole lot of sense made here.
I can say that a close friend and long time rider was once told by his insurance company that "We don't insure any motorcycles with a 'Z' in the model number. Those racing bikes are too dangerous".
This was during his attempt to ensure his new to him ZRX1100 a few years ago. While certainly no mini-bike, the ZRX doesn't quite meet the racer criteria, at least not in this century.
---
From "C.A." (May 2016): "It's nice to see that you've added the N1K to your stable as a sport-touring mount. I've got a 2011 which replaced my FJR (which replaced my VFR800).
Now you've got a new mount to test and review products for, may I suggest:
Ivan's Performance has an ECU flash for $350 that is magic on this bike. His latest iteration doesn't require a Power Commander either!
The stock seat is terrible. Most of us replace it. Laam did mine and did a great job.
The Akrapovič headers offer another decent bump in performance without too much noise (less weight as well).
Headlights are mediocre. I've done a HID upgrade which helped a lot, others have done LEDs. I've considered supplemental lights. The existing fuse (10A iirc) isn't enough to handle both HIDs at the same, so need a separate circuit for the high beam. I went with a 35W low / 55W high. Interestingly, when starting the bike, if the high beams are on, then neither HID will light up. Someone explained that the ballasts are sensitive to voltage during startup and will not fire if there isn't enough.
Rear blinkers aren't visible enough during the day. LED bulb upgrades did the trick.Motodynamic has an integrated brake / indicator LED brake light. Not much brighter than stock, but the additional indicators and flashing brakes aid conspicuity.
Taller rear tire (190/55) is a common upgrade and improves handling a lot (and drops RPMS a little) The 3-4-5 gears are too close together and the Ninja could stand a taller 6th too, for those 85-90 mph interstate drones.
Sprocket changes are popular (-2/+1), this is next on my list.
Front forks are fine but Racetech valves make them even better. Springs are already good enough (1.0 kg/mm straight-rate). Rear shock is mediocre. Traxxion can rebuild and respring it for $350 with very nice results.
I think the 2013 ABS gets better brake pads. The 2011 had pretty soft front brakes and nearly non-functional rear, HH+ pads help a lot (Vesrah appears to be most liked).
Kawasaki's stock sidecase mounts prior to 2014 are fugly, heavy, expensive, but substantial. SW-Motech and Givi make alternatives. I prefer SW-Motech's quick-disconnect mounts. There are issues combining sidecases and topcases. Some have reported subframe cracks. Tail-tidy's look nice, but don't play nice with the sidecase mounts.
It seems a few folks on the forums have experienced punctured radiators. Radiator guards and extenda-fenders are common.
Oil changes are weird. Most need to burp the filter to get pressure. A few of us also need to start the bike on the sidestand to get oil to drain into the pump and prime it.
Ok that's a lot of writing … I need to get back to work … enjoy your Ninja!"