Could KTM be planning a turbo-charged power cruiser or electric scooter? It can't be ruled out with KTM's move toward more road bikes reaping huge rewards for the company. Last year the Austrian company even eclipsed its Bavarian neighbour by 12% with global sales of 123,859.
The huge leap forward is largely the result of KTM's emphasis on small road bikes such as the exciting 390 Duke I rode at the world launch in Austria last year. But don't rule out more big-capacity road-oriented bikes in future. Many think of KTM as an off-road company because of its many successful years in dirt racing including the recent 13th straight Dakar Rally victory. However, the Austrian company started by producing street bikes and competing in road racing.
Off-road bikes represent 54.2% of revenue, street bikes 27% and accessories 18.2%, but while sales of off-road bikes remain solid, global PR manager Thomas Kuttruf says there is no room for growth in the off-road area. "For example, we are the number one off-road brand in Sweden with 78% of the market, so there is no more room for growth which is why we have to make growth in street bikes," he says.
That plan may also expand to include more varieties of street bike with KTM unveiling its E-Concept urban mobility electric scooter in Japan last year. "We are really active in all fields," Thomas says. "Don't expect any details about whether it will arrive in production, but it's a way of looking into the future. It's just an idea at the moment, but a motivation to become the best sports scooter. This is an important commitment. We believe you can combine electric mobility with fun."
While Thomas says they "feel it hard to identify with cruisers", don't rule out the possibility of something like a Ducati Diavel, either. "If there is a cruiser it will be light and maybe turbo-charged," he suggests.
Turbo-charging is looming as the answer to emissions and economy concerns in future motorcycles with Suzuki unveiling its Recursion turbo sports bike at the Tokyo Motor Show, Kawasaki unveiling a four-cylinder turbo engine and MV Agusta's coming 800 Dragster rumoured to have forced induction.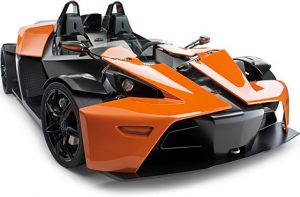 Meanwhile, KTM may be opening up more avenues of production outside of two-wheelers. The company canned its ATV program a few years ago to concentrate on developing more street two-wheelers but has also been dabbling in four-wheeled fun with the X-Bow street-legal car. "We are not doing the X-Bow just for fun. Don't underestimate it," Thomas says. "It gives us the knowledge in working with materials such as carbon-fibre." KTM unveiled the first X-bow with a windscreen at last year's Geneva Motor Show, so there could be more development to come. "New product is the only way to go forward," says Thomas.