The KTM 390 Duke street bike adds to their range of learner-approved motorcycles (LAMS). It was to arrive about now, but KTM has announced it is coming in August, costing $6495, which is $500 cheaper than the price they announced just a few months back.
More importantly, it's only $300 more than the Kawasaki Ninja 300 which is the top-selling bike in the market.
It's going to be a tough battle with more bikes entering this growing sector including Honda's recent 500cc additions, although it undercuts their prices.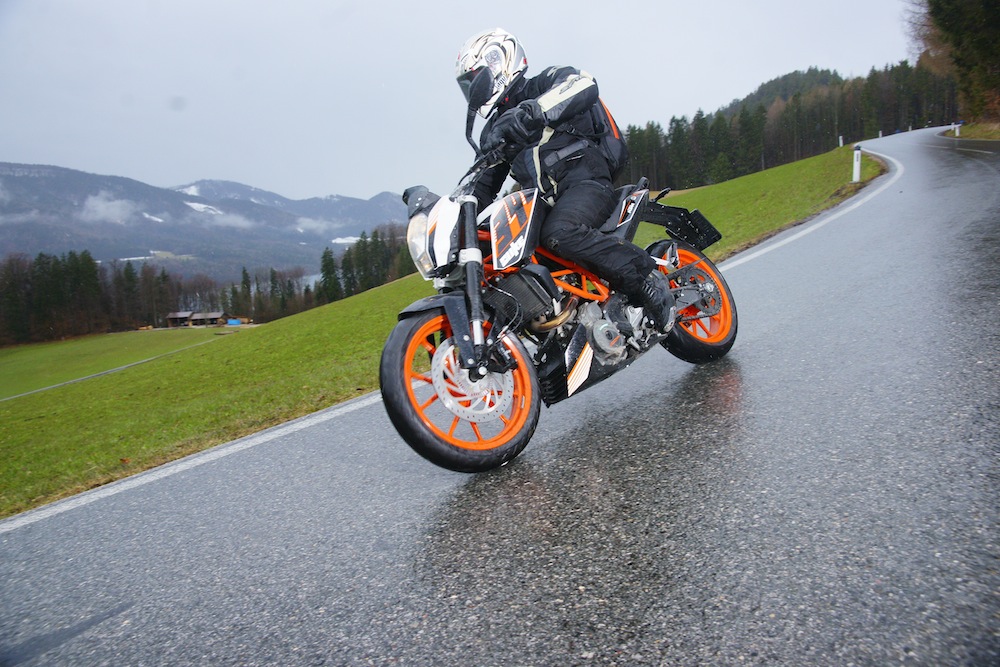 But clearly KTM is serious about chasing the learner rider.
And learners won't be disappointed in the 390 Duke. It's a beauty that they will want to hang on to for several years not trade in as soon as they graduate to a full licence.
The full-size bike features quality components, ABS standard, a versatile engine, responsive handling and a sizzling modern style that will suit many riders.
The 390 fills the hole between the 200 and 690 Dukes and the company is so confident of its success it will be the first KTM to be sold in all 76 markets around the world where they have dealers.
Previously, their 200 Duke was the most popular KTM street bike.
This bike is built with the same frame as the 125 and 200 Dukes, but with an all-new bigger 375cc engine.
It's an over-square engine which means the bore is bigger than the stroke, so it revs higher and achieves its power and torque at higher revs than normal.
But don't expect a zinging little buzz box that rattles the fillings out of your teeth, vibrates the mirrors so you can't see what's behind you and makes your fingers go numb after an hour in the saddle. Quite the opposite.
This is a versatile engine that seems to have plenty of torque for casual acceleration, smooth delivery of power through the range and only minor tingles through the seat of your pants.
However, if you do want to explore the upper limits of its peak performance, you can easily keep it spinning between the peak power/torque revs of 9500 up to the abrupt limiter at 10,500rpm by working the trouble-free six-speed transmission.
It's a slick little box with neutral very easy to find and no "angel" gears.
Hit the highway and it will spin along effortlessly at 5000rpm in sixth gear at 100km/h from where it will accelerate with a quick click down a gear.
Point it up a hill and the bike doesn't become asthmatic, thanks to its light weight of just 150kg fully fueled.
KTM claims fuel economy of just 3.4L/100km which should be good for a range of about 300km, which is more than enough for this style of street bike.
Its light weight makes it very easy to flick around in traffic or through a tight set of corners.
Meanwhile, the 1367mm wheelbase and wide handlebars provide stable handling at high speeds.
Handling is ably complemented by quality WP Suspension, a wholly owned subsidiary of KTM.
Its light weight also means it pulls up very quickly ably assisted by quality Bosch ABS brakes and calipers made in India under licence to Brembo, hence "BYBRE" stamped on the side rather than "BREMBO" which indicates Italian manufacture.
The bike is assembled in India along with the 125 and 200.
The sit-up-and-beg riding position is comfortable with short people able to tough the ground from the 800mm seat as it is quite thin at the front.
Tall people may feel a little cramped in the legs as the pegs are set high and back for ground clearance. However, the flat and hard seat provides plenty of fore and aft movement so most riders can get comfortable.
KTM has a range of accessories including handguards, a tank bag and rear rack and soft bag that replaces the rear seat.
This is a serious competitor in the learner and commuter categories from an aspirational branding. It features quality components, a versatile engine, capable handling and strong/safe brakes.
This bike is further proof that not all learner bikes are tinker toys you throw away when you graduate to a full licence.
KTM 390 Duke
Price: $6495
Available: August
Engine: 375cc 4-stroke liquid-cooled, 4-valve single
Suspension: WP inverted 43mm fork, WP monoshock rear
Brakes: 300mm disc, 4-piston radial caliper (front); 230mm disc, 1-piston caliper (rear)
Tyres: 110/70 x 17; 150/60 x 17
Wheelbase: 1367mm
Clearance: 170mm
Seat: 800mm
Wet weight: 150kg at the curb
Tank: 11 litres