Royal Enfield is ramping up its PR on the all-new Himalayan adventure bike with this latest video that shows it riding as high as an airplane.
While it's a great shot, it also shows the bike's electronic fuel injection is unaffected by high altitudes.
After all, CEO Siddhartha Lal tested the mid-sized adventure bike at high altitudes and said it was purpose-built for the Himalayas.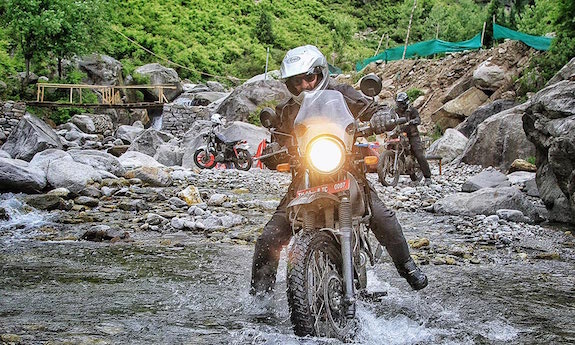 "I think it's pretty important for the leadership to get their hands dirty," he said at the world unveiling in New Delhi on February 2, 2016.
The bike is available now in the Indian market at Rs. 1.55 lakh which is about $3500, but there is still no word on a worldwide release schedule or international prices.
Joseph Elasmar, boss of Urban Moto Imports, the Australian importers of the Indian brand, say we will be one of the first to get the bike because our emissions laws are not as stringent as Europe and California.
He still doesn't know when we will get it, but we tip the bike will arrive mid-year and cost close to $7000 which would make it a bargain next to other budget adventure bikes such as the Kawasaki KLR 650 ($8099 +ORC), Honda CB500X ($7599+ORC) and Suzuki DR-Z400 ($7990+ORC).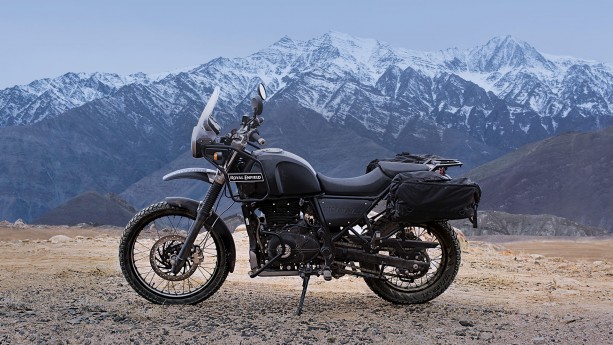 The Himalayan is the first ground-up new model to be released by the now Indian-owned company which is more famed for its classic retro models.
Lal says they wanted to "use the energy of the Himalayans and go with the flow of the Himalayas rather than trying to dominate them".
The new bike is powered by an all-new 411cc LS400 long-stroke, single-cylinder, overhead-cam, oil-cooled, counterbalanced, blacked-out engine with 10,000km service intervals.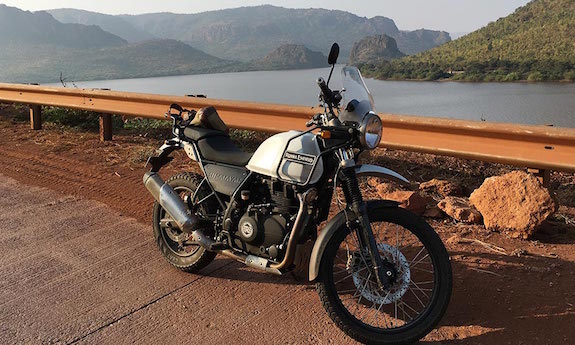 Lal says the long-stroke engine retains Royal Enfield's character with torque from 2250rpm and a maximum of 32Nm. The overhead cam also allows the bike to have usable power up to 6500 revs and 20kW of power.
Lal says the "real difference" with the182kg  bike is that it has long-travel suspension, 220mm clearance and a 21-inch front wheel, yet an accessible seat height of 800mm.
Rudratej Singh RE president says the ergonomics will inspire confidence.
"What excites me most is that it conjures up the aspirations of the seasoned rider and opens up the doors for many more enthusiasts who are bench sitters right now," he says.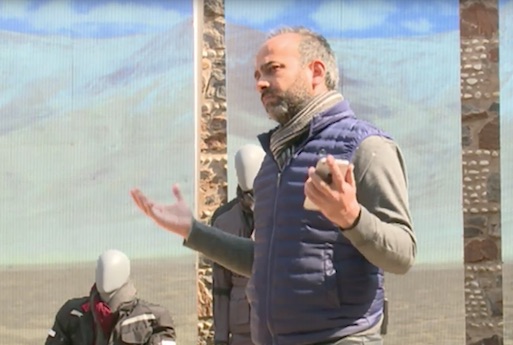 Lal says the bike has a very clean and simply design with a timeless look.
"But the form should follow the function," he says.
Illustrating the versatility and practicality of the bike he says they have designed it to allow for hard and soft luggage and "for the first time on a production bike there are racks up front for pannier bags".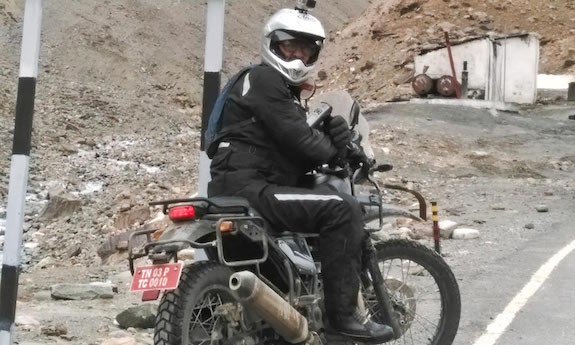 Other highlights of the bike are conventional forks, single front disc, single headlight, slim indicators, streamlined mirrors, cable clutch and twin instrument pods with comprehensive information.
Brakes are a 300mm front disc with a two-piston floating caliper and a 240mm rear disc with single piston caliper.
It seems to be available only in black and white colour schemes, but it comes with a lot of body and engine protection, and there are RE luggage accessories as well as riding gear developed with REV'IT!